Cham, Bavaria
On every May 1st, following hundreds of years of tradition dating back at least to the Medieval times, every village in Bavaria and other southern regions raise their Maibaum (May tree) in the center of the village. Villagers dress up in their finest Tracht and gather round to watch the raising of the Maibaum. This is to celebrate Midsummer and is raised with a decorated tree at the top of the pole. It is a special time during the Spring season. In Bavaria, most poles are painted with the Bavarian flag colors or blue and white.
It's strange to think that this year will now be my third Maibaum Erste Mai experience and that this is one of the Bavarian traditions I enjoy the most. For the last two years, we have ridden our bikes to the small village of Prüfening just outside of Regensburg and enjoyed the spectacle as well as spending the afternoon at a beer garden before heading back into town for a good ol' fashioned BBQ.
While throughout Germany is it likely to see villages celebrating, it is especially predominant in many parts of Bavaria. The tree on the Maypole stands year round only to be replaced and decorated again for the following May 1st. Each and every Maibaum is uniquely decorate with ribbons, wreaths or signs which are special to that village's craftsmen's guilds.
What makes part of this entire tradition special is that one village tries to steal the maypole from a neighboring village. If they succeed in stealing the Maibaum and is then safely returned, negotiations are made usually with ransoms involving large amounts of beer and food. Sounds like a pretty good ransom to me! Some "Burschenvereine" (clubs) even specialize in stealing the maypoles which are under tight security.
Although its a bit of a game, there are some pretty strict rules such as sawing or damaging the maypole in any way is absolutely not allowed as is a non- payment of the ransom. The most successful theft of a Maibaum occurred back in 2004 when clever thieves stole the maypole from the top of the Zugspitze by using a helicopter. After the 20 m long maypole had been safely returned to an Alpine hut, negotiations began to determine how much ransom would be paid for its return. Rumor has it that the there were copious quantities of food and the beer flowed freely all night.
There is a small village outside of Regensburg called Prüfening which celebrates this public holiday with the raising of their pole. Now, these poles aren't raised by large cranes which do the heavy lifting, but by the strong men and women from the village. It should seem like a simple process, but it took over an hour to raise that blue and white striped pole, with many beer breaks in between. During this process, a local Bavarian brass band played in the background to encourage the heavy lifters. I found it to be more like a continuous joke of, "Hold my beer and watch this!"
After standing by and watching this tradition, when it finally comes to an end, everyone slaps each other on the back for a job well done with a beer in their hands. Just like with Oktoberfest, after the ceremony everyone falls in line and heads to the nearest beer garden.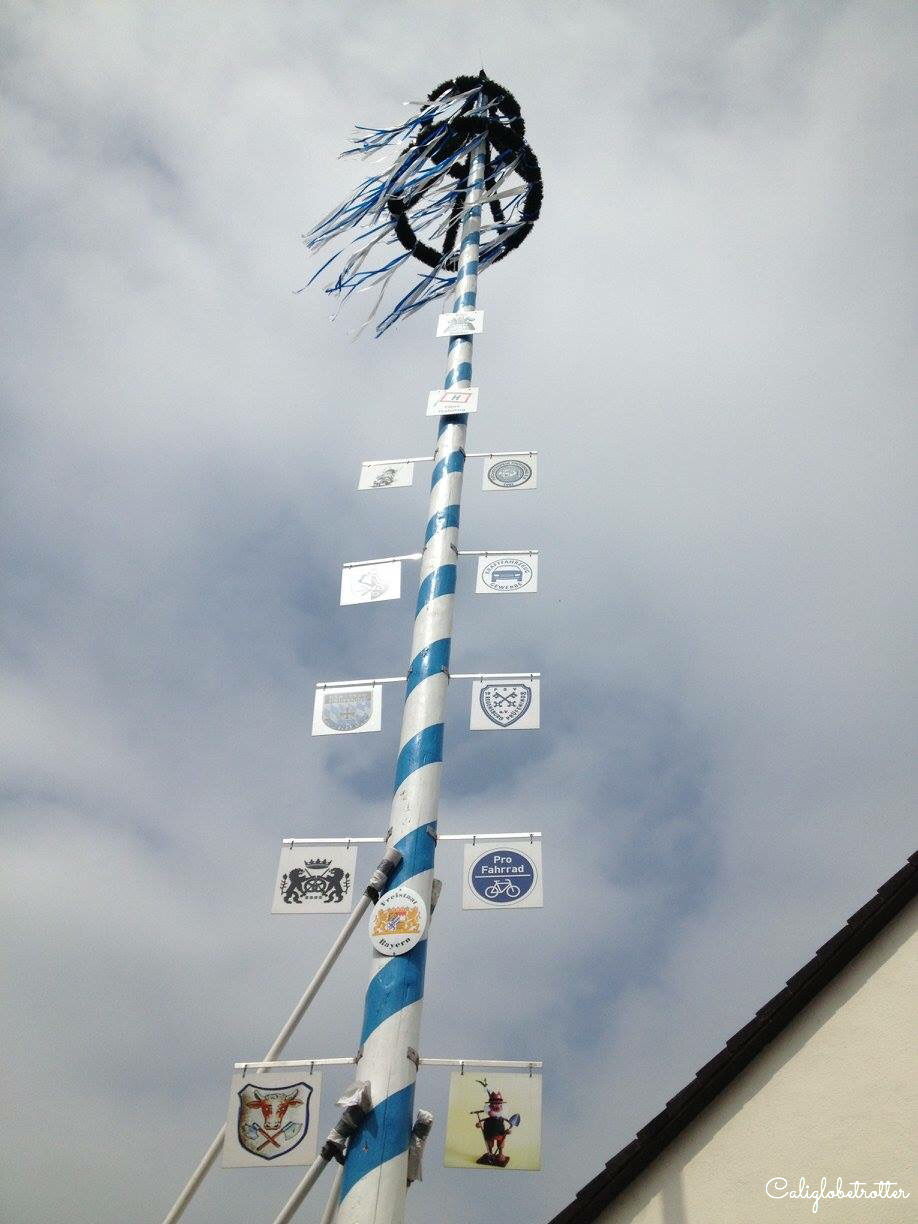 The afternoon is spent lounging in the beer garden, drinking a cold one and enjoying a variety of popular Bavarian food and enjoying the band playing.
May first is also the official non-official opening season of "Beer garden season" in Bavaria. The weather is finally warming up and you can finally sit outside in the warm sunshine and enjoy a beer with a nice warm meal.
For this event, some friends of mine and I rode our bikes 20 minutes so that we could enjoy the show, have a few beers or two and then head back into town and have a BBQ in the park.
Save