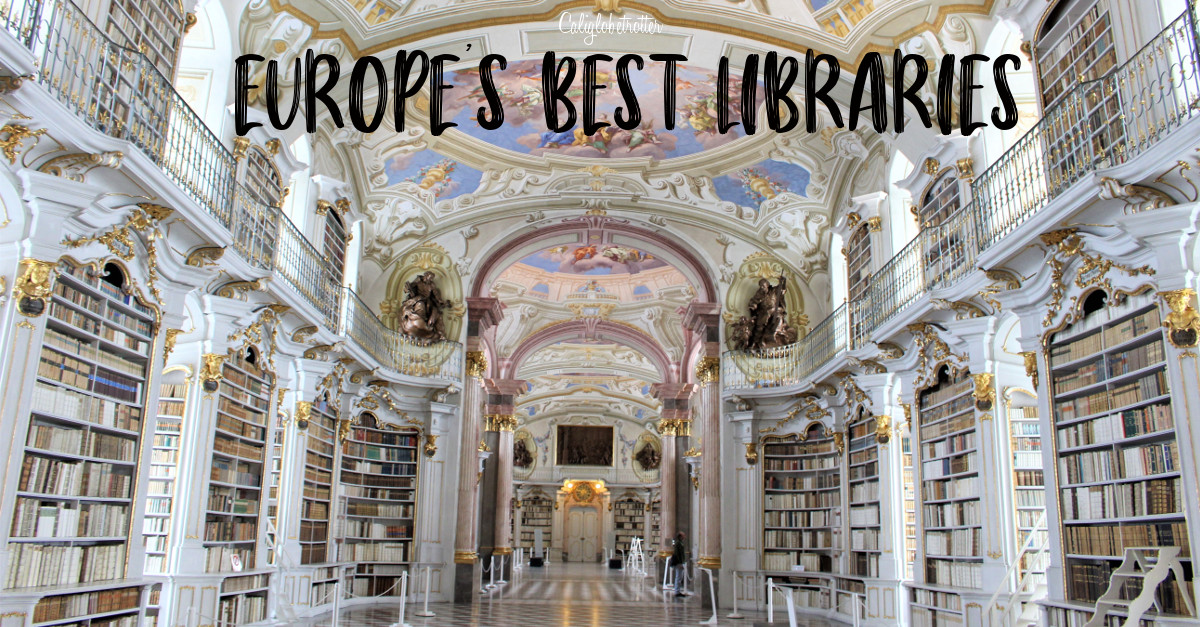 Disclaimer: This post contains affiliate links. If you click on one and make a purchase, I might make a little extra spending money, at no extra cost to you. As always, all opinions are my own and these products/services have been found useful during our travels and come highly recommended to you from yours truly!
Whenever I heard the word "library", I always got cold shivers down my spine as I remembered the long, tedious hours of study hall back during my high school years. It meant endless hours of boring homework instead of hanging out with my friends. Then one day, I saw a list of the world's MUST-SEE-LIBRARIES and the curious travelholic in me decided to click on the link. I was stunned into silence and I began wishing that I had gone to a university that had a stunning library. Maybe I would have loved studying a little bit more!
The first known library was discovered in the first ancient civilization in southern Mesopotamia in Sumer, which is now modern-day Iraq. Here, clay-tablets dating as far back as 2600 B.C. were discovered. Other libraries filled with personal books were in Greece in 5 B.C. The Library of Alexandria in Egypt was the largest and most important library in the ancient world.
In case you're interested, PIN IT FOR LATER!!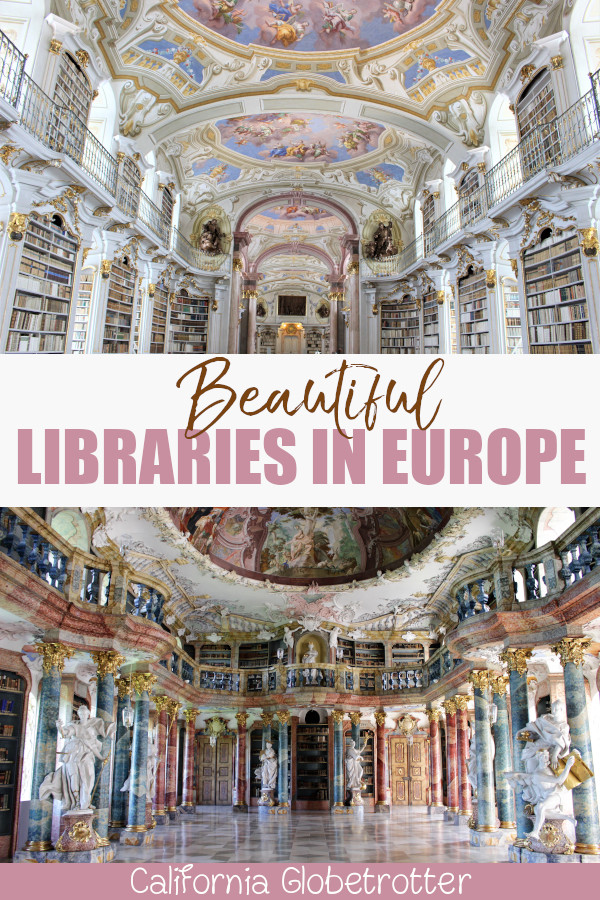 How to AVOID Looking Like a Tourist in Europe
The Clementinium 

– Prague, Czech Republic
Then a few months later, we went to Prague to celebrate our one year anniversary back in 2014 and I learned that there were 2 beautiful libraries there and I knew I had to see them!Unfortunately, we only had time for one! So we went to the nearest, located in the heart of the Old Town of Prague! 
It's history dates back to a chapel dedicated to Saint Clement in the 11th century.
It was once the largest Jesuit college in the world.
The first recording of weather for Czech lands began here in 1775 and still continue to this day.
In order to see the Clementinum's beautiful library, you must purchase a tour which includes a visit to the chapel, the Astronomical Tower which offers a fantastic view over the city and finally to the library. Pictures are not allowed in the library, but that didn't stop anyone for sneaking a shot!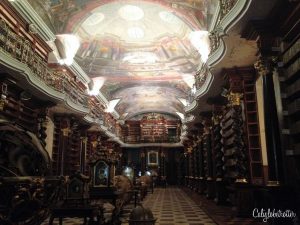 After that, I knew I was hooked and needed to see more!
Strahov Monastery Library

– Prague, Czech Republic
While researching other beautiful libraries, I discovered that Prague had yet another library under its belt. Located at the Strahov Monastery not far from the Prague Castle, for CZK 100, you can visit not just one, but two libraries within the monastery. Be prepared to pay a little extra at the door of the library if you have a camera and want to take pictures.
You'll first take a gander behind a rope into the Philosophical Hall which was commissioned towards the end of the 18th century. The fresco on the ceiling depicts the developments in science and religion, titled 'Intellectual Progress of Mankind'.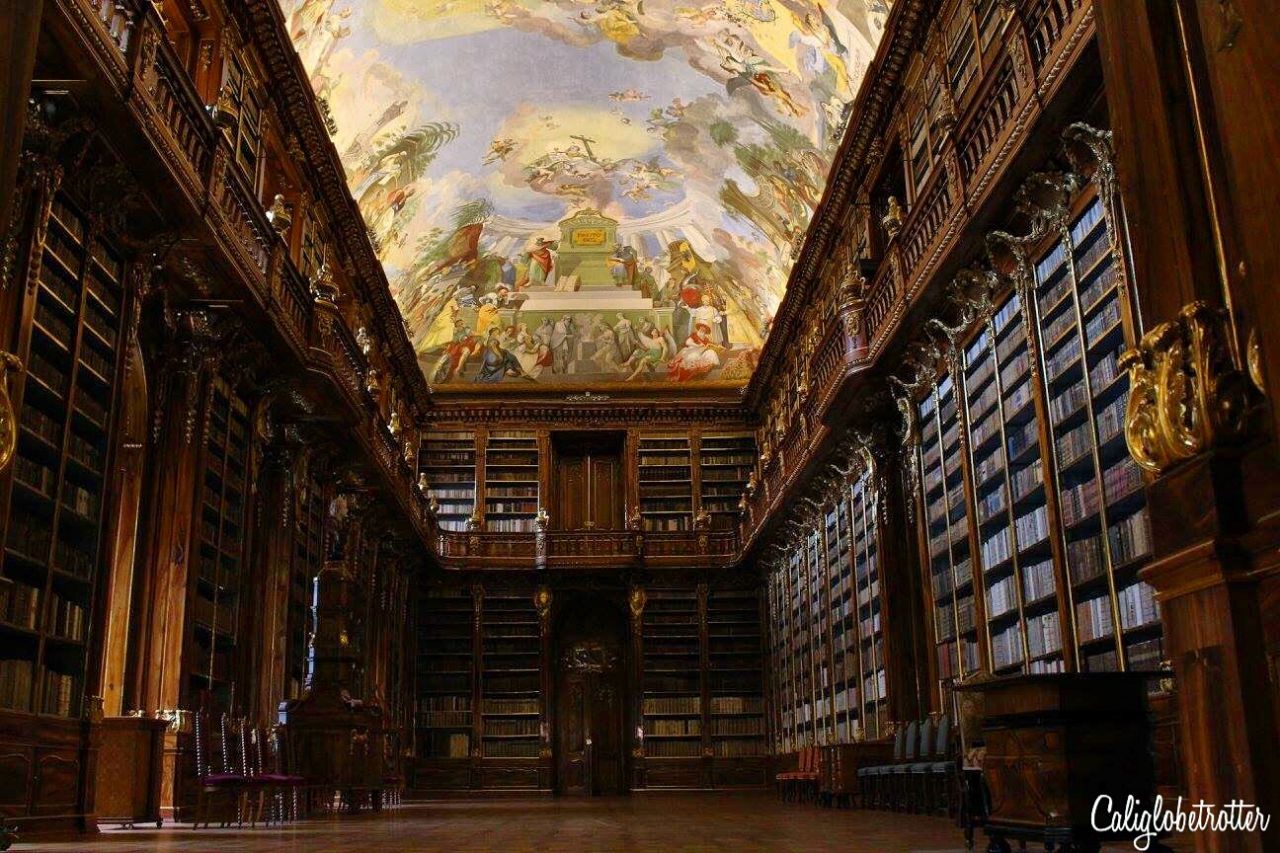 There are more than 42,000 books in this hall!
The highest rows of books are only accessible from a gallery with hidden spiral staircases, masked with false book spines.
Then you'll continue down the hallway and find the Theological Hall built between 1671-1679 with stunning frescos and stucco work as well as a number of astronomical globes. This is one of the most popular libraries to visit in Prague and by far the prettiest!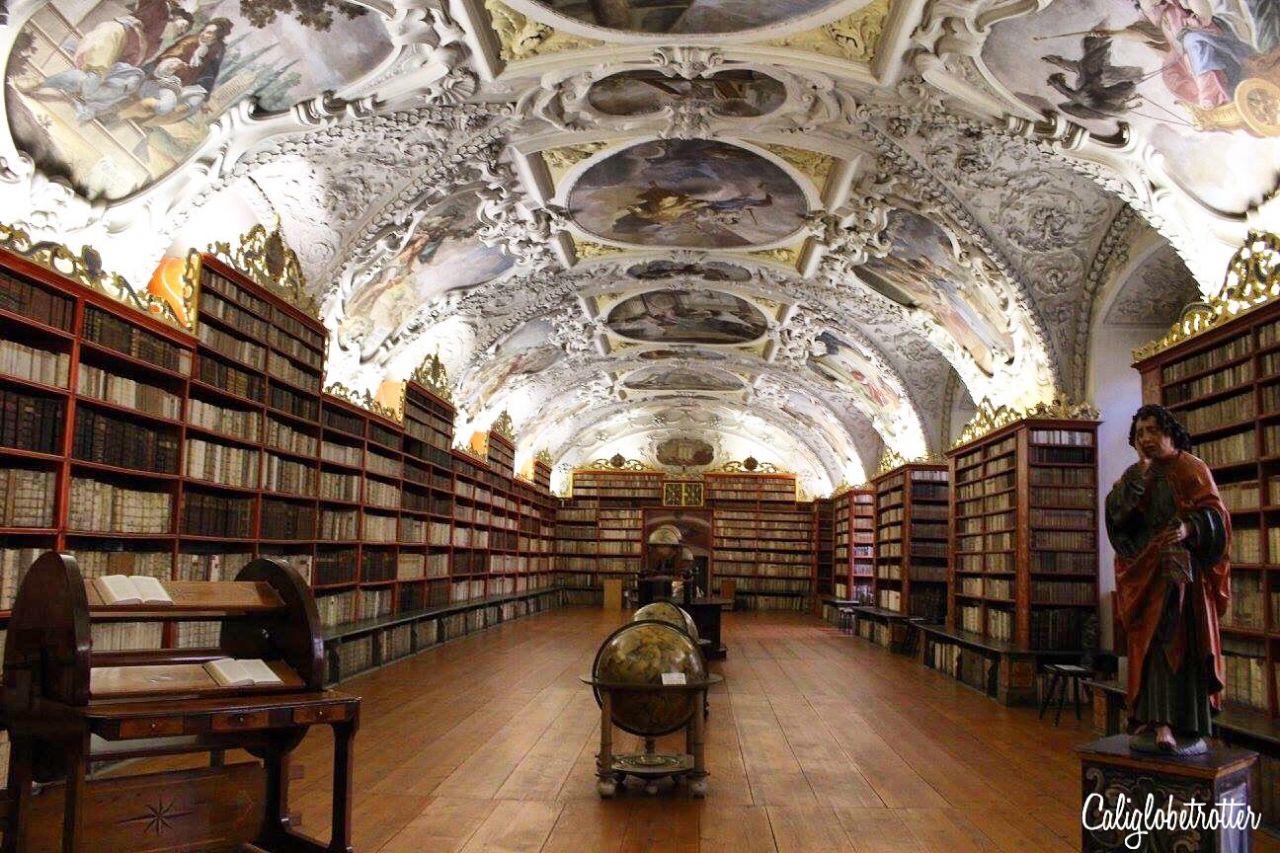 This hall has over 18,000 books of which give the hall its name.
. The northern wall contains only different editions of the Bible or parts of the Bible in different languages.
The type of literature stored in this hall is depicted in the pictures in the wooden cartouches making this a rudimentary library.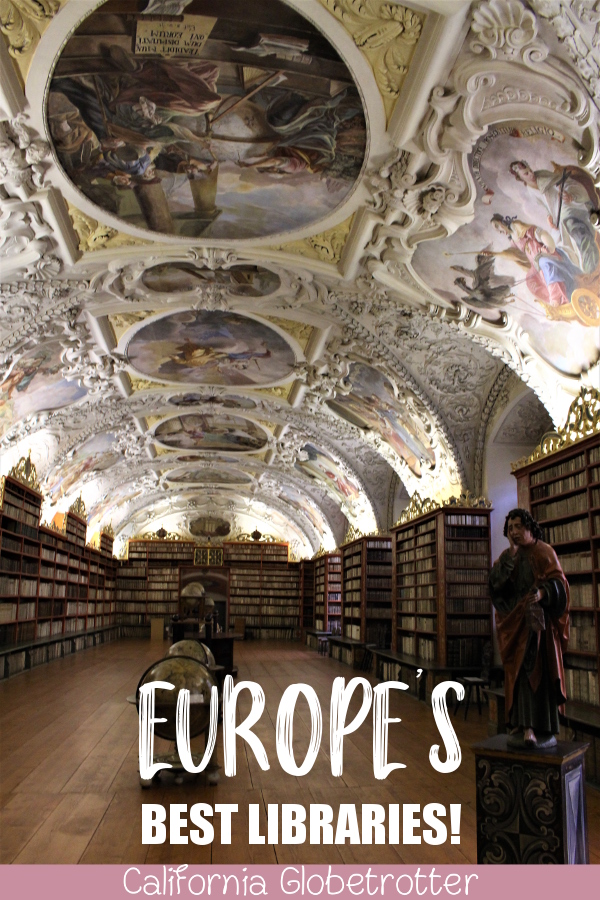 Wiblingen Monastery Library

– Wiblingen, Germany
Not far from
Ulm
is another Benedictine monastery famous for its breathtaking library and is quite possibly the most beautiful library in Germany! The library is designed in the whimsical Rococo style of pale pinks and blues. It was like walking through a fantasy library, something Belle would have loved. The library is filled with books about imagery, both Pagan and Christian.
The abbey was founded in 1093.
The roof was constructed in 1774 and spans the entire church and is considered a masterpiece of Baroque workmanship and architecture.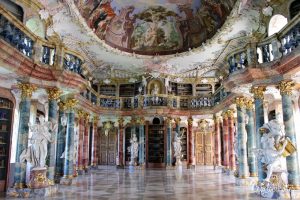 Located on the second floor of the abbey, you have to pay 4.50 € per adult PLUS another 3 € just to be allowed to take pictures of the library. However, you do get the option of getting an audio guide in English or German for free which will give you all the information and history about the library as you stare in wonder.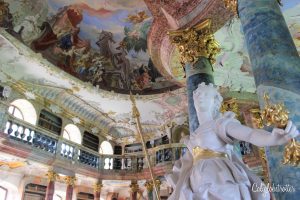 Admont Abbey

– Admont Abbey, Austria
Just recently, my then boyfriend, now fiancé surprised me with a trip to
Vienna
. Along the way, we stopped at the library I had been dying to see the most because from pictures, I found it to be by far THE MOST STUNNING library in the world and I had to see it to believe it!
Tucked away in the Gesäuse National Park in the Stryia region, is the oldest Benedictine monastery in the region and contains the largest monastic library in the world! Decorated in pastel pinks and blues and highlighted with gold accents, it left one to imagine they were walking through the pearly gates of heaven!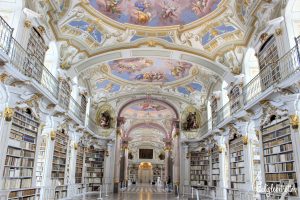 Never in my life had I seen anything so stunning as to take my breath away within stepping foot inside the library. I could have spent hours upon hours wandering around, staring at the ceiling frescos.
Admony Abbey was founded in 1074.
The library hall was built in 1776 and was considered to be the "Eighth World Wonder" after its completion.
A terrible fire destroyed almost the entire monastery, but the library was sparred.
During the 1930s, the abbey was forced to sell many of its art treasures to survive and the monks were evicted, not returning again until 1946.
Here you must also buy a ticket to view the library and pictures are allowed, so long as you have a sticket approving your camera. So get snap happy!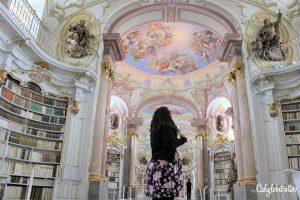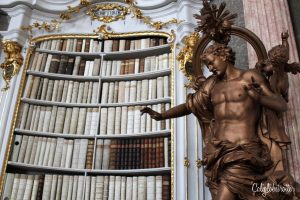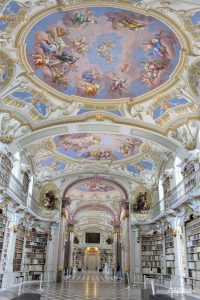 Austrian National Library

– Vienna, Austria
Upon arriving in Vienna, I knew I was hooked for good on seeing as many libraries as I could for the rest of my life. I discovered the Austrian National Library, another of Europe's most beautiful libraries, situated in the Hofburg Palace. As one of the best things to do in Vienna, I knew I had to see this one as well!
It is the largest library in Austria.
During the Medieval Period, Austrian Duke Albert III moved the books of the Viennese into a library.
The library was onced called the Hof-Bibliothek ("Imperial Library") but changed the name in 1920.
The Prunksaal is the center of the old imperial library located between Josephsplatz to the north and the Burggarten to the south.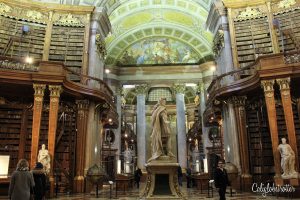 Once I entered this library, I was overwhelmed by the size of the library and the endless rows and rows of books and with each book case there was a large wooden ladder to go with it, adding to the beauty! I could imagine Bell swinging to and fro the rows of bookshelves on the ladders singing her heart out merrily!
Now that I've had a dose of stunning libraries, I hope to visit as many as I can as we travel around Europe! They make want to grow my own little library! Visiting a library is by far one of the most unique things to do while city tripping and it's not a place many people often think about visiting. But, despite being a place of silence, thought and art and philosophy, it's a great place to appreciate some serious artwork! So Stay tuned for more as we check out more places!
If you're interested in visiting Europe and are looking for more information, I highly recommend using the DK Eyewitness Travel Guide or the Lonely Plant Travel Guide! Without these guides, I would be lost! These are my travel Bibles!
Disclaimer: This post contains affiliate links. If you click on one and make a purchase, I might make a little extra spending money, at no extra cost to you. As always, all opinions are my own and these products/services have been found useful during our travels and come highly recommended to you from yours truly!
Liked this post? PIN IT FOR LATER!!
Save
Save
Save
Save
Save