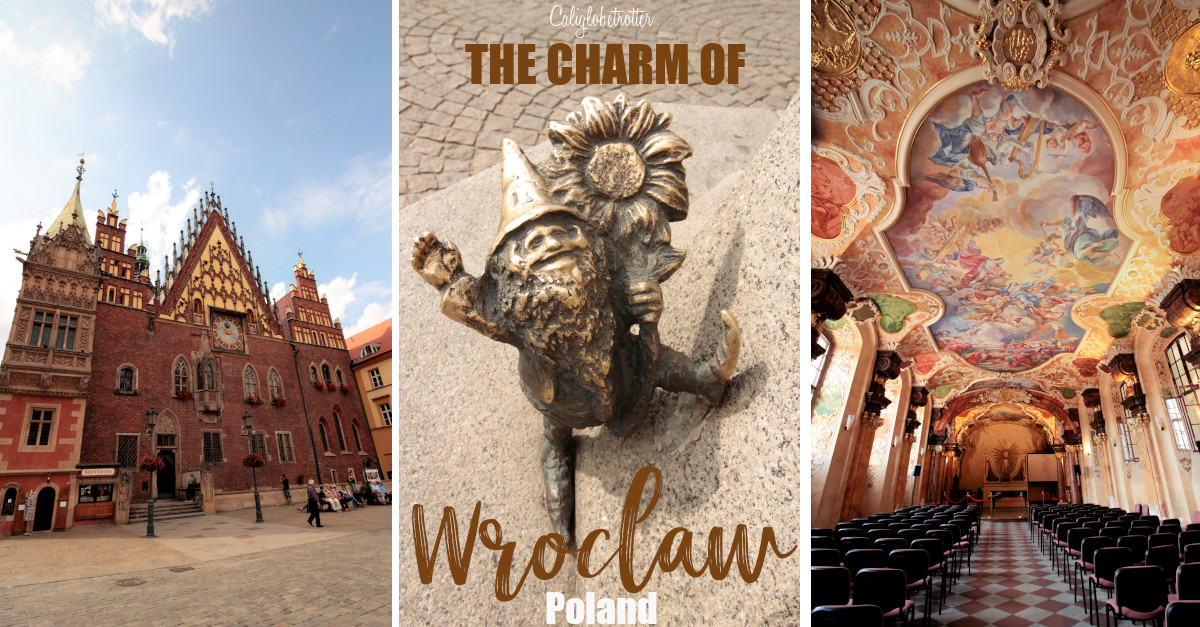 Disclaimer: This post contains affiliate links. If you click on one and make a purchase, I might make a little extra spending money, at no extra cost to you. As always, all opinions are my own and these products/services have been found useful during our travels and come highly recommended to you from yours truly!
Poland might not be a country that is on everyone's bucket list, but after a recent visit, I'd say it needs to be! Wroclaw was absolute love at first sight. It's full of wonderful surprises that instantly made me fall in love! It boasts one of the loveliest squares in Europe, adorablized by a voluminous number of gnomes scattered throughout the city and has some of the most delicious food! Wroclaw is definitely one of the most family-friendly towns in Europe and one of the top destinations to visit in Eastern Europe!
Like the sound of Wroclaw? PIN IT FOR LATER!!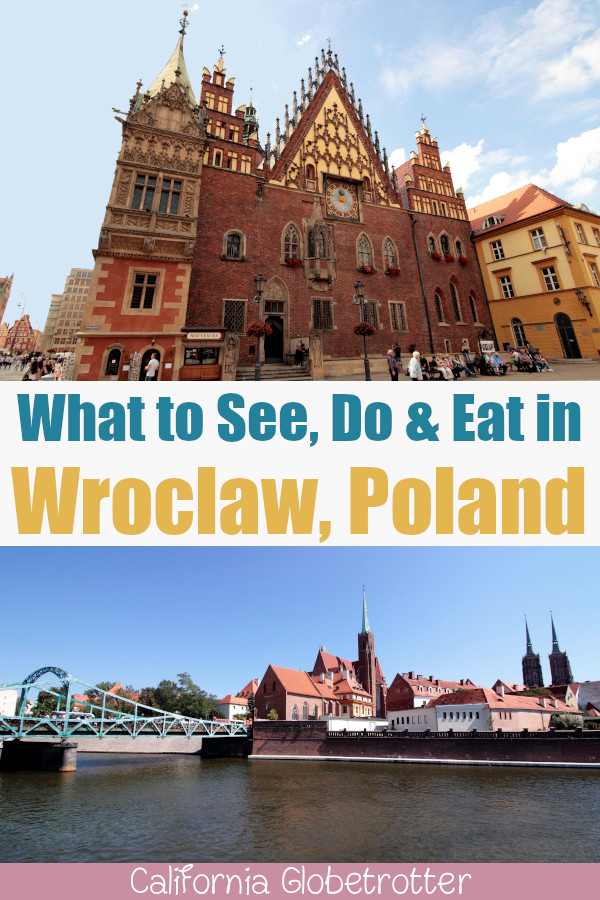 This article is now available as a mobile app. Go to GPSMyCity to download the app for GPS-assisted travel directions to the attractions featured in this article!
How to AVOID Looking Like a Tourist in Europe
First of all, the name Wroclaw is pronounced VRAWTS-wahf not roar-claw. Break that habit now before you even go. It is a mouth full, but the 'W' is pronounced with a 'V' sound while the 'C' is pronounced with 'TS' sound. And if it's too hard, you can call the city 'Breslau' as it is still commonly referred to in German. 
During our short time in Poland, we learned about the complicated history that Poland endured before finally gaining its own independence. No matter which city you visit in Poland, be it Pozńan, Gdańsk or even Wroclaw, you can see and feel the past and just how far the country has risen out of the ashes, the painfully slow process it took to rebuild each city that is now attracting more visitors and how the country is embracing its past to enlighten others. Wroclaw is also often one of the top rated cities you need to visit in Poland, so during this post, I will share with you what to do in the 36 hours in Wroclaw. 
History of Wroclaw
Historically, the city of Wroclaw dates back well over a thousand years and has quite the extensive heritage from cultures all over Europe. The first records of the city date back to the 10th century when the Bohemian duke Vratislaus I founded here a Bohemian stronghold called Vratislavia. At one point, Wroclaw was part of the Kingdom of Poland, Kingdom of Bohemia, Kingdom of Hungary, Habsburg Monarchy, Kingdom of Prussia, the German Empire, Weimar Republic and Nazi Germany before finally becoming part of modern day Poland in 1945 after the borders were redrawn following the Second World War. 
Today, Wroclaw is the capital of Silesia. The half of the city had been destroyed during the Second World War but has been beautifully restored. Today, the city is once again thriving and beginning to draw attention to tourists looking to explore Eastern Europe. 
What to See & Do in Wroclaw
City Hall
At the heart of the Market Square is the Town Hall which is considered to be one of the most important examples of Gothic architecture in central and eastern Europe. The town hall was named a UNESCO World Heritage Site in 2006. A truly remarkable building with unique Gothic characteristics on each side as it was continually renovated over 250 years from the 13th to the 16th centuries. Luckily, the town hall survived the Second World War with minimal damage and today now houses the Museum of Bourgeois Art and Piwnica Świdnicka – the oldest restaurant in the city  and one of the best places to eat in Wroclaw – occupies its basement. Just behind the City Hall is where the Free Walking Tour meets.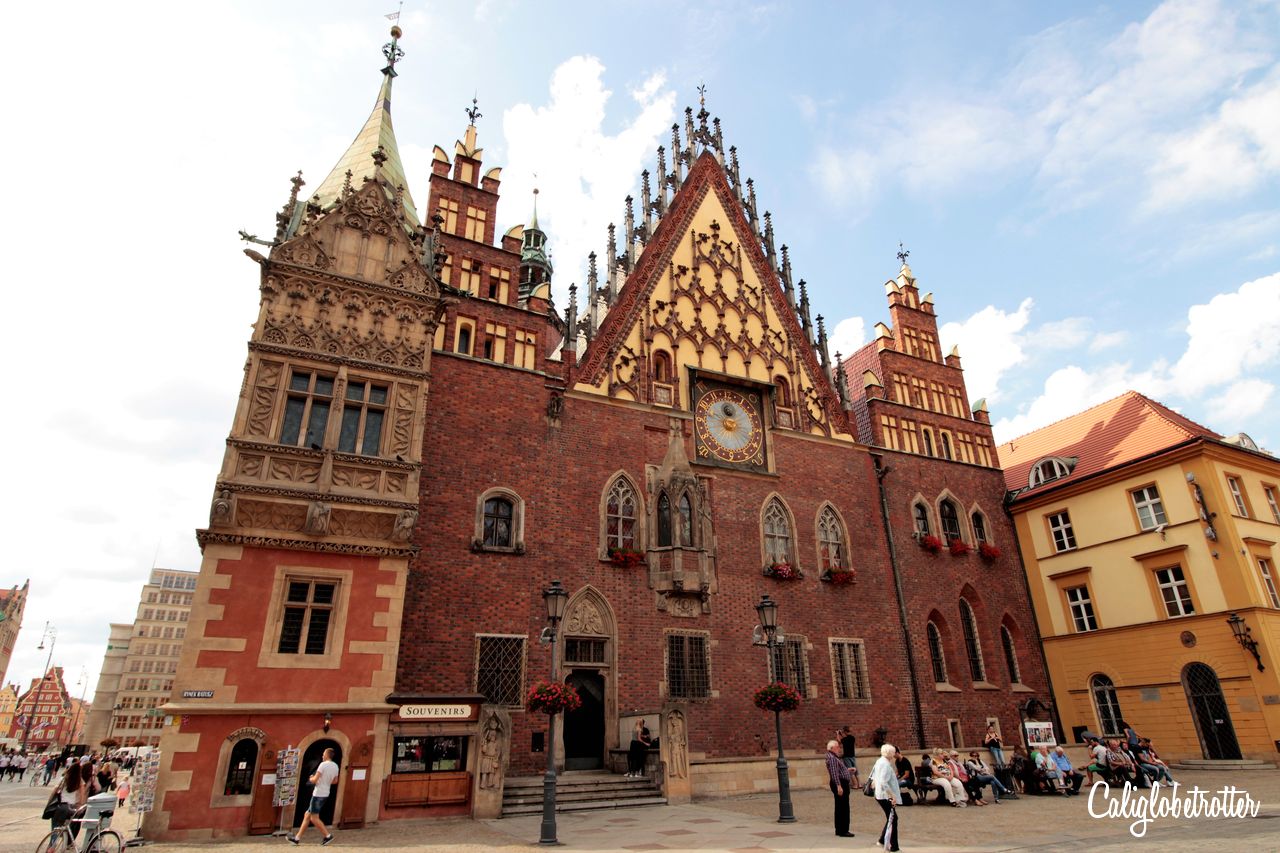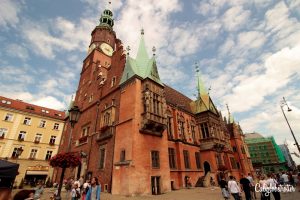 Main Market Square
The vibrant Main Square in Wroclaw is the second largest in Poland after Cracow (Krakow) and definitely one of the most beautiful squares in Europe I have ever seen. After being practically destroyed during WWII, it was meticulously renovated with a plethora of restaurants, bars, shops and sites. The architectural structures here vary from Medieval to Art Nouveau in a variety of vibrant colors and is the main focal point at which everyone convenes. Honestly, from what I've seen, I definitely feel like Wroclaw is the most beautiful city in Poland as it's incredibly picturesque and it's often rated as one of the Top 10 places to visit in Poland!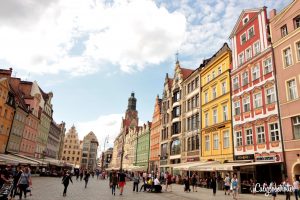 While the square might look freshly renovated, in reality it took decades to be beautifully restored as the town lacked any funding. During the free walking tour, quite possibly the oddest thing about the square was that until recently, it was used simply as a parking lot and there was even a gas station! The second strangest thing was of all the beautiful gilded houses, one stands out among the rest for being the least appealing. You might have thought it was a post-war construction in that typical 70s cement fashion, but in reality its been there since before the war! Overall, it's one of the more colorful and liveliest squares in Europe! #lamploversoftheworldunite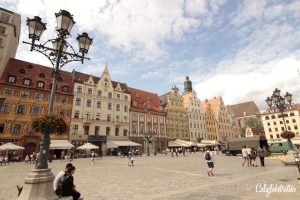 My personal favorite building I was most attracted to was to the left of the City Hall, a gilded house with a pink and turquoise facade that just screams my name! Dont'cha think?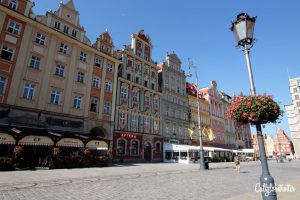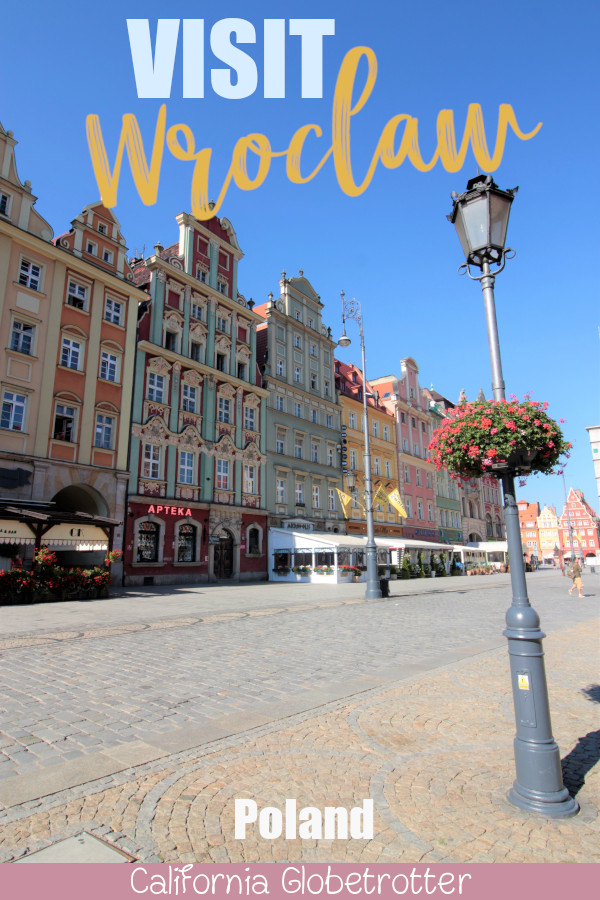 Church of St. Elizabeth
Just caddycorner and to the right of the Main Market, you'll find the impressive Church of St. Elizabeth, whose tower dominates the Market Square. The 14th century Gothic church is one of the largest in Wroclaw of which I highly recommend climbing the tower for fabulous views over the city and the Main Market Square. Climbing the tower is definitely one of the most awesome things to do in Wroclaw! The tower once proudly stood at 130 meters tall, but after being damaged by heavy hail in 1529 and destroyed by fire in 1976, it now stands at 91.5 meters tall. 
Entry Fee: 5zł per person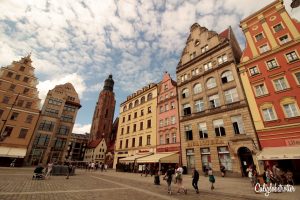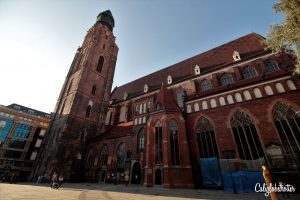 Solny Square
To the left of the Main Market is yet another lovely little square which boasts its own multicolored buildings. In the center, you'll find a charming little flower market 365 days a year. Here, you'll also find a ton of gnomes clinging on to the lamp posts, so be sure to look up!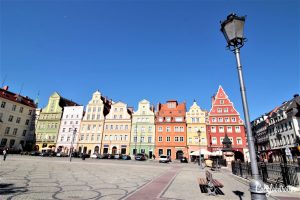 Wroclaw University Assembly Hall
Across the town, located near the river Odra is the Wroclaw University which was established here as an academy by Emperor Leopold I in 1702, and finally becoming a university in 1811. Wroclaw is a growing student community and is renowned for having had 9 Nobel laureates! Of interest here is the impressive Assembly Hall, the Aula Leopoldina which is decorated in elegant stuccowork, gilding and carvings glorifying wisdom, knowledge and science as well as honoring the founders of the academy. The ceremony hall is currently undergoing much needed restoration, starting from the back. Trust me, visiting the university is one of the main sights to see in Wroclaw and you definitely don't want to pass this up!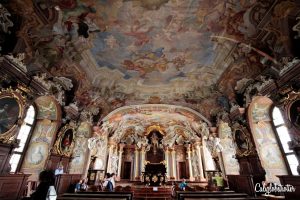 When purchasing your ticket to visit, consider visiting three of the attractions at the university, which also includes the Oratorium Marianum, built in 1733, destroyed during WWII and finally reconstructed in 2014! You can also visit the Mathematical Tower which offers yet more great photo opportunities and panoramic views of the Old Town and Odra River.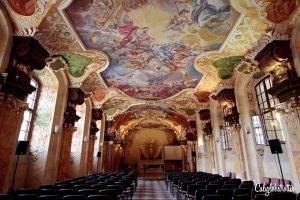 Entry fee: 14-12/10-8zł depending on the number of rooms you wish to visit, but I recommend visit all of them!
Church of St. Maciej
Not far from the University is a church we would have likely bypassed had we not seen a tour group try to go in. Figuring if a tour group wanted to go in, it must be worth seeing. Soon, they all reemerged as a wedding was taking place. After the ceremony was over, we took a quick peruse around. The interior had beautiful hues of golds and mellow yellows and impressive chandeliers. The history of the church dates back to the 13th century when it was used as the royal chapel by Henry the Bearded, Duke of Silesia who is considered to be one of the mightiest and most important dukes. The church suffered extensive damage during WWII and began to fall into disrepair before finally being restored in 1961.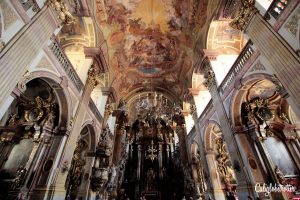 Ossolineum 
Another lovely building you'll see as part of your Free Walking Tour is the Ossolineum, a historic library and cultural center. The Ossolineum houses a number of exhibitions but the inner courtyard is the loveliest with ivy covering a portion of the building and a charming little water fountain in the center.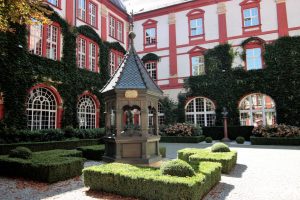 Bridge of Locks
Crossing the bridge over the Odra River, you'll begin to make your way towards Ostrow Tumski (Cathedral Island), but not before crossing Most Tumski (Tumski Bridge), a turquoise wrought iron bridge covered in padlocks like so many bridges around Europe. Couples who yearn for eternal love write their initials on the padlocks, attach it to the bridge and throw the key into the river. While I don't personally encourage attaching a lock to historic bridges, it is pretty and definitely one of the main attractions to see in Wroclaw!
While on the tour, our guide enlightened us to a funny little story about the the city worrying about the added weight of the padlocks affecting the integrity of the bridge. Like Paris, city officials wanted to remove the locks and when it came time, locals came to protest the removal of the locks. In the end, only one rather large lock was removed belonging to the local football team.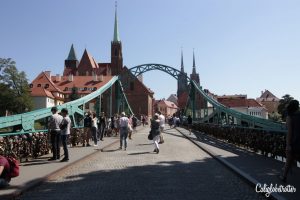 Stick around until dusk and you might just run into the lamplighter wearing a top hat and cape. The first lamp to ever be lit in Wroclaw was in 1846 and while the rest of the city modernized the lamps in the 1960s, the lamps on Cathedral Island managed to survive modernization. Being a lamplighter has always been considered to be a well-respected job and with 103 lamps that need lighting 365 days a year, it's quite easy to catch the lamplighter. However, as I was suffering from severe pain in my foot, we opted not to walk back in the evening. 
Ostrow Tumski
Similar to the the Cathedral Island in Poznan, Ostrow Tumski is where the history of Wroclaw began. Many of the most beautiful structures in the city are located on the island, including the Cathedral of St. John Baptist whose towers were only added in 1991! The cathedral is a conglomeration of styles over centuries of work, however, the present appearance is due to reconstruction after being almost completely destroyed in WWII. On the day that we visited, it was Assumption Day and locals were selling flowers in front of the church for those wishing to pay homage to the Virgin Mary. The free walking tour will end here and allow you to peruse the churches at your own leisure.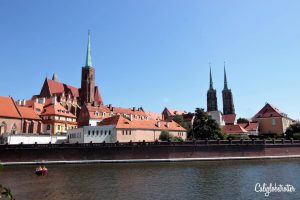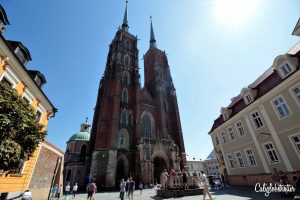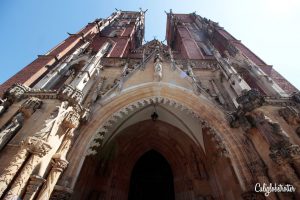 As the name implies, the island is also home to several other churches, two monasteries and the Archbishop's Palace behind beautiful wrought iron gates. 
Play I Spy with the Dwarfs of Wroclaw
Scattered throughout the city, some easily found, others well hidden, small bronze gnomes known as "Krasnal" in Polish, first appeared in the 1980s by an anti-communist group called the Orange Alternative when police would quickly paint over any anti-government graffiti. Members of the Orange Alternative would then paint gnomes over the fresh paint in a peaceful and gleeful protest, much to the dismay of the authorities. By the early 2000s, bronze statues began appearing throughout the city and today there are over 300 legal and illegal gnomes. You can find them on your own with gnome maps from the local tourism office or take a guided gnome walking tour. Typically, each gnome is a foot tall, depicting a variety of activities, from eating an ice cream to mocking tourists or riding motorcycles.
If you're looking for things to do with kids in Wroclaw, then hunting for the dwarfs of Wroclaw is definitely an activity the whole family can enjoy!! While looking for dwarfs in Wroclaw might be quite an unusual thing to do, this family-friendly activity with provide hours of fun and is definitely a one of a kind activity! (More on the Dwarfs of Wroclaw here)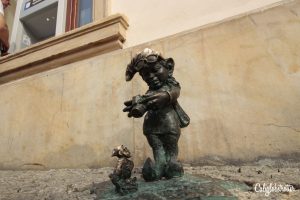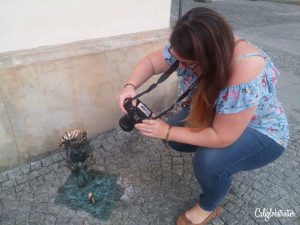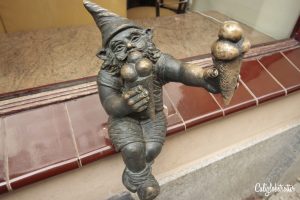 Kelsey Montague Wall Mural
Wroclaw has a surprising amount of street art of which we didn't have the time to try to explore. While I saw plenty from a distance while at the top of the Church of St. Elizabeth, there was one mural I refused to leave without seeing! Having fallen in love with Kelsey Montague's wall murals in Nashville, when I discovered she toured Europe in the summer of 2017, including Wroclaw and leaving her mark, I made sure on the way out of town, we stopped to admire it! Many of her wall murals are interactive and this one, of an extremely tall pink flamingo is no different. I decided to make friends with it! But gosh dang that ad for getting in my picture! #StreetArtinWroclaw
Address: 29 Krakowska, Wroclaw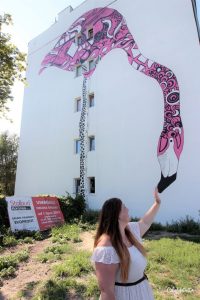 Where to Eat in Wroclaw
Read: A Foodie's Guide to Eating in Poland
Piwnica Świdnicka – Located in the basement of the Wroclaw City Hall is the oldest restaurant in Europe with equally charming Medieval decor! The beer hall restaurant is named after the brewer which once sold their beer here. While the restaurant is a complete tourist trap, you can find delicious traditional Polish cuisine! I chose to eat Bigos (Hunters' Stew), this delicious bowl consists of cabbage and sauerkraut, onions and spices mixed with slices of Polish kielbasa sausages with a side of bread! 
Pijalnie Czekolady Wedel – While in Sopot near Gdańsk, we popped into this chocolate cafe to hide from the flash of rain only to discover that it's also a chain which can be found in every major city center in Poland, so when I realized there was one in Wroclaw, I knew we would be going again!
While we LOVED the chocolate pierogies we had the first time, the second time we opted to try the Belgian style waffles drizzled with chocolate and oranges while I enjoyed an orange chocolate flavored latte.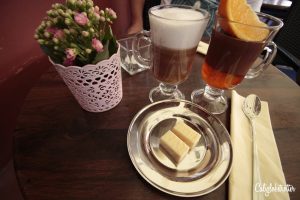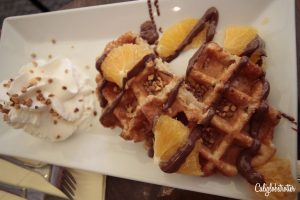 Stara Pączkarnia (Old Pączki Shop) – caught my attention when we happened to walk by after existing the Church of St. Maciej and I saw a line of hungry people. Upon closer inspection, I discovered it was a variety of jelly filled donuts, from Rose, Plum, Papaya to Chocolate. Obsessing on all things Rose flavored, naturally I went with the Rose!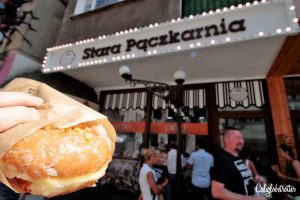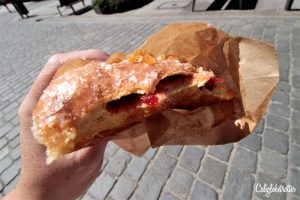 Where to Stay in Wroclaw
⭐⭐⭐⭐ Qubus Hotel Wrocław – Just off from the Main Market Square and just opposite the Cathedral of St. Mary Magdalene, our hotel offered easy access into the city, provided comfortable rooms and an amazing continental breakfast and the option to make your own waffles!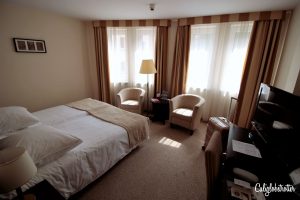 Overall Experience
We love Love LOVED Wroclaw and wish we could have spent longer than 1 1/2 days there! But even with the short amount of time we had, we managed to squeeze in a free walking tour and visit several attractions, and still have plenty of time to try a lot of the local cuisine! We wish we would have had time though to do a Vodka Tasting Tour to learn about the country's love for this spirit! Nonetheless, I couldn't possibly recommend visiting the city more! It's an amazing city and from what I've heard, easily gets overlooked more for Cracow or Warsaw. In all honesty, having only been to a few cities in Poland, visiting Wroclaw was definitely one of the best places to visit in Poland! And if you love all things cutesy, then Wroclaw will be right up you alley! 
If you're interested in visiting Europe and are looking for more information, I highly recommend using the DK Eyewitness Travel Guide: Europe! Without these guides, I would be lost! This is my travel Bible as well as some of my favorite cook books and the Ultimate Foodie Book!!
Disclaimer: This post contains affiliate links. If you click on one and make a purchase, I might make a little extra spending money, at no extra cost to you. As always, all opinions are my own and these products/services have been found useful during our travels and come highly recommended to you from yours truly!
Day Trips from Wroclaw:
A Foodie's Guide to Eating in Poland 
Where to Find Gdansk Street Art
The Dwarfs of Wroclaw: How Many Can You Find?
Liked this post? PIN IT FOR LATER!!