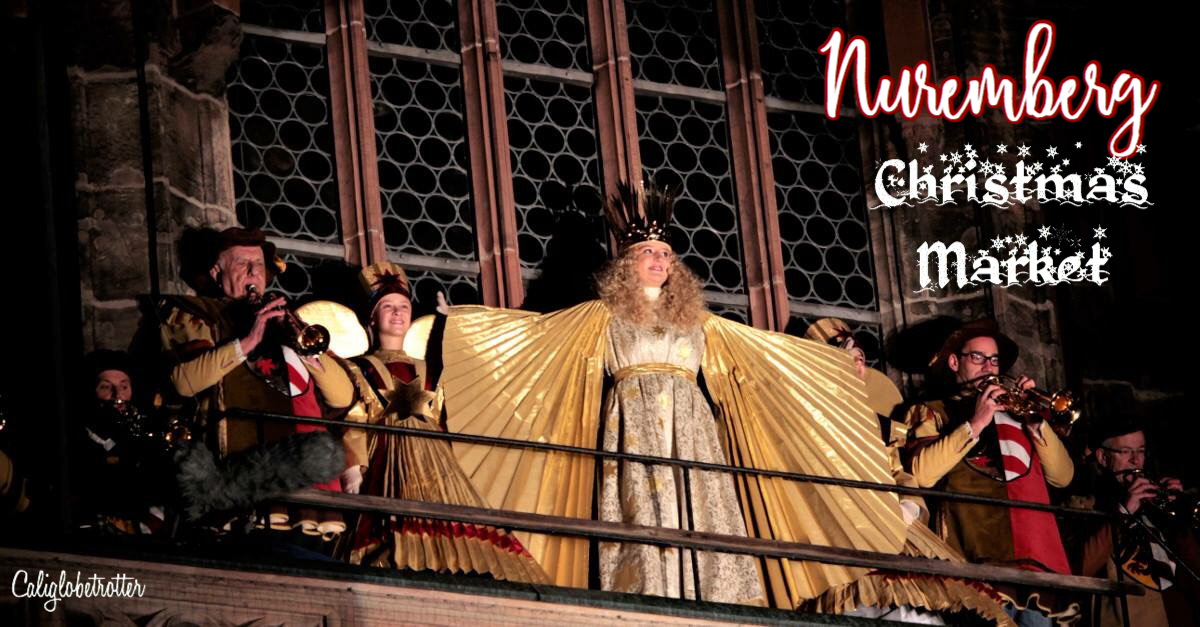 Disclaimer: This post contains affiliate links. If you click on one and make a purchase, I might make a little extra spending money, at no extra cost to you. As always, all opinions are my own and these products/services have been found useful during our travels and come highly recommended to you from yours truly!
Of all the festive Christmas markets that fill every town center in every major city throughout Europe, Nuremberg's Christkindlmarkt is one of the most famous, along with Frankfurt, Dortmund, Dresden & Stuttgart. If ever there were one market you just HAD to visit, this would be the one!
In case you're interested, PIN IT FOR LATER!!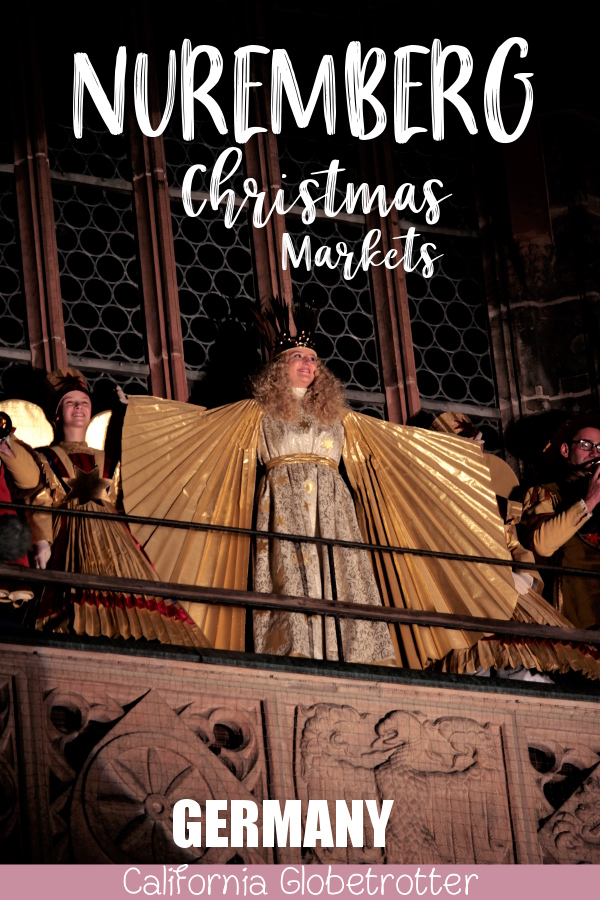 How to AVOID Looking Like a Tourist in Europe
35 Photos to Inspire Christmas in Europe
EVERYTHING You Need to Know About German Christmas Markets
Why you might ask?
Well, before I get into the specifics, first you need understand the fascination Europe and its visitors have for these exciting Christmas markets.
A Christmas Market, or Christkindlmarkt is a street market which is spread out throughout the town center, with stalls decorated in the Christmas fashion, selling knickknacks perfect for decorations or Christmas gifts lasting the entire four weeks of Advent. The very first of these began in Strasbourg, France in 1570.
The tempting aromas of roasting chestnuts, sweet gingerbread cookies (lebkuchen) and warm, cinnamony Glühwein (malted red wine) waft pleasantly through the crisp winter air. You are bundled up in your warmest winter jacket, with a festive Christmas scarf and the buzz of holiday shoppers "oohing" and "ahhhing" fills the air as they stroll up and down the market lanes. You warm your cold hands around a Christmas mug of Glühwein while strolling the cobbled-stoned market alleys.
Sound delightful yet? Got you in the mood for Christmas? Good! Now you're ready to be introduced to Nuremberg's Christmas Market.

Possibly dating back to 1610 – 1628, the history of the Nuremberg Christmas Market is unknown exactly when the market began but there are references to Kindleinbescheren which translates to "handing out presents to children" or Weihnachtszeit "Christmas time" which give reference to this time of year, but perhaps not to the market itself.
Today, with over two million visitors per year and over 200 stalls, Nuremberg's Christmas Market is one of the most famous Christmas Markets in Germany as well as one of the largest!
Every year since 1933, the market is opened up by the "Christkind" – a girl between the age of 16-19 who was born in Nuremberg, with two Tinsel Angels by her side as she standing on the balcony of the Frauenkirche by reciting a poem written by the playwright Friedrich Bröger. The Christkind is the traditional German "gift giver".
Visit the Christkind Exhibition in the Frauenkirche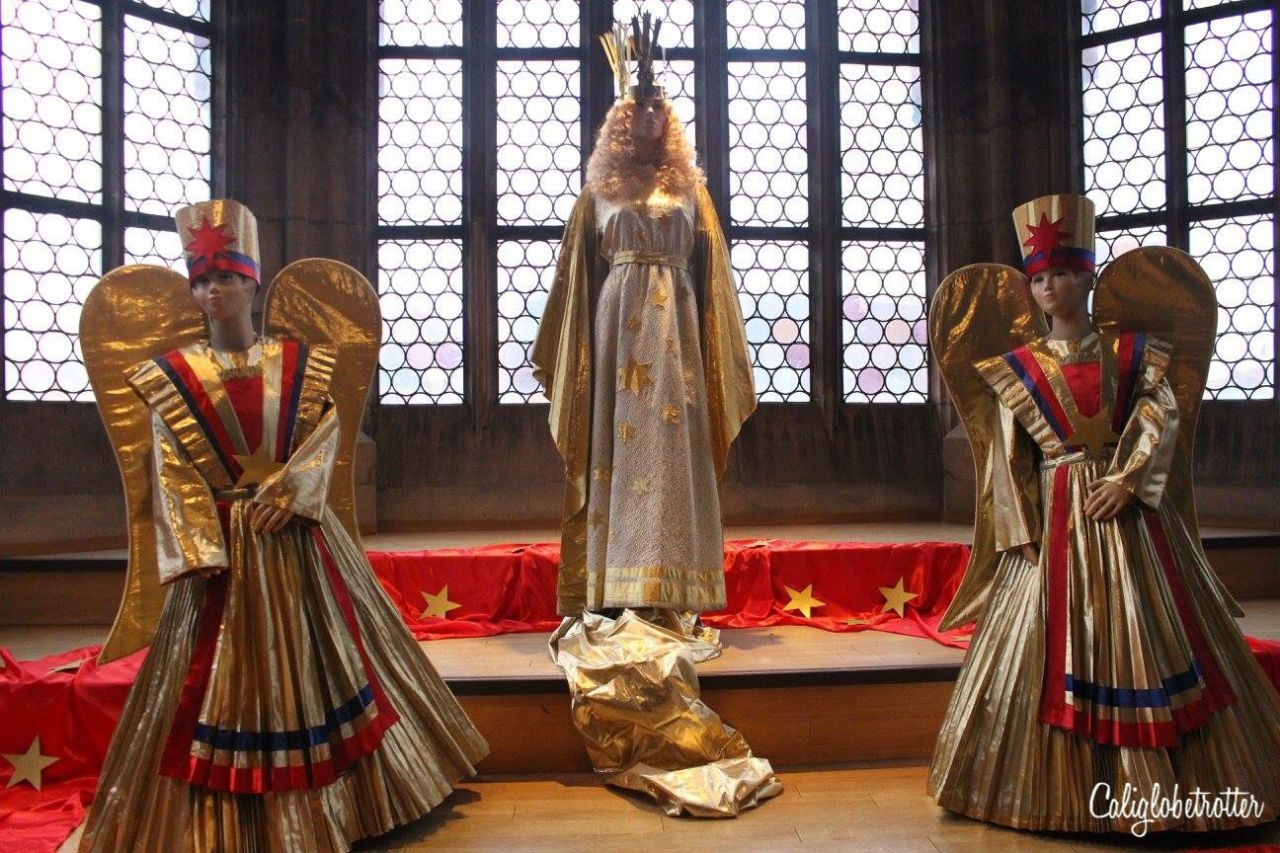 Every year, the Nuremberg Christmas market opening ceremony takes place on the Friday before the first Sunday in Advent and ends on December 24. On this day, at 5:30pm, the Christkind opens the Christmas Market shopping season with a little poem. Children sing a few Christmas carols below her balcony prior to her arrival and the entire square joins in with the singing. The ceremony lasts about 15 minutes, but the waiting period prior to the event comes to a complete standstill and shopping is practically impossible. So find yourself a good spot, with a warm cup of Glühwein and enjoy the show!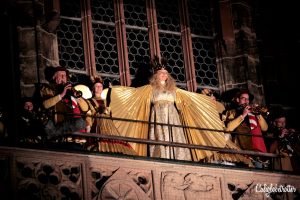 Here, you will find the main portion of Nuremberg's Christmas Market directly in front of the Frauenkirche with the iconic red and white stripped Christmas stalls lined up row after row and if you're wondering what to do at the Nuremberg Christmas Market, look no further then shopping for goodies, gifts and food!
**Tip – For 3,50 € per person, you can go up a hidden staircase and view the history of the Christkind before stepping out onto the balcony which overlooks row after row of red and white stripped covered stalls which fill the square.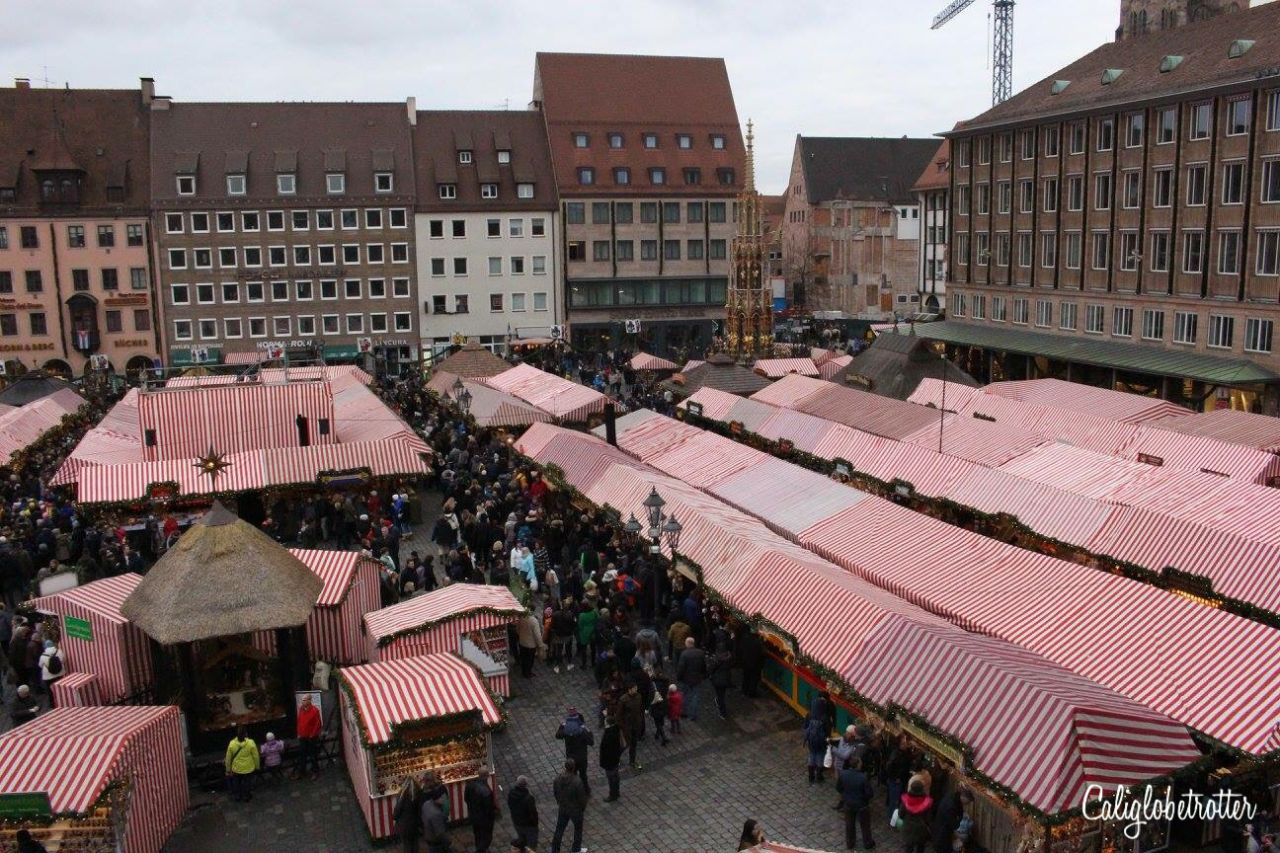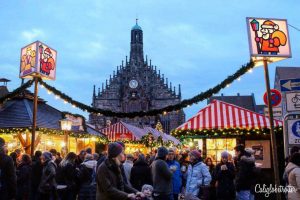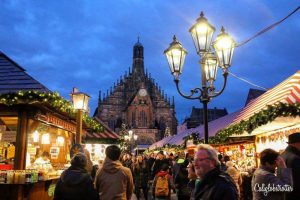 You'll find everything here from chocolate in the form of tools to more traditional gifts like Räuchermann (Smoking Men) and wooden carved villages that light up!
Snack on some Historic Lebkuchen

Throughout the market, you'll find the famous Christmas cookie, the Lebkuchen which has been baked in Nuremberg for over 600 years. They are sweeter and softer than any other Lebkuchen you will find in Germany. They come in a plethora of flavors, most commonly milk or dark chocolate covered.
or snack on one of these babies: Schokoküssen – a chocolate covered marshmellow!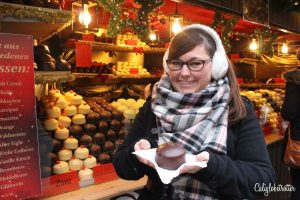 Devour a Nurembeger Bratwurst
If you're wondering what to eat at the Nuremberg Christmas Market, it is an absolute must to try a Nuremberger Bratwurstsemmel (sausage in a roll). Each town in Germany has stalls which sell regional sausages and they vary in size, color and shape. My personal favorite is the white Nuremberg sausages topped with french fried onions.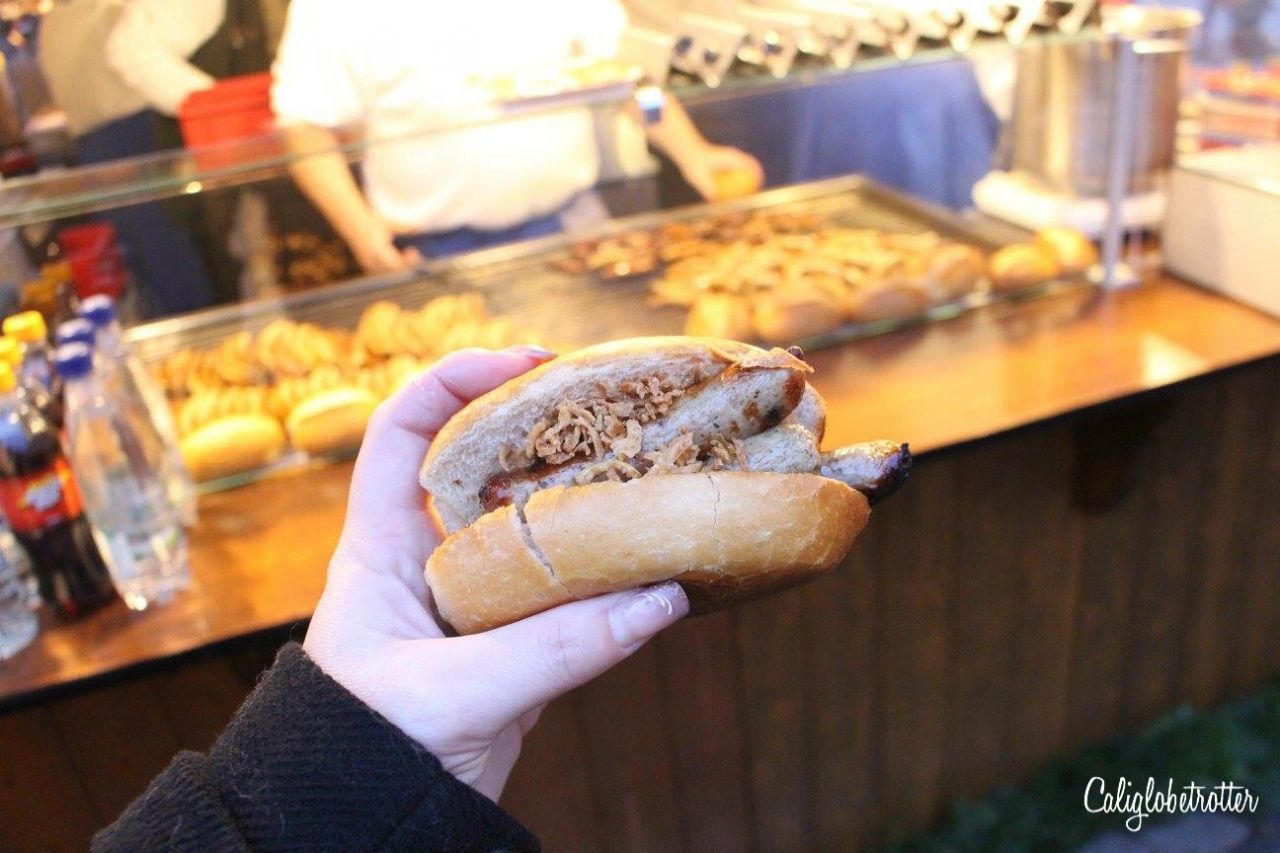 Find & Spin the Brass Rings on the Schöner Brunnen
As you walk around the market, make your way over to the Schöner Brunnen (The Beautiful Fountain) and search for the gold and black brass rings on the fence surrounding the fountain. The gold is easy to spot, but can you find the black one? Once you do, spin it for good luck and for a return trip to Nuremberg. The fountain has 40 colorful figures on it that represent the world view of the Holy Roman Empire and is one of the most traditional things to do in Nuremberg!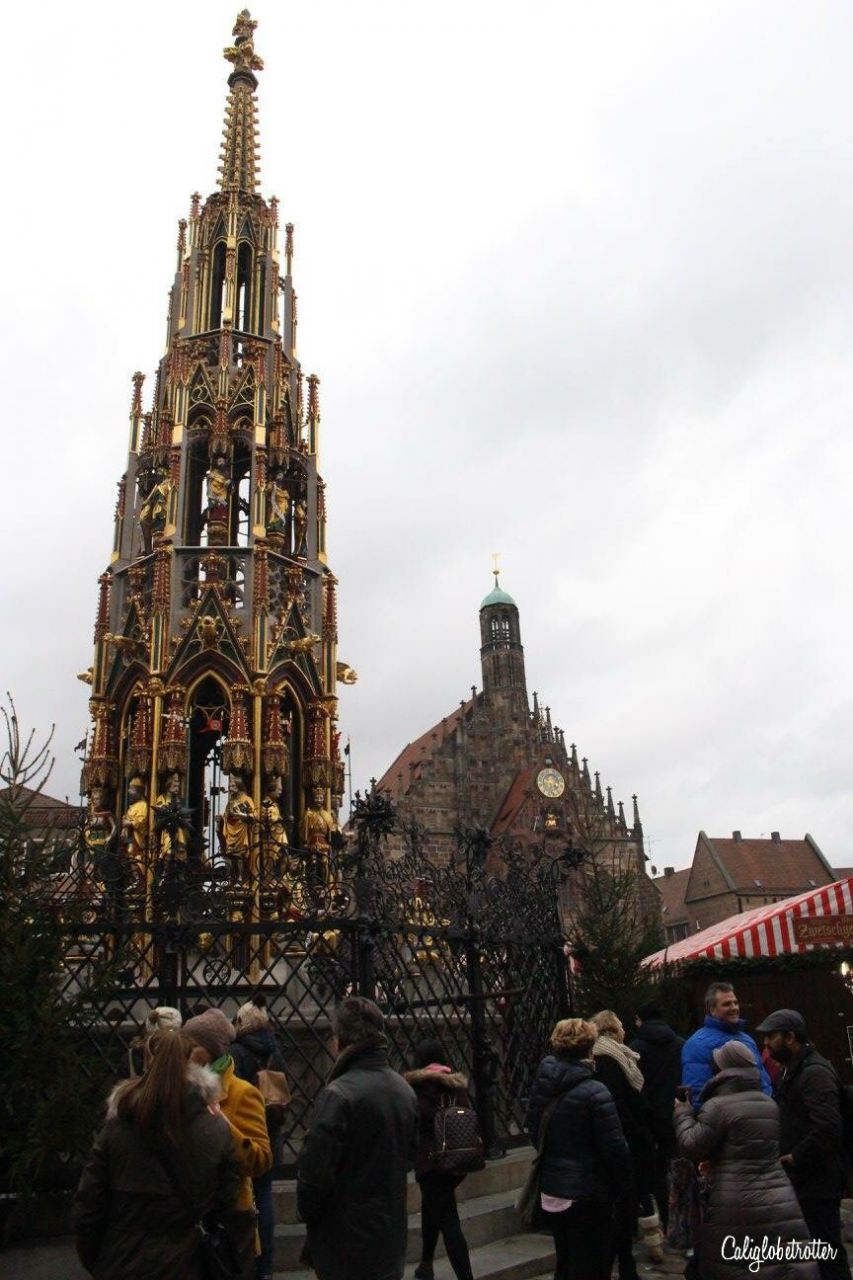 Shop for Christmas Ornaments
My absolute favorite thing to do besides shopping for ornaments is definitely to oogle endlessly at the bright colors and the endless variety of Christmas ornaments. From hand crafted wooden ornaments to glass blown, there is an ornament for every occasion in any color!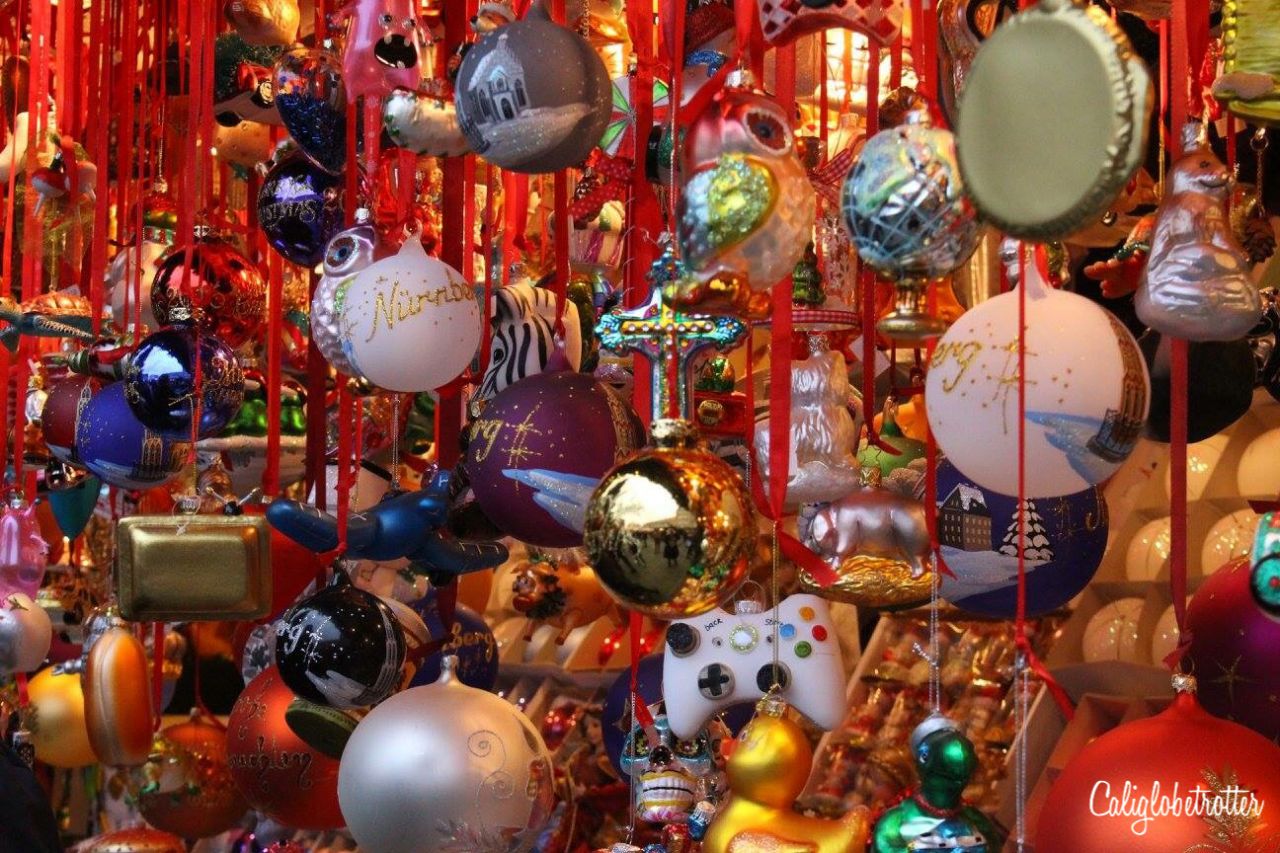 Catch a Glimpse of the Horse-Drawn Carriage
If you're looking for fun things to do at the Nuremberg Christmas Market, then consider a horse-drawn carriage ride! As if the market wasn't already the epitome of Christmas, Nuremberg steps it up a notch by providing horse-drawn carriage rides around the town with drivers dressed in an old-fashioned attire!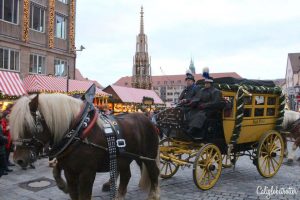 Check Out the International Christmas Market

Located off of the main market via a corridor or up the main road, The Nuremberg Christmas Market of Sister Cities began after World War II. Nuremberg aimed to mend international relations by creating different outreach programs, one of which included the market. Nuremberg's Sister Cities include Antalya (Turkey), Atlanta (USA), Kharkiv (Ukraine), Gera (Thuringia), Glasgow (Scotland), Kavala (Greece), Krakow (Poland), Nice (France), Prague (Czech Republic), San Carlos (Nicaragua), Shenzhen (China), Skopje (Macedonia), Bar (Montenegro), Brasov/Kronstadt (Romania), Kalkudah (Sri Lanka), Klausen+Montan (Italy) and Verona (Italy).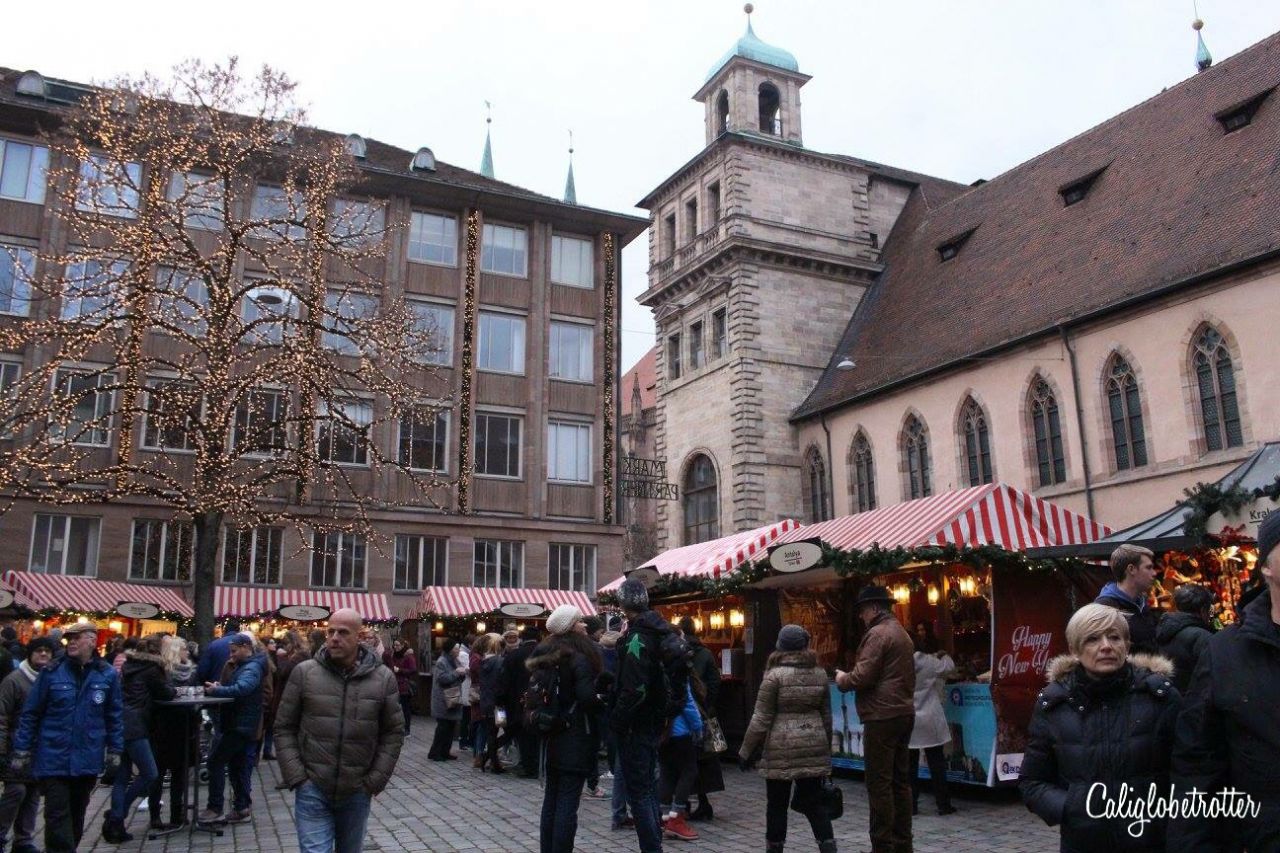 We enjoyed the Glasgow, Scotland booth where we found a Hot Toddy Glühwein which had Scottish Whiskey in it, making it not too sweet and not too strong. We REALLY enjoyed it! You could even buy a few Scottish patterned ties, hats, kilts and whiskey!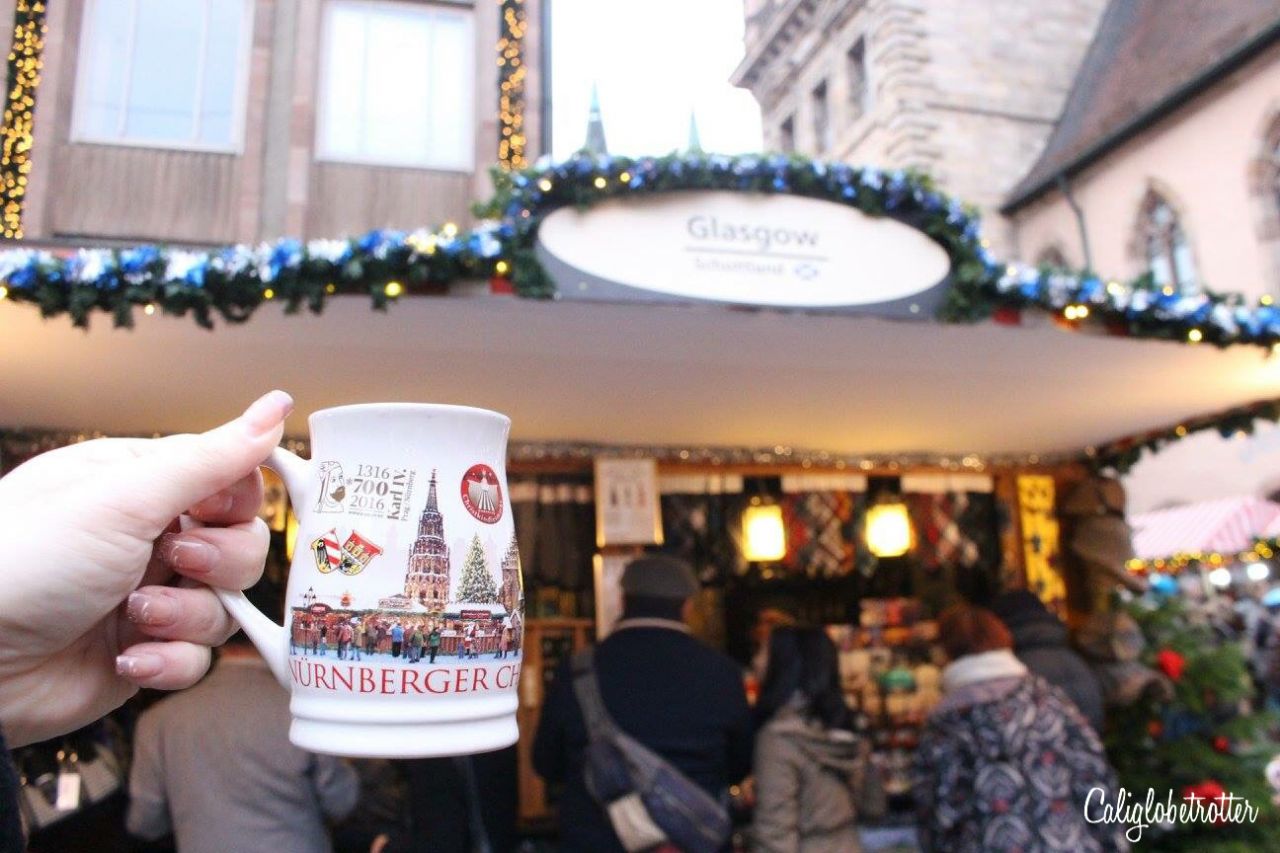 For any American expats who have a bit of homesickness during the holidays, they can head over to the Atlanta, USA booth which was stocked with Jim Beam, Jack Daniels, Blow Pops, Reese's Peanut Butter Cups, Slim Jims and candy canes! Classic Americana I guess!
Find all of the Gold Angels

(Rauschgoldengel

)
Gold angels are the symbol of the Nuremberg Christmas Market and can be seen floating in the sky around the entrances to the market. It is said that the angels are represent the Christkind and watch over the market.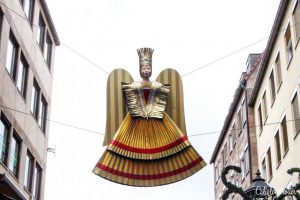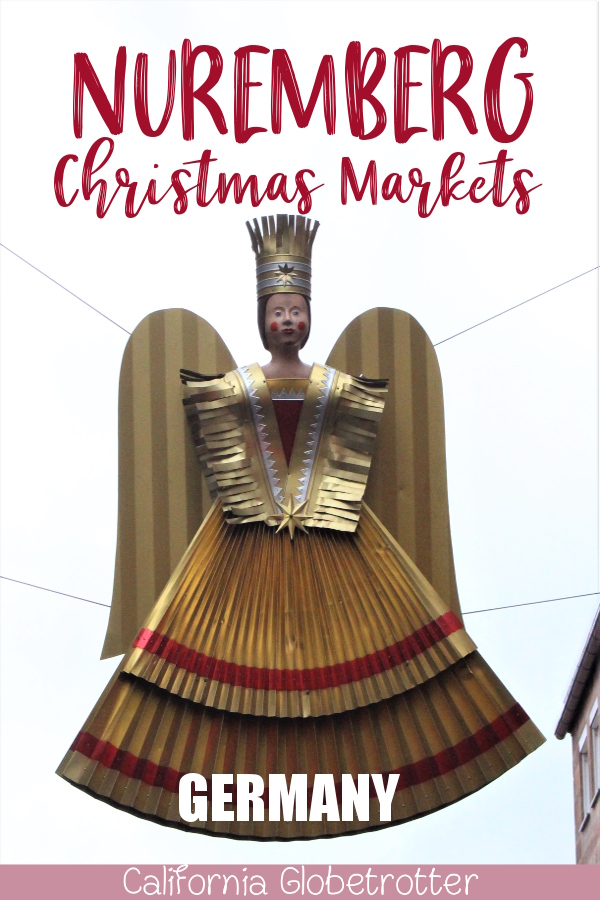 Take the Whole Family to the Kinderweihnacht Market
While many markets in Germany have a carousel for children, Nuremberg provides a children's Christmas market unlike any I have ever seen. With families in mind, the Kinderweihnachtmarkt is incredibly family-friendly! Not only is there a children's carousel, but there is also a mini Riesenrad (Ferris wheel), a swing AND a mini choo-choo train! Here you can find all kinds of toys and gifts for children AND have your picture taken with Santa!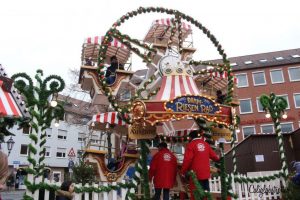 Opening Hours Christkindlesmarkt November 27th to December 24th, 2020

Opening Day Dec 1st – 10:00 a.m. – 9:00 p.m.
Opening Ceremony – 5:30 p.m.
Monday – Thursday – 10:00 a.m. – 9:00 p.m.
Friday & Saturday – 10:00 a.m. – 9:00 p.m.
Sunday – 10:00 a.m. – 9:00 p.m.
Christmas Eve – 10:00 a.m. – 2:00 p.m.
Where to Stay: Motel One Nürnberg-City ⭐⭐⭐– During a weekend business trip, we stayed at Motel One, which soon became one of my favorite chain hotels in Europe. Near the Main Station, my favorite style of decor and a delicious breakfast, this is one hotel I'd always recommend!
If you're interested in visiting Germany and are looking for more information, I highly recommend using the DK Eyewitness Travel Guide! Without these guides, I would be lost! This is my travel Bible!
Disclaimer: This post contains affiliate links. If you click on one and make a purchase, I might make a little extra spending money, at no extra cost to you. As always, all opinions are my own and these products/services have been found useful during our travels and come highly recommended to you from yours truly!
If you're not headed to Nuremberg for the holidays and looking for things to do in Nuremberg, check out my post about things to do in Nuremberg!
Other Christmas Markets:



Germany's Magical Christmas Markets
Heidelberg's Romantic Christmas Market
Lake Tegernsee's Christmas Markets
Liked this post? PIN IT FOR LATER!!
Save
Save
Save
Save
Save
Save