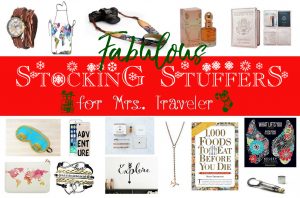 Disclaimer: This post contains affiliate links. If you click on one and make a purchase, I might make a little extra spending money, at no extra cost to you. As always, all opinions are my own and these products/services have been found useful during our travels and come highly recommended to you from yours truly!
67 days until Christmas, but who's counting, right? I know it's only the middle of October and we still have Halloween and Thanksgiving to stuff our faces until we wobble over to the couch and watch a game of football. But, it's never too early to start thinking about affordable gifts for those you appreciate the most, be it a friend, a lover or a family member, especially if they LOVE LOVE LOVE to travel! 
Need Christmas Stocking Stuffer Inspiration? PIN IT FOR LATER!!
Can't think of any affordable gift ideas that don't involve buying an actual plane ticket to Timbuktu? Because let's be honest right now, a free ticket anywhere would just be gloooorious! However, for us budget travel folks, small gifts that remind the travelholics in our lives of adventures past, present and future is equally exciting! Trust me, I love reminiscing about any and all vacations.
So, I've put together a list of 15 items small enough to fit into anyone's Christmas stocking that will take you on a journey around the world for $30 or less!
1. Soft Leather Wrap Travel World Map Watch
With real, soft leather and a vintage look, this world map watch will remind anyone of past trips or counting down the minutes for trips to come. This is a great gift for anyone who can't help but day dream of places to go next!
Price: $14.88
2. The Carry on Cocktail Kit The Old Fashioned
Make any long distance flight more exciting by gifting this Carry On Cocktail Kit which provides everything you need to make two old fashioned cocktails. This kit provides you with a recipe card, a spoon, aromatic bitters and sugar cane, all you need is the hard stuff!
Price: $15.98
3. 

Universal Camera Neck Shoulder Strap, Camera Belt for All DSLR

 
Get rid of that ugly Canon camera strap and replace it with an adjustable chic travel strap, perfect for all DSLR cameras! Wear it around your neck or to the side, Mrs. Traveler will feel more comfortable and be more at ease with whipping out her camera for that next great money making shot! Switch it out when Mr. Traveler wants to take photos.
Price: $14.99
4. Jessica Simpson Fancy Eau De Parfum Spray 1 oz
My FAVORITE perfume
 by Jessica Simpson since forever! I never leave the house without my travel size Fancy perfume bottle! Plus, the bottle is pretty! Top notes are pear, apricot and red berries; middle notes are gardenia, jasmine, almond and caramel; base notes are sandalwood, vanilla and amber.
Price: $16.55
5. 

Audrey Hepburn Sleep Mask from Breakfast at Tiffany's Holly Golightly 
Every girl loves Audrey Hepburn and her famous role as Holly Golightly and wanted the same sleeping mask as she wore in the film! Why not make Mrs. Traveler feel like Audrey Hepburn by buying her very own sleep mask with eyelashes! 
Price: $17.99
6. 

Rose Gold Leather Passport Holder Wallet Cover 
Every girl can never have too much Rose Gold, so why not get this adorable Passport holder/wallet that she can easily store in her purse or carry on! 
No need for pesky wallets and a separate passport holder when you can combine them into one, saving more room!
Price: $7.99
7. 

iPhone 6 6S  ADVENTURE Travel the World Clear Protective Cover
If Mrs. Traveler is as much of a travelholic as I think she is, travel related anything will permeate every aspect of her life, including her phone cover! Why not get this adorable ADVENTURE phone cover which will inspire her to book that next trip!?
Price: $5.49
8. 

Faux Leather Clutch with Inner Pocket – Travel Theme
Sometimes a girl just needs a travel inspired clutch to let the world know she is a child of the world. She has no boundaries and no border will keep her from seeing the world! This watercolor travel inspired clutch is perfect as a simple make up pouch or for holding the essentials while out on the town!
Price: $24.99
9. 

Tiny Airplane Plane Pendant Necklace Travel Jewelry

 
A simple, charming rose gold airplane necklace to remind her never to stop dreaming and never stop traveling! She'll wear this necklace every day 
to her hearts content! 
Price: $9.99
10. 

1,000 Foods To Eat Before You Die: A Food Lover's Life List
The ULTIMATE gift for the foodie in every traveler! 
Similar to 1,000 Places You Must Visit Before You Die, 1000 Foods to Eat Before You Die is a delicious, informative guide to the world's most iconic & traditional meals! Hungry yet?
Price: $14.29
11. Kelsey Montague's What Lifts You: Uplifting Designs to Color & Create

 
Bring Kelsey Montague's artwork home for Mrs. Traveler and let her color to her heart's content! Kelsey Montague is a famous street artist who travels around the world creating interactive wall murals like in Nashville, Tennessee.
Price: $14.95
12. 

Colorful Art Map Of World Kitchen Cooking Apron 
Who wouldn't feel inspires to cook all those delicious worldy meals you've discovered while travel when wearing this colorful watercolor world map apron!? I definitely would bust out my cooking skills! 
Price: $9.99
13. 

Not All Who Wander Are Lost Bracelet Adjustable Inspirational Travel Quote

 
Any wanderlusty traveless would just love a bit of Schmuck to wear on her wrist to remind her that it's ok to wander and not settle down by having a reminder that "Not All Who Wander Are Lost". 
Price: $11.90
14. 

Screwpop Travel Stash Key Chain Multi-tool and Bottle Opener
Stash some extra cash in this conspicuous bottle opener key chain that Mrs. Traveler can take with her on all of her travels. You never know if she may get robbed, lose her wallet or perhaps her credit cards won't work! Better to be safe than sorry! 
Price: $9.90
15. 

Explore Arrow Removable Wall Sticker Art Decal
Give Mrs. Traveler this simple but lovely Explore wall decal to decorate her home with her travel memories. Easy to apply and remove, this wall decal will spruce up any room in the house! 
Price: $13.50
Obviously some stocking stuffers are a little big, but if you have Christmas stockings are LARGE as mine, then you'll have PLENTY of room for some, if not all of these wonderful travel related Christmas gifts for her. Opening stocking stuffers is the main part of our Christmas gift giving and are usually the most thoughtful items, so I hope that I've given you plenty to fill her stocking!
Other Related Posts:
The BEST Thanksgiving Care Package for Your Expat
For Her
13 Fabulous Birthday Gifts for the Lady Traveler
Stylish Carry-on Essentials for the Lady Traveler
10 Gifts Every Female Traveler Should Have
For Him
10 Affordable Hipster Gifts for Mr. Traveler
15 Epic Stocking Stuffers for Mr. Traveler
Liked this post? PIN IT FOR LATER!!