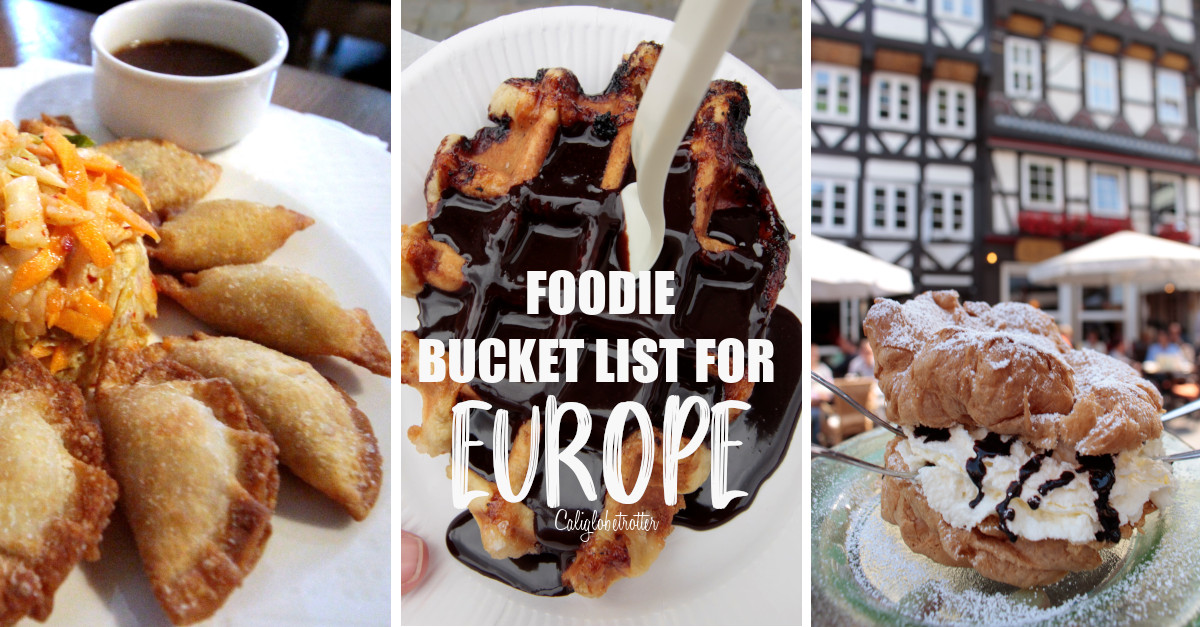 Disclaimer: This post contains affiliate links. If you click on one and make a purchase, I might make a little extra spending money, at no extra cost to you. As always, all opinions are my own and these products/services have been found useful during our travels and come highly recommended to you from yours truly!
Let's admit it, half of the reason why we have an addiction to travel is so that we can try new authentic foods that we can't get at home (of equal deliciousness). PLUS, they say that "when you travel, calories don't count", riggght?
I know that whenever we travel anywhere, we always want to eat local cuisine. But, what is some of the MUST-TRY food you HAVE to eat when in Europe?! This foodie bucket list for Europe will leave you wanting to book your next ticket to eat your way through Europe! The question is though, is dessert first, or no?
For some people, experiencing a new city means tasting it, one bite at a time. You can learn so much about a culture and their traditions by engorging yourself with every delicious morsel of food out there! As Anthony Bourdain says,
"People are generally proud of their food. A willingness to eat and drink with people without fear and prejudice… they open up to you in ways that somebody visiting who is driven by a story may not get."
A lot can honestly be said with a roll of the eyes to the back of the head, a long ommmergod expresses heaven on earth food orgasm. People love to know that their food and the effort they put into it is greatly appreciated. And if I'm honest, food is one of the reasons I love to return over and over again to the same countries.
Love European Food? PIN IT FOR LATER!!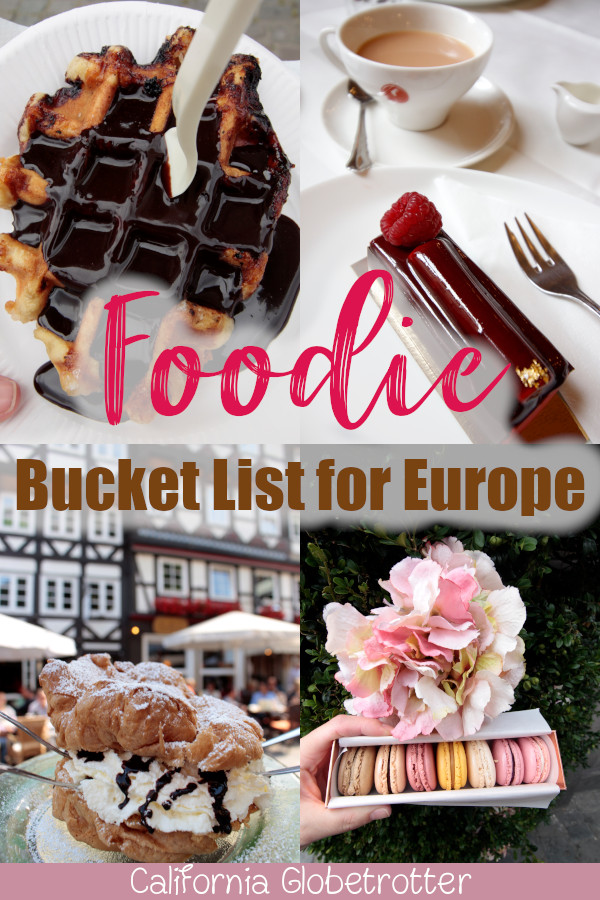 How to AVOID Looking Like a Tourist in Europe
The ULTIMATE Guide to Eating in Germany
Afternoon Tea Around the World
The BEST Coffee & Cake Guide to Vienna
So if you're headed to Europe and wondering what to eat in Europe, I've got you covered for many of the delicious traditional meals we have eaten throughout our travels. So I hope you're hungry because European cuisine is wide and varies greatly from country to country. That alone is so amazing considering how small Europe is. Like, why can I not get GOOD authentic Belgian waffles in Germany? Hopefully this mini European foodie guide will help you discover what kind of delicious food in Europe you're in for! If it's your first time to Europe, there is definitely no need to freak out and wonder what the heck to eat when traveling. EVERYTHING is so good, you can never go wrong! And like me, hopefully the this Europe foodie bucket list will leave you returning to Europe over and over again.
Amsterdam, The Netherlands
Indonesian food is a large part of the identity of the Netherlands. This is due to the Dutch East India Trading company and the arrival of former Dutch colonials and people from the colonies migrating to the Netherlands. So while in Amsterdam, we found one of the best rated Surinamese restaurants in town called Warung Spang Makandra. I had no idea what I was getting myself into, but it was delicious!!!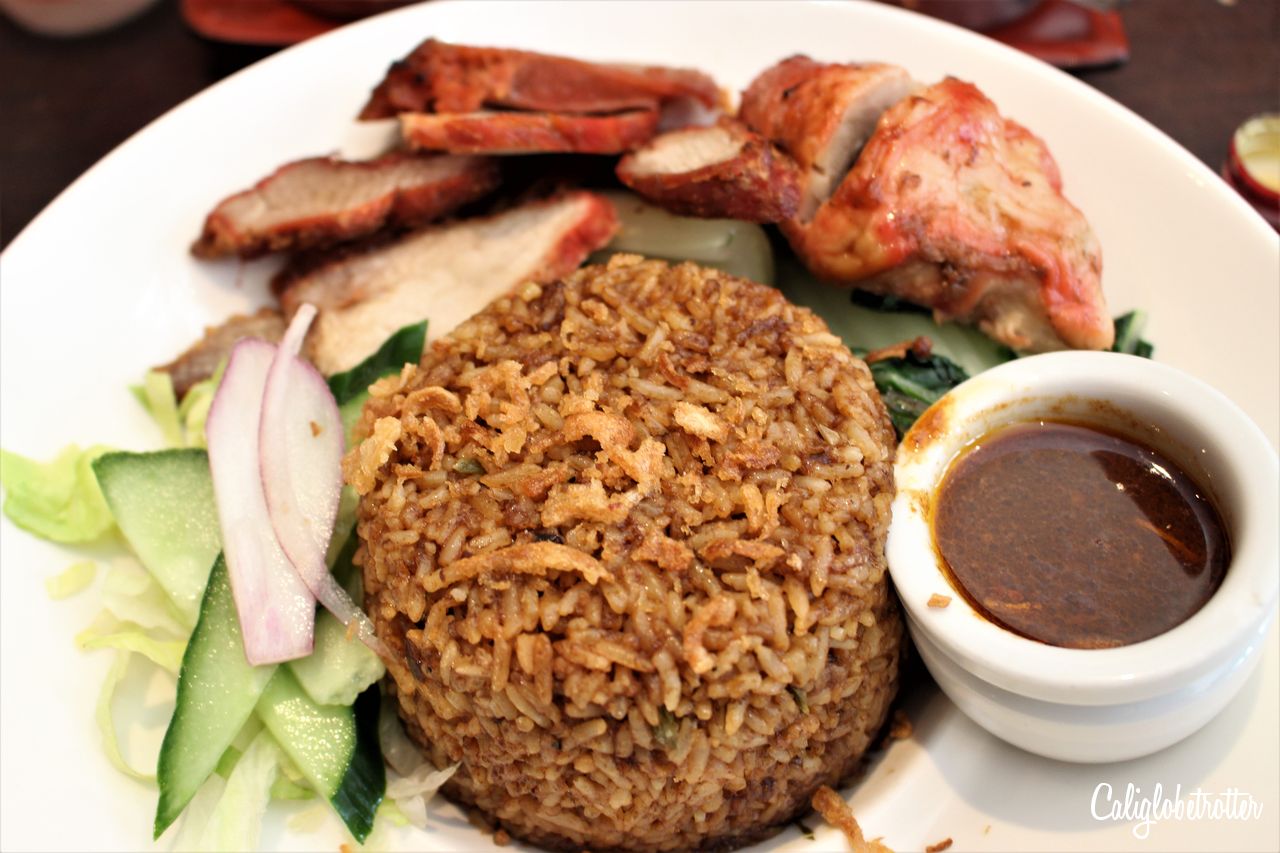 Pofferjes which is another typical Dutch food that must be had! They are tiny, fluffy pancakes which are served with powdered sugar and butter. Sometimes, they even come with syrup, whipped cream or strawberries and is one of the top things to eat in the Netherlands!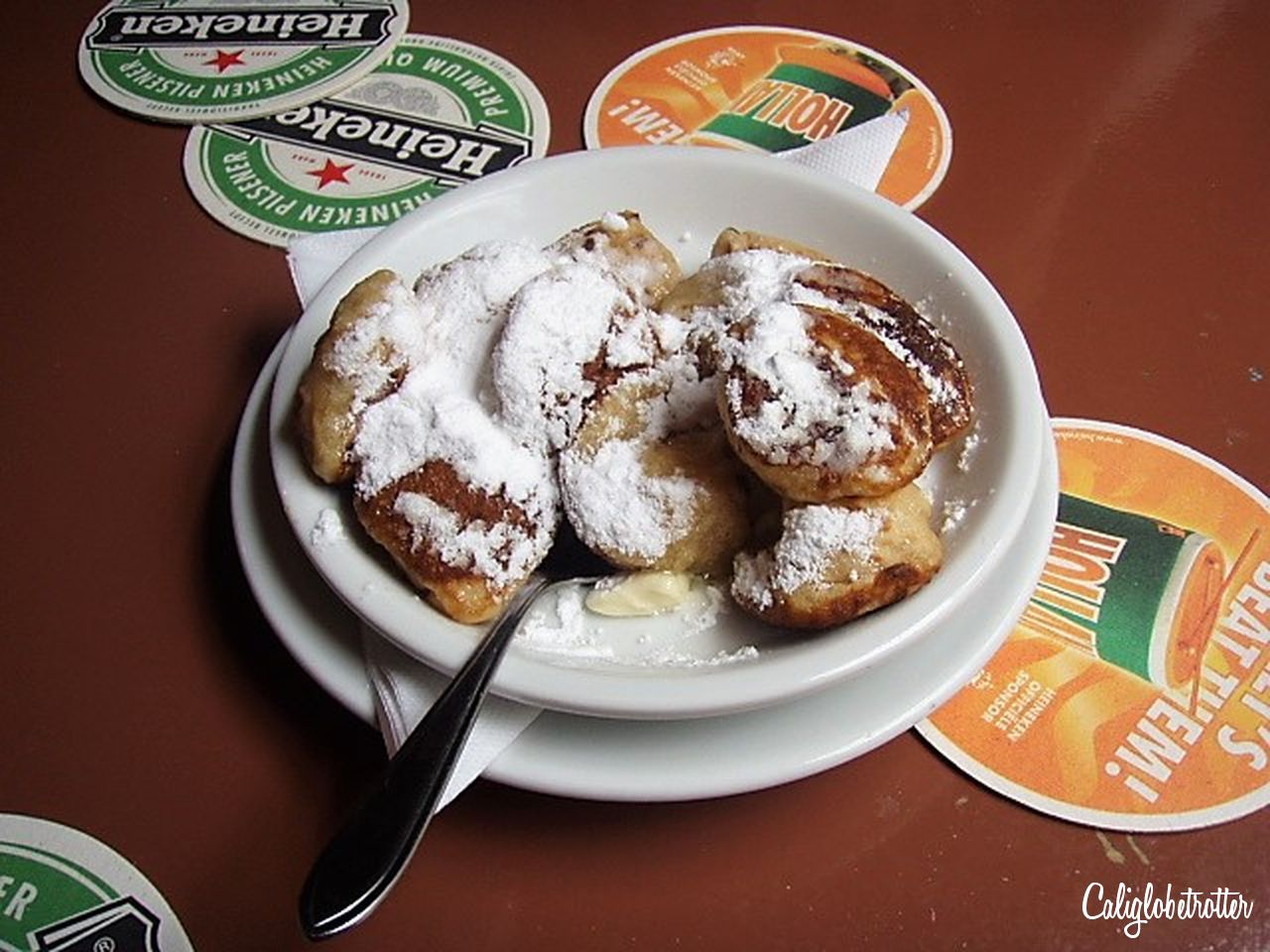 Bruges & Brussels, Belgium
Belgian Waffles can be found in most big cities in Belgium, especially in Brussels and Bruges. There are different variations, none of which are actually called "Belgian Waffles". The Brussels Waffle dates back to the 18th Century, so there has been plenty of time to perfect this most delicious waffle, different from any American style waffle. You have not truly experiences Belgium without having a waffle! In Bruges, the best waffles are from a small van that sits in front of the Stadhuis (City Hall) but if you're looking for some of the best waffles in Brussels, then consider going to Maison Dandoy!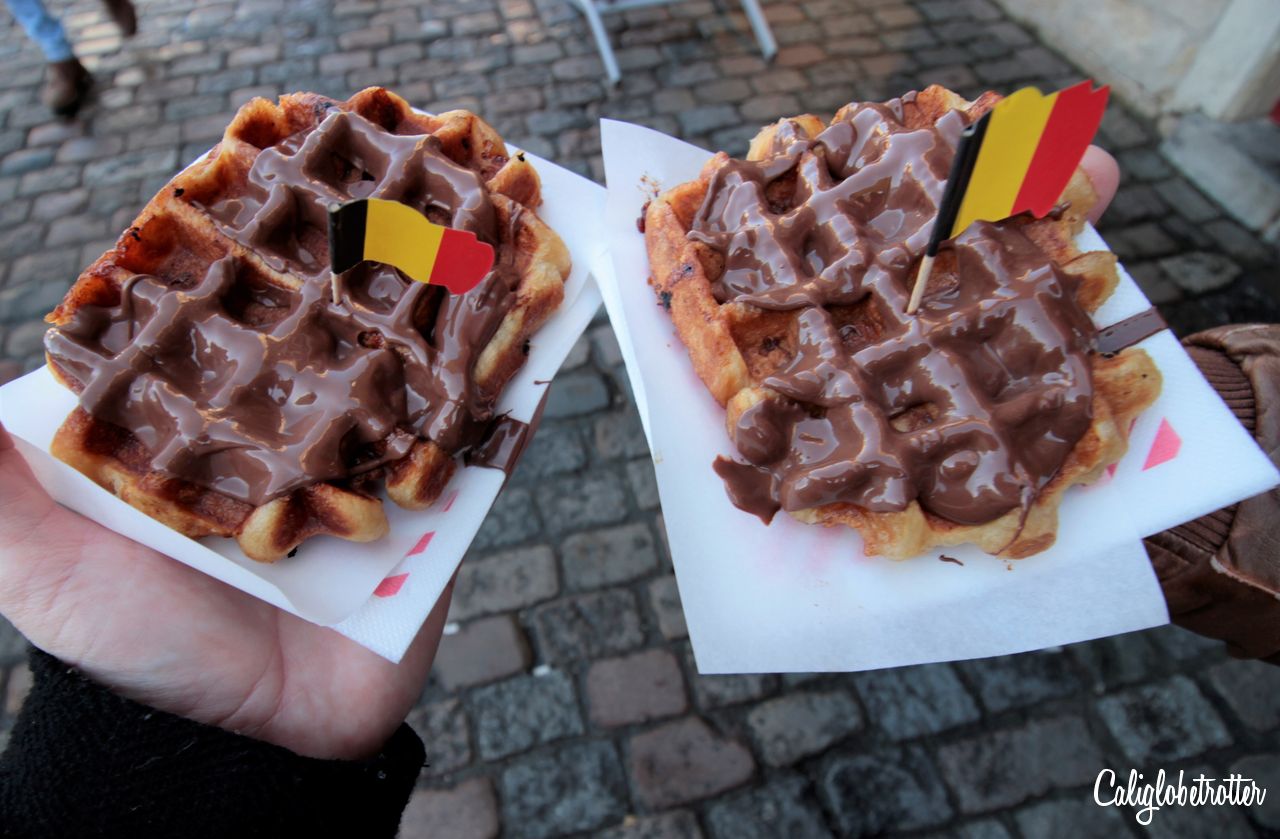 "If I'm an advocate for anything, it's to move. As far as you can, as much as you can. Across the ocean, or simply across the river. Walk in someone else's shoes or at least eat their food. It's a plus for everybody." – Anthony Bourdain
Mussels are a popular dish many enjoy for dinner in Belgium, seeing as how the country lies along the coast the North Sea. And to truly eat them like a Belgian, one must use the shell as a pair of pinchers to grab the meat out of another shell.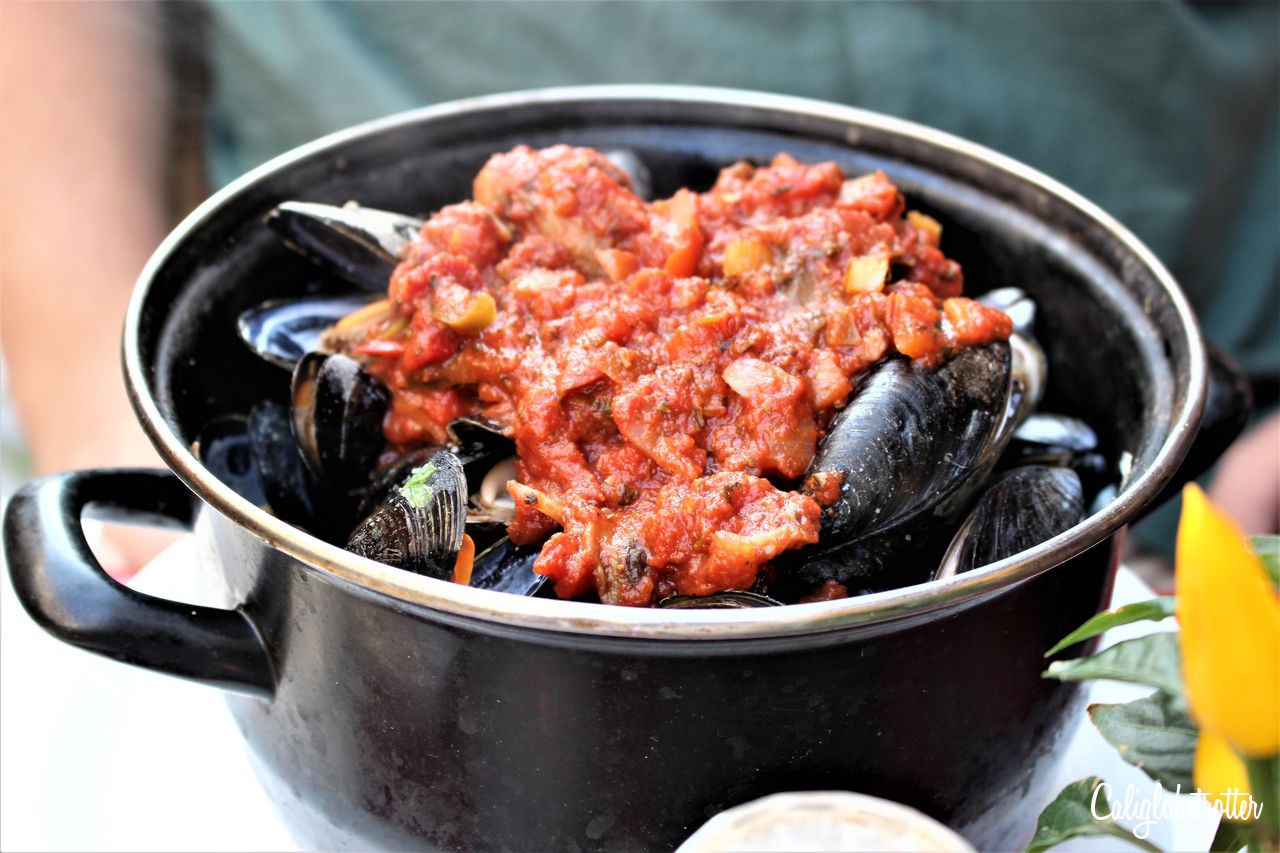 Frites are the second most iconic food in Belgium after the waffle! While us Americans call Frites "French Fries", there is still some debate as to where fries were actually invented, and I must say, we have it wrong. We should be calling them "Belgian Fries" because they are the best in the world! Frites come with many main meals in Belgium, but the best are always from a friterie where you can also get fried hamburgers and other delicious food!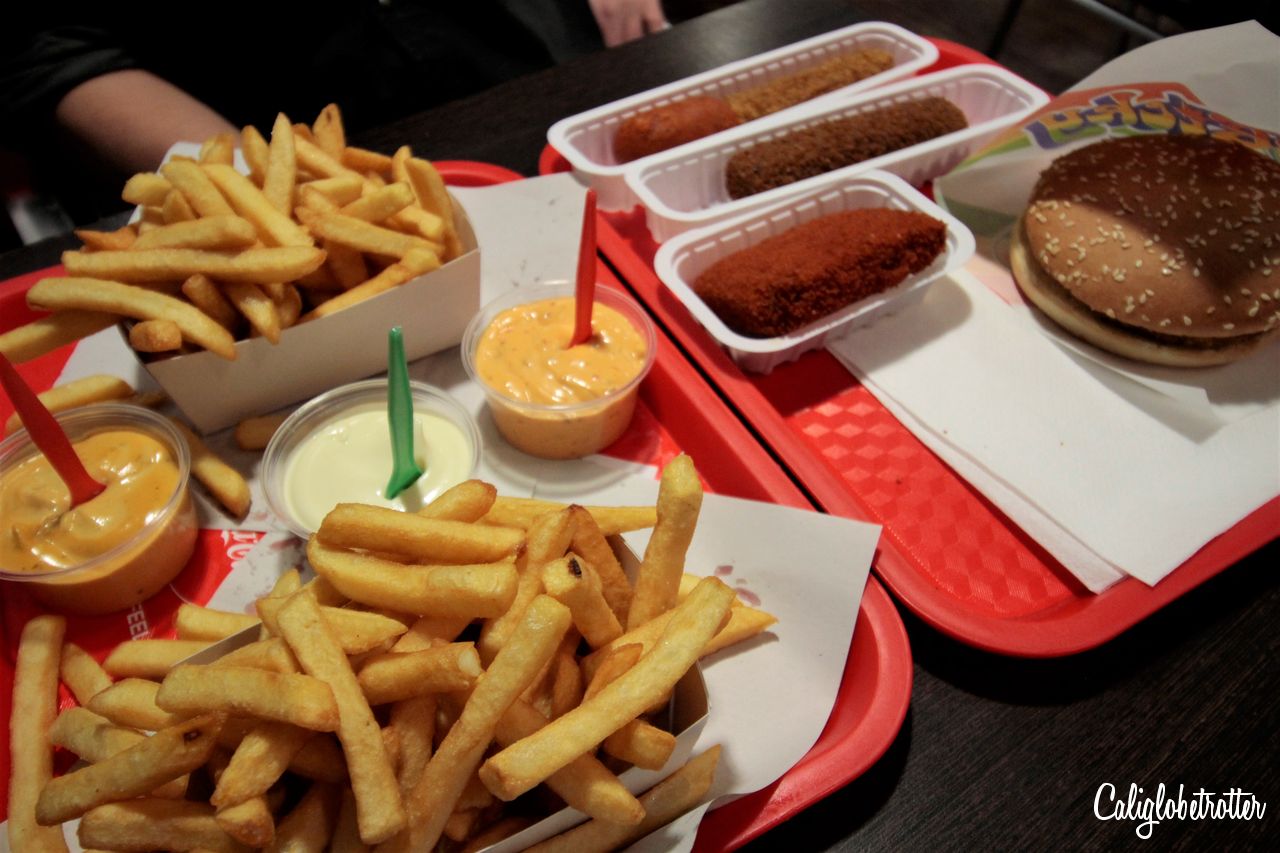 Berlin, Germany
Döner Kebab is a Turkish-style flatbread sandwich stuffed with sliced lamb or chicken with vegetables which was supposedly"invented" in Berlin by a Turkish man, which now results in €3.5 billion in yearly sales and over 16,000 Kebab shops in Germany. Döner Kebabs, as well as other similar variations like the Durum (in a tortilla style wrap) can be found in practically every nook and cranny of Germany.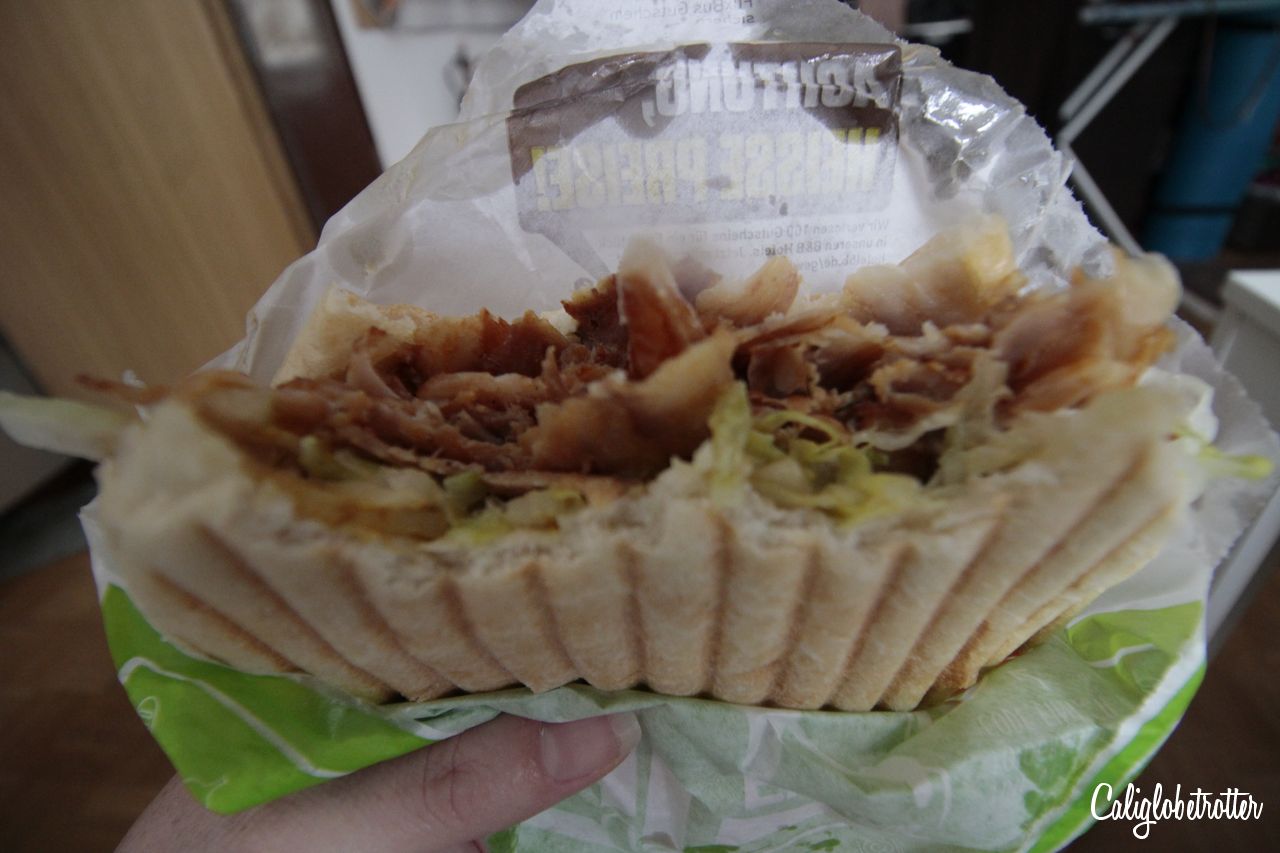 Bucharest, Romania
Stuffed Cabbage with Polenta – stuffed cabbage is predominately stuffed with ground meat, wrapped in cabbage leaves and cooked in a bit of vegetable broth and served with a side of polenta and sometimes topped with a slice of bacon. This is commonly found in the Balkans, Central, Northern & Eastern Europe as well as into Iran and Asia. We enjoyed this at Bucharest's Hanul Lui Manuc.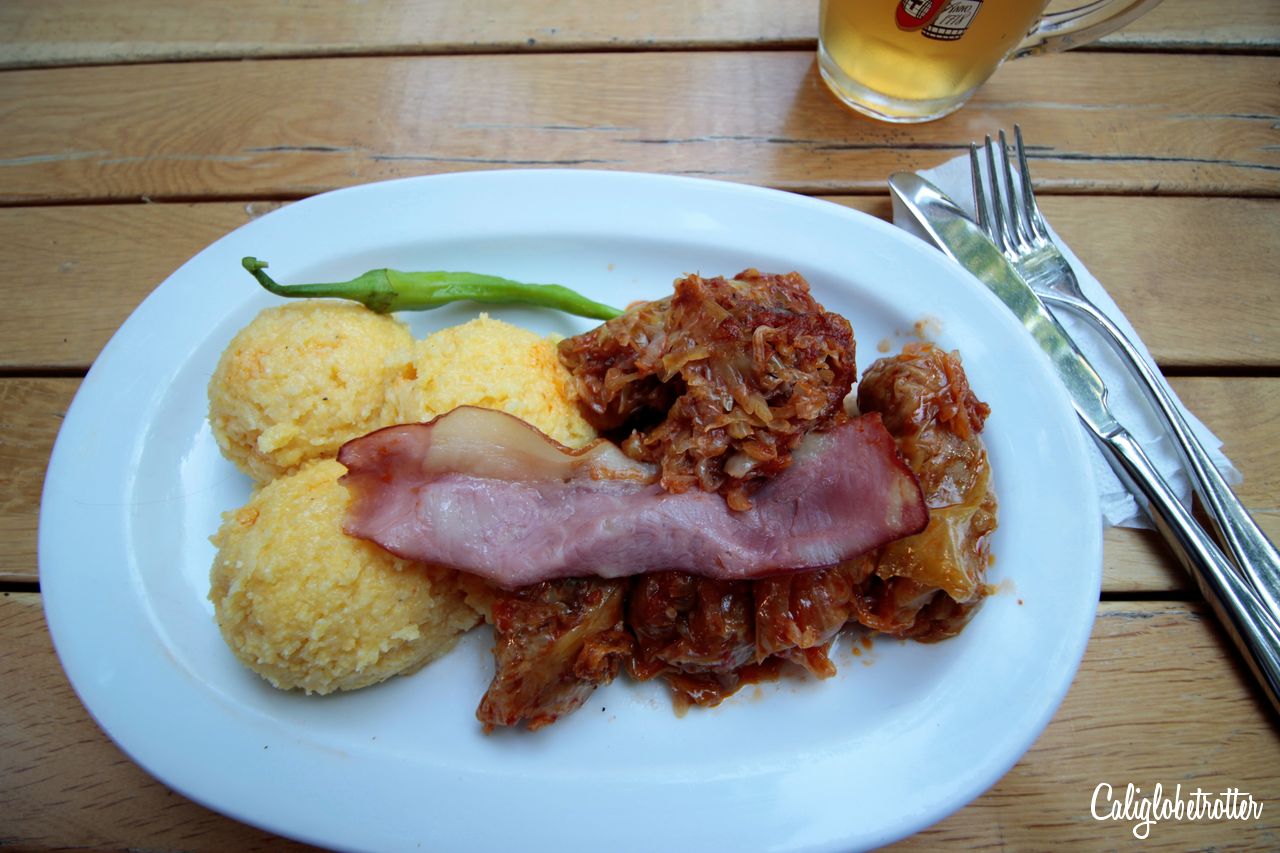 Budapest, Hungary
Goulash is a very traditional meal usually served with beef, a variation of Knödle (Potato Dumpling) and Paprika sauce, which can be found anywhere between Hungary, Austria, Czech Republic and Germany. But the best has by far been in Budapest, perfect for a cold winter day!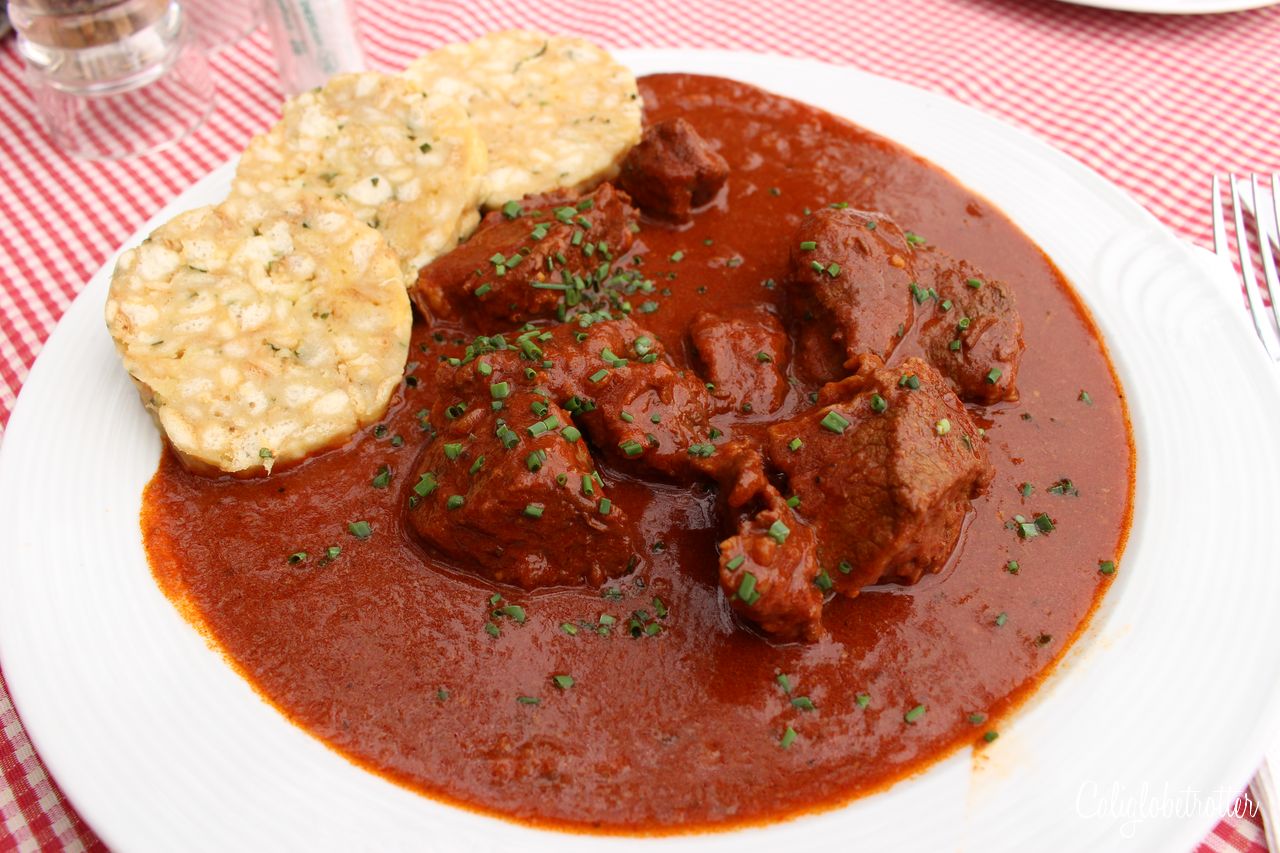 Dublin, Ireland
Guinness – If there is one thing that anyone associates with Ireland besides St. Patrick's Day, it would be a pint of world famous Guinness beer! A dry Irish stout produced in Dublin and though you can practically have a Guinness anywhere, it's the best the closer you are to the brewery! And though it is not food, it is heavy enough to fill you up! Should you be in Dublin, be sure to do a tour of the Guinness Brewery!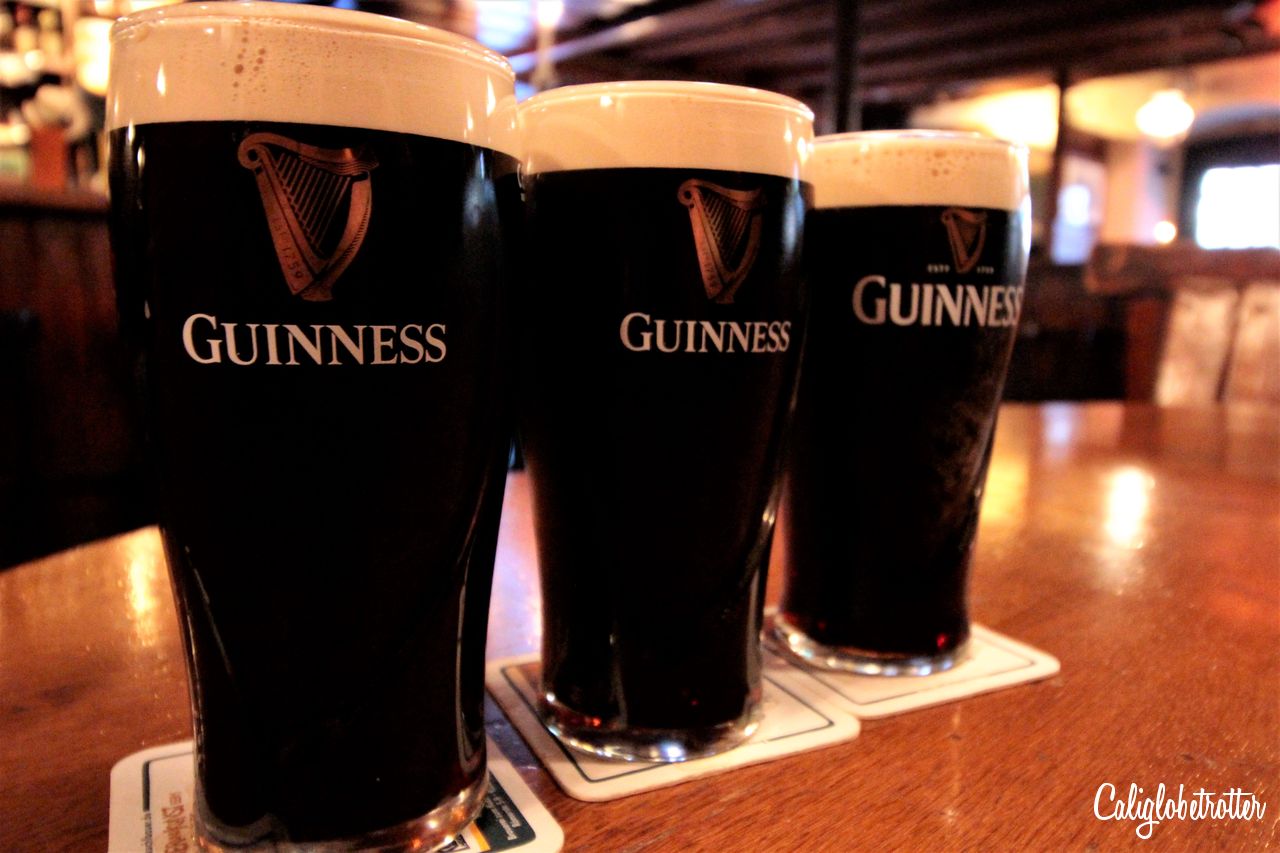 Edinburgh, Scotland
Haggis, neeps and tatties – One of the most traditional meals to eat in Scotland is a bit of Haggis, neeps & tatties, which is not for the faint of heart. Haggis is a mixture of the sheep's heart, liver & lungs mixed with onions and seasoning. Neeps is similar to a cabbage or turnip and tatties are potatoes. They are traditionally served together, but you can often find Haggis in a variety of different ways.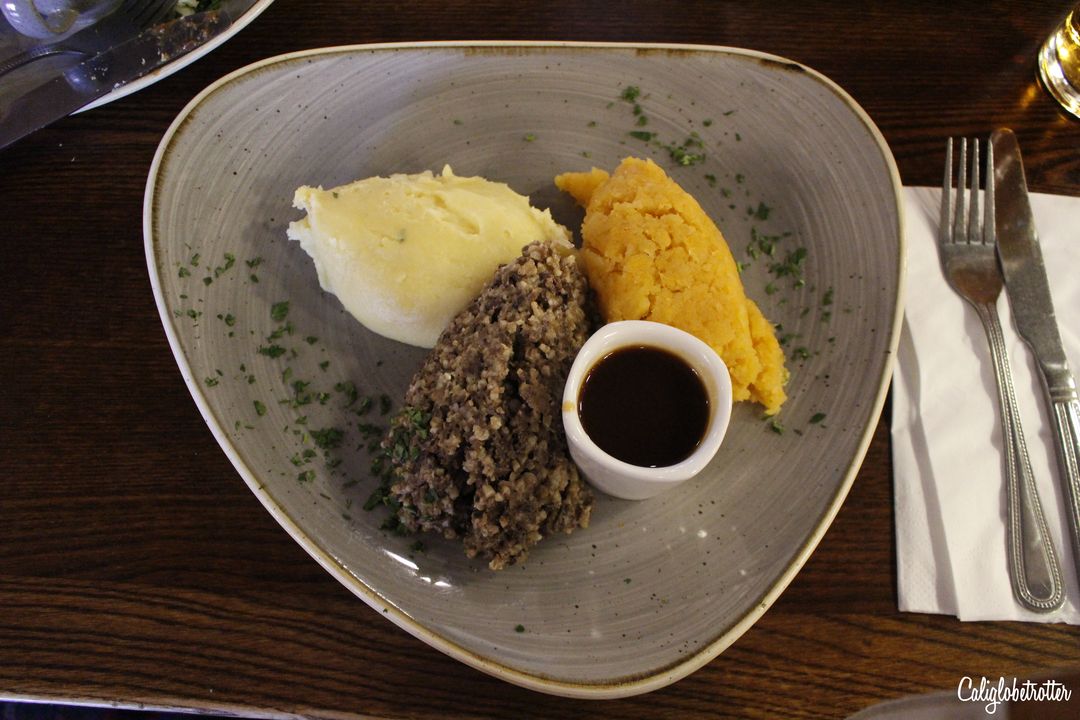 "Sometimes the greatest meals on vacations are the ones you find when Plan A falls through."- Anthony Bourdain

Gdansk, Poland
Pierogi – ravioli-style filled dumplings that come with either cream cheese, ground meat, potato and fruits. Typically they are served with friend onion, butter or bacon bits drizzled on top with a side of sauerkraut. They come moist or even fried. You can typically find these at any traditional Polish restaurant but these particular ones came from Gdansk! Pierogi are simply one of the most delicious and traditional things to eat in Poland you can't miss! (More on Polish cuisine here)
Goslar, Germany
Windbeutel ("Wind bag") or what we call in English, a Cream Puff with ice cream and chocolate! Quite popular in Germany, but never have we seen one so big and we got the "smallest" size while in Goslar! Fun fact: If you order the LARGE one, you can have a second for free!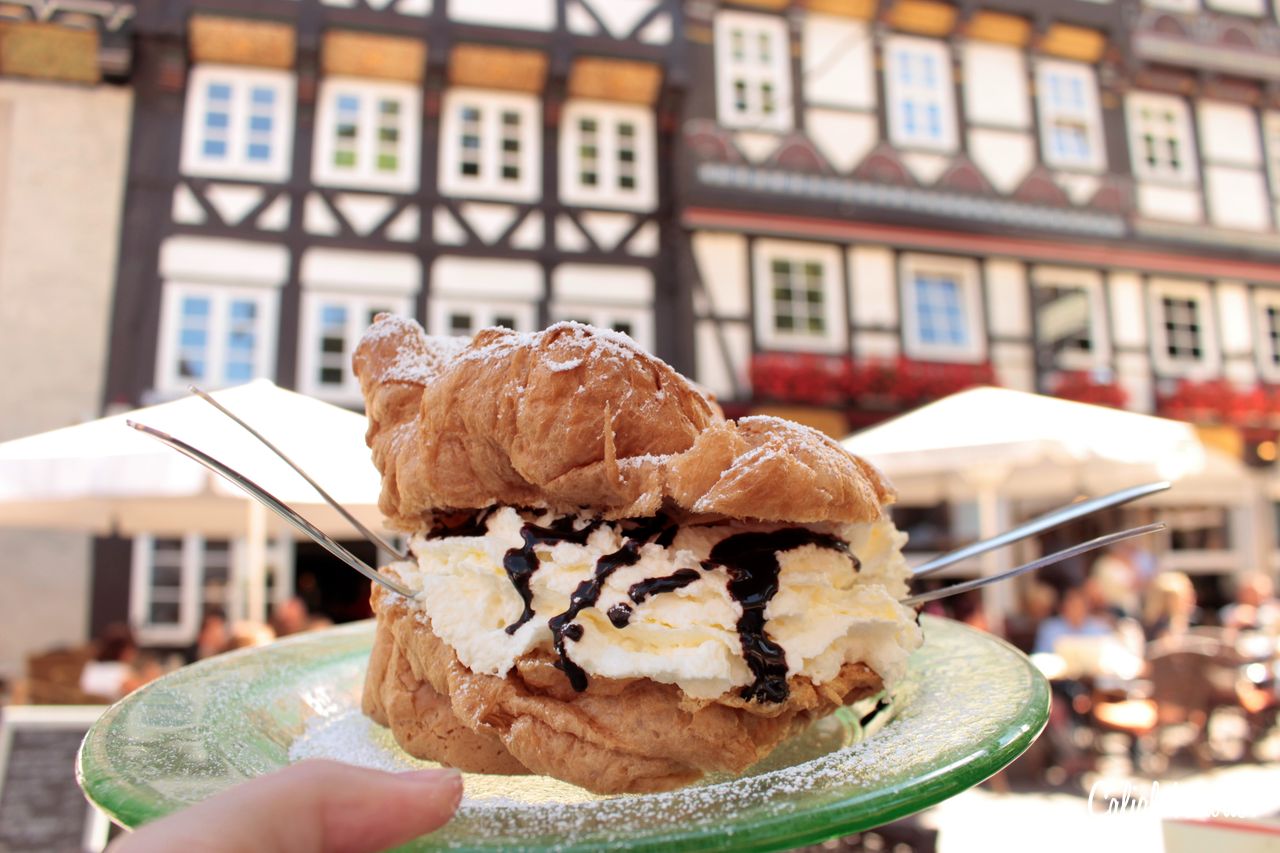 Lake Bled, Slovenia
Kremsnita (Cream Cake) – You just can't go to Lake Bled without devouring the town's iconic and beloved cream cake! Characterized by a delicate puff pastry which has been folded seven times and left to sit over night, atop layers of light vanilla cream and custard, one slice will leave you wanting more!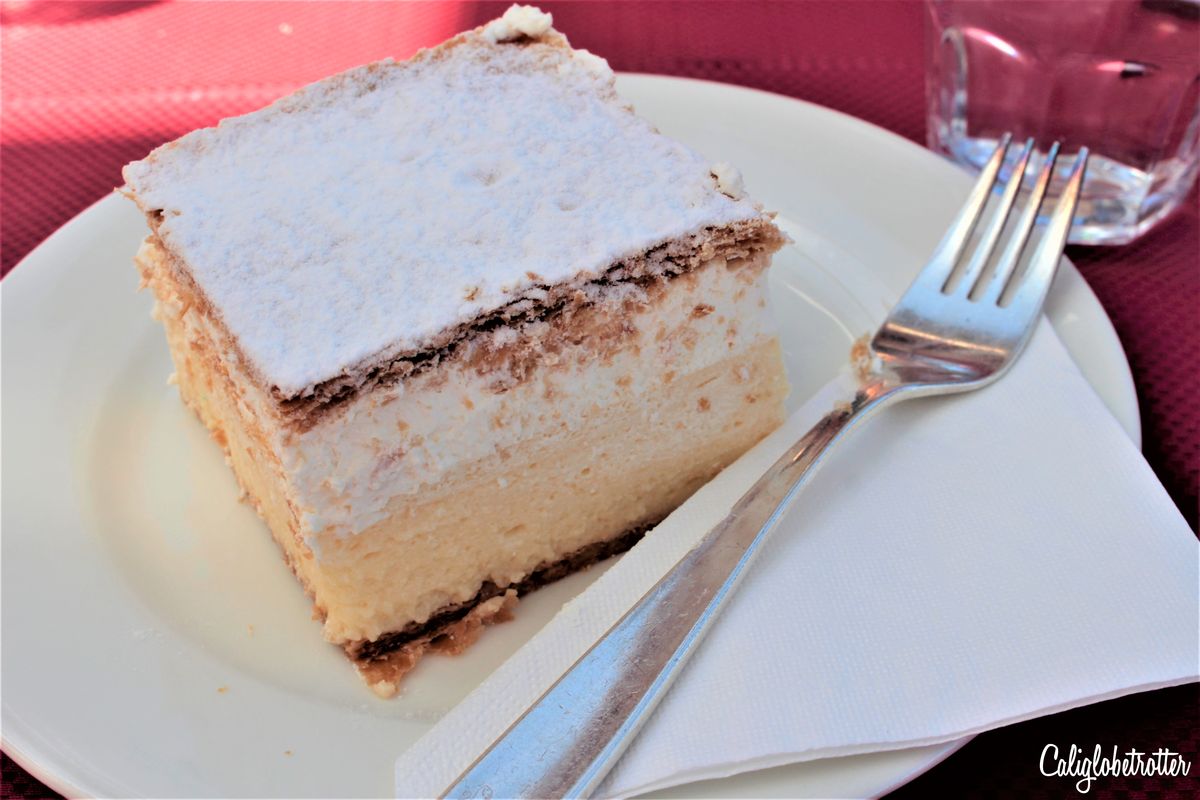 London, England
A Full English Breakfast is the perfect way to start your day when in England! Nothing like a good hearty breakfast to kick start your day! A full English includes an English sausage, bacon, mushrooms, eggs, baked beans, fried tomato, black pudding and toast. But there are also other variations like the Full Scottish Breakfast which includes Haggis, as well as a Full Irish Breakfast.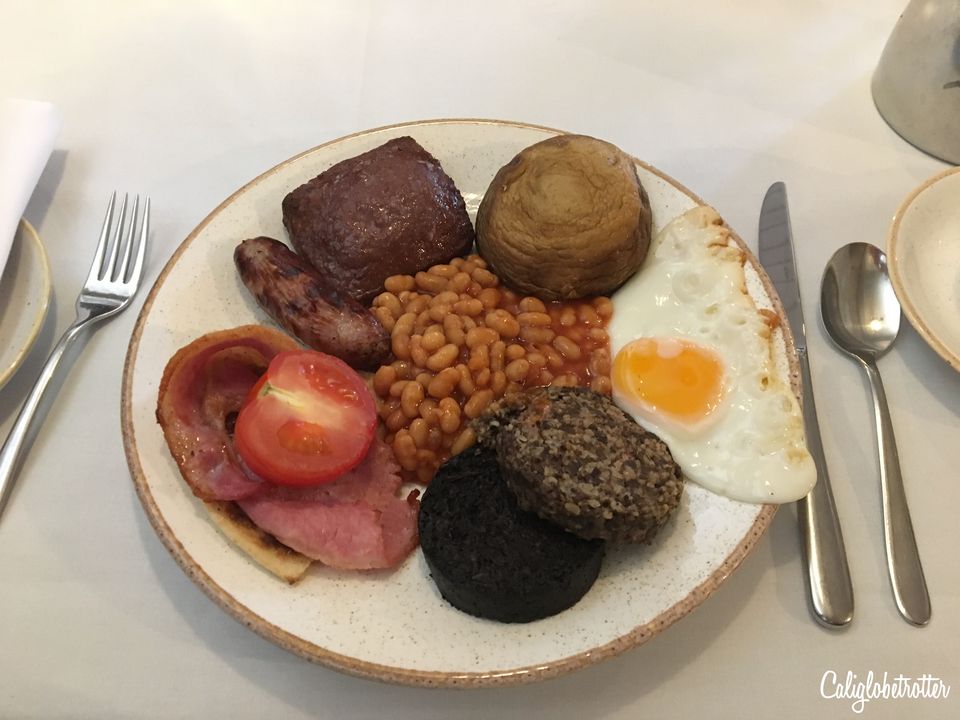 Fish'n'Chips – Fish'n'Chips is a simple dish with fried cod served with what us Americans might called Fresh Fries. No Trip to the UK is complete without at least on dose of Fish'n'Chips.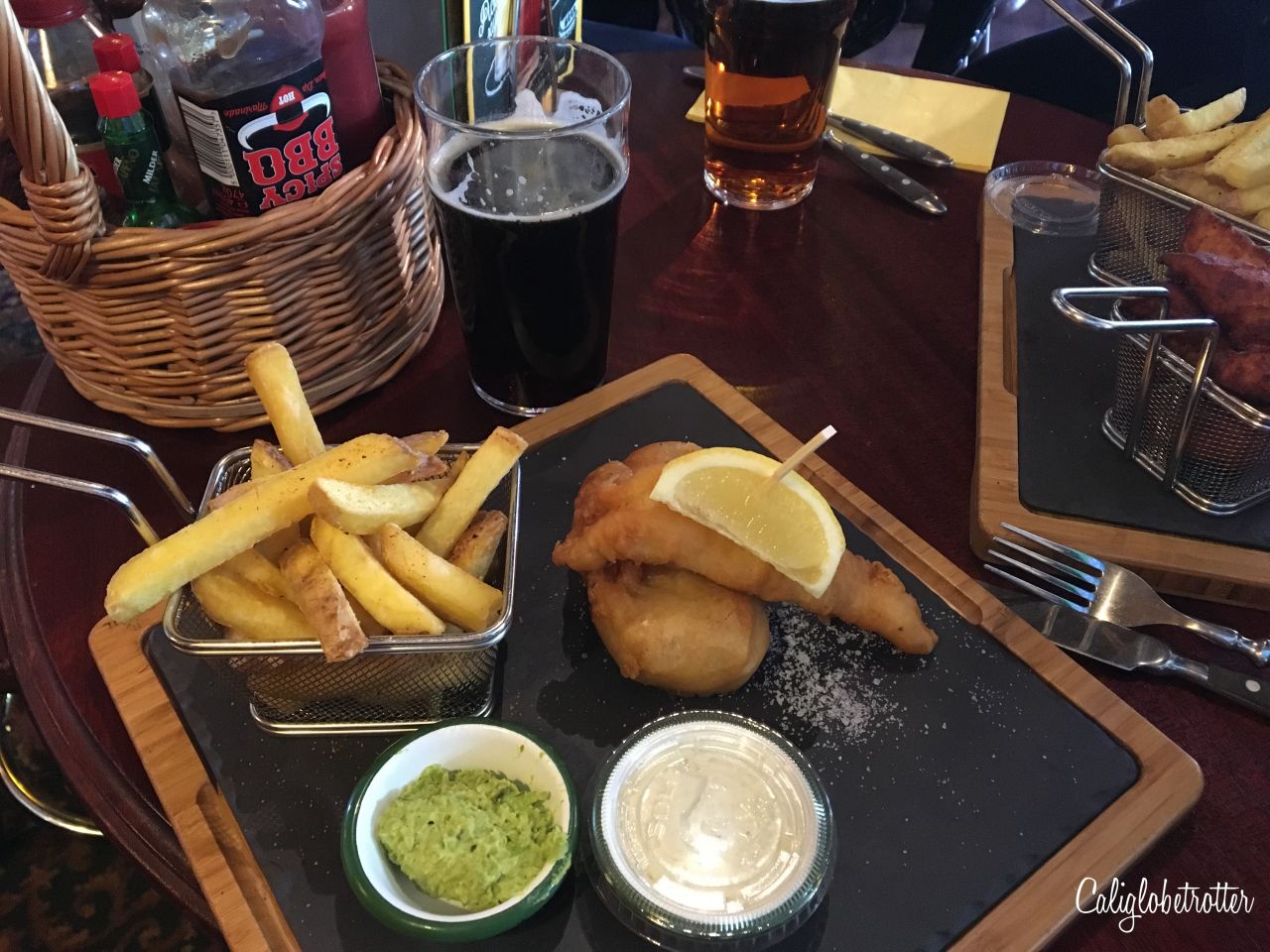 York, England
Afternoon Tea – While you can find a fancy afternoon tea in England, the best one we had was actually in York! A quintessential British tradition, for just a few pounds each, we ate like royalty with hearty Coronation Chicken sandwiches, freshly made scones with jam, Butterscotch cake and endless tea! (More on Afternoon Tea here)
Related: Afternoon Tea Etiquette – 15 Do's & Don'ts of Afternoon Tea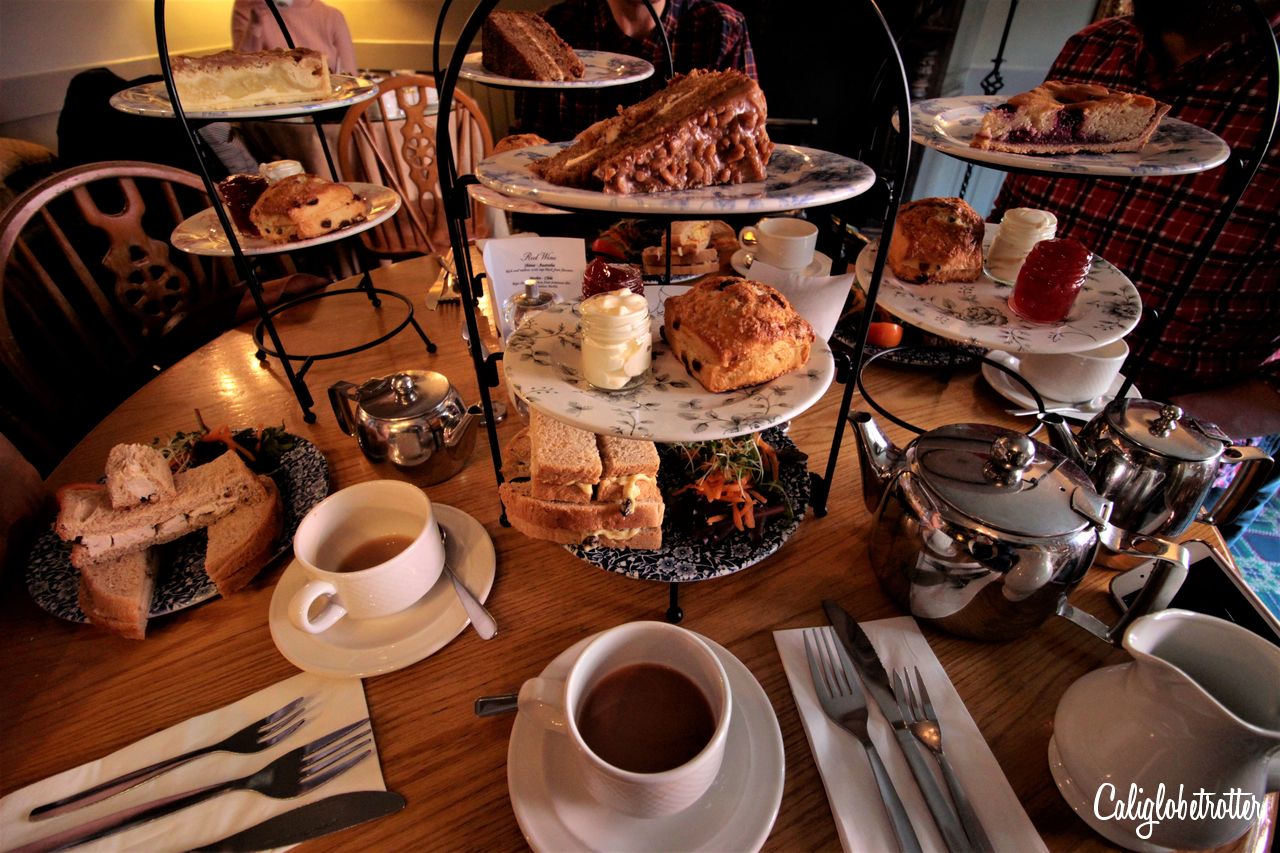 "Meals make the society, hold the fabric together in lots of ways that were charming and interesting and intoxicating to me. The perfect meal, or the best meals, occur in a context that frequently has very little to do with the food itself." – Anthony Bourdain
Lucerne, Switzerland
Cheese Fondue & Chocolate Fondue is something you just can't avoid eating while in Switzerland! A traditional Swiss cheese fondue usually comes with a side of potatoes and sliced bread squares for dipping. Top it off with a well paired glass of white wine! Chocolate fondue is served with fruits and come extra chocolate for dipping for the ultimate experience!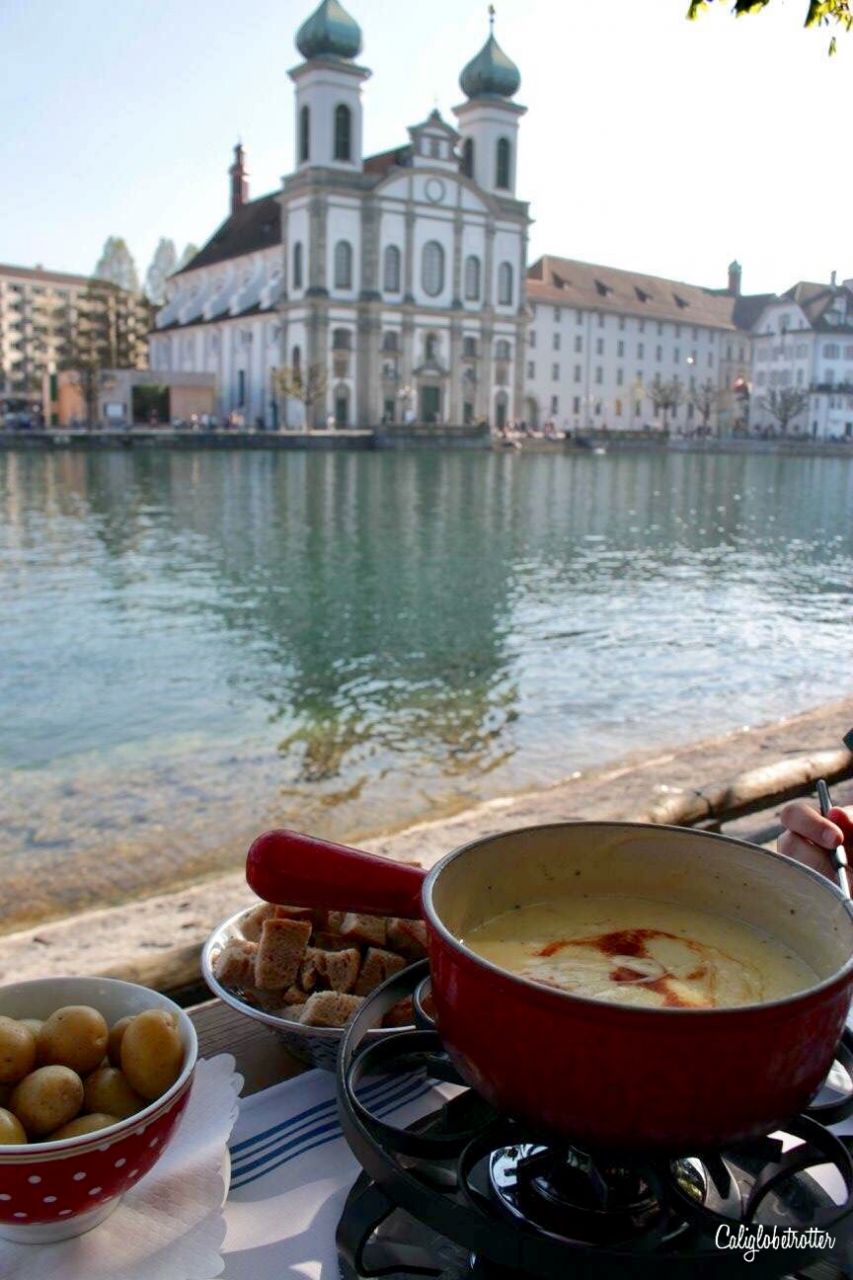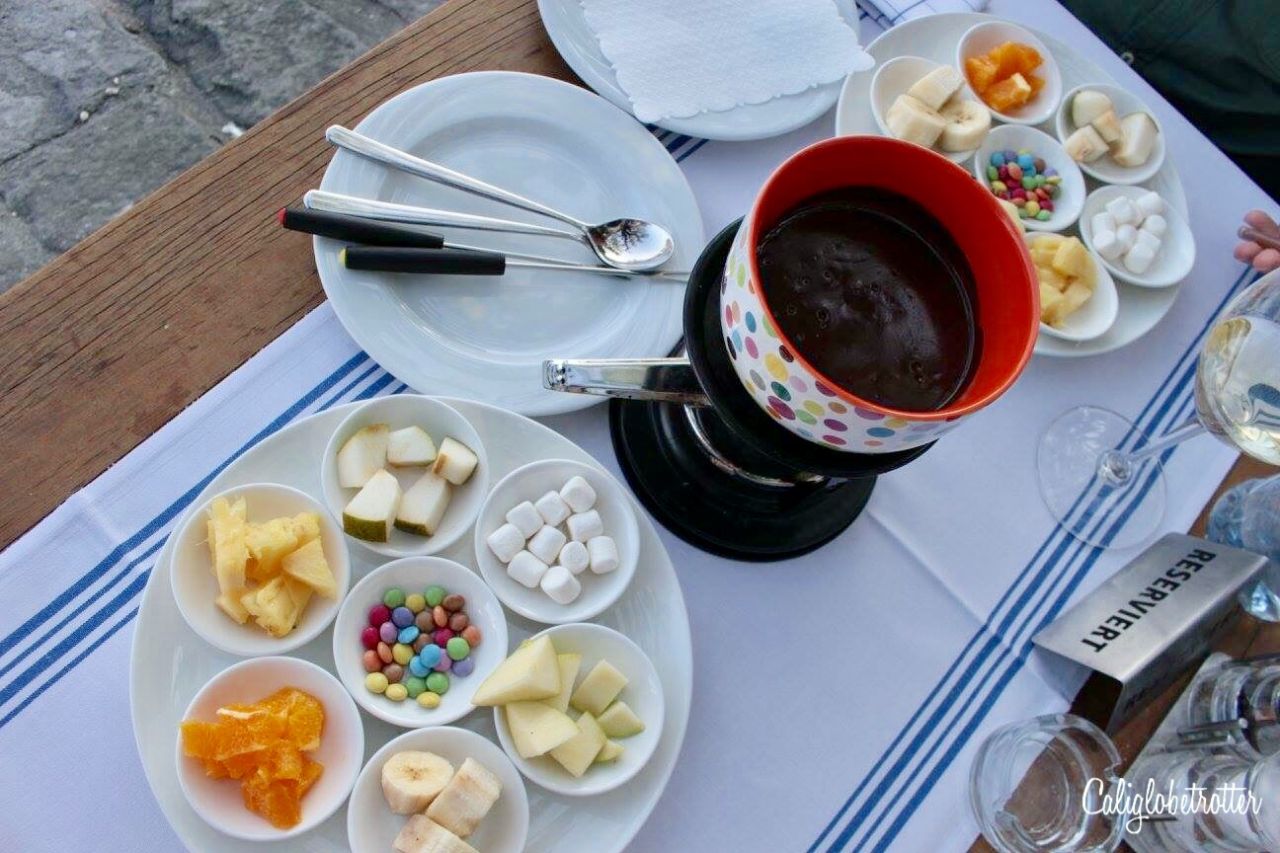 Monschau, Germany
Creamy Mustard Schnitzel is an absolute must try if you are in this region. This sleepy, adorable little town is famous for it's Mustard. While I am NOT a fan of mustard, I was brave and tried it and now comes highly recommended from yours truly! Schnitzel in general can be found all throughout Germany in a variety of ways, from breaded to not breaded, with a sauce or without.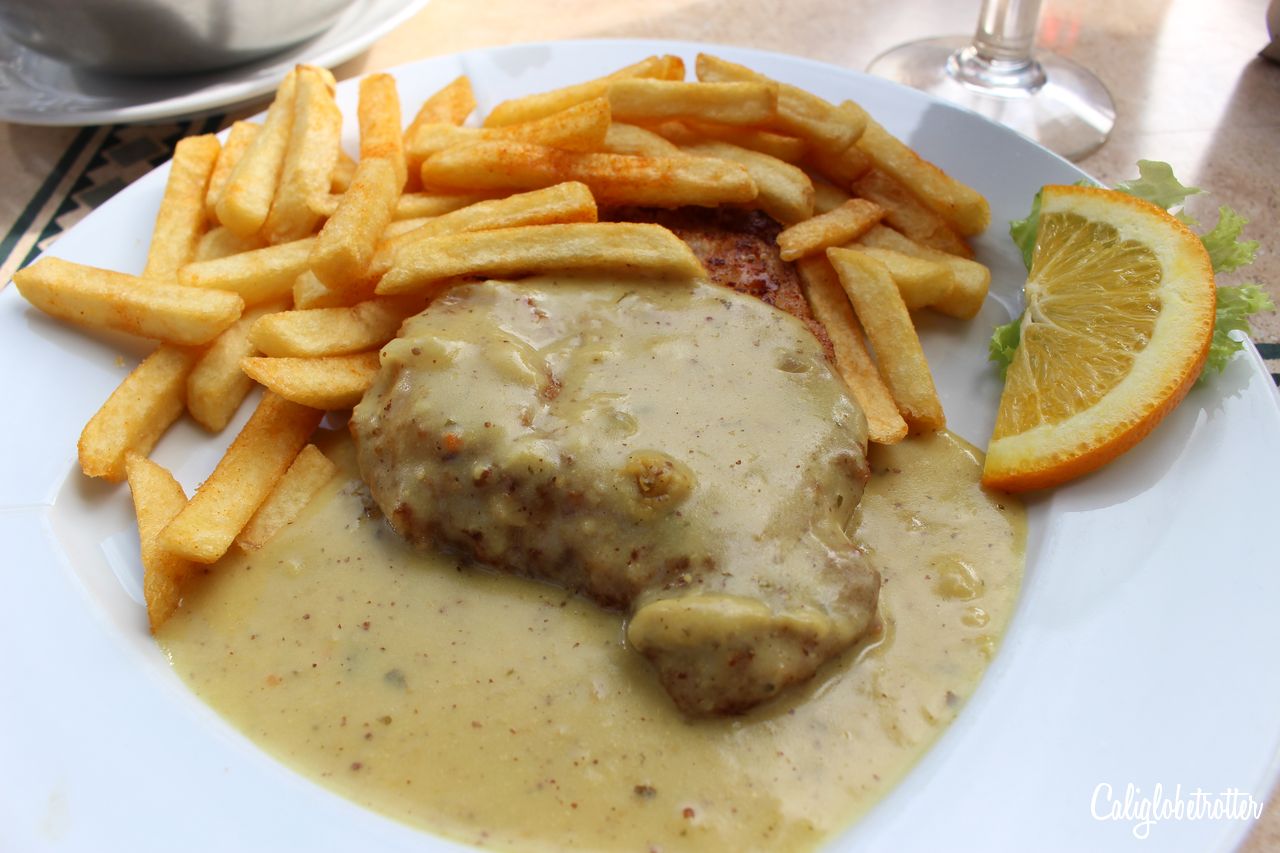 Munich, Germany
Currywurst – technically the best currywurst is from Berlin, buuut you can get a good one anywhere, with paprika sauce and a side of fries. It's one of the most popular things to eat in Germany!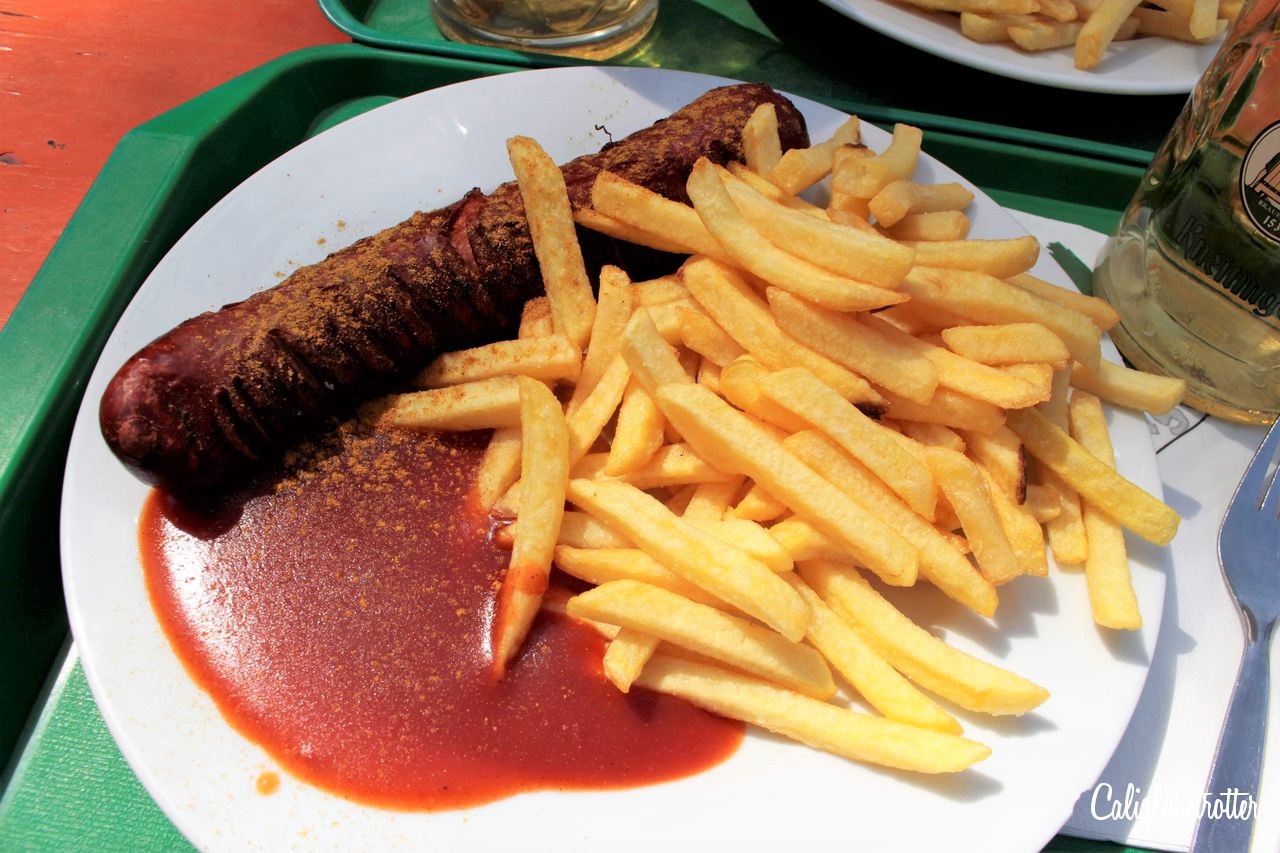 Maß bier – Once you find yourself in Munich, be sure to find the nearest biergarten and order yourself a Maß (Mass) bier. One is plenty unless you can hold your alcohol. Don't forget that German bier is stronger than American beer! And, what makes Oktoberfest so wonderful is an endless party of German's best beers in glasses like this!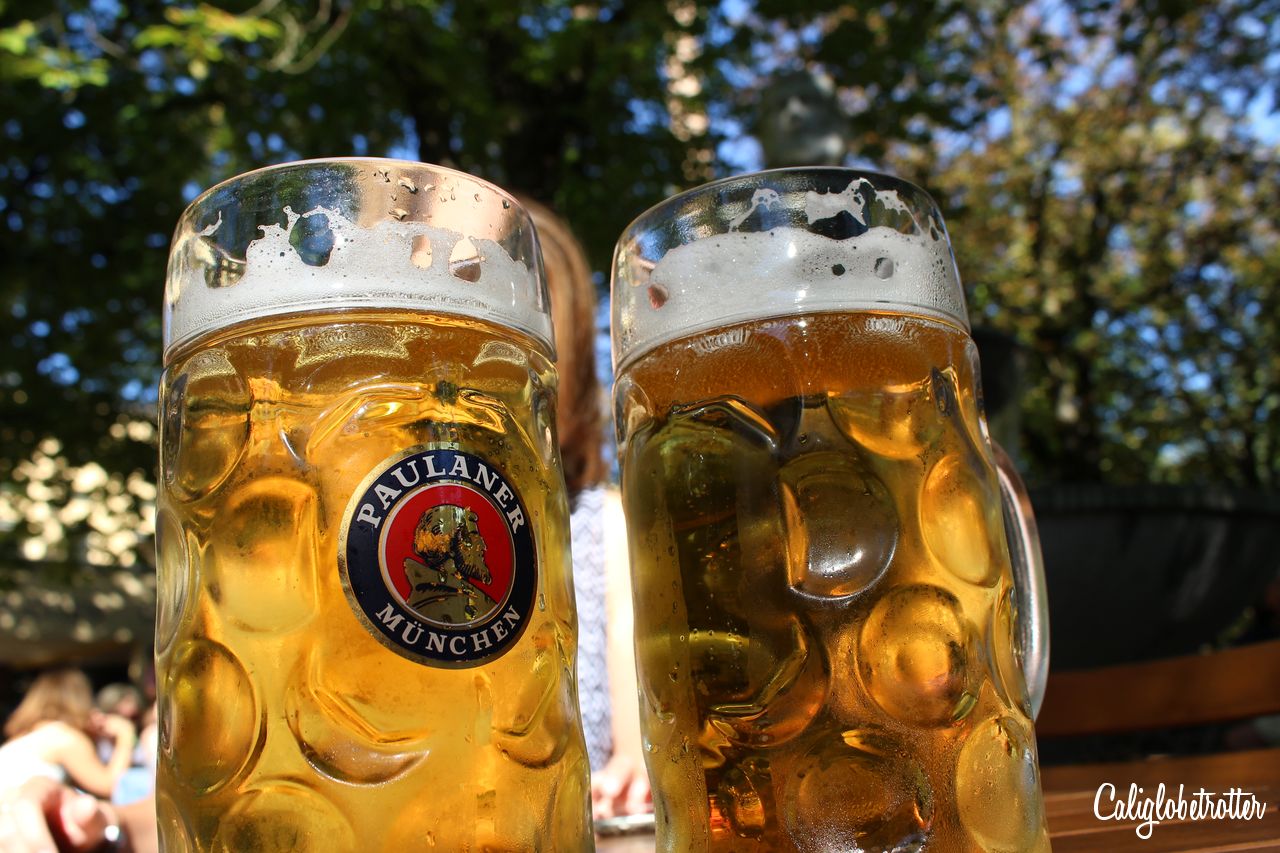 Paris, France
Macarons – If there is one place you absolutely need to stop at while in Paris, or even in Brussels, Belgium, it would be Ladurée, which is famed for having added the filling between the cookies. While this is the must place go to try Macarons, you can get them practically anywhere!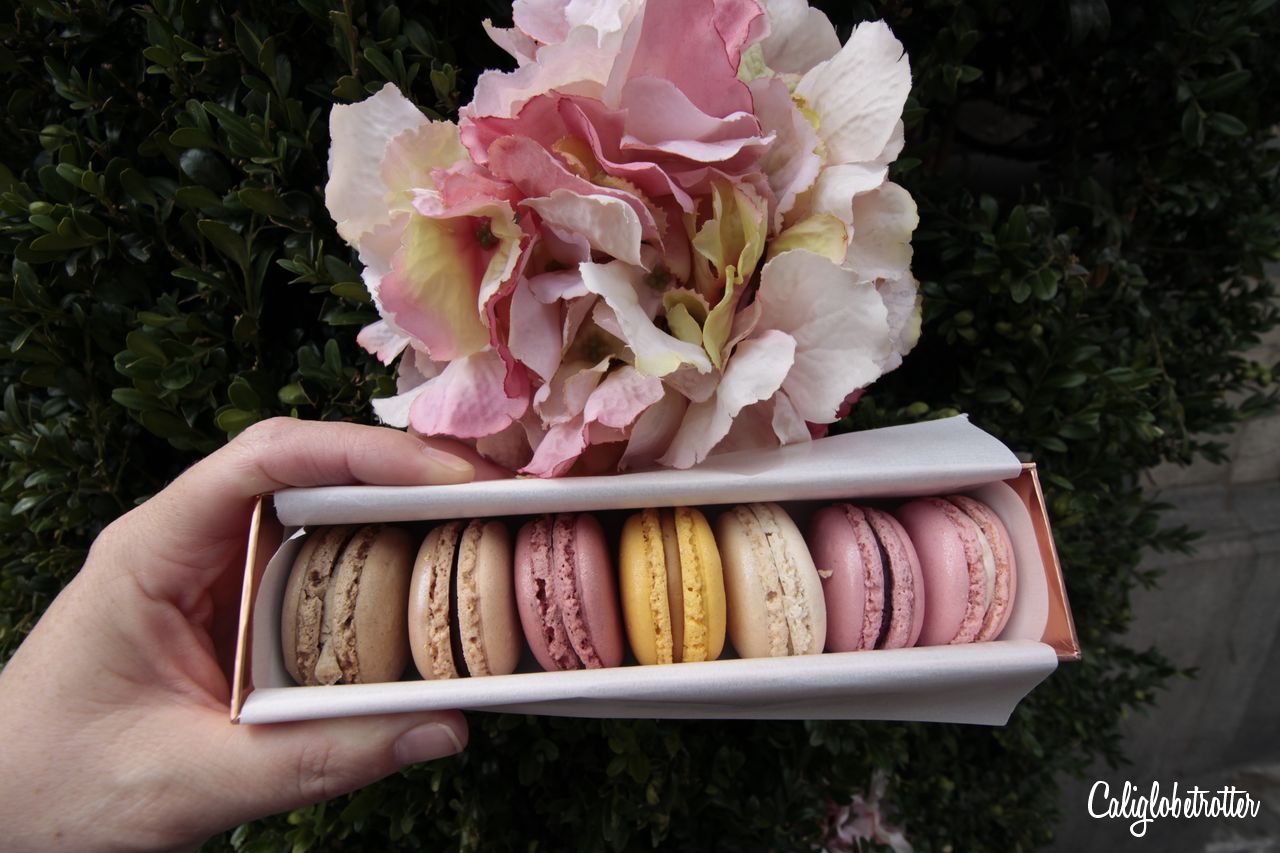 Prague, Czech Republic
Trdelník (Chimney Cake) – Chimney Cakes are a delicious little snack you can actually get in Prague, Budapest and parts of Germany (during Christmas Market or Beer Festival season). This doughy deliciousness is usually coated in sugar or cinnamon, but in Prague it rivals all others! The fillings can be anything from chocolate to ice cream or both, with sprinkles!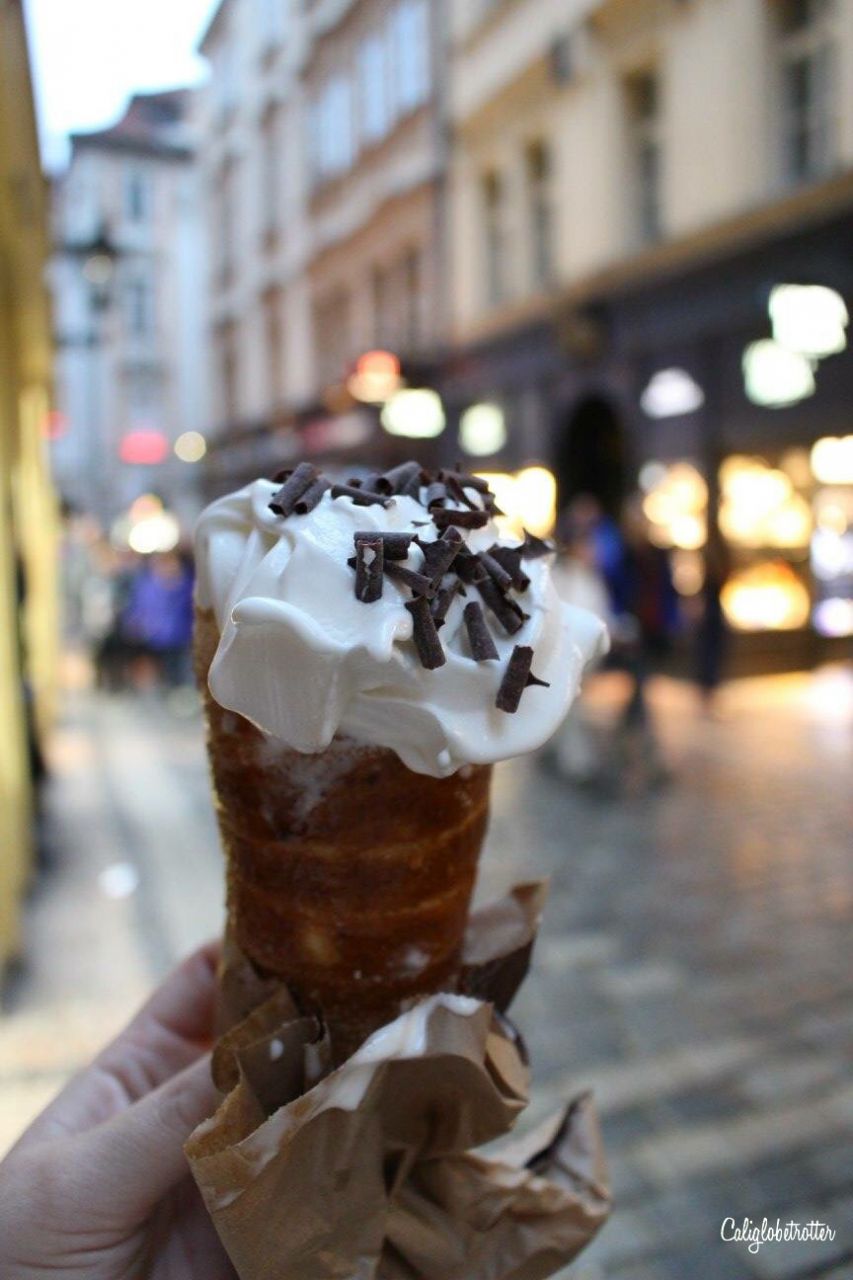 Reykjavik, Iceland
Icelandic Hot Dogs – I know, who'd have guessed that hot dogs would be one of the most popular things to eat in Iceland, especially when you think about all the fresh fish, shark and more! But what is so special about Icelandic hot dogs? Made mostly from Icelandic free range, grass fed, hormone free lambs. Add your hot dog to a warm bun and add some condiments like raw white onions or crispy fried onions, ketchup, sweet brown mustard called pylsusinnep (which I HIGHLY recommend), mayo, capers, mustard or remoulade. Plus, it's one of the cheapest things to eat in Reykjavik!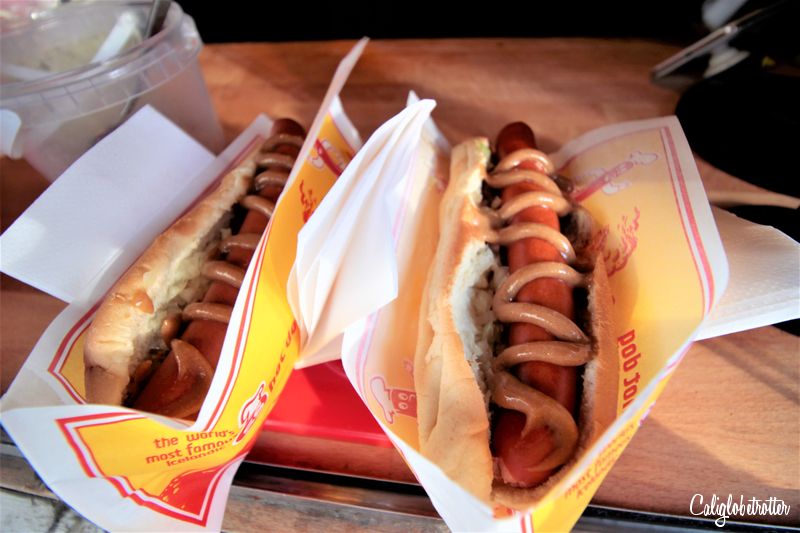 Sarajevo, Bosnia-Herzegovina

Traditional Baklava, a delicious and sweet pastry dessert with layers of filo filled with chopped nuts and sweetened with syrup or honey which can be found not just in Sarajevo, but at man Turkish shops around Europe. Besides the traditional Baklava, other flavors include Pistachio, Nutella, chocolate, walnut and so many other flavors!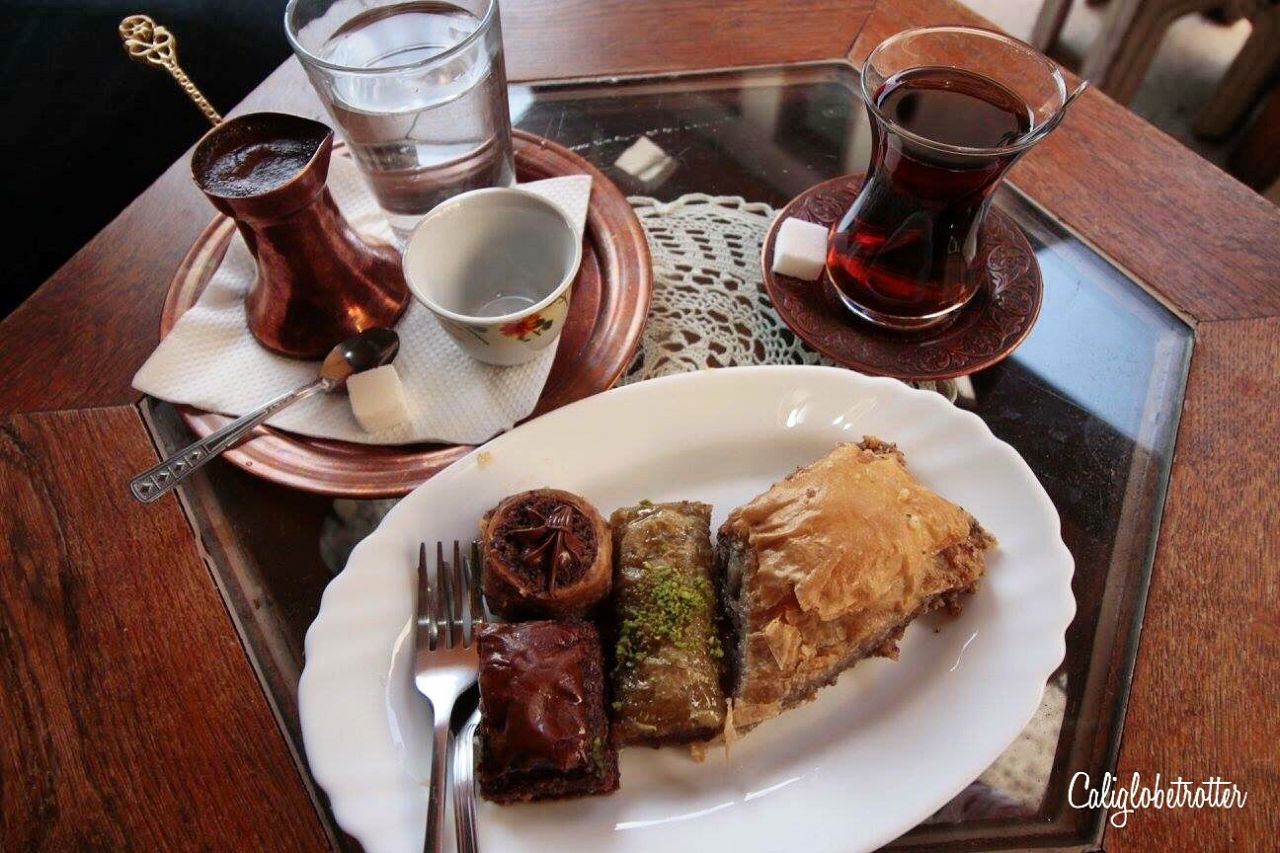 Split, Croatia
The following meal is from a little restaurant called Diocletian's Wine House in a small alley in Split as soon as you walk in through the Silver Gate. Croatia has some of the best seafood in all of Europe, so any dish will do. For those who don't love fish, like myself, I tried a more traditional meal.
Blue Plate fish platter with a tuna fillet, clams, mussels, squid and more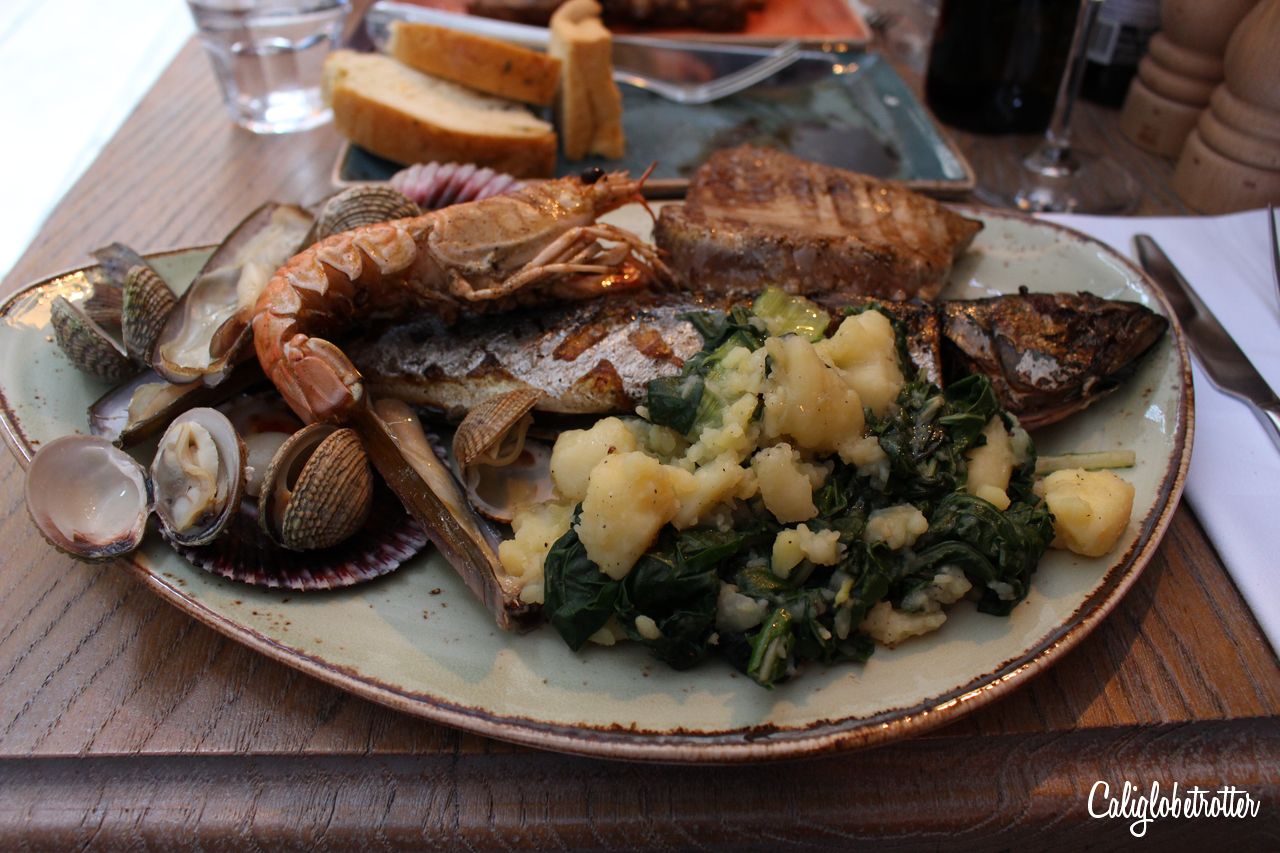 Stuffed Grilled Pljeskavica which is a hamburger patty stuffed with cheese and ham, kind of like a cordon bleu and is actually a Bosnian cuisine served with potato wedges or you can order Grilled ćevapčići minced meat in the form of a sausage also served with potato wedges.

"Food is everything we are. It's an extension of nationalist feeling, ethnic feeling, your personal history, your province, your region, your tribe, your grandma. It's inseparable from those from the get-go." – Anthony Bourdain
Strasbourg, France
Filleted Poultry in a Riesling Wine Sauce with spätzle – If you're looking for a melt in your mouth kind of meal, then you need to try a fillited poultry dish. We enjoyed this lovely meal from Au Dauphin near the Strasbourg cathedral.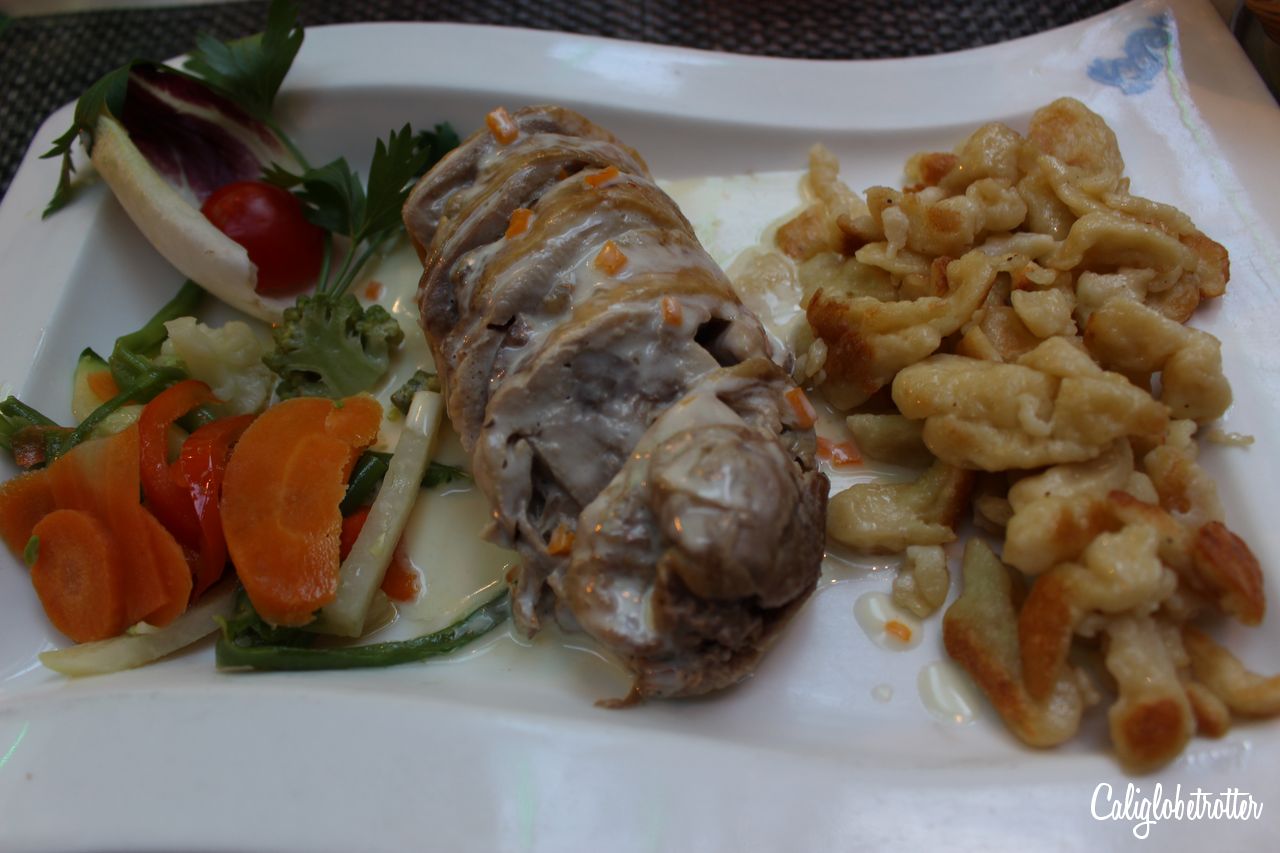 Tarte flambée (Flammkuchen) is an Alsatian dish most commonly found in the Alsace & Southern Germany regions and is a thin bread dough with a creme Fraiche and sauce and white onions. It comes in many different variations but all equally delicious!
Related: 3 Days on the Alsace Wine Route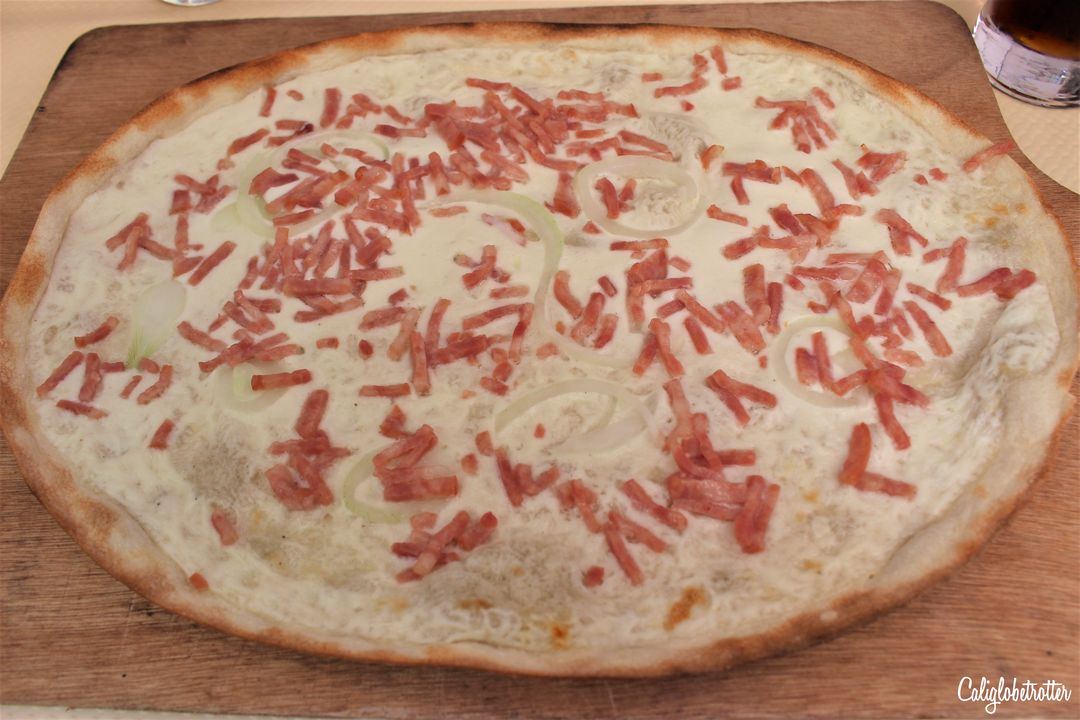 Vienna, Austria
Viennese Schnitzel – is typically thinly pounded, fried veal and is the national dish of Austria which can also be found in all throughout Germany and is one of the most iconic meals you can find. But it doesn't always have to be Schnitzel "Wiener" Art (in the Viennese style), it can also be made from pork, which I personally find tastier. Sometimes it even comes with a sauce, like a Mushroom cream sauce (Jägerschnitzel) or a Paprika Schnitzel.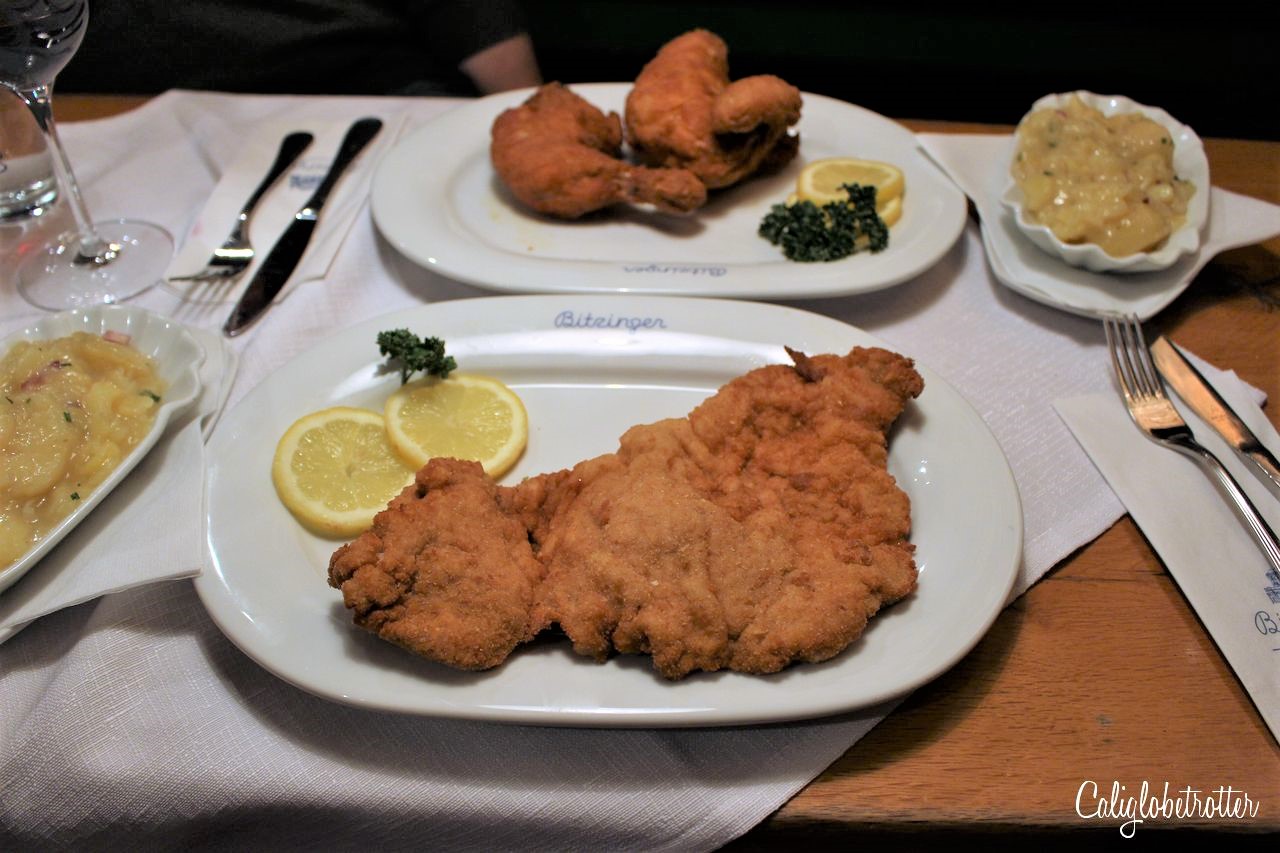 Sacher Torte – a 180 year old cake that was created in the 1800's for the Prince of Austria which has been loved ever since and can be found in both Vienna and Salzburg! Viennese cakes are an institution in Vienna! You simply can not visit Vienna without visiting the historic coffeehouses and gorge yourself on decadent cakes and coffees.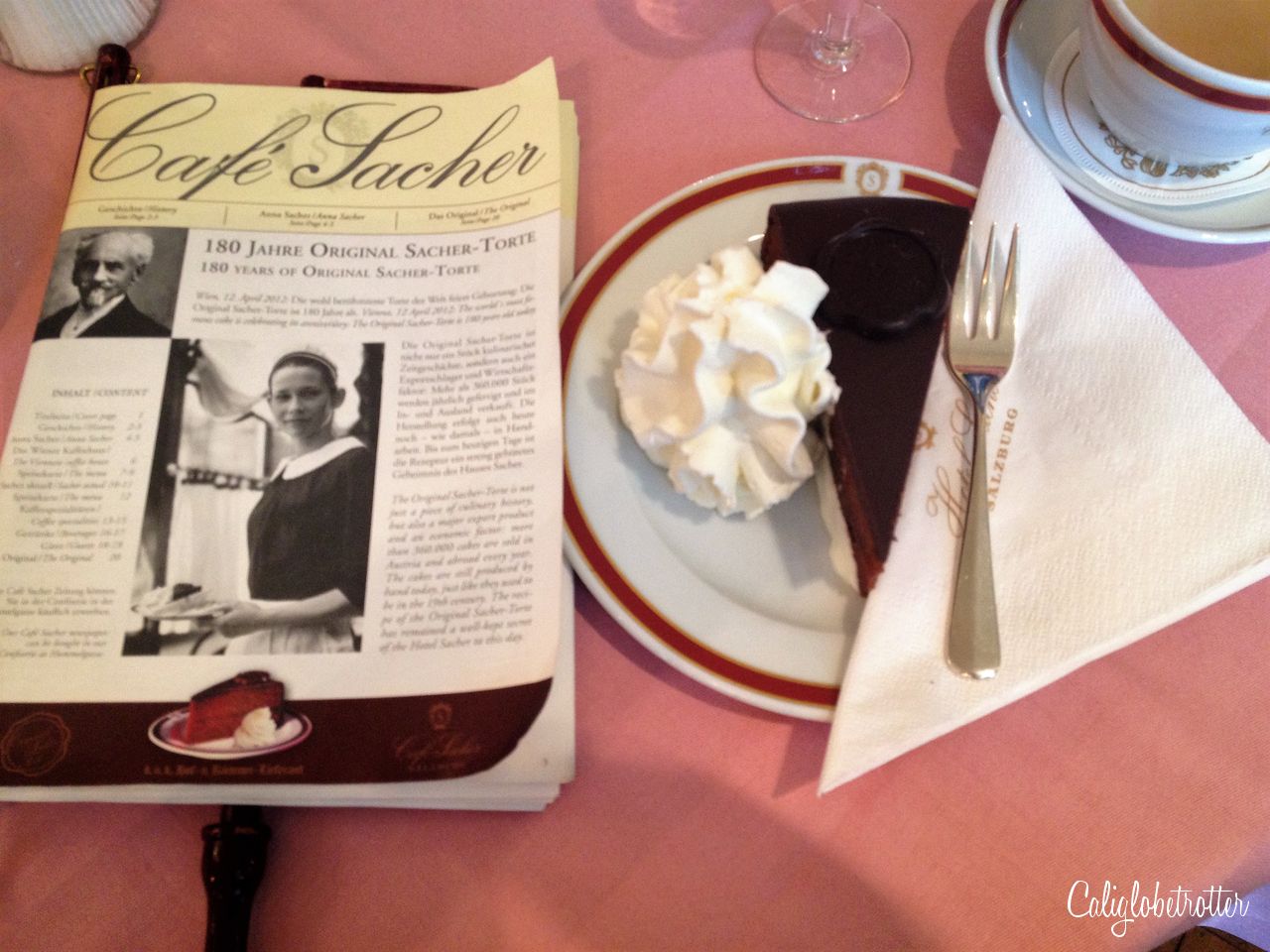 Café Central Cake – "There are coffeehouses and then there is Cafe Central" – Head to the Café Central and splurge by getting the most delicious cake ever, preferably the Central Surprise which is a "beautiful blend of orange caramel, Bavarian cream and chocolate!" Get two if you must! (For more on Coffee & Cake in Vienna)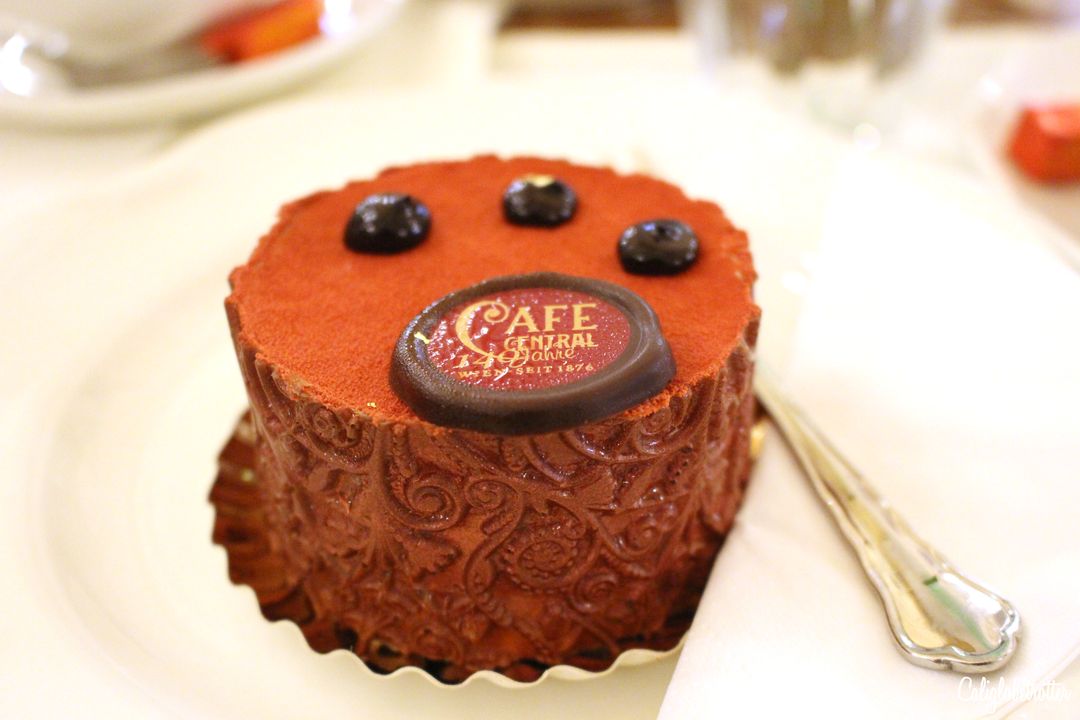 Wroclaw, Poland
Chocolate Pierogi – Originally we found these in Sopot near Gdansk but we also found them again in Wroclaw at a chocolate cafe Pijalnie Czekolady Wedel. The chocolate pierogies come with strawberries and a caramel drizzle and they were every bit sinful! (More on Polish food here)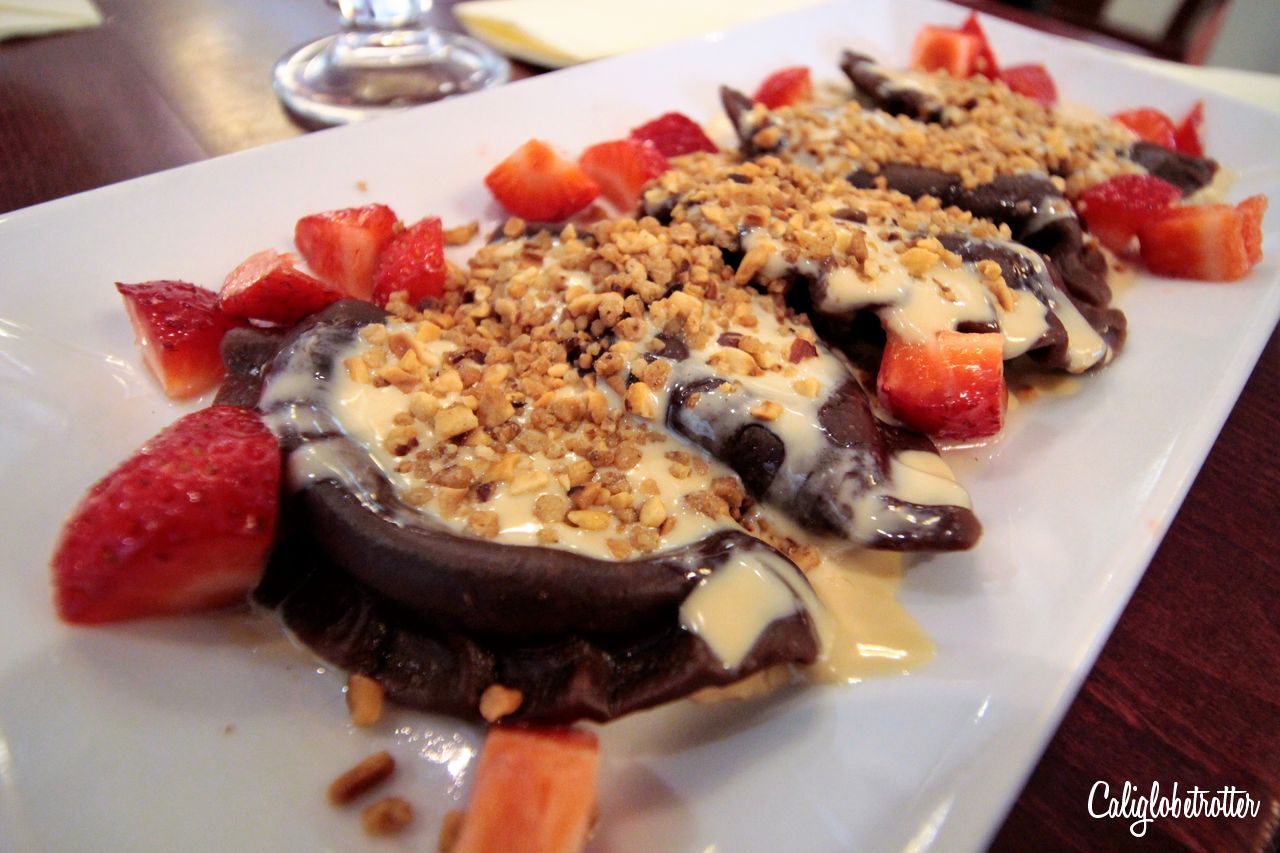 Tips for finding the best places to eat in Europe:
So how do you find the best restaurants and cafes in Europe? I simply search for historic restaurants and cafes in my tour guide books. If they've managed to stick around for a couple of decades, it's for a good reason. If you can't find any great options in your tour guide books, post like this certainly help to know what kind of food to expect to eat in Europe. But, my next recommendation is to find where the locals eat. Don't go to the restaurants directly in the city center or near the main attractions, but instead go down a side street or a few streets over, where you're more likely to find the locals avoiding the tourists. Look for the restaurants and cafes which look like an institution, part of the city's cultural identity. Or, if you can't help but eat at one of many touristy restaurants, look for the one with the most personality, from their decor inside and out. Avoid the restaurants with pictures of their food on large adverts outside of the restaurant with waiters harassing you to eat there. Those are the places I personally find that the food is a poor quality, the service is less than wonderful and overpriced because they're catering only to tourists who wouldn't know the difference.
I also highly recommend, once at a restaurant, if you unsure of what to eat, ask the waiter what their favorite meal is on the menu, or simply go with the meal of the day. Typically these always tend to be the best meals and you can almost never go wrong! I always also ask for the most traditional dessert on the menu!
And please, please, for the love of God, DO NOT EAT AT MCDONALD'S OR STARBUCKS or any other American fast food institution! Nothing is more enjoyable than eating something new, unknown and down right out of this world delicious! And when it comes to coffees, those small hole in the wall cafes and coffeehouses will serve a hell of a lot better version of traditional coffees than what you can get every day back home from Starbucks. My world changed after I had my first, second and third Italian espressos in Trieste, Italy and I've never been the same.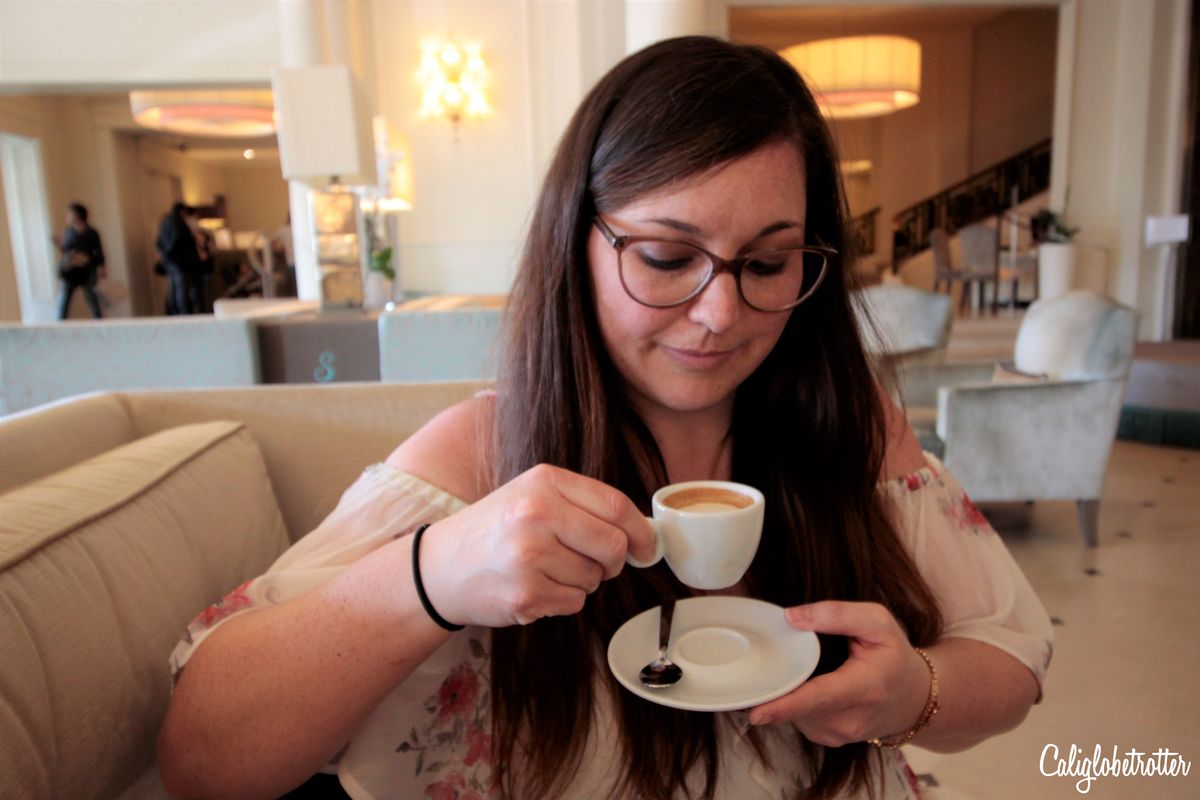 "Food may not be the answer to world peace, but it's a start."
– Anthony Bourdain

AFTTTER alll that food, doesn't it make you want to travel more? My mouth is salivating just writing this post! To deny yourself one of life's greatest pleasures would be a sin, so get off your computer, stop looking at this post and go eat something! Go find a local foreign cuisine restaurant in your town to introduce yourself to other cultural foods, especially if you plan on traveling any time soon. Getting an idea of what to expect before you travel to a new country, for example a Japanese restaurant where you can try more than just Sushi, or an Indian restaurant. Perhaps try to find a Brazilian restaurant, Peruvian, French, Spanish whatever! It's out there! You simply have to look for it! You don't even have to wait to travel to try these amazing new foods! Though that takes out half the fun!
And, if you're as much of a foodie as I am, perhaps consider including a cooking class in the country of your travels! Consider learning how to make your own pasta in Italy, Pierogi in Poland, or even your own sausages in Germany! The possibilities are endless when it comes to learning to cook at the source of origin!
If you're interested in visiting Europe and are looking for more information, I highly recommend using the DK Eyewitness Travel Guide: Europe! Without these guides, I would be lost! This is my travel Bible as well as some of my favorite cook books and the Ultimate Foodie Book!!
Disclaimer: This post contains affiliate links. If you click on one and make a purchase, I might make a little extra spending money, at no extra cost to you. As always, all opinions are my own and these products/services have been found useful during our travels and come highly recommended to you from yours truly!
Other Posts About Food:
The ULTIMATE Guide to Eating in Germany
Afternoon Tea Around the World
The BEST Coffee & Cake Guide to Vienna
Liked this post? PIN IT FOR LATER!!