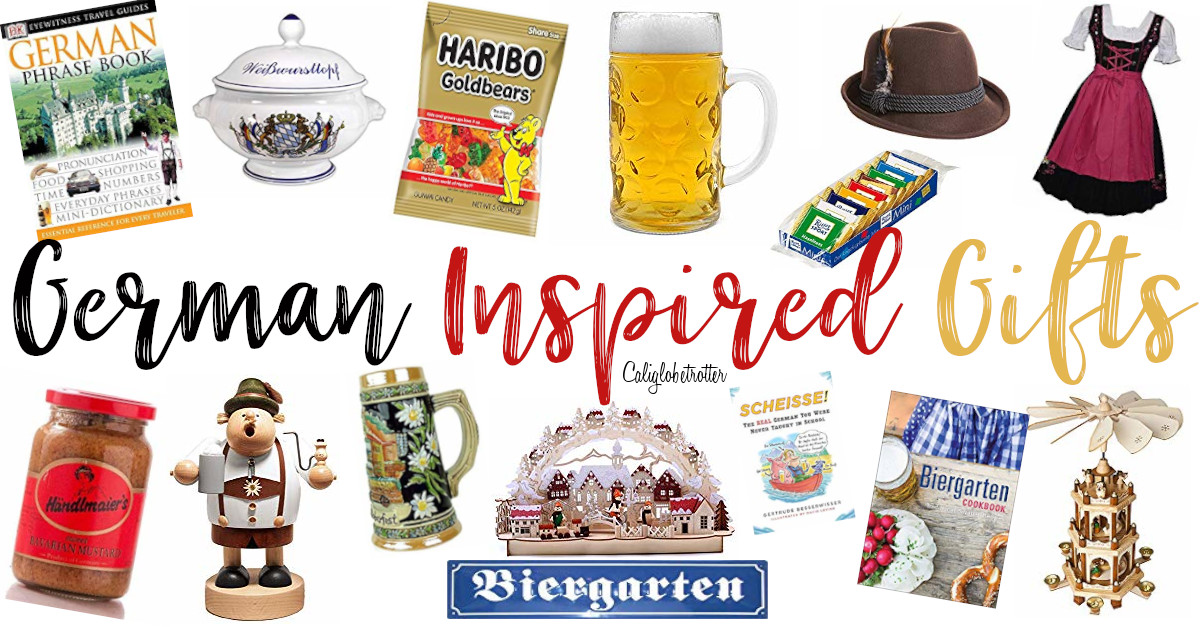 Disclaimer: This post contains affiliate links. If you click on one and make a purchase, I might make a little extra spending money, at no extra cost to you. As always, all opinions are my own and these products have been found useful while living in Germany and come highly recommended to you from yours truly!
Have you visited Germany before or know someone who has fallen so head over heels in love with the country that you wished you could either live here or take it home with you? Well guess what, you can! If you loved the cuisine, you can bring home the recipes! If you loved the language, you can bring home funny books about the German language!
Want to Bring Germany Home? PIN IT FOR LATER!!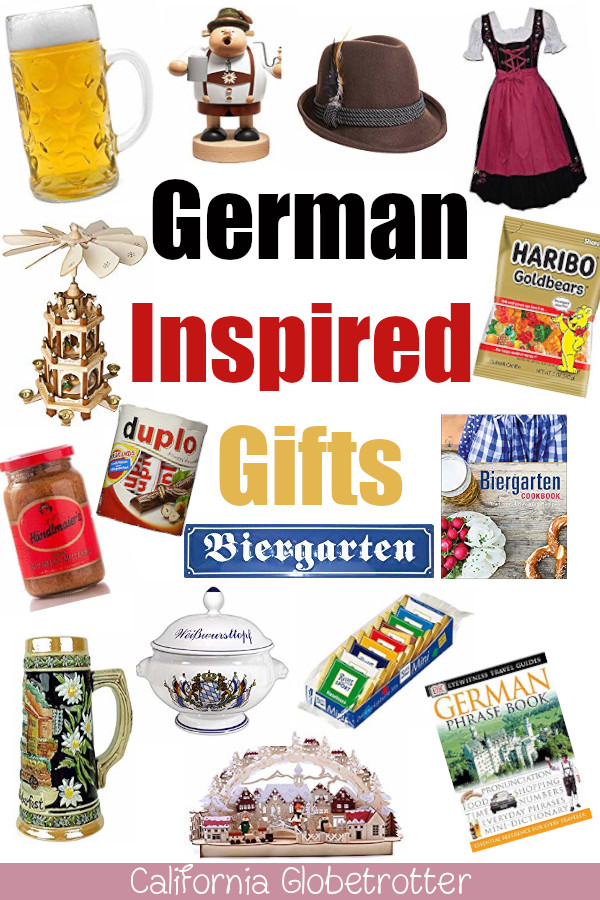 Foodie Guide to Eating in Germany
If you're looking for German inspired gifts for the person who loves all things German/Bavarian, than look no further than this German gift guide! Many of these are traditional gifts you would find in Germany, at Christmas Markets or in gift shops. The recipe books include traditional, every day German meals, which even my husband and I have and use on a weekly basis, and quite personally, I can not recommend the Biergarten cookbook enough! We absolutely love it and it's my favorite gift to give to friends and family who leave Germany hungry for more!
Or perhaps, you just want to help someone with their first time visit to Germany by gifting them some of the best travel guides for Germany, which are my travel Bibles! Maybe they plan to visit Oktoberfest for the first time or want to host their own Oktoberfest inspired house party, I'll set you in the right direction!
German/Bavarian Cuisine
 Biergarten Cookbook 

Have you been to Bavaria and love, Love, LOVED the food? Then give the gift of food by bringing home this authentic Bavarian biergarten cookbook loaded with delicious recipes and history clearly explained in English! Learn how to make obazda, schnitzel or even a Bavarian burger!

Price: $18.25
 German Cooking Today

Focusing more on traditional German cooking from the rest of the country, this is another favorite German cookbook of mine which includes delicious meals such as traditional Schweinebraten (Roasted Pork), Cabbage Roulade and even Knödle (Potato dumplings) with step by step directions and pictures!

Price: $17.23
Cookie Advent Cookbook: With 24 festive recipes

Did you visit Germany during the festive holiday season and fall in love with those delicious German Plätzchen? Well now you can take home my favorite German Christmas cookie recipe book! with 24 delicious recipes, you'll be baking throughout the entire holiday season! My personal favorite? The Ginger Pfeffernüsse!

Price: $11.52
Language Books
Grammar in a Nutshell: Deutsche Grammatik – kurz und schmerzlos 

Do you or someone you know want to learn the quick and painful version of German before a trip to Germany? Consider this easy to learn, small & lightweight book with explanations and examples in English with exercises to practice your German language skills!

Price: $14.93
German (Eyewitness Travel Guide Phrase Books)

If you're looking for a simple guide book to help you navigate through Germany without slang words which might get you in trouble, then consider this German Phrase Book with every day phrases for getting around!

Price: $8.00
Travel Guides
Germany (Eyewitness Travel Guides)

Want a travel guide which shows you what other guides only tell you? Consider this travel guide loaded with pictures and illustrated self-guided city guides with all the brief history you need to know! I don't go anywhere in Germany without my travel bible!

Price: $25.00
The Rough Guide to Germany (Rough Guides)

If you're looking for a more detailed guide with a plethora of history, near by smaller towns, recommendations of where to stay, eat and drink, then consider my second favorite travel guide with expert advice!

Price: $19.74
Back Roads Germany (Eyewitness Travel Back Roads)

If you're looking to explore Germany back roads and small towns, then consider this charming guide to the heart and soul of Germany! Many of these small towns you won't find in your ordinary travel guides, but big cities can be overrated some times. Step back in time by visiting these adorable towns through Germany's beautiful countryside!

Price: $17.00
Traditional Bavarian Tracht for Oktoberfest
Related: Understanding How to Wear Bavarian Lederhosen & Dirndls for Oktoberfest
Alpine Wool Bavarian Fedora Hat 

Gentlemen, top off your complete Oktoberfest look by adding this traditional holiday Fedora hat! Where it for Oktoberfest or even on special occasions and feel like a real Bavarian!

Price: $41.95
Non-Perishable German Foods
Händlmaier's Sweet Bavarian Mustard, 13.4 oz.

Did you fall in love that sweet Bavarian mustard while enjoying a Weißwurst while visiting Bavaria? Well, now you can take home a jar or two or three of Händlmaier's Sweet Bavarian Mustard based right here in Regensburg!

Price: $10.53
Duplo Crisp Sticks, 10 pack

Did you fall in love with German candies such as Duplo while you lived/visited Germany? Well now you can take it home with you! Never had it before? It's a delicious hazelnut chocolate bar, almost similar to a KitKat.

Price: $8.47
Bahlsen Contessa Lebkuchen-klassiker 

Did you fall in love with the traditional Lebkuchen cookies you found while strolling through the Nuremberg Christmas Market or used to stock up on boxes while living here? Well now you can take some home and share them with your friends and family!

Price: $9.04
Traditional German Souvenirs
Oktoberfest 44 Oz Dimpled Glass jumbo Beer Mug

Going to Oktoberfest? Then consider buying a set of Maß krugs to practice drinking 1 liter of beer! Or simply have them and turn your evenings into a mini-Oktoberfest while you cook traditional German/Bavarian cuisine! Plus, you can't steal one of these babies from Oktoberfest because it's illegal! 

Price: $14.99 for one
Classic Hefeweizen Beer Glasses – Set of 4

If a Maß is too big, then grab this set of four classic Hefeweizen glasses. Pour yourself the perfect beer with the right amount of head and you have yourself the perfect Feierabend! Have some friends over and PROST to good beer, good food and food friends!

Price: $24.12
Munich Oktoberfest Ceramic Beer Stein

Did you go to Oktoberfest or Munich and forget to buy one of the most classic souvenirs? Have no fear! You can find a variety of authentic ceramic beer steins even outside of Germany with scenes of German culture and towns! You can proudly display this one on your bookshelf or use it on a regular basis!

Price: $34.99
Biergarten Metal Tin Road Street Sign 

Have a backyard and love German beer and bought those 1 Liter Maß krugs? Why not decorate your backyard in traditional Bavarian decor so you can always feel like you're back at a Bavarian beer garden enjoying that endless Gemütlichkeit!? Noch ein bier, bitte!

Price: $34.90
Oktoberfest Bavarian Drinking Beer German Smoker

Didn't have room in your suitcase for extra souvenirs and wanted this adorable traditional wood carved incense smoker? Or perhaps give this smoking Bavarian man drinking a beer as a gift! Incense can be bought anywhere! Don't like incense? Then just simply buy one as a travel knickknack!

Price: $85.98
Christmas LED Light Arch – Old Town Winter Scene

While you were strolling the German Christmas Markets you probably noticed some beautifully wood crafted Schwibbogen (Candle Arch) but wondered how to get it home in your suitcase but have no fear, you can snatch up this beautiful Candle Arch with a traditional design based on the ones made in the Ore Mountains, Germany. Add some lights and set it out as a Christmas decoration!

Price: $42.99
Christmas Decoration Pyramid 18 Inches Nativity with 6 Candle Holders

Did you fall in love with the beautiful hand carved wooden pyramids you found at several Christmas markets? Did you wish you could take one of these typically German pyramids home with you but didn't have room in your suitcase? Well now you can bring one home and not worry about it breaking!

Price: $99.99
Having an Oktoberfest-themed Party?
Oktoberfest Bavarian Flag Bunting and Tablecover

Having a Bavarian inspired Oktoberfest party? Spice it up by having bunting in the Bavarian flag colors streamed across your backyard as well as table cloths! You'll create the ultimate Bavarian experience, topped off with barrels and barrels of beer!

Price: $4.34
German Drinking Songs

Having an Oktoberfest party or going to Oktoberfest? Then grab this CD which includes many of the most traditional and popular songs sung at the beer festival! Learn the songs before you go so you can participate in the drinking debauchery! "Ein Prosit, ein Prosit, der Gemütlichkeit!" is the most popular drinking song for clicking glasses!

Price: $3.99
Weißwurst Tureen Löwenkopf  Porzellan

Did you live in Bavaria or stay here long here enough that you fell in love with the traditional Bavarian breakfast, Weißwurst sausages with pretzels and sweet mustard? Then grab yourself this tureen with the Bavarian and German flags with a matching lid to keep your sausages warm!

Price: €43,69
German Inspired Clothes
Half German Half American Onesie 

Did you fall in love and marry a German/American? Grab this adorable infant romper for your baby to display your bi-national love in pink, blue, green or white!

Price: $19.99
German Movies
Unfortunately, it's rare to find any movies about Germany that don't have to do with the Second World War but often, these based on true story movies are the most fascinating and the most inspiring. If you're a big WWII buff like myself, then you'll love the following movies that are in my own personal collection!
The Counterfeiters

A truly amazing tale of a swindler who earned the nickname as Berlin's "King of Counterfeiters" but who suddenly finds himself placed in a Nazi concentration camp. Striking a deal with his Nazi captors for better treatment, he must counterfeit bank notes that the German army desperately needs, but can he live with himself?

Price: $6.45
 Swing Kids

At the height of the Swing era, Nazi Germany declares war on freedom and demands conformity from its youth. A group of "Swing Kids" rebel with their swing music and dare to stand up against the Third Reich or risk loosing their individual freedom. 

Price: $4.99
Hart's War

Starring Bruce Willis and Colin Farrel, this film about a law student who enlists as a lieutenant during the Second World War soon finds himself captured and sent to a POW camp. He must soon represent a black air force pilot falsely accused as murder in a mock trial within the camp. 

Price: $2.99
The Harmonists

A fascinating true story about a German vocal group, the Comedian Harmonists who rose to fame during the 1920's and 1930's and the heartbreaking reality of being torn apart by the Nazi Regime when it is discovered that half of the group is Jewish. 

Price: $19.98
Other
reisenthel Carrybag Fabric Picnic Tote, Sturdy Lightweight Basket for Shopping and Storage, Spots Navy

Ladies, Do you want to feel like a REAL German housewife? Then be sure to grab one of these adorable, collapsible carry bags for when you do your grocery shopping instead of using those pesky plastic bags! When you're not grocery shopping, use it as a picnic basket!

Price: $48.34
Whether you lived in Germany or visited for a short time and have fallen in love with the country, you can easily take hope you're favorite bits and feel like you're right back here in Deutschland! Hopefully, you'll feel like you never even left!
Other Related Posts:
Fabulous Stocking Stuffers for Mrs. Traveler
EPIC Stocking Stuffers for Mr. Traveler
Stylish Carry-Ons for the Lady Traveler
10 Affordable Hipster Gifts for Mr. Traveler
Liked this post? PIN IT FOR LATER!!