If there was one time of year you should come to Germany, winter would be it. Yes, it's cold and often gloomy but with the approach of the Christmas season, comes the warmth of the holiday spirit and a warm cup of Glühwein surrounded by friends and family.
Towns, villages and cities throughout Germany deck out their city centers in the most vibrant, jolly, Christmas decorations and line up rows upon rows of adorably decorated wooden stalls filled with the most exciting Christmas gifts and goodies!
The smell of roasted chestnuts, spiced red wine with Jack Frost nipping at your nose truly bring the spirit of Christmas alive in the towns across Germany.
Want to have a magical Christmas? PIN IT FOR LATER!!
Germany is one of the best European destinations to visit in the winter. We have thousands of Christmas Markets around the country, we have picturesque towns coated in white fluffy snow doubling that magical Disney-esque appeal and mountainous peaks worthy of skiing every day! 
Abensberg
November 24 – December 27, 2017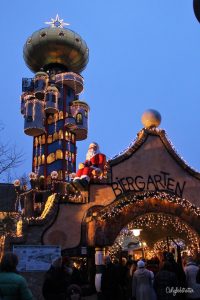 Located just 30 minutes outside of Regensburg, this Christmas market can be found at the Kuchlbauer Brewery surrounding the artistically, unique Hundertwasser Tower designed by the famous Viennese artist Friedrich Hundertwasser.
There is so much to do here, there is bound to be something for everyone! From horse-carriage rides to a ride on the Christmas train, live music as well as plenty of stalls offering unique artisan crafts and gifts.
After a stroll through the Christmas market and you have filled up on Bratapfel Glühwein, meander through the Kunst Haus (Art House) which is dedicated to the life of Friedensreich Hundertwasser and his artwork making this Christmas market especially loved by those with children!
Mon. & Tuesday: Closed
Wednesday & Thursday: 3 p.m. – 8 p.m.
Friday: 3 p.m. – 9 p.m.
Saturday: 12 p.m. – 9 p.m.
Sunday: 12 p.m. – 8 p.m
Heidelberg
November 27 – December 22, 2017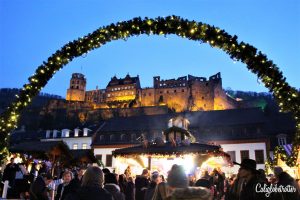 By far one of the most romantic Christmas markets in Germany, this one is bound to encourage some smooching with your lover. With 140 stalls spread out in 6 locations across the town, with the ruins of the Heidelberg Castle perched above the town, this market is likely to leave you breathless.
Just beneath  the castle at Karlsplatz is an ice skating rink perfect for young and old to relish in the holiday joy. For those who prefer to watch, they can sip on a cup of warm Glühwein near the rink or shop around at one of the many "Old World" stalls.
Or if you're looking for a unique experience, head up to the Heidelberg Castle and peruse the Castle Christmas Market!
Nuremberg
December 1st – December 24, 2017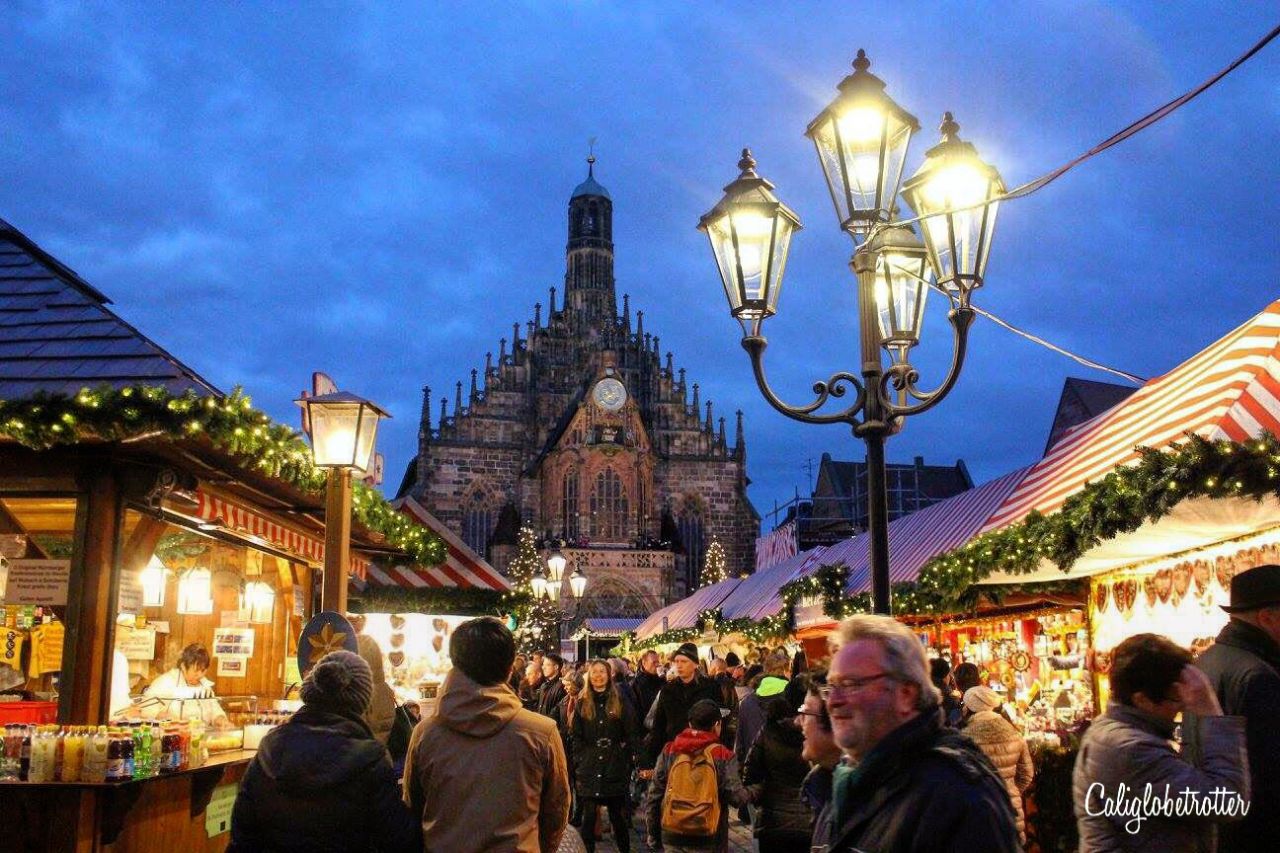 Of all the festive Christmas markets that fill every town center in every major city throughout Europe, Nuremberg's Christkindlmarkt is one of the most famous and if you had to choose ONE, this would be the one to visit!
With over 200 stalls, a unique Christkind opening ceremony on the Friday before the first Advent, historic Lebkuchen and Nuremberger sausages, what else could possibly be better?
The historic market sits in front of the Frauenkirche while Gold Angels watch over the market, there is an international Sister Cities market as well as a Children's Christmas Market where you can even have your picture taken with Santa!
Regensburg
November 27 – December 23, 2017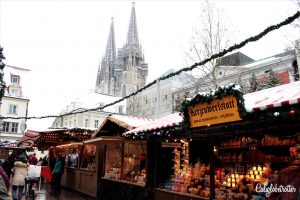 Slightly overlooked by its other more popular neighbors of Munich or Nuremberg, the Regensburg Christmas Market offers plenty to entice you to come for a visit! With four different markets located throughout the town, including at the Thurn & Taxis Castle, each with its own unique character, there is bound to be something for everyone making for one magical affair!
The main market surrounding the Neupfarrkirche with St. Stephan's Cathedral off in the distance offers the most bustling, focal point of all the markets. Here you can enjoy watching glass-blowing, live music and two children's carousel.
Christmas music, toys, arts and crafts, Christmas decorations and the sweet wafting scent of the Christmas bakeries create a wonderful atmosphere perfect for the whole family.
Tegernsee
December 2nd – December 23rd, 2017
For a unique one of a kind Christmas market, head on down to Lake Tegern outside of Munich for an off-the beaten path, upscale Christmas market. In this region alone, there are 6 different options to visit a market, but two are the most memorable.
Upon arrival in Tegernsee, check out the Christmas Market at the Castle which is small and quaint but offers some pretty unique gifts, such a hand carved wood figured  or ornaments.
02.- 03.12. / 09.-10.12. / 16.-17.12.2017: Christmas Castle Market Tegernsee
Sat./Sunday 2 p.m. – 7 p.m.
When you're done, hop aboard the shuttle boat which will take you to the other side of the lake to the most magical market, with wooden huts lined along the banks of the river offering posh food and luxury gifts. Here, if Glühwein isn't your thing, sip on a glass of champagne while perusing the stalls or warming your hands at one of the open fire pits.
02.- 03.12. / 09.-10.12. / 16.-17.12./ 23.12.2017: Rottacher Advent
2 p.m. – 7 p.m.
Stuttgart
November 29 – December 23, 2017
One of the oldest Christmas Markets in all of Europe first mentioned in 1692, the Stuttgart Christmas Market is by far one of the most beautiful in Germany! It is also one of the largest with 290 beautifully decorated stalls spread throughout the entire city center offering everything from hand crafted knickknacks to a wide variety of food enchanting some 3.5 million visitors each year.
Visitors have a chance to enjoy live concerts daily, a children's fairy tale land with carousel, a real steam engine train and so much more! It's illuminations are incomparable to any other market and you won't want to miss it!
Esslingen
November 28th – December 22nd, 2017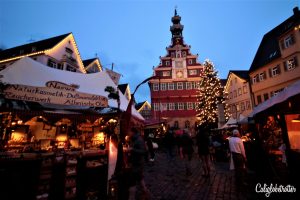 After you've visited your far share of Christmas markets, they all begin to look and feel the same, but Esslingen's MEDIEVAL Christmas Market will raise the bar. Banners and flag, gypsies and pirates, blacksmiths and glass-makers take you back in time. Fire lit torches light up the night, warm honey mead, Glühbier or Glühwein in clay cups keep you warm as you stroll from one tent to the next. The medieval town tall and all the half-timbered houses are the backdrop of this unique Christmas market. Jugglers, street artists and musicians liven up the atmosphere as you shop through self-crafted, handmade items. 
Stay tuned as I add more Christmas Markets in 2017 to this post!
If you're interested in visiting Germany and are looking for more information, I highly recommend using the DK Eyewitness Travel Guide or the Lonely Plant Travel Guide! Without these guides, I would be lost! These are my travel Bibles!
Disclaimer: This post contains affiliate links. If you click on one and make a purchase, I might make a little extra spending money, at no extra cost to you. As always, all opinions are my own and these products/services have been found useful during our travels and come highly recommended to you from yours truly!
Other related posts:
Liked this post? PIN IT FOR LATER!!
Save
Save
Save
Save
Save
Save
Save
Save
Save
Save
Save
Save