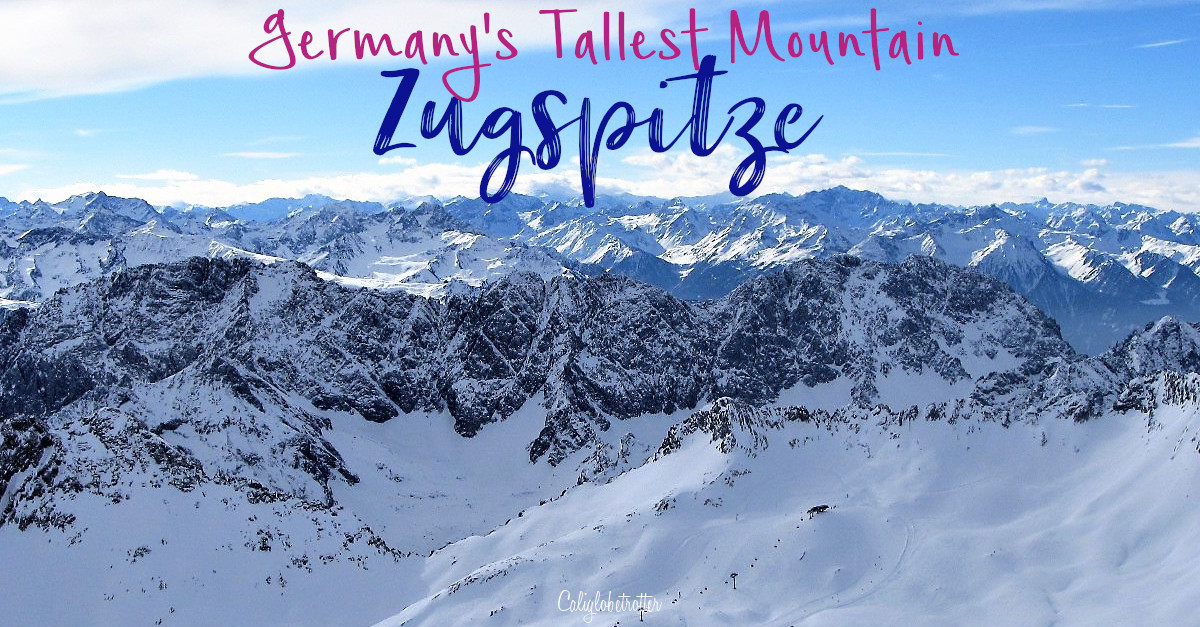 Disclaimer: This post contains affiliate links. If you click on one and make a purchase, I might make a little extra spending money, at no extra cost to you. As always, all opinions are my own and these products/services have been found useful during our travels and come highly recommended to you from yours truly!
This Valentine's Day, Hans and I spontaneously  decided at the last minute to take a day trip instead of stressing over the pressure of buying the right gift or surprise. We decided to get up super-doooper early (ugh!) and take the train to Zugspitze – Germany's tallest mountain which is a whopping 9,718 feet tall and offers breathtaking views over Bavaria, into Austria and even all the way to Italy!
We couldn't have come up with a more enjoyable way to spend our Valentine's Day together. By far one of the best Valentine's Day's ever with a carefree, no pressure, totally romantic afternoon!
Love the Mountains? PIN IT FOR LATER!!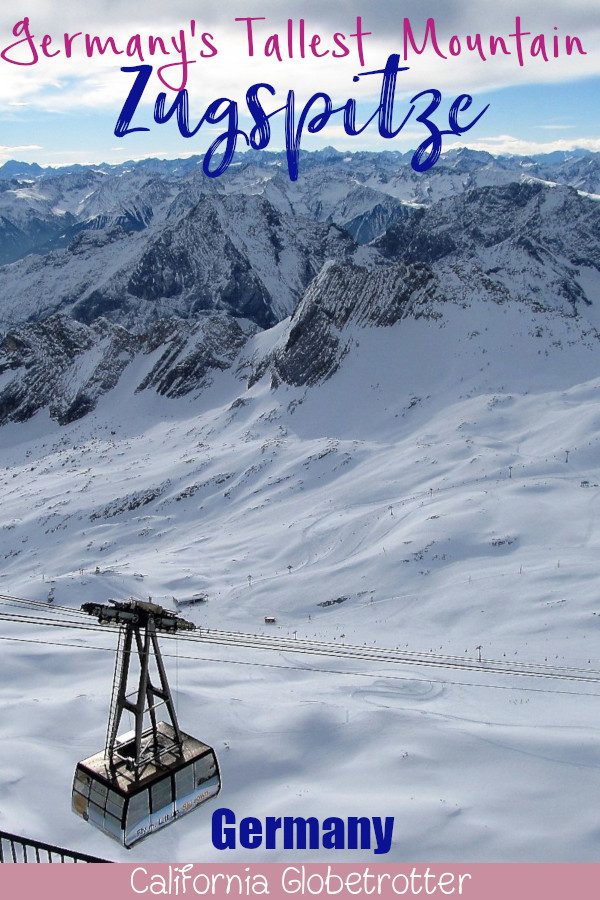 How to AVOID Looking Like a Tourist in Europe
The train ride to Garmish-Partenkirchen was absolutely beautiful. I pulled my book out once to read only to put it back a few minutes later because I couldn't take my eyes off the beautiful snow. Once we got closer, the villages were surrounded by country side covered in snow with lots of little sheds sporadically spread out in the fields.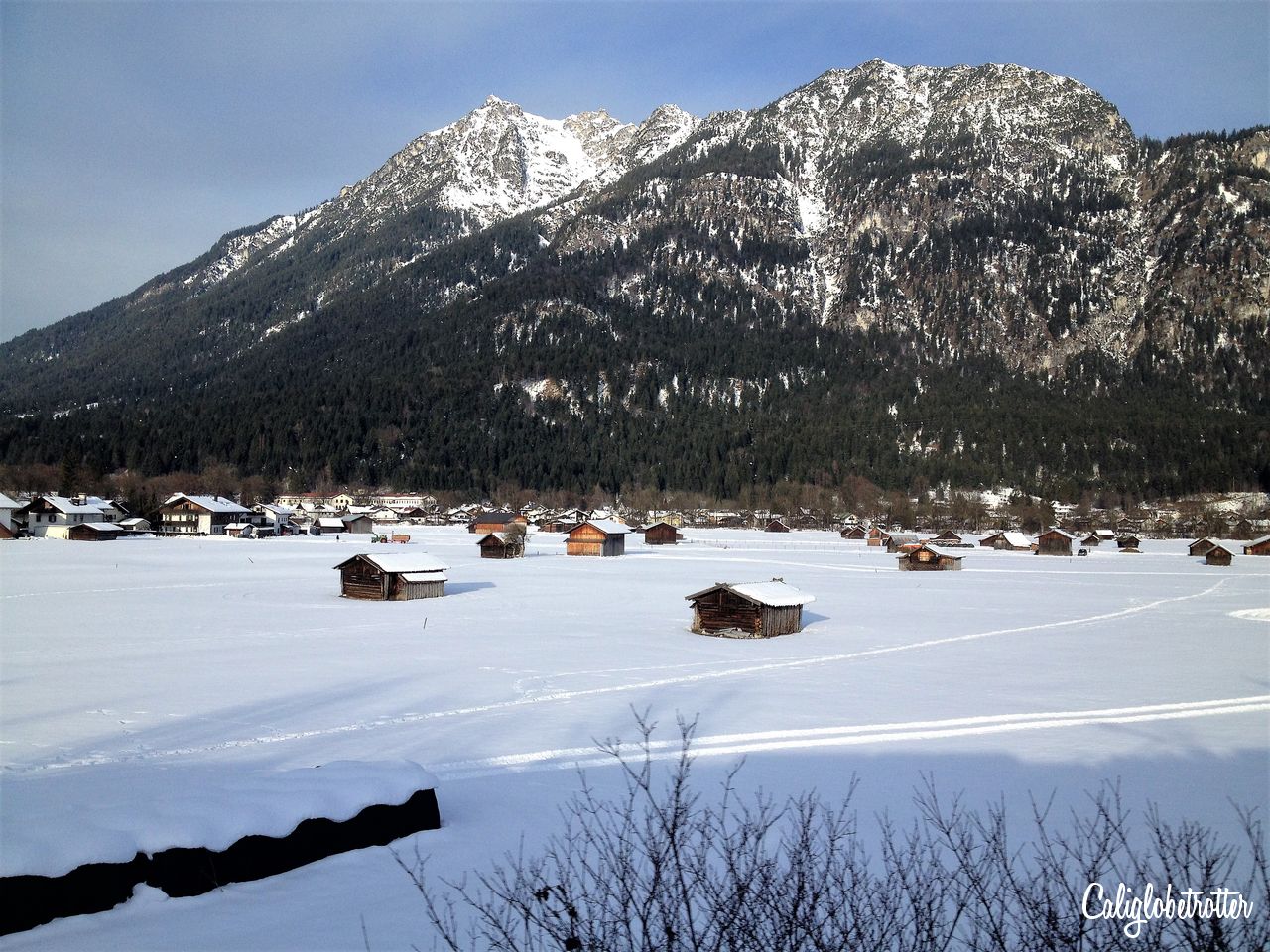 If you are not a skier, you will definitely be a minority and you will clearly see and hear this where ever you go. I will call the skiers "The Crunchers" because everywhere we went, we heard the crunching sound of their ski boots on the gravel.
Zugspitzebahn
If you are traveling by train, you can show the cashier your train ticket and save 10euros per person. Otherwise, if you show up at the Zugspitzebahnhof cashier, you will pay more. Therefore, I do not recommend buying your ticket up the mountain online!
Gletscherbahn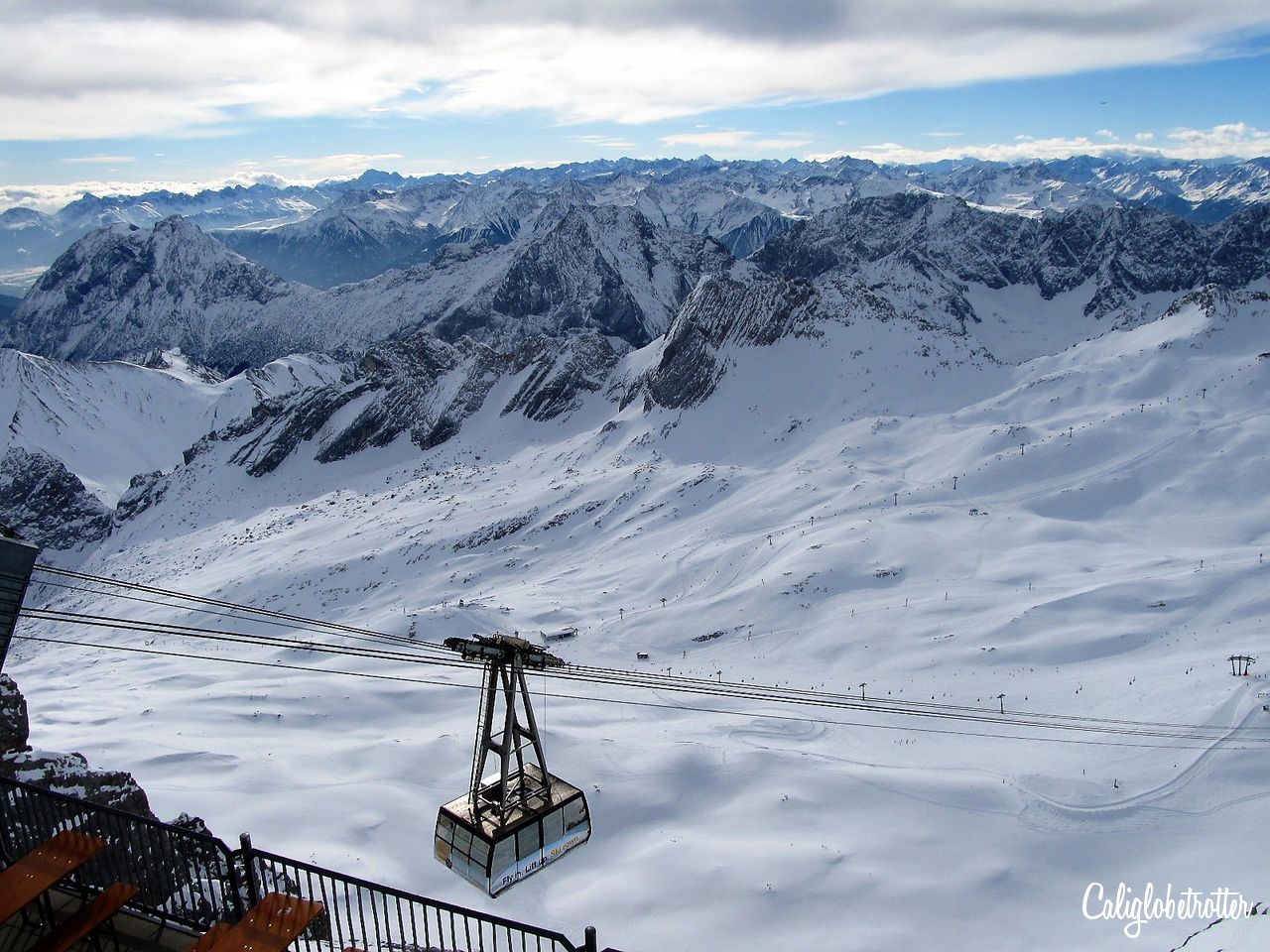 Once you buy your ticket up the Zugspitze, it includes the train ride up the mountain, the Gletcherbahn (cable car) from Sonnalpin Bahnhof Zugspitzplatt to Zugspitze and a ride down the Eibsee-Seilbahn (another cable car) and the train ride back to the Zugspitzebahnhof (train station). You can also spend the entire day up at the top of the mountain. This does not include skiing! This ticket is only for Zugspitze visitors who wish to walk around the mountain peak.
As Zugspitze is one of the top sights in Bavaria, you can bet it will live up the hype. You have views for days of a picture perfect winter wonderland. You'll be left in awe as you begin to take in the views as you reach the summit. 
If you're a would-be beginner skier, study up on must have skiing essentials for beginners, all the gear and equipment you'll need to get started!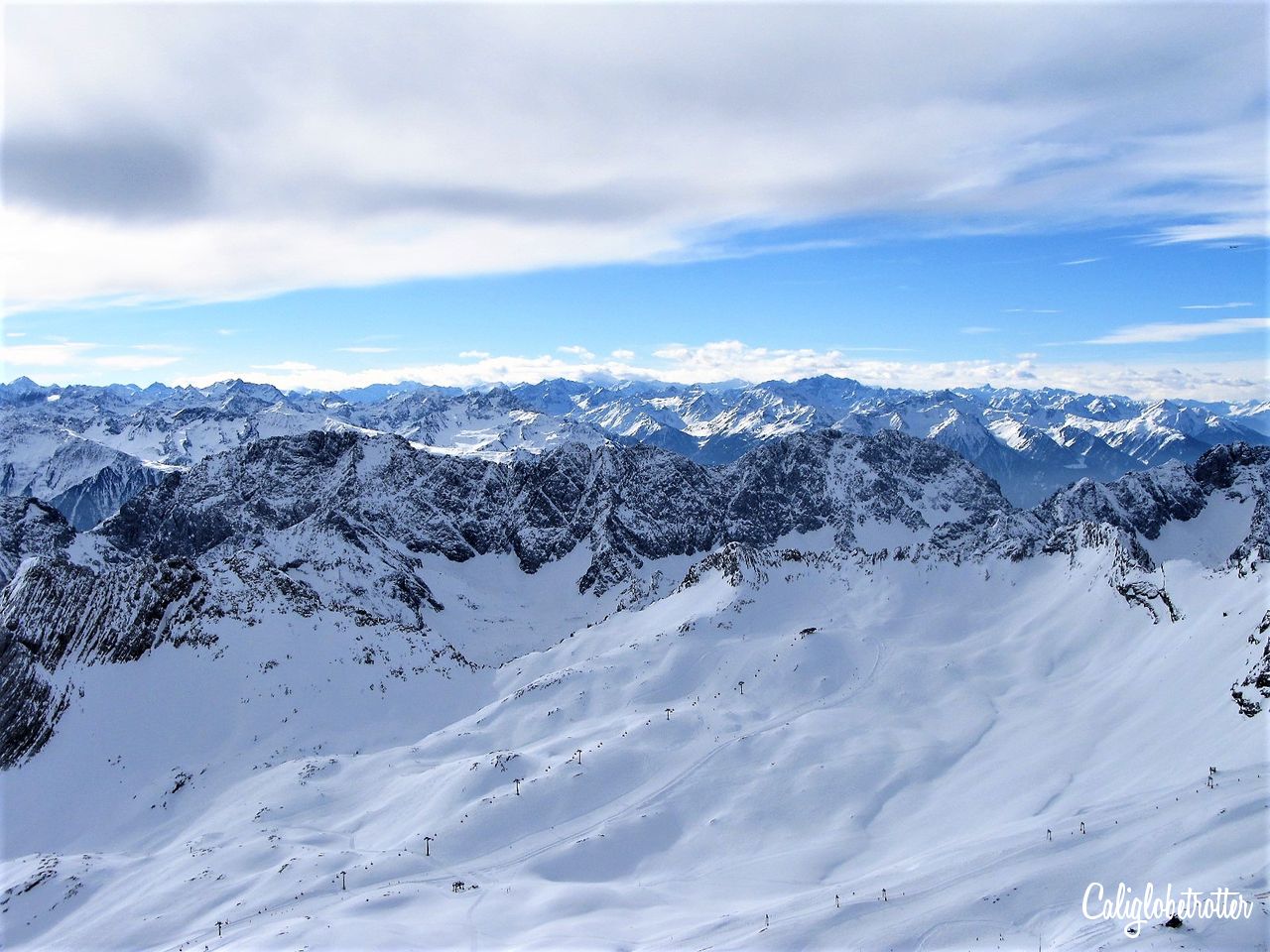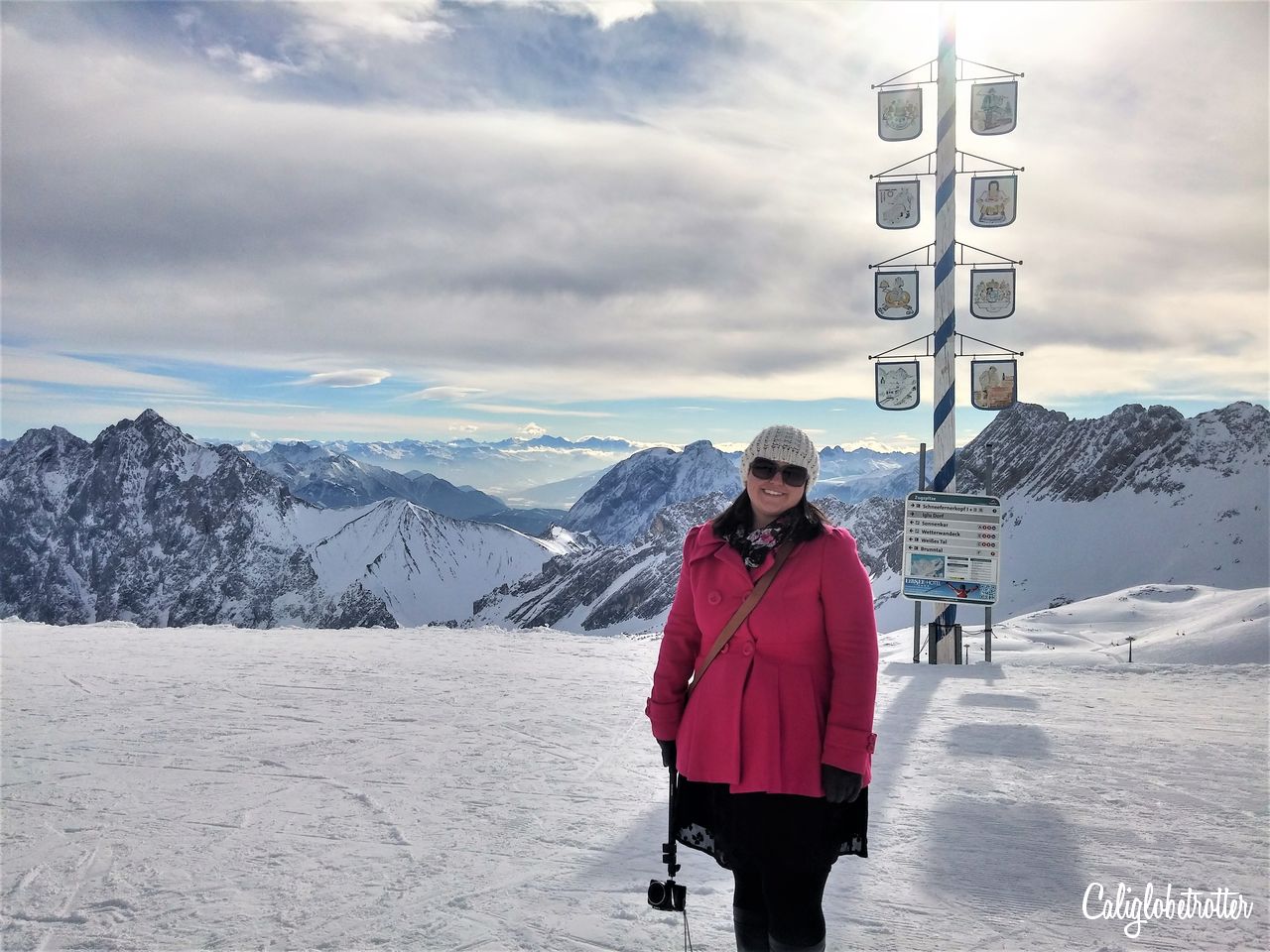 From the Zugspitzebahnhof to the top of Zugspitze, it takes about 45 minutes. First you hop on the Zugspitze train and then you will switch to another train at Eibsee Bahnhof which will become a cog railway. From Riffelriss to the Sonnalpin Bahnhof Zugspitzplatt the train will travel through a tunnel. Once at the Sonnalpin Train station, you can make your way to the Gletcherbahn (cable car) which will take you to the top of Zugspitze, about another 4-5 minutes.
At at 9,718 feet (2,962 m), Zugspitze is the highest mountain in Germany and sits right on the border between Germany and Austria.
Josef naus was the first person to ever climb Zugspitze in 1820.
The Eibsee Cable Car transports about 500,000 people each year
The weather station was opened in 1900
The name of the Zugspitze is probably comes from its Zugbahnen or avalanche paths
Since 1851, there has been a summit cross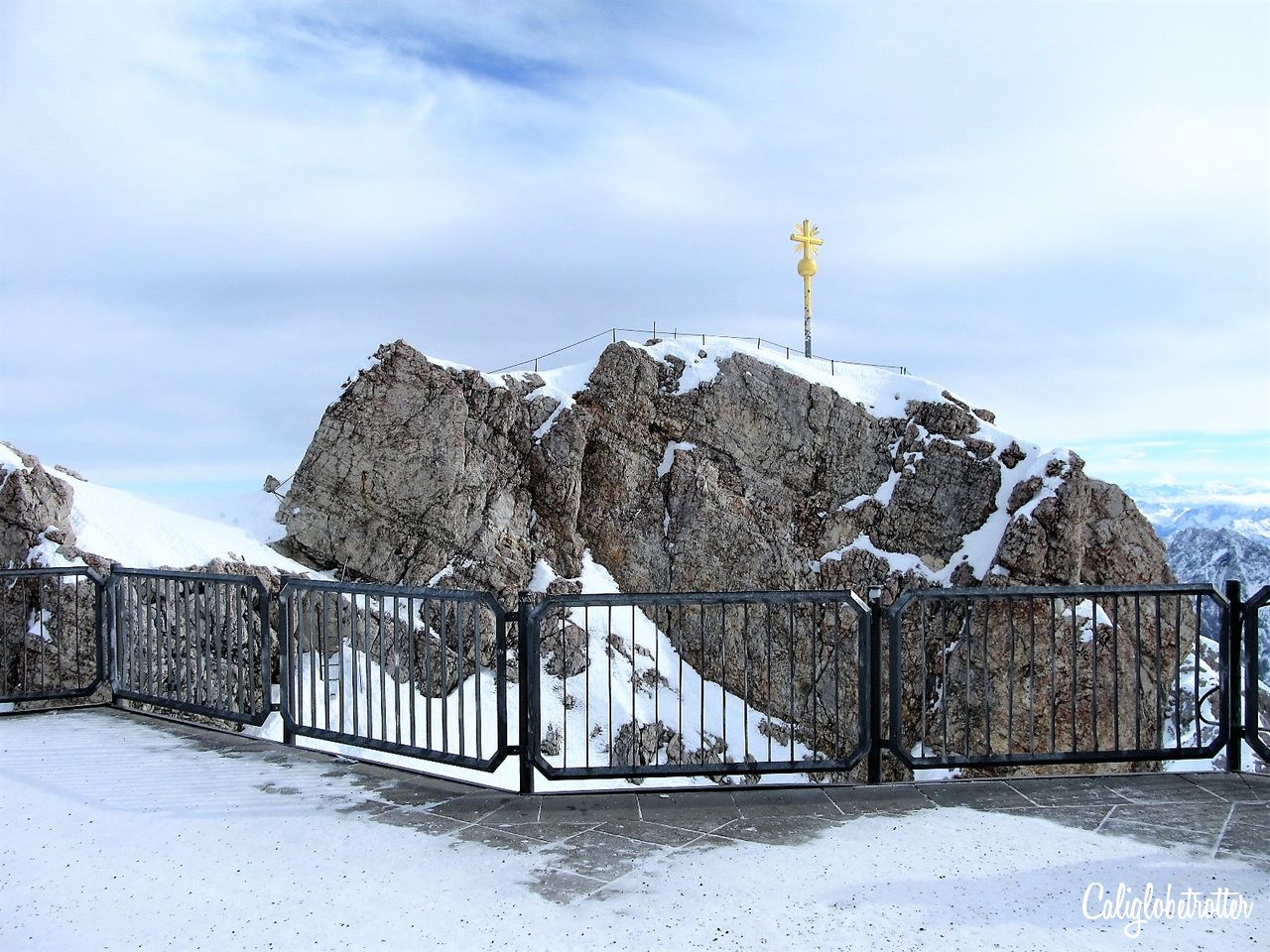 The summit cross has been replaces twice, once after 37 years because of too many lightning strikes and the second time 111 years later because an American soldier shot at it in 1945.
There is also a beer garden at the Zugspitze, making it the highest beer garden in all of Germany (unfortunately this was obviously too cold in the winter, but we would like to go back during the summer)
We were lucky and had perfect, beautiful blue weather at the top of Zugspitze, with a couple of clouds. They say on a clear day you can see all the way to Munich and to the Italian Alps.
As perfect as it was, it was COLD. About 23*F, but when that mighty mountain wind blew, it was probably more like 18*F. I made sure to bring an extra scarf because I knew it was going to be cold. I'm so glad I did because I froze my butt off and I love the cold!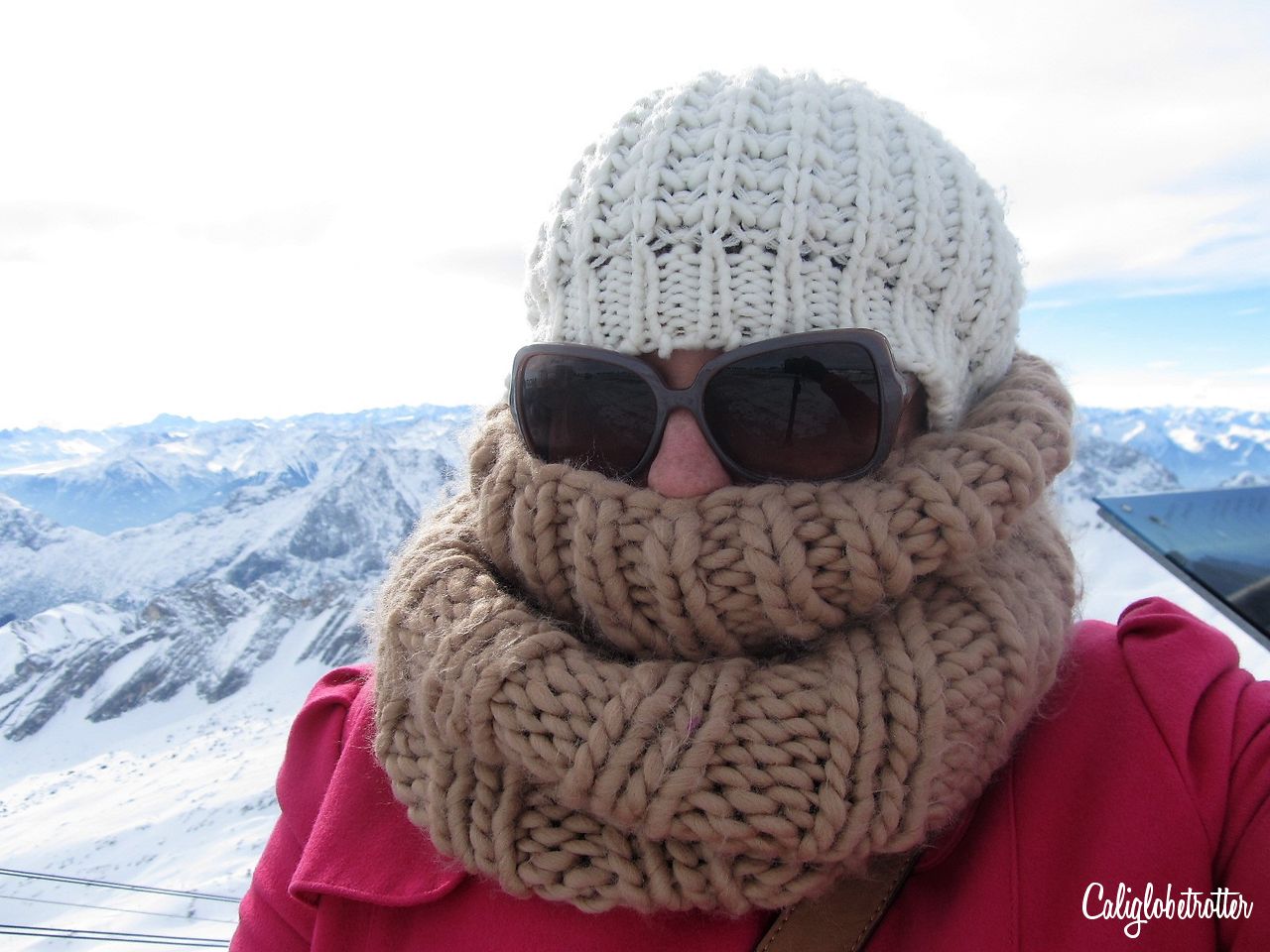 Since Zugspitze sits on the border between Germany and Austria, it was once manned by an officer at a checkpoint stand, but because they are both a part of the Schengen zone, there is no longer a checkpoint, but there are signs indicating you are entering Bavaria or Tirol.
German side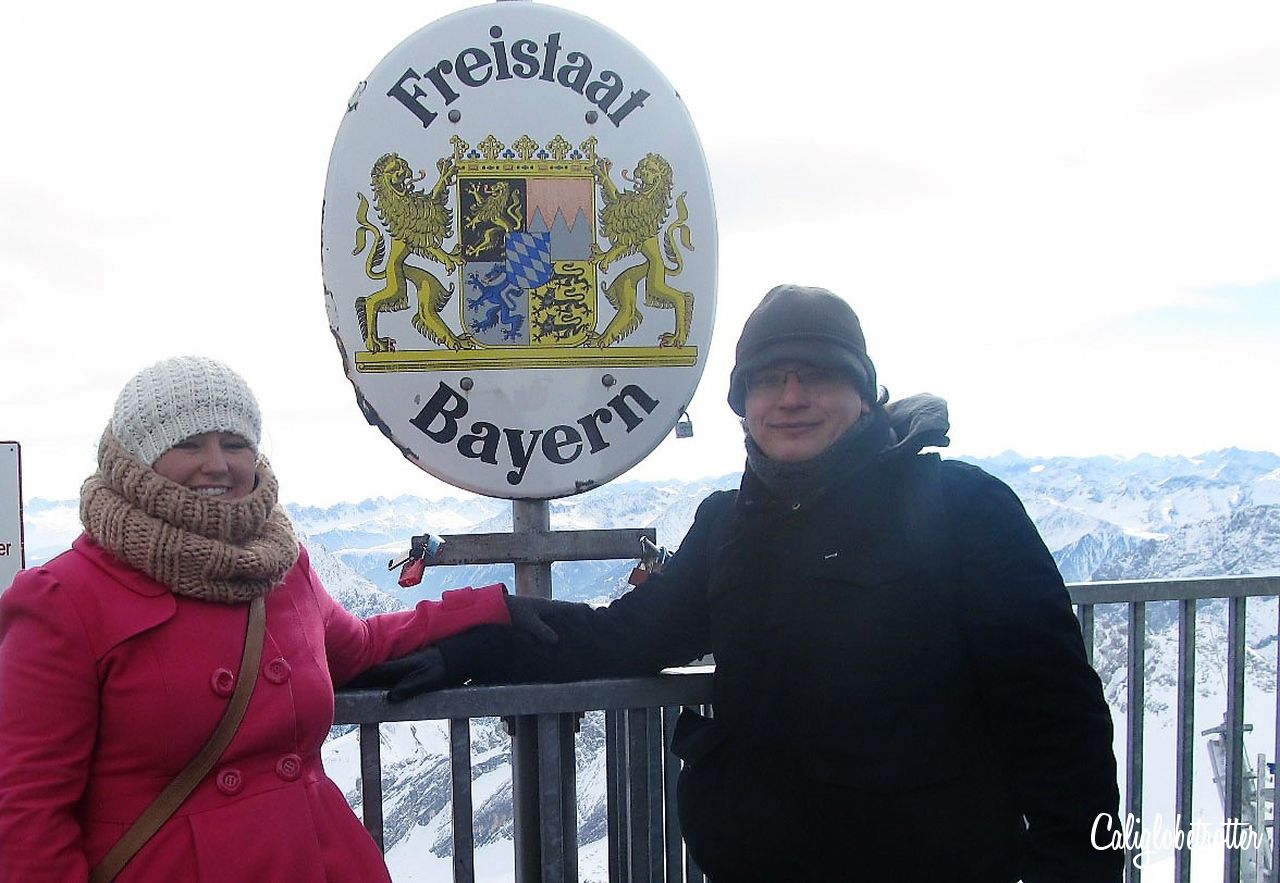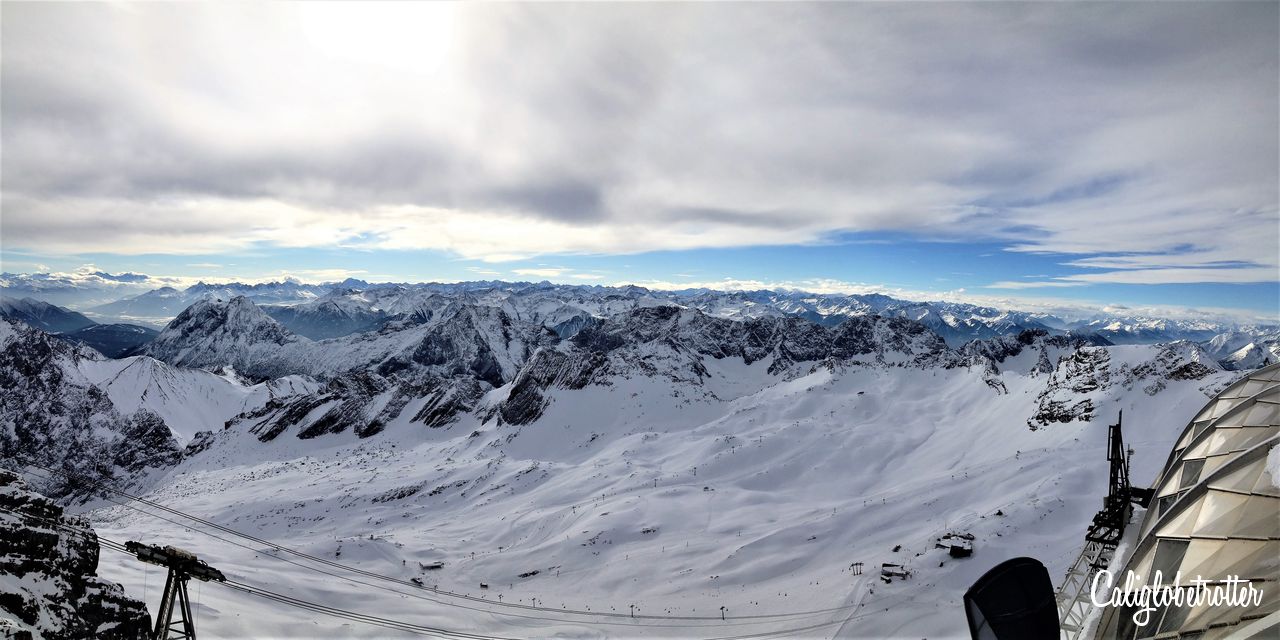 If you are standing in front of the golden summit cross, there is a little red button on the fence which you can press, facing the building and have your picture taken. We took a couple of pictures, which I'm glad we did because 2 of the pictures were taken earlier/later than we thought and we weren't looking. They are not the best quality, but its free and fun to have! You just need to go on to the Zugspitze.de website and download your picture!
Austrian side
We also enjoyed a beautiful lunch up at Zugspitze, lingering and enjoying the views. It was really fun to watch the birds flying against the wind. Sometimes they just floated in the air not flying anywhere before finally swooping down and around. We ate at Gipfelalm and enjoyed some traditional German meals along with a nice cold beer. However, I should warn you, being at that elevation and drinking and walking around will/can make you very short of breath and dizzy!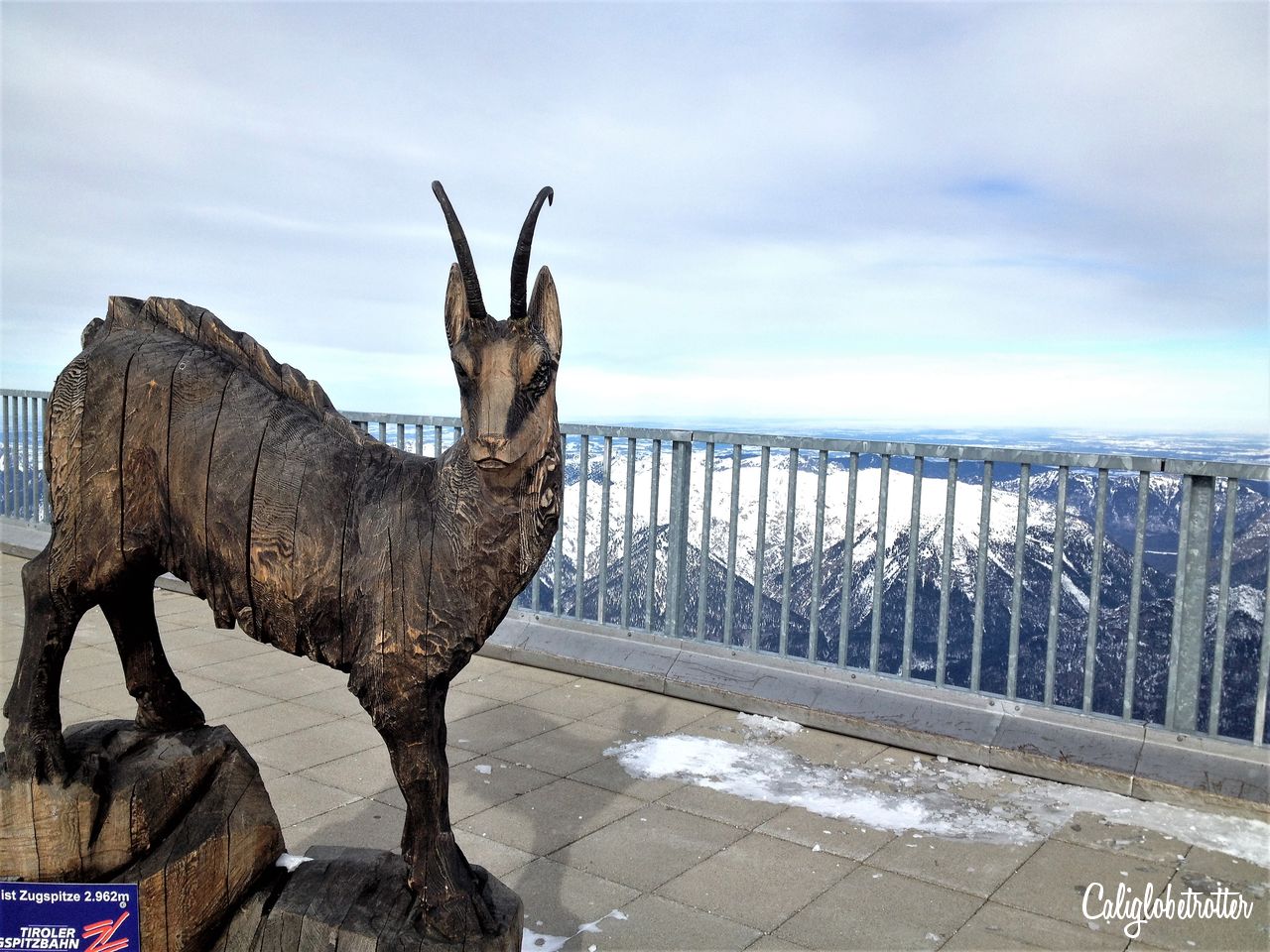 After spending enough time walking around, we could no longer feel our legs so we decided to head back down the mountain by taking the Eibsee Cable Car which is about a 4-5 minute ride. Going down a mountain that fast will sure make your ears pop, but it will be worth the extra views of Eib Lake.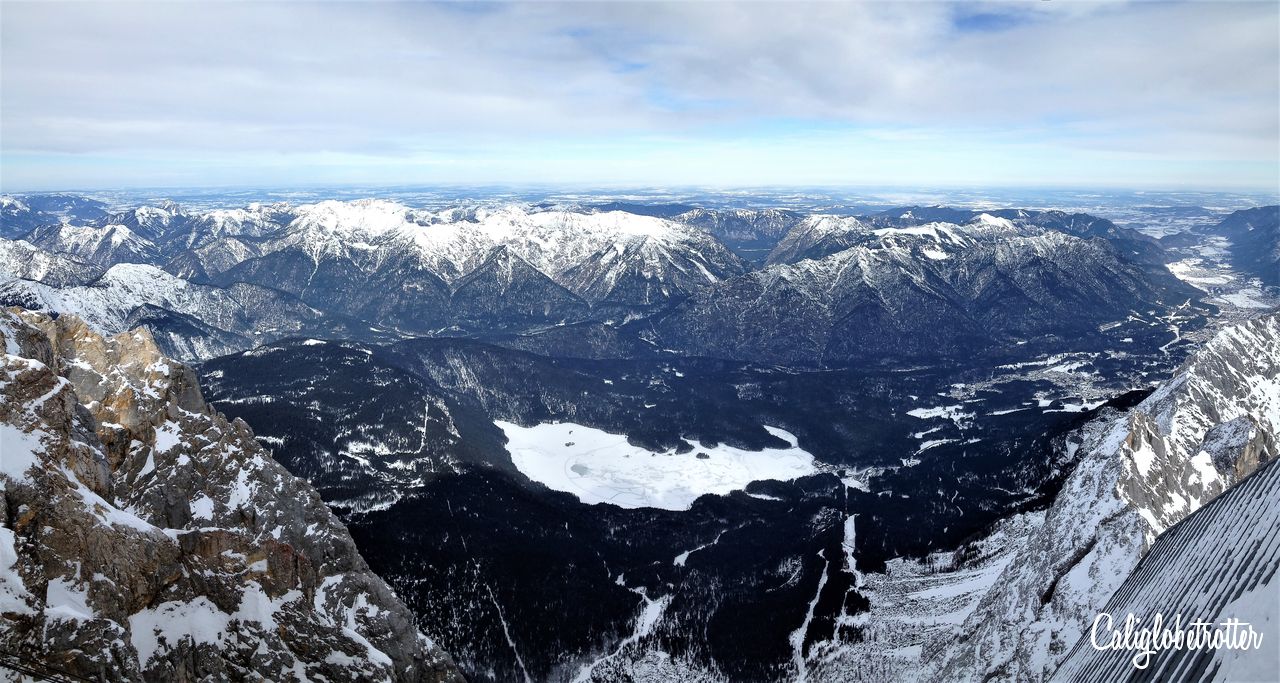 I really look forward to a summer trip to Zugspitze and checking out some of the gorges around the mountains.
Here is a panorama 360* views of the Alpspitze!
If you're interested in visiting Germany and are looking for more information, I highly recommend using the DK Eyewitness Travel Guide! Without these guides, I would be lost! This is my travel Bible!
Disclaimer: This post contains affiliate links. If you click on one and make a purchase, I might make a little extra spending money, at no extra cost to you. As always, all opinions are my own and these products/services have been found useful during our travels and come highly recommended to you from yours truly!
Be sure to check out other blogs:
Top Places to Visit in Germany!
A Cable Car Ride Up The Jennerbahn
Liked this post? PIN IT FOR LATER!
Save