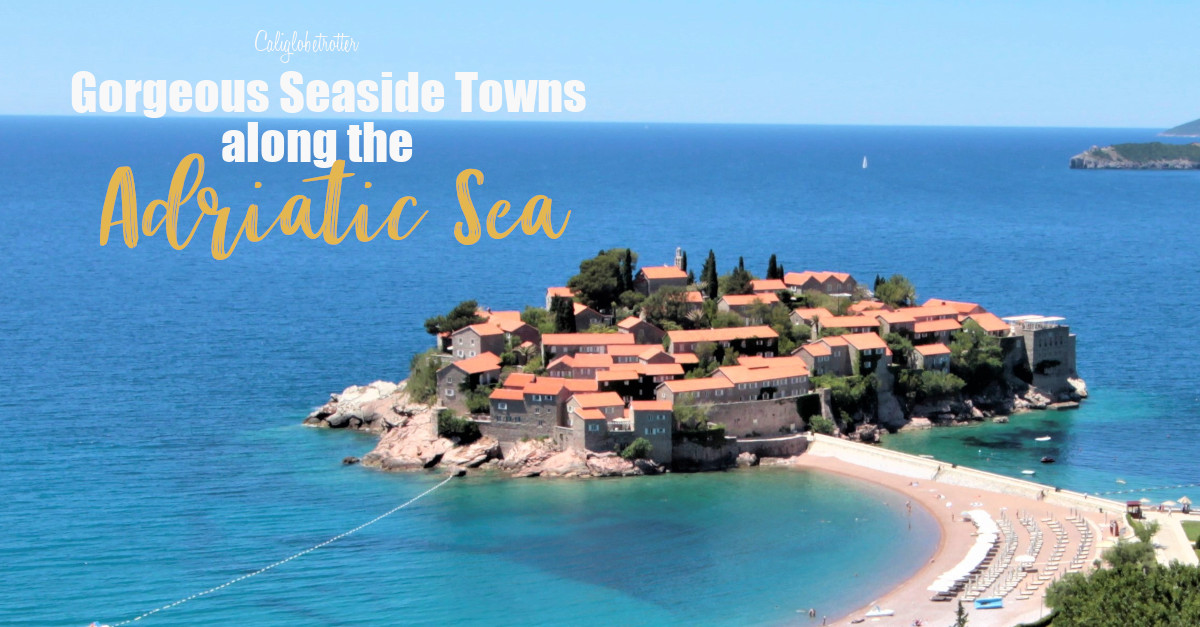 Disclaimer: This post contains affiliate links. If you click on one and make a purchase, I might make a little extra spending money, at no extra cost to you. As always, all opinions are my own and these products/services have been found useful during our travels and come highly recommended to you from yours truly!
When people search for the best beach destinations in Europe, they often think Italy or anywhere along the Mediterranean Sea. And while a trip to the French Riviera in France or the Almafi Coast or Cinque Terre in Italy sounds idyllic, there are other places to consider for a beach holiday in Europe. For example, there are a plethora of more affordable beach holidays in the Balkan countries such as Croatia and Montenegro. So let me introduce you to a collection of gorgeous seaside towns along the Adriatic Sea at a fraction of the price you might pay anywhere else in Europe.
Want to Discover the Adriatic Coastline? PIN IT FOR LATER!!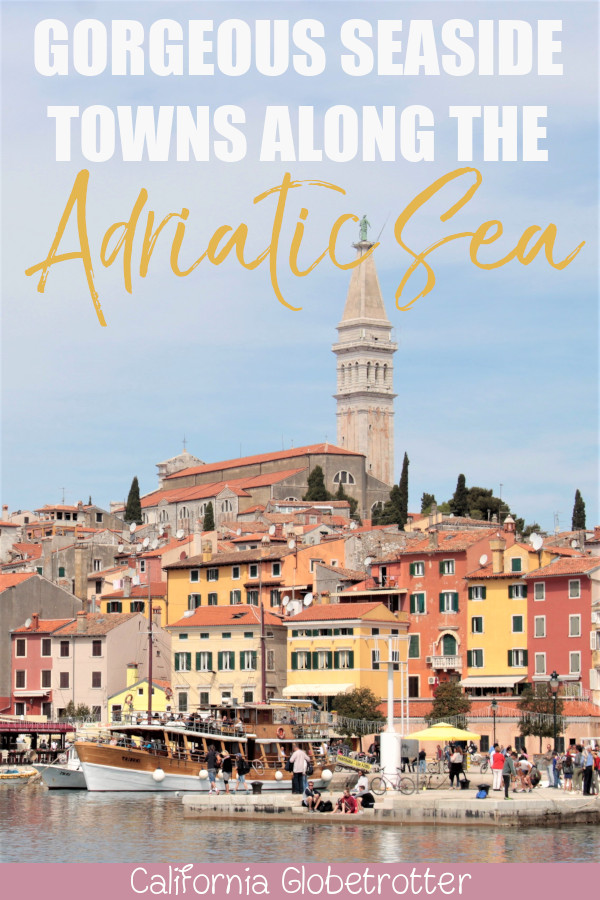 2 Week Balkan Road Trip Itinerary
2 Day Itinerary for Coastal Towns in Montenegro
Where is the Adriatic Sea?
Stretching the entire length of the east coast of Italy for about 500 miles (800km) and about 100 miles in width, the Adriatic Sea hugs the coastlines of not just Italy, but many Balkan countries including Slovenia, Croatia, Montenegro and a small sliver of Bosnia-Herzegovina before stretching down to Albania. Eventually, the Adriatic Sea merges into the Ionian Sea where Greece begins.
The difference between the Italian coastline and the Balkan coastline along the Adriatic Sea is the stark difference in the shoreline. Along the Italian coastline, for the most part, it's a straight shot, while the Croatian coastline is littered with islands.
Overall, the surface temperature of the Adriatic Sea averages about 75–77 °F (24–25 °C) in the summer, peaking in August and dipping to 50 °F (10 °C) in the winter months of January and February, while the northern portion can reach lower temperatures due to snow melt.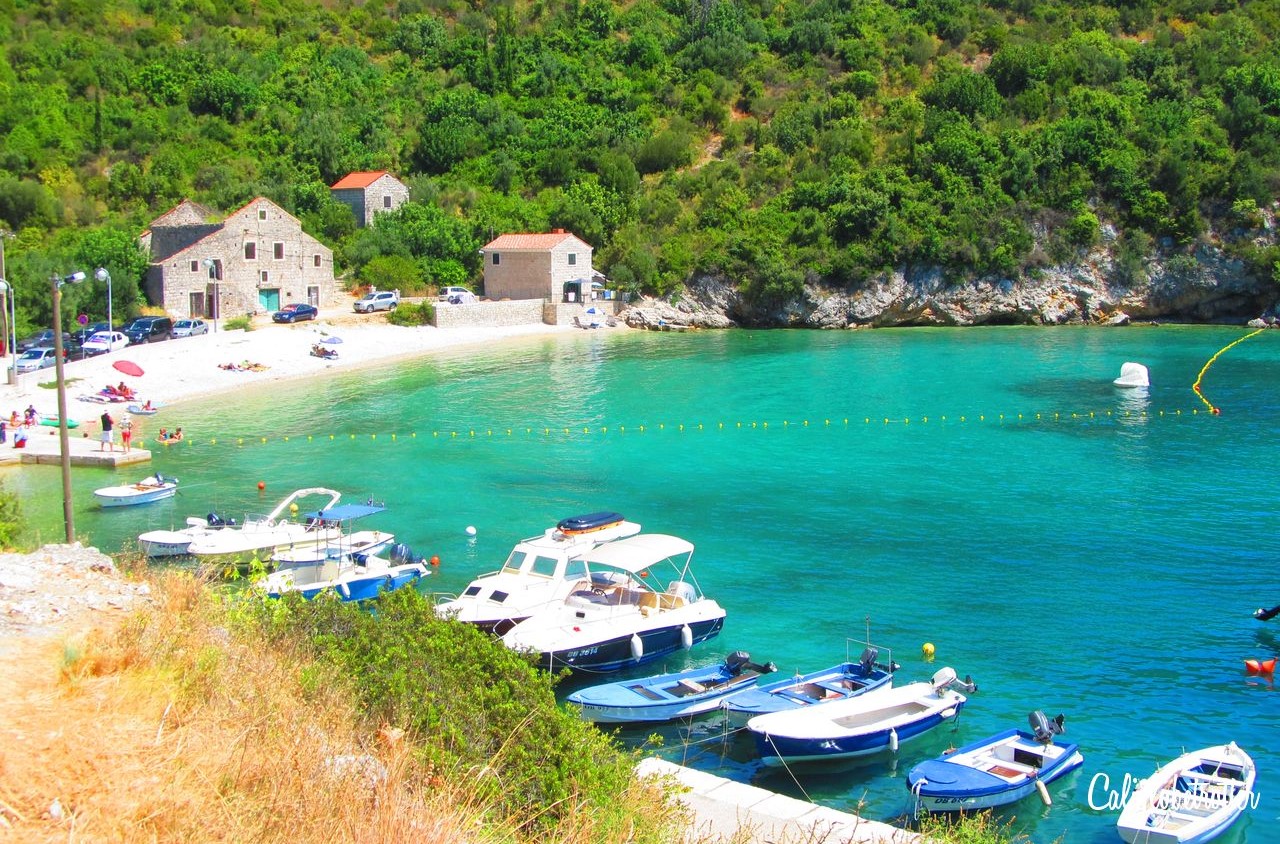 Trieste, Italy
Starting at the northernmost tip of the Adriatic Sea is Trieste, Italy. While I'm sure there are lovely beaches in Trieste, we did not visit for sun-bathing purposes. Instead, we came here for delicious Italian espresso, castles with a run of bad luck and glimpses of the Adriatic Sea. Trieste is definitely far enough off of the classic tourist itinerary for Italy but is still a truly beautiful Italian city to visit with a fascinating history having been controlled by multiple nations, which have all left their imprint on this unique city. It's also home to Europe's largest seaside square, lined with classic architecture from the Habsburg era when Austria still controlled this portion of Italy. And like Austria, you'll find a wide selection of historic coffeehouses serving up some of the best coffee in Italy.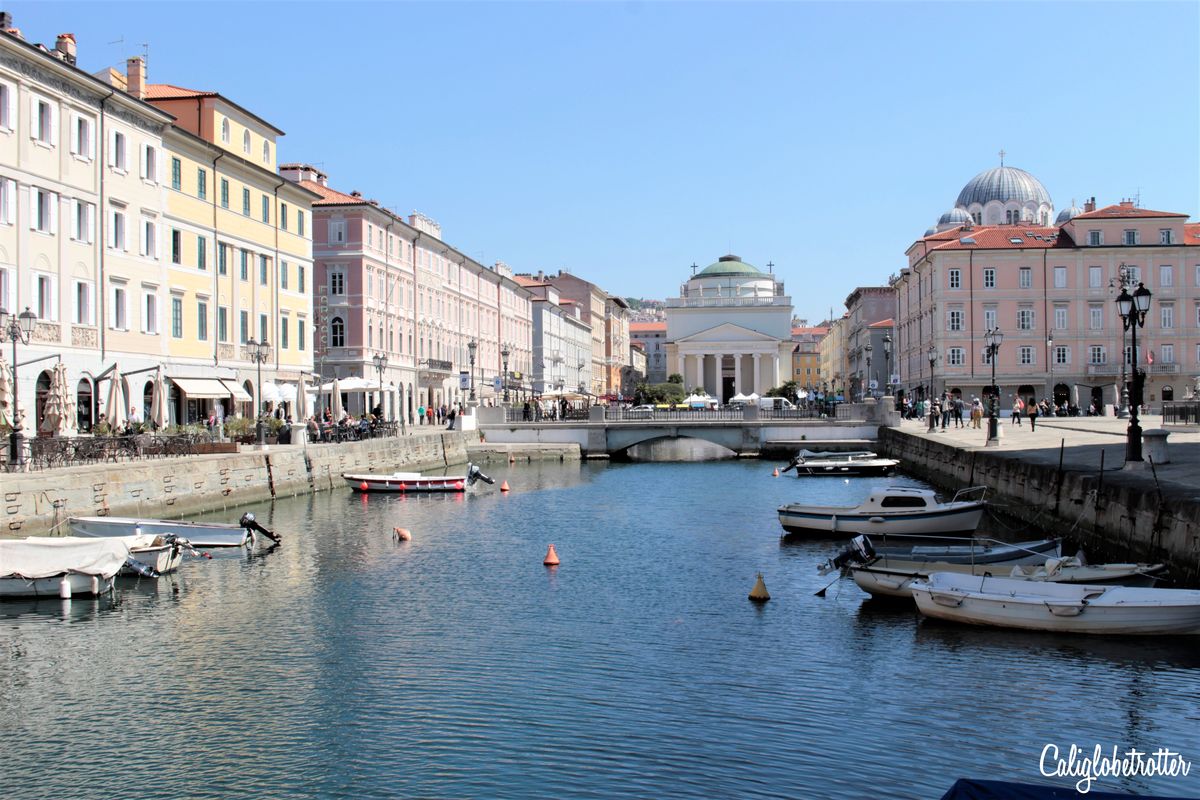 Related: Planning Your First Trip to Italy
Piran, Slovenia
Just a 40 minute drive away from Trieste is a small sliver of Slovenian coastline along the Adriatic Sea. Blink and you'll miss it. Sneeze and you won't even see it which makes Piran, Slovenia one of Europe's best hidden secrets and an easy day trip from Ljubljana. 
Slovenia only has 29 miles (47 km) of coastline along the Adriatic, but though they have only a tiny sliver, they sure know how to make the most of it. Wedged between Italy and Croatia, Piran is one of three major towns along the Slovenian Istria, along with Izola and Koper making up what is known as the Slovenian Riviera.
You'd easily be forgiven for thinking you were still in Italy because of the strong Gothic Venetian architecture here and even on a clear day, from St. George's Church Tower, a replica of San Marco Campanile in Venice, you can see all the way to Venice. From the tower or the town's city walls, you easily have a full view of the entire peninsula tipped town with it's classic red tiled roofs against a deep blue sea, winding alleys and clear blue skies.
As one of my absolute favorite small towns in Europe, Piran is easily one of the best towns to visit along the Adriatic coastline.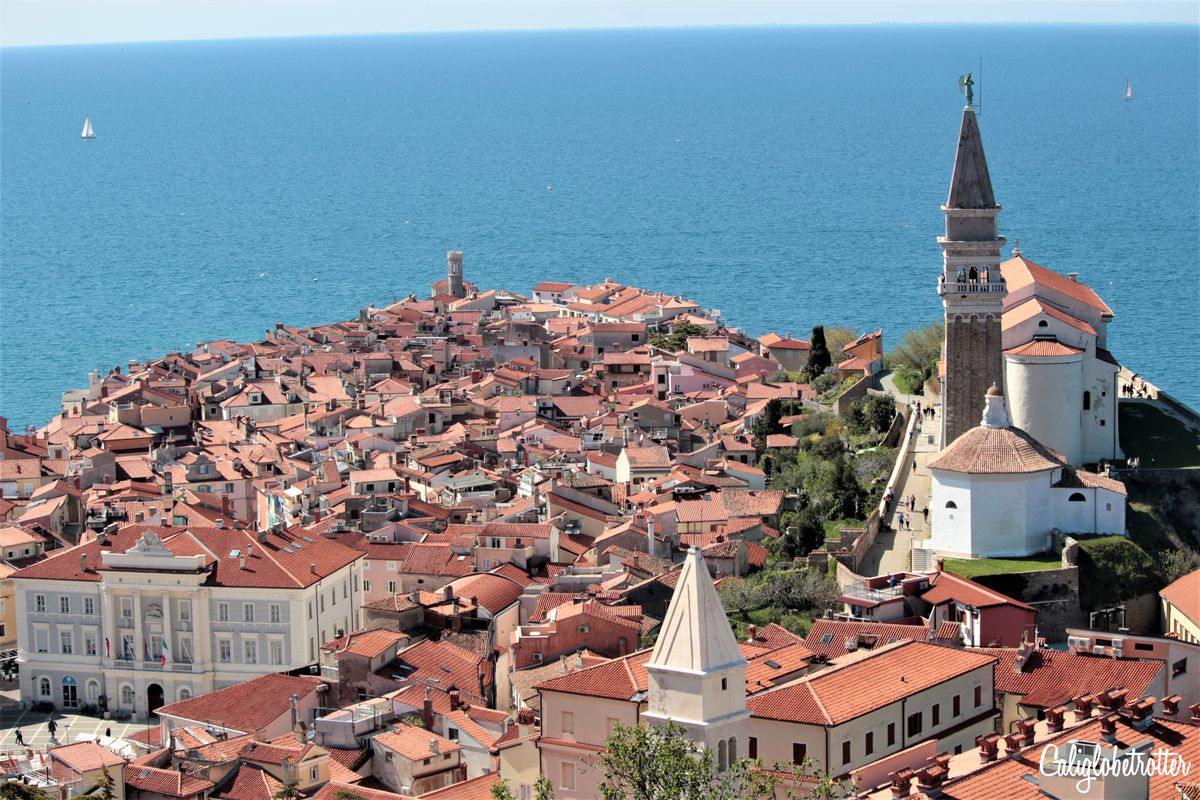 Max Piran ⭐⭐⭐ – not far from Tartini Square, in a guesthouse dating back to the 18th century. Offering a view of St. George's Church from every room, it was a no brainer and every morning and every evening, I threw open the windows and leaned out the window to absorb every moment. 
Rovinj, Croatia
Just an hour south and over the Croatian border, you'll enter what is predominantly the Istrian Peninsula, but which stretches from the Gulf of Trieste to the Kvarner Gulf. Though Istria is shared between Italy, Slovenia and Croatia, a good portion of it lands behind the Croatian border, and it is the largest peninsula on the Adriatic Sea. Some of the most popular towns to visit on the Istrian Peninsula include Rovinj, Pula, Poreč, Pazin, Labin, Umag, Motovun, Buzet, and Buje.
Like Piran, you can catch a glimpse of the entire town from St. Euphemia Church tower and one of many of Croatia's islands just off its coastline, 14 alone make up the Rovinj archipelago. The town itself is famed for the variety of yellows, orange and ochre colored houses and red roofs, and like Piran, a tangle of cobbled stone streets and alleys lead you to the church which towers over the rest of the town.
With a rugged coastline, soft sandy beaches are hard to come by, but that doesn't stop locals from catching some rays lounging along the rugged shoreline or otherwise boating into town and docking at the shore to simply stroll the lanes. 
Of all the towns we've visited in Croatia, Rovinj is by far my most favorite town.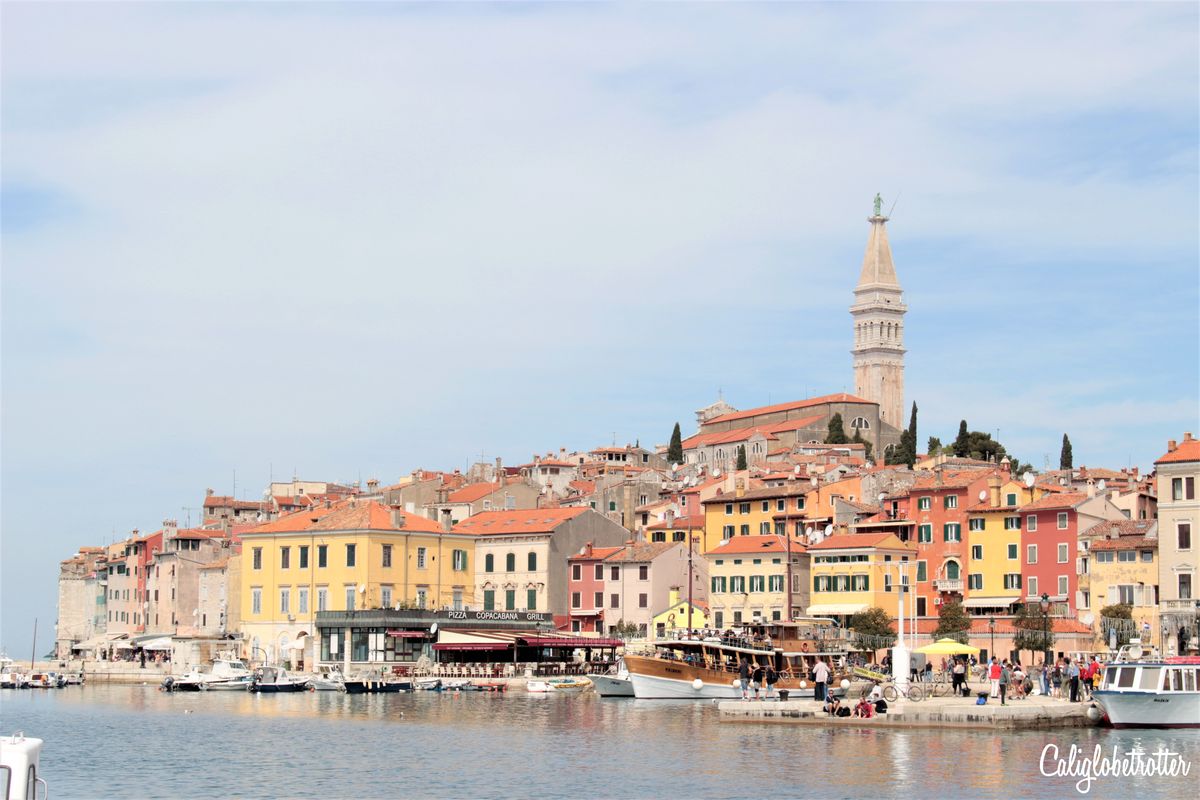 Zadar, Croatia
Continue driving south, passing Rijeka and head further down to Zadar where you now entire what is considered the Dalmatian Coastline which is some of the most visited portion of the 3,600 miles of glimmering coastline in Croatia.
Zadar is yet another small peninsula town, though like Dubrovnik, it's completely surrounded by massive medieval fortress walls with Venetian Gates allowing entry into the heart of this classic Croatian town. It is considered the oldest continuously inhabited town in Croatia and is a UNESCO World Heritage Site because of these Venetian defense works which were built between the 15th and 17th centuries.
Though there are a few sights to see in Zadar, one of the most popular attractions people come to this town for is the sunset. With nothing in its way, Zadar has a front row seat to some of the best sunsets and the town has added a modern attraction called Greeting to the Sun which is best photographed and experienced at sunset to the tune of the Sea Organ nearby.
Where to stay in Zadar: Central Square Guest House ⭐⭐⭐– a quaint "Air B&B" style hotel, the owners are incredibly friendly and will give you tips and advice for visiting the town!
Don't Miss: Plitvice Lakes National Park
Split, Croatia
Further south is Croatia's second largest city, Split, which is also the largest city along the Adriatic Sea. Split is most famous for being home to Diocletian's Palace, a palace built in 305 AD by the Roman Emperor Diocletian where he planned to retire. Today, Diocletian's Palace makes up half of the old town of Split, though it seems more like a fortress than a palace. It became a UNESCO World Heritage Site in 1979 as it is one of the best preserved Roman palaces and for that reason alone, it makes it one of the best places to visit in Croatia!
After exploring Diocletian's Palace, catching a reenactment from the Emperor himself and a stroll along the promenade, then you can meander over to one of the best beaches in Split, lined with sun chairs and ladders to climb down into the sea.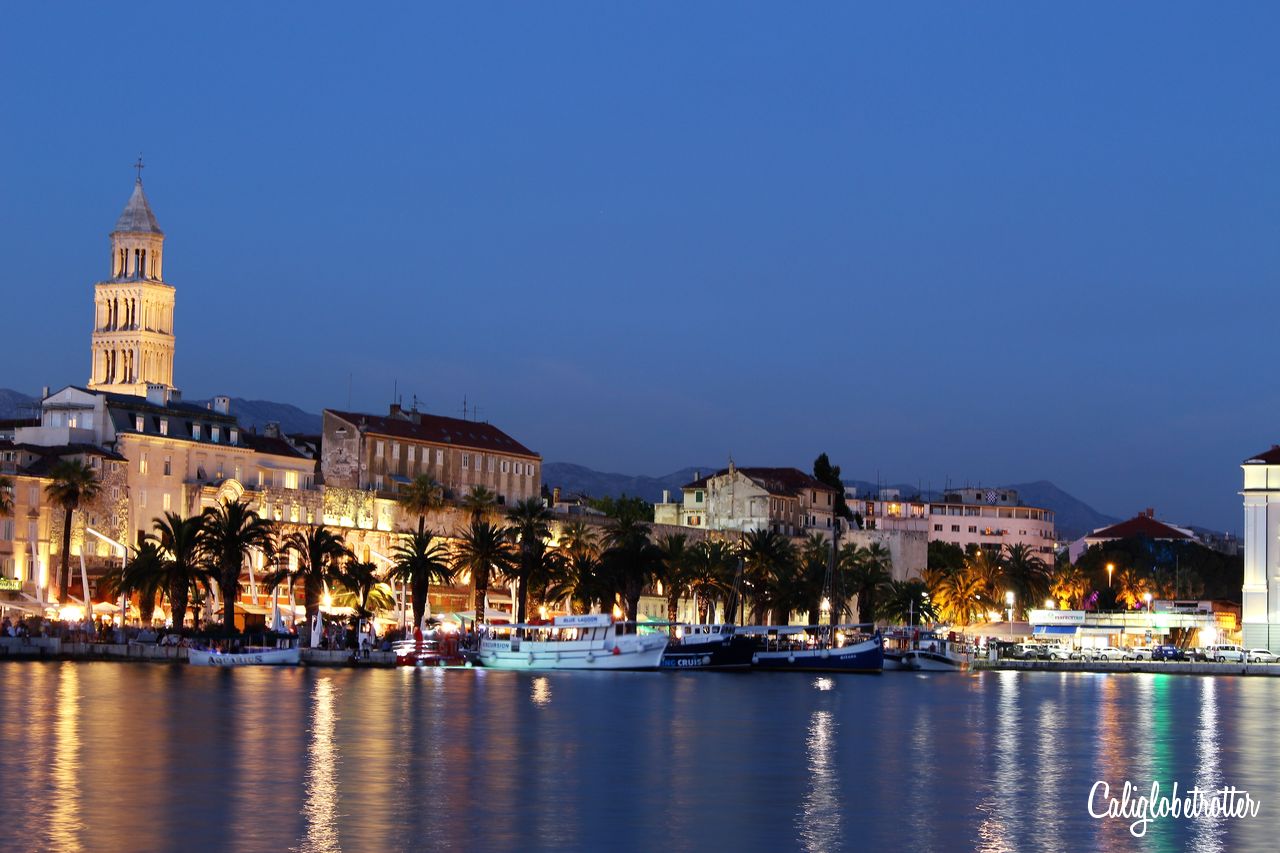 Where to Stay in Split: Azur Palace Luxury Rooms ⭐⭐⭐⭐–  Located just a few minutes from Diocletian's Palace, these luxury rooms are comfortable and modern!
Don't Miss: Krka National Park
Dubrovnik, Croatia
To reach one of Croatia' most popular towns, Dubrovnik, you'll first need to drive along Bosnia-Herzegovina's whopping 12 miles of Adriatic coastline, through the town of Neum. Nicknamed the "Pearl of the Adriatic" for it's absolute stunning beauty, Dubrovnik is without a doubt a tourist hotspot. You should absolutely 100% avoid visiting in July and August because the small fortress enclosed town is completely engulfed by tourists, every restaurant is overflowing and booked out and there are long lines for everything.
Nonetheless, Dubrovnik is a popular town not just because Game of Thrones shinned a massive search light on this town but because it's unlike any other and can best be appreciated from Mount Srd with stunning views over the entire fortress city with views out to Lokum Island and beyond. Dubrovnik is a must for anyone planning to make a Croatian road trip.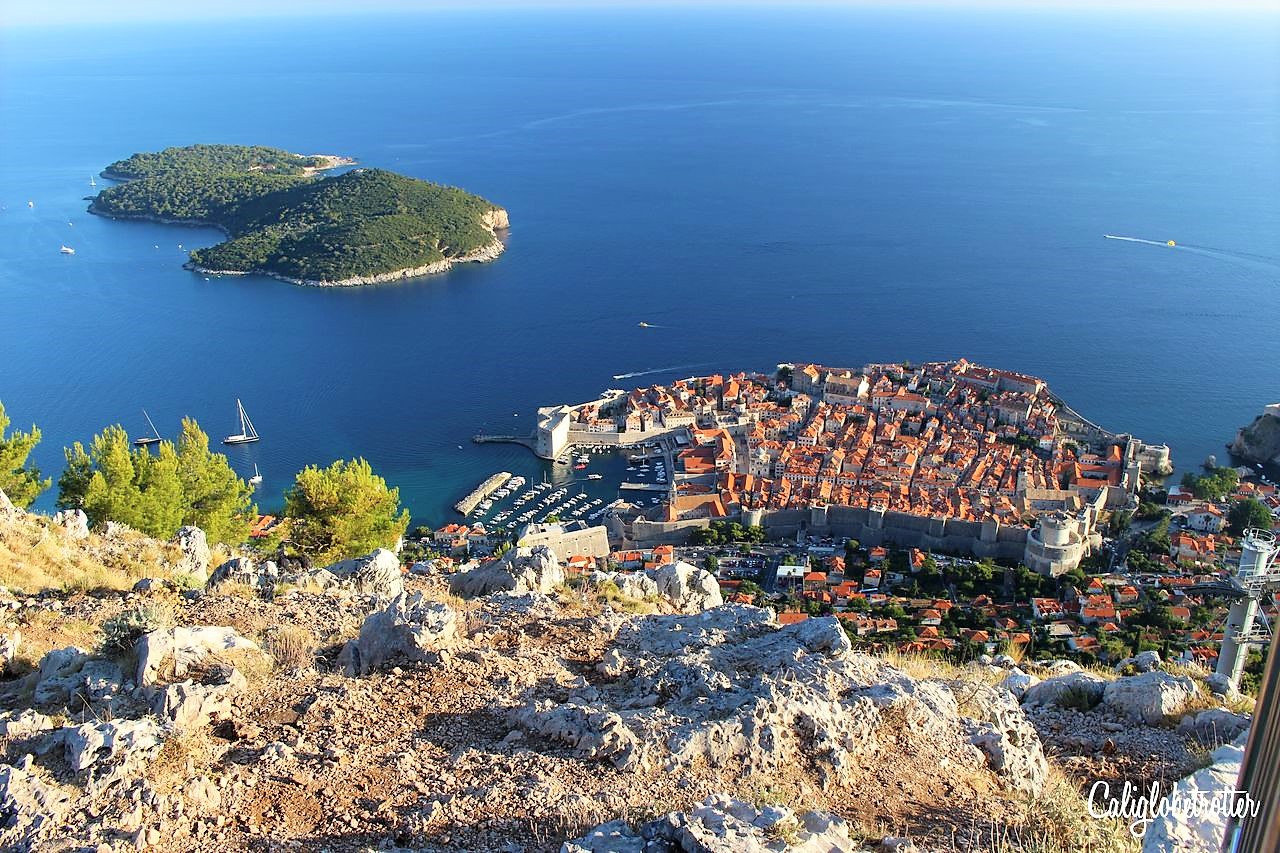 Where to Stay near Dubrovnik: Hotel Vis ⭐⭐⭐– If you're looking for affordable accommodation in Dubrovnik, then located 15-20 minutes, you can relax away from the crowds with amazing views of the Adriatic, a private beach for guests. Don't worry, there's a bus that will shuttle you into town!
Don't Miss: Mostar, Bosnia-Herzegovina
Kotor, Montenegro
Just a further two hours south, you'll eventually enter Montenegro, Europe's youngest nation, before eventually entering the Bay of Kotor, a fjord-like bay which opens out into the Adriatic Sea. Before reaching here, you'll pass several smaller towns Herceg Novi and Perast, both of which make easy excursions from Kotor. By far one of the most popular destinations in Montenegro, especially with cruise ships docking literally just in front of this fortress town.
Like Dubrovnik, Kotor is surrounded by fortress walls and by now you'll start to see many similarities from all of the towns along the Adriatic with the Venetian architecture being the most obvious, as well as yet another fortress city wall to pass through.
While meandering through the cobbled stone alleys is the best way to explore Kotor, the best way to experience Kotor is hiking up the rather steep and rugged City Walls to the Castle of San Giovanni for spectacular views over the town and the bay. Hiking this is a right of passage for having truly experienced Kotor as to date, there is still no cable car to spare you the time and energy. Having done this myself, it would be a shame at this point to add a cable car, thus sparing everyone the vigorous work out.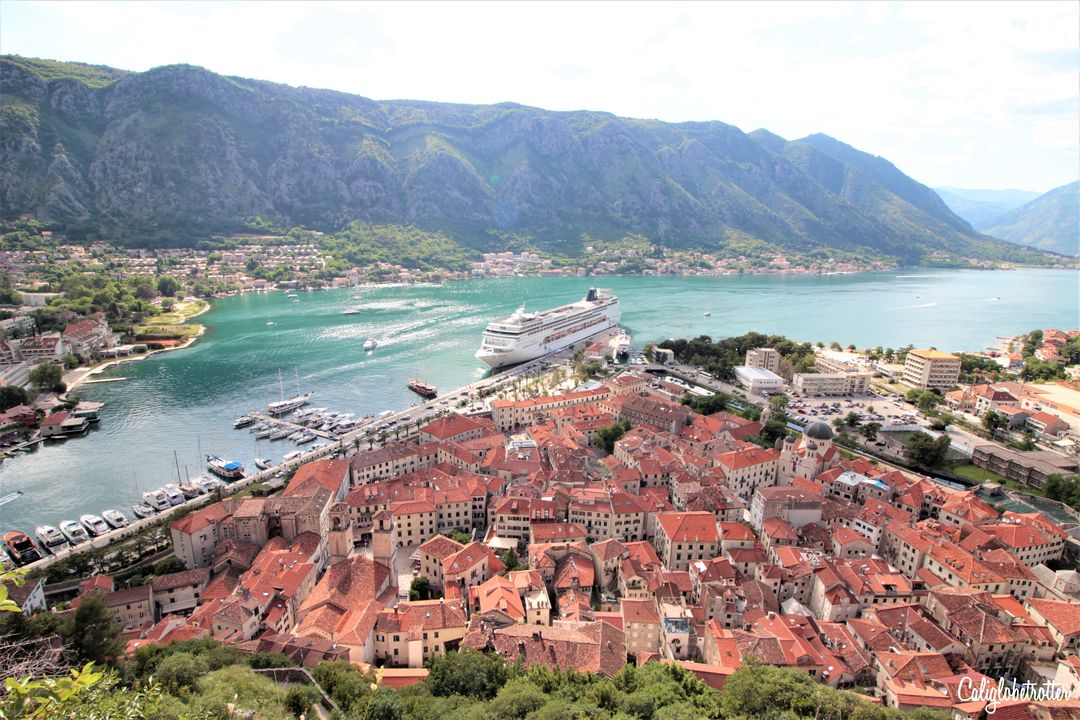 Where to Stay in Kotor: Palazzo Drusko Deluxe Rooms ⭐⭐⭐⭐was the perfect hotel right in the heart of the historic Old Town decorated in traditional style with 150-year-old furniture, stone walls and wooden elements. The owner played traditional Montenegrin music over a vintage radio in our rooms long into the summer night, adding to the romance of the town!
Budva, Montenegro
If you're looking for an easy day trip from Kotor then Budva, just a short distance away will be one of the best options! Like Kotor, it is yet another beautiful fortress with glossy stone pathways and wandering alleys. As one of the last Venetian outposts, it's a cute and quaint seaside town in Montenegro with plenty of beaches to enjoy which will best be enjoyed after exploring some of Budva's main sights and walking along the promenade.
Once ready to enjoy a beach day, pop on over to the Budva City Beach, just feet from the the fortress entrance. Lines with sun umbrellas to rent for the day, the beach is soft and sandy with the water warm enough to take a dip into!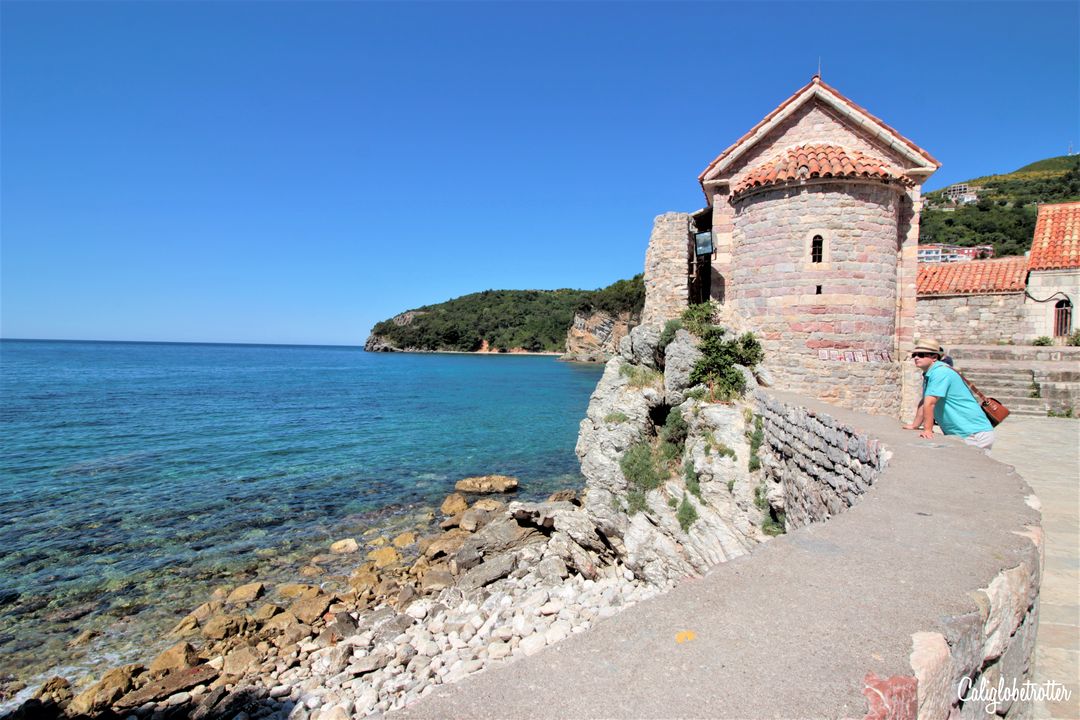 Where to Stay in Budva: Avala Resort & Villas ⭐⭐⭐⭐– with an infinity pool stretching out into the Adriatic, right next to the Old Town Beach, what could possibly be better?
Sveti Stefan, Montenegro
Last but not least (because that's the furthest south we've been), as well as saving the best for last, the cream of the crop, the strawberry on top, the best of the best, I now introduce you to the small inlet town of Sveti Stefan.
While the inlet is a private island for those willing to pay a hefty price for privacy, for example Elizabeth Taylor or Oprah, it sure is one to admire even from a distance. There are several great view points to admire the inlet from above, but we opted to enjoy the town by shelling out our own tiny fortune to experience just once the luxury of lounging on a private beach, peace and quiet and attendants to serve us an endless supply of water, cold fruit and any other service needed. It was a once-in-a-lifetime honeymoon splurge and it was worth every penny.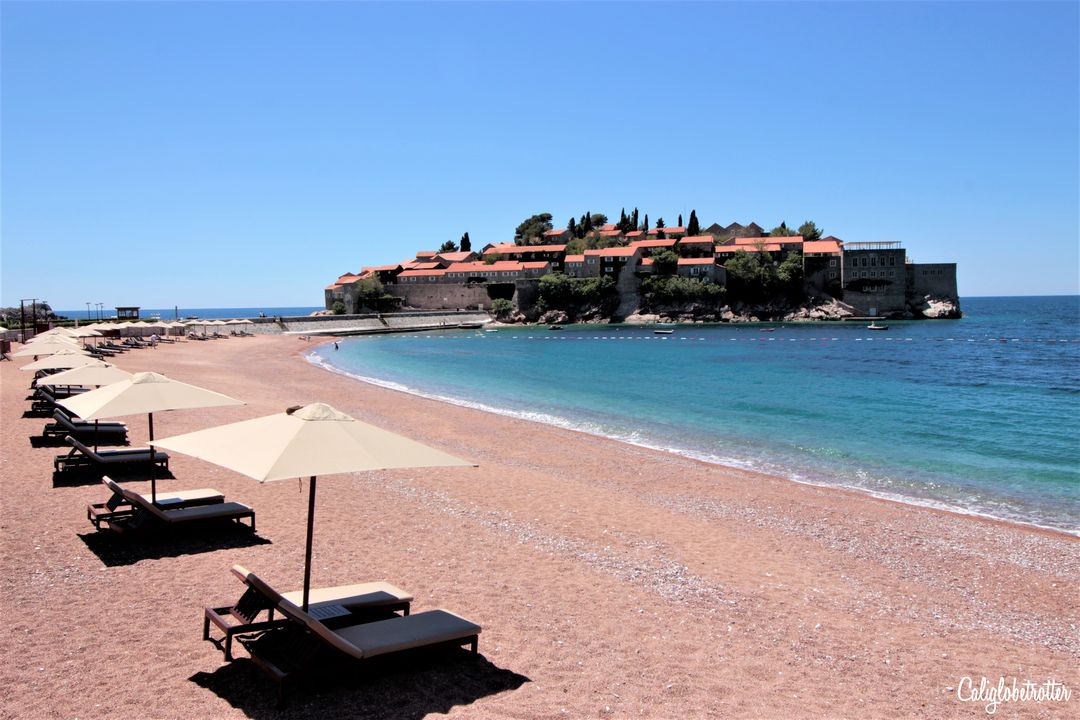 Where to Stay in Sveti Stefan: Hotel Adrović ⭐⭐⭐– For the ULTIMATE view over the islet, head up here for the most delicious food and wine, but if you decide to spend more time here, you might as well stay the night!

Final Thoughts
Overall, you can try to do an Adriatic coastal road trip, visiting one city and then the next. But with so many similarities, I can see how nice it would be to breakup the towns into smaller trips, thus giving you maximum time to explore all of these beautiful beach towns on the Adriatic Sea. And while I've only shared a few of the most beautiful towns on the Adriatic coast, there are so many other towns to see which we have not yet visited but hope to get to.
I know we will one day make it to other towns as we often favor visiting the Balkan nations more than anywhere else, usually because not only is it much more affordable and there are many beautiful places to visit, but because often times, some towns are just way less touristy than somewhere perhaps in Italy, France or Spain for example.
Though, I have to say, we have been lucky with visiting half of these towns at the right time and missing the crowds. However, visiting Croatia in the summer is highly NOT recommended. I will never support or encourage anyone to visit during summer. Yes, the weather is its warmest, but the crowds were so terrible everywhere we went at the end of July it made it impossible to do much, hard to find a restaurant without a crowd and unfortunately, when we visited Zadar/Split/Dubrovnik, it was one of the hottest summers they had had in a long time with temperatures over 100*F (40*C) which made it absolutely miserable and hard to do much sightseeing.
If you plan to visit the Adriatic coastline during the warmer months, then it is highly recommended to visit in the shoulder seasons, for example May/June or September/October where the weather is more idle and the crowds have dispersed.
Liked this post?! PIN IT FOR LATER!!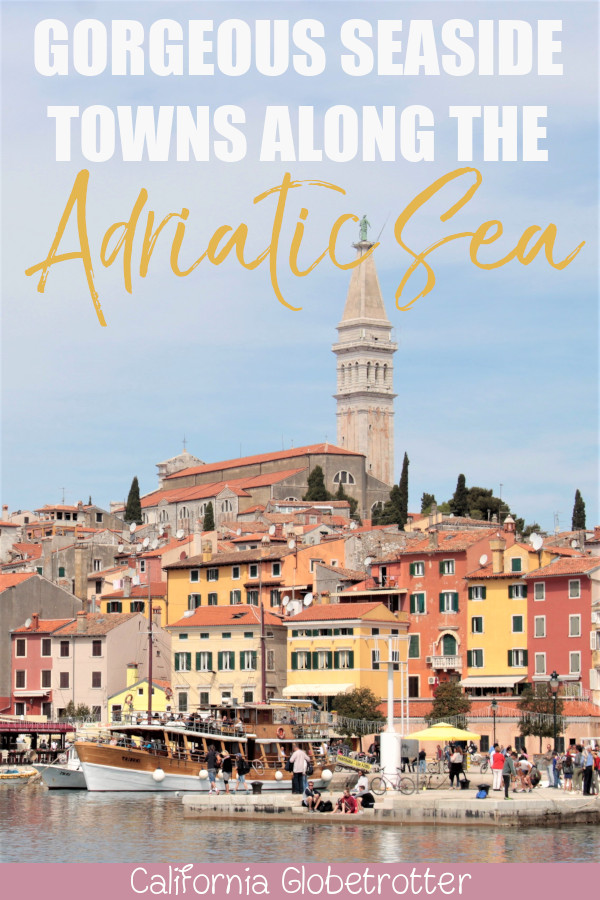 Other Beach Destinations in Europe:
Blankenberge Beach in Belgium – A Day Trip from Bruges
Germany's Baltic Coast – The Island of Rügen
Bulgaria's Old Nessebar & Sunny Beach on the Black Sea
Looking for more practical information on Balkan Travel? Grab a copy the following travel guides which we found incredibly useful on our trip and has something for everyone from outdoor activities to historical sites!
Disclaimer: This post contains affiliate links. If you click on one and make a purchase, I might make a little extra spending money, at no extra cost to you. As always, all opinions are my own and these products/services have been found useful during our travels and come highly recommended to you from yours truly!