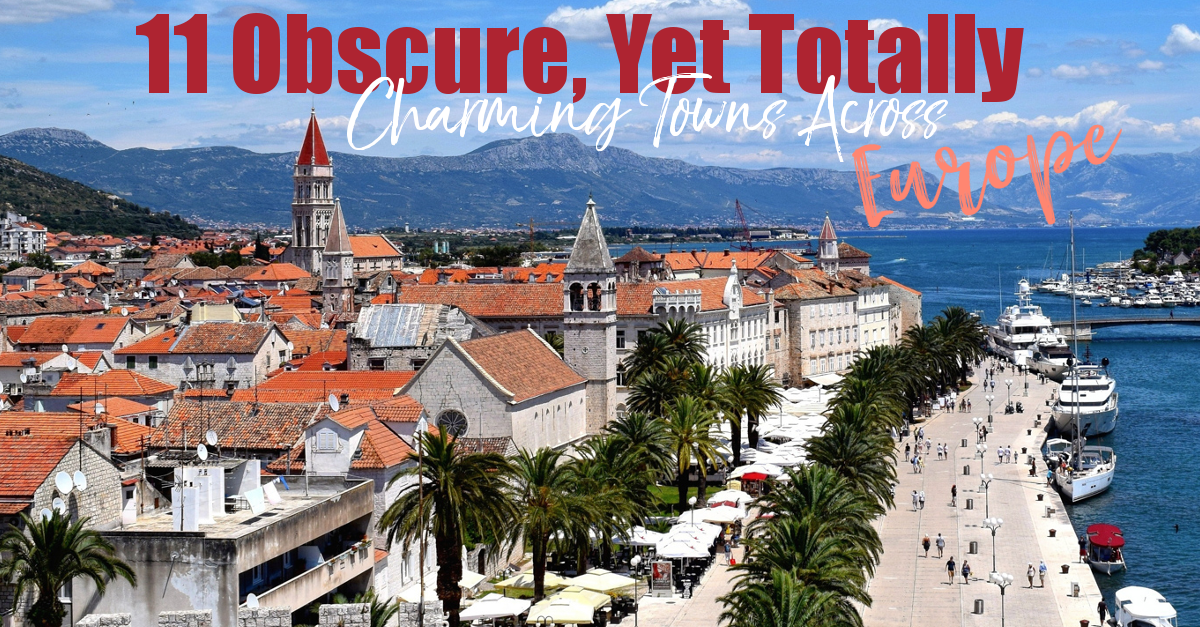 Guest Post by David from Travelsewhere
When you travel to Europe, you kind of expect to find some unbelievably picturesque cities and towns. Places like Colmar, Hallstatt, Positano and the Cotswolds are well known for their overwhelming adorableness. But they're among a much wider community than you might realize.
Spread throughout Europe are charming little towns that delight visitors, if and when they get them. They are places that are yet to really get the kind of attention that they deserve. It was tough to pick only 11 as there are so many, but here are 11 obscure, yet totally charming towns across Europe.
Like Small Towns in Europe? PIN IT FOR LATER!!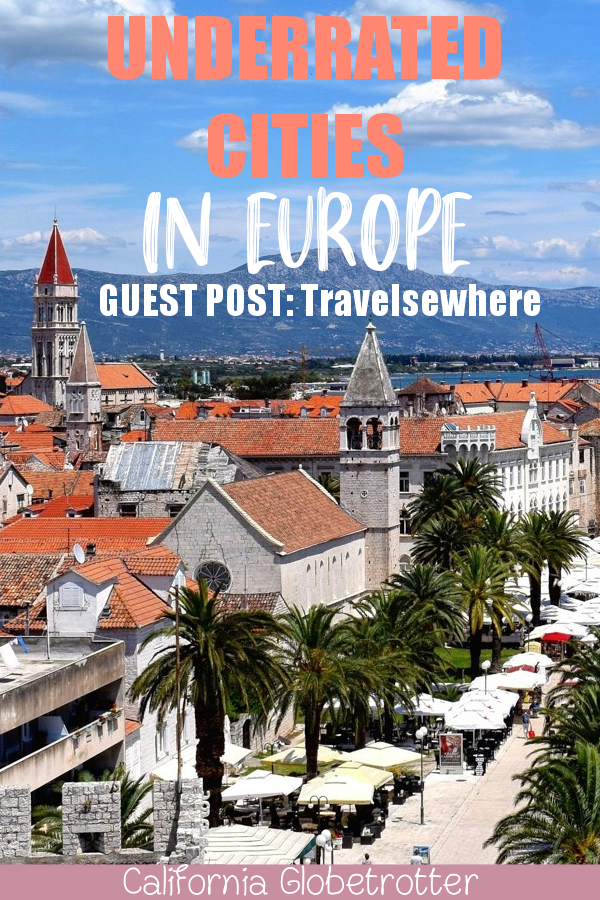 How to AVOID Looking Like a Tourist in Europe
Kőszeg, Hungary
A small border town on Hungary's frontier with Austria, Kőszeg is easily overlooked. That's a pity as it crams a lot of eye-catching sights into its incredibly small town limits. Featuring several squares lined with all sorts of adorable buildings, charming remnants of its old town walls, a castle packed with history and Disney-esque church, you won't be found wanting for photo opportunities. Jurisics Square alone has Kőszeg's Town Hall decorated with various coat-of-arms, the elegant Heroes' Gate, a pleasant church and Sgraffito House with its worn Renaissance façade.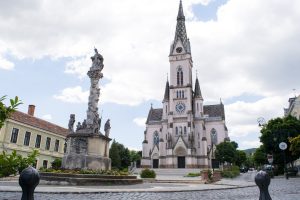 Rapperswil, Switzerland
There's only one group of tourists that tend to visit Rapperswil and their reason is purely incidental. Resting on the shores of Lake Zurich, Rapperswil happens to be the lunch spot and turning around point for those taking a cruise out on the lake from the city of Zurich. It's a pity that Rapperswil is not seen as a tourist destination in its own right because it is truly charming. Known as the "Town of Roses", the town's streets are indeed lined with roses, not to mention beautiful old houses. The town centers on its seriously cool castle that looks out over the rooftops towards the lake beyond. If you're after an easy day trip from Zurich to a charming town and a castle, Rapperswil should be at the top of your list.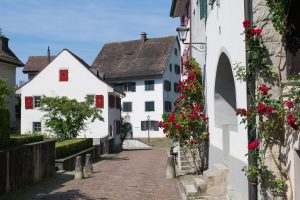 Obidos, Portugal
In a quiet reach of central Portugal sits one of its most idyllic little towns, Obidos. A fortified castle town, little has drawn the town to expand beyond its magnificent walls. Positioned atop a hill, the views from the undulating fortifications show off the orchards and rolling hills of the countryside. The views back into the town aren't terrible either, with whitewashed walls and vivid tile rooftops. The buildings highlighted with borders of blue and yellow also often have creepers and roses blooming against them, making this a sure-fire hit for Instagram. Also known for its cherry liquor, it's worth a visit just for a drop of ginja out of a small edible, chocolate cup.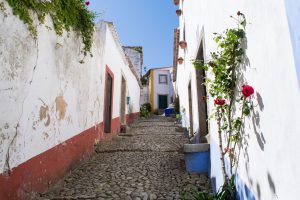 Torun, Poland
Home to famed astronomer Nicolaus Copernicus, the old town of Torun is one of Poland's best preserved historic destinations. Loaded with magnificent renaissance brick buildings, Torun is a delight to walk about, as it shows you a remarkable period in Poland's history. Not to be missed are the cute, but naively dark, golden donkey statue and the unquestionably adorable frog fountain. If you're after a particularly striking building, then it's worth looking for the actual family home of Copernicus, it's quite the sight. One of Poland's more low-key, yet thoroughly endearing spots.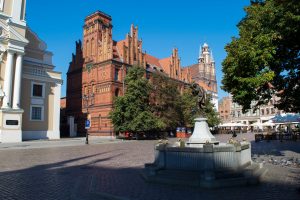 Jajce, Bosnia-Herzegovina
Who doesn't love a good waterfall? How many towns can you think of that sit directly above one? Lying in the centre of Bosnia and Herzegovina, the town of Jajce happens to be just one. Aside from its small castle and few historic remains, it may not seem like there's much to do in Jajce until you reach its riverfront and waterfalls. It's then you realize how truly wonderful the town can be as you look up from the rushing waterfall slowly to the houses and towers of the town, and finally to the castle above it all. Hot tip, the best view of the waterfalls is from a small hut among the woods on the opposite bank of the river.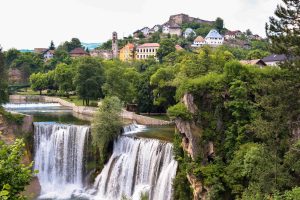 Dürnstein, Austria
Sitting along Austria's majestic Wachau Valley, the town of Dürnstein couldn't be better located. Raised above the river, but below the ruins of its old castle, there are plenty of superlative viewpoints to be found. The town of Dürnstein itself isn't all that bad either, with plenty of quaint houses typical of this part of Austria. Best of all, once you've enjoyed the town you can hike up to the old castle ruins for a better view of not only it, but the entire valley. While you're there, why not try some apricot jam or liquor, as the Wachau is particularly known for its apricots.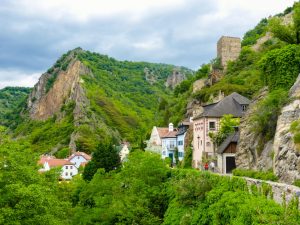 Subotica, Serbia
Just shy of the border between Hungary and Serbia, sits the town of Subotica. This town is definitely under the radar, simply because it's in Serbia and not Belgrade. Still, it warrants a stop for the spectacular architecture you can find there. Subotica belongs to a small fraternity of spots along Hungary's border that are blessed with truly gorgeous Art Nouveau architecture. The town hall is a great place to start, with its coordinated patterns around its windows and across its rooftops, not to mention the great contrast of the red walls against white stone. The piece de resistance though is the Family Palace of Raichle with its wonderfully ornate front façade.
Trogir, Croatia
Overshadowed by its bigger and more popular neighbor Split, Trogir is a beautiful coastal town on Croatia's Adriatic coast. Actually situated on its own little island right against the coast, Trogir manages calm and quiet in site of the vast numbers of tourists that descend on Croatia in the summer. Boasting narrow streets and alleys lined with Venetian architecture, a wonderful waterfront promenade and a cool little castle, there's plenty to see when visiting. Oh and not to forget the many beaches found a short ways away.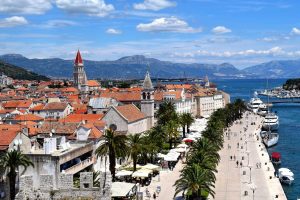 Skofja Loka, Slovenia
Roughly halfway between Slovenia's two most popular spots, Ljubljana and Lake Bled, lies this lesser seen gem, Skofja Loka. Wedged between the Selska Sora river and the town's castle sits a small but charming old town. In the windows of its beautiful pastel-colored buildings, window boxes burst with bright flowers and bring the street to life. The views looking along the river to the Capuchin Bridge are also hard to pass up and a visit up to the castle is definitely compulsory. Not only does its grounds have some spectacular views, but the castle museum on the town's history is informative and detailed.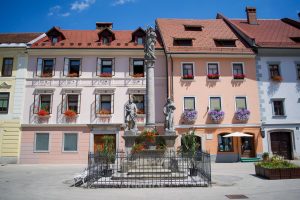 Sighișoara, Romania
Hidden in the depths of Transylvania, the quaint town of Sighișoara is one of Romania's most enchanting towns. The town sits within a historic citadel, guarded by elegant towers and patches of surprisingly dense forest. Within the walls, you'll find cobblestone streets lined with a vibrant range of old houses, not to mention striking medieval clock tower. Sighișoara isn't without history either, having been the birthplace of possibly the most famous Romanian, Vlad the Impaler.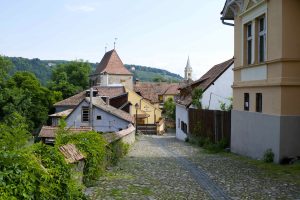 Bayonne, France
While it may not technically be a city, there's no way I could leave Bayonne and its old town off this list (Lorelei wouldn't let me either!). Lying in the southern France's Basque country, Bayonne seems like the kind of place more people would have come across. What makes Bayonne so remarkable is its dense old town bursting with half-timbered houses and colorful window shutters. The old town is also bordered by two rivers, the Nive and Ardour, which grant some spectacular riverfront views as you walk about.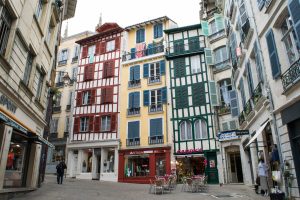 David is an avid traveller from Australia who has spent the last two years exploring as much of Europe as he can. He has a passion for trying to find the lesser-seen, quieter pockets of the world. This has fostered a growing love of Eastern Europe and the Balkans, drawing him back repeatedly to these parts. Most of all, he loves sharing his travels and encouraging people to venture further with theirs. You can follow him here and on Facebook.
Other Charming Towns in Europe:
Top 10 Most ADORABLE Towns in Europe!
The Most Picturesque Half-timbered Towns in Germany!
3 Half-timbered Towns You've Never Heard Of!
Liked this post? PIN IT FOR LATER!!