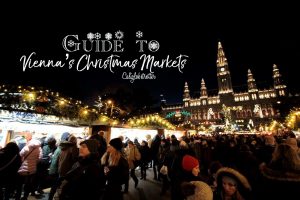 Nothing can get you into the holly jolly holiday spirit quite like a beautiful Christmas market, thousands upon thousands of twinkling lights and far too much Glühwein than is acceptable for one's waistline. No other time of year is more magical than the holiday season anywhere than in Europe, but Vienna certainly knows how to do it best!
The city center of Vienna turns into a large Christmas village with markets spread out throughout the city center making the already stunning city a winter dream. Christmas lights light up the night and stalls line up one after the other and the smell of gingerbread, cinnamon and mulled wine waft through the air.
Experience the Magic of a Viennese Christmas Market! PIN IT FOR LATER!!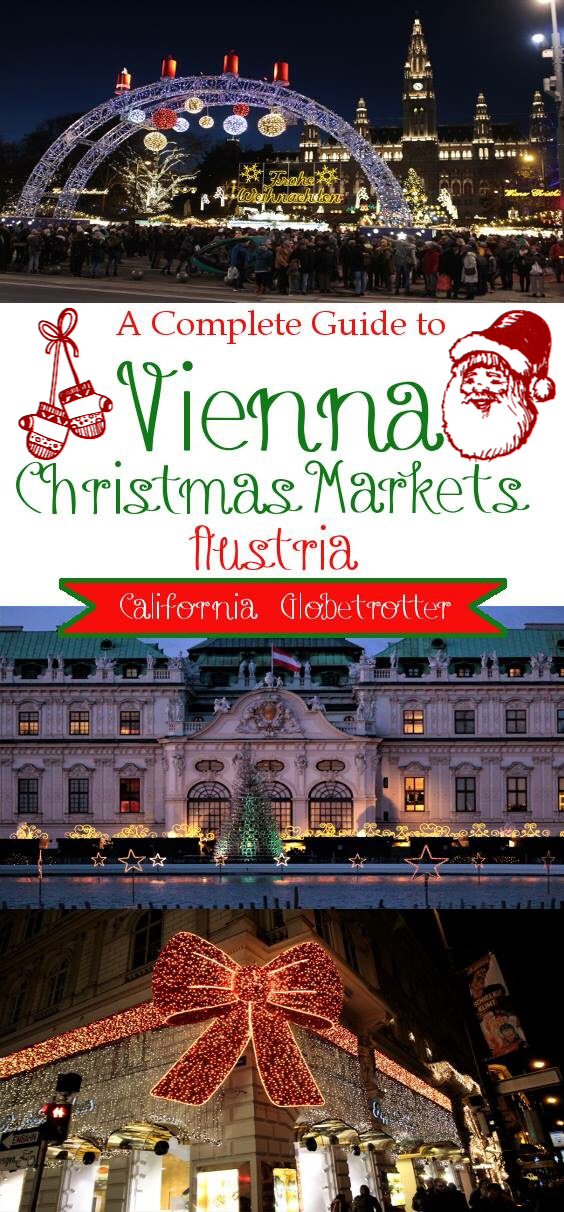 With over 20 markets spread throughout the city, it would take you days to see them all, so I've compiled a list of the prettiest markets throughout the town. The December Market or "Krippenmarkt" dates back 1298 when Albrecht I granted the citizens the chance to host their very own markets. Since then, markets have popped up all over the city. At this point, it felt like there was a market wherever a market could be squeezed in!
You'll need a full two days to casually stroll though each and everyone, enjoying your mulled wine and pigging out on Christmas Viennese cakes, krapfen and so much more, saving the best for the prettiest time of day. You'll be spending a lot of time outside and Vienna gets pretty blustery with large gusts of cold wind, so you'll have plenty of reasons to warm up with a variety of Punsch (Glühwein/Mulled Wine)!
Weihnachtsmarkts am Hof
First up, after strolling down the Graben, we come to one of the most central markets in Vienna. Here at am Hof, you'll find quality artisan gift stalls offering ceramics, jewelry, glassware and so much more. One stall even has Gustav Klimt inspired votives which were exquisite and unique to Vienna. Food wise, you can grab yourself a cup of Lavender Glühwein and enjoy delicious baked potatoes, waffles or gingerbread cookies!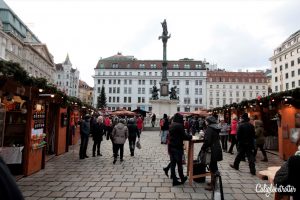 When: November 17th – December 23rd, 2017
Opening Times: Mon – Thurs 11am – 9pm, Friday – Sunday 10am – 10pm
How to Get There: Metro U3 U-Bahn station Herrengasse
Altwiener Christkindlmarkt, Freyung
Just beyond the Market am Hof is yet another small market in front of the Schottenstift (Scot's Abbey). The market here dates back to 1772, making it the oldest market in Vienna, hence the name Altwiener Christkindlmarkt, "Old Viennese Christmas Market". Of importance here is the 46 meter long painted nativity scene on the back of a row of stalls. You can find more stalls with handmade decorations and items, a plethora of gift options, and my personal favorite, a small stand dedicated to Rose delicatessen. There are many stalls to pig out in and small covered huts to duck into to eat or drink your warm mulled wine, away from the blustery winds.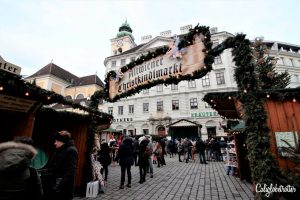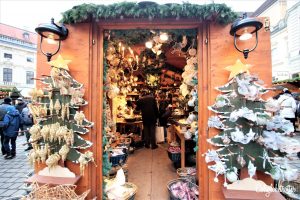 When: November 18th – December 23rd, 2017
Opening Times: Open Daily from 10am – 9pm
How to Get There: Metro U3 U-Bahn station Herrengasse or Metro U2 U-Bahn station Schottentor
Belvedere Palace Christmas Village
If you love castles and art, then head a bit out of the Old Town to one of Vienna's most popular tourist attractions, the Belvedere Palace, for a magical Christmas Village on the palace grounds with the palace as the backdrop. If you have time, take a peek inside for the most famous piece of artwork, iconic to Vienna, The Kiss by Gustav Klimt.  Far enough out of the town and away from large crowds, the market here is relatively small and authentic. Here, you'll find traditional handcrafted items and Christmas decorations at more than 40 festively decorated stalls.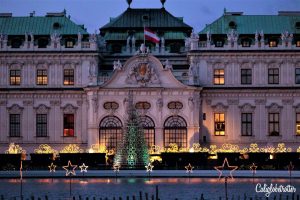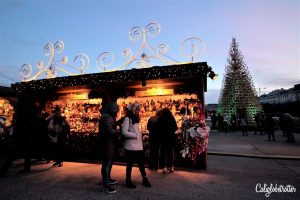 Here, you'll feel like you're walking through one of the most elegant markets in Vienna, drink mulled wine from cups that look like angels praying and find massive Krapfen big enough to feed a family! The perfect time to be here is just at dusk to capture the magic of the twinkling star lights in the fountain in front of the palace. This year, a traveling tree made from wooden sleighs was added which has been all over Europe. 
When: November 24th – December 26th 2017
Opening Times: Monday – Friday 11 – 9pm, Saturday & Sunday 10 – pm
How to Get There: Hop on a tram, line D to Schloss Belvedere or 18/O to Quartier Belvedere.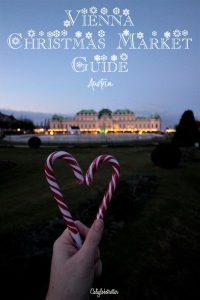 Viennese Christkindlmarkt at the Rathaus
You'll end your day with the most sought after market in the city, located directly in front of the Rathaus (City Hall), impressive all day, every day, but the best time is just before dusk or at night when the lights are lit up. With the imposing Gothic Town Hall illuminating the market in the backdrop, and the Advent arch welcoming you into the market, this is THE most iconic market of Vienna.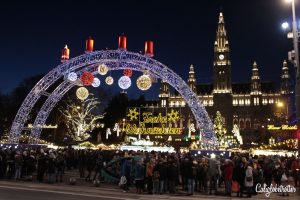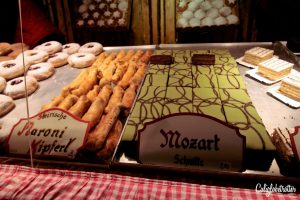 With a massive Christmas tree standing at the front of the Town Hall, a choir singing Christmas carols that can be heard throughout the entire market, the delicious aromas of sweet roasted nuts and the cold nipping at your nose, here you can stroll around the 154 stalls to find all kinds of goodies. On the ground floor of the Town Hall, you can find an area dedicated strictly to children where they can learn to make Christmas cookies and candles.
From extra large Krapfen, donuts in the shape of pretzels and Viennese cake, you'll have a wide variety of yummy snacks to eat on. Enjoy your cup of Glühwein from incredibly large Christmas boot cups, the perfect souvenir to take home! Find a pleasant corner in the park which has been lit up with Christmas lights every inch of the way or perhaps burn off those calories by ice skating in front of the Rathaus!
When: November 17th – December 26th 2017
Opening Times: Daily from 10 – 9:30pm, Fridays & Saturdays till 10pm
How to Get There: Metro U2 U-Bahn station Rathaus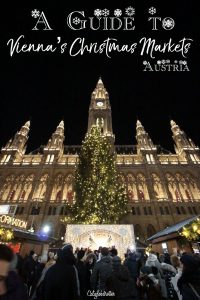 Stephansplatz Christmas Market
Wrapped snuggly around the St. Stephan's Cathedral like a blanket, in the heart of the city center is this small but simple market. Historically, traders always set up their markets around the church and today there are around 40 stalls, a selection of candles, jams, spiral potatoes and so much more! The market is easy enough to meander through on any city trip to Vienna if you're short on time as it's directly in the heart of the city center, near the main U-bahn hub. You'll find many stalls selling warm meals like hot pumpkin soup in a bread bowl or even sausages and spätzle and adorable cupcakes!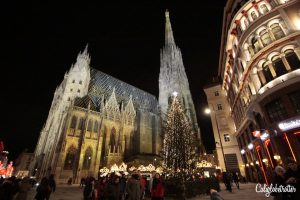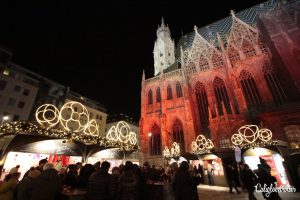 When: November 15th – December 26th, 2017
Opening Times: Daily 11 – 9pm
How to Get There: Metro U1 and U3 U-Bahn station Stephansplatz
Winter Market in the Prater at Riesenradplatz
Head to the Prater, Vienna's fun park, for a beautiful Christmas Market which has a very Disney-esque feel to it, dominated by the Giant Ferris Wheel (The Riesenrad). Enjoy live music Thursday to Saturday at a big stage nearby and sip on your warm Glühwein or take a spin on the swings! Enjoy this market late into the new year well after all the rest have closed for the season! With the motto "Riesen Rocks!" you can bet that this will be a fun Christmas Market unlike any other for the whole family!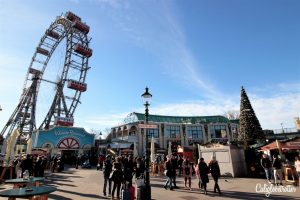 When: November 18th – January 8th, 2018
Opening Times: Monday – Friday noon to 10pm, Sat & Sun 11 – 10pm
How to Get There: Metro U1 and U2 station Praterstern
Maria-Theresien Platz Village
Not far from the Rathaus, you'll find the impressive twin buildings which hold the Museum of Natural History and the Museum of Art. In the center of it all, is the traditional Maria-Theresien Platz market located around the Maria-Theresa monument, the country's beloved Empress. Here illuminated Christmas trees adorn the square and jewelry, oil paintings, ornaments and many other gift ideas can be found at the stalls.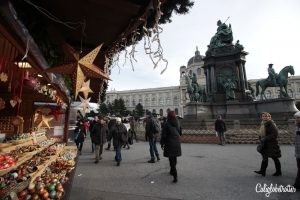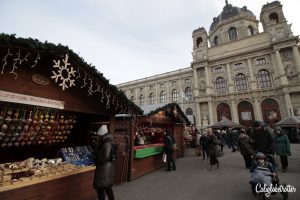 When: November 22nd – December 26th 2017
Opening Times: Sunday – Thursday 11:00 to 9pm, Friday and Saturday 11:00 to 10pm
How to Get There: Metro U3 U-Bahn station Volkstheater and U2 U-Bahn station Museumsquartier
Karlsplatz Advent Market
For  Christmas Market the whole family can enjoy, head to the Baroque Cathedral Karlskirche, with yet more lights streaming to and fro over the market. What is normally a beautiful fountain rushing with water in the summer is filled with bales of hay in the winter and turned into a magical playground for children, complete with a petting zoo, as well as tents for arts and crafts for children. A role in the hay has a whole new meaning now! Here, the holiday cuisine is all certified organic and the local goods are all handcrafted by local Viennese artists. Quite possibly the most authentic market you'll find in Vienna, as all vendors must pass strict guidelines to be admitted! For those who are frightened by clowns, perhaps you're best to skip this one!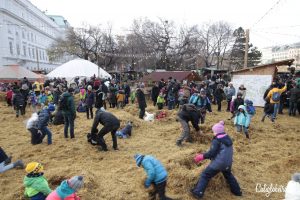 When: November 17th – December 23rd
Opening Times: Daily from 12 – 8pm
How to Get There: Metro U1, U2 and U4 U-Bahn station Karlsplatz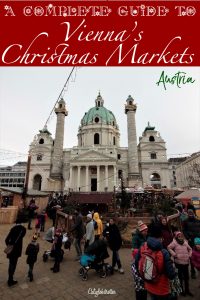 Schönbrunn Palace Christmas and New Year's Market 
Filling up the courtyard in front of the former imperial residence, Schönbrunn Palace, another of Vienna's iconic tourist destinations, are yet 80 more stalls, selling more handcrafted gifts and decorations made from glass, wood, paper and tin! Of particular interest here were the unique world maps with all the world's monuments which I wish I had bought! A gargantuan Christmas tree lights up the court yard, standing tall in front of the palace while Christmas carols are sung with holiday cheer directly in front of it. Bust out your holly jolly singing skills!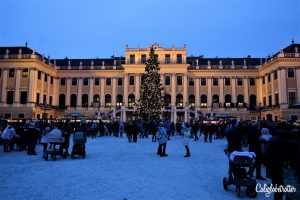 Here, you can also find a nativity set, as well as purchasing your own to take home. The small of Vanillekipferl and Glühwein waft through the air and the atmosphere is enchanting with the palace in the backdrop. We enjoyed a  variety of Glühweins, for example, Vanilla Eierlikör Punsch, Apfel Strudel Punsch and even a Baileys Punsch! Be sure to try some of the Austrian delicacies such as "Bauerngröstl" or "Kaiserschmarrn", sweet chestnuts or gingerbread. 
When: November 18th – 26th December 26th, 2017 / New Year's Market December 27 – January 1st, 2018
Opening Times: Daily 10 – 9pm
How to Get There: Metro U4 U-Bahn station Schönbrunn
Christmas Illuminations
There are four main areas located throughout the city where you can find twinkling illuminations hanging to and fro down highly populated areas which are reminiscent of Strasbourg, France.
The Rathauspark – located directly next to the City Hall, the park is turned into a magical forest of twinkling lights, romantic for an evening stroll.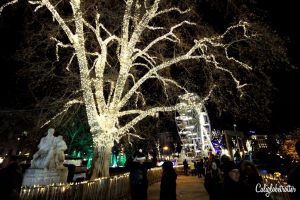 Rotenturmstraße – illuminating a main shopping thoroughfare, the shimmering lights will brighten your holiday shopping.
Kärntner Strasse – lighting up the street where you can find the Hotel Sacher Wien, along another main shopping area, you'll find Christmas lights strung to and fro. On the corner, you'll find the adorable big red bow on the shop Popp & Kretschmer.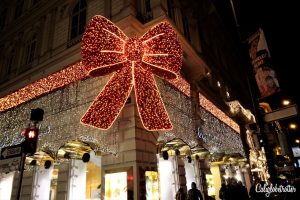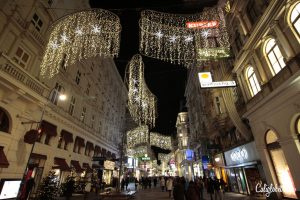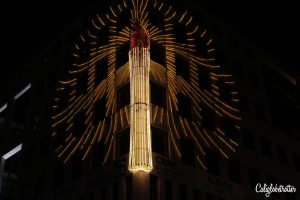 Graben – 20,000 LED lights sparkle in the night as the impressive chandelier Christmas lights brighten up this bustling and fashionable shopping pedestrian zone loaded with cafes, restaurants and high end shops. Be sure to look down side streets was are beautifully decorated as well!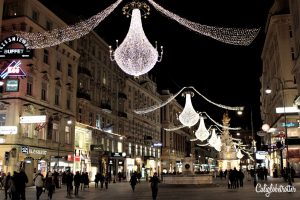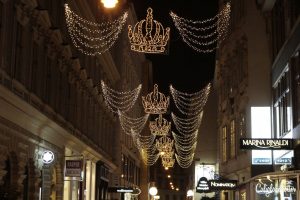 Kohlmarkt – here you'll find a row of endless twinkling diamonds lights that never seem to end. Simple, but incredibly elegant!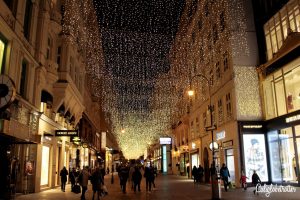 There are a plethora of Christmas lights in Vienna and it's hard to tell you exactly where each and every beautifully decorated street is. As you're walking around town, you'll likely pass many of them yourself. But you should try to plan your Christmas Market sightseeing in such a way that you're not backtracking to many of the lights, although you'll be hard pressed not to. For these lights, you're going to want to backtrack!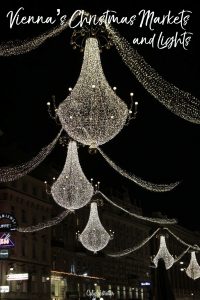 A SPECIAL THANKS TO DAVID FROM TRAVELSEWHERE FOR BEING OUR PERSONAL TOUR GUIDE AND SHOWING US AROUND ALL THE BEST MARKETS, THE BEST SPOTS FOR PHOTOS, HAVING A "WHO TOOK IT BEST" PHOTO COMPETITION AND EATING A LOT OF CAKE AND GOOD FOOD IN BETWEEN ALL THOSE MARKETS!!! 
Where to Stay in Vienna: Vienna SportHotel ⭐⭐⭐⭐ Just a 7 minute walk from the nearest U-Bahn station and a 5 minute ride into the city center, the Vienna SportHotel provides comfortable rooms and affordable parking for those with a car! Before or after your sightseeing, come back and stay fit while traveling by playing tennis or working out in the gym. Perhaps you care to simply relax in the sauna or sit poolside! 
Where would I be without my trusty DK Travel Guides? Lost probably! With quick details, easy to follow suggested sightseeing routes, I can find my way through any city! 
Disclaimer: This post contains affiliate links. If you click on one and make a purchase, I might make a little extra spending money, at no extra cost to you. As always, all opinions are my own and these products/services have been found useful during our travels and come highly recommended to you from yours truly!
Other Related Posts:
A Delicious Guide to Coffee & Cake in Vienna
Hallstatt in Autumn: The MOST Picturesque Town in Austria
Europe's MOST Breathtaking Libraries
Your 7 Day Road Trip Through Austria
12 Day Itinerary: Prague, Vienna, Bratislava and Budapest
Liked this post? PIN IT FOR LATER!!