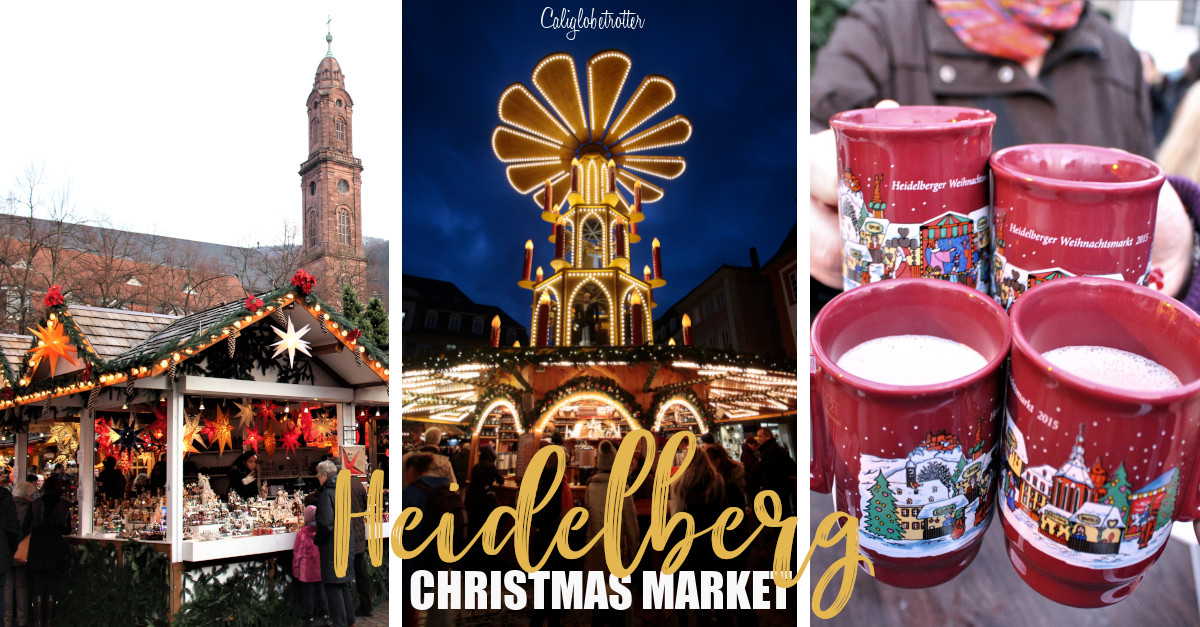 Disclaimer: This post contains affiliate links. If you click on one and make a purchase, I might make a little extra spending money, at no extra cost to you. As always, all opinions are my own and these products/services have been found useful during our travels and come highly recommended to you from yours truly!
After having lived in Heidelberg for a year while I studied abroad, I am continuously drawn back over and over again. It's one of the most beautiful towns in Germany. During the Christmas season, the town comes alive with sections of the Christmas market spread out throughout the entire town. From the minute you step off the bus at Bismarkplatz to Karlsplatz are endless adorable Christmas huts filled to the brink with Glühwein, chocolates and gifts for all!
There are Christmas Markets all over Germany and the rest of Europe, but if you honestly had to choose one that was the most magical, the most romantic and the most Christmasy, I would say then you should go to Heidelberg! For me personally, no other Christmas Market has ever lived up to my expectations as much as Heielberg's. Buuut, maybe I'm a bit biased as it was my very first when I studied abroad here for a year during college.
Want to Experience a Christmas Market? PIN IT FOR LATER!!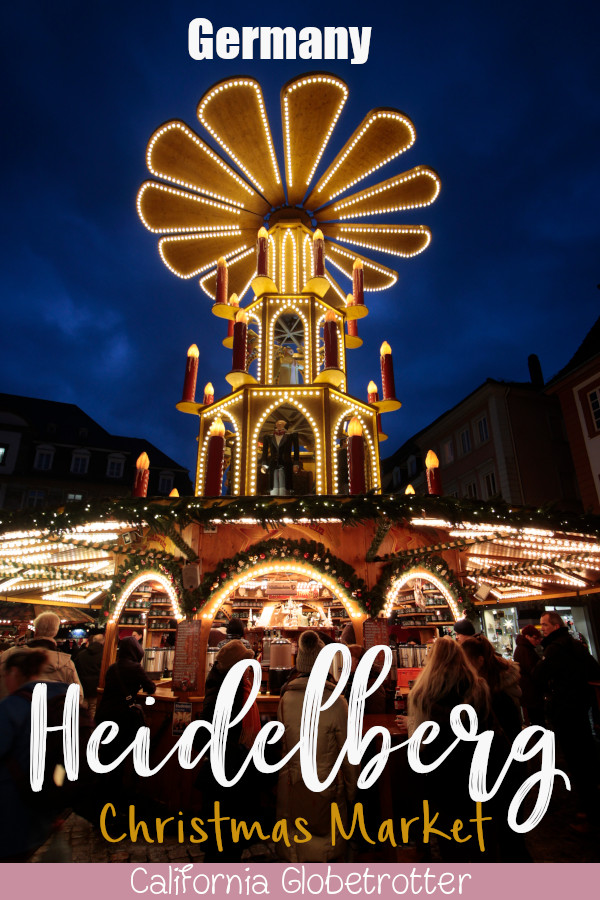 The DEFINITIVE Guide to Heidelberg's Exceeding Loveliness – The ONLY Guide You Will Ever Need for Heidelberg!
How to AVOID Looking Like a Tourist in Europe
35 Photos to Inspire Christmas in Europe
The smell of warm Glühwein and freshly baked Macadamia Nuts waft through the air, tempting you every step of the way. You slowly peruse the stalls, starting at one end and finishing at the most magical part of the market. The crisp winter air bites at your hands and nose, and you stop occasionally to sip on a steaming cup of Glühwein to warm up and the air is filled with laughter every where.
If you're coming from the train station and taking the bus to Bismarkplatz, this is the best place to start as the Christmas stalls "begin" at Bismarkplatz and then you can stroll down Hauptstraße (Main Street) which is lined with many shops, cafes and restaurants.  There is no hurry and you can meander down Europe's longest mile-long pedestrian zone, checking out each store as you go. You should be able to accomplish any Christmas shopping you have in one go!
The first of six markets beings at Anatomiegarten with several stalls. My favorite stall here is the beautiful windmill Glühwein stand. This is a small "market" but there is at least enough here to make a stop!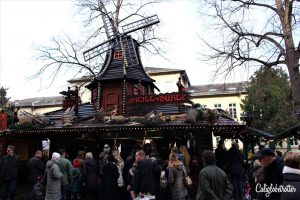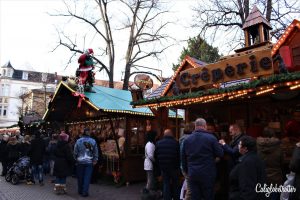 One of the largest Christmas Markets in Heidelberg is at Universitätsplatz, which is another location where the buses will drop you off at. Here there are a ton of shops, lots of goodies and lots of delicious foods to try! My favorite shop here is the paper star shop where you can also buy adorable village replicas. At Uniplatz, you can also find an adorable Christmas Carousel for the little kiddies to ride on! I was quite sad I'm not allowed to ride on it! I have a serious love of carousels at Christmas markets!
Here you can replicate the entire town of Heidelberg in your own very home one on of the Christmas stalls which has ceramic houses. This always reminds me of my childhood as my mother always set up her own little village of houses on our living room tables during the holidays. One day, I will start my own table village!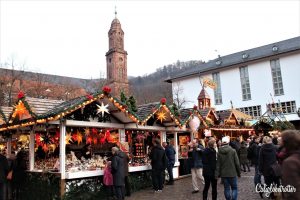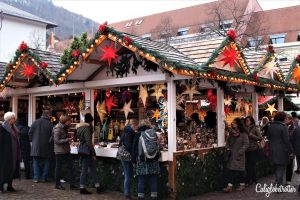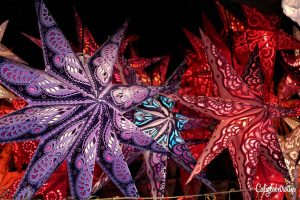 Next up is the market that surrounds the Holy Ghost Church at Marktplatz. This is my FAVORITE part of the Christmas market and is one of the many reasons why one of the best Christmas Markets in Germany is Heidelberg. The massive holiday pyramid stand which sells Glühwine. The top of the pyramid turns and the figurines rotate. There is just something so incredibly magical about the Christmas pyramid that gets me so excited every time I see it! I guess because it was the very first part of the Christmas market I saw when I walked out of my apartment into town to see my first German Christmas Market back in 2007.
Here there is an adorable little stand which sells hand painted Christmas ornaments with winter scenes. I've seen these before and was tempted to buy one. Maybe one year I will!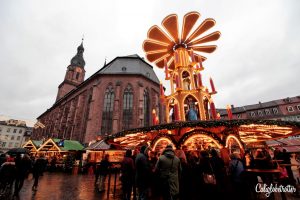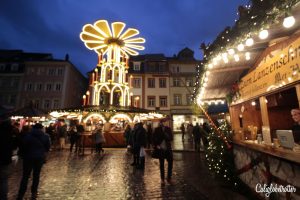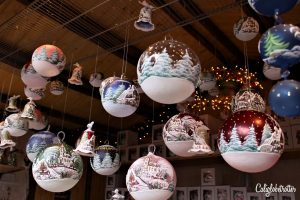 From Marktplatz, walk a little bit further to Kornmarkt which this year was different than how I knew it before. This year, there were several stalls, lots of Christmas trees and a small choo-choo train for the little ones. Here, you will have a glimpse of the Heidelberg castle which will appear at the next market over.
There are so many things to expect from a German Christmas Market, so I've taken the liberty of writing up a guide to help you navigate your way around a Christmas Market, with tips on what to expect, what to eat and drink at a German Christmas Market, history and so much more!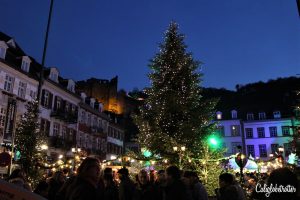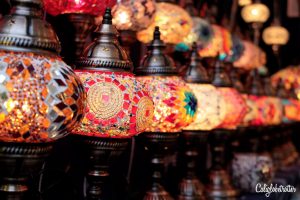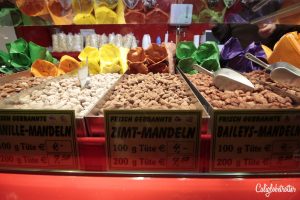 Lastly and most importantly, the best market yet! The market at Karlsplatz is the place to be! Not only does the market sit below the Heidelberg castle, but here you can even find an ice skating rink perfect for some family fun! The little ones will even have little penguin hand rails to keep them from loosing balance!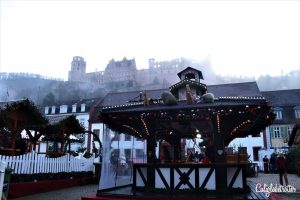 It was here I chose to enjoy a Hot Chocolate with Baileys instead of a traditional cup of Glühwein. It was absolutely delicious and went perfect with some holiday goodies!
If you're lucky enough to have visited Heidelberg's Romantic Christmas Market before, you know how right I am when I say it is one of the best and is absolutely NOT to be missed! Not only is the historic town of Heidelberg a Bucket List item, but the market itself adds that last notch of that European small town Christmasy charm we all look for.
Where to Stay in Heidelberg
Having lived in Heidelberg for a year and often returning, I have stayed in my fair share of hotels. So, I'll share with you the hotels we have stayed at or my family has stayed at!
⭐⭐⭐⭐ – Hotel zum Ritter St. Georg – This gilded houses is one of the finest buildings in the historic Old Town and offers exquisite comfort! You'll be in the middle of it all with comfy, cozy beds! We stayed while the hotel celebrated 425 years!
⭐⭐⭐⭐ – Heidelberg Marriott Hotel – A bit out of town, but easily reachable via strassenbahn, this is a wonderfully comfortable hotel with big, fluffy pillows and beds!
⭐⭐⭐ – Kulturbrauerei Heidelberg – A beautifully lush hotel with big rooms and comfy beds in the heart of the city center, near the Neckar River, not far from Schnitzelhaus!
If you're interested in visiting Germany and are looking for more information, I highly recommend using the DK Eyewitness Travel Guide! Without these guides, I would be lost! This is my travel Bible!
Disclaimer: This post contains affiliate links. If you click on one and make a purchase, I might make a little extra spending money, at no extra cost to you. As always, all opinions are my own and these products/services have been found useful during our travels and come highly recommended to you from yours truly!
Other Christmas Markets in Germany!:
Germany's Magical Christmas Markets
Lake Tegernsee's Christmas Markets
Exploring Nuremberg's Chriskindlmarkt
Kuchlbauer Brewery's Weihnachtsmarkt in Abensberg
Liked this post? PIN IT FOR LATER!!
Save
Save
Save
Save
Save