Each country has their own Christmas traditions that make every year special. Learning these new traditions is half the fun of living abroad! Here's what I have learned!
Make Enough Plätzchen To Feed An Army
Nothing kicks off the holiday season like preparing weeks, even months in advance for the massive Plätzchen baking season! Some recipes literally require preparing dough 1+ months out! Once made, everyone gives and receives homemade Christmas cookies in an endless circle.
Go To A Weihnachstmarkt At Least Once…Maybe more!
No Christmas holiday season is complete without visiting any one of the fairy tale Christmas markets throughout Germany to buy gifts, drink Glühwein and just come together to socialize with friends and family, living in the moment.
Leave Your Cleaned Shoe Out for St. Nikolas on Dec. 6th
Light a Candle Every Sunday
An important part of the holiday season is the four weeks of Advent where Germans light a candle, one a week every Sunday, the four weeks prior to Christmas on a wreath. No German household is complete without one! It is quite common to receive a chocolate filled Advents calendar for each day prior to Christmas day.
Buy Your Christmas Tree
To truly celebrate Christmas like a German, it is tradition to wait until few days before December 24th to buy your tree. It is more traditional to usually set it up and decorate it on the morning of the 24th, on the main Christmas day. Then leave your tree up until at least Jan. 6th.
Set Up A Nativity Scene
Christmas Markets have more of a purpose than just drinking Glühwein and meeting with friends. It's a place to stock up on your newest addition to you Nativity Scene that is set up along with the Christmas tree.
Lock The Door To The Room With The Tree
After decorating the tree, the room where the tree has been set up is locked and the children are not to enter the room again until a Christmas bell has been rung, signaling that it is time to open the gifts from the Christkind.
Stock Up On The Glühwein and The Stollen
Before getting around to eating Christmas dinner, the family comes together and instead of coffee and cake, they pull out the Glühwein and the Stollen which is a traditional Christmas fruit bread covered in powdered sugar.
Have A Traditional Sausage and Potatoes Christmas Dinner
Traditional Christmas dinner doesn't involve a massive Christmas turkey and loads and loads of side dishes. Instead, Germans prefer a more simple dinner of sausages, sauerkraut and potatoes. Other families are known to celebrate with fish or even a stew. Later, on Dec 25th or 26th the big family gathering takes place and a goose or duck is cooked.
Wait For The Children To Sing
The Christmas season doesn't officially end in Germany on Christmas, but instead on Epiphany – January 6th. On this day, the children dress up as the Three Wise Men who visited Jesus in the manger and they go from door to door singing traditional songs.
Make your own Christmas special by adding some German traditions to your holiday season by making your own German Plätzchen and lighting a candle every Sunday during the Advent season! The Cookie Advent Cookbook and the Advents Christmas Wreath come highly recommended from yours truly and from personal use!
Disclaimer: This post contains affiliate links. If you click on one and make a purchase, I might make a little extra spending money, at no extra cost to you. As always, all opinions are my own and these products/services have been found useful during our travels and come highly recommended to you from yours truly!
How do YOU celebrate Christmas in your country??
Liked this post? PIN IT FOR LATER!!
Be sure to check out my other posts about Christmas Markets in Germany!:
Heidelberg's Romantic Christmas Market
Lake Tegernsee's Christmas Markets
Kuchlbauer Brewery's Weihnachstmarkt in Abensberg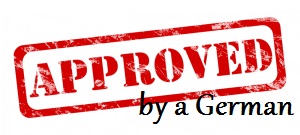 **Note** Pictures not signed by me were found on Google!
Save
Save
Save
Save
Save