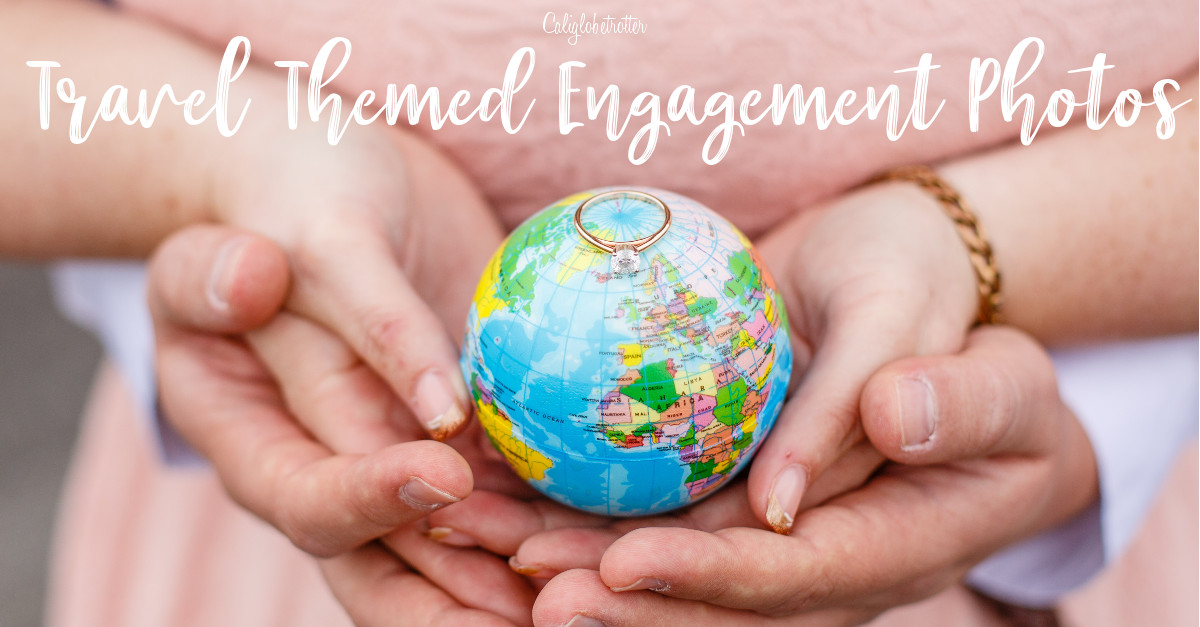 Disclaimer: This post contains affiliate links. If you click on one and make a purchase, I might make a little extra spending money, at no extra cost to you. As always, all opinions are my own and these products/services have been found useful during our travels and come highly recommended to you from yours truly!
First off, if you're here looking at how-to-engagement pictures, you must be engaged so let me say CONGRATULATIONS! If you're not engaged (yet) but you're brainstorming ideas for an upcoming engagement, then you've come to the right place! Especially if you're a die hard travelholic and want to include travel into your engagement announcements and want to WOW your friends and family!
Getting Hitched? PIN IT FOR LATER!!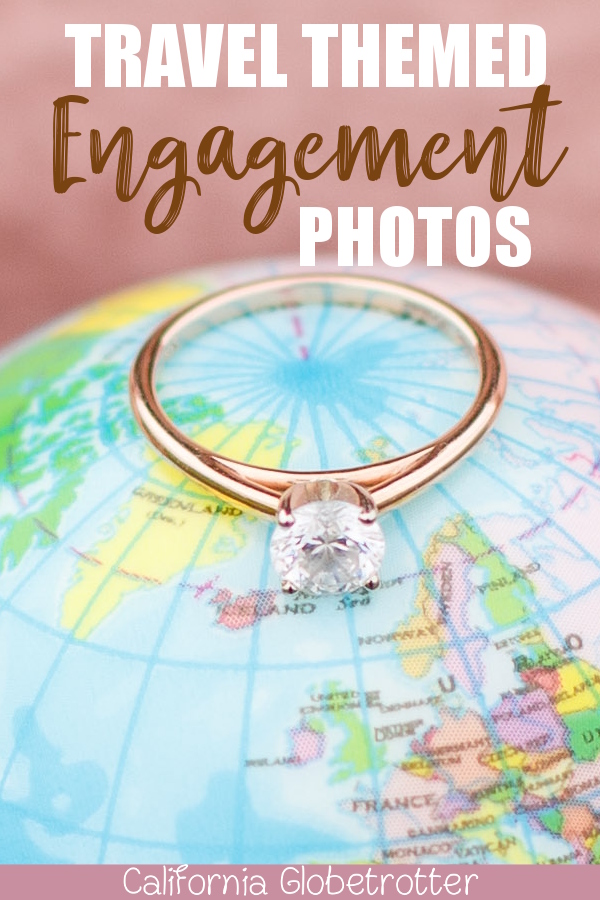 Taking engagement pictures has evolved way so much since the time my parents go remarried in the late 90s. It was more about taking a simple picture to celebrate your engagement. Back then, as far as I know, there was no such thing as a "Save the Date" card or engagement announcements. And there was certainly no Facebook to send out electronic announcements or change your status. You generally found out people were gettin' hitched when you got the wedding invitation in the mail.
I personally have suffered from severe wanderlust my whole life as I was practically born traveling, so it comes as no wonder that when my engagement finally arrived, I knew right off the bat I wanted to include travel into our engagement/wedding somehow.
So, what are some travel themed ideas you can use for your Engagement/"Save the Date" Announcements?
Location Ideas
It wasn't hard to come up with a variety of photo shoot locations for travel themed engagement photos, as anywhere and anything can practically be consider "travel". I had several locations in mind before settling on the location I chose, but here were my top 5 travel location ideas:
Small Airport with Vintage Airplanes & Tarmac
Train Station with Historic Train
Old Abandoned Train Tracks Surrounded by Fall Foliage
Any Historic Old Town (especially in Europe!)
Retired Airplanes at the Airport Visitor Center
We personally chose to do #1 as to me personally, nothing implies "travel" more than an airplane. And not just any airplane, but small planes and vintage looking planes. Airplane travel photos are quite unique in terms that I felt it was different from anything most people tend to do and it's not every day you can take photos next to vintage planes.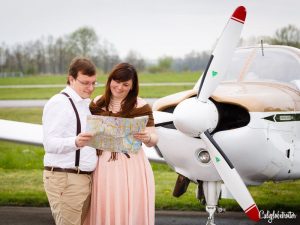 How were we able to take pictures at the airport?
Simple! We found a small local airport within a half hour of us and contacted them via e-mail asking if we would be able to take pictures at their airport, on the tarmac with some old planes. Within a few days, we got a positive response. Turns out, the man in charge was the head of an aviation club at the airport, so he let us use the planes in the backdrop. A small donation to the club as thanks was enough. No other charges.

Travel Accessories You Need to Make Your Pictures Great!
Anything and everything travel related! We went crazy! I seriously couldn't stop coming up with ideas! I even added a few vintage umbrellas and hand made a wedding date ribbon banner as well as some other special props!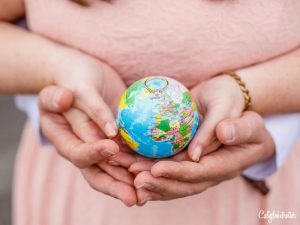 Travel Inspired Props for your Travel Photos:
Small Toy Airplane
Small globe
Large Men's Vintage Suitcase
Tiny Ladies Vintage Makeup bag
Travel Guides
Maps
Passports
Travel Posters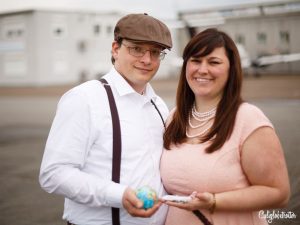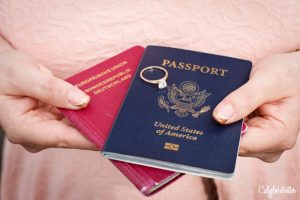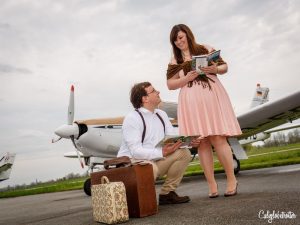 How Should You Dress For Your Engagement Pictures?
To each their own! We went vintage as we felt that went best with vintage planes. Plus, I'm an old-fashioned kind of gal and would have loved to live in a time when women wore nice dresses and hats and the men wore suits & tie and top hats. Buut we didn't go that vintage!
We did however want a bit more vintage style than we got. It was actually quite difficult here in Germany to find a brown vest for my fiance, especially in brown for a reasonable price. We searched everywhere and the most common colors were black and grey. Ugh. So we settled with suspenders and a newsie hat.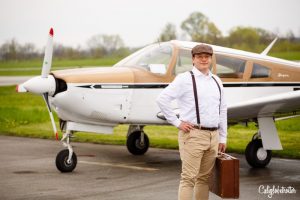 I settled with a dress in light pink, pearls and pumps. I added the shawl to the outfit as I thought it would add class to the pictures. I think I could have done without that bit.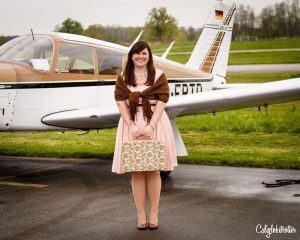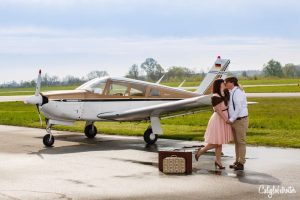 Is Only One Location Necessary?
Heck no! We did 2 different days of taking photos in two different locations. I also wanted to have travel themed pictures walking through a town as if we were tourists. They turned out a bit cheesy, but we still love them as it includes another aspect of our travels: Germany & half-timbered houses which are our favorite!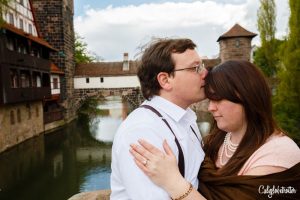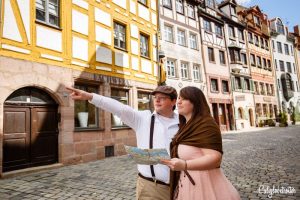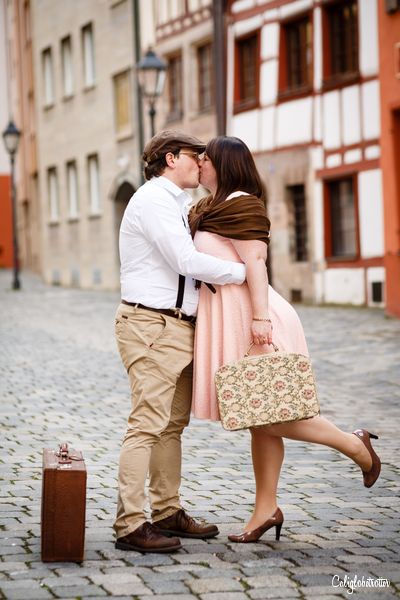 Why Should You Do Themed Engagement Pictures?
While the traditional engagement pictures couples take with all those lovey-dovey, holding hands and kissing pictures are beautiful and amazing, I just figure we're going to have a ton of those pictures on the actual wedding day.
I wanted to break away from traditional lovey-dovey pictures by adding some unique spice to the pictures and have fun with it! After all, how often do you get to play dress up for pictures!?
Your engagement pictures will stand out from the rest and people will be surprised or awed by your creativity instead of the standard announcements.
But what to do with them?
After you've framed and hung your favorite photos, what to do with the rest? Well, that's a great question, and I've got a great answer for you! Why, turn your beautiful photos into an engagement album with Blurb! A quick and easy process to choose your photo book, upload your photos, arrange them in a beautiful way, add some text if you want and hit purchase! With the click of a button you can have the most professional looking, hard or soft cover Blurb photo book to share with your friends and family!
Here, I show you the hard cover image wrap on the front and back of my Blurb book, including a few pages inside to get a better glimpse of my Travel Engagement Photo Book!
Receive 40% off with Blurb when you click on the code below:
(VALID NOVEMBER 5TH TO DECEMBER 11TH, 2019)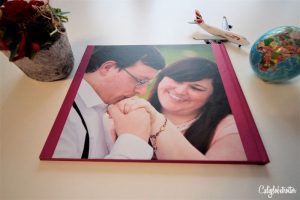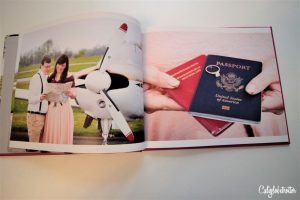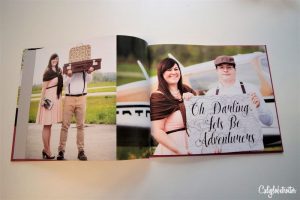 A HUGE thank you to our friend Andreas F. for taking our beautiful engagement pictures!
Other posts related to our "Germerican Wedding"
Liked this post? PIN IT FOR LATER!!
Save
Save
Save
Save