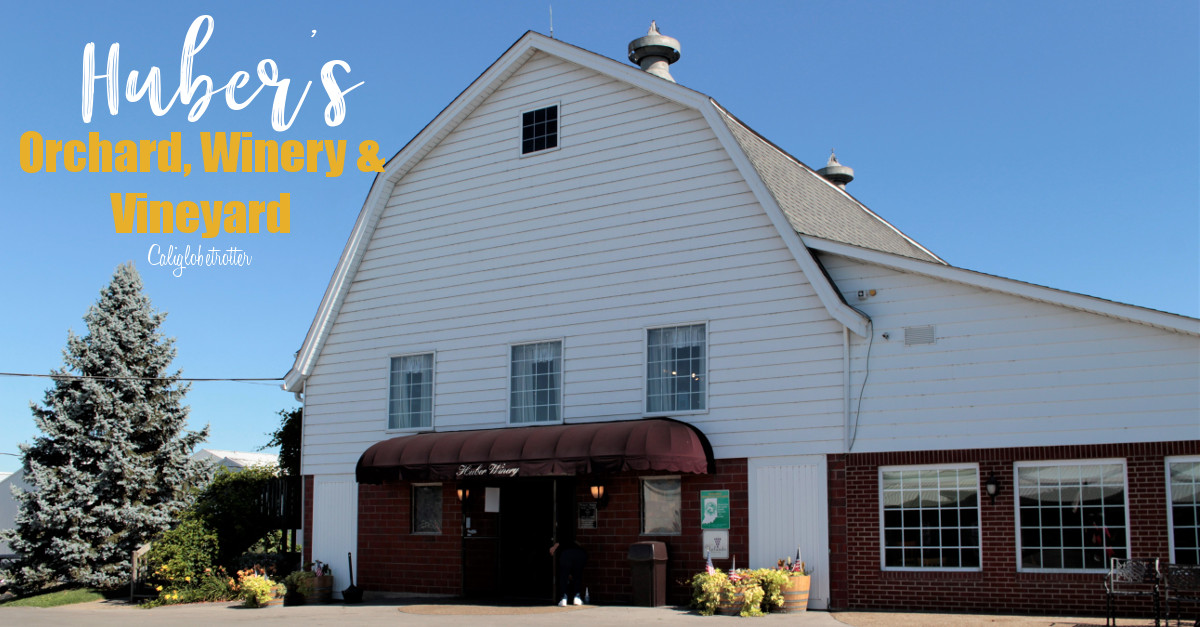 This post contains affiliate links. If you click on one and make a purchase, I might make a little extra spending money, at no extra cost to you. As always, all opinions are my own and these products/services have been found useful during our travels and come highly recommended to you from yours truly!
Just a half an hours drive away from Louisville, KY, just over the state line is the idyllic Huber's Orchard, Winery and Vineyards. Upon discovering this country escape, I asked "how much goodness can possibly be wrapped up all in one!?" As one of the easiest day trips from Louisville, we spent the afternoon riding tractors, picking a variety of fruits, licking scoop-fulls of ice cream and wine tasting to our heart's content, all surrounded by lush countryside farms on a beautiful summer day!
Pin the ultimate farm experience for later!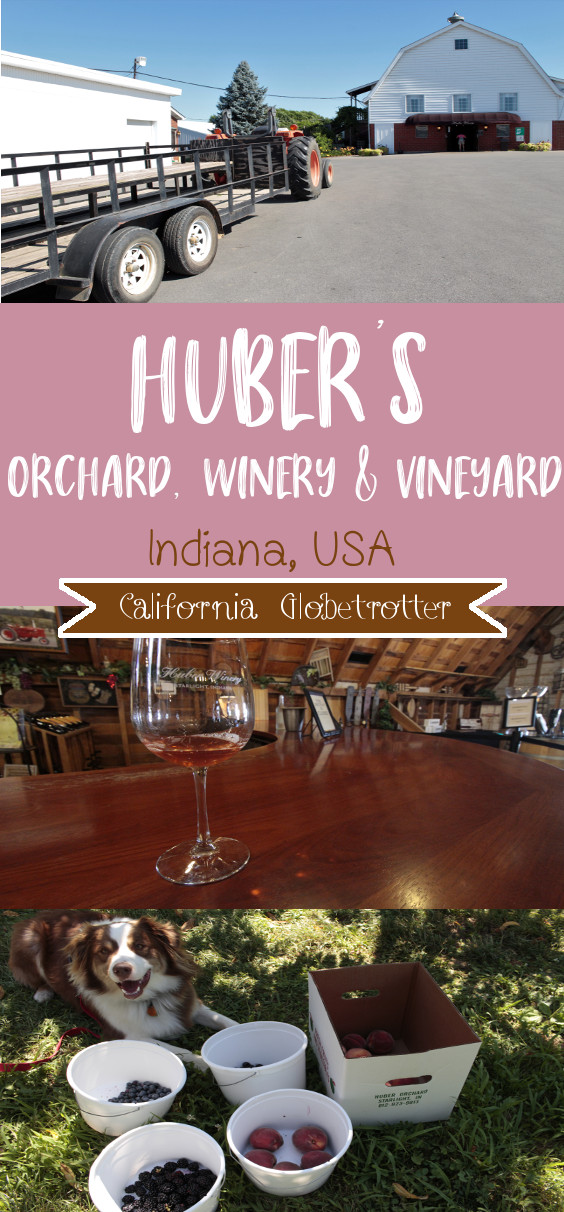 History of Huber's Orchard, Winery & Vineyards
Located in small town USA, in a town called Starlight, Indiana, not far from Buffalo Trace Park, Simon Huber settled in Southern Indiana in 1843 after emigrating to the United States from Baden-Baden, Germany bringing with him his knowledge and years of experience in fruit growing and wine making. What started out as a humble piece of land used as a dairy farm with a mere 80 acres, has since expanded to over 600 acres of lush fruits, vegetables and vines as his legacy is carried on by his family who live and work on the farm. Therefore, Huber's Orchyard, Winery & Vineyard is still family-owned and operated and still going strong, even in it's seventh generation! In fact, June 2018 saw 175 years of hard work!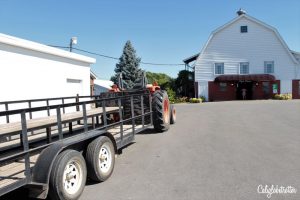 Today, Huber's Orchard, Winery & Vineyards are part of the Indiana Uplands Wine Trail encompassing nine wineries in south-central Indiana which includes winemakers and tasting rooms for wine lovers to sip on some fabulous wine!
Other wineries include:
Exploring the Orchards
After winding our way through ample amounts of winding farm land, we arrived at the parking lot directly in front of the charming little barn house. Just opposite was the farm market where you can hitch a ride aboard a tractor wagon to the destination of your choice, depending on the season of fruits available for a U-pick adventure! Summer time meant that we had the options of raspberries, black berries, blueberries, and peaches. No matter the season, there's something for everyone!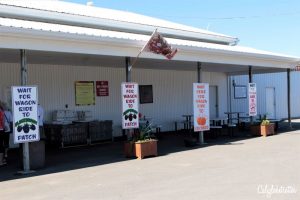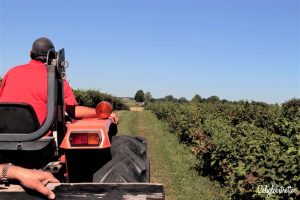 Autumn is the busiest time to visit Huber's and teeming with activities for everyone, even school field trips and up to 12,000 people can descend on this farm. But have no worries, every season at Huber's has a purpose! While things wind down in the winter on the farm, the winery, the distillery, cafe and market all remain open. 
But have no fear! There's no need to feel like you can only pick one berry! Tractors pick you up, drop you off at one of the orchards and you can pick to your hearts desires, by the box load if you so please and when you're ready to move on, you can catch the next tractor bringing hungry pickers to the next orchard. 
A good portion of our time at Huber's Orchard was spent picking a variety of fruits and berries, which we had every intention of turning into delicious homemade pastries and pies. Unfortunately, we only managed to turn our fresh produce into one of my husband's unwritten recipes, a bourbon peach turnover. Sorry, no pictures because they were devoured before the crime of utterly deliciousness could be discovered.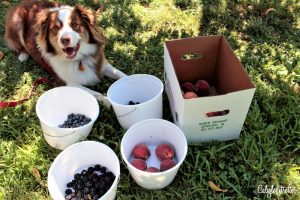 Inside the farmer's market you can find even more freshly picked produce, homemade jams, honeys and more!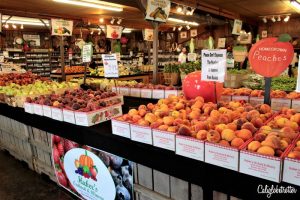 Wine Tasting in the Gambrel Barn
After our pickings, we perused the farmer's market on site, purchased our freshly picked goods and headed straight for the wine shop in Huber's gambrel barn. Much to my delight, I stumbled upon quite possibly the most decadent wine of my life…and my mother's! And that's saying something as she doesn't actually drink wine. Bourbon Barrel Blackberry Wine. A sweet blackberry wine aged in a Bourbon barrel giving it a more complex feel and sweet finish. Like, can I just bathe in this too?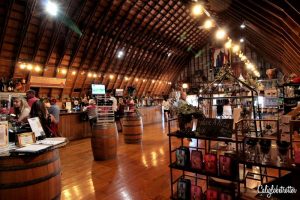 Once inside the Huber's gambrel barn, downstairs is where you can peruse the wine goods, which are locally made from 22 different varieties of grapes, while upstairs the sampling of said wines are tasted and where you can learn more about the vines, as well as shop to you drop…that or your husband pulls you out by your purse!  
What started out in 1978 as a simple wine production turned into Indiana's largest wine-grape producer, producing nearly 400,000 pounds of grapes annually with over 65 acres dedicated to vineyards and award winning wines. For the record, I am enjoying a bottle of Cabernet Sauvignon while I write this. Seemed fitting after all! 
I personally quite enjoyed tasting the Starlight Red, a unique red wine similar to a German Dornfelder, my go-to wizzo after one of them long days, as well as the sweet Traminette, very reminiscent of Alsacian and Gewürztraminer wines. Of course, these days I tend to German vines. It can't be helped.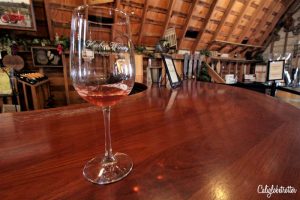 Today, the production of Huber's wines is produced locally, right down to the vines and the fruits before being bottled on the property, creating over 30 different brands of wines, brandies, ports and infusions.
I quite thoroughly enjoyed both the Blueberry Port and the Ruby Port, both grandfathered in Porto, Portugal. I was quite tempted to walk away with a bottle or two…if only they wouldn't be so heavy I could have put them in my Jessica Simpson luggage set.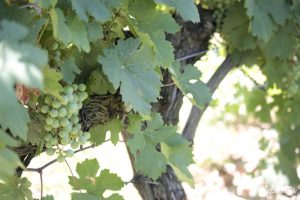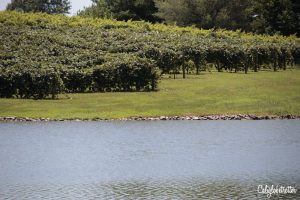 Homemade Ice Cream and Cheese
Today, the small wine and cheese sampling room has grown to include outdoor shaded tables with musical entertainment on the weekends. However, just caddy-corner is the cutest little shop you ever did see offering quite possibly the most delicious homemade ice cream of my life.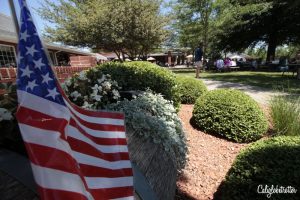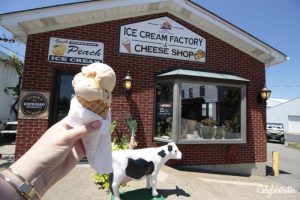 NOTE TO SELF: I must learn to remember American portions are about three times larger than in Europe, and my two scoops quickly turned into one MASSIVE ice cream. Good thing I had multiple family members nearby to help me devour my Salted Caramel and Butterscotch scoops of delicious goodness. I tell ya, I have been on a Butterscotch kick since March! Although, I have to say, like the Maple Bacon Doughnut in Cincinnati we had, the Maple Bacon ice cream was also not for me. For the life of me, I can't figure out what the big deal is!  
Inside, you'll also find a variety of cheeses also made locally to shop from and take home to enjoy later. Sorry, ice cream not included, must eat then.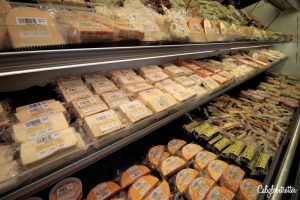 Family Farm Park
Not only is picking fruits one of the best family-friendly things to do in Indiana, but so is Huber's cute little farm park and play area for children. While I myself was not willing to pay to play with farm animals, as I don't have any bouncing bundles of joy, it looked like a fun place for families to chill. There are many fun things to do at Huber's Orchard, such as having a picnic just across the way near the little pond with fishies, duckies, geese and swans, but only with Huber's purchased goods. And there is even a kiddie tractor train ride!
Opening Times: May 1st – October 31st Monday – Friday 10am – 6pm, Saturdays 10am – 8pm, Sundays 10am – 6pm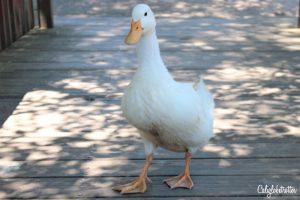 Plantation Hall
Also on site is a lovely little area suitable for birthdays, weddings, receptions, private events, corporate outings and so much more! Wouldn't it just be loverly to get married on a vineyard or orchard with everything in full bloom? 
Overall Experience
We loved it! I always wanted to go picking berries and never had the chance, except when I was a little girl, every October I had the chance to pick out my very own pumpkins from a pumpkin farm, with wheel barrels and all! I wish we would have been able to visit Huber's Orchard, Winery and Vineyard in the autumn though as that is my favorite season and I could imagine the adorable scarecrows everywhere and pumpkin everything everywhere! However, I would definitely say that if you're looking for a day trip from Indianapolis, Evansville, Louisville or even Cincinnati, this is the perfect family outing, great for couples and families with kiddos. 
If you're looking for some extra guides to prepare your trip, here are my travel guide bibles to help you navigate through Indiana!
This post contains affiliate links. If you click on one and make a purchase, I might make a little extra spending money, at no extra cost to you. As always, all opinions are my own and these products/services have been found useful during our travels and come highly recommended to you from yours truly!
Day Trips in the "Kentuckiana" Area:
Madison, Indiana: The Midwest's Prettiest Town
A COMPLETE Guide to the Kentucky Bourbon Trail
An Intensive Beginner's Guide to Louisville, Kentucky
Where to Find Street Art in Louisville, Kentucky
8 Quick Things to do in Lexington, Kentucky
Why EVERYONE Should Visit Old Friends Farm
Rediscover Cincinnati, Ohio: A City Rejuvenated
Liked this post? PIN IT FOR LATER!!