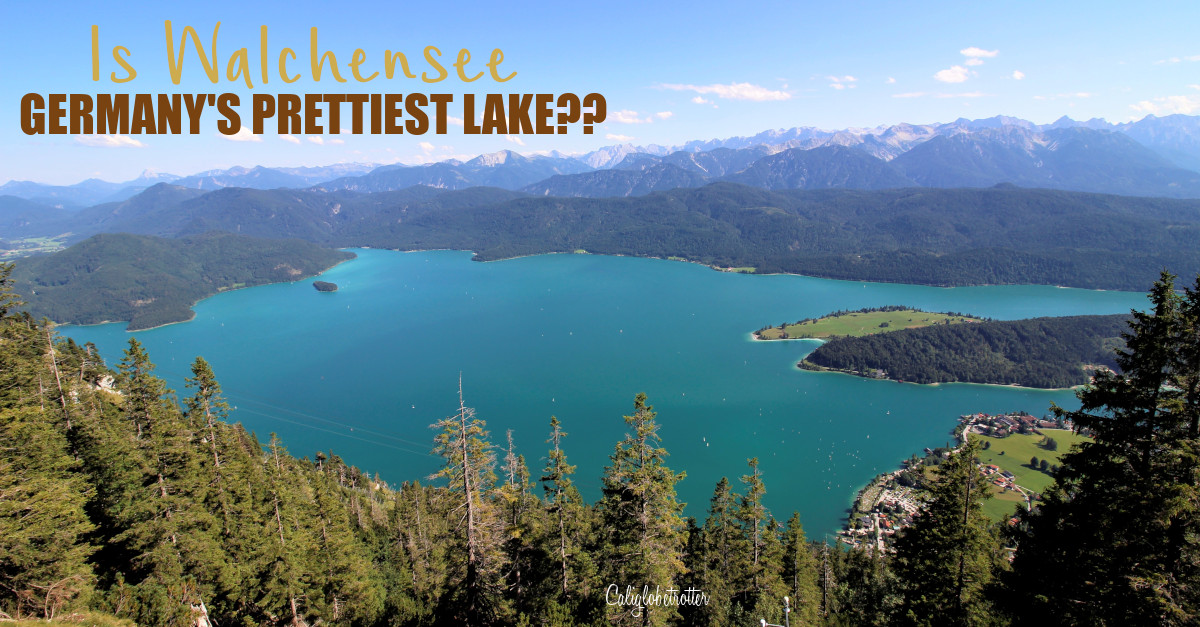 Disclaimer: This post contains affiliate links. If you click on one and make a purchase, I might make a little extra spending money, at no extra cost to you. As always, all opinions are my own and these products/services have been found useful during our travels and come highly recommended to you from yours truly!
Quite simply put….yes!!! Beauty like I have never seen before…the kind that absolutely left me speechless and in complete awe at the bright turquoise color of the lake, rounded by woody mountains as far as the eye could see. But, with such breathtaking natural beauty, my question is whether or not, Walchensee is the most beautiful lake in Germany??
Want to see it for yourself? PIN IT FOR LATER!!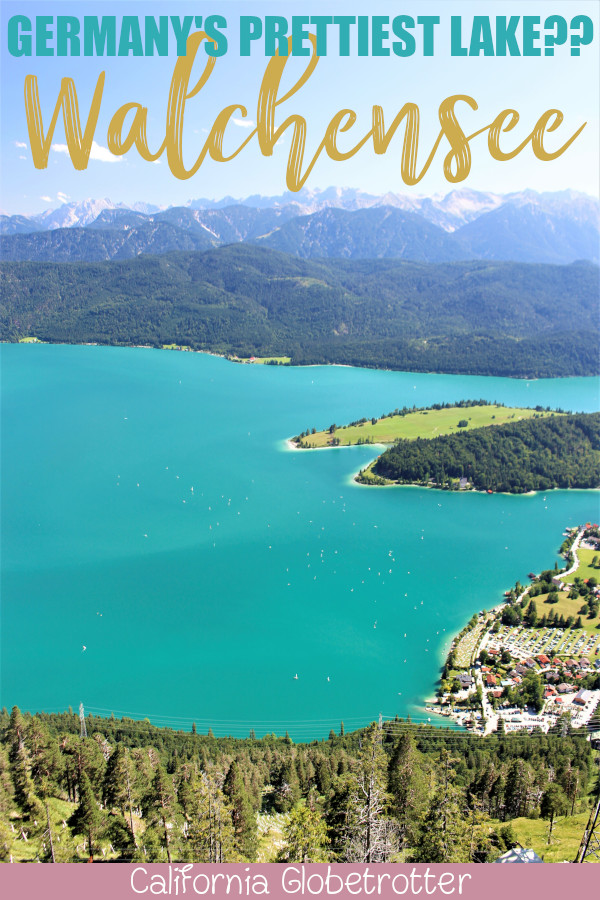 I no longer remember where or how I discovered Walchensee, but I had had a photo of this beautiful turquoise lake on my phone for well over 2 years. We had attempted once to go, only to realize that while we had had beautiful sunny weather in Regensburg, the weather in the Alps was not going to be the same and after driving an hour, we made a detour. So, finally after waiting an ungodly amount of time, we finally made the day trip to Walchensee, as well as the nearby Partnachklamm Gorge. And honestly, we truly lucked out with the best possible weather for a bit of easy hiking in the German Alps!
It's no wonder why Bavaria is considered to be the most beautiful region of Germany when there are lakes like Walchensee, just north of Mittenwald. It is the larger and higher sister lake to Kochelsee, which are connected by a rather scenic, but twisty and windy pass through a narrow ridge known as the Kocheler Berge. The difference in height between the two lakes has been used to generate electricity since 1924, though the idea first came about in 1900s! So, it's pretty and useful! Not just that, but it's also one of deepest and largest alpine lakes in Germany! Don't you just love a good superlative? And, they say that it was also King Ludwig II of Bavaria's favorite mountain and lake, and to be honest, the man had impeccable taste!
The lake is actually the result of a tectonic formation, as the lake fills a tectonic valley, creating the extreme depth of the lake at 192.3m (631ft). It's actually thought to perhaps also be the oldest lake in Germany due to the mountain building that took place here.
And while there are beautiful lakes such as Tegernsee, Königssee and Chiemsee scattered all throughout the Bavarian Alpine region, stretching from Berchtesgaden to Lake Constance (Bodensee), it's hard to decide which ones you have to see and which ones you can skip. Having previously stated that Königssee was Bavaria's most beautiful lake, I can definitely say without a doubt that Walchensee is twice as beautiful, but in a completely different way. While Königssee has a more crystal-like, fjord feeling to it, Walchensee is absolutely breathtaking simply because of it's unique Tiffany's turquoise color. Not just that, but it's definitely one of the best kept secrets in Germany!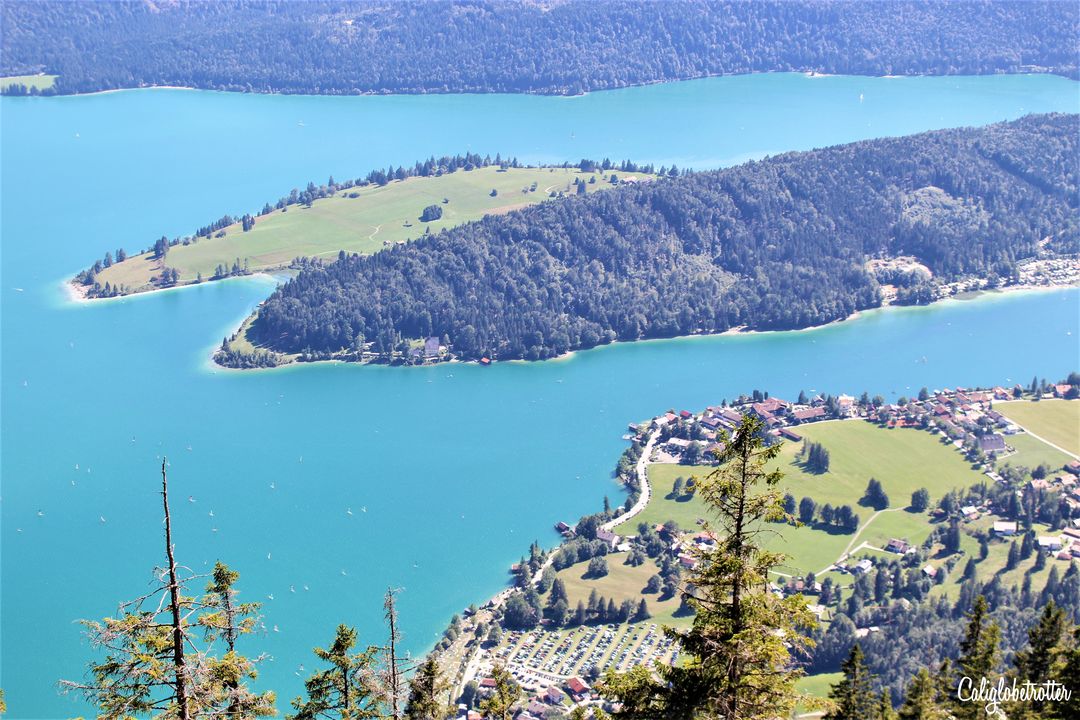 To get the best possible view of Walchensee, we chose to take the Herzogstandbahn cable car up to the Herzogstand mountain. Ascending 1600m up the Fahrenberg in just under 5 minutes, the stunning views of the lake and mountain vistas were unparalleled to anything I have ever seen before! And what makes it all the more sweeter, it's still pretty off-the-radar with tourists to Germany. However, as one of the easiest day trips from Munich, most of the tourists here were German or Italian speaking.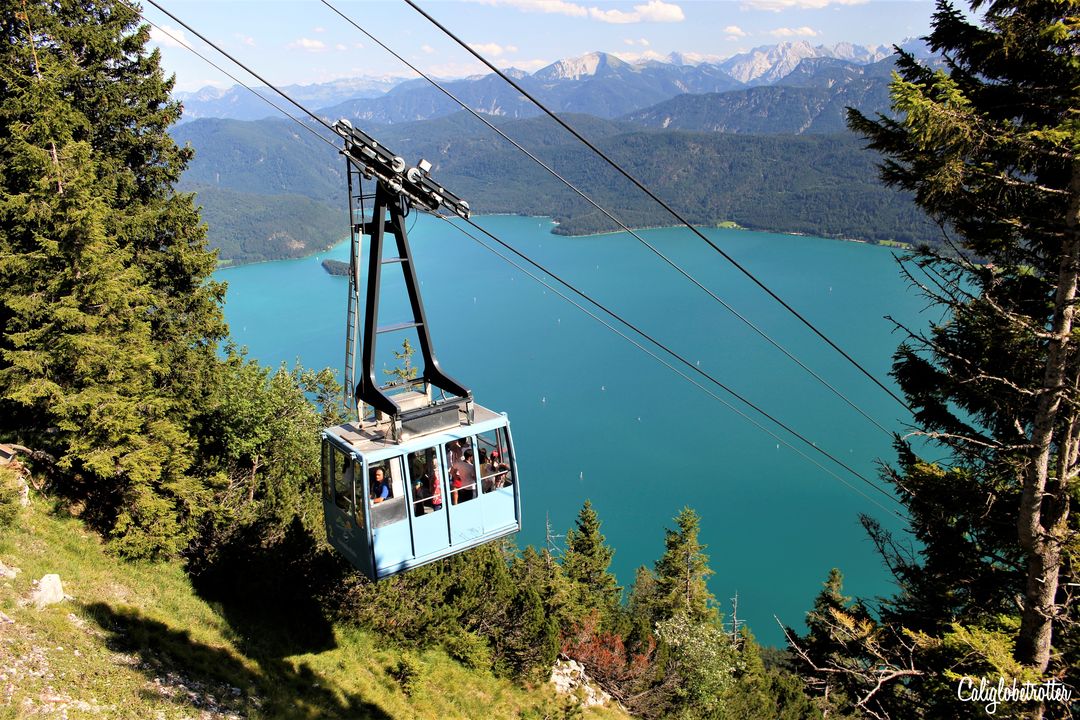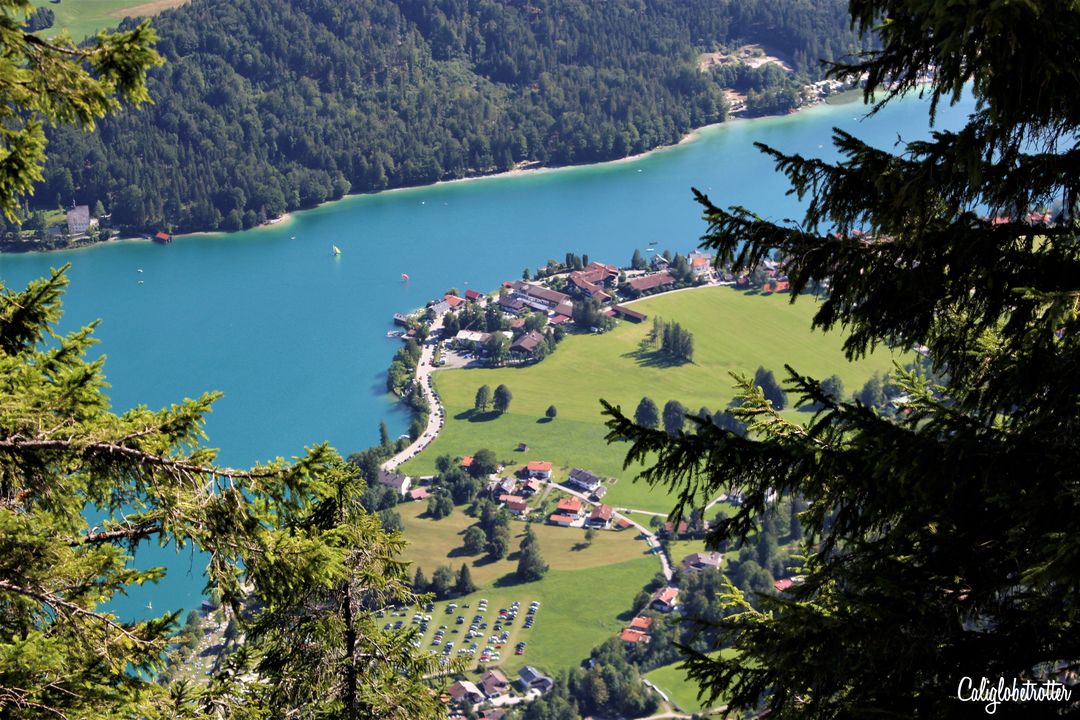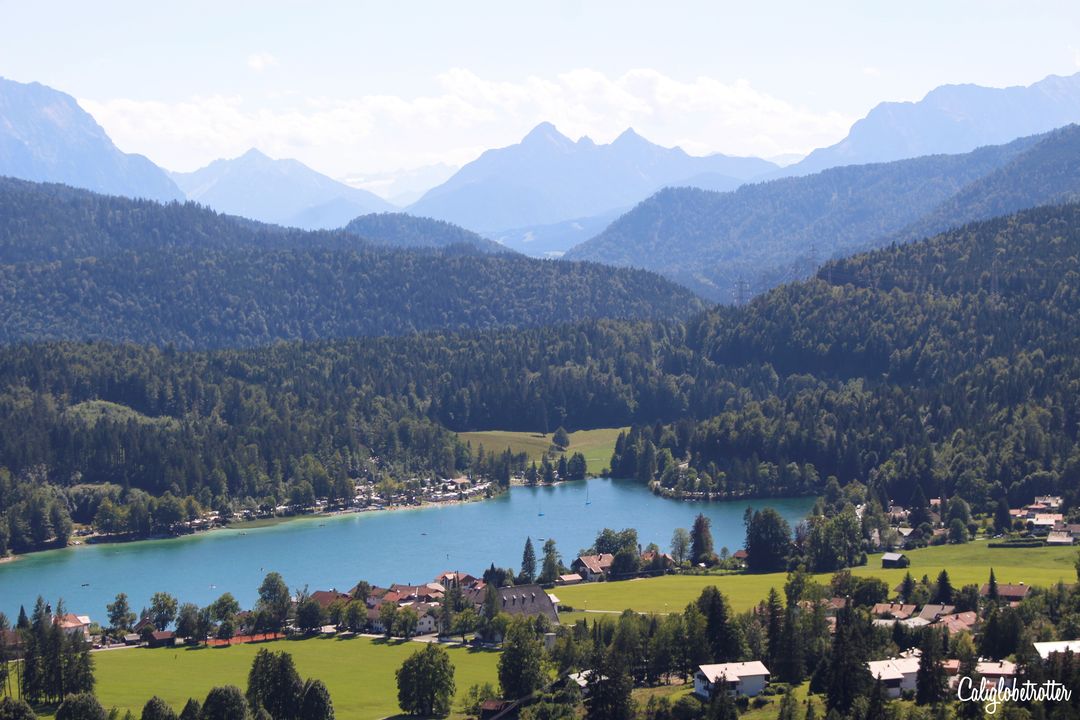 Having planned to do a bit of hiking here as well as at the Partnachklamm just 30 minutes away, for the first time ever, I left my house to go on an adventure….in work out clothes. Having lost a ton of weight, I felt better than ever and had no shame wearing my work out clothes in public and even taking a moment to stop and enjoy the view!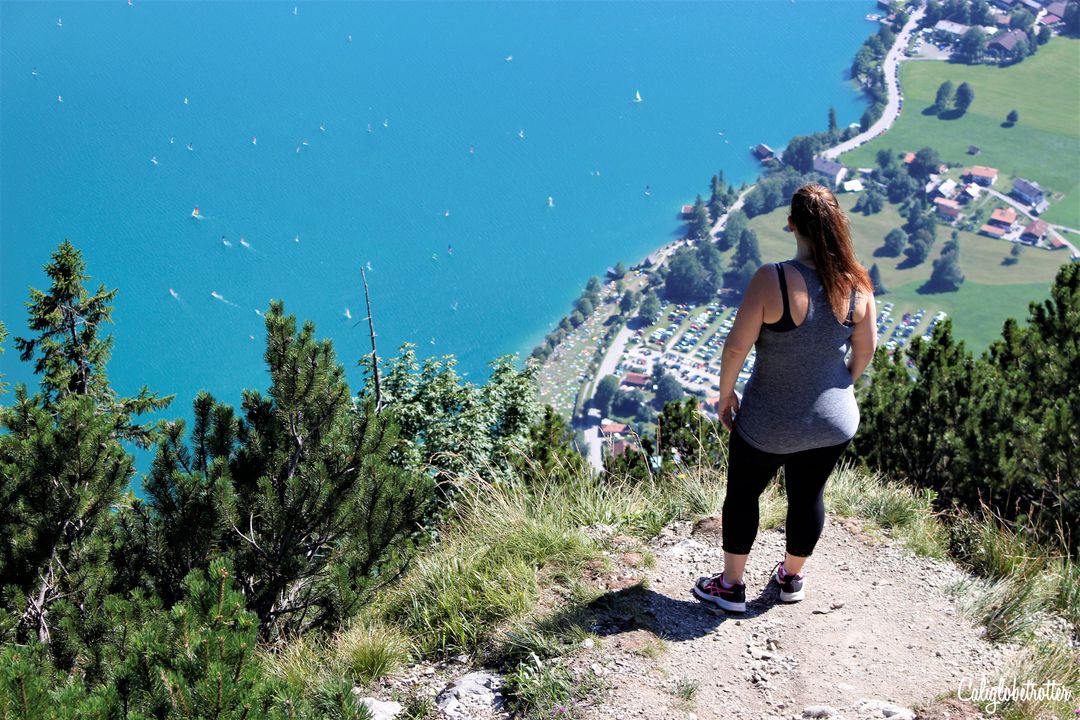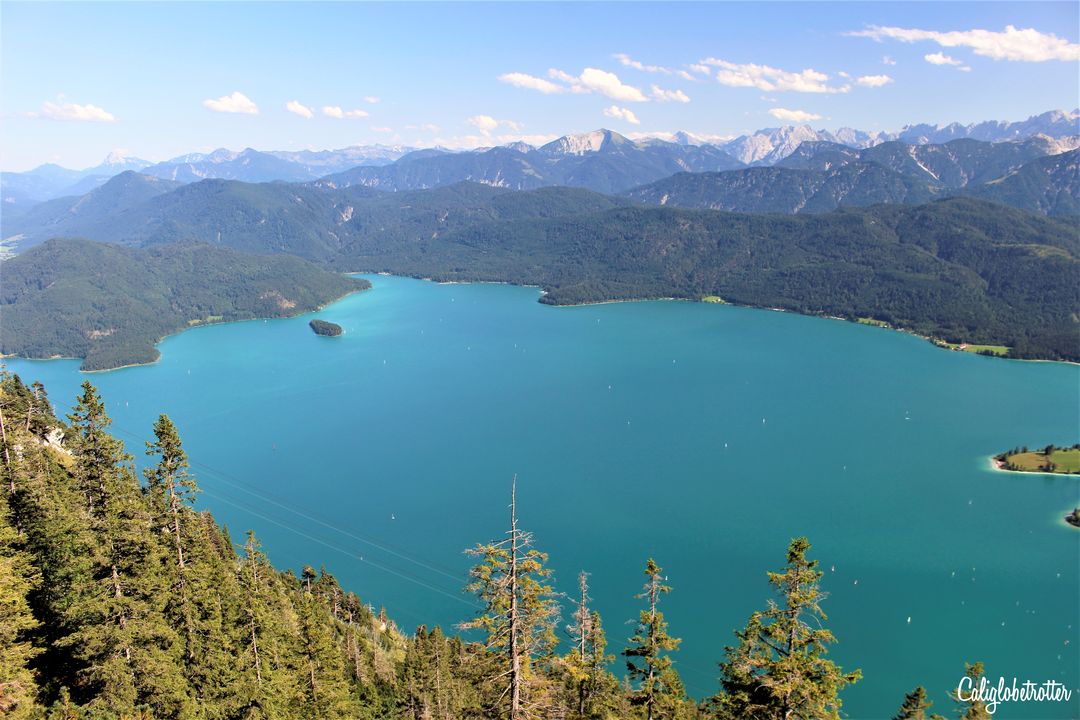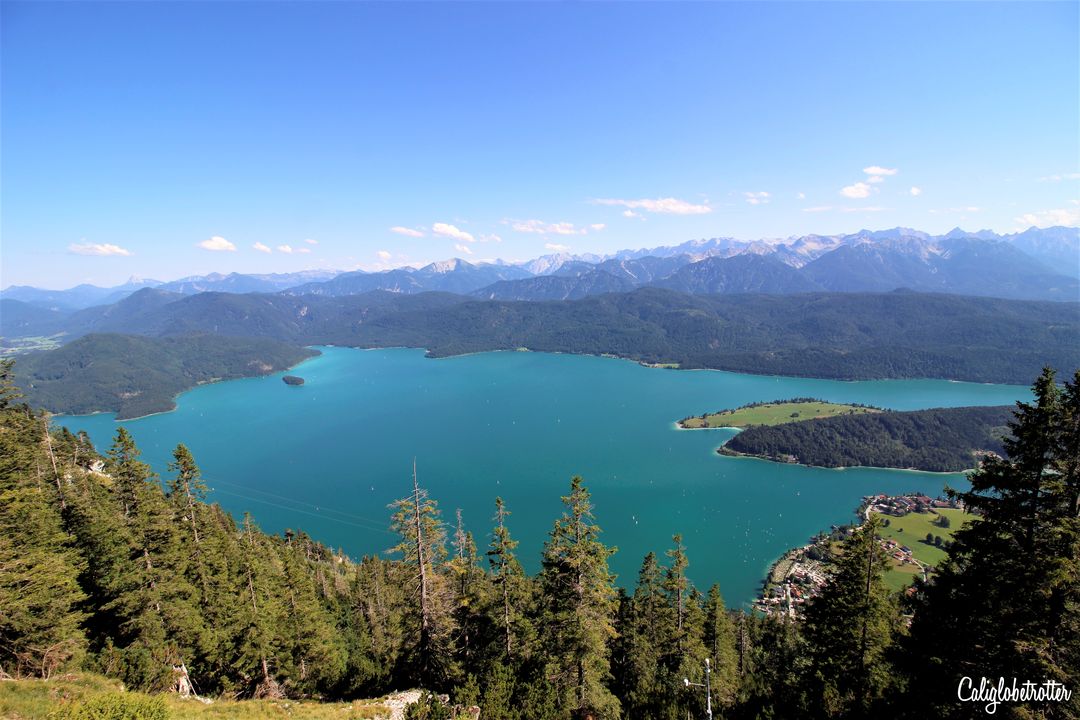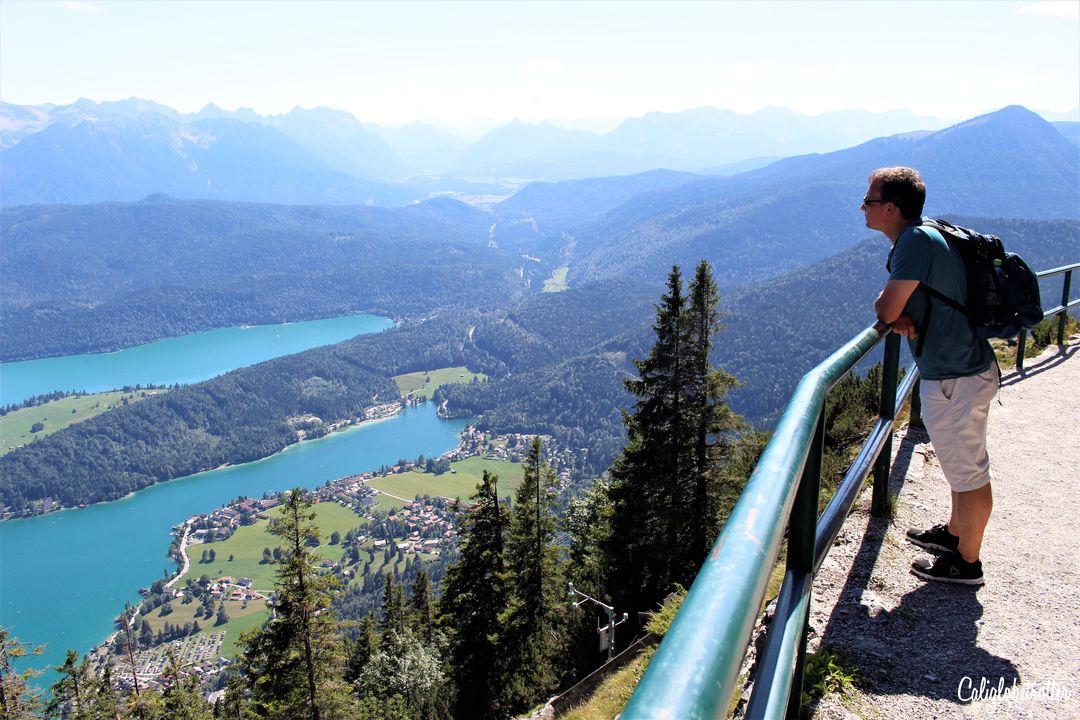 We didn't manage too much hiking here unfortunately. Just enough to get to the Berggasthaus Herzogstand, see some Alpine cows being as lazy as one can possibly be. We wanted to enjoy a radler here, but everyone else also had the same idea and trying to find a table was quite impossible and began to take up precious time I planned on also trying to use to soak up some sun on the beach!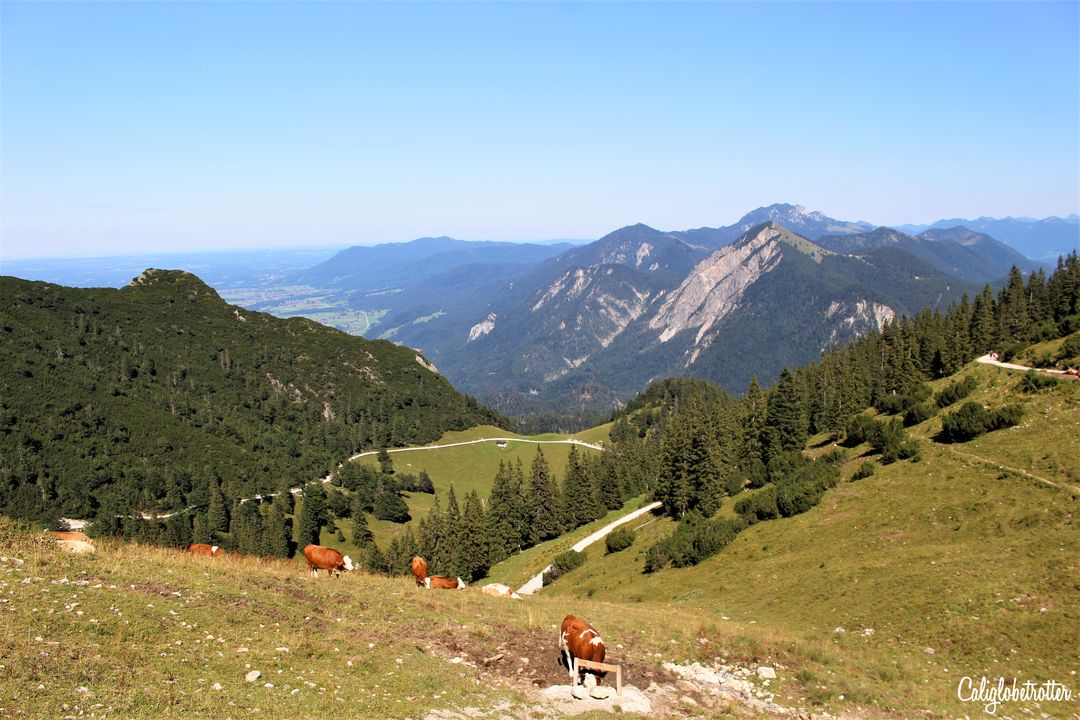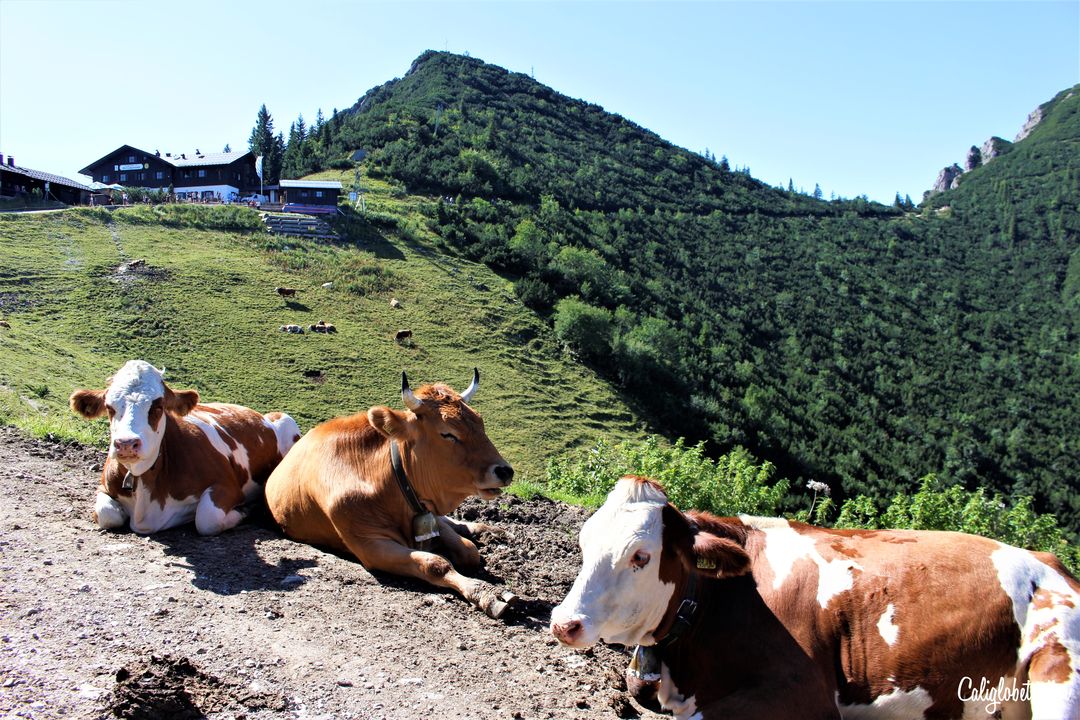 But if one is quite motivated and has more time than we did, one could continue hiking up all the way to the look out point just beyond the restaurant which I'm sure would have even more breathtaking views of the surrounding mountains. However, with little hiking, we still had some amazing views and even a glimpse of Kochlsee in the distance.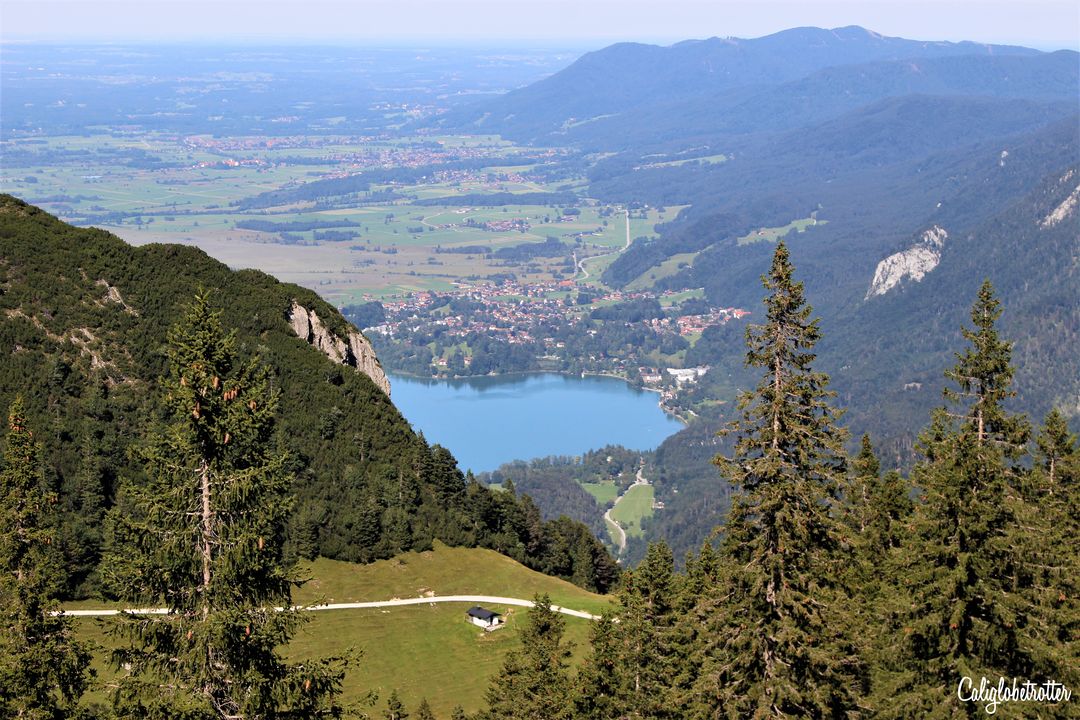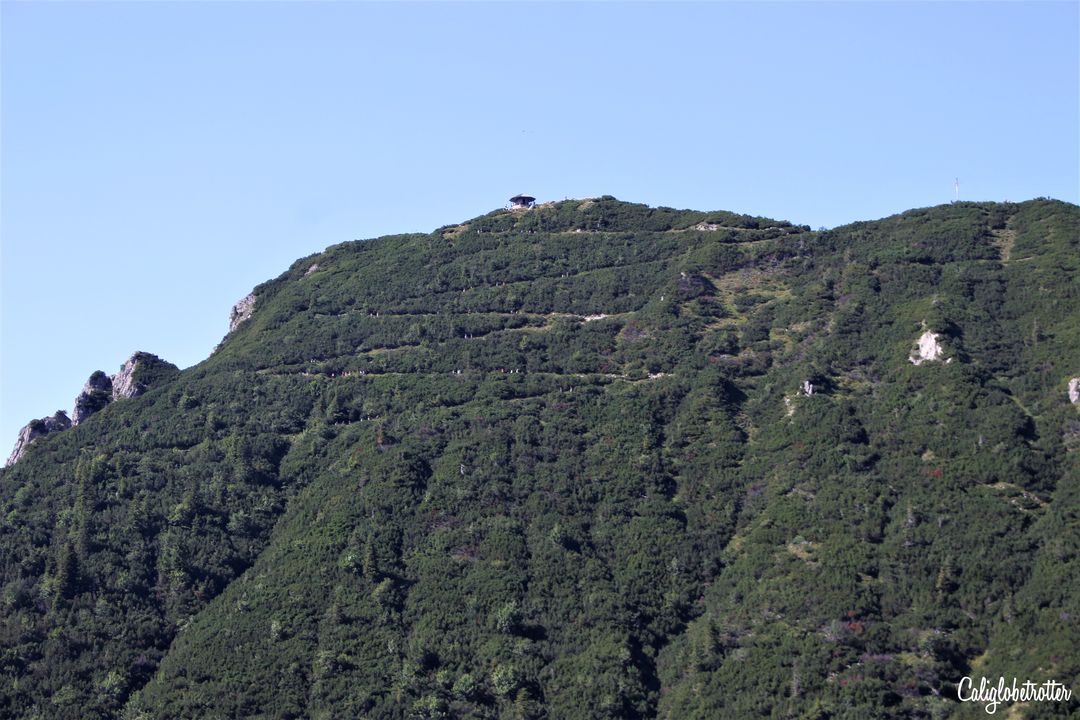 Back down at the lake, we popped across the street from the parking lot near the cable car hut to enjoy a bit of sunshine on one of the most beautiful days of the year. Walchensee is actually quite popular for windsurfing and dinghy sailing throughout the summer months, as it's quite windy. However, along the shore of the lake, I felt no wind but it was quite enjoyable to lay out and watch the windsurfers. However, getting into the water is a different story. Being an alpine lake means that the lake is really quite COLD and it takes a truly brave person to brave that cold water! I was definitely not willing at 4pm. Had it been earlier in the day, perhaps I would have given it a go. I was already struggling with the fact that I was wearing my first bikini in public in well over a decade! Copping with the cold water and I doubt I would have survived the two!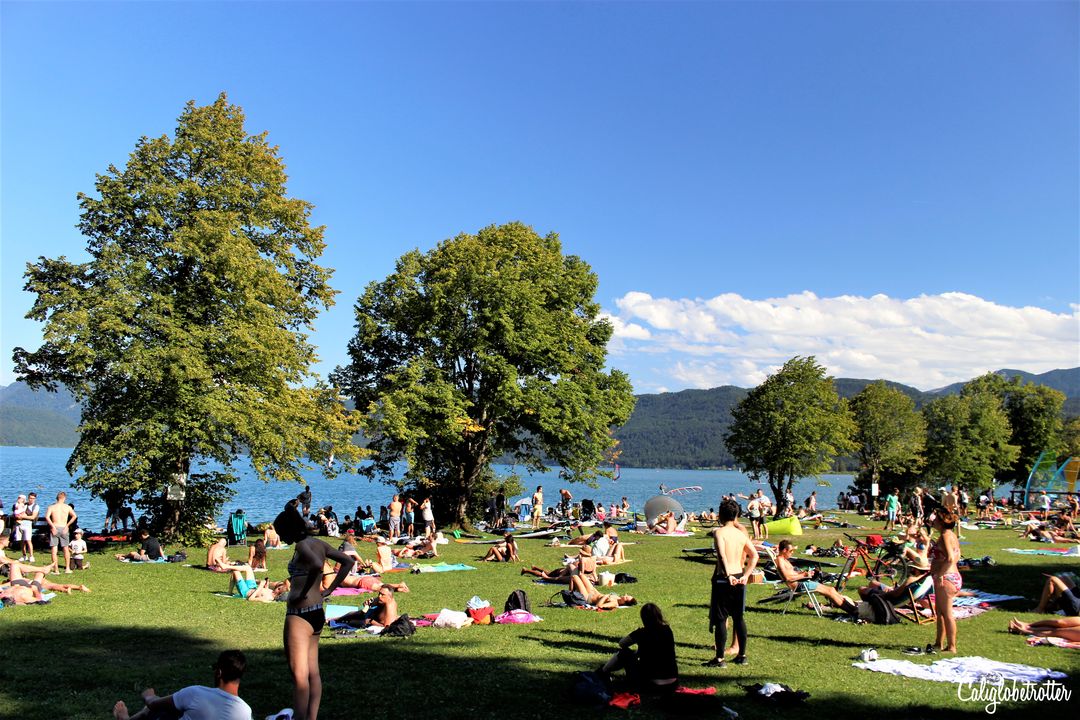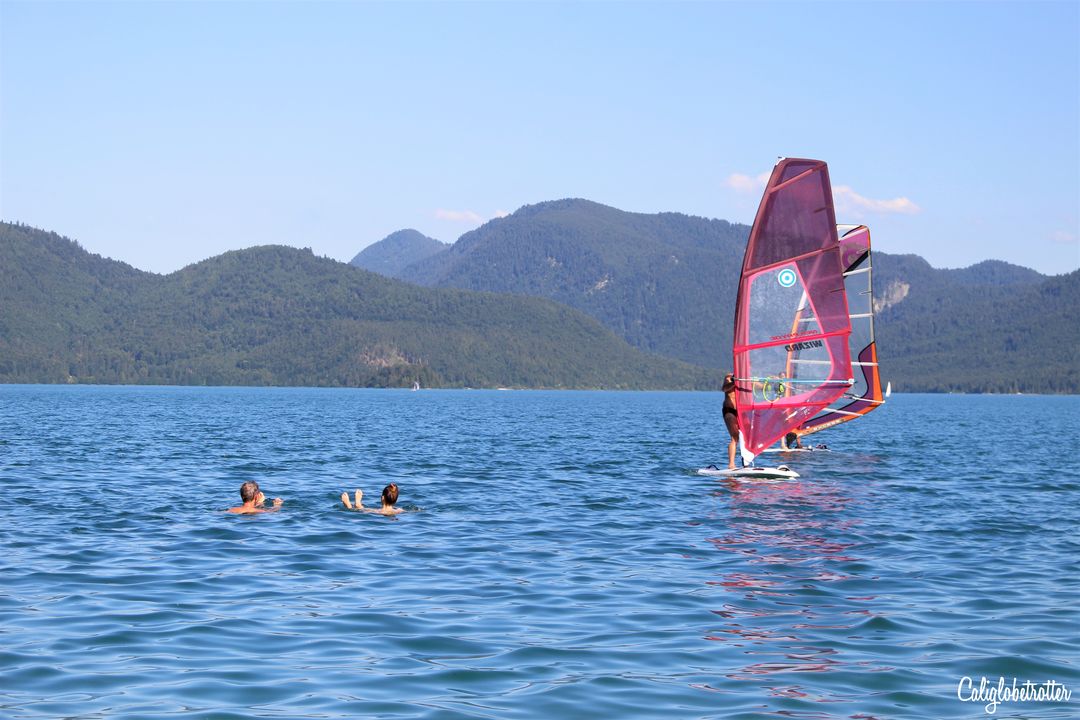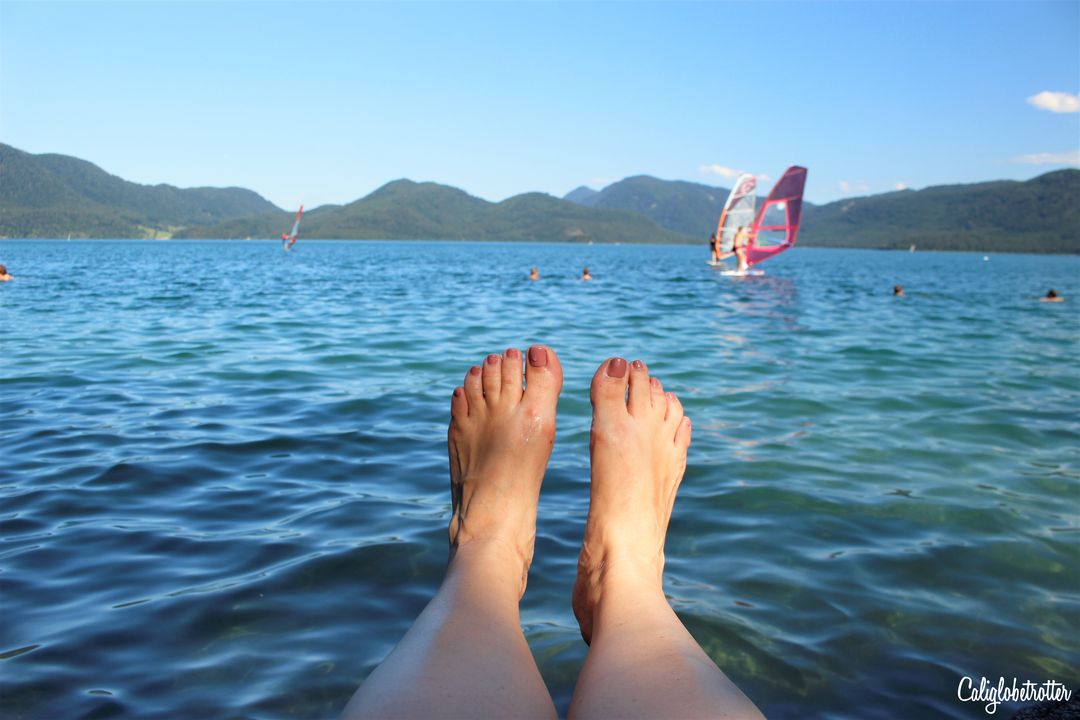 There were so many people though out enjoying the sunshine so it made it quite entertaining to just sit back and people watch.
If you're a WWII history buff like myself, then perhaps you may find it interesting to learn that the Wehrmacht and Reichsbank came up with a plan to store a part of the reserve at Einsiedl, a small hamlet along the south-west shore of Walchensee in April 1945. The plan was to bury large amounts of cold and foreign currency in undisclosed locations which included "365 sacks, each with two gold bars, nine envelopes enclosed with gold documents, four crates of gold, two bags of old coins, six boxed of Danish coins, and 94 sacks of foreign currency which was predominantly U.S. dollars and Swiss francs." But in June 1945, the assets were handed over to the Allies, only to find out that 100 gold bars and all of the U.S. currency as well as the Swiss francs were mysteriously missing. Today, speculation still continues whether or not the treasure still exists and its exact locations. Perhaps if you visit the lake, you might be the one to find the gold!
If you're interested in visiting Germany and are looking for more information, I highly recommend using the DK Eyewitness Travel Guide! Without these guides, I would be lost! This is my travel Bible!
Disclaimer: This post contains affiliate links. If you click on one and make a purchase, I might make a little extra spending money, at no extra cost to you. As always, all opinions are my own and these products/services have been found useful during our travels and come highly recommended to you from yours truly!
Other things to do in the Bavarian Alps:
Königssee Almabtrieb: Cows with Flowers
A Cable Car Ride Up To The Jenner
5 Things to do in Berchtesgaden
Herrnchiemsee Palace and Chiemsee
Th Romantic Castles of King Ludwig II
Tips for Visiting Partnachklamm
Liked this post? PIN IT FOR LATER!!
Save
Save