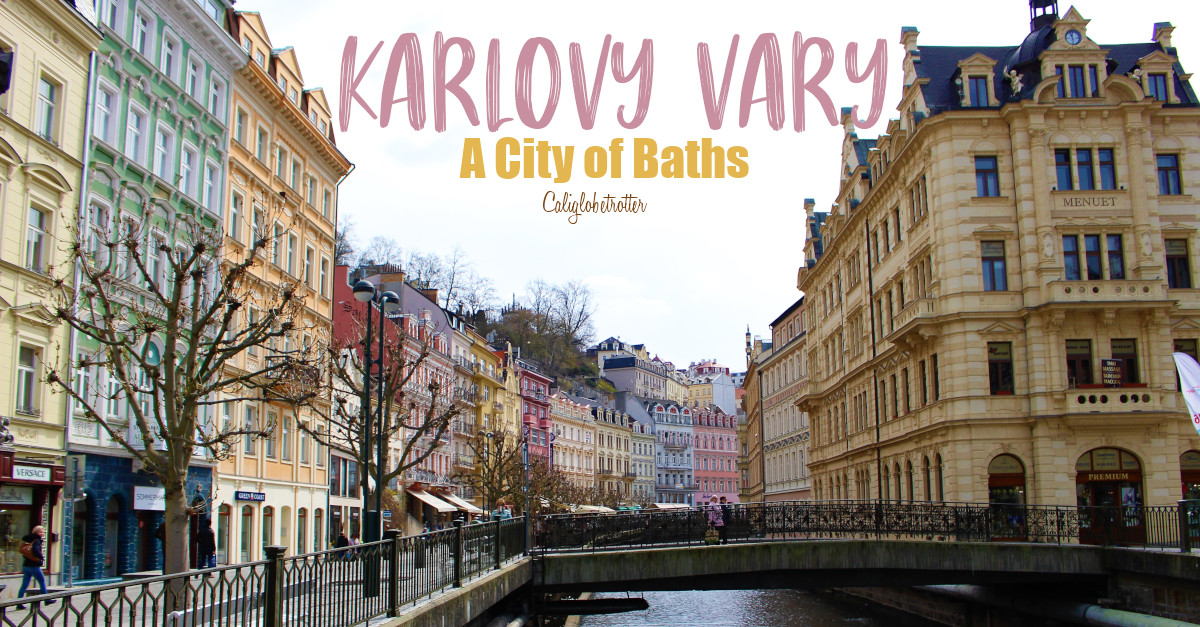 Disclaimer: This post contains affiliate links. If you click on one and make a purchase, I might make a little extra spending money, at no extra cost to you. As always, all opinions are my own and these products/services have been found useful during our travels and come highly recommended to you from yours truly!
As we have been knee deep in wedding planning and working like crazy people over here, we needed a little break to celebrate our 3 year anniversary! I had been perusing though Pinterest one day when my eyes were suddenly delighted with a wonderful image of a couple taking a bath. Not any bath. But a BEER BATH! I knew then and there, I had to go to Karlovy Vary for the world's first beer spa!
Want to do a Beer Spa? Want to visit Karlovy Vary? PIN IT FOR LATER!!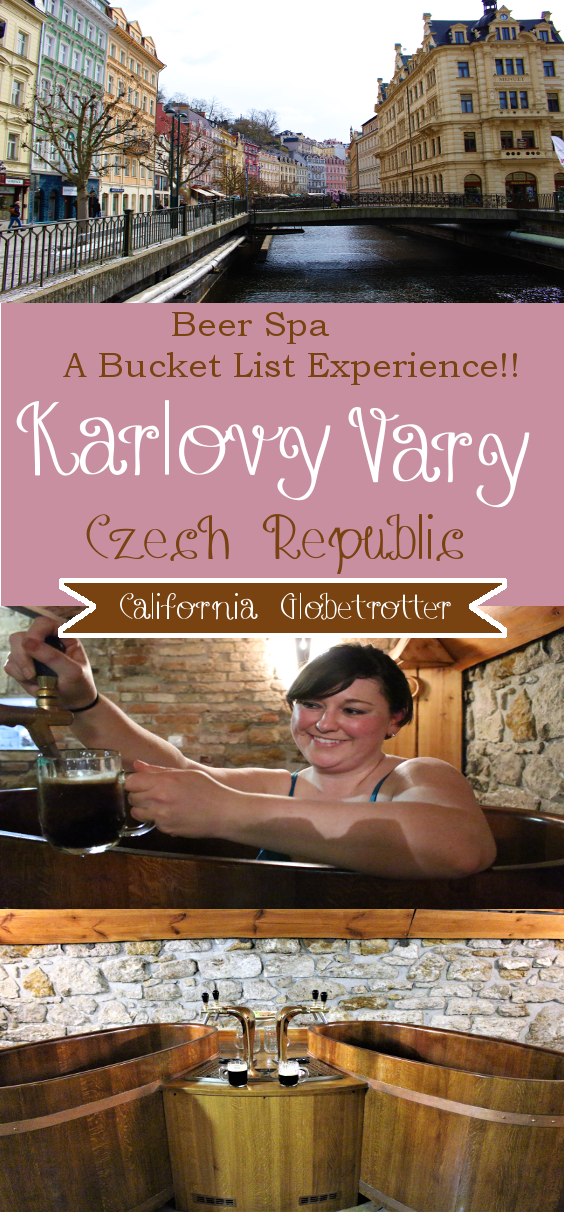 How to AVOID Looking Like a Tourist in Europe
Like this post? Take it with you as GPS Guided App directly to your phone via GPSMyCity!
Since Karlovy Vary was only about a 2 hour drive from where we live in Germany, just over the Czech/German border, we decided to just spend the day there. We arrive nice and early so we would have enough time to stroll through the town as it's one of the most beautiful towns in Europe which makes it a great day trip from Prague!
The town was founded by Charles IV in the mid-14th century and his dog supposedly fell into a hot spring. Just so you know, "vary" means hot spring. The town quickly gained predominance as the rich and famous flocked here for the healing powers of the hot springs.
Admire the Colorful Art Nouveau Architecture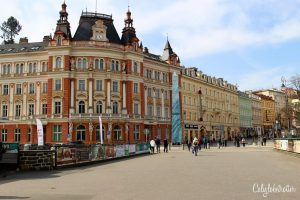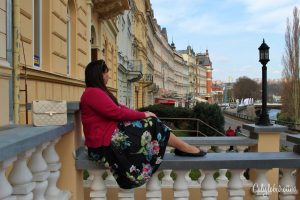 Walk Through the Park
This fashionable resort town in West Bohemia greets visitors with a sensational cultural scene and an eclectic mix of both Baroque and Art Nouveau architecture. The romantic forests and hilly surroundings add to the charm, making Karlovy Vary a wonderful place to relax, unwind and live the lifestyle of the 19th century's greatest visitors.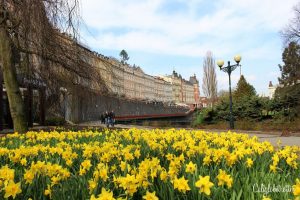 Notable people who have visited Karlovy Vary include Peter I of Russia, Johann Wolfgang Goethe, Wagner and Beethoven during a time of sophistication that is long gone. However, as you walk though the town, you can still feel that class of high society. The shops are lined with beautiful stores laden with gold china, jewelry, clothing boutiques and hotels where the valet still wears a traditional outfit. However, people continue to flock here more for the healing powers that the water is said to have!
Stroll Through the Pavilion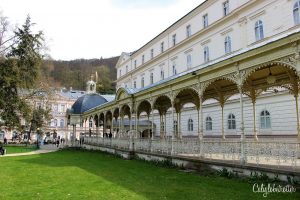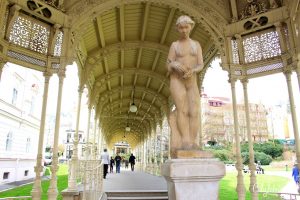 Try the Local Spring Waters! It's good for your health!
As you walk through town, there are currently 12 active mineral water springs. You might notice that there are people walking around with a special looking cup. This is a porcelain spa cup that is used mineral water directly from the spring. Spa cups have been around since the 16th century and are now a part of the identity of Karlovy Vary and can be purchased at small gift stands near the mineral spring.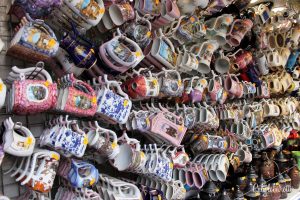 The Mill Colonnade was built in 1871-81 and is one of the most opulent resorts. While we did not go in, we enjoyed walking around the plaza, testing out the different springs in the area. The water here exceeds 50*C/120*F. It is certainly an acquired taste as the water taste more like iron.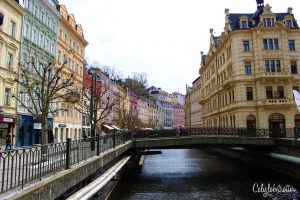 The wooden Market Colonnade was built in 1883-4 on the grounds of a former city hall.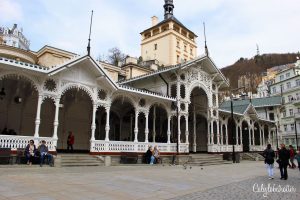 Take a Peak Inside of the Grand Hotel Pupp
As we reached the end of Karlovy Vary, near the Grand Hotel Pupp, we hopped aboard the funicular which was built in 1912. For 80KC/3.50€ for two people round trip, we headed up the surrounding hillside which would offer us an amazing view over the vibrant town.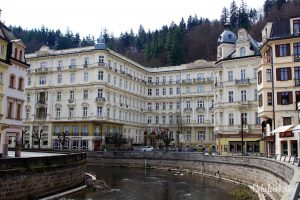 Head up the mountain for the best view in town!
At the top it the Diana Viewpoint tower which is included in the price of your ticket. An elevator waits to take you up to the top, or you can take the stairs. Being a cloudy, windy spring day, we didn't stay long up at the top. Snapped a few pictures before hurrying back down.
Play with Peacocks!!!!
Also at the top of the mountain, you can find a restaurant and a mini-zoo. It was here I got to see a white peacock for only the second time in my life and he was certainly flaunting himself! There were also other animals there such as pigs, goats and ponies, perfect for children who need a little distraction.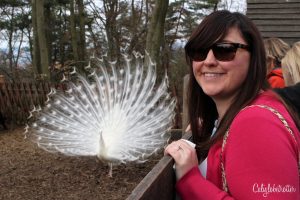 Eat the Local Food!
While in Karlovy Vary, it is an absolute MUST to try a "lazenské oplátky" which is a flavored wafer waffle. They come in all sorts of flavors from lemon, cinnamon, hazelnut, vanilla and more! They are pre-made and warmed up upon purchase! They were light and delicious!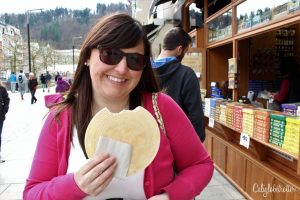 Check Out the Churches!
Some of the other main attractions to see in the town as you stroll along the river "Teplá" include the Church of St Mary Magdalene as well as the Russian Orthodox Church of St. Peter and St Paul, of which was built for the Russian aristocracy who used to flock here in the 19th century.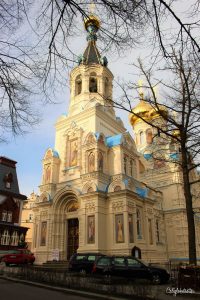 Last but not least…Enjoy a Beer Spa!
We finally ended our night with our booked beer spa! Also located in the center of town, it was easily accessible. Pivní lLázně was the very first Beer Spa. Czechs have a long history of bathing in their beer dating back to the Middle Ages, as they believe that brewing and soaking in yeast cures a numbers of ailments. Not surprising since the Czech have the highest beer consumption in the world and believe their beer to be the best!
We entered a world focused soley on our enjoyment and relaxation, with a small fire lit to give off a cozy vibe. The decorations in the room add to the beer spa experience.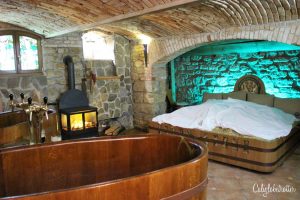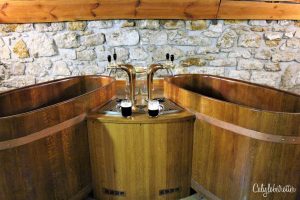 We immersed ourselves into deep two Royal Oak tubs filled with beer, malt and hops-a-bubblin', while we enjoyed an unlimited supply of both light and dark Krušovice beer on tap during the hour of our bath which help our bodies to hydrate. To top it off, we snacked on homemade beer bread.
The affects of take a soak in a beer bath include:
skin rejuvenation
absorption of vitamins, carbohydrates and proteins
soothing effect on the skin, hair and muscles
easing of muscle tension
reduction of stress
regeneration of the body and mind
improved blood circulation
detoxification – the removal of harmful substances from the body
treatment of back and joint pain
cleansing of pores
increased cardio activity
treatment of psoriasis, acne and cellulite
As we enjoyed the room completely to ourselves, we washed away all the stress and tension as the beer soaked into us and the muscles began to give way. After our 20 minute dip, we laid on a bed of genuine wheat straw which helps to absorb all the vitamins and extracts from the bath. Never thought I would say "takin' a roll in the hay" would be healthy for me!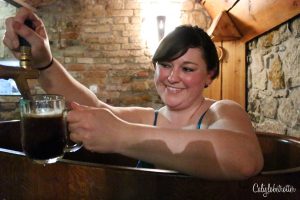 Ultimately, this was the best anniversary experience ever! After all, how else do you give a beer lover a gift? This experience was perfect for us as a couple, but could easily have been just as enjoyable with another couple, as each spa can hold two people comfortably!
If you're interested in visiting the Czech Republic and are looking for more information, I highly recommend using the DK Eyewitness Travel Guide and Lonely Planet! Without these guides, I would be lost! This is my travel Bible!
Disclaimer: This post contains affiliate links. If you click on one and make a purchase, I might make a little extra spending money, at no extra cost to you. As always, all opinions are my own and these products/services have been found useful during our travels and come highly recommended to you from yours truly!
Other amazing places to visit in the Czech Republic:
Like this post? PIN IT FOR LATER!!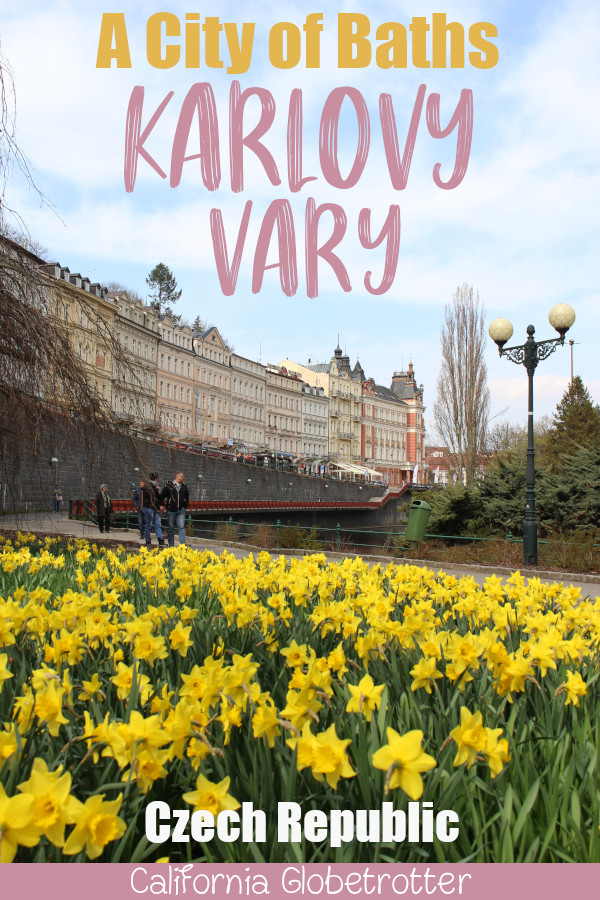 Save
Save
Save