While in Lucerne, there are no shortage of amazing day trips that one can do in the great outdoors. After spending a full day hitting up all the sights to see in Lucerne, you'll want to get out into wide open spaces and take in the surrounding views and that fresh Alpine air! While researching, I found so many options, it was hard to chose. For example, you could go up Mount Pilatus, ride the world's first rotating cable car on the Titlis up Engelberg or you could do what we did!
As we were looking for the cheapest option to go up any mountain, we spent hours researching the best solution. Switzerland is expensive and can break the bank if you're not careful. So, after much consideration and breaking down and buying tickets, we spent a little more than we wanted, but it was the best and most affordable option for us, which included a boat tour across Lake Lucerne and a ride on Europe's first BergBahn up to Mount Rigi-Kulm, nicknamed "Queen of the Mountains".
In case you're interested, PIN IT FOR LATER!!

Take a Boat Ride Across Lake Lucerne (Vierwaldstättersee)
I would personally save a boat ride across the lake for a full day, where you can really relax and enjoy all of the scenery instead of rushing through it. We decided to get up bright and early and head to the docks (parking at the Bahnhof Parkhaus) to buy our tickets. There are sooo many different options for a boat tour, depending on how much time and money you have.
If you're looking for a quick ride that is affordable then I highly recommend the Panorama-Yacht Saphir, which is a one hour tour around the arm of the lake that extends from Lucerne, gliding past the shores of beautiful towns, without stopping. Standard fare: 25 CHF per person
If you have more time, then you can do a round trip tour and excursion. A bit like a hop-on-hop-off boat tour, you can stop at any of the towns along the way, and continue on before coming back to Lucerne. Prices vary, but for a round trip boat tour to Vitznau we paid 45 CHF each.
If you're interested, you could can get to Rigi from Lucerne as part of the Classic Rigi roundtrip, which includes the ferry on beautiful lake Lucerne, the cogwheel train up the mountain, and the cable car.
**Wish I had known** – SBB (Swiss Railways) offers a discounted ticket, possibly up to 30% cheaper than usual prices.
As soon as you set off, you'll float through the arm of Lake Lucerne and see some of the main sights of Lucerne off in the distance as well as some nice hotels lined along the edge of the lake. Within minutes, you're out in the middle of the lake and the views will be absolutely magical!
A boat tour is a must no matter what while visiting Lucerne! The views are just stunning and the water shimmers turquoise in the sunlight! For good seats, obviously get in line early because everyone wants to sit at the back of the boat for the iconic picture of the the Swiss flag billowing in the wind with the Mount Pilatus in the backdrop.
You'll pass by stunning scenery of the towns hugging the lake with lush green hills and see plenty of nice hotels and homes with private boat garages. It was also incredibly amazing to see just how turquoise-green the water was when the sun hit the water just right.
As you near Vitznau, you'll see a very lovely hotel which stands out against any other building along the journey. That beautiful building is the Park Hotel Vitznau, a luxury hotel which open in 1903 with the rise of tourism to the region ever since Europe's first cogwheel train opened.
A Quick Glimpse of Vitznau
Tip: If you decide to do the BergBahn, buy your tickets at the docks when you buy your boat tickets. It's a tad more expensive, but then you can directly catch the train up the mountain. Otherwise, you risk not making it on the train because the trains are aligned to depart within a few minutes after the ship arrives, and if you have to buy your ticket, you'll miss out like we did and have to wait an extra hour!
So, should you miss the train, you'll have an hour before the next one comes. You'll be given a coupon for a free coffee from the Rigi-Kulm crew to enjoy while you wait, and you can grab some snacks from the convenient store. We grabbed a Toblerone, after all, we were in Switzerland, which we enjoyed by the shore of the lake, soaking up the summer-like spring weather we were having.
Ride up to Rigi-Kulm on Europe's Oldest BergBahn
Opened in 1871, the Rigi-Kulm cogwheel was Europe's first BergBahn and is an experience of it's own. We paid: 25 CHF per person for the round trip journey on the cogwheel train, which we found to be an acceptable price for an amazing experience.
The cogwheel train moves at a leisurely pace that leaves enough time to take in the scenery and take plenty of photos as it climbs 1798 meters up to Mount Rigi. The route is brimming with quaint Swiss chalets, lush green patches, and a handful of happy cows and residents, which is exactly how I imagined it!
The higher we got, the better the view. Once we reached the top, we were blown away by the magnitude of the breathtaking view that was before us. And we were surprised at how many people were at the top, yet how peaceful it still was. People were treating Mother Nature like a library. Enjoying peacefully and respecting every one else's chance to enjoy the surrounding beauty. That, or they were too busy being amazed to actually be loud.
With jaw-dropping panoramas of two cantons, 13 lakes, 9 towns and innumerable other summits of the Swiss plateau and Alps, it's often referred to as the "Queen of the Mountains" by locals. On clear day, you can see even as far as Germany and France!
And yes, I was the only person at the top of the mountain in a sun dress and sandals while everyone else was in full-blown hiking gear looking at me like I was a lunatic! But it was perfect weather for a frolic around in the fields! I even thought about singing The Sound of Music, but thought I would be cheating on Salzburg!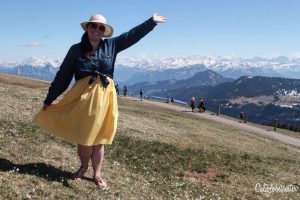 With views like this, it's really no wonder why tourists have been flocking to this region for the last 200 years to enjoy that fresh Alpine air and endless hiking trails. For those who live in this region, I can't express enough how envious I am and how lucky they are!
At the top, you'll also find a hotel and restaurant to stop and enjoy should you have the time. Unfortunately, we couldn't stay all day and only had enough time to be up there for nearly an hour. We were incredibly sad to depart these majestic mountains, which were screaming to be enjoyed for hours upon end. Overall, it was an incredibly amazing experience even if it was a bit expensive. If I had to do it again, I would.
Tips for Your Day Excursion:
GO EARLY Try to catch an early train so that you can get off at several of the stops either by boat or on the cogwheel, expanding your excursion to include other towns along the lake or viewpoints on the mountain.

PACK SUNSCREEN/CHAPSTICK Remember that you will be a mile up the mountain (2km) and the sun will be stronger and the wind will make your lips raw and red.

PACK A PICNIC We saw several people bringing up baskets to enjoy a small picnic, which is far more enjoyable and cheaper!
If you're interested in visiting Switzerland and are looking for more information, I highly recommend using the DK Eyewitness Travel Guide or the Lonely Plant Travel Guide! Without these guides, I would be lost! These are my travel Bibles!
Disclaimer: This post contains affiliate links. If you click on one and make a purchase, I might make a little extra spending money, at no extra cost to you. As always, all opinions are my own and these products/services have been found useful during our travels and come highly recommended to you from yours truly!
Other Related Posts:

Make the Most of Your Trip to Lucerne
Visiting Appenzell & Hiking Ebenalp to the Aescher
Liked this post? PIN IT FOR LATER!!
Save
Save
Save
Save
Save
Save
Save
Save
Save
Save
Save
Save
Save
Save
Save
Save
Save
Save
Save
Save
Save
Save
Save
Save
Save
Save
Save
Save
Save