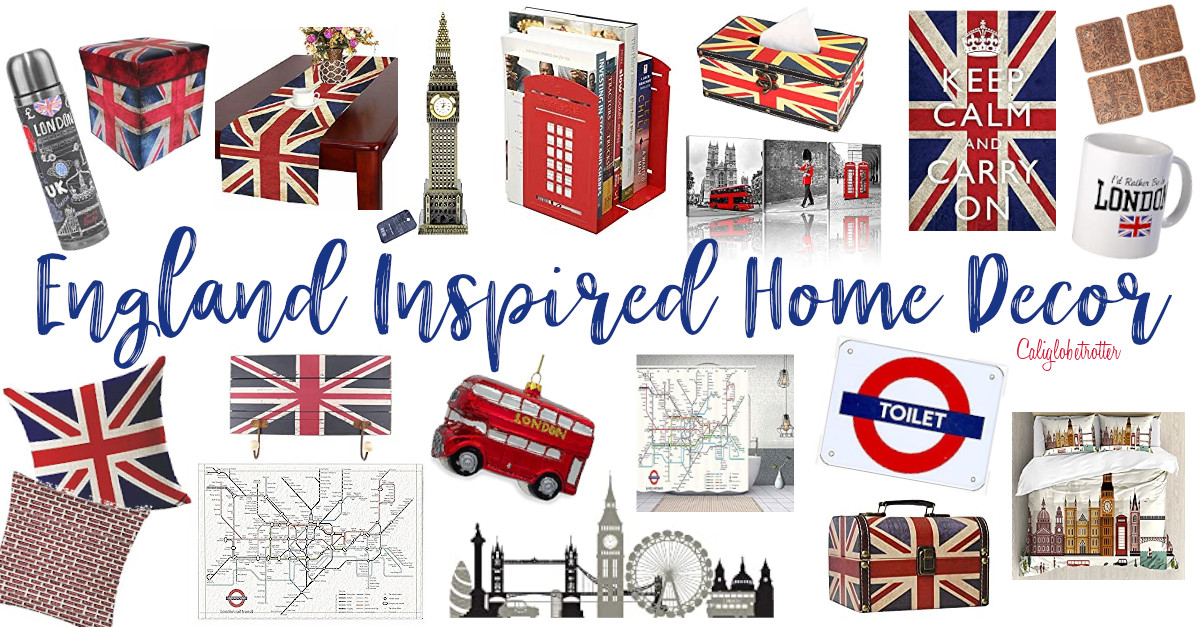 Disclaimer: This post contains affiliate links. If you click on one and make a purchase, I might make a little extra spending money, at no extra cost to you. As always, all opinions are my own and these products/services have been found useful during our travels and come highly recommended to you from yours truly!
In celebration of our upcoming trip to London, England to visit friends and family, I got a little carried away looking for London inspired travel decor. There was a time in my life where I could have easily decorated my whole house in black and white with red accents in a London theme. England was the first country I had traveled outside of the US to when I was 14 and I became QUITE obsessed with London!
To this day, I still wish I had a big enough house where every room could have a different theme to it, but then you might think that I was crazy! So, if you're feeling those post-travel blues and are missing London or perhaps gearing up for a trip to London, here are some London inspired home decor ideas for the London-obsessed girl!
LOOOOOVE LONDON? PIN IT FOR LATER!!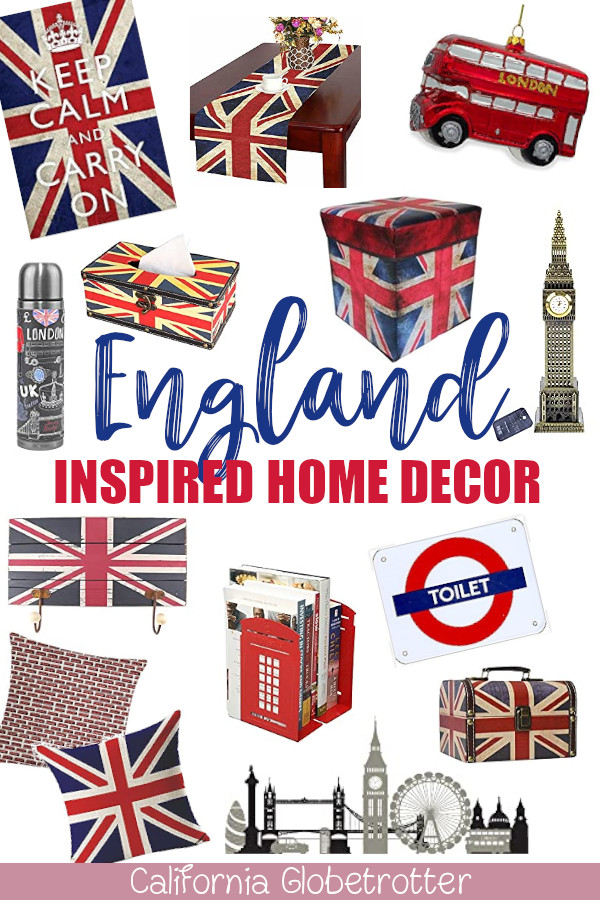 TEA TIME
HIC Gold Plated Rose Demi Spoon – Set of 4

You need adorable gold spoons to accent your adorable Tea Set to stir in your milk and sugar! Normal spoons just won't cut it! Plus, these are extra adorbs with roses on the handles!

Price: $10.40
Taylors of Harrogate Yorkshire Gold, 160 Teabags

Can't have afternoon tea without tea! I have been ordering Yorkshire Gold tea for as long as can remember and I am QUITE the stickler when it comes to good tea! None of that store bought stuff in Germany. I have also drank my tea every morning the "Queen's Way" with a splash of milk in my cup before I add my hot water! 

Price: $13.83
LIVING ROOM
Telephone Booth Bookend Bookends Racks,A Pair (Red)

If you're a book/movie collector like myself, then you probably have books and movies scattered throughout your house and leaning over on bookshelves. Stand them up straight with these adorable typical British red telephone booth bookends! 

Price: $9.00
Peel & Stick London Calling Small Wall Art Kit, 17.5-Inch x 24-Inch

Grab this London Skyline wall decal to place above your couch or even above your bed so you can always feel like you're in London! Just peel and stick it to your walls and when you're ready to remove it, just peel it off without the fear of leftover residue! 

Price: $15.97
Union Jack Flag Fabric Table Runner Placemat 16 x 72 inch

When you aren't hosting an afternoon tea party, decorate any table or small book shelf with this Union Jack flag table runner! Add more flair by adding a bouquet of flowers in the center with a picture or two from your time in London!

Price: $22.99
ArtEdge Keep Calm and Carry on Union Jack Flag Poster Print, 18″ x 12″

If you want to be British, you have to understand what it means to "Keep Calm and Carry On"! This poster dates back to the Second World War when London was being attacked by Nazi Germany and instead of the Brits loosing their cool, they just carried on and managed day to day! Today, this has become a motto of just about everything, everywhere!

Price: $9.99
ZOVIE England Big Ben Statue With Clock (bronze)

Do you like to collect miniature statues of world monuments? Why not add the Elizabeth Tower (Big Ben) to your collection? Especially as a daily reminder of what it looks like since it'll be covered in scaffolding for a while!

Price: $21.99
BEDROOM
KITCHEN
Map Decor, City Subway of London Rail Transit Rug

Add the map of the London Underground to your kitchen (or your bathroom) to help make standing in the kitchen for hours more comfortable! While you bake, you can study the tube lines!

Price: $11.99
BATHROOM
I'm totally not gonna lie right now, If I were still single, my apartment would probably look something like this! Ok, maybe a bit much but at least a good portion of it! It would give me enough travel inspiration to perhaps just move to London haha! Having a travel inspired room in the house though definitely helps to motivate me to keep on traveling!
Hope you enjoyed some of these London home design ideas or have found some London gift ideas for a friend or family member who is as obsessed as I am! 
Other Related Posts:
A Traditional London Itinerary with the London Pass
25 Rose Gold Valentine's day gift Ideas for Miss Travelholic!
Fabulous Stocking Stuffers for Mrs. Traveler
13 Fabulous Birthday Gifts for Miss Traveler
Stylish carry-on Essentials for the Lady Traveler
10 Gifts Every Female Traveler Should Have