Disclaimer: This post contains affiliate links. If you click on one and make a purchase, I might make a little extra spending money, at no extra cost to you. As always, all opinions are my own and these products/services have been found useful during our travels and come highly recommended to you from yours truly!
CALLING ALL PUMPKIN LOVERS!!! The weather is getting cooler, the leaves are beginning to change colors and pumpkins are plucked from the farms and brought to the stores. Coffee shops begin selling Pumpkin Spice Lattes and girls around the world begin preparing for an autumn season full of EVERYTHING PUMPKIN. 
Here in Germany though, pumpkin flavored everything hasn't quite caught on, however, thanks to Pinterest, I discovered the largest Pumpkin Festival in the the world, just an easy day trip from Stuttgart. Located at the Baroque palace of Ludwigsburg, every year for 8 weeks, everything pumpkin can be found here and it's one of the best things to do in Germany in autumn!
Love Pumpkins? PIN IT FOR LATER!!
How to AVOID Looking Like a Tourist in Europe
August 31 – November 4th, 2018
2014 theme: Royalty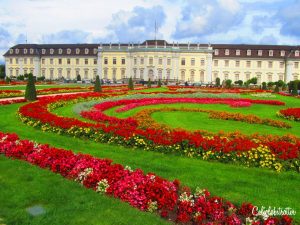 Everything is orange and pumpkin! And I looove pumpkin everything! Luckily, I had a friend living in Stuttgart at the time, so we drove over to see her and check out the festival. There, you will find the Ludwigsburg Palace which is surrounded by lots of beautiful trees, which I can imagine being incredibly beautiful when autumn is full blown. Every year, they have a Pumpkin Festival with different events each weekend. So naturally, we decided to go as it's clearly one of the most unique things to do in Germany!
The Ludwigsburg Palace was from the 18th century to 1918 the principal royal palace of the dukedom that became in 1806 the Kingdom of Württemberg which like a few German towns, managed to survive WWII unscathed! 
The gardens at the palace are absolutely stunning making it one of the prettiest palaces in Germany! Everywhere are bright colored flowers shaped into beautiful designs! It is one of the best and largest examples of Baroque architecture in Europe to survive in its original form. What started out as a hunting lodge soon turned into a palace around 1704.
Here you'll find not only the largest amount of a variety of pumpkins, but Ludwigsburg's pumpkin festival is also quite often home to the world's largest pumpkin. In 2016, Mathias Willemijns from Belgium grew the world's largest pumpkin ever, weighing in at 2,624.6 pounds!
Willemijns claimed the record October 9 at the Giant Pumpkin European Championship in Ludwigsburg, Germany. Guinness World Records has yet to confirm it. The previous world-record pumpkin was 2,323 pounds.
We decided to go the weekend which hosted the extra large Pumpkin Canoe Regatta in the fountain. (!!! How often do you see people canoeing in a pumpkin!?) I found this extremely entertaining to watch and was surprised that a huge carved out pumpkin could float! You would think these huge pumpkins would sink, but they don't! It was fun to watch the racers row around and around the fountain pond, which was beautifully decorated with pumpkins around the entire thing!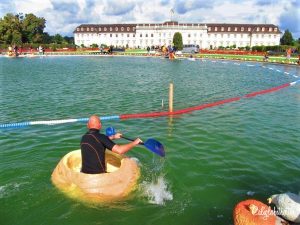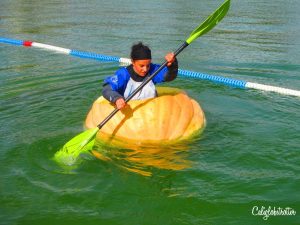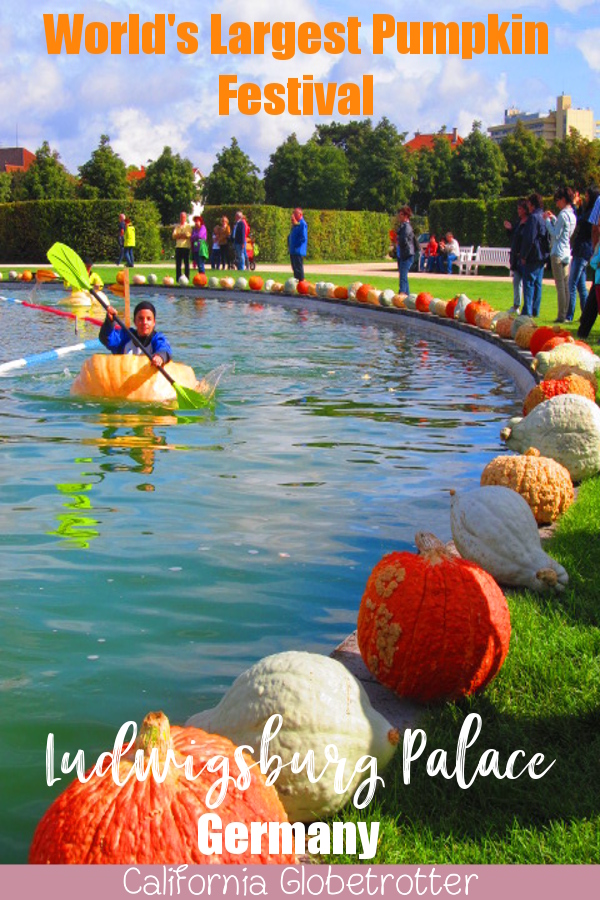 Once walking around the back side of the palace, you are bombarded with Pumpkins-GALOOOORE! I have never seen so many pumpkins in one place before, beautifully arranged. This definitely wasn't no pumpkin field to find the perfect pumpkin to take home and crave up.
Perfect since I'm a Princess 🙂 Just don't tell my boyfriend that! There was the King of Rock – Elvis Presley, the Frog-Prince, the Lion King, King & Queen of Chess and more! It was so fun to walk around the different statues, some of which were interactive! I was able to play the "Pumpkin Queen of Chess" for a minute…that is until the next person wanted to snap their picture!
After walking around for a bit, we decided to finally sit down for lunch. A part of the festival is all the pumpkin food. Small tents were set up and loads of people were in line. You just have to hop in line and wait your turn. For lunch we enjoyed a delicious Pumpkin Soup with Bread/Maultauschen! It was sooo delicious! The savory smell wafts throughout the whole pumpkin festival! Naturally! You could have other pumpkin flavored food as well, such as Pumpkin Flammkuchen and of course some non-pumpkin flavored food for the less adventurous visitors.
After checking out the Pumpkin Festival, we continued to walk around the palace gardens, which are beautifully maintained! Your ticket to the festival will also include the palace gardens, which is fun to stroll through, especially if you have kids!
The Palace Gardens also has a "Märchengarten" or Fairy Tale Garden which was built in 1958. So the stories are a little outdated, but still fun enough for kids and adults to enjoy. There is even a Rapunzel tower that was built that is also interactive for kids to yell out in German the command for Rapunzel to let down her hair!
My favorite thing about the Märchengarten was the fun little boat ride, which can hold up to four people. The boat ride is free and only lasts about 5 minutes and offers some pretty fun views of some of the park. Naturally, our inner kiddies came out to play.
Further ahead, there were some pretty spectacular pumpkin carvings telling a story. The coolest one we saw was a massive mean pumpkin growling and attacking some smaller pumpkins, which were fighting him. Some of the other small pumpkins were carrying away hurt pumpkins on a gurney. It was pretty funny!

There were plenty of photo opportunities at the Pumpkin Festival and everything was just so dang instagrammable! It was the best festival in Germany I have ever been to and we hope to return, perhaps on a bi-yearly basis, although, I'm not going to lie, I'd go every year! Each year has a new theme and with it brings many more exciting pumpkin sculptures!

If you're looking for one of the best family-friendly day trips from Munich or searching for the easiest adventures from Frankfurt, then head on down and stuff your face with everything pumpkin and seriously prepare yourself for PUMPKIN OVERLOAD….if ever such a thing was possible! You certainly can't go wrong with some pumpkin soup or a pumpkin spice latte! Am I right? Or am I right? 
Location:
Mömpelgardstraße 28
71640 Ludwigsburg
Tickets:
For the gardens:
Adults: €8.50
Children (4-15): €4.20
Family 1 (1 adult and 2 children): €16.00
Family 2 (2 adults and 2 children): €23.00
For the gardens and the Schloss:
Adults: €17.00
Children (4-15): €9.00
If you're interested in visiting Germany and are looking for more information, I highly recommend using the DK Eyewitness Travel Guide! Without these guides, I would be lost! This is my travel Bible!
Disclaimer: This post contains affiliate links. If you click on one and make a purchase, I might make a little extra spending money, at no extra cost to you. As always, all opinions are my own and these products/services have been found useful during our travels and come highly recommended to you from yours truly!
Other Festivals in Germany!
Regensburg's Dult is the new Oktoberfest
A Beginner's Guide to Oktoberfest
Königssee's Almabtrieb: Cows with Flowers!
Liked this post? PIN IT FOR LATER!
Save
Save
Save