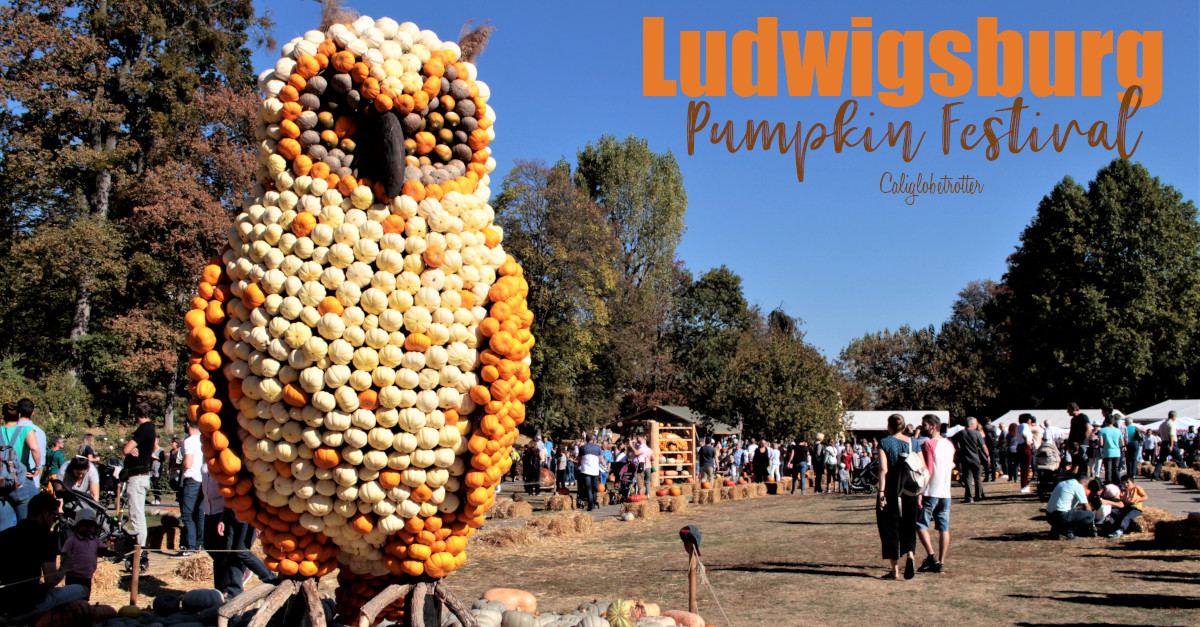 Disclaimer: This post contains affiliate links. If you click on one and make a purchase, I might make a little extra spending money, at no extra cost to you. As always, all opinions are my own and these products/services have been found useful during our travels and come highly recommended to you from yours truly!
CALLING ALL PUMPKIN LOVERS!!! If you enjoy the chill of autumn, a thick mist which rolls in in the evenings and dissipates in the afternoon to clear blue skies, soaking up the last remnants of warmth. If you love bundling up to go to a Pumpkin Patch and get giddy every time you get a Pumpkin Spice Latte and love all things pumpkin, then you are my kind of kindred spirit. That means you're officially invited to the world's largest pumpkin festival, known as Kürbisaustellung which takes place every autumn in the gardens of Schloss Ludwigsburg, just outside of Stuttgart.
Here in Germany though, pumpkin flavored everything hasn't quite caught on, however, I discovered the largest Pumpkin Festival in the world, just an easy day trip from Stuttgart. Located at the Baroque palace of Ludwigsburg, every year for 8 weeks, everything pumpkin can be found here and it's one of the best things to do in Germany in autumn! Wander through gardens beautifully decorated in every shape, size and color of pumpkins, devour pumpkin flavored everything from ice cream, to soup, spätzle and waffles! This is the epitome of Germany day trips!
Love Pumpkins? PIN IT FOR LATER!!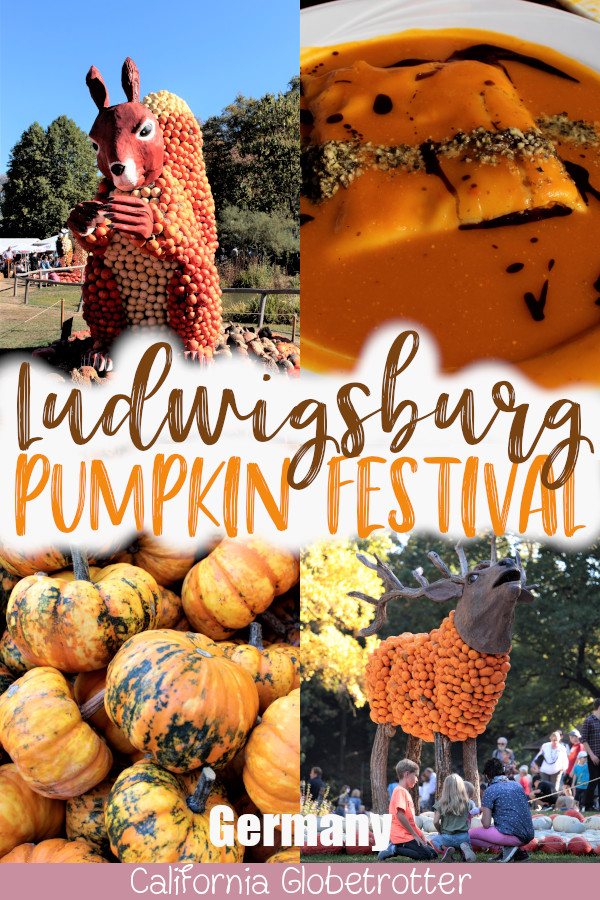 How to AVOID Looking Like a Tourist in Europe
26. August bis 4. December 2022
2022's Theme: Dschungel / Regenwald (Jungle / Rainforest)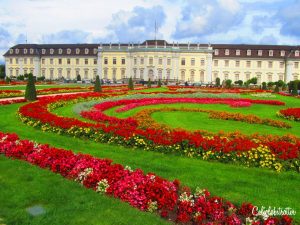 Everything is orange and pumpkin! I first attended the Ludwigsburg Pumpkin Festival back in 2014 with a friend who lived in Stuttgart, with the theme Royalty. Over the years, my love for pumpkin flavored everything has increased tenfold, so in 2018, we returned again, with this year's theme being all about a "Pumpkin Forest".
There, you will find the Ludwigsburg Palace which is surrounded by lots of beautiful trees, which are incredibly beautiful when autumn is full blown. Every year, the Pumpkin Festival has different events each weekend from pumpkin carving competitions to pumpkin canoeing. So naturally, we decided to go as it's clearly one of the most unique things to do in Germany!
The Ludwigsburg Palace was from the 18th century to 1918 the principal royal palace of the dukedom that became in 1806 the Kingdom of Württemberg which like a few German towns, managed to survive WWII unscathed! 
The gardens at the palace are absolutely stunning making it one of the prettiest palaces in Germany and is easily one of the top places to visit in Germany as there is usually always something going on at the palace! Everywhere are bright colored flowers shaped into beautiful designs! It is one of the best and largest examples of Baroque architecture in Europe to survive in its original form. What started out as a hunting lodge soon turned into a palace around 1704.
Here you'll find not only the largest amount of a variety of pumpkins, but Ludwigsburg's pumpkin festival is also quite often home to the world's largest pumpkin. In 2016, Mathias Willemijns from Belgium grew the world's largest pumpkin ever, weighing in at 2,624.6 pounds!
Willemijns claimed the record October 9 at the Giant Pumpkin European Championship in Ludwigsburg, Germany. Guinness World Records has yet to confirm it. The previous world-record pumpkin was 2,323 pounds. On the day we visited in 2018, we saw the winning results of the weighing in of Germany's Largest Pumpkin as well as Europe's Largest Pumpkins. These were seriously pumpkins on steroids!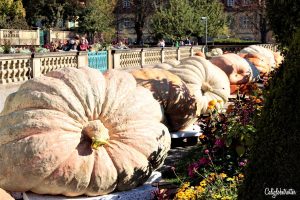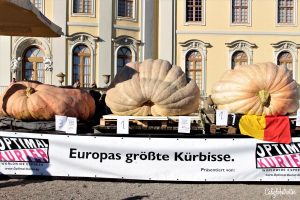 In 2014, we happened to visit on the day of the extra large Pumpkin Canoe Regatta in the fountain. I found this extremely entertaining to watch and was surprised that a huge carved out pumpkin could float! You would think these huge pumpkins would sink, but they don't! It was fun to watch the racers row around and around the fountain pond, which was beautifully decorated with pumpkins around the entire thing!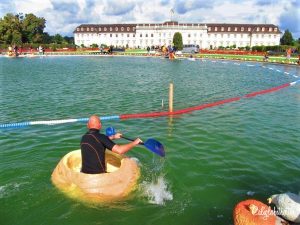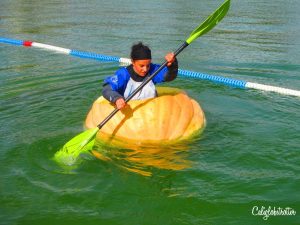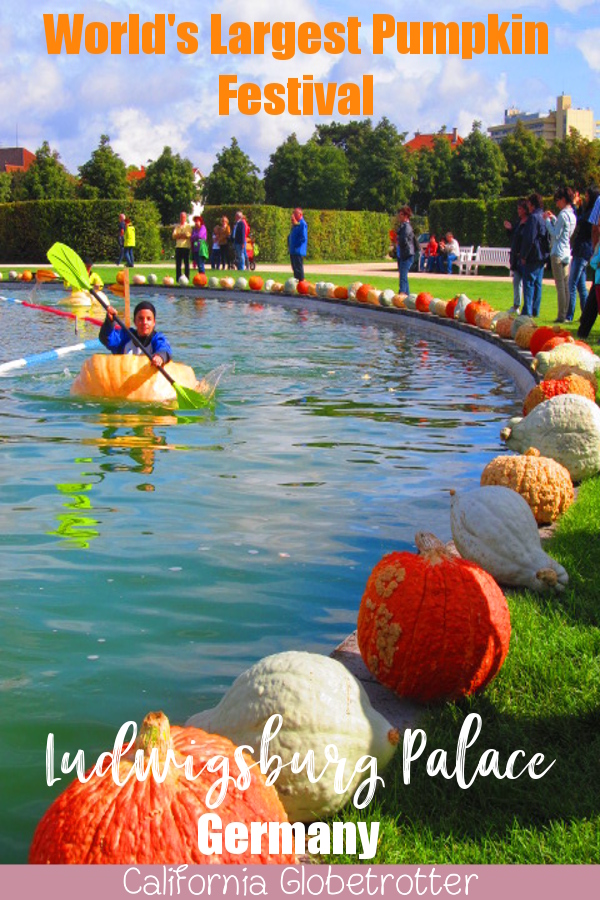 Once walking around the back side of the palace, you are bombarded with Pumpkins-GALOOOORE beautifully lining the walk ways, around the water fountains stretching every inch of the Ludwigsburg Gardens! Here and there you'll find beautifully crafted sand sculptures and cartoons which are quite hilarious!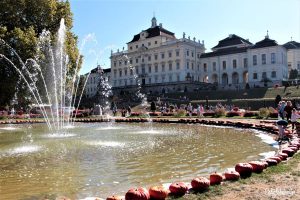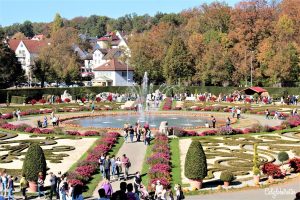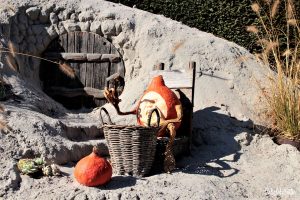 Along the way, you'll pass villages of pumpkin shops, selling everything from a variety of oddly shaped pumpkins to pumpkin pasta, pumpkin schnapps, pumpkin ketchup, pumpkin chutney, pumpkin prosecco and so, so so much more!!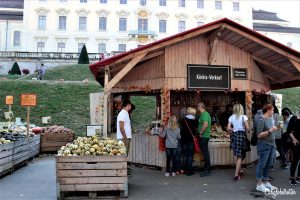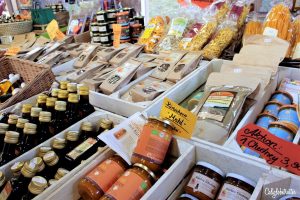 Next came the impressive pumpkin sculptures. In 2014, there was Elvis, the King of Rock and other icons of royalty. This year, in 2018, as the theme was "Pumpkin Forest" so there were adorable forest animals such as the fox, an owl, woodpeckers, rabbits and so much more! Each one was cuter than the last, and came with a small description of the animal native to Europe.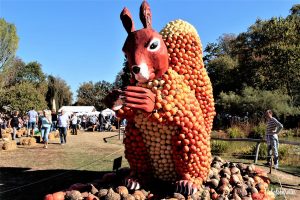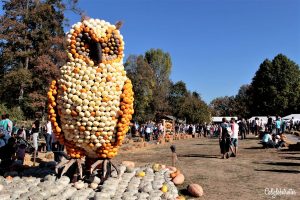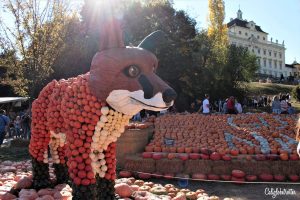 After walking around for a bit, we decided to finally sit down for lunch. A major part of the festival is all the pumpkin food, some of the best seasonal food in Germany! There's a variety of food from Maultauschen in Pumpkin Soup, Pumpkin Spätzle, Pumpkin Strudel, and more! Other stands also offered Pumpkin Burgers. However, if you're looking for Vegan Pumpkin food, some of the options included a savory Pumpkin Rice dish, the pumpkin soup and pumpkin spaghetti. As a side dish, we even enjoyed deep fried pumpkin balls with pumpkin ketchup! Sounds odd, but they were DELISH! And to wash it all down, we enjoyed a Pumpkinschorle, though sadly, there was no Pumpkin Weizen or Pumpkin Martinis.
When it came to sweet desserts, there was Pumpkin Ice Cream and Pumpkin Waffles, though I'm sad to report, no Pumpkin Pie or Cheesecake.
Translation: "I don't way to go in the Pumpkin Soup!"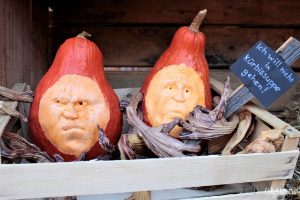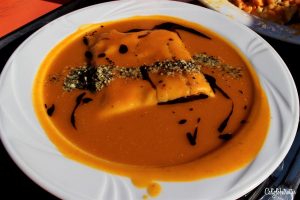 You'll also discover a rather large Pumpkin Shop, displaying every shape and size of pumpkins, many of wish you can buy. Inside, you'll find a plethora of pumpkin inspired decorations and of course, more food. I particularly found the Warthy Goblin pumpkin to be the most interesting of them all!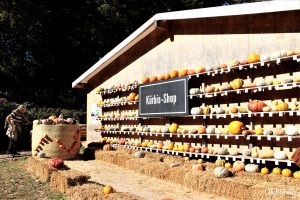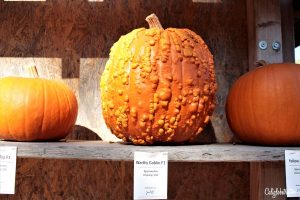 After checking out the Pumpkin Festival, we continued to walk around the palace gardens, which are beautifully maintained! Your ticket to the festival will also include the palace gardens, one of the most kid-friendly places in Baden-Württemberg.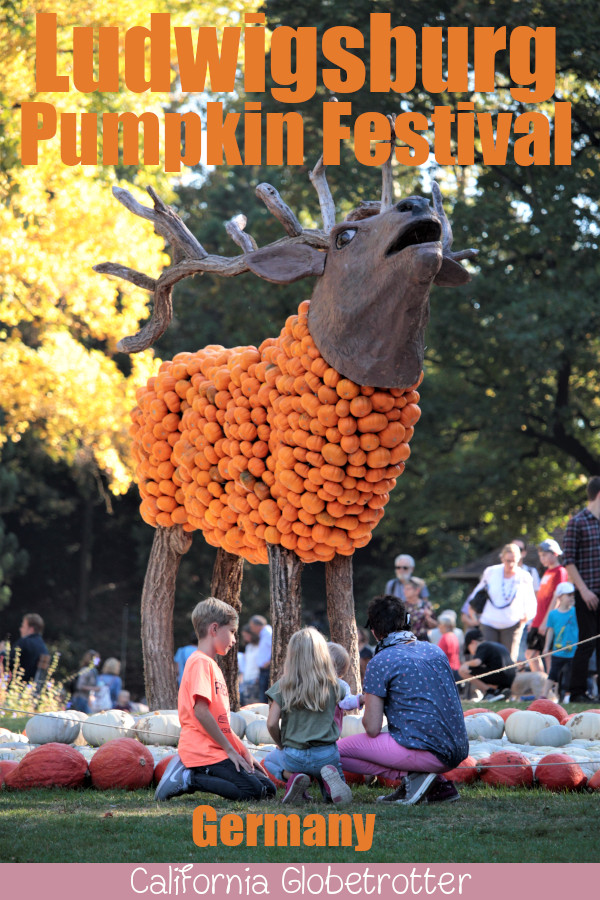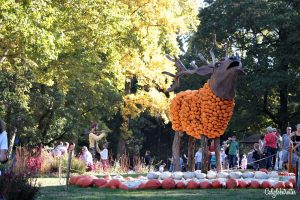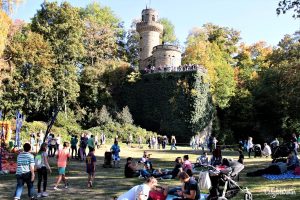 The Palace Gardens also has a "Märchengarten" or Fairy Tale Garden which was built in 1958. So the stories are a little outdated, but still fun enough for kids and adults to enjoy. There is even a Rapunzel tower that was built that is also interactive for kids to yell out in German the command for Rapunzel to let down her hair! From the tower, a glimpse below and you'll see a bird's eye view of a spindly spider spinning his web!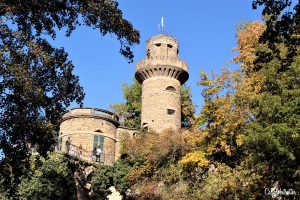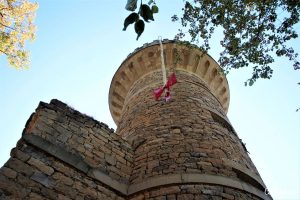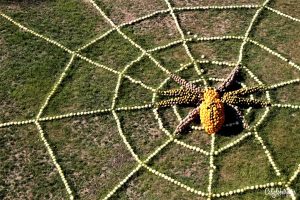 My favorite thing about the Märchengarten was the fun little boat ride, which can hold up to four people. The boat ride is free and only lasts about 5 minutes and offers some pretty fun views of some of the park. Naturally, our inner kiddies came out to play.
You'll eventually come upon one of the best pumpkin activities at the festival – pumpkin carving! You have a variety of pumpkins to choose from, you're given the tools you'll need to design your pumpkin before carving out the innards.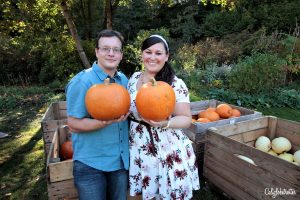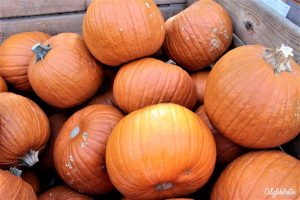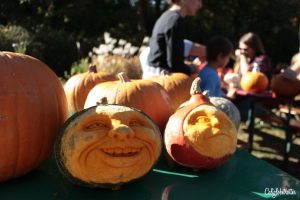 Though, in 2014, the pumpkin competition had already taken place, in 2018, we were about a week too early. Further ahead, there were some pretty spectacular pumpkin carvings telling a story. The coolest one we saw was a massive mean pumpkin growling and attacking some smaller pumpkins, which were fighting him. Some of the other small pumpkins were carrying away hurt pumpkins on a gurney. It was pretty funny!

There were plenty of photo opportunities at the Pumpkin Festival and everything was just so dang instagrammable! It was the best festival in Germany I have ever been to and we hope to return, perhaps on a bi-yearly basis, although, I'm not going to lie, I'd go every year! Each year has a new theme and with it brings many more exciting pumpkin sculptures!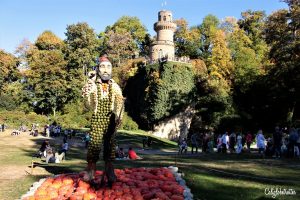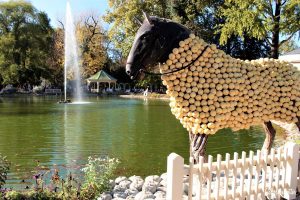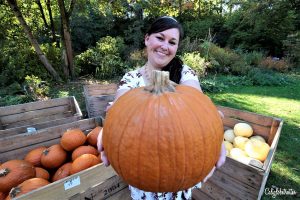 If you're looking for one of the best family-friendly day trips from Munich or searching for the easiest adventures from Frankfurt, then head on down and stuff your face with everything pumpkin and seriously prepare yourself for PUMPKIN OVERLOAD….if ever such a thing was possible! You certainly can't go wrong with some pumpkin soup or a pumpkin spice latte! Am I right? Or am I right? 
Tips for Visiting the Ludwigsburg Pumpkin Festival:
Get there as early as possible to avoid the crowds. Crowds and crowds of people pour in to explore this Pumpkin Wonderland, especially on the weekends! If you can visit during the week, this would be even better! There are parking garages all around the Ludwigsburg Castle, but you should still prepare yourself for a bit of walking before entering the festival. There are two entrances to the pumpkin festival, either through the main gate or from a side gate.
Students should definitely bring their student ID's to help save money. You can pay for your tickets at the ticket counter with only a Debit Card (EC Karte), and Visa. I recommend saving any cash you have for inside the festival to pay for food and drinks, though if you're looking to buy from the pumpkin shops, you can use a card.
Location:
Mömpelgardstraße 28
71640 Ludwigsburg
Tickets:
For the gardens:
Adults: €9
Children (4-15): €4.20
Family 1 (1 adult and 2 children): €16.00
Family 2 (2 adults and 2 children): €23.00
For the gardens and the Schloss:
Adults: €17.00
Children (4-15): €9.00
If you're interested in visiting Germany and are looking for more information, I highly recommend using the DK Eyewitness Travel Guide! Without these guides, I would be lost! This is my travel Bible!
Disclaimer: This post contains affiliate links. If you click on one and make a purchase, I might make a little extra spending money, at no extra cost to you. As always, all opinions are my own and these products/services have been found useful during our travels and come highly recommended to you from yours truly!
Other Fall Festivals in Germany!
Regensburg's Dult is the new Oktoberfest
A Beginner's Guide to Oktoberfest
Königssee's Almabtrieb: Cows with Flowers!
Liked this post? PIN IT FOR LATER!
Save
Save
Save