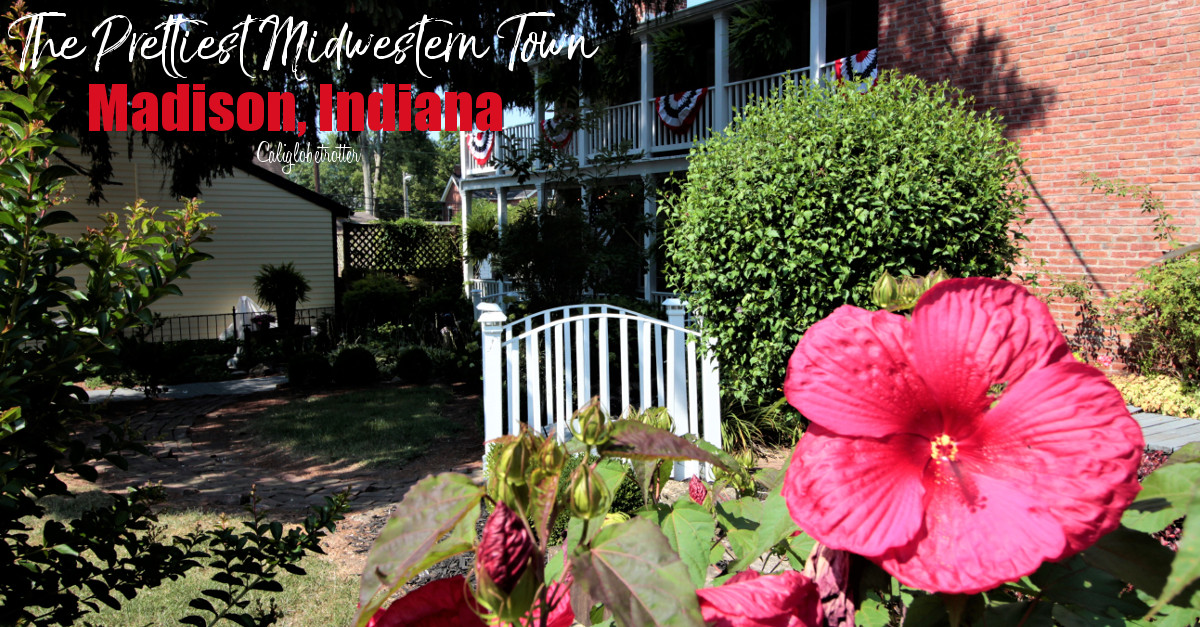 This post contains affiliate links. If you click on one and make a purchase, I might make a little extra spending money, at no extra cost to you. As always, all opinions are my own and these products/services have been found useful during our travels and come highly recommended to you from yours truly!
Until a few weeks ago, the quaint Midwestern town of Madison, Indiana eluded me. Little did I know that I would stumble upon the Midwest's most beautiful rivertown along the banks of the Ohio River. Not only is it surrounded by a lush green state park, but it also has the United States' largest contiguous National Historic District with 133 blocks of antebellum homes, with big balconies still draped in 4th of July bunting, known as the Madison Historic Landmark District.
Want to Visit Small Town USA? PIN IT FOR LATER!!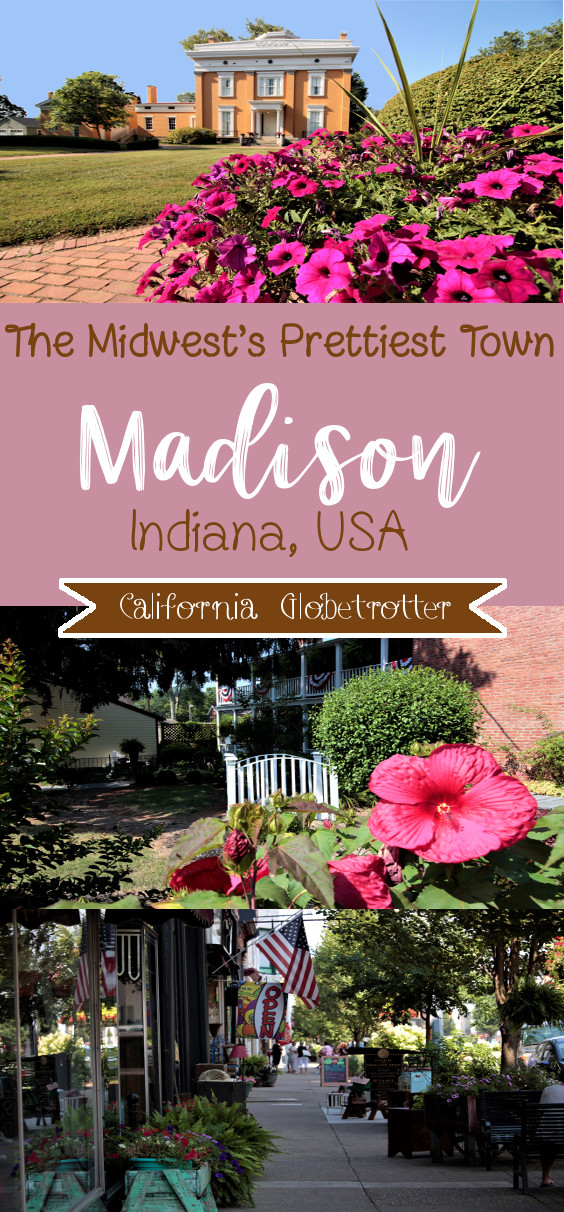 This article is now available as a mobile app. Go to GPSMyCity to download the app for GPS-assisted travel directions to the attractions featured in this article!
Coming home to the US for the summer meant looking for easy day trips from Louisville, and not just any ol' day trip, but cutesy, quaint little towns brimming with charm. I wanted to visit small town America, the kind of towns most people tend to simply overlook for big, touristy cities in America, like Louisville or Cincinnati. I wanted to experience one of them small town USA towns you often see featured in those holiday Hallmark channel movies, the ones it seems mostly found anywhere but wherever I am. 
Where is Madison, Indiana
Located right along the Ohio River, just across the border from Kentucky, Madison is between Louisville and Cincinnati, making for an easy day excursion between the two cities, in the area commonly referred to as "Kentuckiana", that little love nest corner between Kentucky and Indiana. While the New Buffalo region is considered to be the "Napa of the Midwest", not far from Madison you'll find several wineries along the Indiana Wine Trail, as well as one of the best U-Pick adventures in Indiana, Huber's Orchard, Winery & Vineyards. It's location just across the river from Kentucky, a slave state, made Madison an important location along the Underground Railroad which helped slaves to freedom and advocated for the abolition of slavery. 
Related: Day Trips from Louisville, KY
History of Madison, Indiana
Madison, IN was settled in 1809 and thrived throughout the 19th century, thanks in part to the arrival of the steamboat and river trade. The town grew quickly, but it's days as one of Indiana's leading cities was limited with the arrival of the railroad era and decline of steamboats, halting the growth of the city, therefore, preserving its quaint charm. By 1836, Indiana's first railroad, the Madison & Indianapolis Railroad, was established here.
Though the city continued to grow, although not nearly as quickly as it had prior to the Civil War, many new buildings popped up, while older ones were modernized by adding cast-iron storefronts. Many survived the advances in architectural styles and today, Madison is renowned for having preserved major 19th and early 20th century architectural styles, ranging from Federal to Art Moderne, earning its reputation as being "the prettiest small town in the Midwest".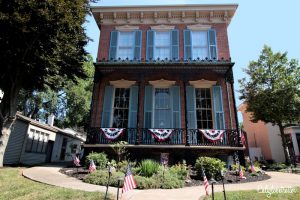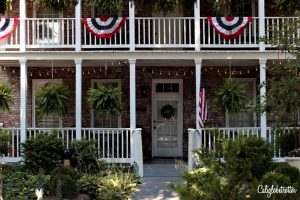 Today, The American Queen, Queen of Mississippi and American Duchess are all frequent visitors to Madison. No, they're not people, we don't have royalty in the United States no matter how badly I'd love it. No, these are all steamboats which still make their way around, though not as frequent as they once came when the Ohio River was the gateway to the West.
What to do in Madison, Indiana
When you visit Madison, one of the best historic homes to visit is Lanier Mansion State Historic Site, the "Crown Jewel" of Madison. The former home of James Franklin Doughty Lanier, he was one of the most important and influential figures in Madison during the 19th century. The Lanier Mansion was built in 1844 and is today one of the finest examples Greek Revival Architecture, not just in Madison but in the Midwest! It's also graced with a lovely view of the Ohio River just out it's backdoor. The interior has elaborately decorated rooms, and one impressive spiral staircase which was also a great way to allow warm air from the first floor to flow to the top floor. 
As one of the richest men in Indiana, James Franklin Doughty Lanier made unsecured loans worth $1 million – $26 million today, to help support the Unionists during the Civil War, as he was a firm believer in protecting the Union. He helped to keep Indiana as an active participant on the Northern side, and by 1870, the loans were repaid in full. Therefore, it was only fitting that the Lanier House became Indiana's first Historic National Site in 1994!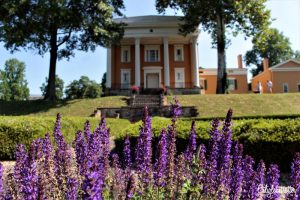 Other Historic Houses in Madison
Should you be visiting Madison, IN at Christmas, then be sure to tour the historic homes as part of the Nights before Christmas candlelight celebrations. | Adults: $20 Children $5 – pre-ticket sales $15 until Nov. 9th
Dating back to 1895, the railroad station has been restored, including the octagonal waiting room where you can also explore some exhibits, artifacts of Madison's railroad history. Just across the way is a restored red caboose!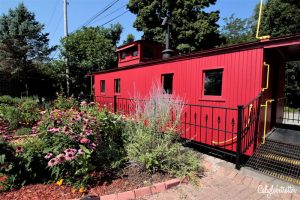 Another of Madison's historic sites, the Shrewsbury-Windel House dates back to 1848 and is yet another great example of Greek Revival architecture with one of the most impressive free-standing spiral staircases as the centerpiece of the house. The house was built for Captain Charles L. Shrewsbury, a Virginia native who made his fortune in multiple industries, from being a commission merchant, meat packer and part owner of a flour mill. He also served as mayor of Madison from 1870-72.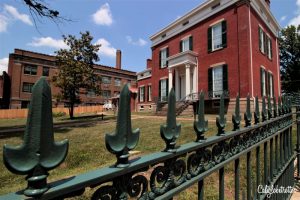 Madison, Indiana's shopping area can be found along the Ohio River Scenic Byway, aka Main Street. It's a lovely stretch of main road through this small town offering a bit of everything from artisan coffees, chocolates, restaurants, historic homes and sites to boutique shops as well as quite a bit of antique shops. I don't know what it is with American's fascination with antiques, but hey, one man's trash is another man's treasure, right? Either way, old antique stores always look so cute with all their findings laid out throughout the store and seeping on to sidewalks for you to peruse.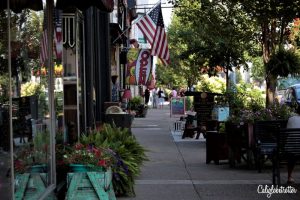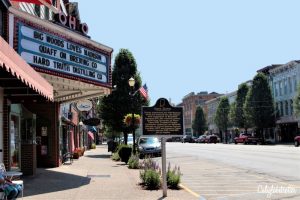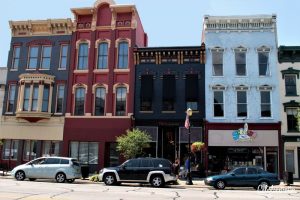 Broadway Fountain
Presented to the city of Madison in 1886, the Broadway Fountain survived several attempts to junk it – once in 1949 with the city mayor announcing that it was too decrepit to keep and repair and was to be replaced with a small replica statue of the Statue of Liberty. But it was saved, only for the topic to come up again in 1976 and this time a local banker funded a drive which raised $180,000 to restore the beautiful fountain back to its former bronze glory and rededicated in 1986.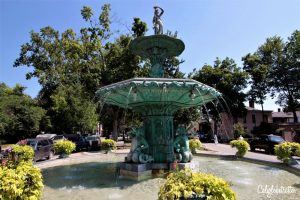 Schroeder Saddletree Factory Museum
The only restored 19th century saddle frame shop and one of four of the most important saddletree manufacturers in the United States. Saddletrees are the internal frames of riding saddles before saddle makers buy the frames, attach padding, leather and stirrups before completing a saddle. Here, two generations of the Ben Schroeder family made wooden saddletrees from 1878 to 1972. By 1880, over 150,000 saddle frames were produced here and shipped throughout the country. 
Where to eat in Madison
Quite possibly the #1 best place to eat in Madison, referred to us by multiple locals as the best sandwich shop in town with also delicious soups, salads and gargantuan cookies, all made fresh daily. Always love a good sandwich, and the Union Jack sandwich comes highly recommended from yours truly.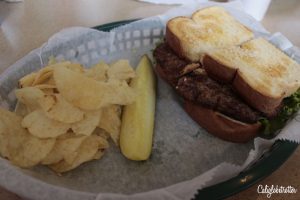 Fine dining at its best and a local favorite focusing on Italian cuisine as well as seafood options. Again, referred to us by our neighbor as one of the best restaurants in Madison, renowned for their delicious desserts. 
Considering that both my mom and I believe that life is too short for dessert last, a quick peak into Cocoa Safari offers a chance to stock up on hand-crafted chocolates and confections. "Taste the Adventure" they said, and so we did!
First thing first for my coffee addict of a husband is coffee. While on days we often hit the road too early to have breakfast and a coffee, our first stop is always a coffee shop and the Attic proved to be a great place to go for coffee and breakfast. Best of all, the 4th generation cafe has been brewing house-roasted artisan coffee since 1971!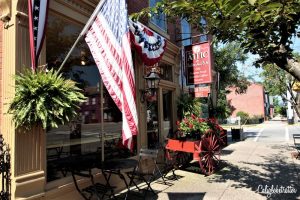 Events in Madison
While we missed the Madison Regatta festival by a week, we heard all about it from one of my mom's neighbors, a native to Madison.
Hotel Recommendations for Madison
Hillside Inn – a boutique hotel in Madison overlooking the Ohio River offering deluxe Continental breakfast with all the comfort finishings one could ask for, from a complimentary newspaper to amenities like Whirlpools and Fireplaces!
We enjoyed our quick little visit to Madison as an easy day trip from Louisville for the afternoon! Madison was full of that sweet southern hospitality and charm, but without the humidity and the mosquitoes! It was a pleasantly hot day and made for a leisurely walk around Madison's down town area, window shopping and admiring many of the antique shops. 
But what could be better than one beautiful Midwestern town? Why, TWO of course! We continued on to Nashville for the second half of our mini-Midwestern road trip!! No, not THAT Nashville, the OTHER Nashville!
If you're looking for some extra guides to prepare your trip, here are my travel guide bibles to help you navigate through Indiana!
This post contains affiliate links. If you click on one and make a purchase, I might make a little extra spending money, at no extra cost to you. As always, all opinions are my own and these products/services have been found useful during our travels and come highly recommended to you from yours truly!
Day Trips in the "Kentuckiana" Area:
U-Pick Adventure: Huber's Orchard, Winery & Vineyard
A COMPLETE Guide to the Kentucky Bourbon Trail
An Intensive Beginner's Guide to Louisville, Kentucky
Where to Find Street Art in Louisville, Kentucky
8 Quick Things to do in Lexington, Kentucky
Why EVERYONE Should Visit Old Friends Farm
Rediscover Cincinnati, Ohio: A City Rejuvenated
Liked this post? PIN IT FOR LATER!!