Situated at the confluence of the Lech and Wertach rivers and is Northern Swabia's principal city, Augsburg is the third largest town in Bavaria, as well as one of the oldest. As early as 15 BC, this was the site of a Roman camp. It grew to be one of the richest towns until the Thirty Years' War ended their prosperity. It's also one of many towns found along the Romantic Road (stay tuned) that runs from Würzburg to Füssen. During the Second World War, Augsburg was heavily destroyed on February 24th & 25th, 1944 and almost everything has been meticulously reconstructed to its former glory.
Augsburg is definitely one of the lesser known towns and in my opinion, doesn't get swarmed by non-native tourists as it sits between Nuremberg and Munich with post people opting to visit both of these. We found even for an early spring day (in February!), there were lots of people walking around the town for shopping, enjoying the sunshine and drinking coffee outside, but as for tourists, they seemed far and in between, granted we visited during off season.
So, if it's not overly popular with tourists why should you consider going? Well, let me introduce you to 10 of the most interesting sights to see in Augsburg which will tickle your interest!
In case you're interested, PIN IT FOR LATER!!
This article is now available as a mobile app. Go to GPSmyCity to download the app for GPS-assisted travel directions to the attractions featured in this article.
The Augsburger City Hall & the Golden Hall
For the best starting place for your casual meandering through the town, you should begin with the City Hall (Rathaus). Built by Elias Holl between 1615-20, the city hall dominated the Rathausplatz (square) and is one of Germany's finest examples of Mannerist architecture; a combination of Renaissance and Medieval styles that eventually led to the Baroque style. Inside, you'll find one of the most amazing halls with a splendid gold decor. It's not called the "Golden Hall" for nothing!
Opening Times: Monday- Sunday 10am – 6pm, closed when there are events
Price: 2,50€ per person
RELATED POST: ULTIMATE List of Day Trips from Munich
The Imposing Perlachturm
The Perlachturm is a 70 meter tower directly next to the City Hall which was also built by Elias Holl in the 10th century and served as a watch tower. As it is the tallest building in Augsburg, it is endowed with fantastic views over Augsburg and the city center. But not before you climb 258 steps to the top! Unfortunately, we were two weeks shy of the tower opening.
Opening Times: March 19 – November 1, daily from 10am – 6pm
Price: Adults 2 €
The Colorful Weberhaus
Make your way south along Maximilianstrasse where you will find the town's historic Weaver's House at Moritzplatz, across the street from St. Moritz Church. The house was built in 1389 and used as a guild hall.
St. Moritz Church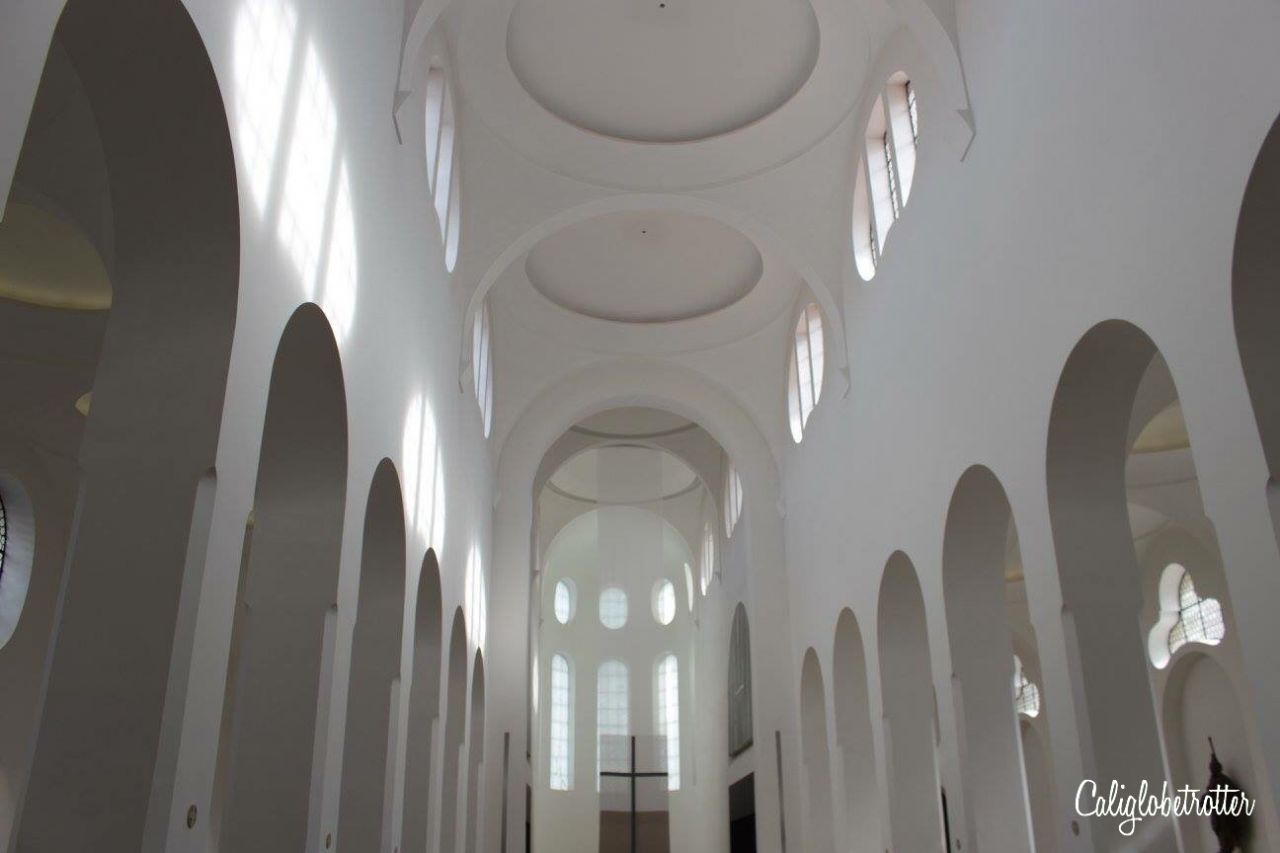 One of the oldest churches in Augsburg dating back to 1019. During the bombing of Augsburg on February 24th & 25th, the church was completely destroyed, thus loosing the beautiful interior. A quick glance inside will surprise you to see the church rebuilt, but without any of its former glory, making for an eerie experience.
The Fuggerhäuser & the Damenhof
Built between 1512-15 for Jacob II Fugger for him and his family, the inside has two Italian-style arcaded courtyards. When the weather is nice, the Damenhof, the lovelier of the two courtyards is open to the public and has several tables to sit and enjoy a drink. Unfortunately, again we were too early.
Opening Times: 10:30am – midnight (with good weather). Closed in winter.
The Splendid Schaezler Palace
The Schaezlerpalais is a magnificent baroque palace further down along Maximilianstrasse. Immediately upon walking in, you'll find a stunning staircase and fresco-ed ceiling.
It's worth visiting the palace if you're drawn to beautiful, mirrored ballrooms, which is considered to be the most artistically significant ballroom in Germany which survived the complete destruction of Augsburg during WWII. Built between 1765-1770 by Karl Albrech von Lespilliez, chief architect of the Bavarian royal court, for merchant and banker Benedikt Adam Freiherr von Liebenhofen.
Opening Times:
Tuesday 10am – 8pm
Wednesday – Sunday 10am – 5pm
Price: Adults 7 €, Children 3 €
St. Ulrich Church
At the south end of Maximilianstrasse, you'll find St. Ulrich's and  St. Afra's Abbey which was once one of 40 self-ruling imperial abbeys of the Holy Roman Empire. In 1802, like many other abbeys and churches throughout Bavaria, it was dissolved during the Secularization of Bavaria. It's worth a look inside as it has beautiful iron works throughout the entire church.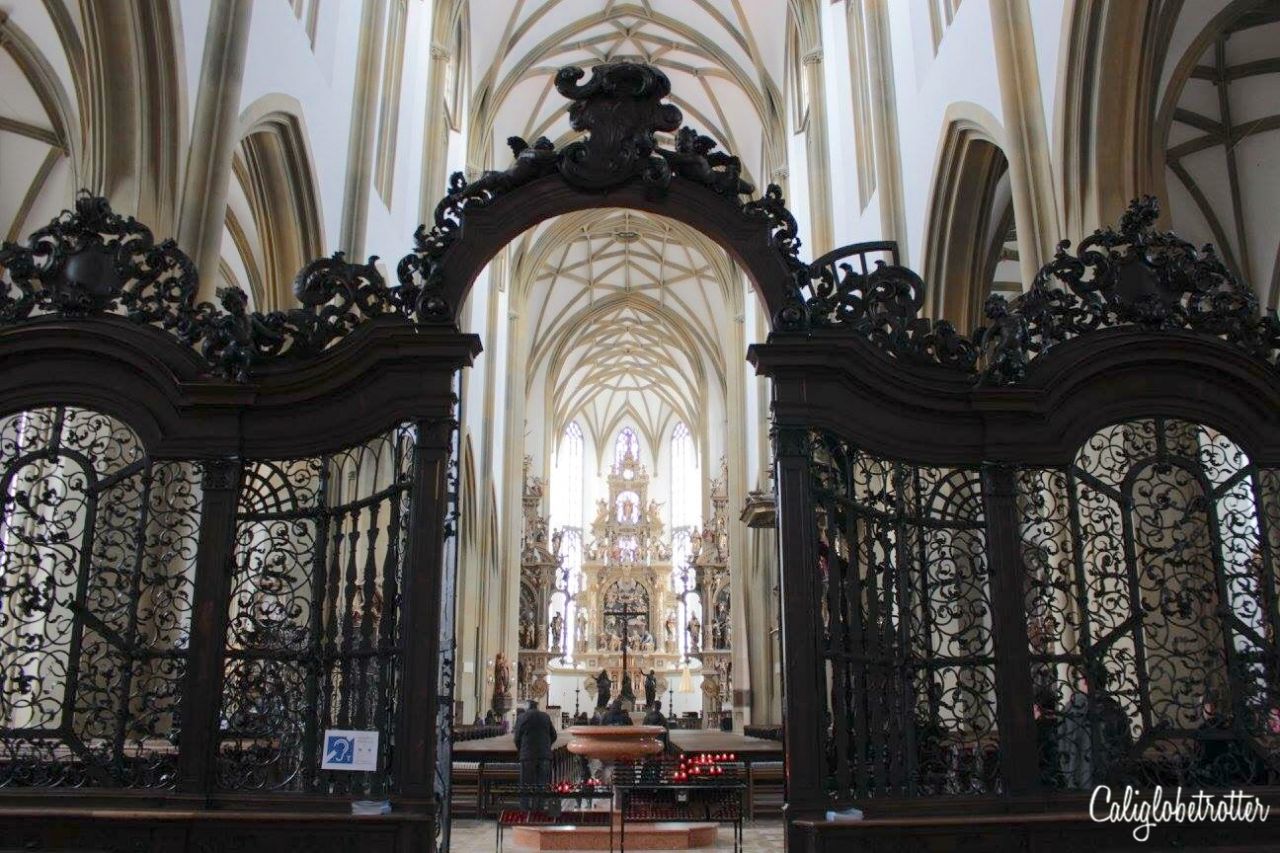 Augsburg's Puppenkiste & the Red Gate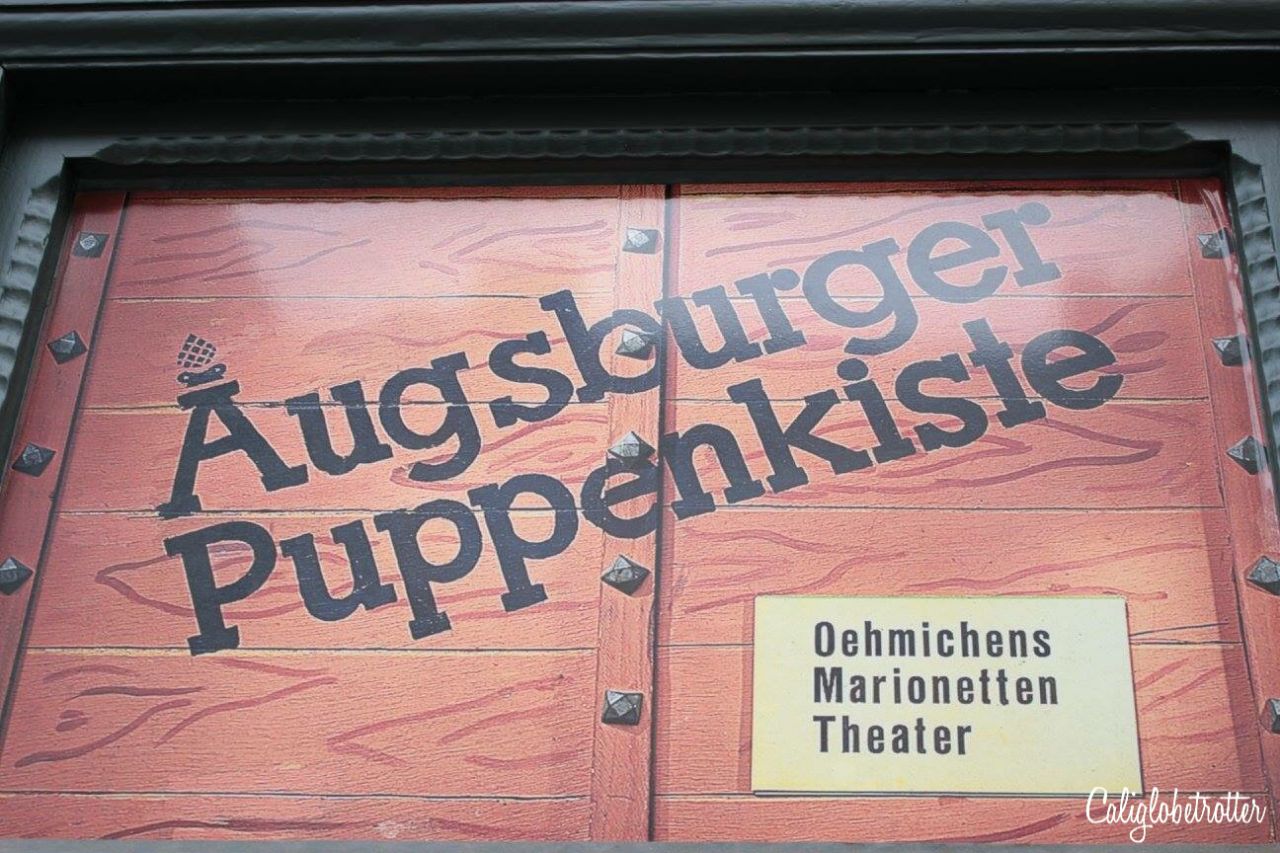 Augsburg's most famous attraction is without a doubt, the Puppenkiste, a marionette theater dating back to 1948 and located in the former Heilig-Geist-Spital, next to the Rotestor (Red Gate). Beloved by Germans, especially children for their theatrical adaptions of fairy tales gained prominence nationwide when they began televising Jim Knopf und Lukas der Lokomotivführer and Urmel aus dem Eis. As a non-native living in Germany, I had sadly never heard of these productions before.
If you're interested in watching a show, you must order your tickets a few weeks in advance, as it's quite popular. Otherwise, you could try to simply ask if you can quickly see the theater.
The Rotestor is one of five gates along portions of the city wall that still surround the town and was once the main gate into the city. The others are Fischertor, Jakobertor, Vogeltor oder das Wertachbruckertor. Unfortunately, I discovered too late that there is an entrance at Fischertor to casually walk part of the wall.
Puppenkiste Museum Opening Times: Tuesday to Sunday 10am – 7pm
Buy Tickets here: Augsburger Puppenkiste
Lunch at Zum Bayerischen Herzl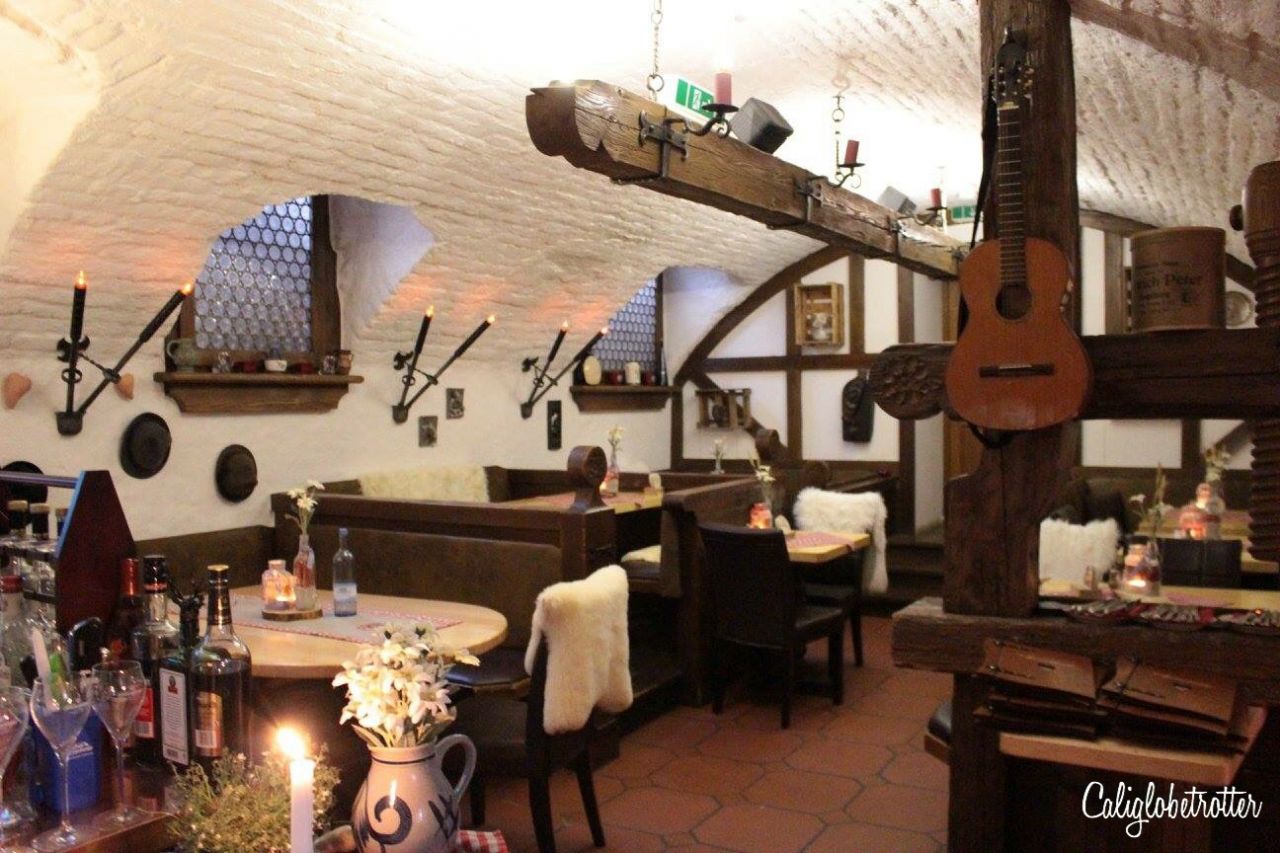 As we were walking from the Puppenkiste in the direction of the Fuggerei, along Spitalgasse, we happened to stumble upon a very traditional, medieval-style Bavarian restaurant when I suddenly spotted some beautiful "Street Art". (I always joke that Street Art was popular in Germany before Street Art was popular).
We walked a bit further into the courtyard and soon discovered it was actually a restaurant, which has the only wood burning stove in Augsburg and the restaurant was located down in the cellar. If you're looking for a traditional style Bavarian meal, this is the place to come.
Address: Spitalgasse 8, 86150 Augsburg
Website: Zum Bayerischen Herzl
The Fuggerei
Founded by Jacob Fugger in 1516, it is Europe's oldest social housing estate. Jacob II Fugger, "the Rich", was a member of the wealthiest family in all of Europe as they had the most successful trading company in the world at that time, stretching from Europe to places in India, Africa, South & Central America.
The Fuggerei was created to provide homes to the towns poorest citizens, mostly for families with children and is "a town within a town". There are 52 houses within the complex, one of which included the home of Wolfgang Amadeus Mozart's great grandfather (House no. 14). Today, the annual rent (excluding heating) is a mere .88 cents and three prayers throughout the day to the Fugger family and its founder.
During the Second World War, it was destroyed during the bombing of Augsburg. Today, a former bunker is now open to the public as a museum to the history of the Fuggerei during and after the war.
Opening Times:
April – September: 8am – 8pm
October – March: 9am – 6pm
Price: Adults 4 €, Children 2 €
The Augsburger Cathedral
The Mariä Heimsuchung Cathedral is located at the northern end of the town and is the largest and most important church in Augsburg. Founded in the 11th century, it is a combination of both Romanesque and Gothic architecture. Inside, you will find some unique stained-glass windows, but photography is not allowed inside, unless for personal use only. You'll also see several nuns walking around!
Opening Times: 7am – 6pm daily
Overall, Augsburg is a lovely town, bustling with lots of shops and cafes. The sights are beautiful and there is plenty to do. However, I personally didn't fall in love with the town as I found many of the buildings to be quite plain once away from Maximilianstrasse and there is a serious graffiti problem in the town. I found the history to be quite interesting and unique to many other towns in Germany. Nonetheless, Augsburg is a town to consider visiting at least once, if not for the shopping.
If you're interested in visiting Germany and are looking for more information, I highly recommend using the DK Eyewitness Travel Guide or the Lonely Plant Travel Guide! Without these guides, I would be lost! These are my travel Bibles!
Disclaimer: This post contains affiliate links. If you click on one and make a purchase, I might make a little extra spending money, at no extra cost to you. As always, all opinions are my own and these products/services have been found useful during our travels and come highly recommended to you from yours truly!
Other Related Posts:
The Historic Town of Regensburg
 The ULTIMATE & COMPLETE Guide to the Romantic Road in Germany
Liked this post? PIN IT FOR LATER!!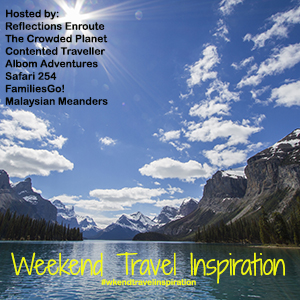 Save
Save
Save
Save
Save
Save