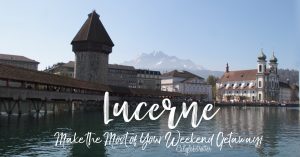 Disclaimer: This post contains affiliate links. If you click on one and make a purchase, I might make a little extra spending money, at no extra cost to you. As always, all opinions are my own and these products/services have been found useful during our travels and come highly recommended to you from yours truly!
Nestled right in the heart of Switzerland, along the western shore of Lake Lucerne, is the jaw-dropping town of Lucerne. So pristine, so glorious, so magnificent, it is one of Europe's most stunning destinations. Skipping this town would be a crime against the Laws of Traveling because Lucerne is downright STUPID PRETTY!! (Are there such laws? If not, there should be!)
So when I was planning for a quick getaway to celebrate our 4 year non-marriage wedding anniversary, (yes, I still include that now that we're married! It's an extra reason to travel, right!?), I wanted to go somewhere new and exciting. We keep going to Austria or the Czech Republic and I wanted some beautiful scenery, turquoise water glistening in the sunshine and as rain was headed our way, heading south to Switzerland seemed like the luckiest chose ever as the weather clearly stated blue skies for dayyyys! Plus, it gave me a reason to finally have some Fondue! With fuzzy memories of Lucerne from my tween years, I wanted a chance to relive those memories and make new ones!
Want that Swiss experience? PIN IT FOR LATER!!

This article is now available as a mobile app. Go to GPSMyCity to download the app for GPS-assisted travel directions to the attractions featured in this article!
How to AVOID Looking Like a Tourist in Europe
Location
Getting to Lucerne is really quite easy! Right smack in the middle between the capital, Bern and the financial banking center of Zurich, Lucerne is a great place to stop for a few days when traveling between the two cities. Zurich can easily be reached by car in just under an hour. If you're interested in flying into Switzerland, the nearest airport to Lucerne is Zurich, so it is possible to spend 24 hours in Zurich and then easily come to Lucerne! For the record, there are many things to do in Zurich should you so decide to head here before or after a visit to Lucerne.
Arriving by Car or Train
Should you arrive by train, the main station is just a few minutes walk from the famous Chapel Bridge, giving you time to do a quick walk though if you're short on time. Hopefully, you stay longer! 
Should you drive into town, there are two main parking garages I highly recommend. The first, Altstadt Parkhaus, is near Speyerbrücke. The second, is Bahnhof Parkhaus near the main station and the docks. 
For an entire day, you can expect to pay 20 CHF.
If you're planning a trip to Switzerland, then I will provide you with a list of things to see and do in Lucerne that are easy enough to visit over a weekend or in two days. I've included all of the main sights to see in Lucerne as well as a boat and cogwheel excursion up into the most idyllic mountain, Mount Rigi-Kulm. Visiting Switzerland on a budget is quite hard and we tried to stay within our budget but ended up splurging just a bit to go up the mountain. 
Sights to See in Lucerne
There are many things to see Lucerne, and mapping it out just right so that you don't have to backtrack is always important! Coming from the train station, you can immediately begin with the Chapel Bridge!
Kapellbrücke (Chapel Bridge)
If you're headed to Lucerne, then you're probably coming here because you saw the iconic picture of the covered Kapellbrücke (Chapel Bridge) on Pinterest which crosses the Reuss River, lined with bright, colorful flowers with stunning blue water and a few swans. The bridge is in the heart of the town and dates back to 1333 when it was built to help protect the town from an attack. It is also Europe's oldest wooden bridge and is one of the main points of interest in Lucerne. A visit to Lucerne would be incomplete with visiting the Kappellbrücke, Lucerne's most popular sight!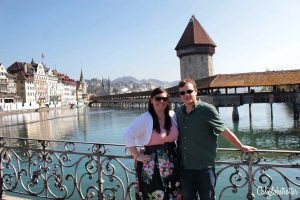 Inside of the roof depicts scenes of Lucerne's history, unfortunately, in 1993 the bridge caught fire. Luckily, 30 of the original 158 paintings were fully restored and are visible today and the bridge was rebuilt the following year. 
Towards the center of the river, the bridge joins together with the octagonal tower, known as the Wasserturm. Standing at 140 ft tall, this quirky tower has served as a lighthouse, a prison and a treasury! Unfortunately, it's closed to the public, so there won't be any climbing of towers!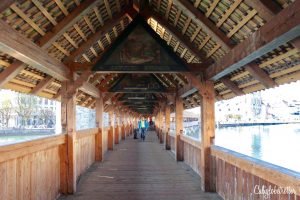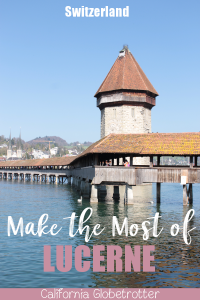 Lake Lucerne
Looking for things to do around Lake Lucerne? Once you leave the covered bridged, you will be greeted with magnificent views of Lake Lucerne. This is the panorama we've all been waiting for, with Alpine peaks off in the distance. (I'll save those pics for the boat tour at the end!) You can simply stroll along the shore or even rent a paddle boat and enjoy the beautiful weather!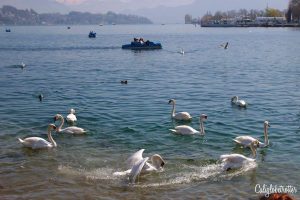 Near here, you'll come across one of five of Lucerne's historic paddle wheel steamers, which we highly recommend doing a boat tour across the lake, should you have enough time. 
Should you not have the time, take a relaxing stroll along the banks of the lake, swan spotting along the way. Somehow swans, gracefully gliding across a lake magically transform any town, especially Lucerne into a dream paradise. (For the record, I'm in heaven and my husband says I have too many pictures of swans!)
Jesuit Church
On the south bank of the Reuss, you'll find one of Lucerne's major landmarks, the Jesuitenkirche. It's onion-domed towers were not completed until the 19th century, while the rest of the church was built in 1666-73, and are reminiscent of the onion-domed Frauenkirche in Munich. Inside, you'll discover it is decorated with pale pink frescoes and stuccowork.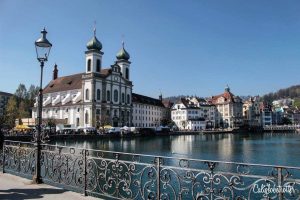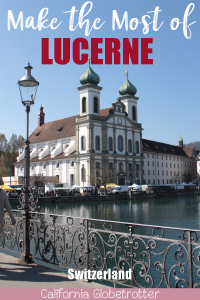 Spreuerbrücke (Speuer Bridge)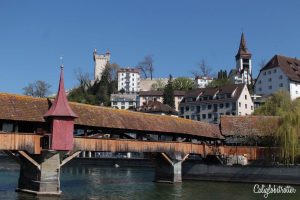 Another wooden bridge you'll first come upon if you park at the Altstadt Parkhaus, which is smaller than it's more famous bigger sister, the Chapel Bridge, can be found at the western end of the Old Town. It was built in 1408 and a small chapel can even be found in the center of the bridge. Here, the panels are also painted with images, depicting the Dance of Death. At the end of the bridge, you'll find the old mills of the city dating back to the Middle Ages, which helps to control flooding.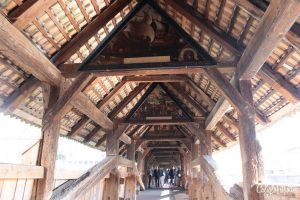 Hofkirche (Church of of St. Leodegar)
At the base of the Old Town, near the glistening lake Lucerne, you'll find one of the finest examples of late Renaissance Swiss architecture, although it looks rather modern. The church was destroyed by a fire in 1633 and was rebuilt, incorporating the original towers. Here, you'll also find a small plaque honoring Swiss Guards and 500 years of service to the Pope.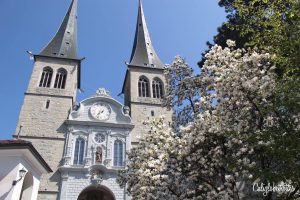 The Löwendenkmal
Not far from the Hofkirche, you'll come upon the massive figure of a dying lion pierced by a spear as a massive monument carved into stone, honoring the Swiss Guards who died protecting King Louis XVI and Marie Antoinette. The Palais des Tuileries in Paris had been stormed by revolutionaries and those who survived the attack were arrested and guillotined. The Lion monument was not unveiled until 1821 by the Danish sculptor, Bertel Thorwaldsen. Being a big fan of Marie Antoinette, I knew I didn't want to miss this as it is also one of the most important sights to see in Lucerne.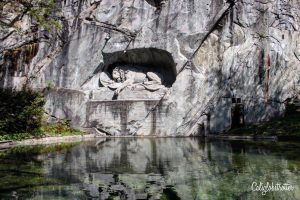 Family friendly tip: Next to this is the Gletchergarten, a tranquil setting with natural phenomenons dating back to the Ice Age, as well as a mirror maze perfect for children!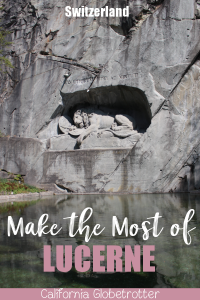 Museggmauer (Old City Walls)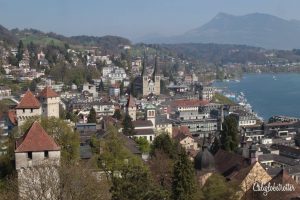 While doing my research for Lucerne, I was quite excited to learn about the Old Town's well-preserved medieval fortifications, which run about 2,800 ft long from the north bank of the Reuss almost to the north shore of Lake Lucerne. Along the way, there are nine towers, four of which are open to the public (Schirmer, Zyt, Wacht, and Männli) and offer the best views over Lucerne, and we all know I loooove to climb towers for the best views in town and finding unique things to do!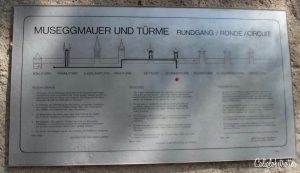 Only the Männli tower has a viewing platform, which we found to be quite empty of tourists, as it's the last tower and I think after people have already climbed the first three, they no longer want to climb the fourth, which is as shame as the best is always last! So, naturally taking a walk along the wall, which offers amazing views over the city, is a must!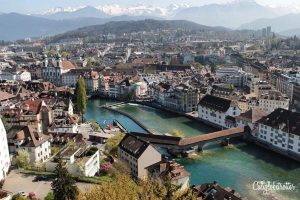 Of all the towers, the most interesting one is quite possibly Zyt, which is the town's oldest clock dating back to 1535. What makes this one special is that it is set to chime every hour, one minute before any other clock in the town!
Where to Eat in Lucerne
Mr. Pickwick Pub 
Located along the Rathausquai with a view of the Chapel Bridge, we found this authentic-style English pub with the best fish'n'chips I've ever had in my life! I know, who comes to Switzerland to have English pub food? But it was too good to pass up and perfect for a light lunch!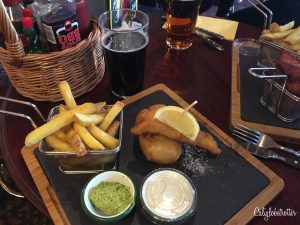 Zunfthausrestaurant Pfistern
If you're looking for traditional Swiss Fondue in Lucerne, then consider one of the top rated restaurants by TripAdvisor! Pfistern, is located next to the Rathaus with a view of the Reuss and the Jesuitkirche, booking a reservation here to sit along the promenade, while you eat cheese fondue for dinner, topped off with a chocolate fondue for dessert while sipping on an excellent paired wine, you will have had the best Lucerne experience ever! I quite thoroughly enjoyed my glass of Zunftwein Weiss, a local wine from Lucerne! Can you say "a little slice of heaven!?" Yes! It was hard to find cheap fondue in Lucerne, and yes it was a bit pricey, but absolutely splurge-worthy! Plus, the views were to die for!
However, there is a lesson to be learned here. While I have no comparison as to whether or not this was the best fondue in Switzerland, I did however discover that traditional Swiss Fondue is ONLY a cheese fondue served with potatoes and cubes of bread unlike what I had experience as a kid. One Christmas my family went to a Fondue restaurant for Christmas dinner and had a 3-course meal, starting with a cheese fondue, meat fondue and finally a chocolate dessert fondue. It wasn't until the 1950s that the term "fondue" included other foods dipped into a communal pot of liquid.
**Tip: If you reserve in advance, you're bound to get one of the best seats in the house!
A fun fact: According to the Local, Swiss eat a nearly 50 pounds (21.49 kilos) of cheese per person! That's a lot of delicious cheese!
Excursions in Lucerne
Take a Boat Ride Across Lake Lucerne (Vierwaldstättersee)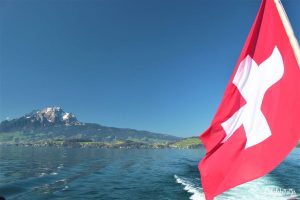 I would personally save a panoramic boat ride across the Lake Lucerne for the next day, where you can really relax and enjoy all of the scenery instead of rushing through it. We decided to get up bright and early and head to the docks (parking at the Bahnhof Parkhaus) to buy our tickets. There are sooo many different options for a boat tour, depending on how much time and money you have. (Read more here about an excursion in Lucerne!)
If you're looking for a quick ride that is affordable then I highly recommend the Panorama-Yacht Saphir, which is a one hour tour around the arm of the lake that extends from Lucerne, gliding past the shores of beautiful towns, without stopping. Standard fare: 25 CHF per person
If you have more time, then you can do a round trip sightseeing tour and excursion around Lake Lucerne. A bit like a hop-on-hop-off boat tour, you can stop at any of the towns along the way, and continue on before coming back to Lucerne. Prices vary, but for a round trip boat tour to Vitznau we paid 45 CHF each.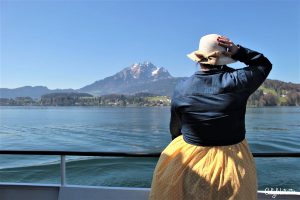 A boat tour is one of the top things to do while visiting the canton of Lucerne! The views are just stunning and the water, is so turquoise when the sun hits it just right! For good seats, obviously get in line early because everyone wants to sit at the back of the boat for the iconic picture of the the Swiss flag billowing in the wind with the mountains in the backdrop.
Ride up to Rigi-Kulm on Europe's Oldest BergBahn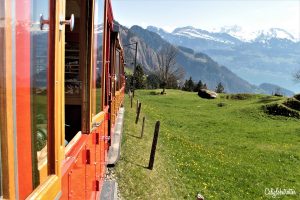 We did this, but only getting off and exploring Vitznau before taking the Rigi-Kulm Bahn up the mountain, before taking the ship back to Lucerne. The Rigi-Kulm cogwheel is Europe's first and oldest, opened in 1871! We paid: 45 CHF per person not including the BergBahn. 25 CHF per person for BergBahn.
Tip:

If you decide to do the BergBahn, buy your tickets at the docks when you buy your boat tickets. It's a tad more expensive, but then you can directly catch the train up the mountain. Otherwise, you risk not making it on the train because the trains are aligned to depart after the ship arrives, and if you have to buy your ticket, you'll miss out like we did and have to wait an extra hour!
We definitely splurged a bit after much consideration and wasting time trying to decide whether or not to go up, and after loosing precious time, and after all, we were in Switzerland, we decided to go up and it was worth every penny! It was honestly the best day excursion in Lucerne we could have chosen! 
The cogwheel train moves at a leisurely pace that leaves enough time to take in the scenery and take plenty of photos as it climbs 1798 meters up to Mount Rigi. The route is brimming with quaint Swiss chalets, lush green patches, and a handful of happy cows and residents, which is exactly how I imagined it!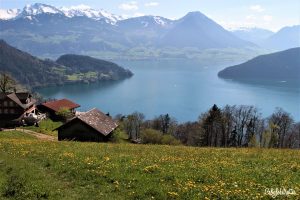 And yes, I was the only person at the top of the mountain in a sun dress and sandals while everyone else was in full-blown hiking gear looking at me like I was a lunatic! But it was perfect weather for a frolic around in the fields! I even thought about singing The Sound of Music, but thought I would be cheating on Salzburg!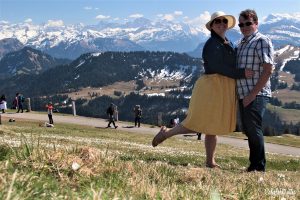 But don't leave just yet!
Take a Romantic Stroll Through the Town
If you plan to stay overnight in Lucerne, then try to stay long enough to enjoy sunset in Lucerne, which is the most romantic time to be in the town. Visiting Lucerne at night is completely different from visiting during the day. The tourists will have all returned to their buses and headed to the next town, giving you the chance to really admire the town at dusk.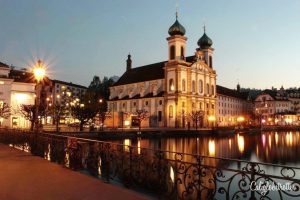 Things to Know Before You Go
Vignette: 38.50€ – a vignette is mandatory while driving in Switzerland, and there is only a vignette valid for 1 year. (Plan for lots of road trips to Switzerland!)
Currency: Swiss Francs (CHF), although some locations accept the Euro. 
Speeding in Switzerland is highly NOT recommended as fines are incredibly high!  
The Swiss are fluent in German, English and even Italian and Romanse.
Christmas and Easter holiday weeks are the most crowded time, while February is considered the "high season", as well as during the summer months of July and August.
Where to Stay in Lucerne
If you have a car, I would highly recommend staying a bit out of town for some more affordable hotel prices. We stayed at feRUS Hotel, just a 5 minute drive from Lucerne with a fantastic bar/restaurant downstairs with a bit of a rustic manly feel to it!
Overall
We were really excited to visit a new country and finally get to see Switzerland. Lucerne is incredibly beautiful and we could not have asked for better spring weather! We underestimated just HOW expensive Switzerland is, so you should definitely be prepared for that! So needless to say, we splurged a little since we were there, but we'll be eating like rabbits the next couple of weeks! We found that the Swiss are incredibly friendly people. However, we found the tourists here incredibly snobbish and more obnoxious than usual as if they were in a hurry. Or perhaps, we've become too accustomed to visiting peaceful and quaint little towns, we've forgotten the hassle of dealing with crazy tourists.
We would however, not spend more than 2 days here unless you really plan to explore the towns around the lake and we found the ship prices to be rather ridiculously high! Consider driving around the lake to save money! Also, if you plan to stay longer, consider going up Mount Rigi or Mount Pilatus, two of the most beautiful mountains in the region.
If you're interested in visiting Switzerland and are looking for more information, I highly recommend using the DK Eyewitness Travel Guide or the Lonely Plant Travel Guide! Without these guides, I would be lost! These are my travel Bibles!
Disclaimer: This post contains affiliate links. If you click on one and make a purchase, I might make a little extra spending money, at no extra cost to you. As always, all opinions are my own and these products/services have been found useful during our travels and come highly recommended to you from yours truly!
Day trips from Lucerne:

A Day Excursion: Lake Lucerne & Mount Rigi
Visiting Appenzell & Hiking Ebenalp to the Aescher
Liked this post? PIN IT FOR LATER!!