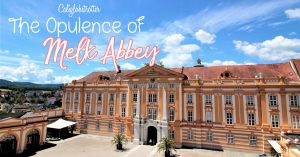 Disclaimer: This post contains affiliate links. If you click on one and make a purchase, I might make a little extra spending money, at no extra cost to you. As always, all opinions are my own and these products/services have been found useful during our travels and come highly recommended to you from yours truly!
If you're looking for some of the best places to visit in Austria, look no further! Perched high on a hill overlooking the Wachau Valley, the winding Danube River and the small town of Melk is Austria's prettiest and most impressive abbey, Melk Abbey. Impossible to miss  when approaching either by boat or by car, it's sunshine yellow facade is a welcoming sight and has been home to Benedictine monks for over 900 years!
Want to visit Austria's most impressive abbey? PIN IT FOR LATER!!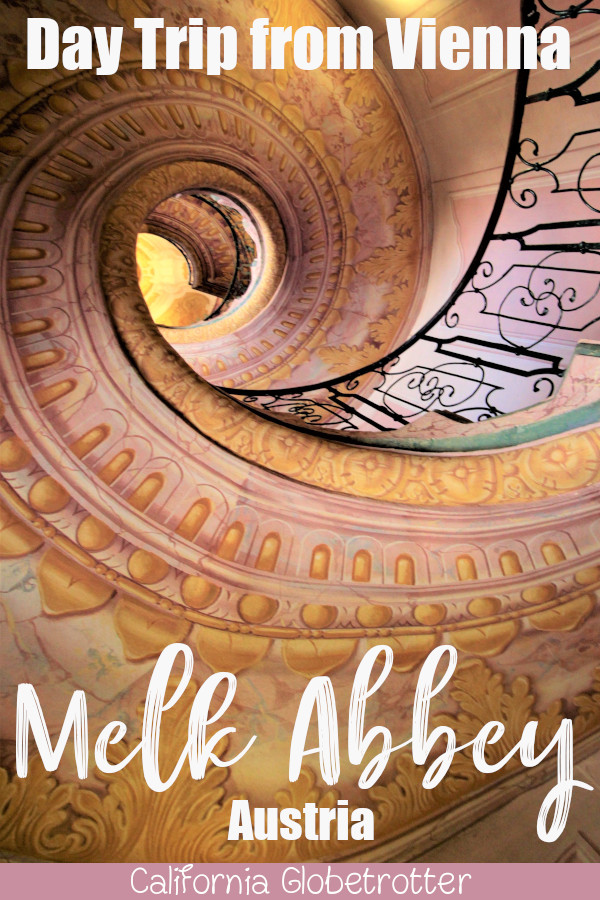 How to AVOID Looking Like a Tourist in Europe
Just an hour away from Vienna, the UNESCO World Heritage Site was built in the 1700s first as a royal palace. The abbey was gifted to Benedictine monks in the 11th century by the Babenberg Dynasty and it quickly turned into a fortified abbey which managed to survive the Reformation and the occupation of both Napoleon and Hitler. 
By the 18th century, the monastery church was falling into disrepair and plans were quickly made to rebuild it in the glamorous baroque style we see today. The abbot at the time had grand plans that were more ambitious than just renovating it, but completely rebuilding it which lasted between 1700-1740, creating the ornate masterpiece shining brightly over the Austrian countryside. Today, Melk Abbey is one of the top attractions to visit in Austria and makes for the perfect day trip from Vienna!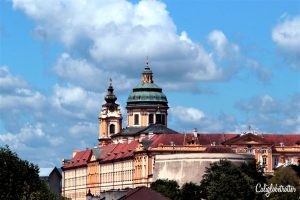 While today Melk Abbey is open to the public and is popular with river cruise tourists, it still serves its religious purpose of training hundreds of pupils to become monks. While spotting a monk might not be guaranteed, the abbey offers incredible viewpoints and stunning architecture and artwork!
You can chose between doing a guided tour or a self-guided tour with an audio guide. However, I recommend the guided tour, which begins through the northern bastion's gargantuan archway before continuing on to one of the largest courtyards to reach the Melk Abbey Museum. Inside, you can find centuries old treasuries and artifacts like a book dating back to 1574 and jewel encrusted religious ornaments.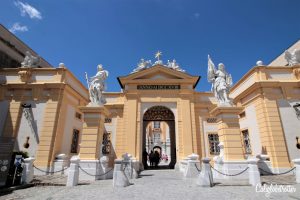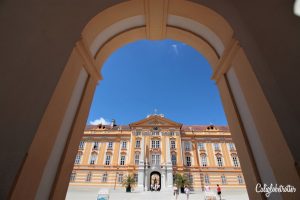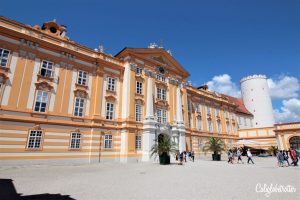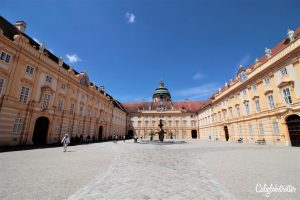 Visitors will continue on to the Marble Hall, quite possibly one of the most opulent dining rooms in the world! Top notch artists and sculptors were tasked with creating this masterpiece of gold-gilded frescoes, equally, if not more impressive than the Sistine Chapel in Italy! What makes the Marble Hall so remarkable is the fact that its a visual illusion – while it might appear to curve upwards, the ceiling is actually flat while the frescoes are meant to represent the house of Hapsburg.
For any bookworm or library lover, the abbey's library is a grand two-story room boasting bookshelves lined with around 80,000 leather-bound medieval manuscripts reaching from floor to ceiling. These handwritten manuscripts are still used by only a privileged few granted to the monastery's scholars. What might just be a room to some, felt like a fairy tale library from Beauty and the Beast and I could hardly contain my joy and not jump up and down with excitement. Visitors are not allowed to take photos inside the library, much to my dismay! (More on Libraries in Europe)
The grand finale from inside the abbey is the resplendent Abbey Church (Stiftskirche). The interior is richly decorated with soft hues of rose and yellow marble, accented with touches of gold as well as a stunning 200 foot frescoed dome capping off the church. Quite luxurious compared to many dark and gloomy churches you can find throughout Europe.
Either side of the Abbey Church entrance is flanked by the equally stunning winding Imperial Staircase (Kaiserstiege) . Being under the impression, absolutely no photos were allowed inside, this was the one and only photo I snuck. If there was ever a stairway to heaven, I think it would look a lot like this, but in actuality, the staircase leads to two upper level reading rooms not open to the public.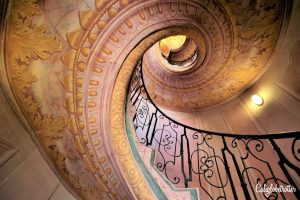 Then you will exit the church and can meander the back terrace of the abbey and enjoy one last sweeping view over the Danube. Unfortunately, the left tower of the Abbey Church was covered in scaffolding (bane of my existence!).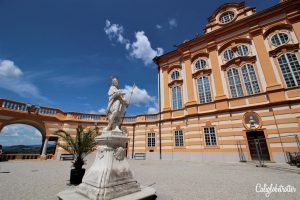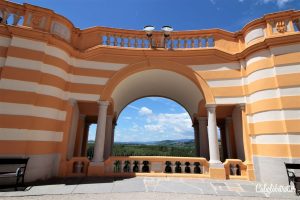 Upon finishing the tour, you can head outside to explore the Abbey Park and Gardens which were only opened to the public in 2000. They were originally meant as an area of relaxation for the monks which features a pristine English Garden including a medicinal garden. Playful monkeys hang from the garden bush walls which I like to think some monks with a sense of humor scattered around the gardens. As you wander around, you'll enjoy breathtaking views over the Danube and Austrian countryside!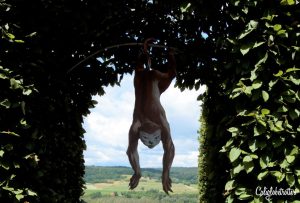 A cotton candy hued Baroque Pavilion with a cafe sits at the end of the garden which features a whimsical and exotic fresco of animals and jungles. Definitely a first for me!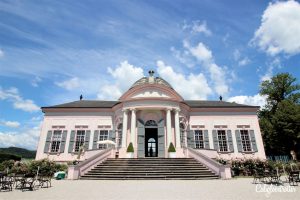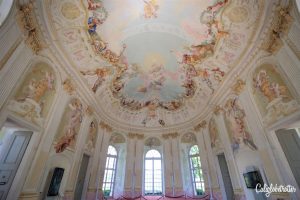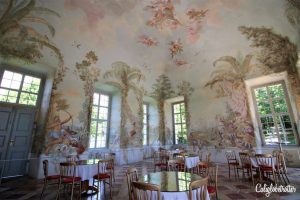 Opening Times:
April to October: 9am – 5:30 (last admission 5pm) 
November to March – Guided Tours only at 11am and 2pm in English and German
Prices:
Adults: with tour 13 € / without 11 €
Family: with tour 26 € / without 22 €
Overall Experience
I was quite excited to visit but didn't realize that it was quite as popular with river cruise tourists. I would suggest visiting early in the day to avoid large crowds. I was also quite disappointed that we were told no photographs were allowed inside the abbey, yet, since our visit, I have come across a dozen posts all filled with photos of the church, the Marble Hall and the staircase, while I have to be content with the one and only photo I had of the staircase. Perhaps during the summer months when things are busier, they don't allow photos. Be sure to ask when entering the abbey. For now, I'll try to keep my memories of the interior alive! 
While visiting Melk Abbey is definitely one of the best day trips do in summer in Austria, I can imagine that visiting in the winter is also enjoyable as there will definitely be less tourists and boat-goers. If you are an architect lover, library lover, book lover or art lover, then a visit to Melk Abbey is right up your alley! 
Where would I be without my trusty DK Travel Guides? Lost probably! With quick details, easy to follow suggested sightseeing routes, I can find my way through any city!
Disclaimer: This post contains affiliate links. If you click on one and make a purchase, I might make a little extra spending money, at no extra cost to you. As always, all opinions are my own and these products/services have been found useful during our travels and come highly recommended to you from yours truly!
Other Related Posts:
How to Spend a Romantic Weekend in Vienna
Guide to Vienna Christmas Markets
A Delicious Guide to Coffee and Cake in Vienna
Autumn in Hallstatt – Austria's Most Beautiful Village
The Colorful Town of Innsbruck
Liked this post? PIN IT FOR LATER!!