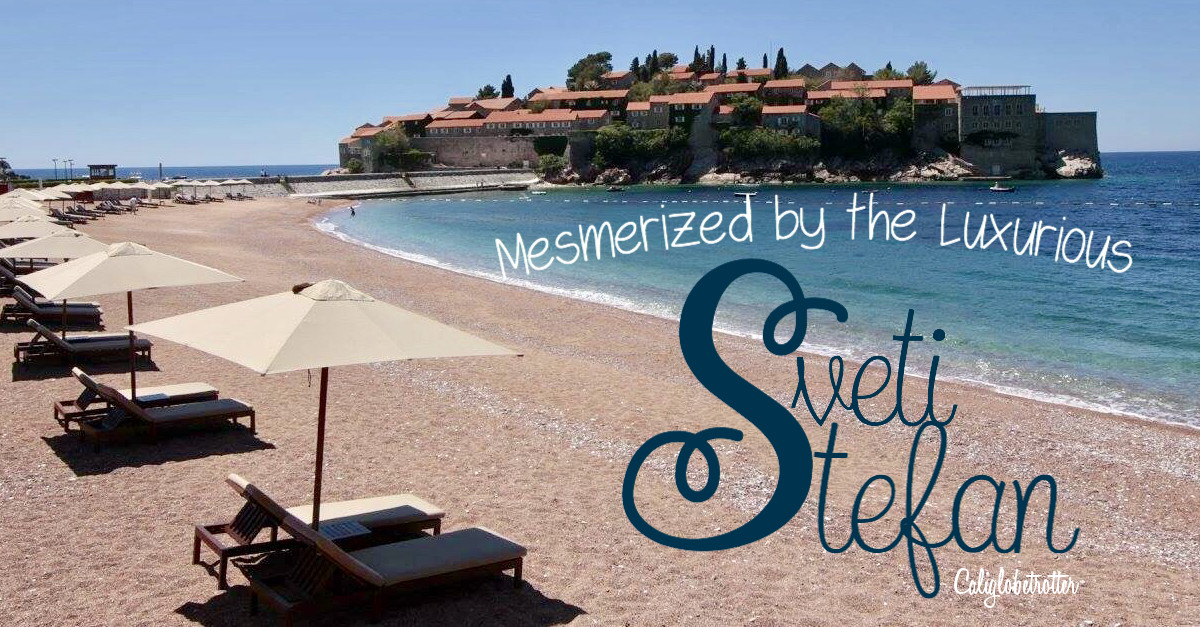 Disclaimer: This post contains affiliate links. If you click on one and make a purchase, I might make a little extra spending money, at no extra cost to you. As always, all opinions are my own and these products/services have been found useful during our travels and come highly recommended to you from yours truly!
Ever dreamed of rubbing elbows with the rich and famous? Ever dreamed of laying on a private beach completely to yourself, without any screaming children, obnoxious tourists or loud cars? Ya, me too! Does a place even exist?
Yes. Yes, it does, my friend!

Located along the Budva Riveria just 20 minutes from Budva, stretching out into the Adriatic Sea, is the unbelievably stunning, "pinch me, is this even for real?" islet known as Sveti Stefan. Incredibly popular between the 1960s and 80s as a playground for the elite and people like Doris Day and Princess Margaret, even Oprah have stayed here. Today, it still has that ideal peaceful tranquility we all dream of and this was our one and only splurge during our 2 week Balkan road trip! This was honestly the number one destination to visit in the Balkans!
Want to visit already? PIN IT FOR LATER!!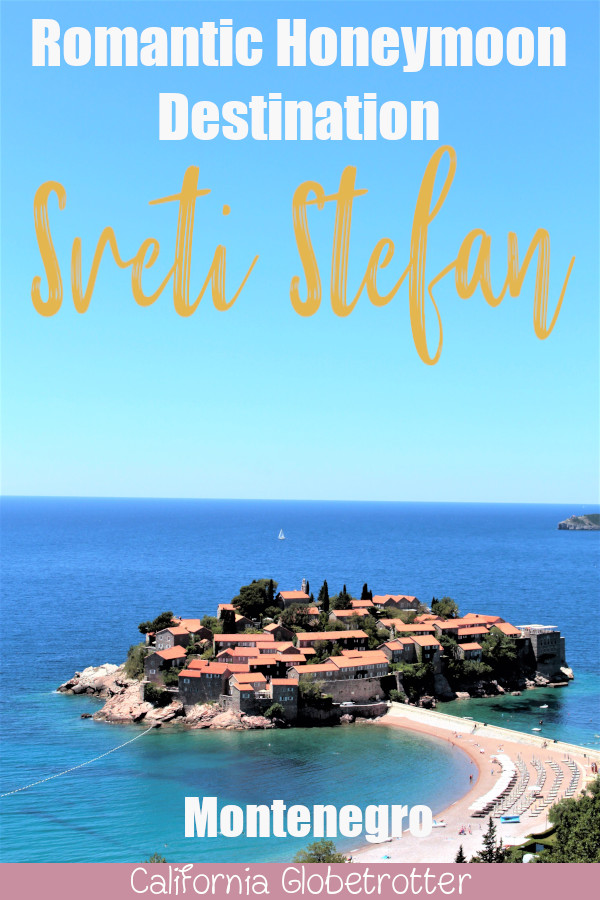 This article is now available as a mobile app. Go to GPSMyCity to download the app for GPS-assisted travel directions to the attractions featured in this article!
How to AVOID Looking Like a Tourist in Europe
2 Day Montenegro Itinerary – Places to Visit on Montenegro's Coast
Gorgeous Seaside Towns Along the Adriatic Sea
Previously an island, the population began to dwindle and by 1954 there were only 20 people still living there. So, it was connected to the mainland and became a hotel. It would later be renovated and turned into a 5-star luxury hotel owned by Aman Resorts in 2007 and is the jewel of the Budva Riveria.
The tiny islet's history dates as far back to the 15th Century, which naturally comes with a legend as to how it came to be. As the story goes, the Ottoman Turks were trying to expand their reach throughout the Adriatic Sea. They had planned to attack Kotor, but locals from the area banded together to help their neighbors. As history would have it, they won, ran the Turks off and took all the goods. The locals decided to build a fortress on a little islet for each of the 12 local tribes, which included a church dedicated to St. Stephan who was the town's protector, hence the name.
Surrounding the island are two beaches, depending on what you expect to get out of your visit. The beach to the right is incredibly swanky with cushiony beach chairs, a sun umbrella and a small table for your ice cold water. Sit back and relax and enjoy the view of the island, soak up the sun and the peace and quite or play in the water without a care in the world. If you're looking for the perfect summer destination in the Balkans, this was it!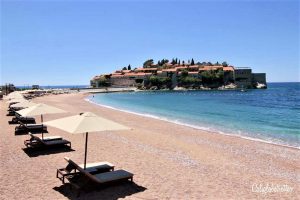 There's only one catch. You have to pay a hefty price of 100 € for a set of sun chairs for this little slice of heaven, away from the crowds. For that price you can rub elbows with the rich and famous, wear your big sunglasses and hide from imaginary paparazzi. Have no fear, there's strict beach security at all times to stop any potential paparazzi snoopers out there from snapping your picture!
Did I? You betcha! I was on my honeymoon after all!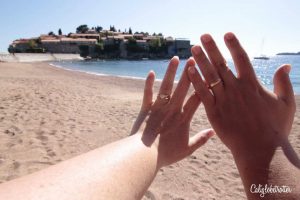 How'd it feel? Luxurious! Absolutely unreal! I still look back on my photos to make sure it really happened, that we really were there. It was a big expense, one we weren't sure if we were going to make. But once there, there was no way we could pass up this opportunity. We spent a good portion of the day lounging on the beach, completely to ourselves not including the exquisite customer service, unwinding from our busy first days of our honeymoon all the while snacking on complimentary watermelon! Don't mind if I do!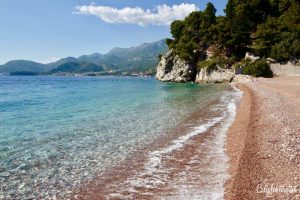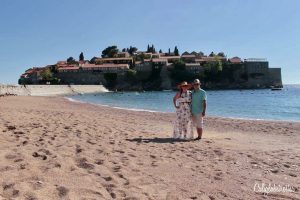 Before we left after spending half a day being lazy, the beach attendants were kind enough to offer to take our picture to capture our memorable afternoon on this luxurious beach that we had entirely to ourselves as it was only the beginning of summer. I could imagine in the coming weeks between mid-June to August or September is the peak tourist season.
Can't afford to cash out the big bucks but still want to have some quality beach time?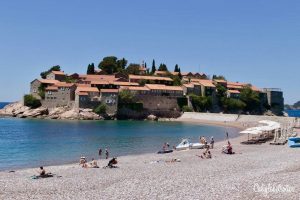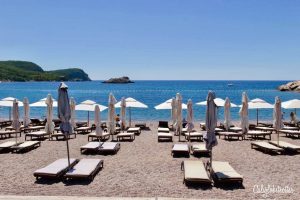 Have no fear, to the left of the island is a beach open to the public for a small, more affordable price of 15-30 € depending on whether you want sun chairs, an umbrella or both. As it was a bit more crowded and loud, we opted for the more peaceful private beach.
Feel like checking out the island? Think again!
The island is so exclusive, you can not even stroll around it to check out many of the cottages and suites on the island without paying a hefty price of a minimum of 800 € per night to stay at the hotel. You'll just have to settle with admiring the island from a distance or….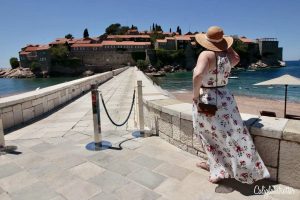 You can, however, find other ways in which to get on the island. Near the entrance of the island is a small security office, and here, you can find a menu for The Taverna, a restaurant on the island. If you make a reservation for lunch/dinner, you will be escorted on to the island. Lunch has been said to cost around 60 € for two.
Address: Aman Resort Sv. Stefan.
Phone: +382 33 420 000
Email: amansvetistefan@amanresorts.com
And no, we didn't make a reservation on the island for a meal as we had already shelled out some big bucks for the beach. My husband's wallet was sealed shut for the remainder of the day! **heavy sigh** Laying on the private beach was my one and only big splurge on the entire honeymoon and I'd say it was worth every.single.penny! It was honestly one of the most amazing cities to visit in the Balkans!
Want to enjoy a view of the island from above? I've gotcha covered!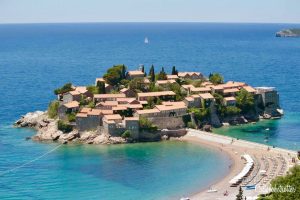 Towards the top of the hill, on the main road, is Hotel Adrović & Restaurant ⭐⭐⭐with the most stunning view over the island and the surrounding turquoise blue waters. While we did not stay here, we did have lunch here. They offer some of the freshest seafood in town and the view is just to die for! Not only that, but the service was impeccable here!
I'm still dreaming! how can anything be so STUNNING? This can't be real, can it?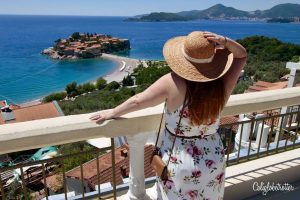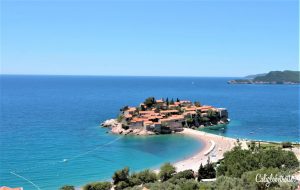 You'll find parking just on the opposite side of the road specifically for the hotel, for free.
Getting to Sveti Stefan
By car, the drive is about 15 minutes from Budva and roughly a half hour from Kotor. You'll drive through the town and come to a parking lot which costs 2 € per hour. If you plan to spend the whole day here, consider eating at Olive which offers free parking if you spend at least 20 €.
What surprised us
You'll have no problem getting around at Sveti Stefan during your entire visit. Everyone spoke perfect English and were incredibly accommodating. You'll need to pay in cash for your private beach experience, and as we lacked just 5€ because we were under the impression the beach would cost only 80€, so while my husband went to the bank, I was escorted to the beach and called a "lady" (whether or not my husband chooses to believe I am one). There are changing rooms on the beach as well as showers.
We were surprised that we were given complimentary ice cold waters as well as slices of watermelon throughout our afternoon. Anything we needed or wanted, the beach attendants jumped to it. Not accustomed to this, I felt a little awkward having to ask them to move my lounge chair as the sun moved. Needless to say, the service was exquisite and we tipped them for making our experience so enjoyable. I guess you get what you pay for! 
Road & Driving Conditions in Montenegro:
You will be driving on mostly one lane back roads (if coming from Bosnia-Herzegovina).
As you'll be driving on a single lane road, overtaking can be quite difficult in such dangerous conditions. DO NOT try to overtake unless you have a clear view!
The average driving speed on the one lane roads is around 50kmp as you'll be mostly driving through small villages, therefore, PLAN FOR EXTRA DRIVING TIME.
DO NOT SPEED! The Montenegrin Police Force were visible every few miles, actively pulling people over for speeding and for whatever other reasons.
Street lights flash green before turning red, therefore, flashing green lights does not mean you have plenty of time to go through the light!
Tunnels have no internal structure with no lights or ventilation. Turn your lights on!
Prepare yourself for potholed roads quite often during your drive, and drive slowly! Last thing you want it to pop a tire in the middle of no where with no sign of help anywhere!
Always have a full take! When you're near the coastal towns, there are plenty of gas stations, but up in the mountains and smaller villages, you'll have a harder time.
 Use a GPS Navigation system to get you anywhere in Montenegro, but set your preferances to stick to main roads! But just in case, as many roads have no yet been mapped out yet, we bought a map book of Europe.
Crossing the border from Bosnia into Montenegro can take 30 minutes – 1hr (in low season). I can imagine after May, lines may take longer.
You must show your car insurance papers, car registration and passports!! If you're renting a car, check with your car rental company.
It's also recommended to have an international driving license (for this entire road trip) although not necessary (except for Albania and Kosovo).
If you are going to drive from Montenegro to Macedonia, avoid  driving via Podgorica as the roads are terrible (confirmed by our hotel). Instead, you'll need to drive through Albania via Lac. You will definitely need to show your international driving license here.
Dangers on the Road
It is a common occurrence to see cows and other livestock walking along the road. Try not to speed around corners because they may be just around the bend.
Stay on all main roads!!! Do not wander off on to dirt paths or off the side of the road.
Keep an eye out for local farmers driving on the road with a horse/donkey buggies. For obvious reasons, they don't go very fast, so do not overtake unless you have a clear path!
Montenegrins like to tailgate and overtake at the first (unsafe) chance they get, putting both themselves and yourselves at risk of practically causes an accident. Slow down and let them pass.
Looking for more practical information on Balkan Travel? Grab a copy the following travel guides which we found incredibly useful on our trip and has something for everyone from outdoor activities to historical sites!
Disclaimer: This post contains affiliate links. If you click on one and make a purchase, I might make a little extra spending money, at no extra cost to you. As always, all opinions are my own and these products/services have been found useful during our travels and come highly recommended to you from yours truly!
Day Trips for Montenegro:
The PERFECT 2 Week Balkan Road Trip
Liked this post? PIN IT FOR LATER!!