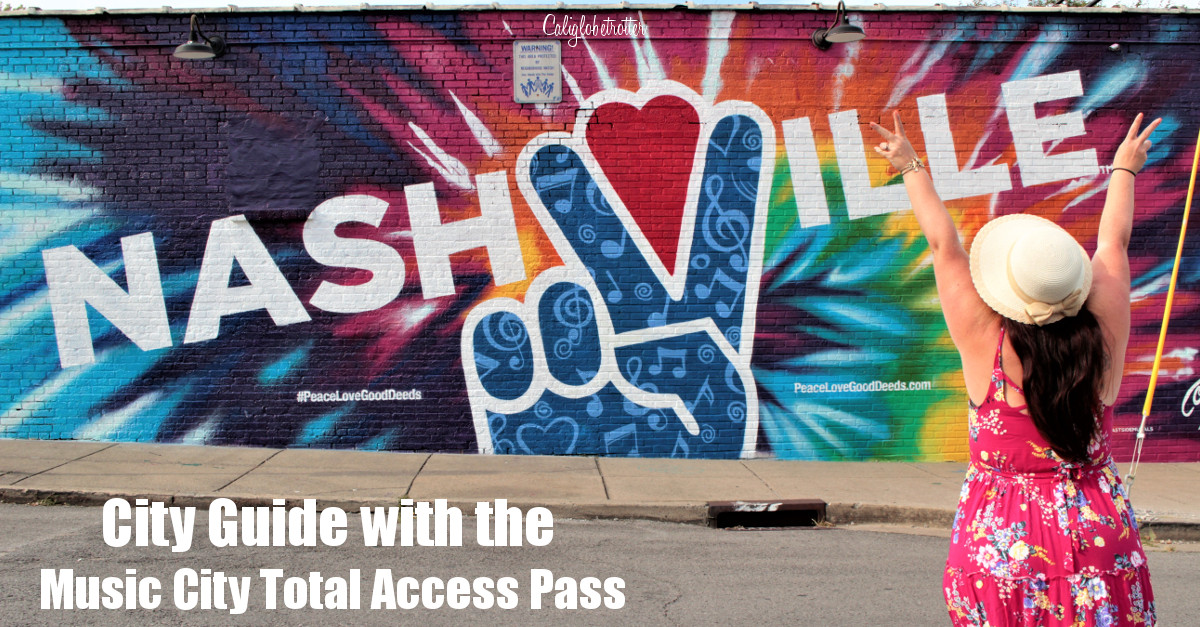 We were provided with 2 Music City Total Access Passes. This post contains affiliate links. If you click on one and make a purchase, I might make a little extra spending money, at no extra cost to you. As always, all opinions are my own and these products/services have been found useful during our travels and come highly recommended to you from yours truly!
Nashville, just the name alone evokes images of the man in black, doin' the boot scootin' boogie and some fine country tunes streaming any hour of the day! Music City seems to have it all! Great music, southern charm, a delicious food scene, vibrant murals scattered throughout the city, awesome places to chill all the while seeped in history stretching back to the American Revolution. You simply can't go wrong with a weekend getaway to Nashville! 
Want to Boot Scoot your way through Nashville? PIN IT FOR LATER!!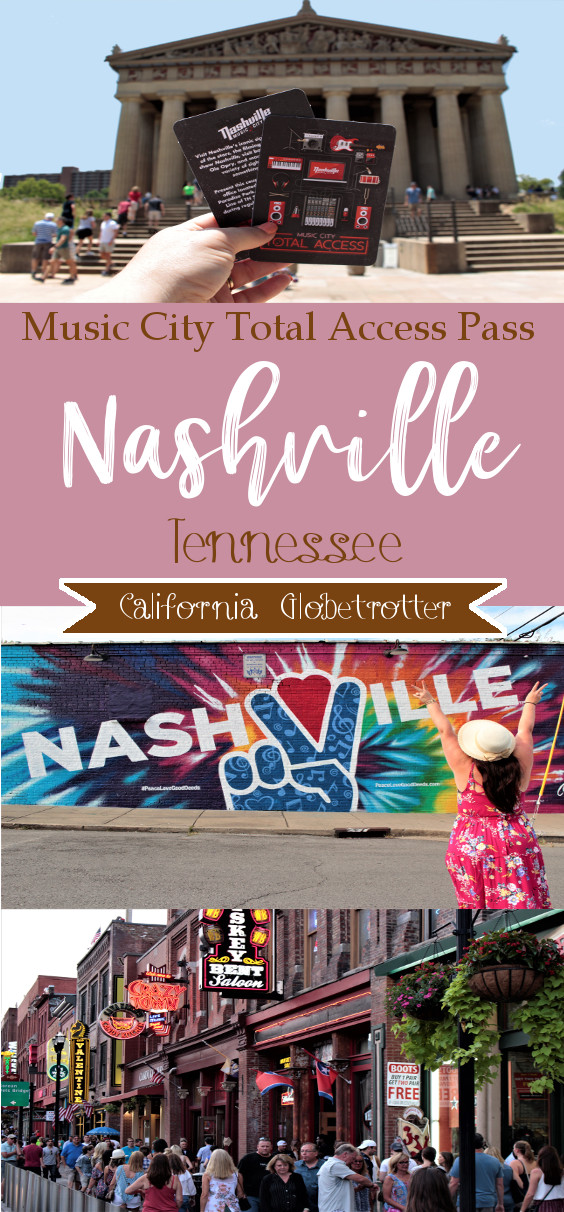 This article is now available as a mobile app. Go to GPSMyCity to download the app for GPS-assisted travel directions to the attractions featured in this article!
History of Nashville
Founded in 1779, Nashville was named after the American Revolutionary War hero, Francis Nash. Thanks to its strategic location, nestled along the Cumberland River, it grew quickly and finally became the capital of Tennessee in 1843. Antebellum Nashville swelled into one of the most prosperous cities in the South but by 1860, the grumblings of secession was spreading like wildfire. By 1861, seven southern states ceded from the Union to become the Confederate States of the US with Nashville eventually the first southern capital to fall to the Union troops and remained occupied until the end of the war. By the late 19th century, Nashville had reclaimed its former shipping and trading position bringing new wealth to the capital. In the 1970s-90s, Nashville saw a boom and renovation project which renovated many of the historic sites. By 2013, Nashville was nicknamed "Nowville" and "It City" by GQ, Forbes and The New York Times! Best get your tooshie to Nashville while it's still HOT! 
Related: Day Trips from Louisville, KY
Save Money in Nashville with the Music City Total Access Pass
Let's just admit it, traveling can be expensive, especially to some of the more populous cities in America! So how can you visit Nashville on a budget? Why, with the Nashville Music City Total Access Pass, of course! 
For just a mere $75 with your Nashville City Card, you get:
That's SIX attractions and TWO discounts for just $75 – saving you up to 54%!
With our access pass, we chose to visit Andrew Jackson's Hermitage, the Belle Meade Plantation, The Country Music Hall of Fame and the Grand Ole Opry as well as the Parthenon which would have cost us $102.95 per person! That's a whopping $27.95 savings per person! That's a night on the town! That's a dinner for two! Hell, that's a tank of gas! 
Can't manage all sights in one weekend? Have no fear, the pass is valid for up to 1 year after purchase, giving you a chance to go back for more!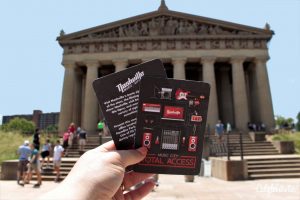 Downtown Nashville
Main Sights to See in Nashville
Stroll on down Nashville's Honky Tonk Highway 
Also known as Broadway, here you'll find music spilling into the streets, stores selling redonkulously delicious covered apples, a boot store to find the finest kicks to stomp your way through Nashville! Of course, you'll need to stock up on those before you hit the bars! 
Walking down Broadway is like one big bachelor/ette party, endless party buses, bikes, and tractors even loaded with guys and dolls jumping around, singing songs like "Earl's Gotta Die" by the Dixie Chicks and "Everybody" by Backstreet Boys, wearing matching shirts, wigs and whatever other props can be found to add to the fun. It's overly absurd how many of these there are. Clearly, Nashville is the new Las Vegas. 
But what is a Honky Tonk, you might ask? Well it's a watering hole which serves up beverages, has a rockin' stage and a party all day long! From 10am to 3am every.single.day., you can find good, and I mean GOOD country music spilling out into the streets for a good ole time! Best of all, there ain't no gosh darn cover charge! Stroll on in, pull up a bar stool and put a beer in your hand while you rock out! And honest to god, you never know who might just be up on that stage. Perhaps it's some local talent or perhaps it might be a big name like Dierks Bently or Charles Esten from the hit TV series, Nashville filmed right here!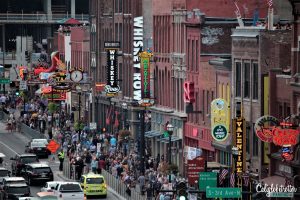 Best Honky Tonks on Broadway
No matter the time of day, Broadway is a great place to catch some great cover bands playing live music. The later into the night, the rowdier things get, because as you should know, ain't nothing good happen after midnight. Afternoons though are better for simply casually perusing along Broadway to get a feel for what's going on, but it's the evening where bar hopping in Nashville is the highlight of any visit!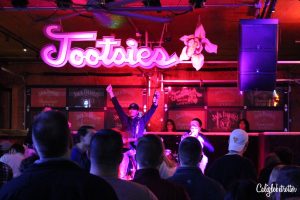 Ryman Auditorium
One of the most iconic sights to see in Nashville is the Ryman Auditorium, the former home of the Grand Ole Opry from 1943-1974 before the show moved to its current location. It still offers nightly shows and it renowned for its excellent acoustics and with a self-guided tour you can catch a glimpse of a little piece of country history. It originally opened in 1892 as the Union Gospel Tabernacle, the Ryman quickly turned into one of the best entertainment venues in Nashville. In many ways, The Ryman Auditorium made Nashville the home of country music as it became known as "The Soul of Nashville". 
Johnny Cash Museum & Cafe
The Johnny Cash Museum is the world's largest collection dedicated to the Man in Black's amazing life which showcasing artifacts, exhibits, films and more. Pay homage to the man who walked the line, his life and career which made him a country legend. You'll even find personal items like his marriage certificate to June Carter Cash, the love of his life as well as his high school yearbook! 
Music City Star Riverfront 
Be sure to walk across the John Siegenthalter Pedestrian Bridge, formerly known as the Shelby Street Pedestrian Bridge, over to Cumberland Park for amazing downtown city views! It connects downtown Nashville to the football stadium and is only open to cyclists and walkers.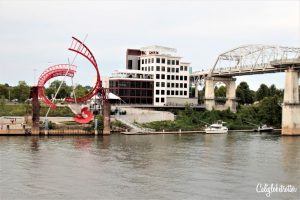 Music City Walk of Fame
In the heart of downtown Nashville, near the Bridgestone Arena and across the street from the Country Music Hall of Fame is the Music City Walk of Fame, similar to the Hollywood Walk of Fame, but for Nashville's musical heritage and significant achievements within the music industry in all genres of music! While we had planned to check this out, it was otherwise occupied by a craft beer festival. 
Country Music City Hall of Fame
While country music may not be everyone's cup of tea, the Country Music Hall of Fame is one of the best things to do in Nashville that everyone can enjoy! As one of the world's largest museums, you can stroll through decades of music which pays tribute to past and present artists. It's home to 2.5 million artifacts with everything from recordings, photos, cowboy boots, interesting ensembles, a variety of instruments and even Elvis Presley's "Solid Gold" Cadillac and Webb Pierce's "Silver Dollar" Cadillac – an absurdly flashy car. There are a few permanent exhibits for example, the Loretta Lynn exhibit as well as some temporary spotlight exhibits, currently Little Big Town.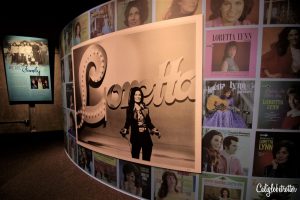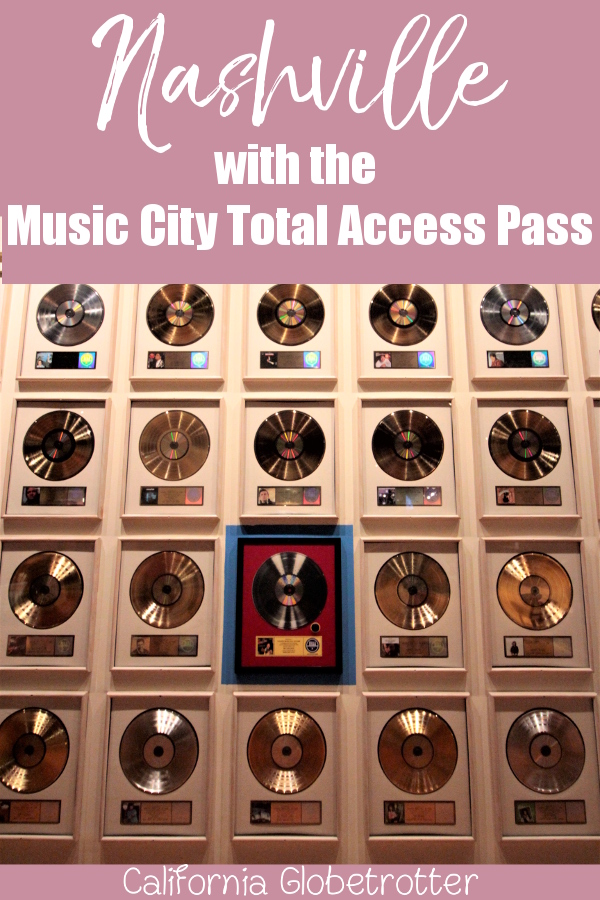 Hatch Show Print 
Since 1879, the Hatch Show Print has been one of the most iconic printing presses in the South for making vibrant and unique posters, especially for those related to art and music. Its distinct lettering was a leading advertising medium sought after by entertainers and businesses. Today, it's one of the oldest letterpress print shops in the US and is open for tours to learn more about the printing press and make your own commemorative poster, all made by hand!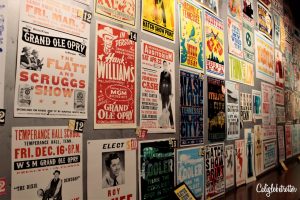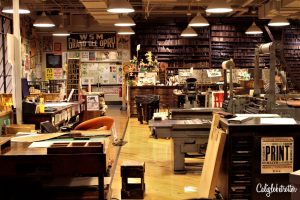 The Listening Room
Founded by Chris Blair, the Listening Room is a great alternative to the Blue Bird Cafe to enjoy some singer-songwriters performing downtown. If you purchase your tickets ahead of time, you can enjoy one of their dinner shows, or even a Saturday brunch show! Now that's how you enjoy a Saturday! TLR has gained a reputation for for being one of the hottest new spots in the downtown "sobro" Nashville district.
The Gulch
Breweries, Street Art and Boutique shops? What's to want for more? I had originally discovered this new quarter of Nashville when searching for the What Lifts You mural by Kelsey Montague, an interactive wall mural in Nashville which has not just shot Kelsey to fame, but her wings are recognizable in many cities around the US and Europe. On our second visit, we found a few more murals, breweries and awesome bars. 
In search of the Whiskey Kitchen, we stumbled upon one the best murals in Nashville by Google Fiber who is also helping to spruce up the internet with vibrant wall art.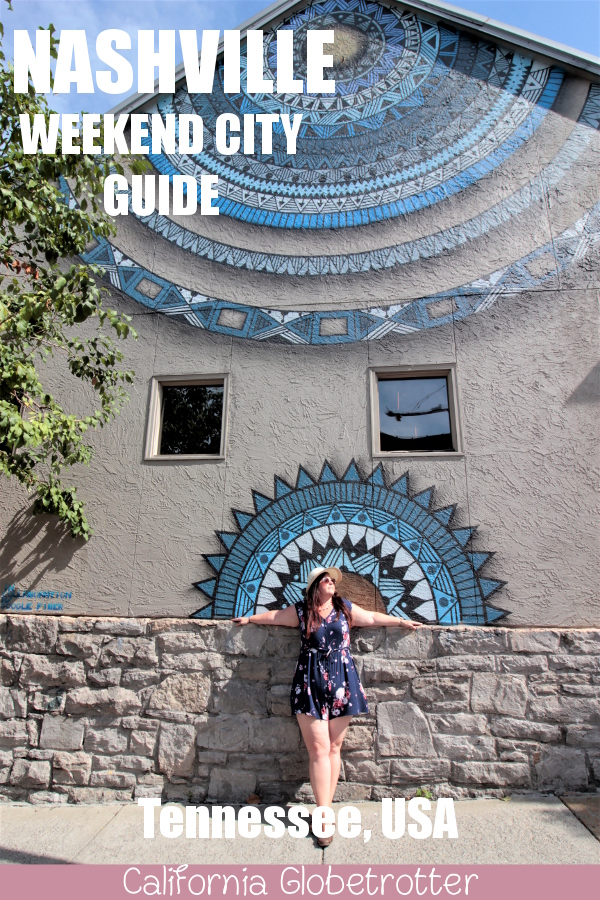 We had also intended to to check out the Gulch breweries: Tennessee Brew Works, Yazoo and Jackalope breweries but sadly ran out of time. 
Other downtown Nashville things to do:
A Tad Bit Further Out
12 South
Not far from downtown Nashville is 12 South, an up and coming neighborhood you'll want to explore! You'll find several amazing pieces of street art in 12 South, especially one of Nashville's most iconic murals, the "I Believe in Nashville" as well as a few others! You'll also find Draper James, Reese Witherspoon's boutique shop, although a little out of my price range! Find yourself somewhere to park and walk around the neighborhood, lined with cafes, boutique shops and restaurants.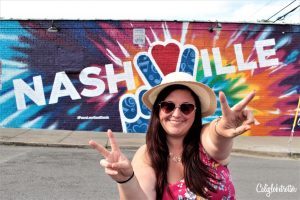 The Parthenon & Centennial Park
Located in Nashville's Centennial Park, the Parthenon is a full-scale replica of the original Parthenon in Athens. It was built in 1897 by Confederate veteran William Crawford Smith for the Tennessee Centennial Exposition. With the Total Access Pass, you gain FREE entry to the art museum inside, as well as catching a glimpse of the statue of Athena Parthenos, a reconstruction of the long-lost original, standing 42 feet high and covered in more than 8 lbs of gold leaf! Holding a smaller statue of Nike (Victory) in her right hand and armed with a shield in her left hand, she is quite the beauty to behold and standing in her presence suddenly makes you feel quite small. Not exactly what you'd expect to find in the American South, but it's one of the many reasons why Nashville is nicknamed "Athens of the South".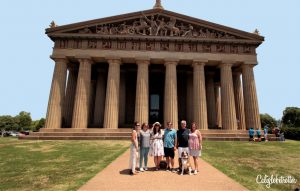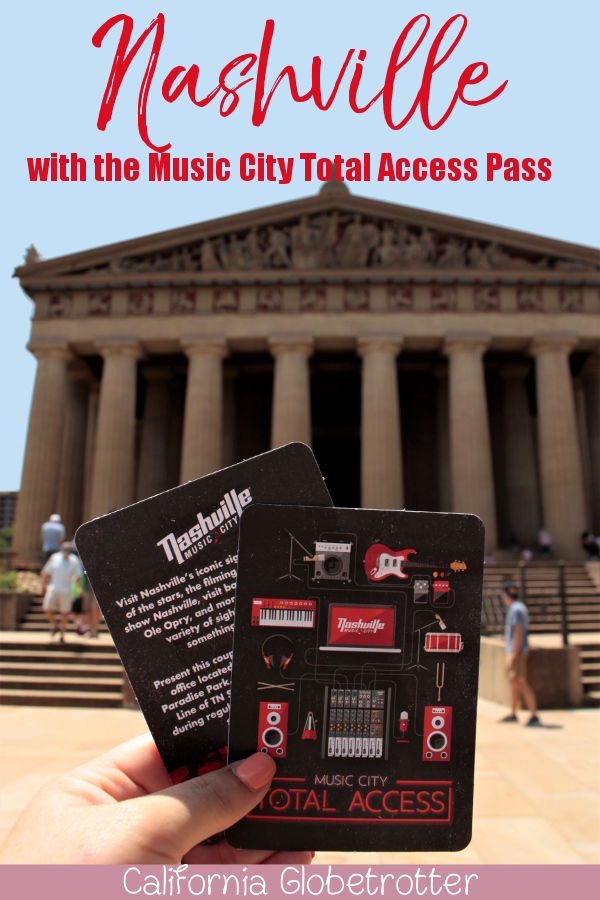 The BlueBird Cafe
Recently made popular by TV show Nashville, the Bluebird Cafe has had a long history of singer-songwriters performing to a small crowd. These days to visit the cafe, making reservations and purchasing tickets is a must, however, Sundays and Mondays, shows are first come, first serve and may require standing in line hours in advance. Despite being shot to fame, the Blue Bird Cafe hasn't changed and has stayed true to itself. 
Grand Ole Opry 
Considered to be the heart and soul of country music and the place all country music aficionados and singers call "Home of Country Music", the Grand Ole Opry is a weekly country music stage concert founded in 1925 by George D. Hay. It is America's longest running radio broadcast attracting hundreds of thousands of visitors from around the world, as well as listeners who enjoy bluegrass, Americana, folk and gospel music. Becoming a member of the Opry is one of the crowning achievements in country music and one must be invited by the Opry before becoming inducted. To become a member, an artist must continuously be part of the show's cast throughout their career and have frequent performances. Artists are traditionally invited to join by an existing member during a live broadcast. Some of the most notable members of the Opry include Conway Twitty, George Strait, Blake Shelton, my personal favorite – Chris Young, Carrie Underwood and more.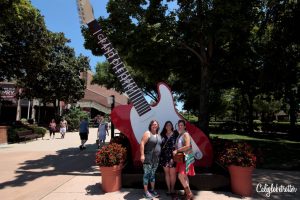 There are over 400 members who all received a plaque on the wall of fame. With a Backstage Tour of the Grand Ole Opry, you can see 19 backstage rooms, despite having only 18 (nobody wants unlucky #13). You'll also visit Studio A where shows like Nashville are also filmed. 
Gaylord Opryland Resort & Convention Center
Just across the way is the Gaylord Opryland Resort, one of the world's largest hotels with 2,888 rooms, it originally opened in 1977 to help support the Grand Ole Opry. After all, it's "the show that made country music famous" and all them country folks needed somewhere to lay their pretty little heads.
While visiting hotels isn't a typical sightseeing activity, visiting this one is! The Gaylord Opryland is an institution in Nashville and one of the best times to visit is at Christmas during their time-honored holiday tradition which boasts more than 2 million Christmas lights, live music, carriage rides and ice carvings which runs from November-January. Nothing like a ton of twinkling white lights to get you into the Christmas spirit!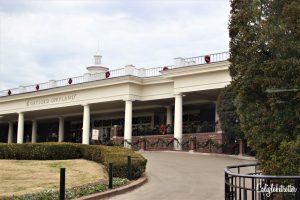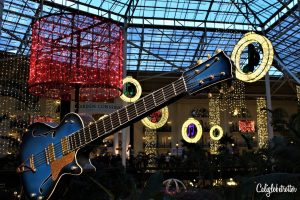 Bavarian Bierhaus
While heading to the Grand Ole Opry, I saw a sign for a Bavarian Bierhaus located in the Opry Mills Mall and knew I just had to check it out! Both of my friends who happened to be with me have both visited me in Bavaria so I thought we could enjoy a beer and pretzels. Upon walking in, servers are dressed in semi-traditional Lederhosen and Dirndls. It had a great Bavarian atmosphere and I would highly suggest a visit for anyone looking for a slice of Bavaria in Nashville! It was originally supposed to be a Munich Hofbräuhaus like the one in Newport, Kentucky, but it didn't quite work out. 
Other Family-friendly Attractions in Nashville:
Street Murals in Nashville
Music City is so much more than just music, although that is definitely the best of Nashville! The capital of music is home to a variety of artists, and Nashville is covered in art. Wall murals can be found on practically every corner, spicing up the internet with a little bit of color. If you're on a budget, then searching out the best street art in Nashville is one of the best things to do as it's completely and utterly free! Street art brings communities together because everyone can have a good time, it brings in foot traffic to many businesses and takes people to places they may otherwise not have thought about visiting!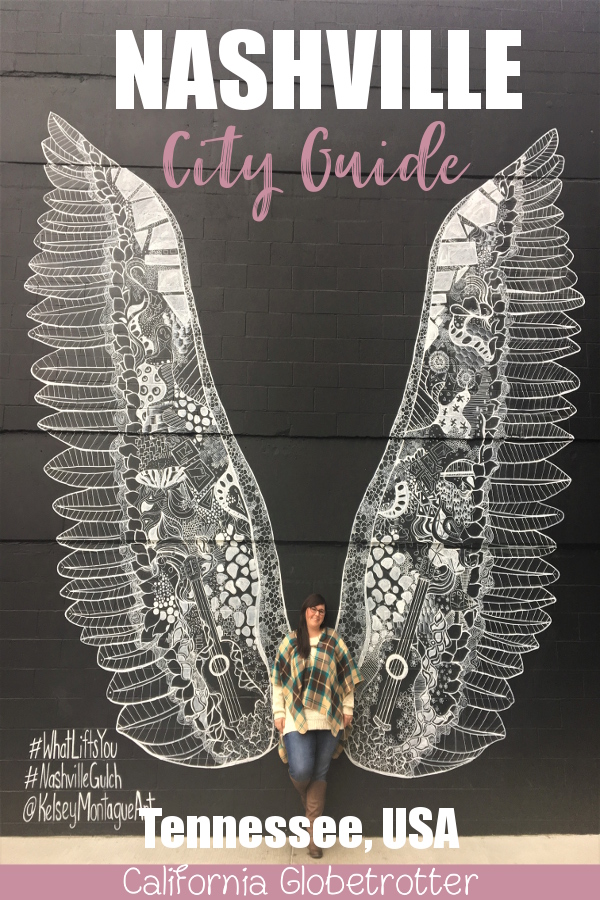 Where to Get Your Grub On in Nashville
City Tap House – We stumbled upon this restaurant with "Burgers and Brews" simply because there wasn't a line out the door. We were able to sit down quickly and order. Normally, no lines is never a good sign, but in this case, it was. The cuisine was sooo delicious and I finally discovered the joy of chicken and waffles! Unfortunately, because I started out with the best of the best, no other shall ever compare! Don't ask why Americans do the strange things they do, because I have no idea. But hey, don't knock it until you've tried it!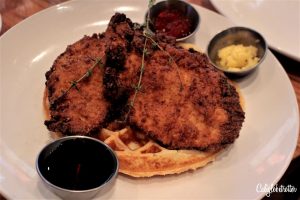 Martin's Bar-B-Que Joint – This came highly recommended from a gal at the Music City Total Access shop, but upon arrival, there was an absurd line out the door and we realized it's exactly the same chain restaurant as the one we have right here in Louisville, KY which personally we didn't find all that great the first time 'round. So, we opted to continue searching. But hey, to each their own!
Puckett's Grocery & Restaurant – We ate here on our first visit back in 2016. They serve up delicious southern cuisine like biscuits and gravy, hot chicken sandwich and more!
Rock Bottom Restaurant & Brewery – We headed to this bar for it's amazing rooftop views over the entire length of Honky Tonk Highway, great drinks, fantastic music and delicious appetizers!
Now, if you're looking for the best hot chicken in Nashville, here's what we found: 
Pepperfire Hot Chicken– Just down the street from our Air B&B rental, we got our grub on here and was our first taste of hot chicken. And boy, WAS IT HOT! But the Fried Okra was definitely new and wayyy good!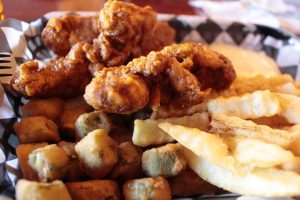 Hattie B's Hot Chicken (near Music Row) – quite possibly the best place to get hot chicken in Nashville simply because there seems to be a line out the door. When you know it's good, it's good!
But what is HOT CHICKEN? Simply put, it's spicy chicken which has been around for generations, but the current HOT CHICKEN can be attributed to the family of Andrew Prince Jeffries, owner of Prince's Hot Chicken Shack. Hell hath no fury like a woman's scorn. Turns out her great-uncle Thorton Prince III was a womanizer and knew how to have a good time, even during the Great Depression. One night, his steady girlfriend sought her revenge by adding extra pepper, but instead, he liked it so much, that by the 1930s they had their own recipe and opened up the BBQ Chicken shack! 
Where to Stay in Nashville
It's happened. I've officially converted and became a believer at just how awesome Air B&B's are! My friend booked us the cutest Air B&B house just minutes from downtown Nashville! Comfy, cozy and decorated with chic, Nashville inspired decor with a flair of that country music love! Staying true to Music City's love for country music, there were guitars, record coasters and even a record player! We rented out an entire house for 6 people for the weekend, and it couldn't have been better! Not only was it affordable, but in a great location with all the amenities we would ever need! If you're a first time AirB&B user, then with these travel hacks, claim your AirB&B coupon code!
Mins to Downtown ❤ Historic East Nashville Home
Day Trips from Nashville
All of the following locations can be visited as part of the Music City Total Access Pass:
Known as The Hermitage, it's the home of the 7th President of the U.S., General Andrew Jackson and his wife Rachel. The plantation was his home from 1804 until his death in 1845 and it was his wife Rachel who had found the land and thought that it would be the ideal place to settle. In 1821, the brick house began construction but a devastating fire destroyed much of it in 1831 and had to be rebuilt. By 1837, it was one of the most famous homes in Tennessee with 10 modern-day Greek temple Corinthian columns.
A visit to Andrew Jackson's plantation will give you a glimpse into a bygone era of cotton farming and owning slaves. You can catch a glimpse of the original wood cabins they lived in prior to building the Hermitage, the slave quarters, Rachel's beautiful gardens overflowing with butterflies as well as where both Andrew and Rachel Jackson are buried.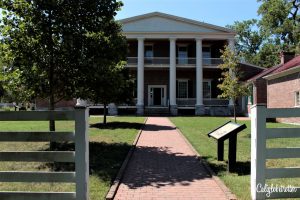 Translating to "Beautiful Meadows", the Belle Meade was founded in 1807 by John Harding and with 250 acres, the family business of breeding thoroughbred stallions was quickly founded and by 1860 had over 3,500 acres. His son, William Harding became one of the most successful thoroughbred breeders and distributors in all of Tennessee. Just how good was the Harding thoroughbred business? Just to name a few – Seabiscuit, Secretariat and American Pharoh can all trace their blood lines back to the Harding family breeding operation!
Today, the 150 year old plantation is one of the most popular day trips from Nashville and is open to the public for tours inside of the historic home, where some notable guests included President Grover Cleveland and his wife, General U.S. Grant, General Winfield Scott Hancock and more! End your guided tour with a wine tasting at the Belle Meade Winery on the property.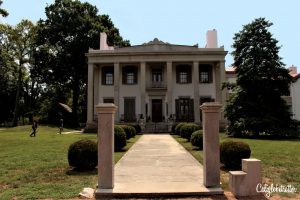 Whether or not your a whiskey aficionado, a day trip from Nashville to the Jack Daniel's Distillery should definitely be on your to do list! Come here to learn the history of one of the greatest family legacies in the US and walk away as family! Here, you can catch a behind the scenes glimpse of how Jack Daniel's Tennessee Whiskey is distilled and what sets it apart from other whiskeys.
All bourbon is whiskey, but not all whiskey is bourbon.
You'll learn how the man behind the brand started distilling, to choosing the perfect location for making the iconic No. 7, to learning how Jack Daniel died and how his legacy is continued every day! You'll end your tour with a whiskey tasting but I highly suggest not leaving without enjoying a family style meal at Miss Mary Bobo's Boarding House. 
Related: Day Trips from Louisville, KY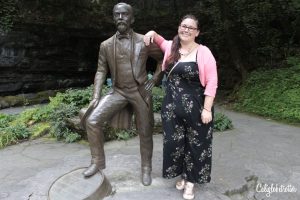 If you're already going to be down in Lynchburg, TN, then consider a visiting nearby Chattanooga, the gateway to the Appalachian Mountains.
Overall Experience
Now that I've been to Nashville three times, I think the third time was the charm! We managed to do a lot, especially of the touristy stuff, but I definitely don't feel like I need to go back. I can always go back for the awesome street art in Music City though, as well as catch a few more shows. But, considering how just how crazy it is all.day.long. with endless streams of bachelor and bachelotte parties, I couldn't personally deal with such large crowds on a daily basis. Should I return, I would love to dig deeper and find some more authentic scenes to enjoy. If you're looking for the ultimate bachelotte party, then this seems to definitely be the hot new place to go. 
One thing that definitely made me feel better about visiting Nashville, was that since my last visit, they have been installing protective security devices along Broadway to prevent any car/pedestrian tragedies. Although in my personal opinion, Broadway should be only a pedestrian zone and party bus/bike area because I found it to just be wayyyy to chaotic! 
Would I get the Music City Total Access Pass again?
As for the Music City Total Access Pass, I found it to be a great deal, but kind of a bummer you could only pick 4 of 34 tourist attractions in Nashville to visit with the card. I would have preferred to be able to use it for as many locations as we could feasibly manage in a weekend like with the London Pass. There, we had bought a 3 day pass which entitled us to visit as many attractions as we could manage for a heftier price. But it was definitely worth the extra investment. 
With your Nashville cit pass, you have a separate ticket card for each attraction you decide to visit and must hand that over upon reaching the ticket counter. Quite personally, I would have also preferred to have one simple card to swipe or scan for all locations rather than digging through searching for the appropriate ticket. 
Not being a sports fan, I would have preferred to have an option of which 2 free attractions we could visit, so that was kind of a loss by not visiting the Tennessee Sports Hall of Fame.  
Would I invest in it again? Definitely! There are still many major attractions in Nashville I would have loved to see and one weekend is just not enough time for all that history, beauty and fun! Saving money in Nashville though is always a bonus!
If you're looking for some extra guides to prepare your trip, here are my travel guide bibles to help you navigate through Tennessee!
This post contains affiliate links. If you click on one and make a purchase, I might make a little extra spending money, at no extra cost to you. As always, all opinions are my own and these products/services have been found useful during our travels and come highly recommended to you from yours truly!
Southeastern USA Travel Inspiration:
Easy Wall Murals to Find in Nashville
A Tour of Jack Daniel's Distillery
A Busy Bee's Guide to Savannah (30+ Things to Do!)

Liked this post? PIN IT FOR LATER!!