Disclaimer: This post contains affiliate links. If you click on one and make a purchase, I might make a little extra spending money, at no extra cost to you. As always, all opinions are my own and these products/services have been found useful during our travels and come highly recommended to you from yours truly!
A spa with beer? Unlimited beer? Beer Bread? A bed of hay? In Prague? In Karlovy Vary? THIS is an experience I.JUST.GOTTA.HAVE!! If you'r planning a visit to the Czech Republic (Czechia), you should definitely take some time to bathe away any travel stress you might have! This is honestly one of the coolest things to do in the Czech Republic!
Want to Check This Off Your Bucket List? PIN IT FOR LATER!!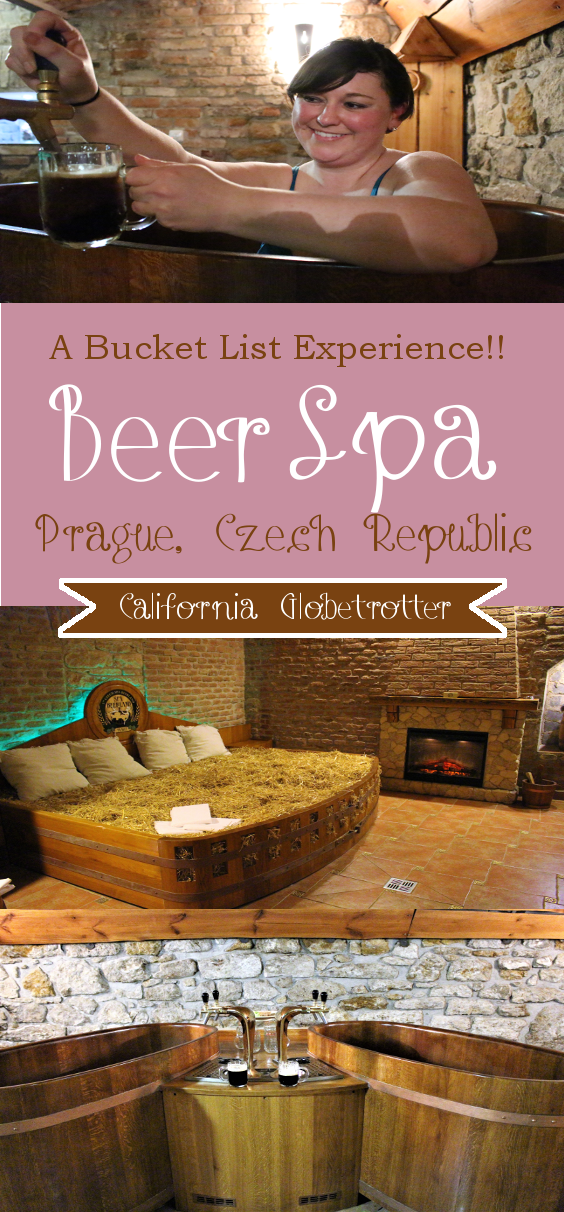 How to AVOID Looking Like a Tourist in Europe
As we have been knee deep in wedding planning and working like crazy people over here, we needed a little break to celebrate our 3 year anniversary! I had been perusing though Pinterest one day when my eyes were suddenly delighted with a wonderful image of a couple taking a bath. Not any bath. But a BEER BATH! I knew then and there, I had to go to Karlovy Vary for the world's first beer spa! I screamed with excitement because this was just about the coolest thing I have ever seen! My fiance rolled his eyes at me and knew without a doubt, we were going and there was no if, ands or buts about it!
For this amazing experience that I just HAD TO HAVE, we drove 2 hours from where we live in Germany, just over the Czech/German border, to spend the day there. We arrived nice and early so we would have enough time to stroll through the town.
The experience was so amazing that we decided to that when my family came out to Germany for our wedding later in the year, we would HAVE to take them to the beer spa in Prague too!
Pivní lLázně was the very first Beer Spa. Czechs have a long history of bathing in their beer dating back to the Middle Ages, as they believe that brewing and soaking in yeast cures a numbers of ailments.
Not surprising since the Czech have the highest beer consumption in the world and believe their beer to be the best!
We entered a world focused solely on our enjoyment and relaxation, with a small fire lit to give off a cozy vibe. The decorations in the room add to the beer spa experience. The brick and stone work really added some rustic charm!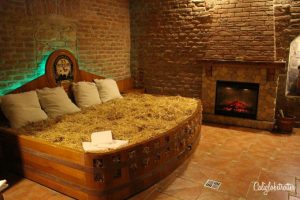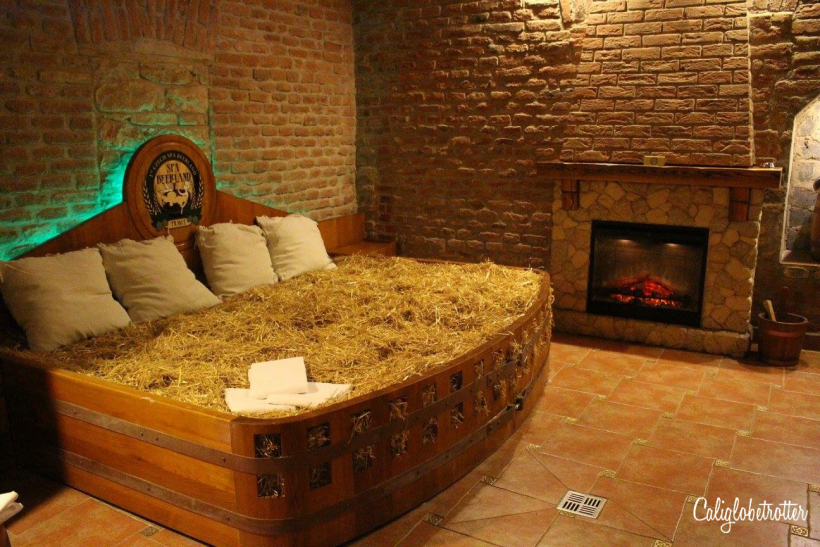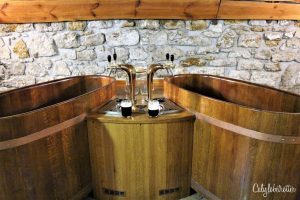 We immersed ourselves into deep two Royal Oak tubs filled with beer ingredients – malt, brewer's yeast and hops-a-bubblin'. Maybe if we sit here long enough we'll begin to ferment while we enjoyed an unlimited supply of both light and dark Krušovice beer on tap during the hour of our bath which help our bodies to hydrate and promotes mental relaxation. To top it off, we snacked on homemade beer bread which was scrumdiddlyumptious!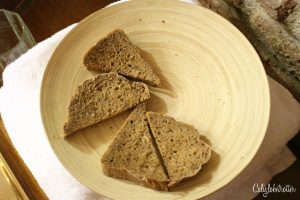 Don't mind if I do!?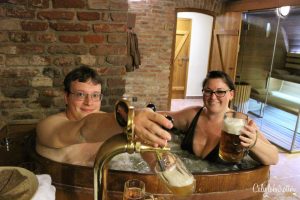 The affects of taking a soak in a beer bath include:
skin rejuvenation
absorption of vitamins, carbohydrates and proteins
soothing effect on the skin, hair and muscles
easing of muscle tension
reduction of stress
regeneration of the body and mind
improved blood circulation
detoxification – the removal of harmful substances from the body
treatment of back and joint pain
cleansing of pores
increased cardio activity
treatment of psoriasis, acne and cellulite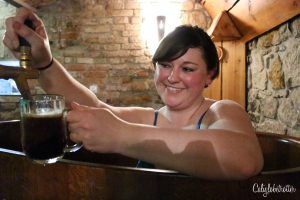 As we enjoyed the room completely to ourselves, we washed away all the stress and tension as the beer soaked into us and the muscles began to give way as we enjoyed the peaceful serenity of Czech music. After our 20 minute dip, we laid on a bed of genuine wheat straw which helps to absorb all the vitamins and extracts from the bath.
Never thought I would say "takin' a roll in the hay" would be healthy for me!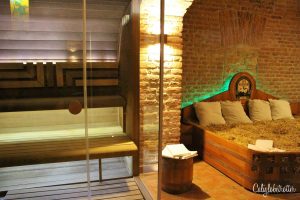 Ultimately, this was the best anniversary experience ever! After all, how else do you give a beer lover a gift? This experience was perfect for us as a couple, but could easily have been just as enjoyable with another couple, as each spa can hold two people comfortably!
But have no fear, there is no after-odor that anyone should be concerned about. Although they recommend not showering for at least 12 hours after the bath for maximum effect, your body is embalmed in fragrant herbs.
For more information about booking your first Beer Spa experience:
LOCATION:

Karlovy Vary: Stará Louka 8, 360 01

Prague: Týn 644/10, 110 00 Praha 1-Staré Město
You can also have the same experience in Prague, should you be in the capital. Both locations are great, but personally I would choose Prague again before I went to Karlovy Vary as the Prague Beer Spa is much larger and includes a sauna.
Reservations are highly recommended prior to visiting, as this is such a popular experience, it might be hard to get a chance to take a dip if you're just a walk in.
PRICES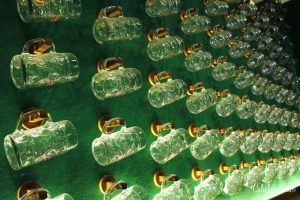 Pivní Lázně Spa Beerland offers two packages: the Beer Spa and the Spa Beer Land. This is the standard Beer Spa package which offers one hour of hot tub, unlimited beer for drinking, relaxing straw bed, and homemade beer bread. Spa Beer Land also offers time in a hop sauna and a cooling procedure afterwards all in your own private room.
We chose the standard Beer Spa experience with 2 tubs for 2 people. We didn't want to share tubs! We also went again with my parents, and had 2 tubs for 4 people.
You can choose 1 tub, 2 people or 2 tubs, 2 people, etc. For our particular choice we paid a total of CZK 4,600 or about 188 USD ($47 per person). For other spa combinations and prices check out this page!
WHAT'S PROVIDED?
Beer Spa Land provides towels, fresh sheets for the straw bed because we aren't farm animals, a closet for your clothes separate from the wet room, and slippers. You'll also be able to rock out to some good ol' American 80s classics!
TIPS FOR VISITING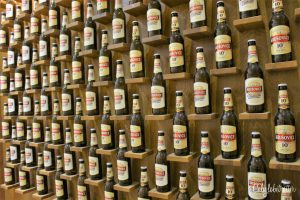 Arrive in your bathing suit, under your normal clothes. You are only allotted one hour in the spa, which includes getting dressed and undressed. To prevent wasting precious time, arrive ready to jump in, or start undressing in front of the lady as she is still telling you how the process works, as my step-dad did! He was quite impatient!
Bring a plastic bag for your wet swim suit, as you won't have time to wash it out, and you certainly won't want to wear for the rest of the day!
You are forewarned that the beer spa hostess will burst through the door unexpectedly to announce you have 10 minutes to shower and change.
Not finished with your beer from your spa? Have no fear, at the Prague location, you can continue drinking even after you're finished with your spa experience!
Don't forget to rinse! Preferably 12 hours later for the full effect, but you will feel a bit grainy in certain crevasses so you'll want to shower by the time you're home. But rinse only, without soap to allow the nutrients to absorb.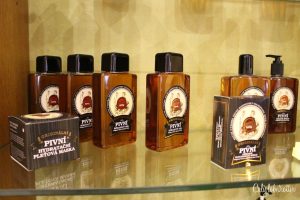 Now, whenever someone tells me they're going to the Czech Republic, I automatically recommend doing a beer spa because it's not every day you hear that you can bathe in beer! And you always get they "Whhhhat???" reaction when people find out you can do this. We loved it so much, we went back a second time with my family but to Prague my beer loving step-dad was in beer heaven! It's one of the most unique things to do in Prague and honestly, one of the best! 
If you're interested in visiting the Czech Republic and are looking for more information, I highly recommend using the DK Eyewitness Travel Guide and Lonely Planet! Without these guides, I would be lost! This is my travel Bible!
Disclaimer: This post contains affiliate links. If you click on one and make a purchase, I might make a little extra spending money, at no extra cost to you. As always, all opinions are my own and these products/services have been found useful during our travels and come highly recommended to you from yours truly!
Day Trips from Prague:
Like this post? PIN IT FOR LATER!!