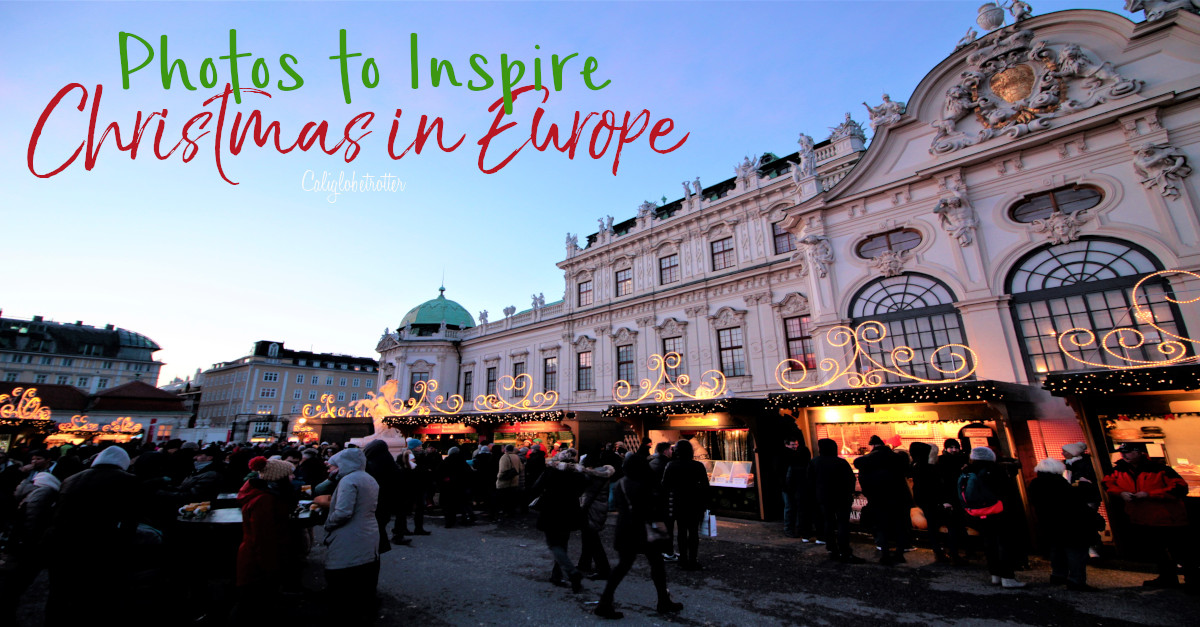 Disclaimer: This post contains affiliate links. If you click on one and make a purchase, I might make a little extra spending money, at no extra cost to you. As always, all opinions are my own and these products/services have been found useful during our travels and come highly recommended to you from yours truly!
I'll be home for Christmas!! Scratch that! Pack up your suitcase, bring your warmest jacket, your fluffiest scarf and winter mittens, throw in a pair of earmuffs and head to to those twinkling Christmas Markets in Europe! From the cutest, quaintest snow covered markets, warm Glühwein and a feeling of good cheer, it's the happiest season of all when friends come to call! There's no better way to describe the most wonderful time of the year when you visit a Christmas Market!
Want to Visit Europe's Best Christmas Markets? PIN IT FOR LATER!!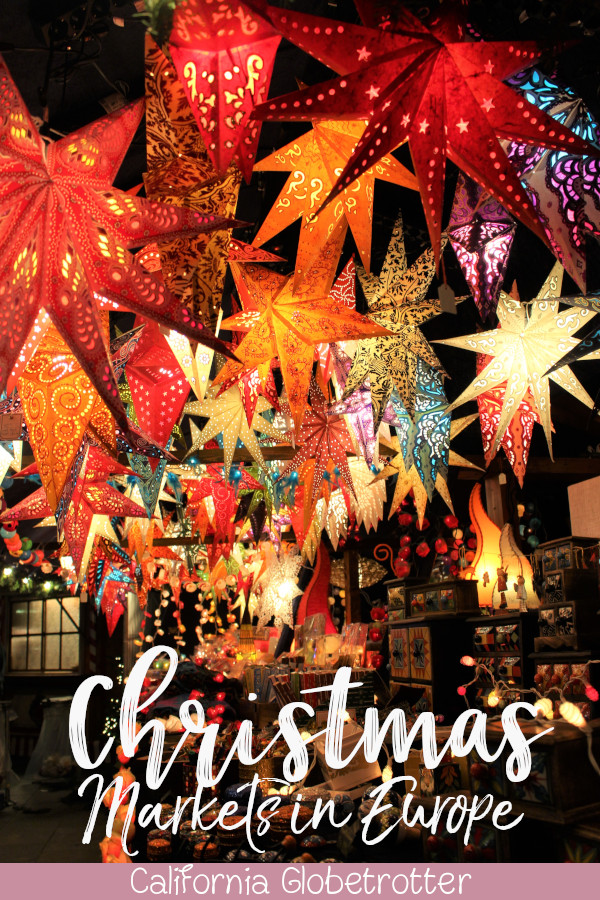 It dawned on me recently, that for the last 7 1/2 years, being away from home during the holidays has always been the hardest part about living abroad, but the joy of the Christmas Market season in Europe has helped me through the tough times. Nothing cheers me up quite like going straight to a Christmas Market, grabbing a cup of warm Glühwein with a friend before heading home. It's also the one time of year, I want my friends and family to visit me most because it's just the most magical time of year to visit Germany.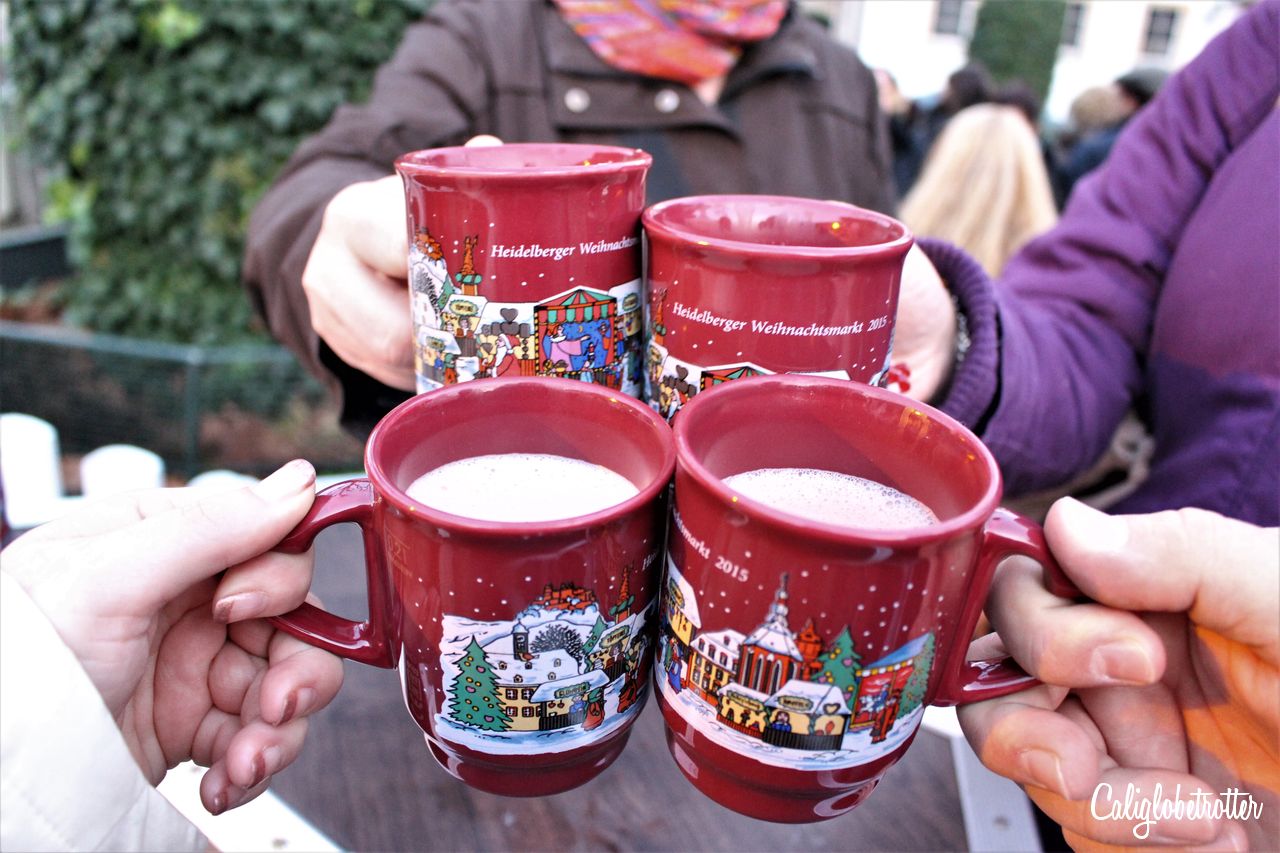 German Christmas Markets are truly my favorite, and I'll be sad to give them up, if only for an unknown amount of time. But it's not just the German Christmas Markets which are so unbelievably picturesque, but there are Christmas Markets all over Europe, from Paris to Strasbourg, Prague to Vienna and even down into Italy and up to Finland and Latvia. And while I haven't visited them all, I certainly intend to visit as many as I can during my last Christmas Market season in Germany.
Related: EVERYTHING You Need to Know About German Christmas Markets
35 Photos to Inspire You to Spend Christmas in Europe
The best way for me to inspire you to visit Europe at Christmas, is to show you some of the prettiest pictures of European Christmas Markets, from Germany to Austria, France and the Czech Republic! The best time to visit Europe for the Advent season is typically from the last weekend in November until the 23rd of December. Some Christmas Markets like Vienna, Strasbourg, Colmar and Prague, and many more, may even stay open until December 29th or 30th. The "Weihnachtsmarkt" or "Christkindmarkt" have been held in the main squares of major cities around Europe as far back to 1298 in Vienna and even to 1310 in Munich! So just remember that when you're strolling hand in hand through a Christmas Market in Europe, you're participating in a good ole jolly centuries old tradition!
There's so much ground to cover, it will be impossible to visit all of the markets in one go, but a great option would be to fly into Frankfurt and work your way to as many markets. So grab a cup of Glühwein and let's get started!
Germany
Abensberg's Kuchlbauer Brewery Christmas Market
Just a 30 minute train ride away from Regensburg is the Kuchlbauer Brewery's Christmas Market in the heart of the small Bavarian village of Abensberg, wrapped snugly around the Hundertwasserturm (Tower), designed by the famous Austrian artist, Friedrich Hundertwasser. When you come to this enclosed Christmas Market, you'll find only handcrafted, locally made products from the region with a flair of all things artsy. During summer, at the base of the tower is a thriving Biergarten, selling Kuchlbauer's delicious Weissbier (wheat beer).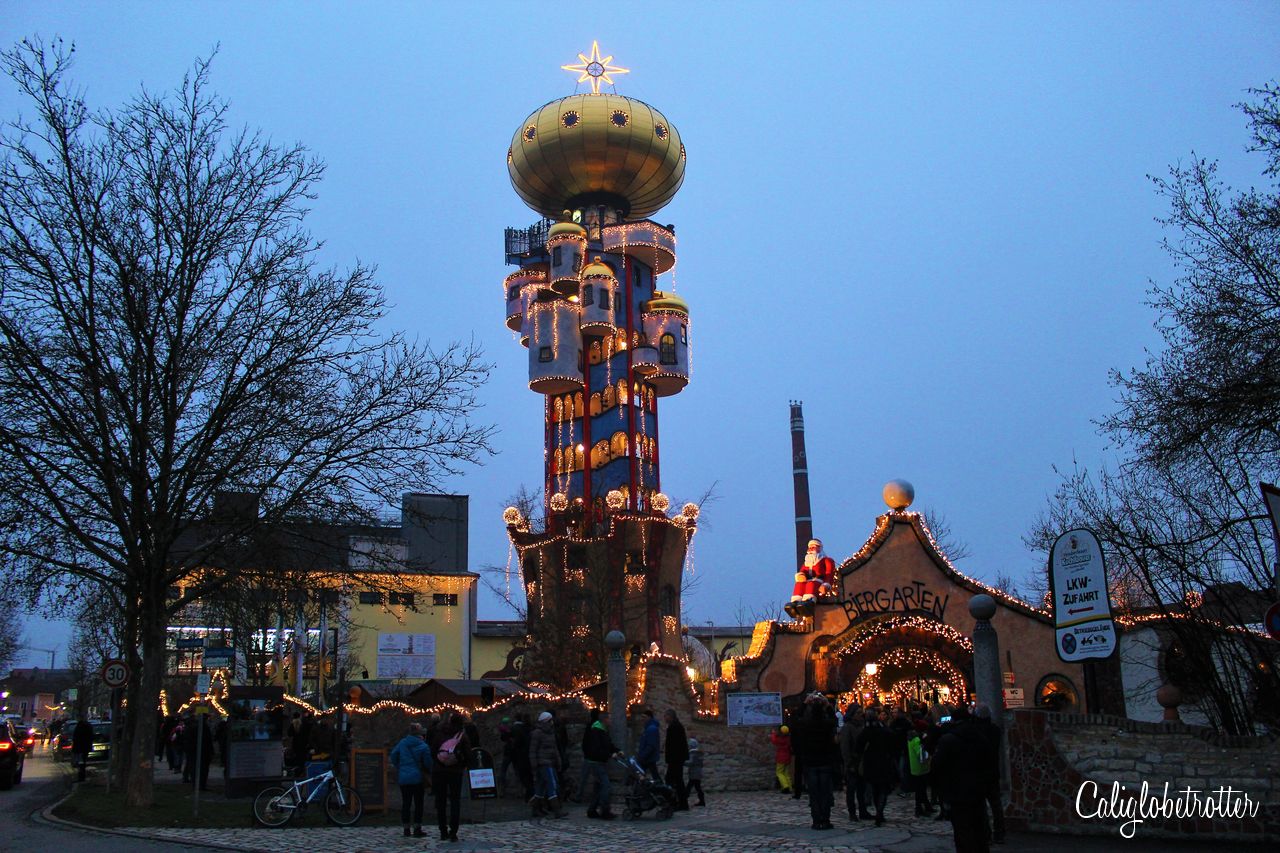 Regensburg's Christkindmarkt
Considered to be one of my favorite Christmas Markets in Germany, but then again I live here and am a bit biased! Nonetheless, for our small historic city center, you can find not just one but 5 markets scattered throughout the town, with the main market being located at Neupfarrplatz, the heart of the town. While you'll also find one at the Spital Biergarten and other squares in town, one of the most popular Christmas Markets in Regensburg is Schloss Thurn & Taxis' Romantisches Weihnachtsmarkt, though you'll have to pay to enter.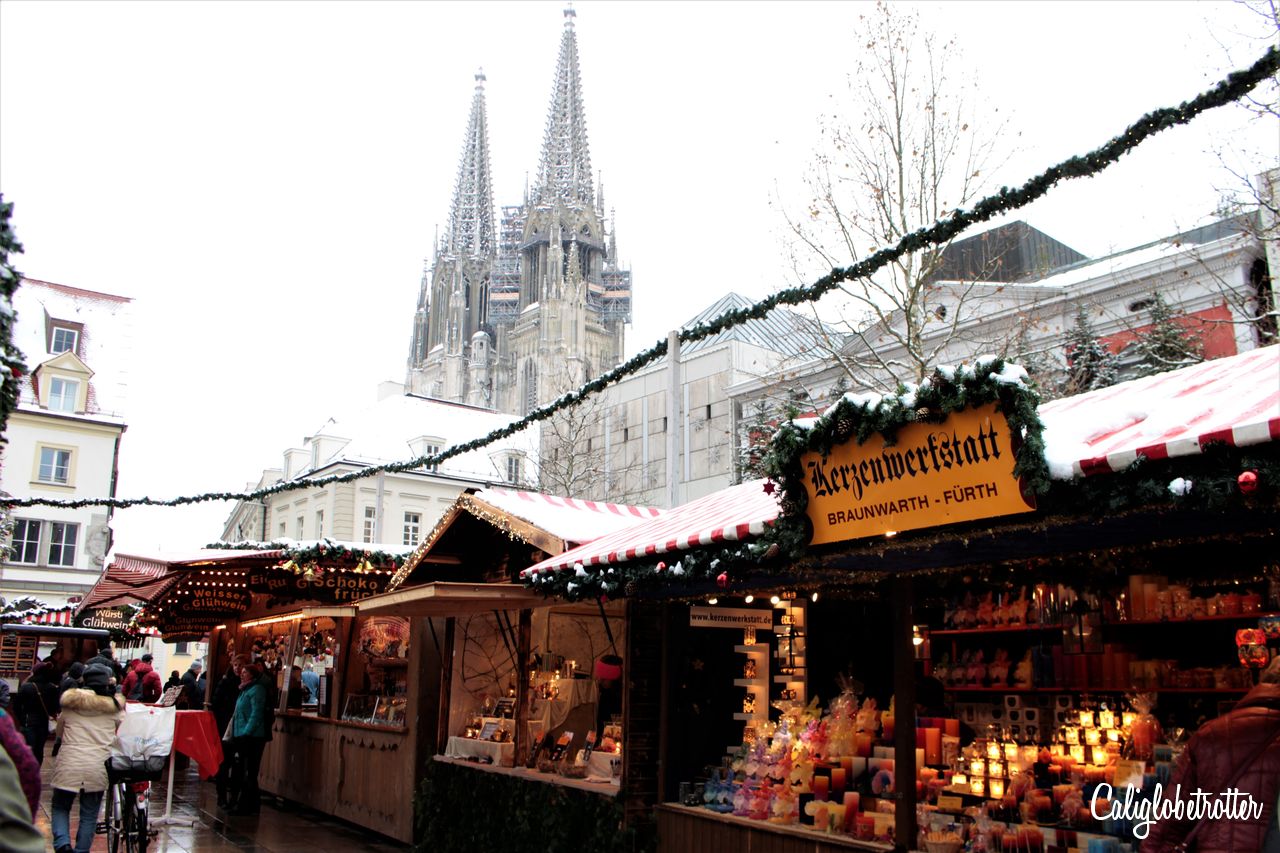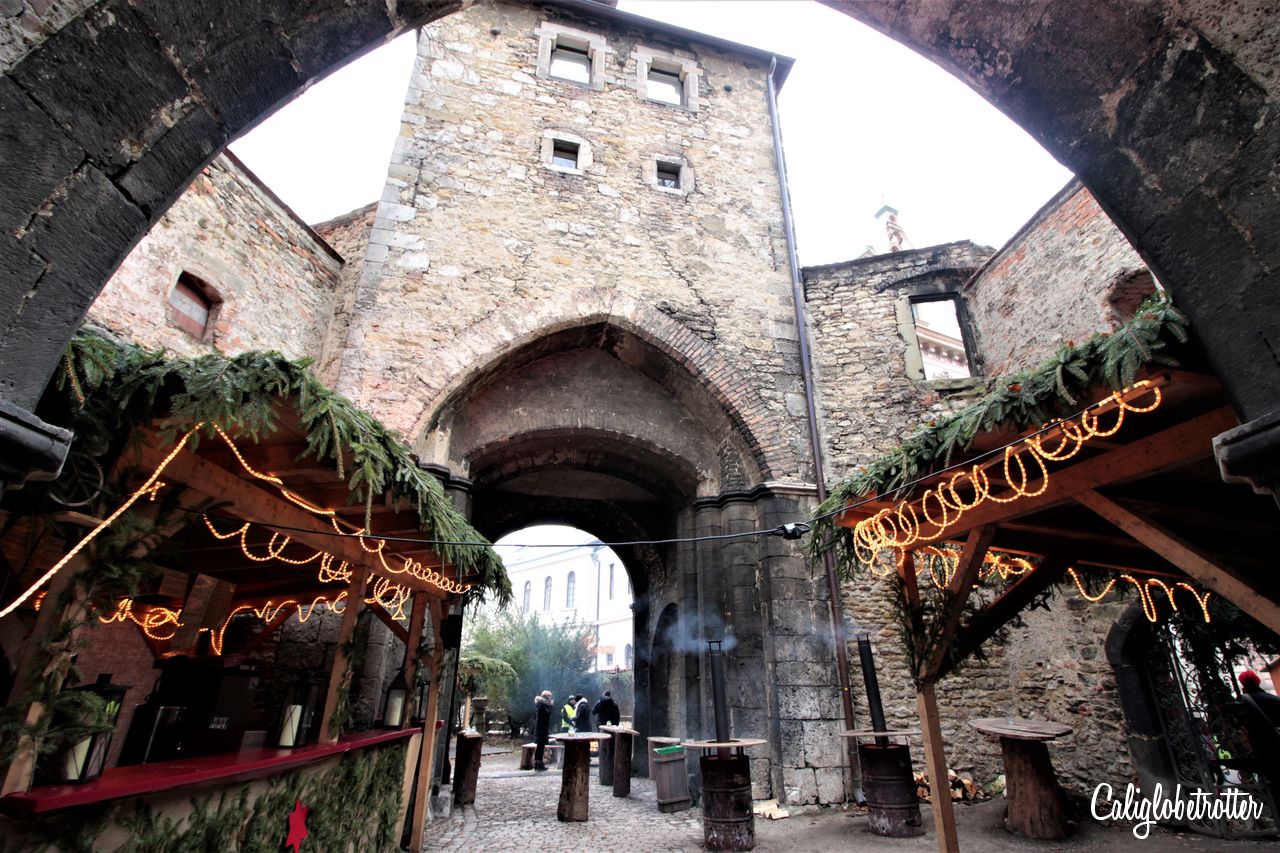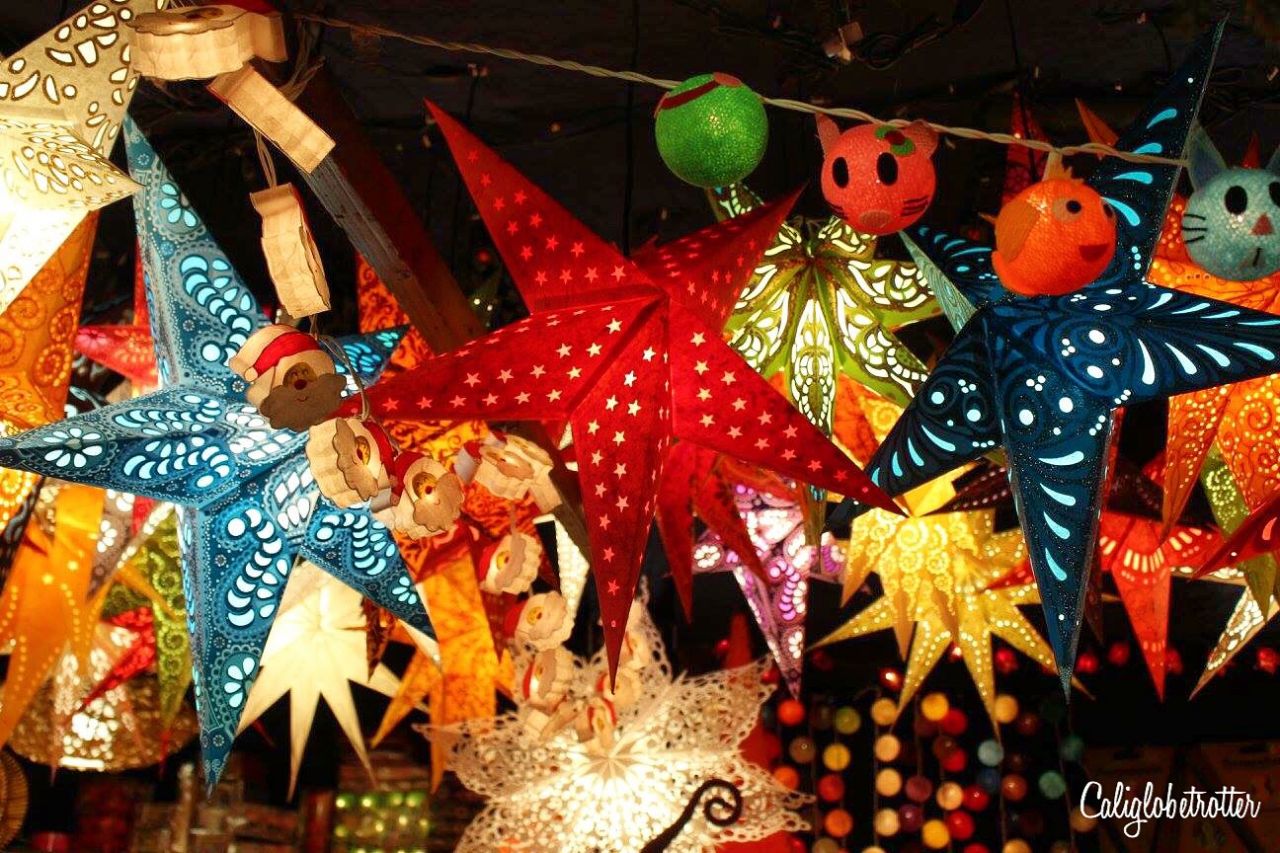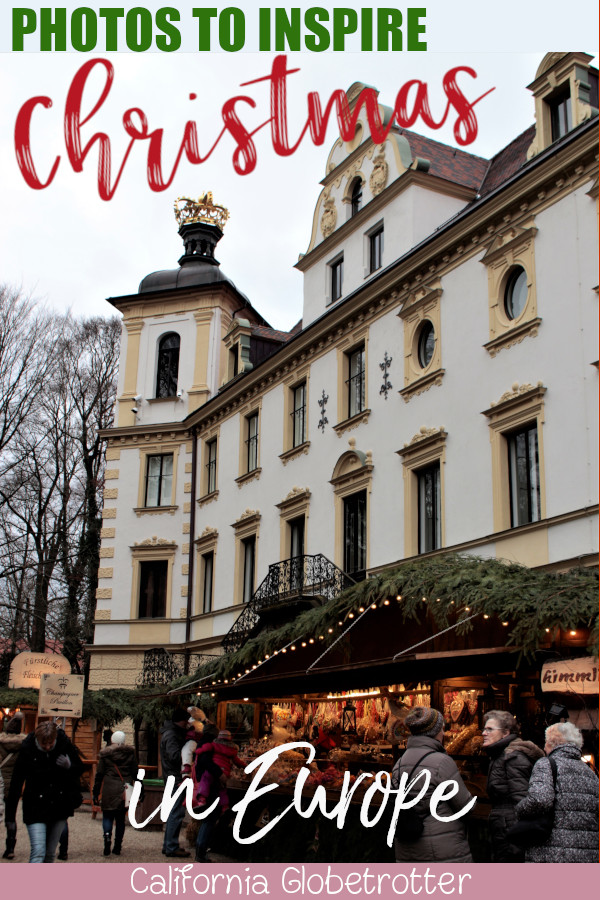 Schweinhütte Waldweihnachtsmarkt
Quite possibly one of the most unique Christmas Markets in Germany I've ever visited, it can be found deep within the Bavarian Forest, in the small town of Schweinhütte. At the Schweinhütte Waldweihnachtsmarkt, snow covered huts brighten up what would otherwise be a dark forest and trees are alive with expressions, while little gnome children run around the market. Scarier, darker elements lurk at every corner, keeping an eye on children, encouraging them to remain good little kiddies. Sounds ominous, but don't be alerted, it's all in good fun. Only open two weekends in December, plan in advance if you want to visit, and just a heads up, there's a small fee to enter.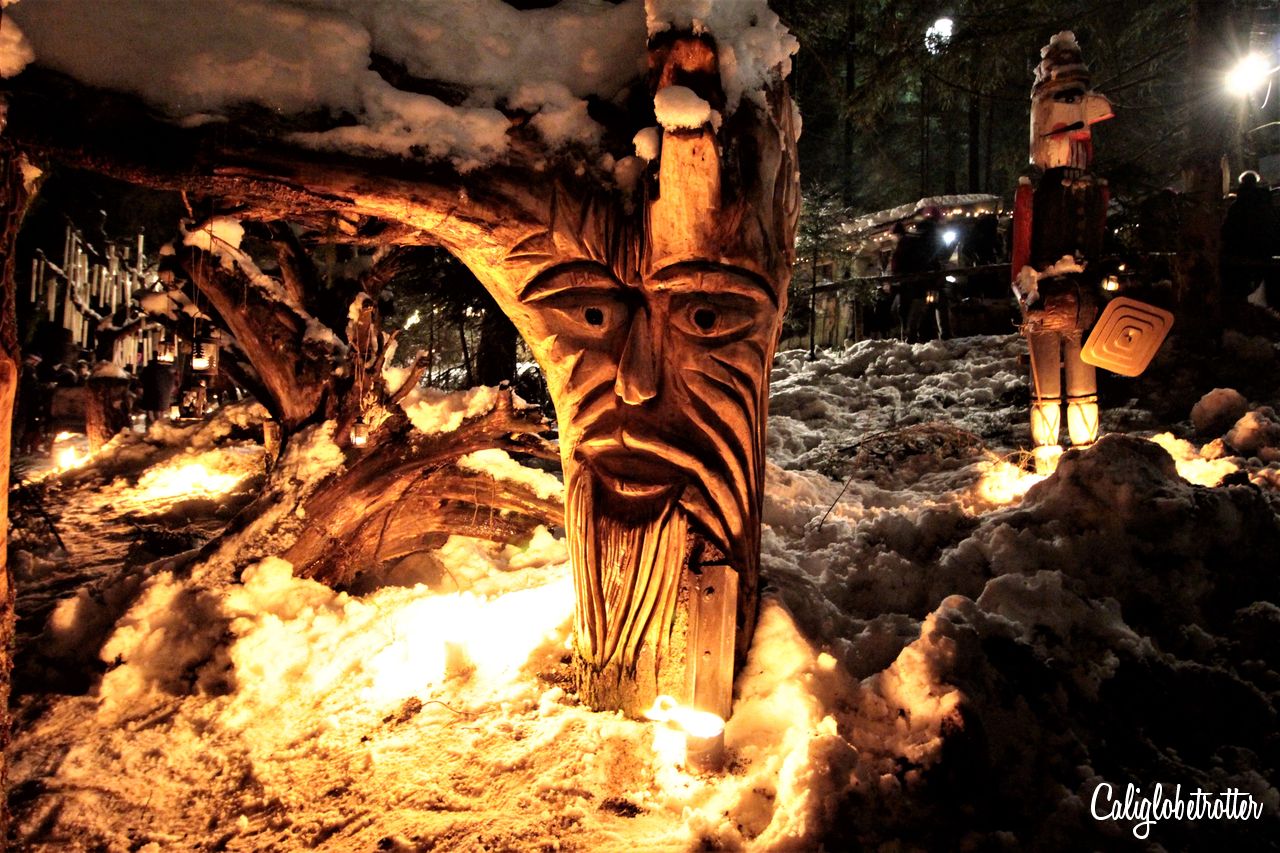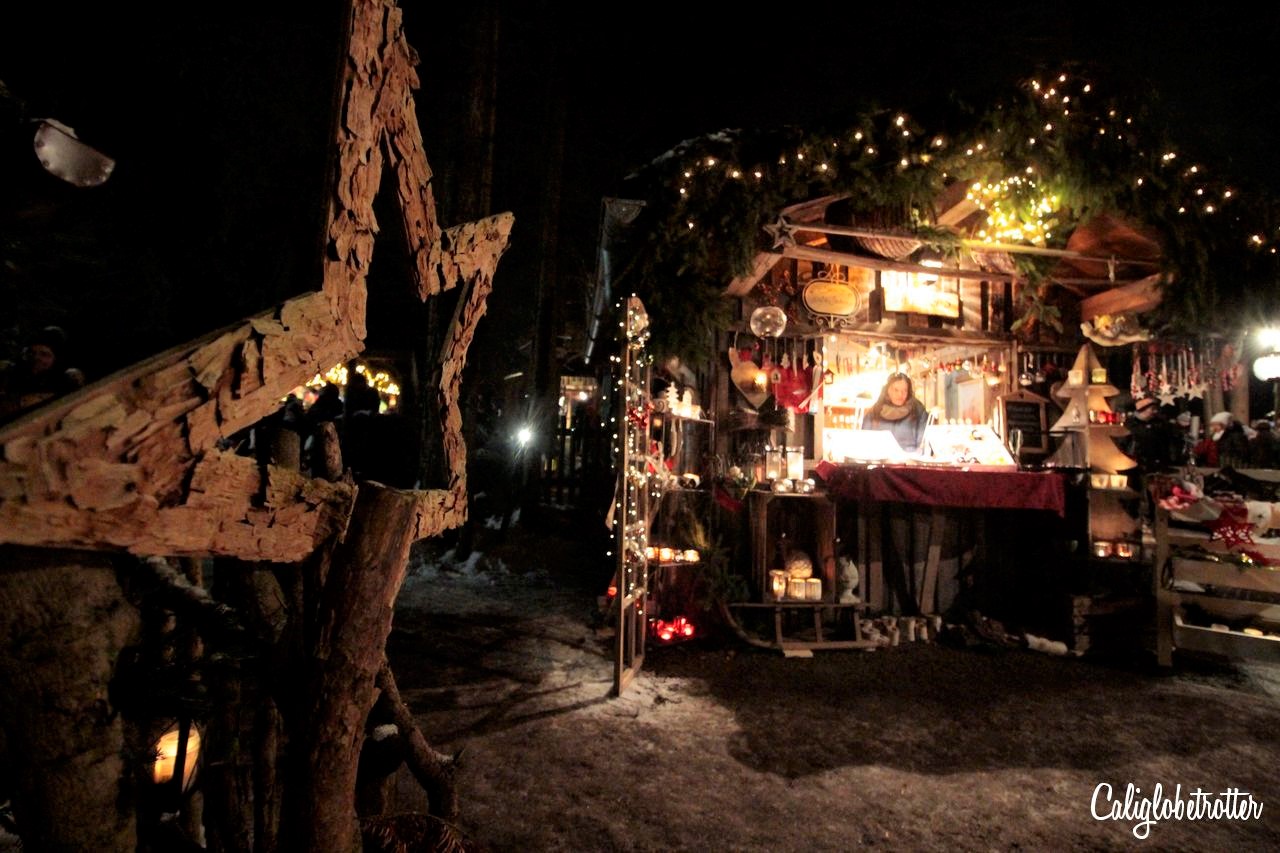 Nuremberg's Christkindlmarkt
Easily one of the most famous Christmas Markets in Europe, Nuremberg's Christkindmarkt is famous for its opening ceremony, led by the Christkind herself! Scattered around town, the main market can be found directly in front of the Frauenkirche, which also temporarily houses the Christkind Museum and offers a pretty spectacular view over the entire Christmas Market. Not only is the market covered in beautiful angels, but it's also renowned for its delicious Nuremberger sausages and white Glühwein.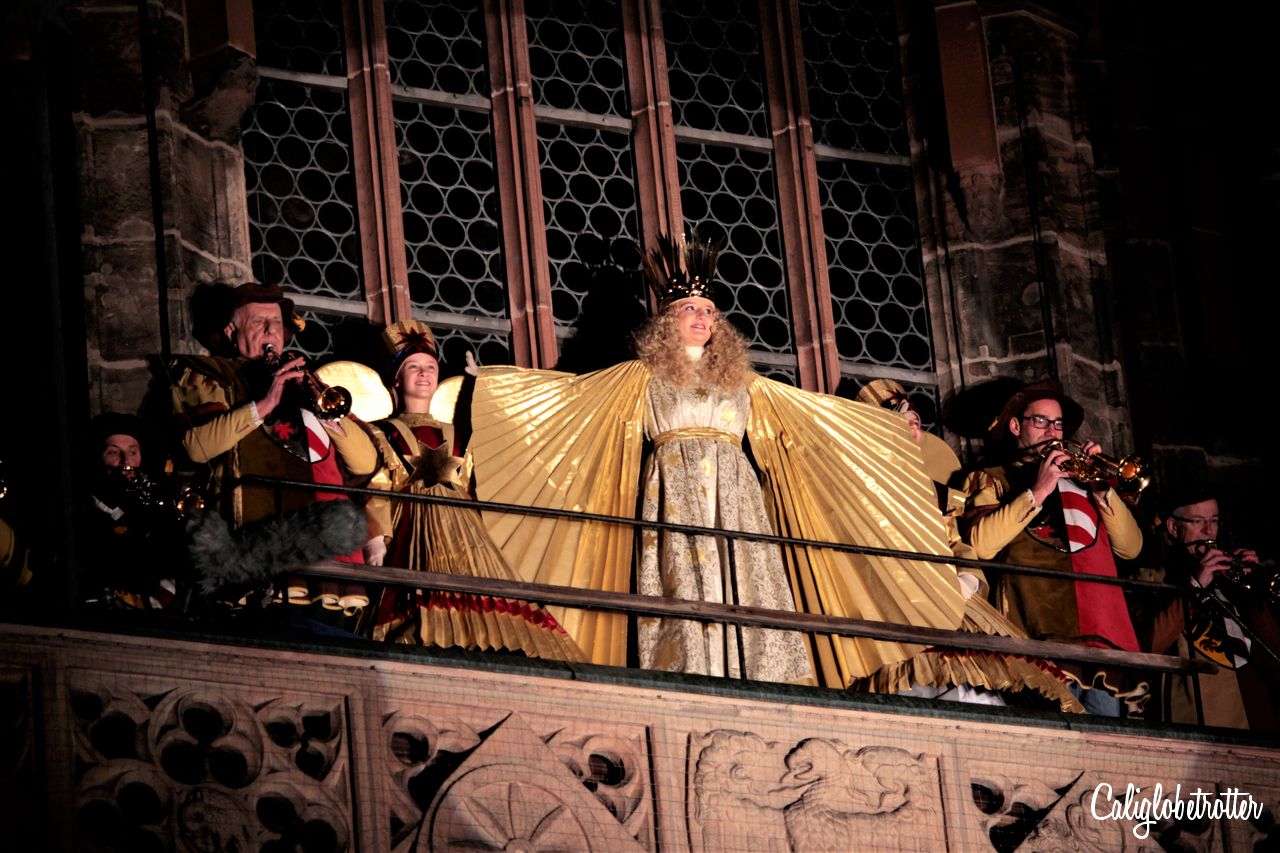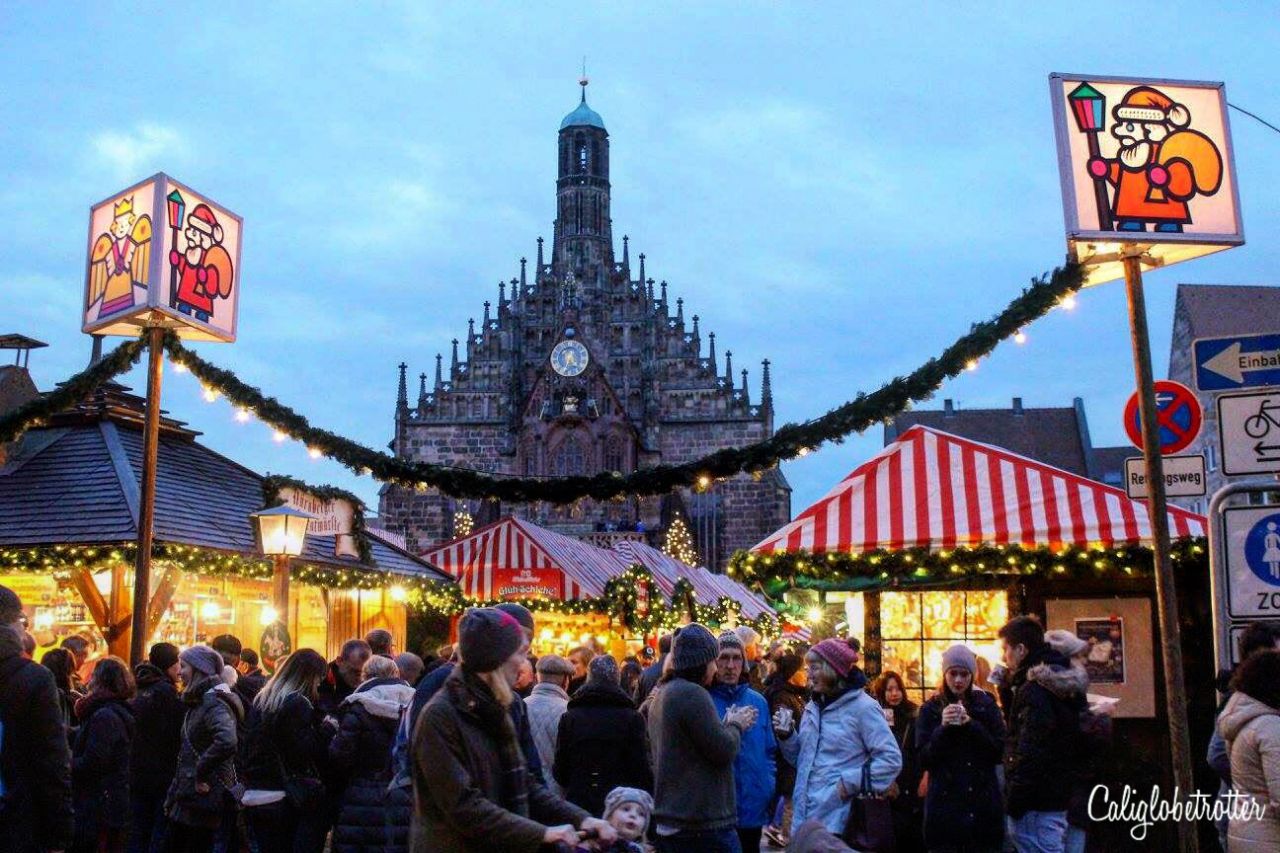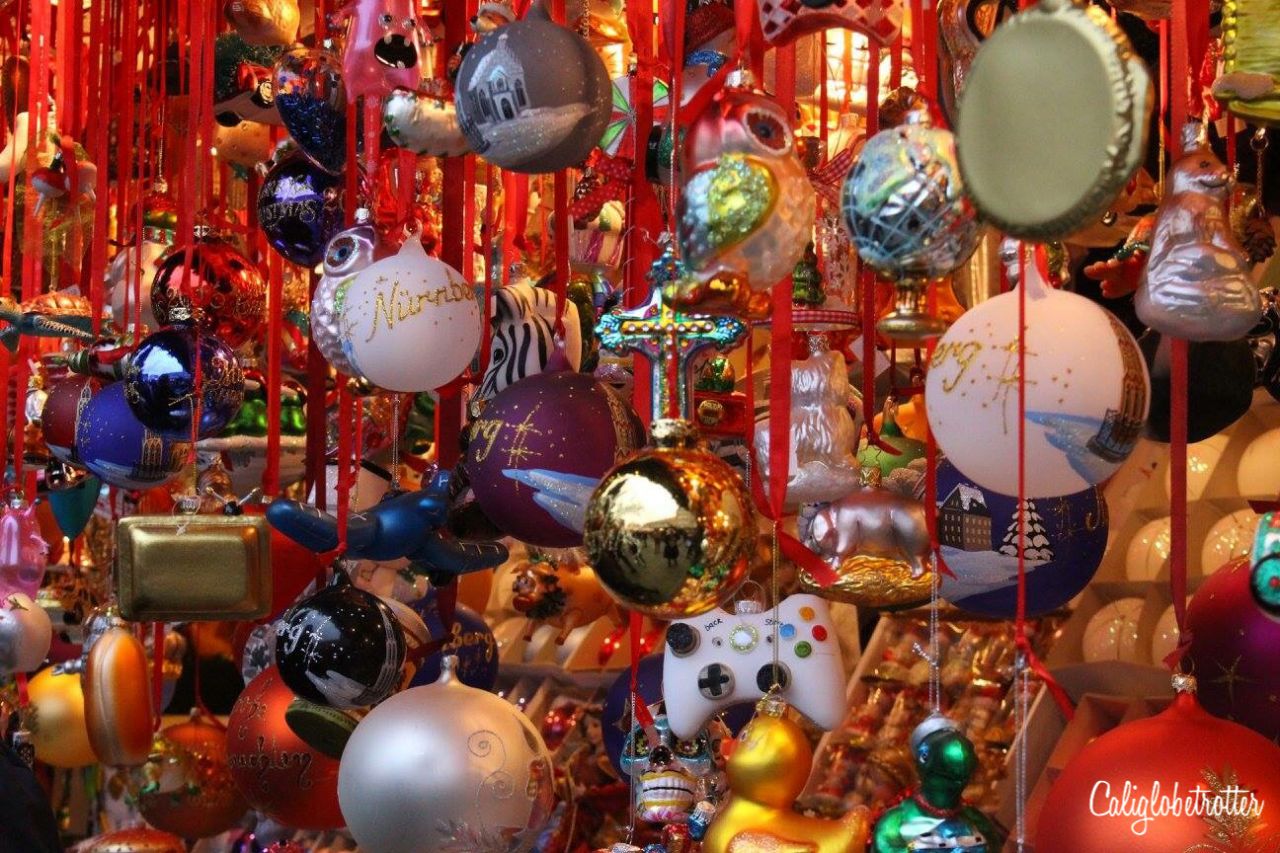 Munich Airport Christmas Market
During the advent season, Christmas Markets can be found in nearly ever nook and cranny of Europe, including and not surprisingly, at the Munich Airport! Located between terminals, it's a great way to pass the time either waiting for a flight or waiting to pick someone up. You'll even find a rather large ice skating rink here, as well as the best damn stuffed jacket potato of my life!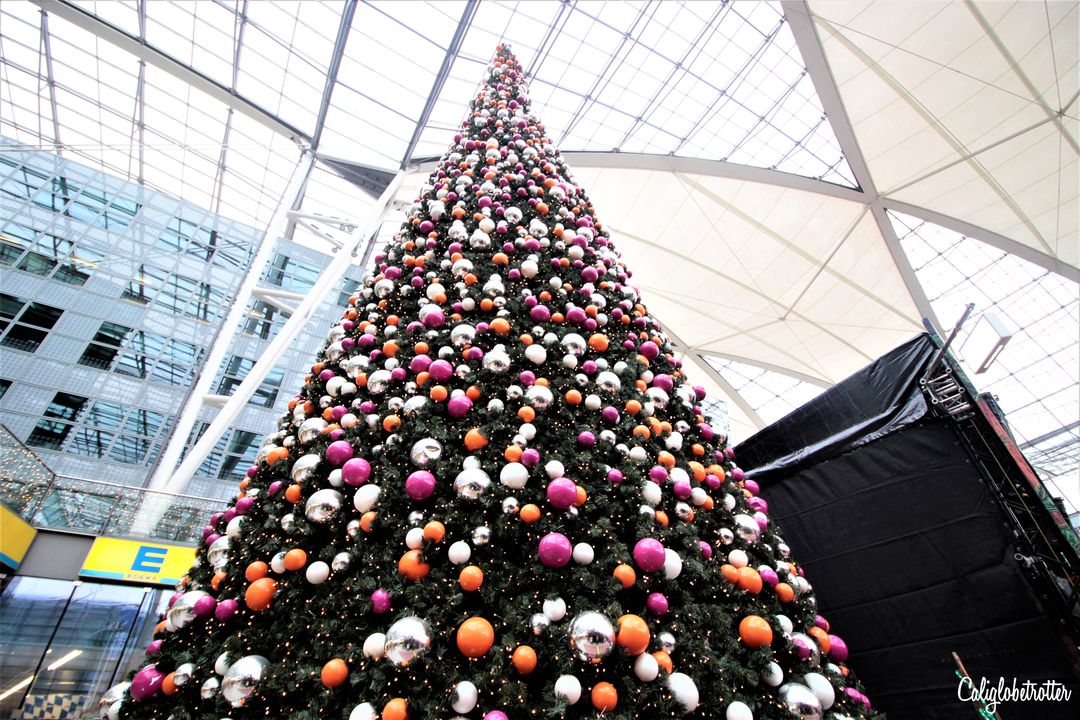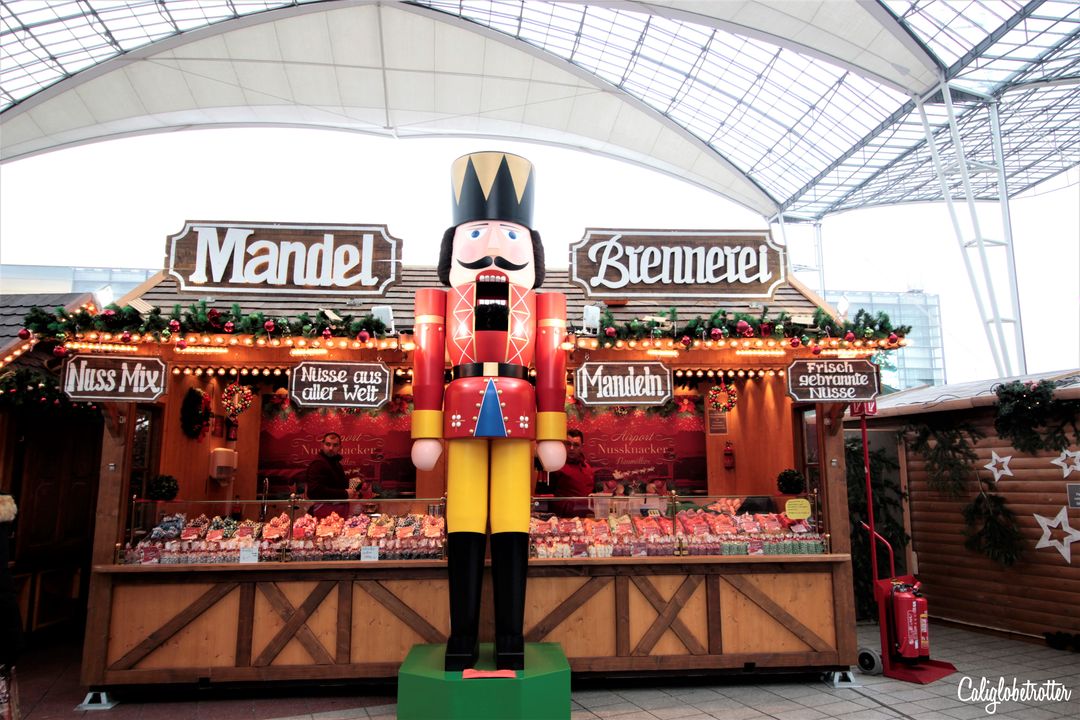 Heidelberg's Romantic Christmas Market
Unquestionably my number one favorite Christmas Market in Germany, though it was my first when I studied abroad in the city, it will always hold a special place in my heart. Heidelberg's Romantic Christmas Market is predominantly scattered throughout the Old Town, from one small square to the next as you make your way down Hauptstrasse. You'll even find a market up in the Heidelberg Castle gardens, but the main highlight of this market, is the one wrapped around Die Heiligegeistkirche (The Church of the Holy Ghost), where you'll find a stunning, larger than life Christmas Pyramid selling piping hot Glühwein, as well as the Karlplatz Market where you'll find a large ice skating rink, with the Heidelberg Castle perched on the hill just above town.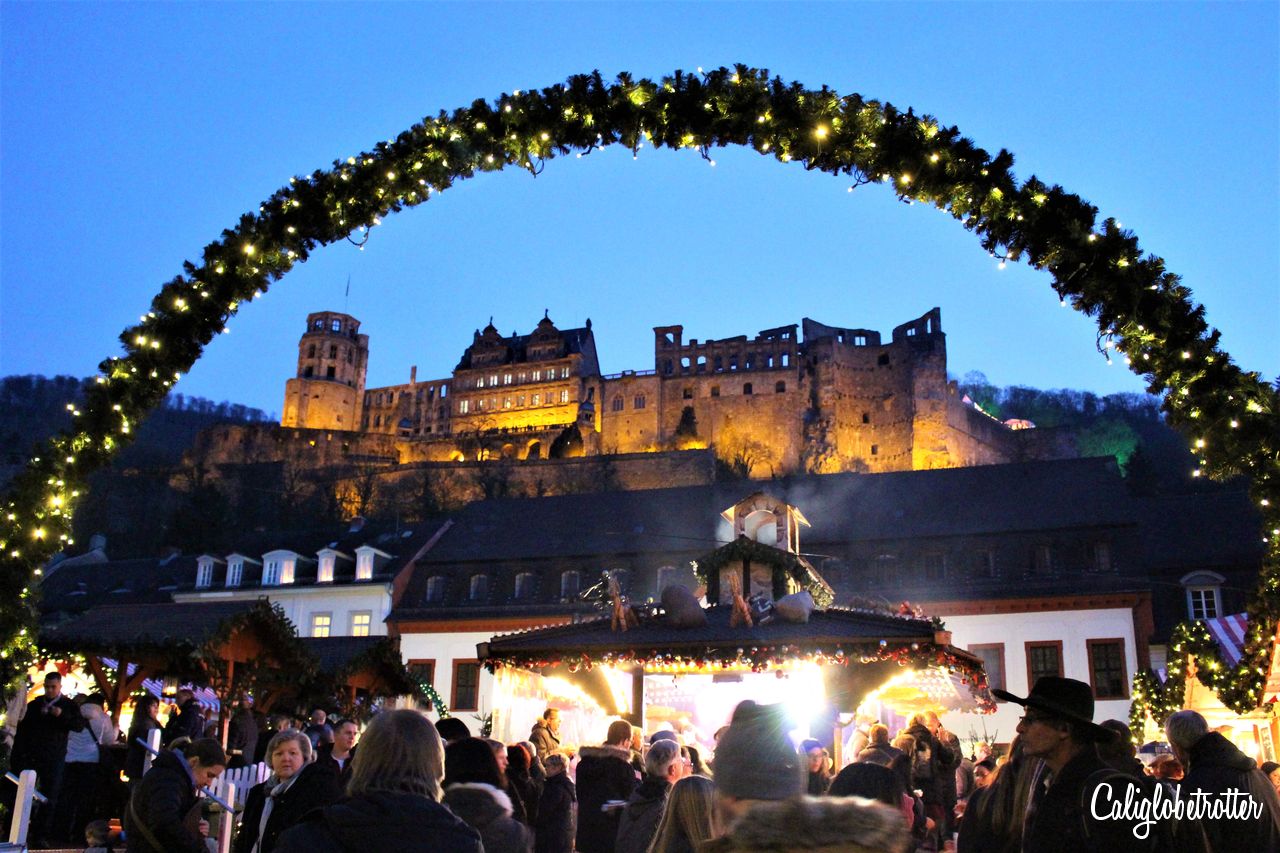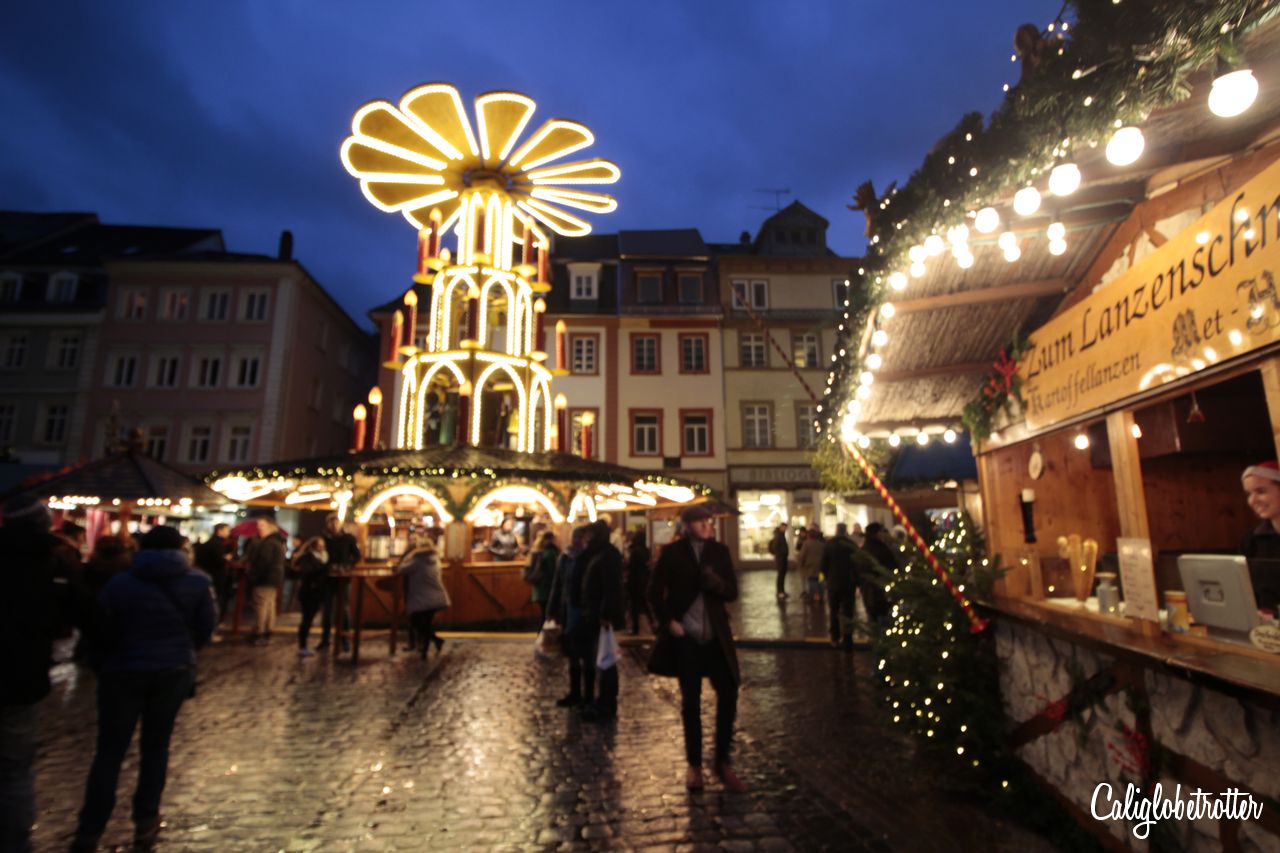 Esslingen's Medieval Christmas Market
If you're looking for a family-friendly Christmas Market in Germany, look no further than Esslingen's Medieval Christmas Market. This gingerbread half-timbered town takes Christmas Markets to a whole other level by adding Medieval banners, gallivanting knights in shining armor as well as the occasional pirate. While you can surely grab a cup of Glühwein here, you may want to instead try the locally made Med – a honey based Glühwein. Best of all, the town's impeccably stunning City Hall is the backdrop for the main market, making it a real eye candy!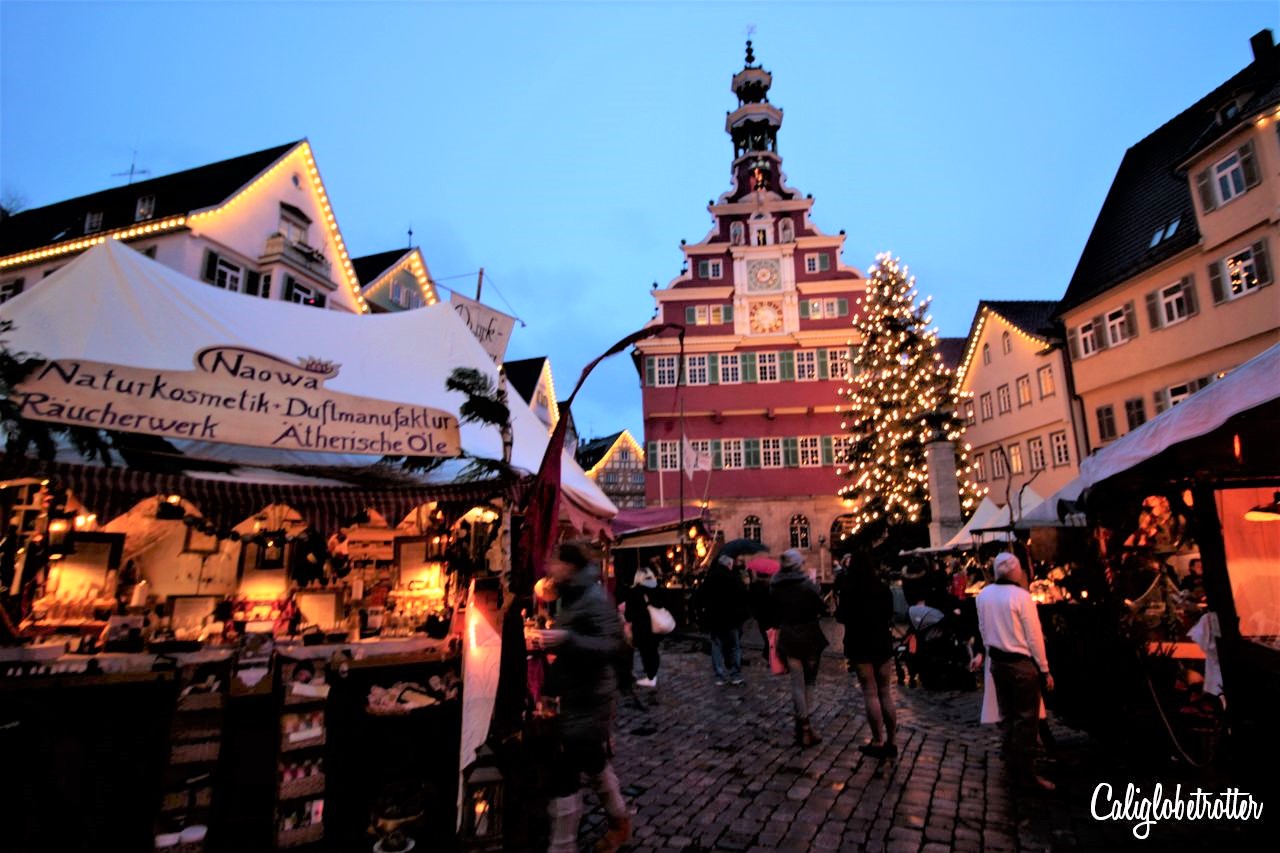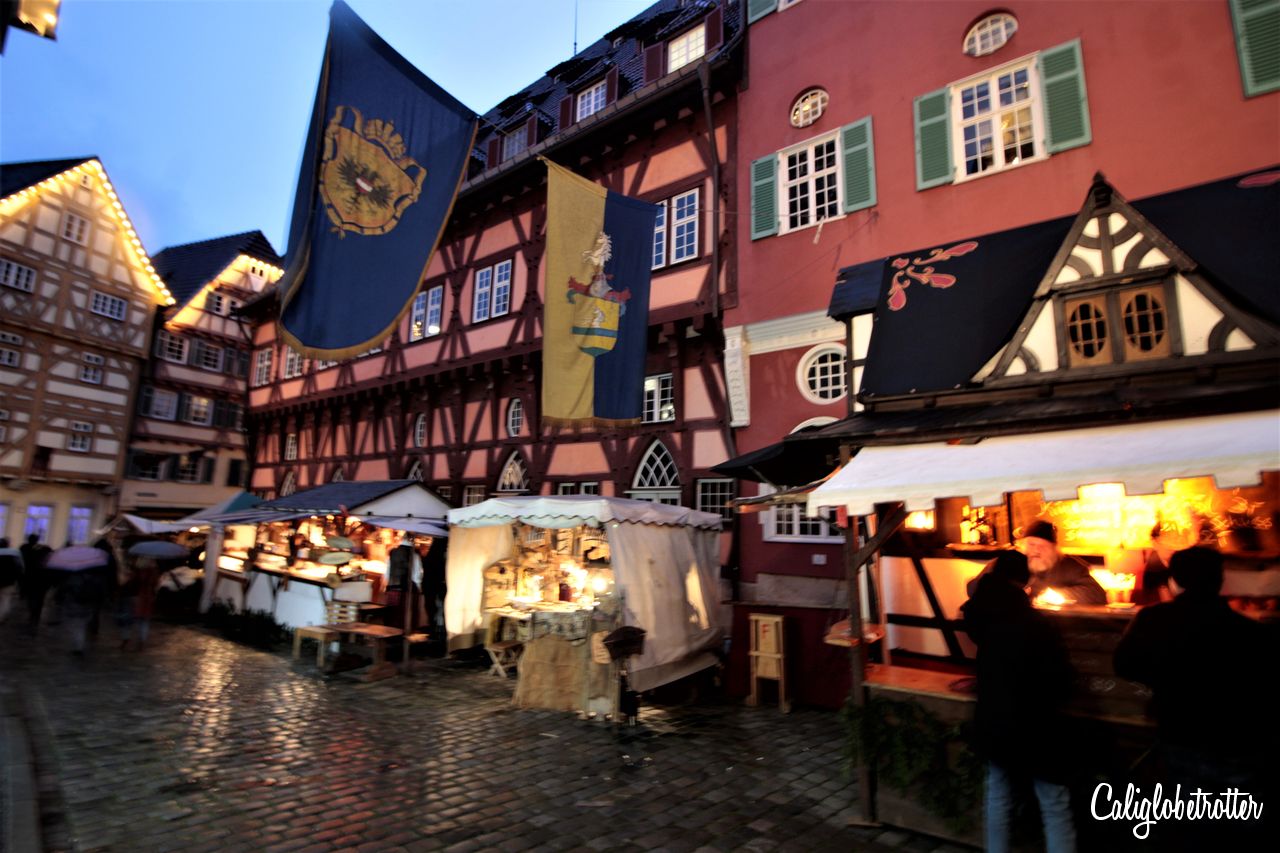 Black Forest Christmas Markets
If you're looking for a snow covered Christmas Market in the Black Forest, then consider the Ravennamarkt Weihnachtsmarkt, located at the base of a very imposing multiple arched railroad bridge. You'll pass snow covered chalets on your way here, and cuckoo clocks at every turn, but you'll enjoy some lip-smackingly good Glühwein here, and awe at trains passing by above you.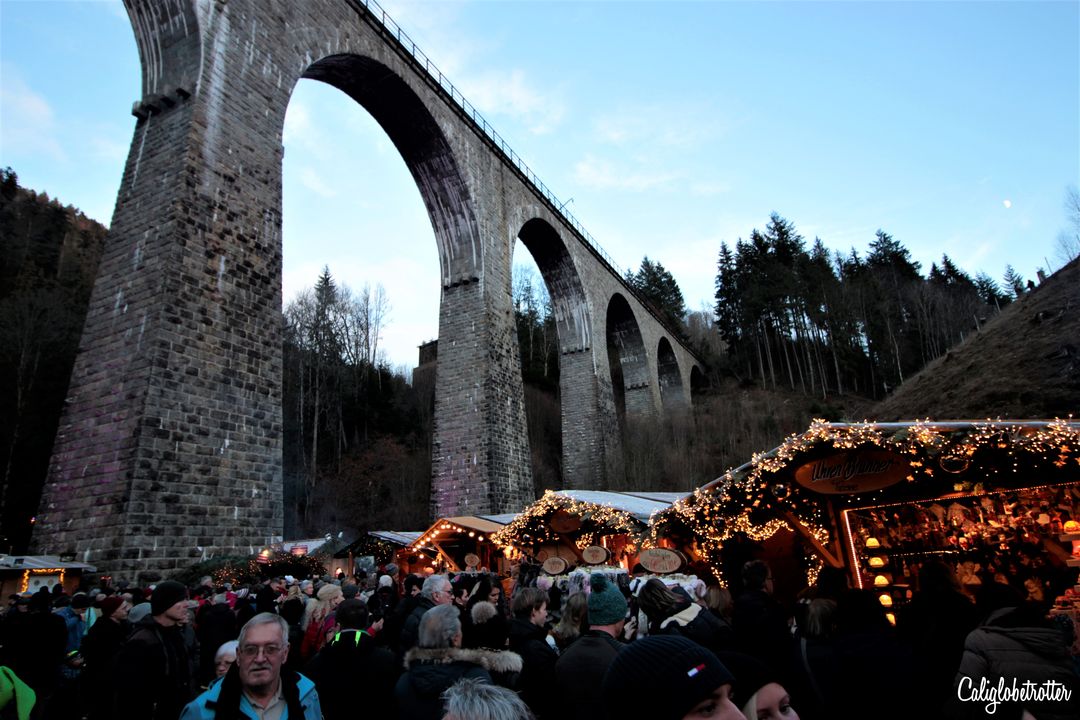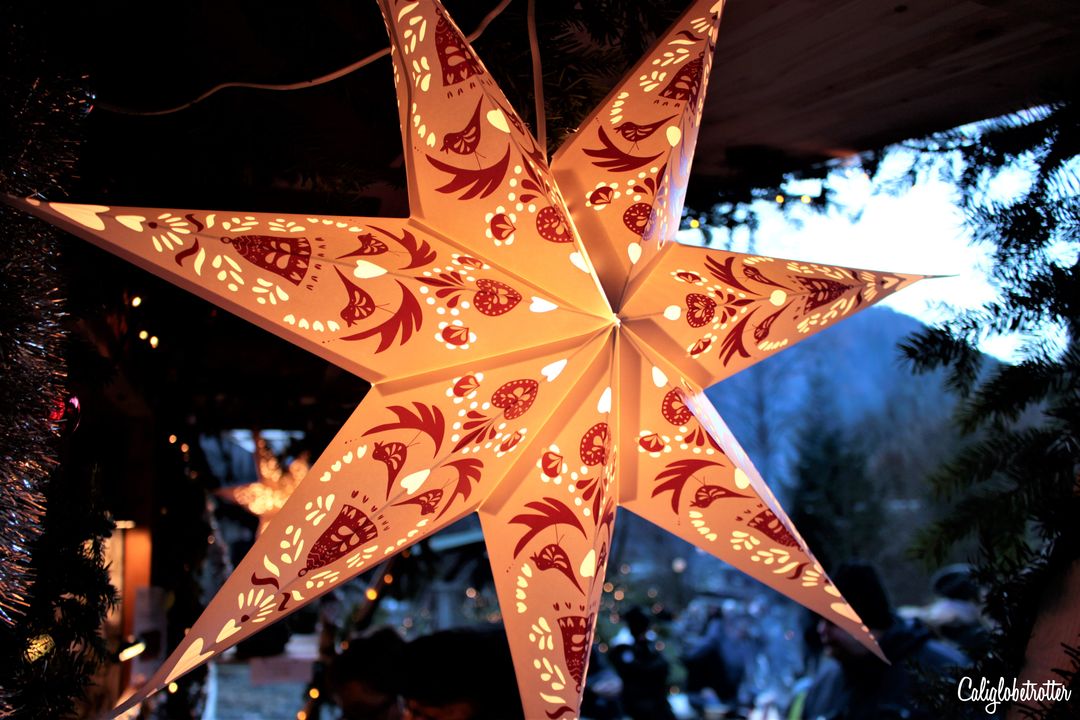 If you want a second option, then head to the Triberg Christmas Market, located next to the Triberg Waterfall, which was nominated as the #1 Christmas Market in Germany in 2016! After all, it's hard to beat a magical winter wonderland Christmas Market! Scenes like this making visiting Europe in winter one of the best things to do!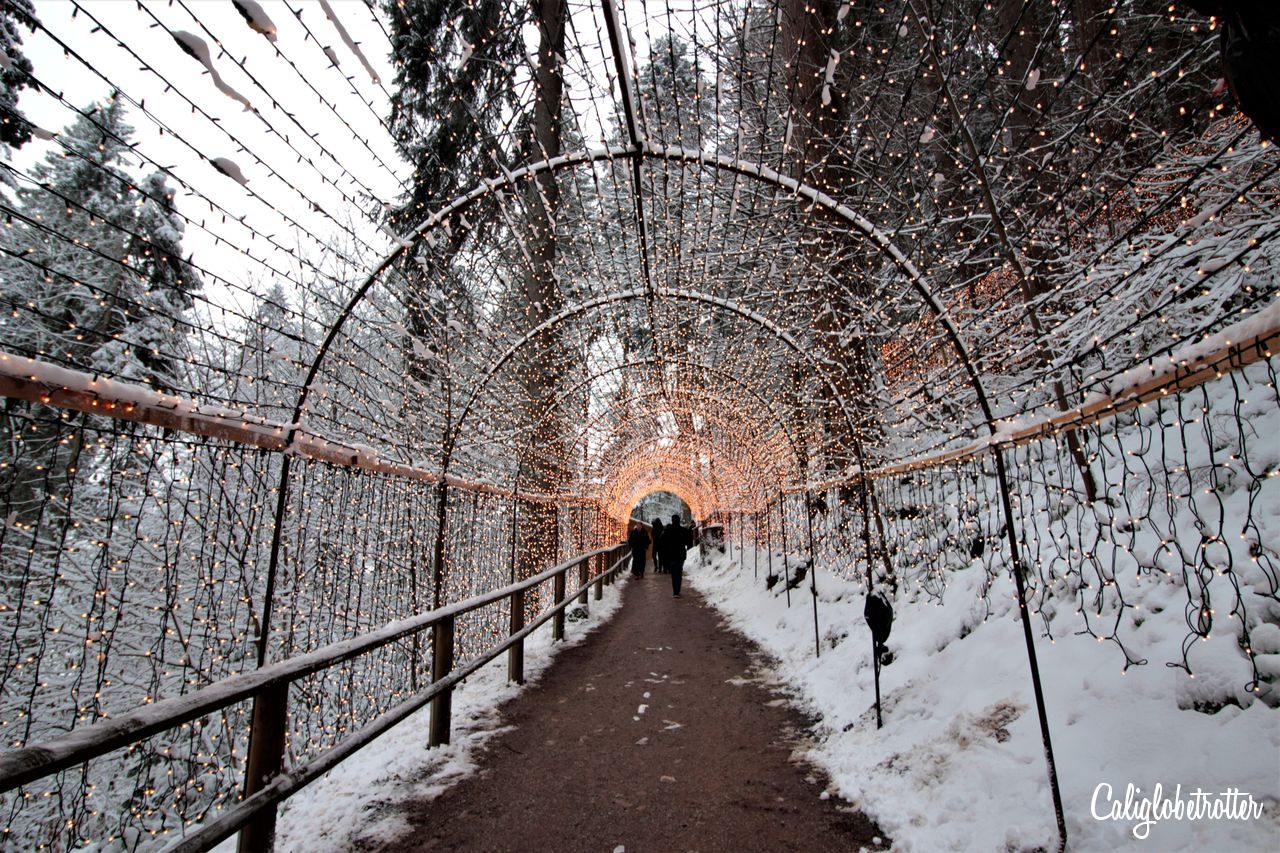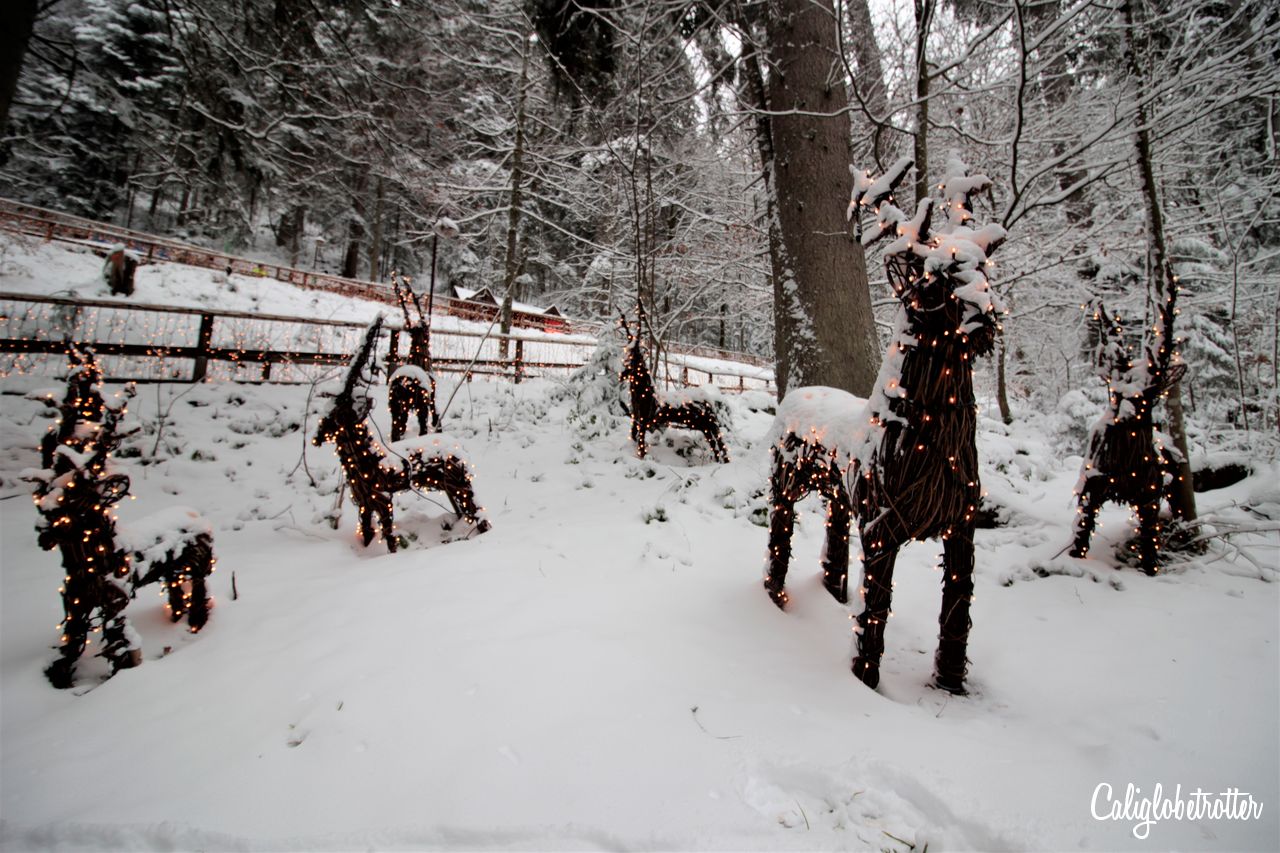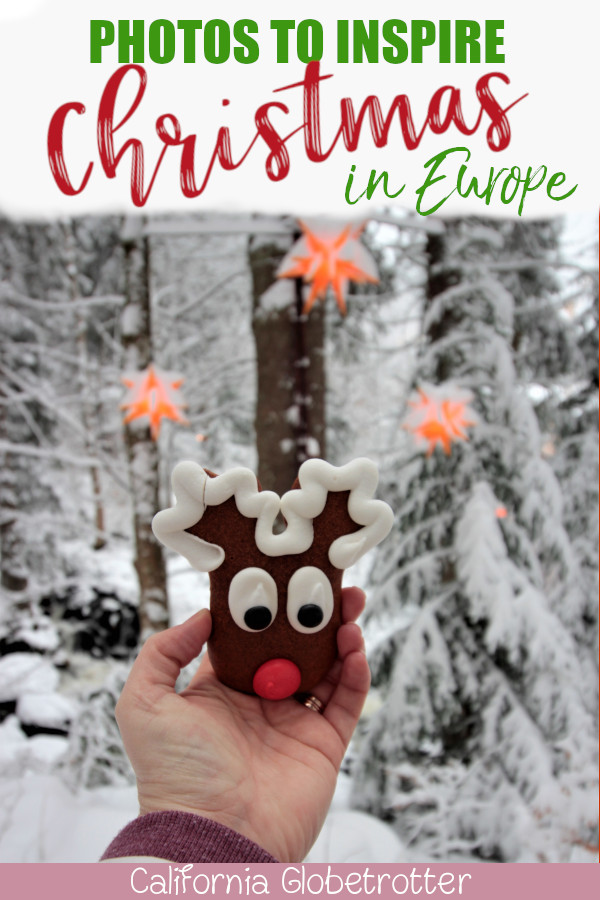 Mainz Christmas Market
If you're a wine lover, then you should most definitely consider doing a Christmas Market wine tour with BottleStops! With Jerome as your guide, it's a great way to learn about the local wineries, with guided tours into the German wine regions of the Rhein, Mosel and Nahe Rivers. Along the way, you'll learn to tell the difference between bottled Glühwein and freshly made Glühwein with good wine – needless to say, not all Glühwein is good Glühwein. With 26 local wine families from the region, all part of the Mainzer Winzer organization, the Glühwein sold at the Mainz Christmas Market must be a pure red wine, and only spices added, meaning fruits or juices can NOT be added. And as you walk around, you'll notice that the Mainz Christmas Market draws its inspiration from its unique wine history.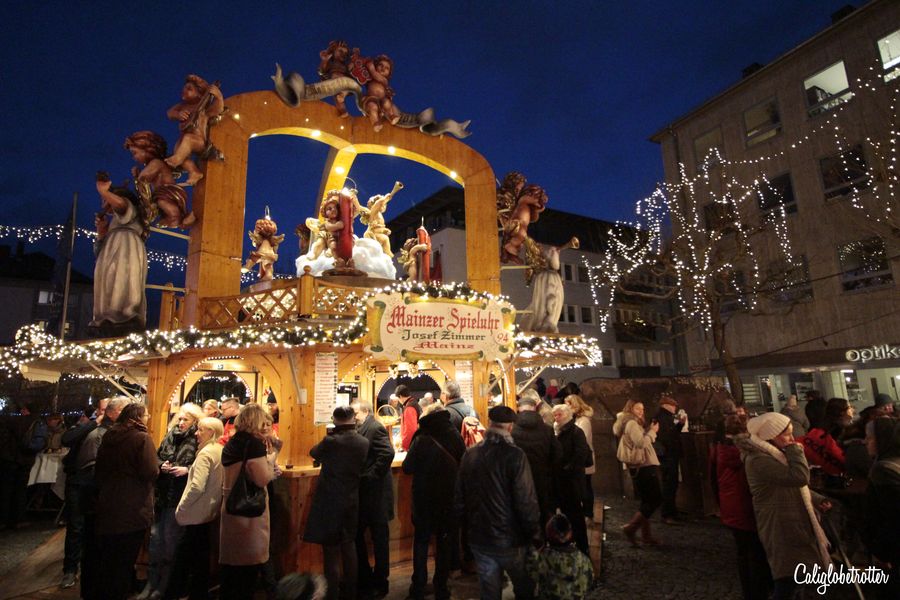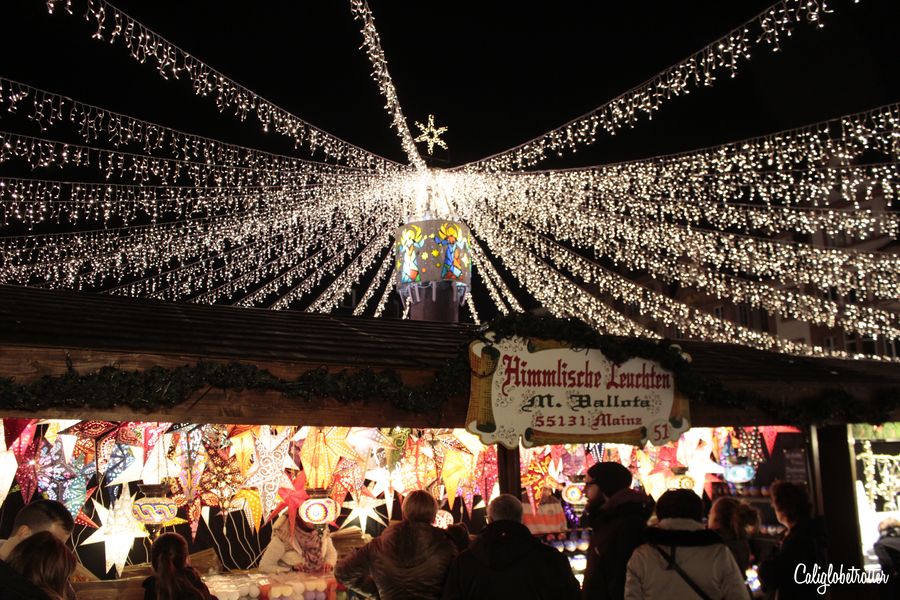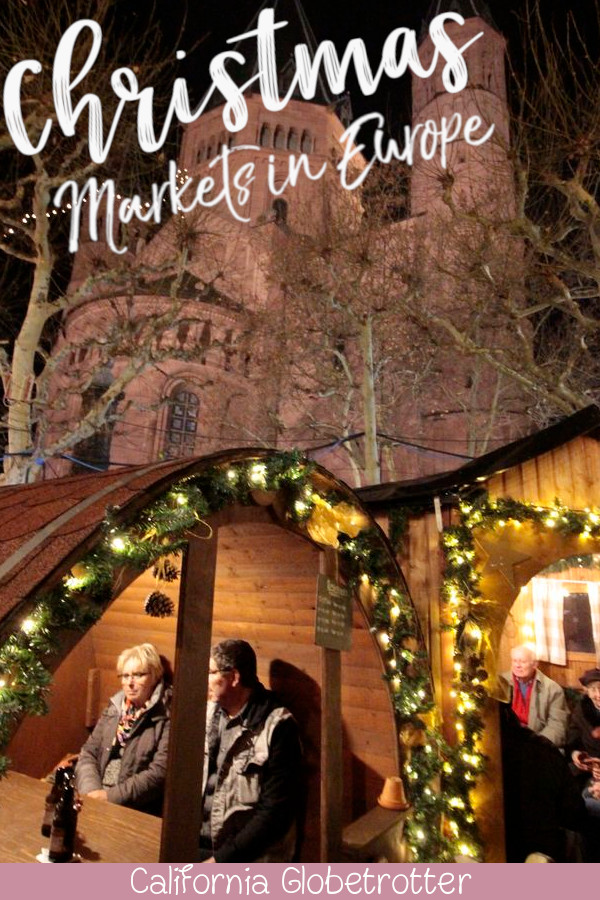 Tegernsee's Christmas Market
Another interesting Christmas Market to visit in Germany is located along the shores of Lake Tegern (Tegernsee). The Rottacher Advent Christmas Market is only open during certain times throughout the Advent season, it's twinkling Christmas lights shimmer above the glistening lake. But to reach this adorable little Christmas Market, you'll first need to take a journey by boat across the lake, but you'll be rewarded by Bavarian couture Christmas gifts and locally made items.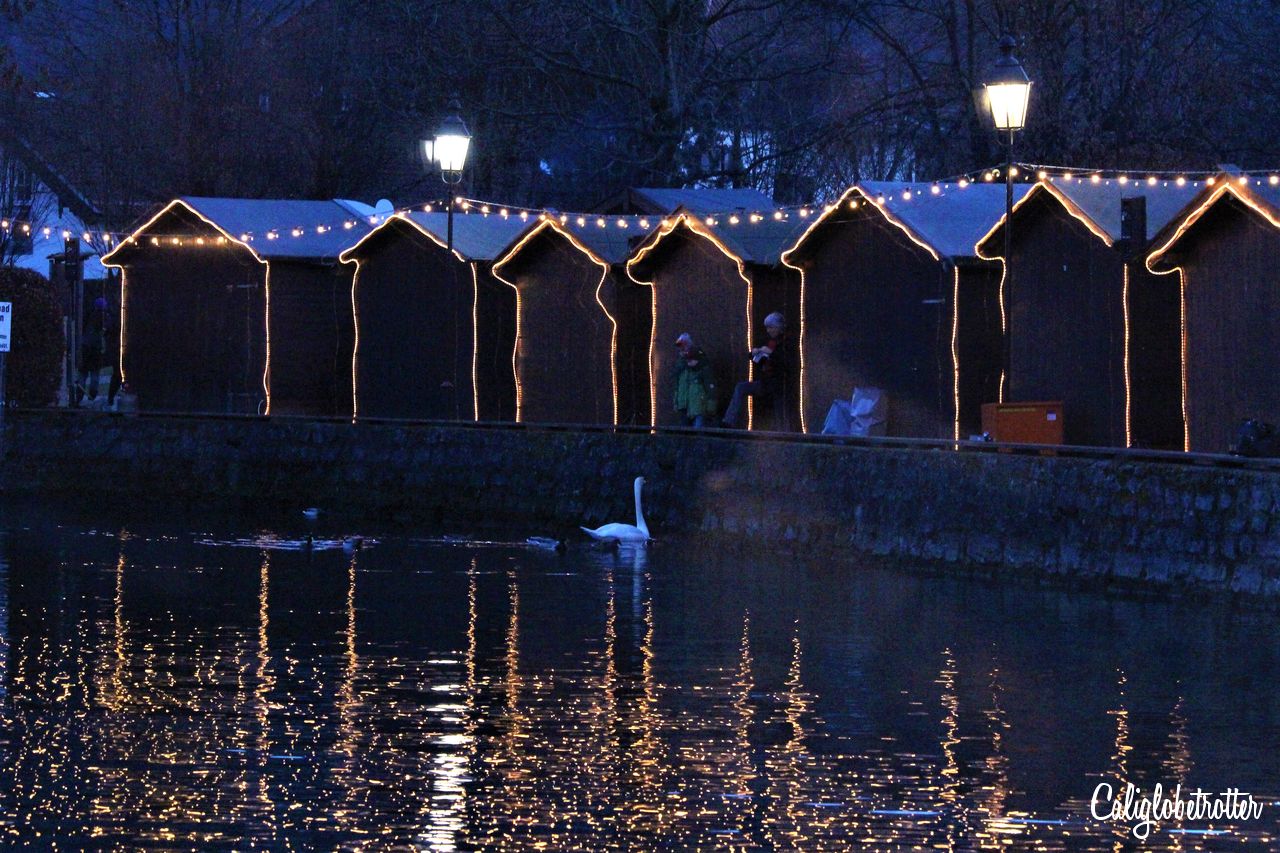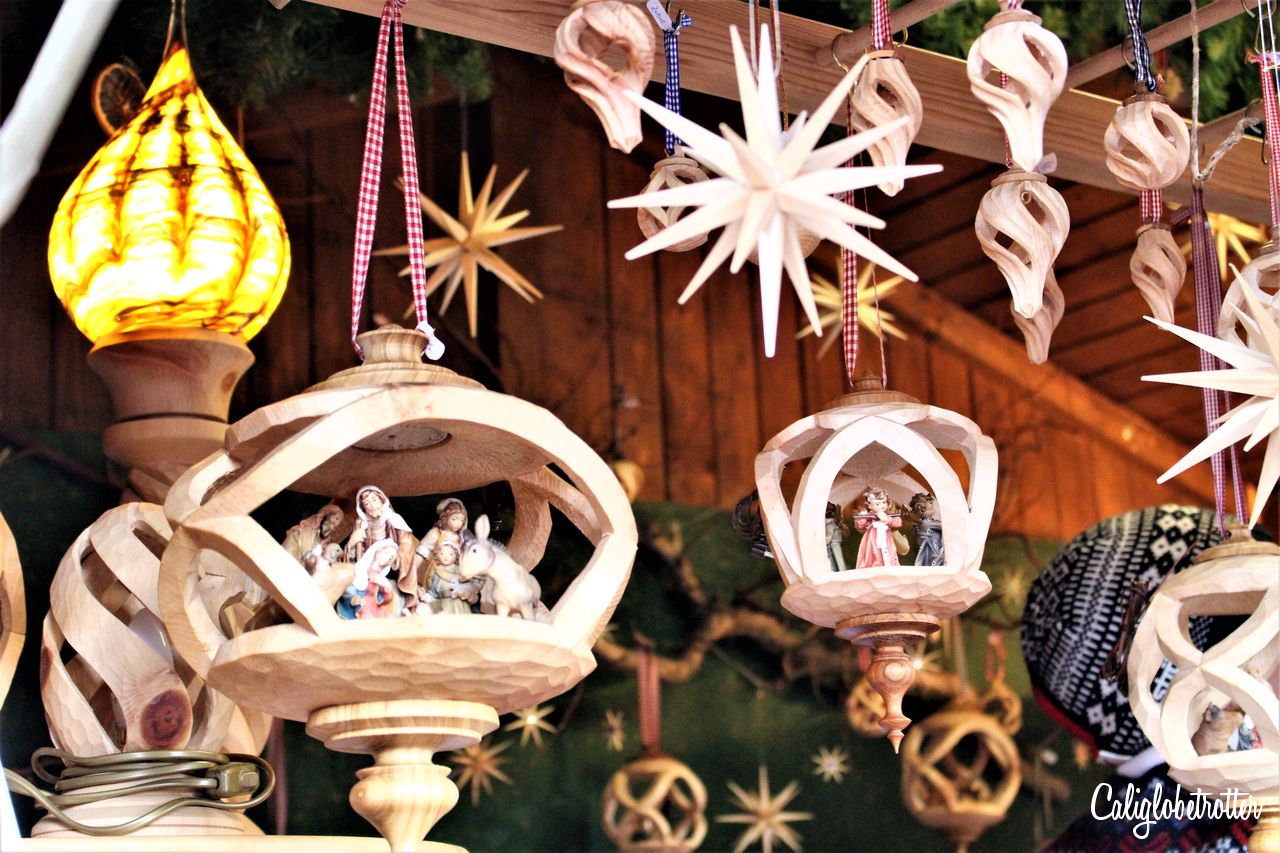 Austria
Vienna's Christmas Markets
Another of my top 5 Christmas Markets to visit in Europe, Vienna's Christmas Market is considered to be not only one of the oldest Christmas Markets in Europe, but also one of the most magnificent! By day, there are a plethora of markets scattered throughout the entire city center, with the most popular located in front of the Vienna City Hall, as well as in the courtyard of Schloss Schönbrunn and the Belvedere Palace.
You'll not only find Glühwein at every market, but also a variety of Punches and Eier-Likör. By night, not only are all of the markets illuminated by thousands of twinkling lights, but the city is as well. Christmas lights strung here and there in a variety of forms, most beautifully of all, the chandeliers along the Graben, add another dose of Christmas charm to your Christmas Market sightseeing! Best of all, the Vienna Christmas Market is open even on Christmas Day, as well as the 26th!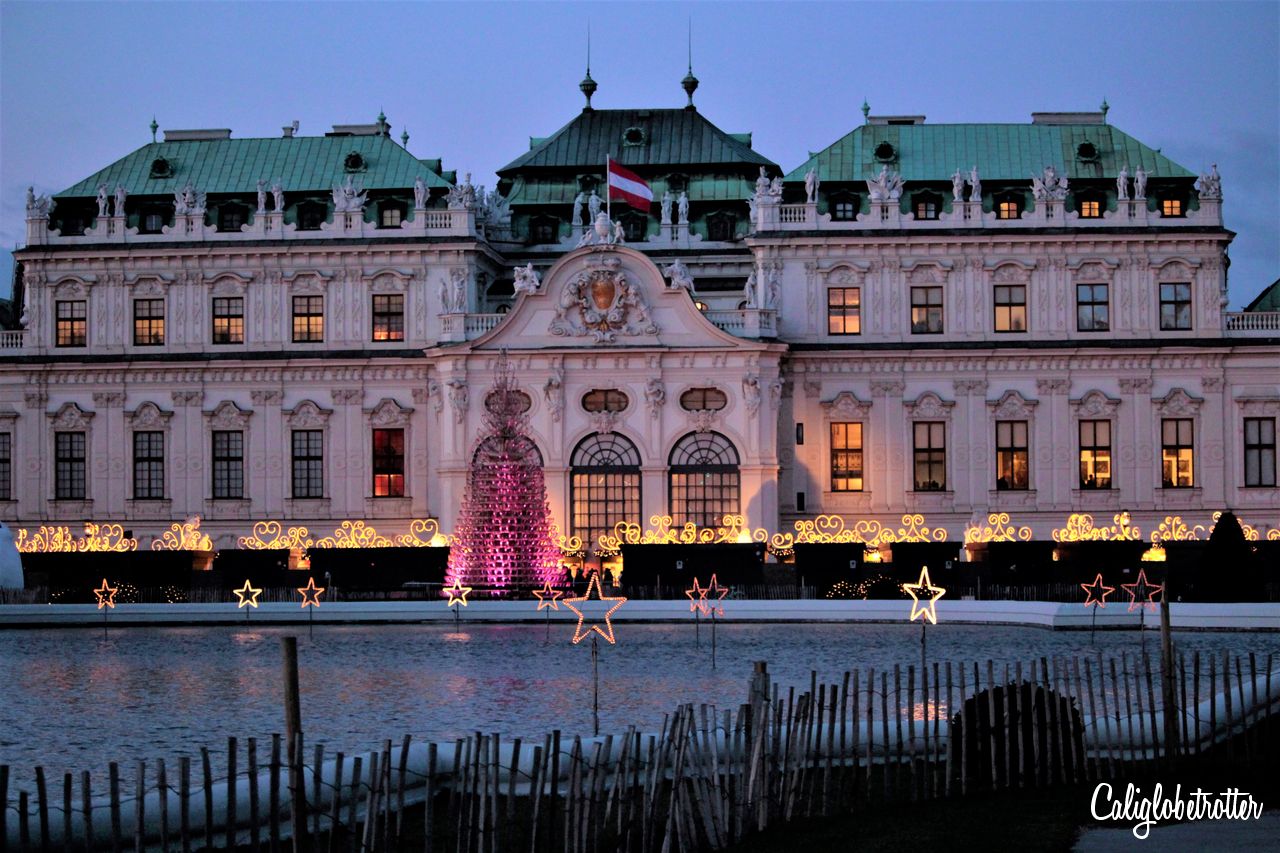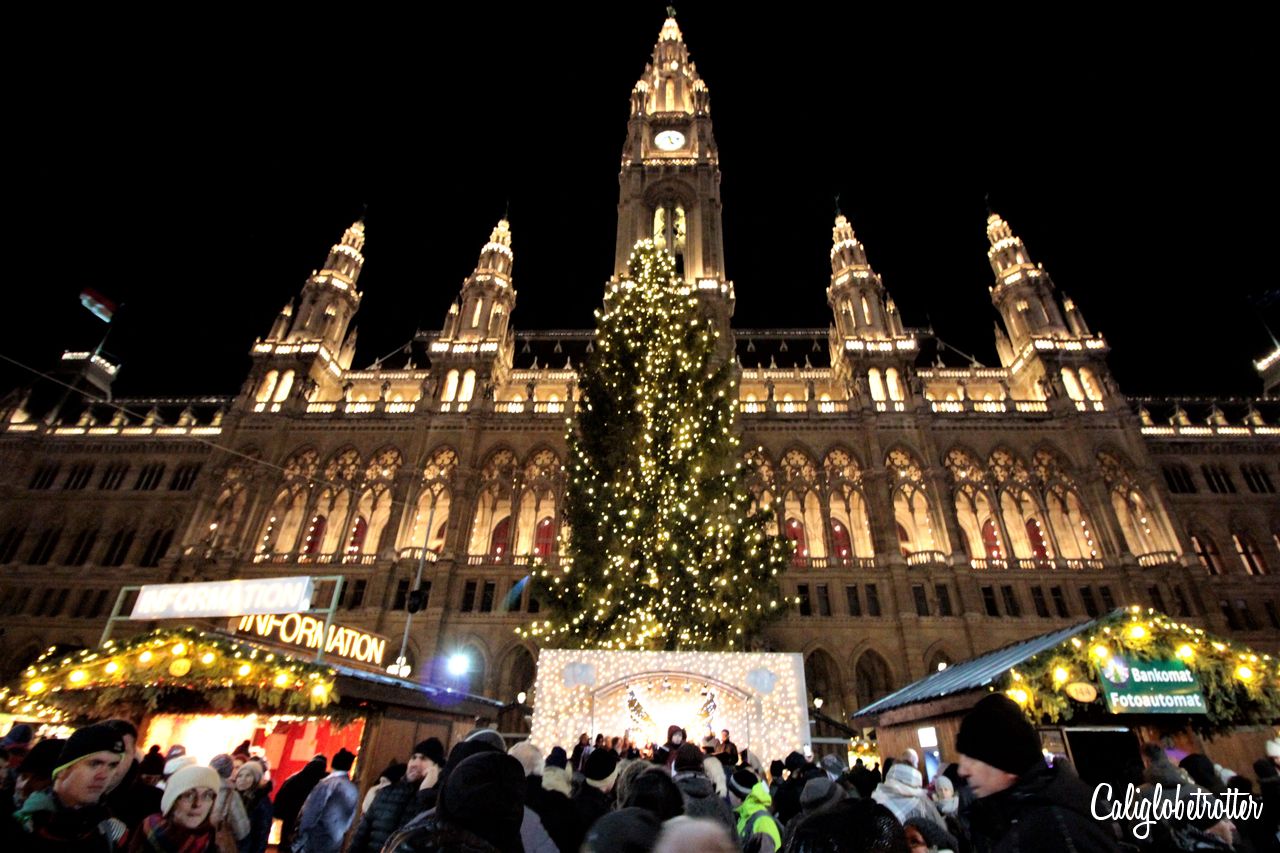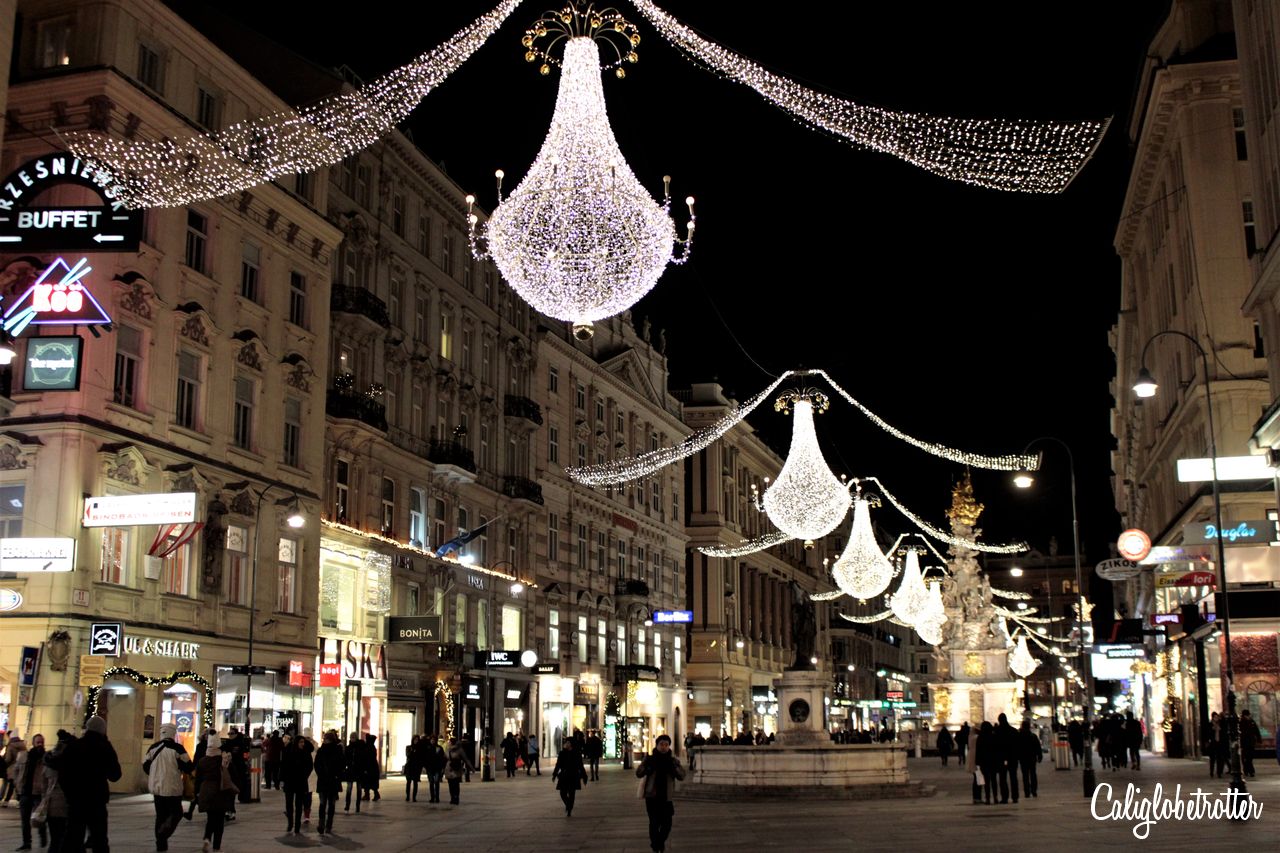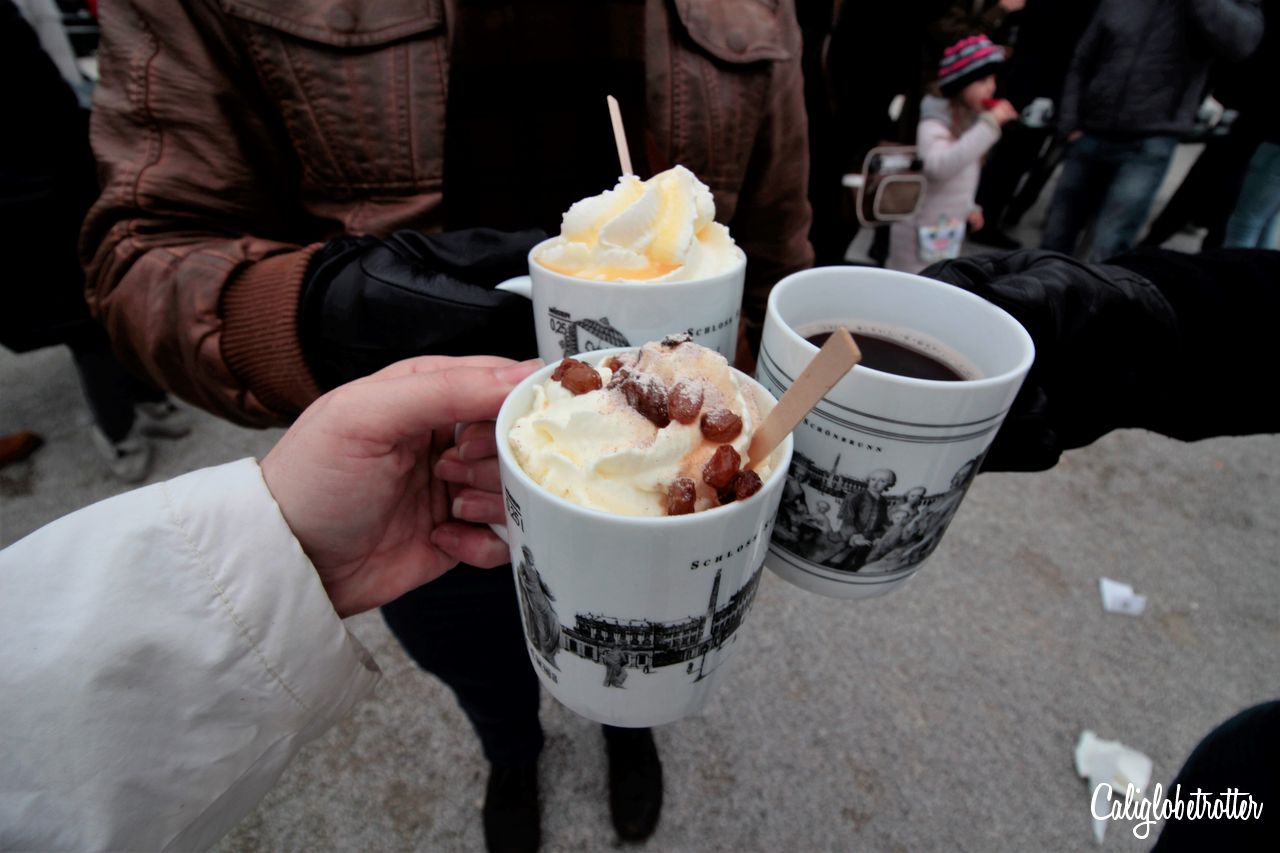 Czech Republic
Prague's Christmas Market
Undoubtedly the most popular Christmas Market in the Czech Republic, markets can be found all over the historic city center. Best, of all, it's open until January 1st! You'll not only find a Christmas Market in the Old Town Square, at the base of the Astronomical Clock Tower and in front of the Church of Lady Before Tyn, but also up at the Prague Castle! Scattered around town, you'll find several large fire pits lit up to snuggle up around to warm up your hands, but you can also walk down to the river to enjoy Prague's most popular attraction, thousands of swans knoodeling, the perfect backdrop to a romantic moment.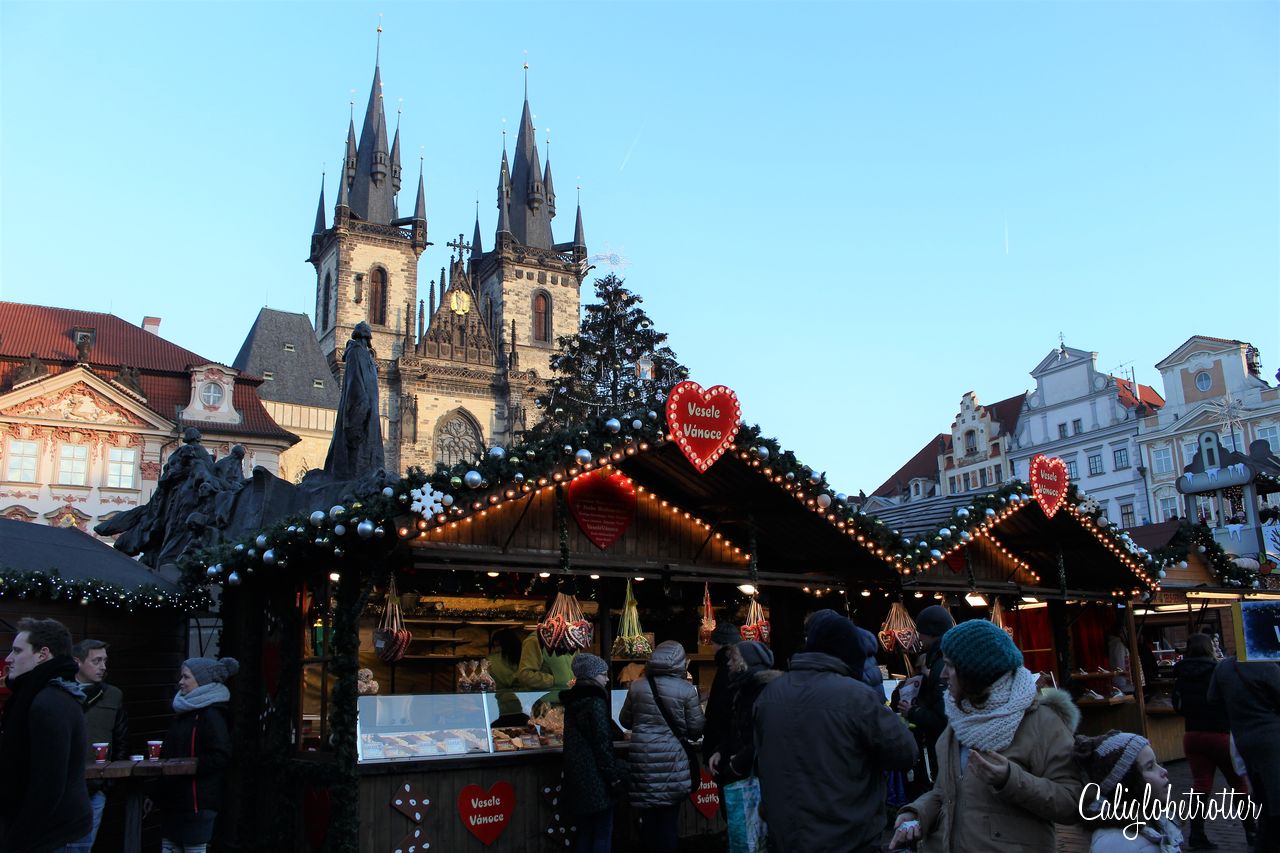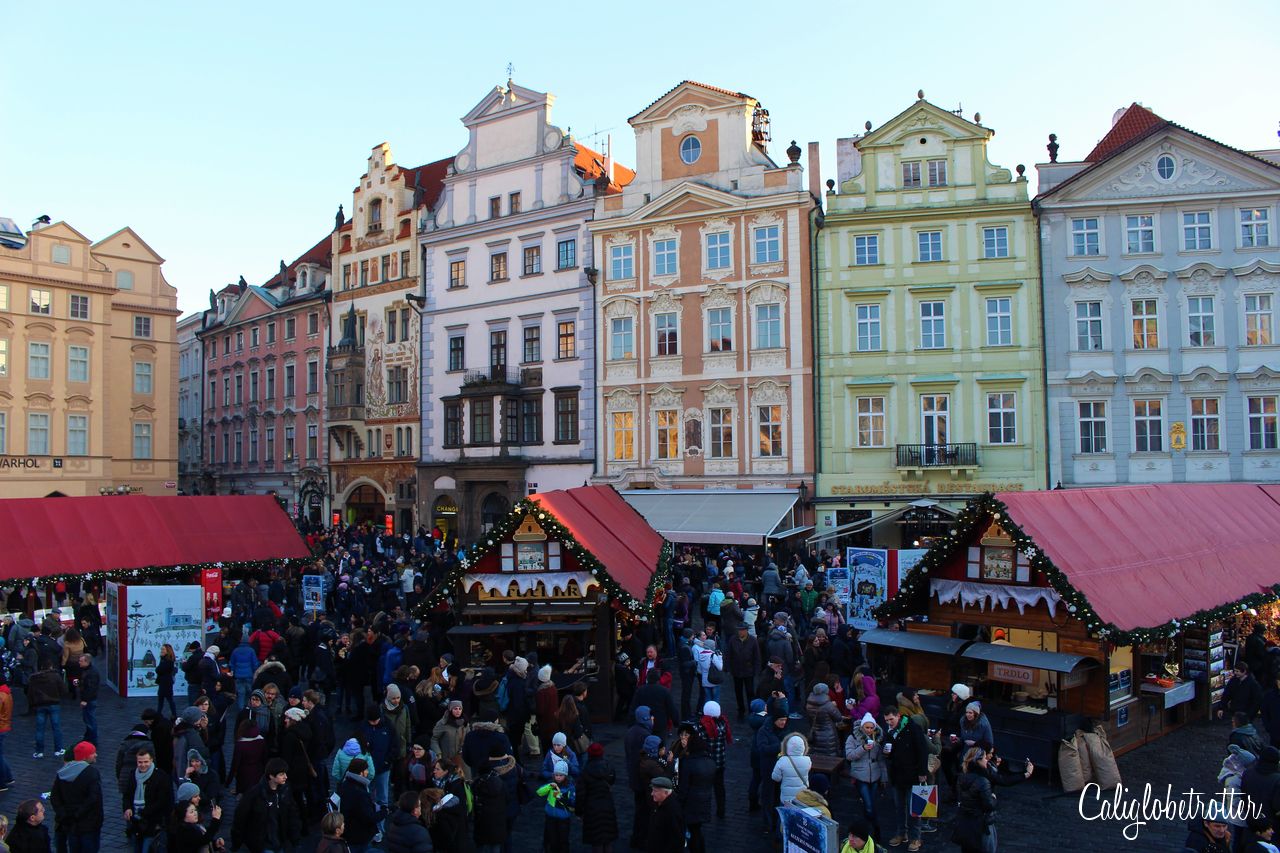 France
Strasbourg "City of Christmas"
Definitely another of the best Christmas Markets to visit in Europe, Strasbourg's "City of Christmas" is everything it implies. This half city, half gingerbread town will have your heart pounding with Christmas joy at the sight of such beautiful markets, thousands upon thousands of Christmas lights lit up at night. Not only that, but they have some of the best Vin Chaud (Glühwein) I've ever had, with slices of fresh fruit and spices laddled directly into your mug! If you can definitely stick around till evening when the Christmas lights are turned on, it will be worth the visit, I promise!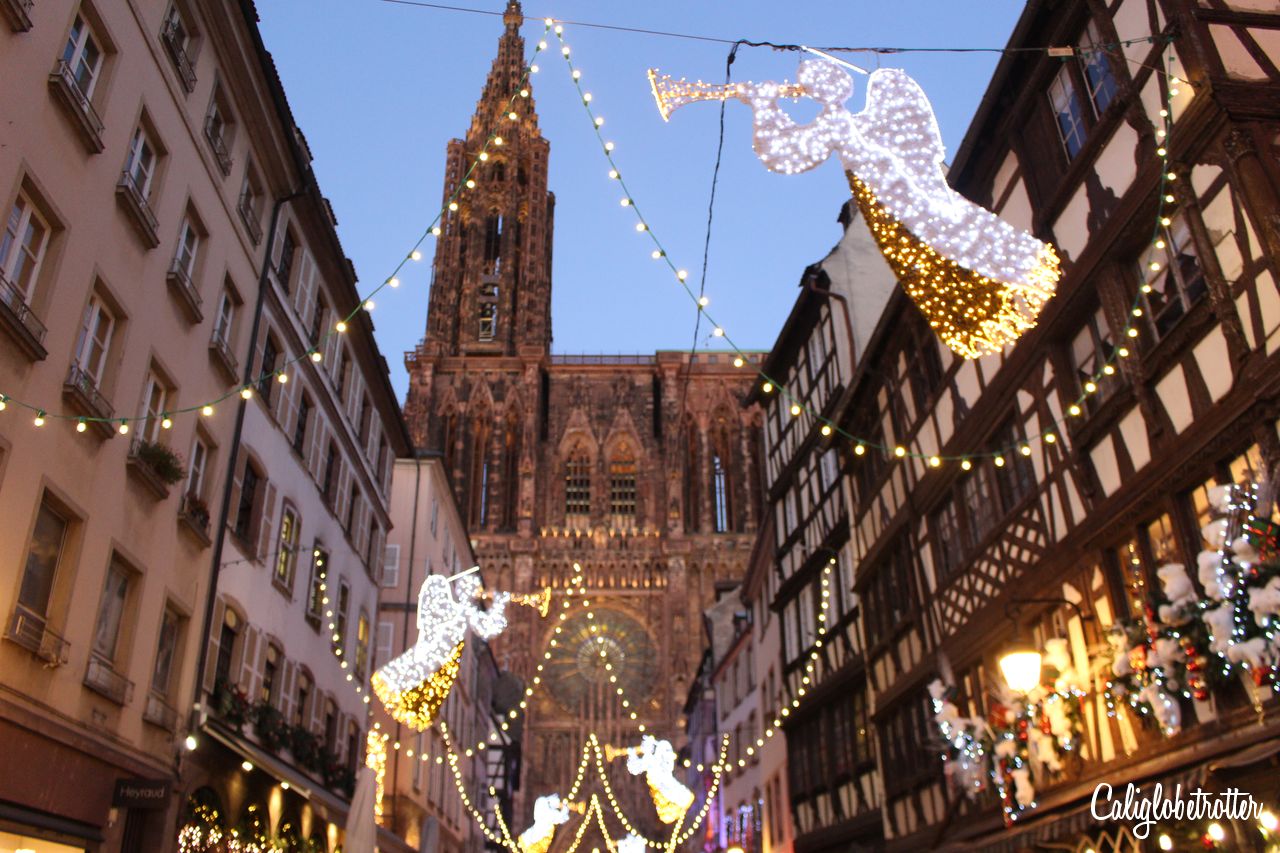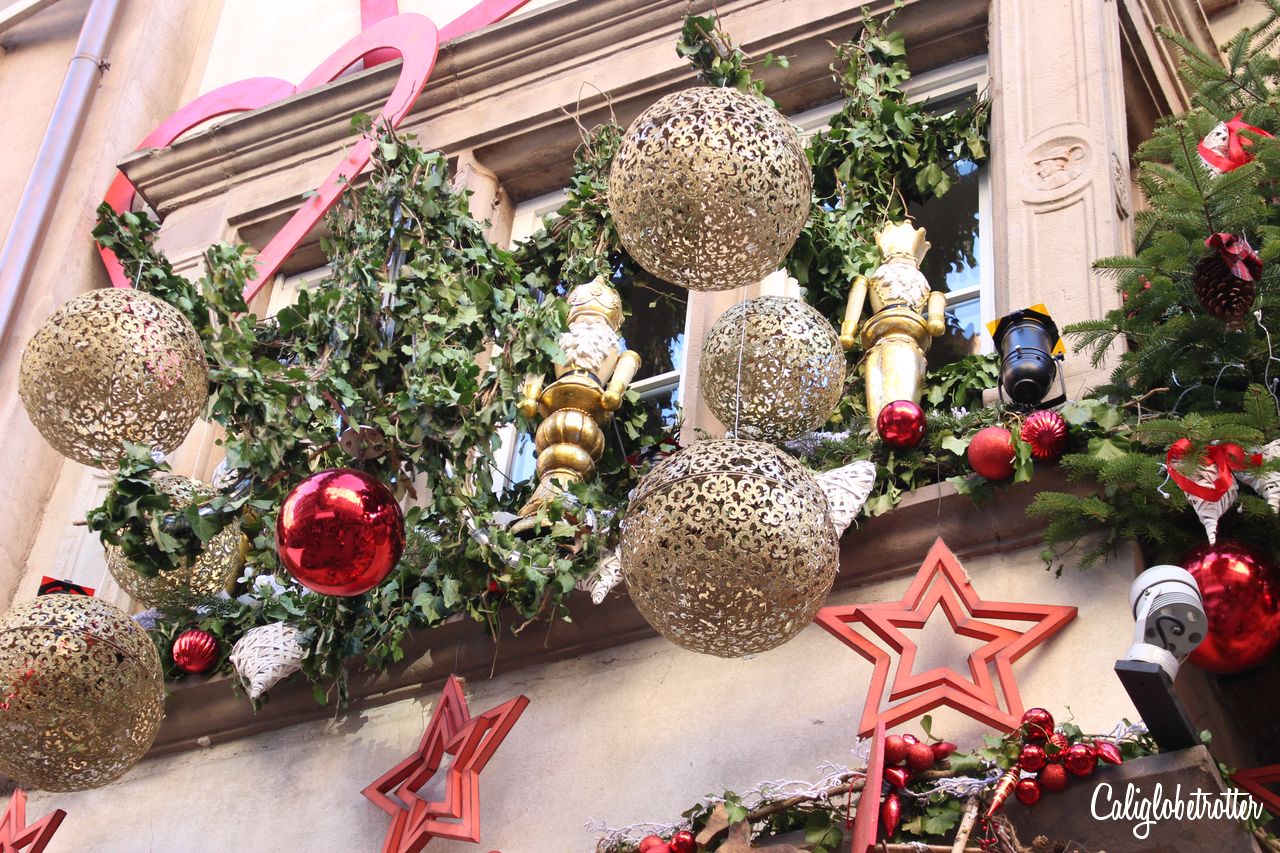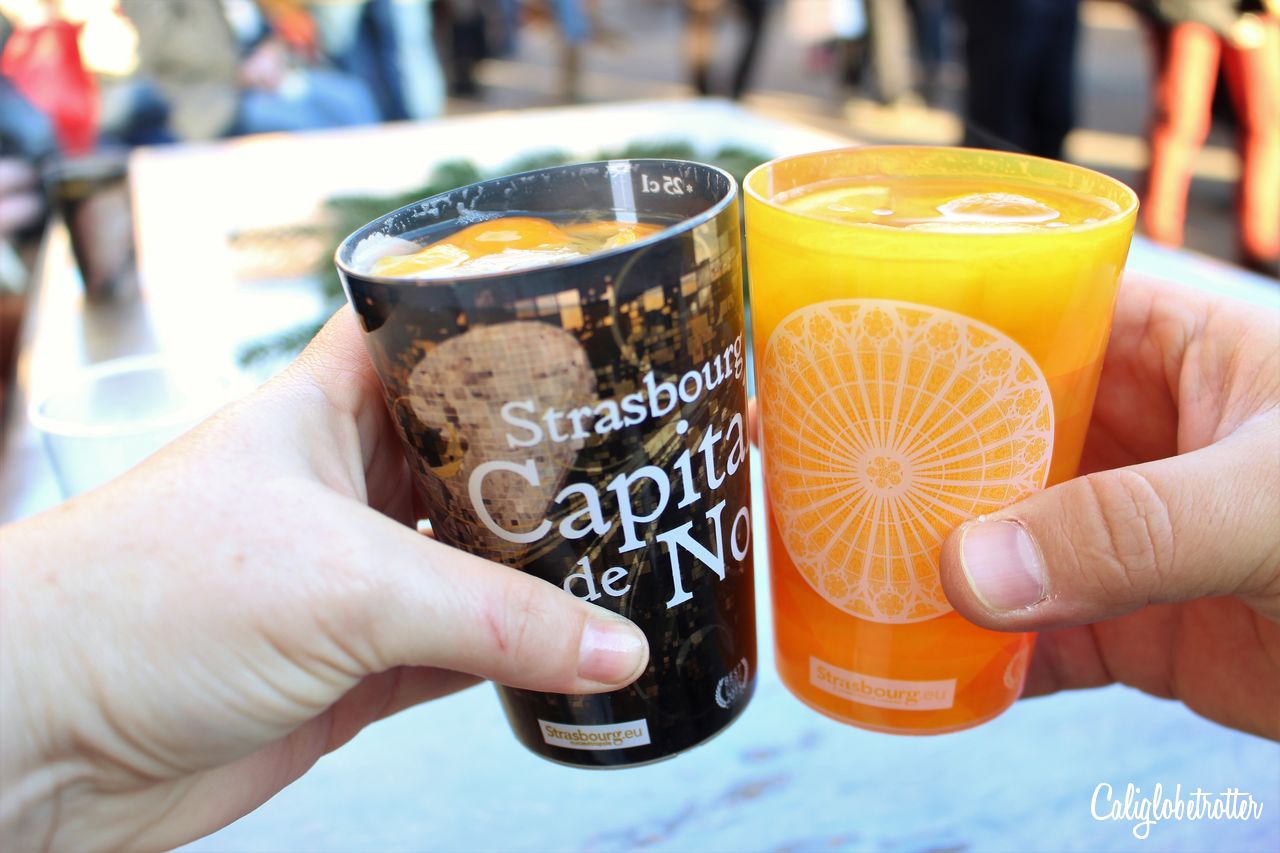 So, overall, living in abroad in Europe certainly has its ups and downs, and the holiday season in Europe is definitely one of the ups! There are a plethora of Christmas Markets all over Europe to visit, one that fits everyone's personal tastes. From small villages to bustling cities to even deep in the heart of forests, you can always find a bit of Christmas spirit, bringing joy to all everywhere! And when living abroad, I highly recommend visiting as many as you possibly can each year you are abroad, though after a while, they all start to look and feel the same. So it might be a good idea to spice it up with a variety of markets.
Tips for Visiting European Christmas Markets
Christmas Markets are typically open from around 10-11am and usually close around 10-11pm on weekends, while during the weekdays, they may close around 8-9pm.
Weekdays and afternoons are typically less crowded. They tend to get very full in the evening after people get off work, as well as on weekends.
Always bring cash to Christmas Markets, as its the easiest form of payment everywhere.
If you plan to do a bit of Christmas shopping at the Christmas Markets, bring a re-useable bag!
Dress warmly as it can be quite cold outside, but don't over dress as Glühwein is intended to help keep you warm! Just don't wear light colored jackets, as Glühwein is often split, and does not come out of clothes easily!
At all Christmas Markets, you will HAVE TO pay an additional fee for your cup, which upon returning the cup, you will get the fee back…unless you should so desire to keep your cup as a momento.
Christmas Markets around Europe may or do have extra security throughout the season, due to terrible events previous years. But nonetheless, you will always be safe!
If you're interested in visiting Europe for Christmas and are looking for more information, I highly recommend using the Lonely Planet Travel Guides! Without these guides, I would be lost! This is my travel Bible!
Disclaimer: This post contains affiliate links. If you click on one and make a purchase, I might make a little extra spending money, at no extra cost to you. As always, all opinions are my own and these products/services have been found useful during our travels and come highly recommended to you from yours truly!
Liked this post? PIN IT FOR LATER!!