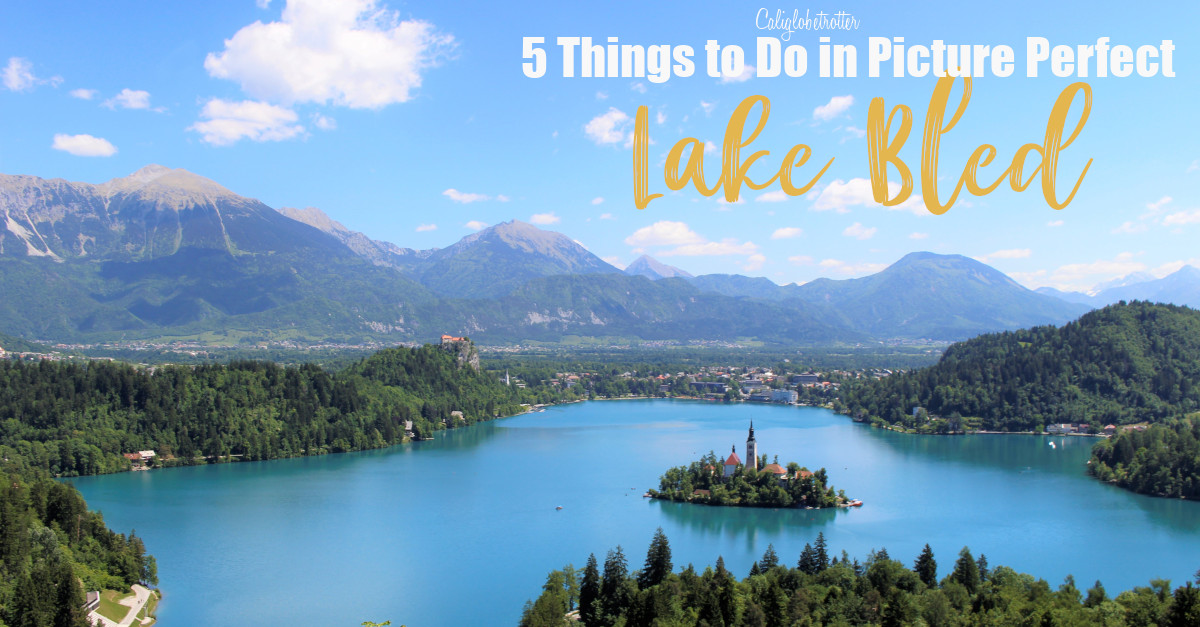 Disclaimer: This post contains affiliate links. If you click on one and make a purchase, I might make a little extra spending money, at no extra cost to you. As always, all opinions are my own and these products/services have been found useful during our travels and come highly recommended to you from yours truly!
There is no question, no doubt as to the most beautiful place in all of Slovenia. Lake Bled is about as picturesque as any mountainous region can be, and it really is just as magical in person as it is in a picture rain or shine, summer or winter, making for one of the most popular tourist destinations in the country!
Located just a mere 45 minute drive from the capital of Slovenia, a visit to Lake Bled is the perfect day trip from Ljubljana, it is a must-see destination as it is set against the backdrop of the Julian Alps in the northwest of Slovenia with emerald-green waters and the Castle of Bled perched high upon the rocky cliffs which has been overlooking this must-see lake since the 11th Century!
This is one of the most Instagrammable places in Slovenia, with tons to see and do, therefore, this is one place you do NOT want to skimp out on or rush through. Lake Bled deserves a full day's visit so as to truly take it all in and appreciate Mother Nature's handy work as its best! Words honestly can't describe the beauty!
Fallen in Love Yet? PIN IT FOR LATER!!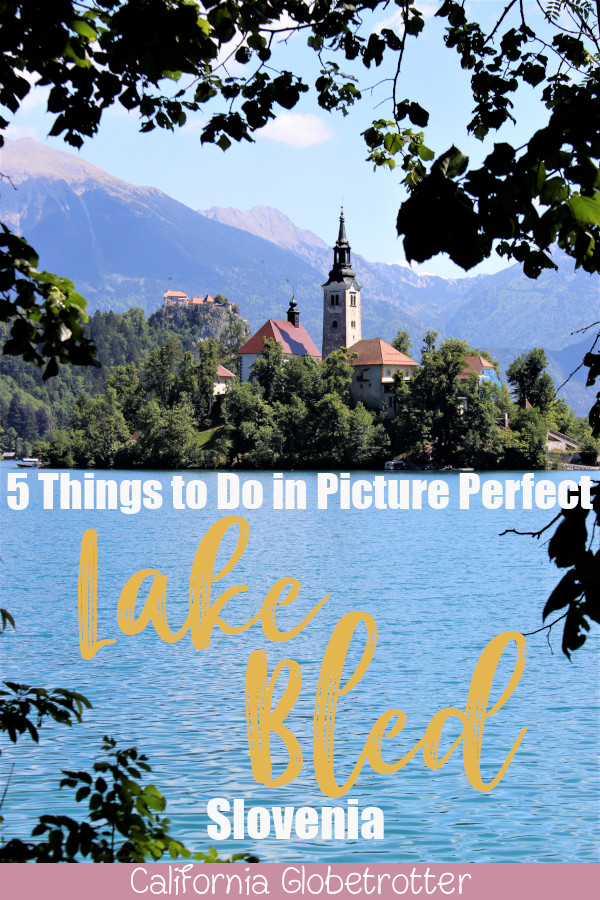 How to AVOID Looking Like a Tourist in Europe
What's there to do at Lake Bled, you might ask? Well, I'm so glad you asked!
1. "Climb Every Mountain"

(Sound of Music reference… I can't help it!)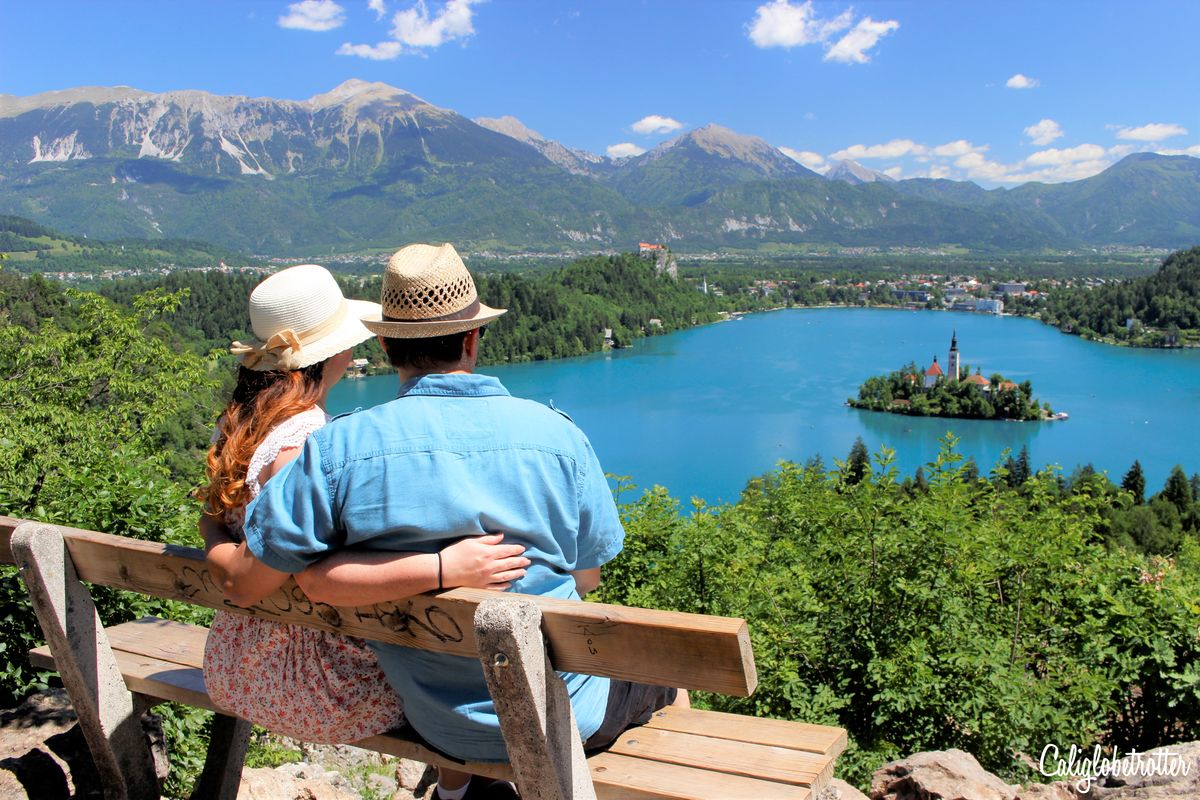 Ok, so maybe not EVVVVERY mountain, but you should most definitely hike up Ojstrica, one of the best hikes in Europe, for the most iconic viewpoint over the lake and the island located smack in the middle of the lake. There are tons of other hiking look out points, but this is the classic, it's not strenuous at all and easy to navigate. However, finding the trail is a bit tricky. You'll find a bench with a sign post pointing in two directions to the trail. We took the trail to the right as we saw others following this trail. The trail can be found near the camping ground southwest of the shore of Lake Bled.
The best time to hike the trail is in the morning before hordes of tourists arrive and before it gets too hot. The Ojstrica hill is 610 meters high and you'll be hiking through a dirt path. Depending on the weather, the ground can get pretty slippery or muddy. You'll definitely want to wear some good hiking shoes as the path was full of debris from tree work (yes, I had to dig mine out of the closet!), but I promise you it will be worth every step of the way!
Related: 15 Things to Do When You Travel
After nearly a 30 minute hike up, we were welcomed with the most breathtaking view over the lake, one that I simply did not want to leave! I could have sat there all day if I were not incredibly thirsty and hot and craving cake!
If you are feeling particularly adventurous and have the extra time, there is a second (Velika Osojinica), even higher peak (at 756 meters), that you can hike up to. The view might not be as good, but it's worth the extra effort!
Cost: PRICELESS!
Time: Short path: 30 minutes up and roughly 15-20 down!
More info: Check out this info page about the hike, which includes a map! Zoom in on the map, and we took the shorter route (luckily!) which was more direct!
2. Walk the Shoreline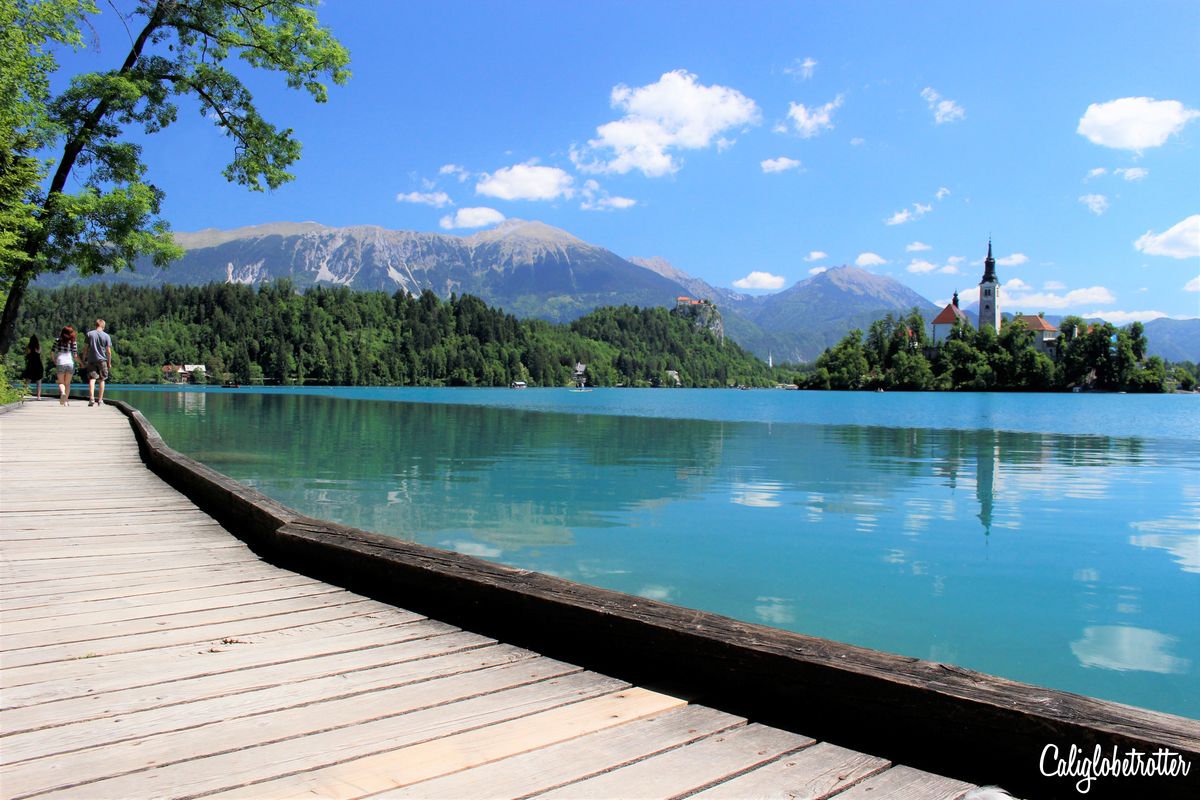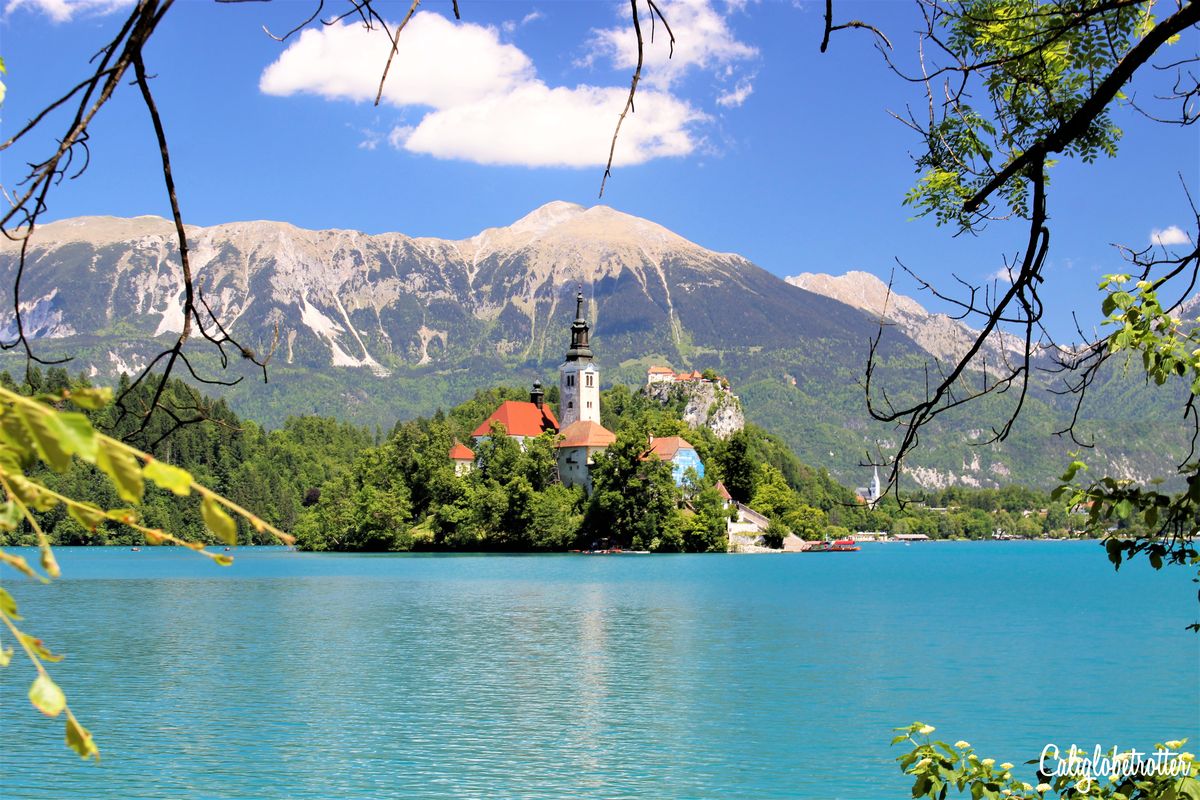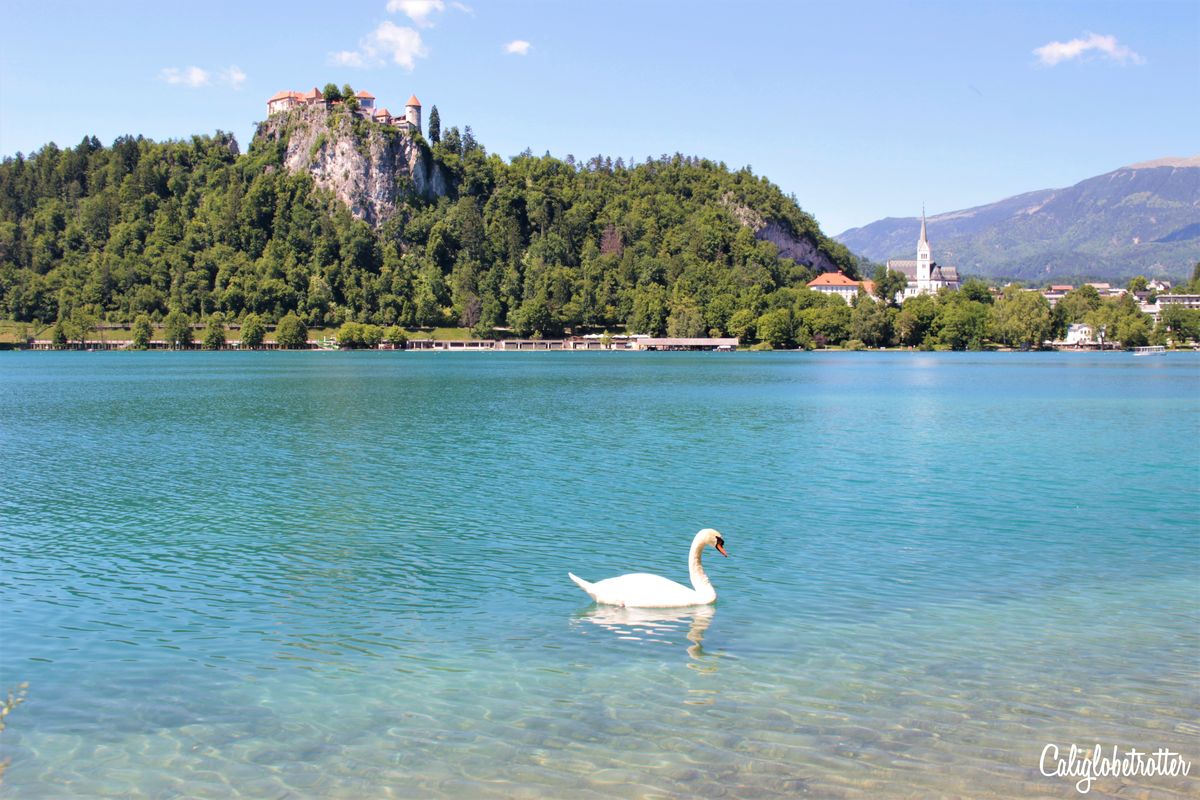 After you come back down from you're hike, you'll want to "walk it off" by casually strolling the shoreline and catching glimpses of the island from every vantage point in an easy 2 hour walk. The northern end of the lake is a bit less photogenic than the western end as it's a bit covered in trees, but as you near the western end, the view dramatically improves as the island comes into view. Go past the rowing club, where you'll find several piers extending out into the lake, making for some awesome photo opportunities!
On the eastern side, you'll find rows of wooden boats waiting to ferry people across the lake to the island.
Cost: PRICELESS!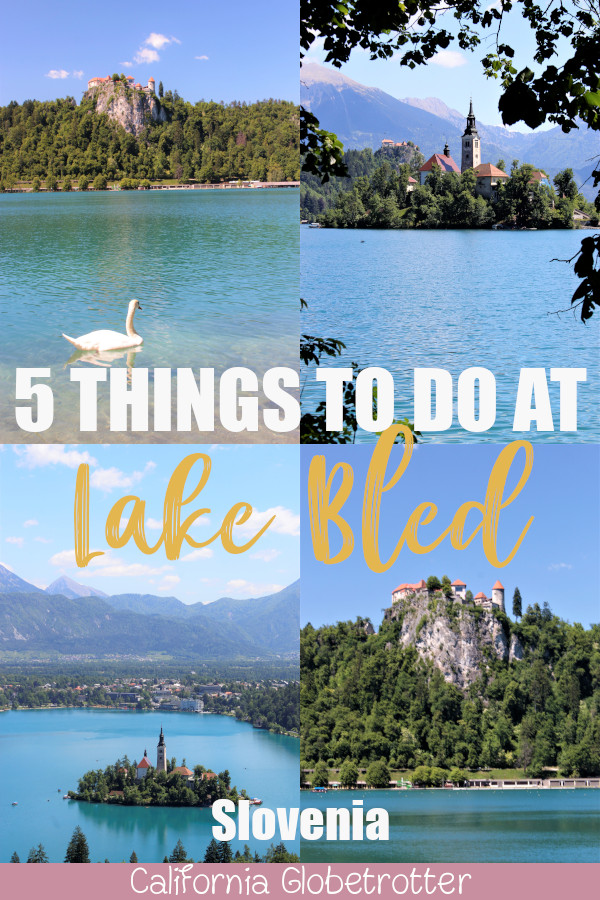 3. Row, Row, Row Your Boat Gently to Bled Island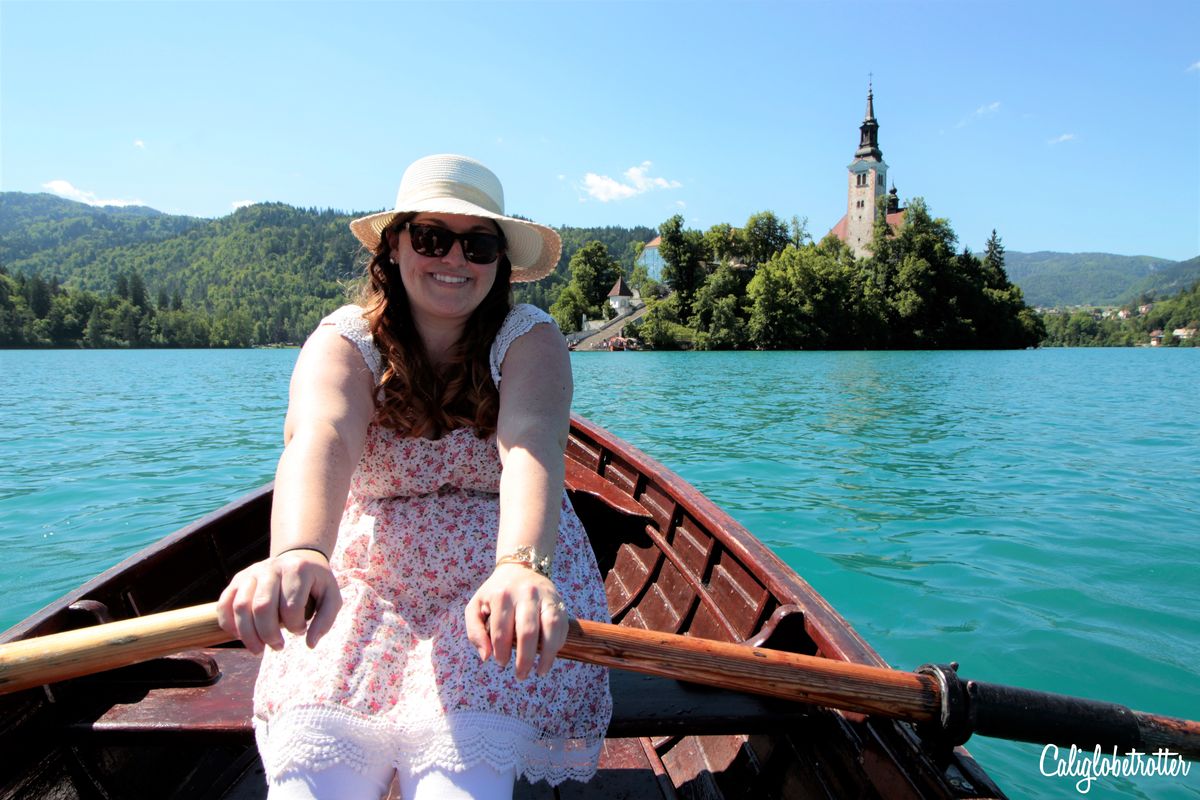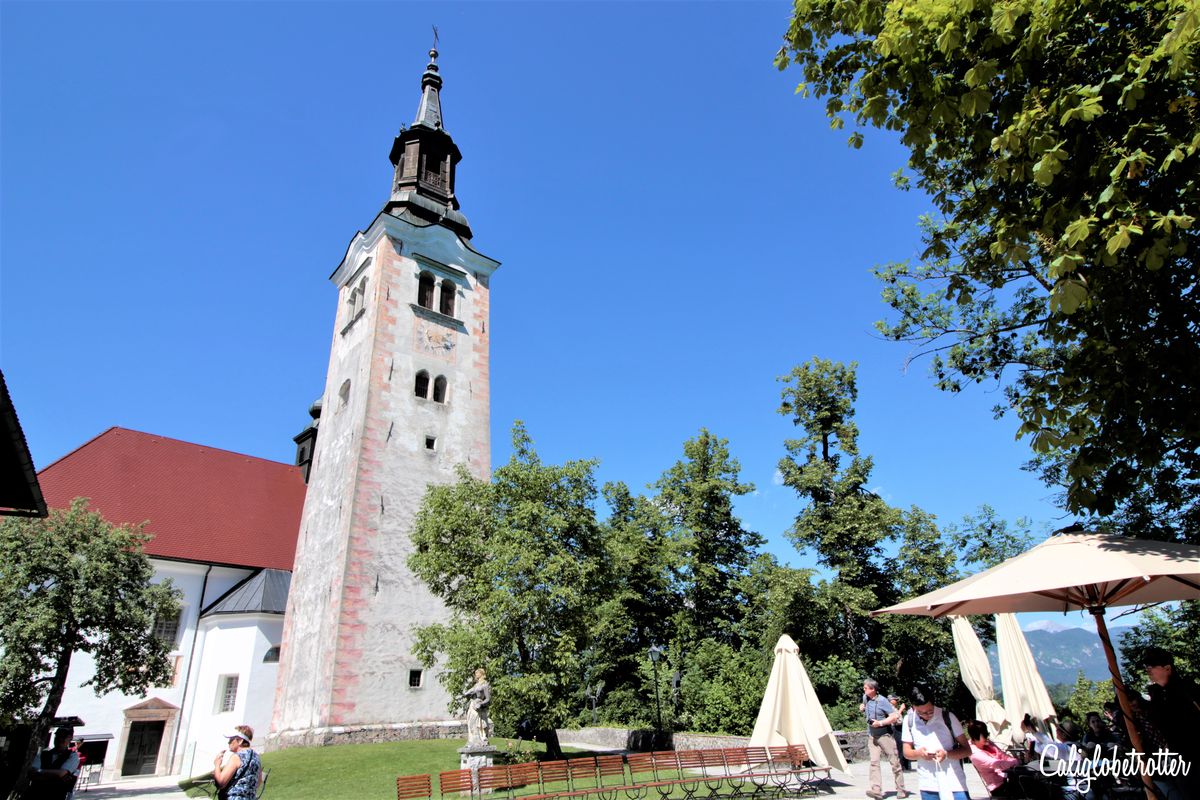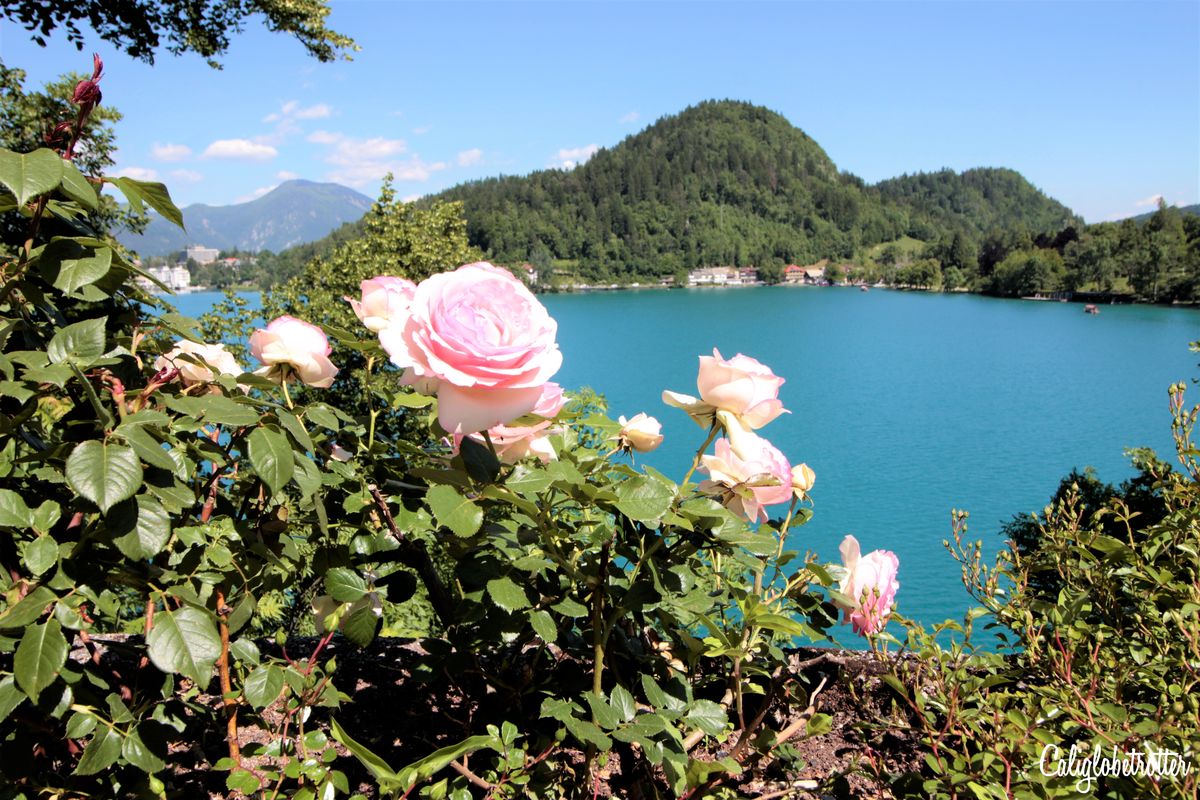 Since the Renaissance, people have made a pilgrimage to the Bled Island, the major attraction at Lake Bled. On the island, you'll find the 17th century Assumption of Mary Church. It is tradition for a newly married groom to carry his new bride up the 98 steps to the top of the tower and ring the bell. If he does this, they will enjoy a happy marriage and make the couple's dreams come true. Unfortunately, the tower is now closed to the public.
No motor boats allowed on Lake Bled, however, you can rent a wooden paddle boat and row, row, row yourself across the lake to the island, or you can take one of the traditional boats, called a Pletna, over to Bled Island and back.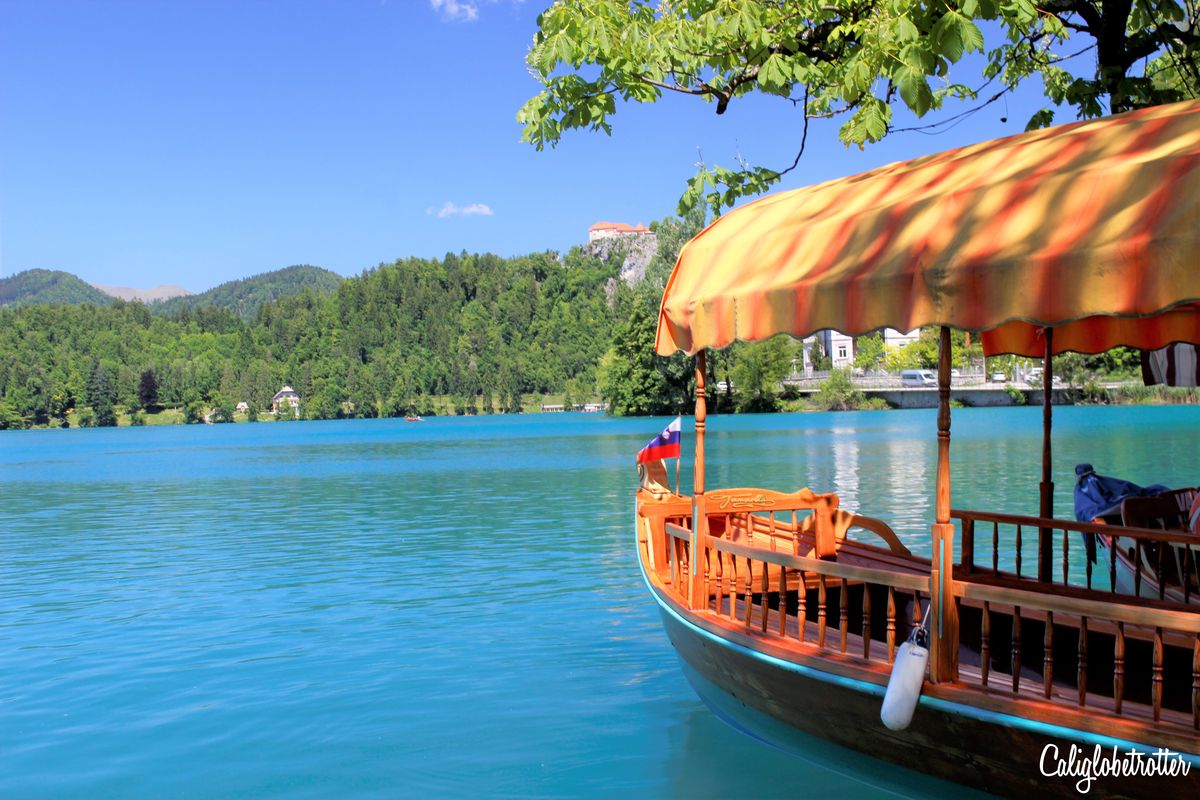 The Plenta Boat is a tradition that has been passed down from generation to generation since 1590 and are made by locals. To be an oarsmen is considered to be a highly respectable profession at the lake. Each boat can hold up to 20 people and looked a bit crowded.
You can find these boats waiting to take you across the lake at the Spa Park, under the Park Hotel Bled, in Mlino and in the Rowing center Bled or near the B&B Accommodations Plenta.
If there's ever a chance to avoid large packs of tourists, we take it, so we decided to row, row, row our own boat across the lake. And because our relationship is all about being equal, we both took turns rowing…although I struggled a bit more at the beginning before I managed to get the hang of things. Until then, we were going in circles. It was honestly one of the coolest things to do in Lake Bled!
Rowing your own boat is incredibly romantic and intimate, yet there was one thing missing….my husband didn't serenade me!
Cost: PLENTA: 12€ per person no matter the age! ROW BOAT: 15€
4.Visit the Bled Castle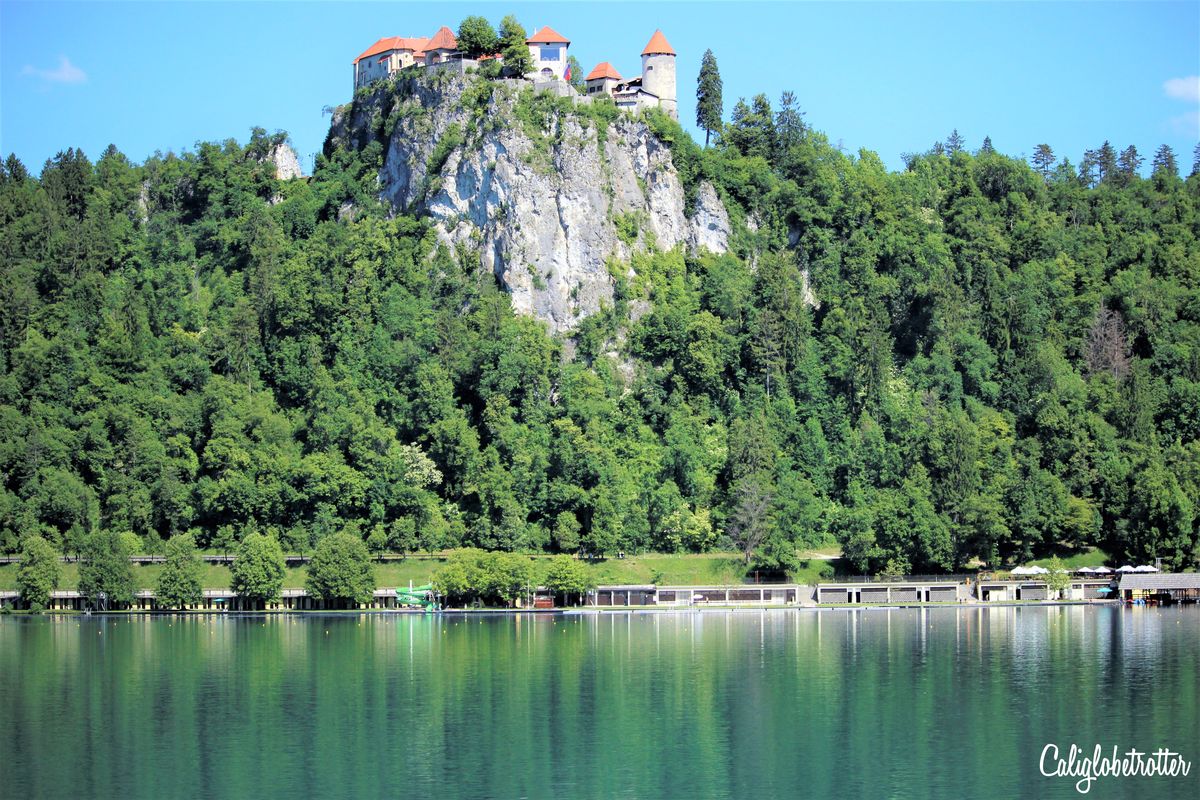 Although the view from the castle is not as amazing as from your hike up Ojstrica, it's still worth going up to the castle simply for another vantage point. Perched on a hill overlooking the lake, you'll be able to take in the magnificent view.
Depending on the weather, you can either hike up to the Bled Castle, one of the main sights to see at Lake Bled, which should take about 20 minutes or you can drive up which takes about 10 minutes. Once up at the castle, the path to the castle is quite steep and is not very friendly for strollers or elderly, although I did see plenty of families and elderly attempting it.
You can visit this fairy tale castle which dates back to 1004, making it one of the oldest castles in Slovenia! Once inside, you can visit a museum to learn all about the history and there is even honey store, a printing press and a blacksmith shop. You can even walk the castle walls and enjoy even more wonderful views!! Also, with the purchase of your ticket, a coupon is include so you can even find a restaurant and café up at the castle.
Also at the castle, you'll find the Castle Chapel which is one of the most famous parts of Bled Castle which dates back to the 16th century and has some beautiful frescoes. 
Cost: 5 € per person and up
Tips:
The castle is open every day November-May from 8:00-6:00pm and April-October from 8:00-8:00pm.
The castle is not really suitable for handicapped,elderly or people with strollers who might have a hard time climbing the steep hill.
5. Devour Some YUMMY Cream Cake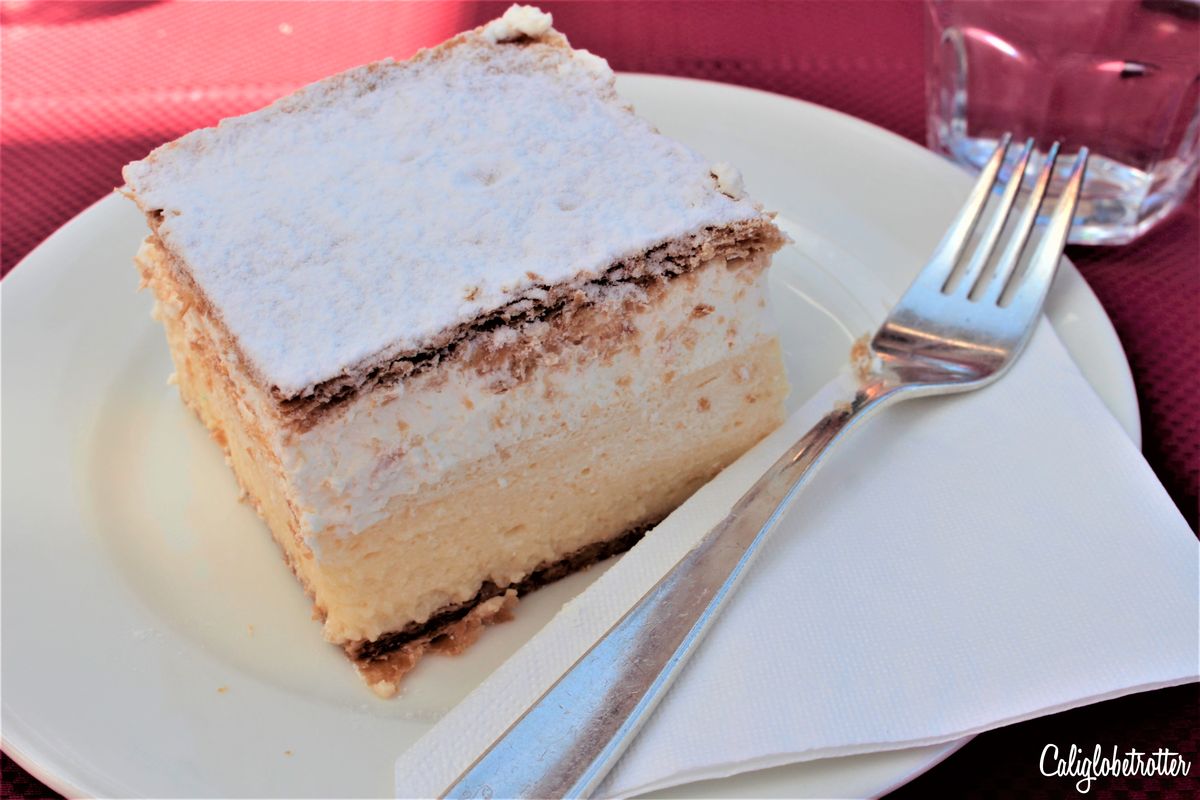 A trip to Lake Bled isn't complete without devouring a slice of Lake Bled's famous cream cake. Almost every restaurant in and around Lake Bled serves this delicious cake, but only the original Lake Bled cream cake can be found at Hotel Park ⭐⭐⭐⭐. Soon after the end of the Second World War, the pastry chef Ištvan Lukačević arrived at Hotel Park created this lip-smacking d-e-licious dessert which has since sold over 12 million slices!
Characterized by a delicate puff pastry which has been folded seven times and left to sit over night, atop layers of light vanilla cream and custard makes for the perfect cherry topping to an amazing day! After the work out we had climbing the mountain and rowing a boat, I had no qualms with not sharing my piece of cake!
What makes this cake so special, besides how delicious it is, is that everything about this cake must be 7 cm – 7 cm tall, 7 cm wide and 7 layers of puff pastry. Otherwise it's not a true Cream Cake! 
Cost: 2 cakes, 1 large water 10,30 €
Tips for visiting Lake Bled, Slovenia:
You will also need to buy a Slovenia vignette. You can buy either a 7 day or 30 day. We bought a 7 day vignette for 15 €.
When driving into Lake Bled, you'll likely approach the lake from the HWY 209 on the north eastern side of the lake. There is lots of parking over here, but more crowded. If you plan to hike or take a row boat, head to the south western end of the lake and you'll find less crowded parking for 5 € all day.
Other unique things to do in & around Lake Bled:
Looking for more practical information on Balkan Travel? Grab a copy the following travel guides which we found incredibly useful on our trip and has something for everyone from outdoor activities to historical sites!
Disclaimer: This post contains affiliate links. If you click on one and make a purchase, I might make a little extra spending money, at no extra cost to you. As always, all opinions are my own and these products/services have been found useful during our travels and come highly recommended to you from yours truly!
Other Related Posts:

Piran: Slovenia's Prettiest Town
Liked this post? PIN IT FOR LATER!!