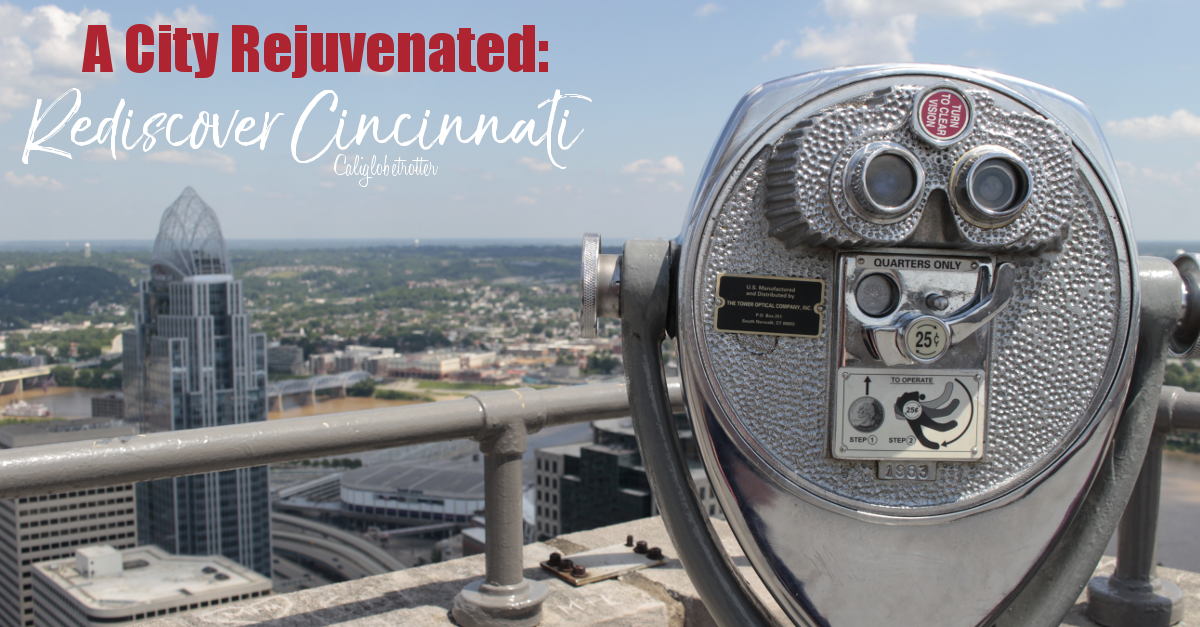 Once named the "Paris of America" and the first truly "American city" founded after the American Revolution, Cincinnati was once a bustling industrial city adding a new nickname, "Queen City" because of the population explosion. By 2001, Cincinnati had gained a rather notorious reputation for overtaking Compton as the "most dangerous city" in the US. But, after massive investments by the city's Fortune 500 companies to rejuvenate downtown Cincinnati, it has now been ranked as one of the top places to visit in the US in 2018!
Visit the Next Big Thing! PIN IT FOR LATER!!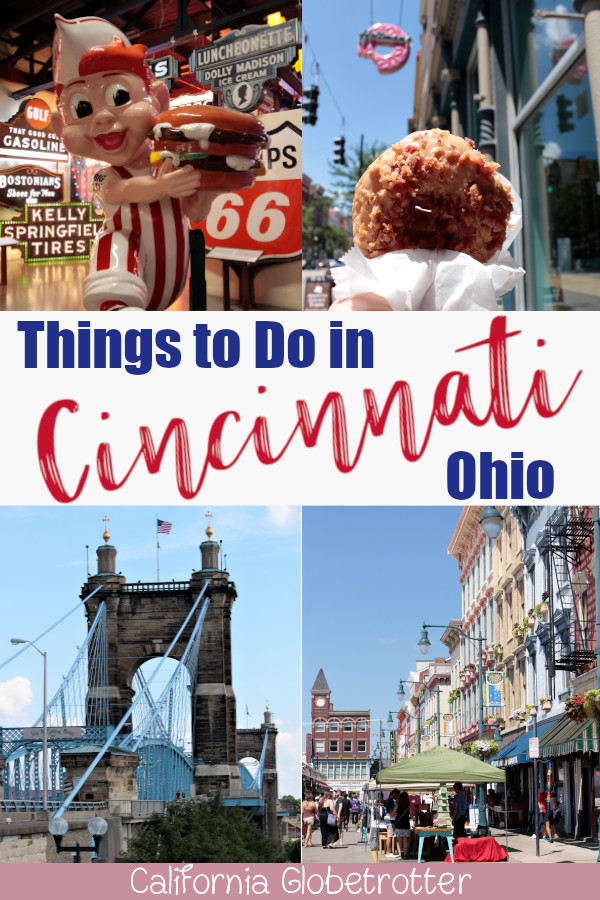 This article is now available as a mobile app. Go to GPSMyCity to download the app for GPS-assisted travel directions to the attractions featured in this article!
Nestled along the Ohio River at the confluence of the Licking and Ohio Rivers, just across the the state line from Kentucky, Cincinnati is now a beautiful blend of new and old, with modern and historic hang outs and where the Midwest meets the South. The area was settled in 1788 and became one of the fastest growing "boom towns" and by the mid-1800s, Cincinnati was one of the largest and wealthiest cities in America due to the steamboat trade as well as pork processing.
Now, I don't want to scare you right off the bat, but it's always good to have some background info. Downtown Cincinnati and Over-the-Rhine, once the most dangerous place in America is now unrecognizable to just seven years ago and is still undergoing major renovations, bringing a renewed sense of pride back to the city and now I encourage you to consider a visit to one of the new, up & coming cities in the Midwest with these 20+ things to do in Cincinnati, Ohio! It one of the easiest day trips from Louisville, KY and we returned several times because we enjoyed it so much!
But here are some interest facts about Cincinnati before you go!
Cincinnati is home to three major sports teams: the Cincinnati Reds of Major League Baseball, the Cincinnati Bengals of the National Football League and and FC Cincinnati in the United Soccer League and soon to be Major League Soccer in 2019! 
The Cincinnati Red Stockings (later Reds) was the first professional US Baseball team, formed in 1869.
Cincinnati has been home to 5 US Presidents: William Howard Taft, Rutherford B. Hayes, Ulysses S. Grant, William Henry Harrison, and Benjamin Harrison.
George Clooney and Neil Armstrong (the first man to walk on the moon) are both natives to Cincinnati!
The second oldest zoo in America is the Cincinnati Zoo opened in 1875!
Cincinnati is home to the second largest Oktoberfest in the world called Zinzinnati Oktoberfest!
History of Cincinnati and the German Influence
Surprisingly, along our adventures in Cincinnati, we discovered just how much the city had German heritage as thousands of Germans immigrated to the city between the 18th and 19th centuries, especially during the Prussian Revolution in 1848 in pursuit of the "American Dream" and by 1900 more than 60% of the city was German. German neighborhoods stretching across Cincinnati as well as other parts of Ohio popped up and soon the first German-language newspaper, Germania, began publication in 1846.
Germans were often resented and tended to form their own German communities. Native-born US citizens were typically hesitant of more outsiders coming in with different religious and political beliefs. By the outbreak of WWI, street names were changed, teaching German was banned and discrimination continued throughout WWII. Today, Cincinnati's German heritage is making a comeback and that is clearly evident with the amount of German-related things we came across!
How to Get Around Cincinnati
Opened in 2016, the Cincinnati Bell Connector (previously known as the Cincinnati Street Car) is the easiest way to get around Findlay Market and Over-the-Rhine to downtown Cincinnati to the Banks and the American Ball Park. 
How to Ride the Cincinnati Bell Connector: At the moment, there are 5 street cars, moving in a circular route with stops at many major points of interest in Cincinnati. At each location, there is a ticket machine where you can easily purchase a day ticket, using Debit/Credit cards only as form of payment. Future plans include expanding it to the University of Cincinnati, hospitals, the Cincinnati Zoo and into Northern Kentucky. 
Parking in Cincinnati: The best place to find the most affordable and safest parking garage is the Washington Park Parking Garage starting at $3 for an hour up to $10 for 7+ hours. From there, you can easily hop aboard the tram. The Northern portion of the street car encompasses Over-the-Rhine while the southern portion includes downtown Cincinnati. 
Biking in Cincinnati: Considering that a good chunk of Cincinnati is flat, until you get around the Business District, it's relatively easy to rent a bike in Cincinnati and explore! You have the option of renting a bike for unlimited uses under 60 minutes for $8, +$4 for every additional 30 minutes or rent a bike all day for $28.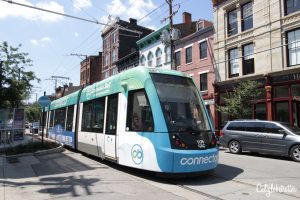 Over-the-Rhine
Over-the-Rhine once had the highest number of abandoned and boarded up buildings in the country and yet today, it's a thriving and bustling part of town! It has the one of the largest, intact urban districts in the United States and the largest collection of 19th century Italianate architecture! Cute little boutique shops, organic restaurants with lines out the door and hip new bars now fill those empty buildings, beautifully restored to their former glory all thanks to a corporate-funded, non-government entity. Since 1930, more than half of Cincinnati's historic buildings have been lost to deterioration and by 2006 was on the "Endangered" list, but thanks to the Over-the-Rhein Foundation, they have helped save many of the city's crumbling buildings and won 3rd place in the 2011 National Trust for Historic Preservation's nationwide "This Place Matters" community challenge.
What was once one part of town you definitely did NOT want to walk through is now THE place to be as residents try to reconnect the community with it's German history. There are still a few parts of town that look a little worse for wear, but in another 10 years, I bet it will all be cleaned up and revitalized! In 2018, Food & Wine Magazine called OTR "one of the country's most promising food scenes" and today local chefs and artisan brewers have particularly embraced this area. 
The neighborhood's distinct German name dates back to the mid-19th century when German immigrants trekked to work across the bridges over the Miami and Erie Canal which separated the area from downtown Cincinnati. Germans nicknamed the canal "the Rhein" in reference to the Rhine River in Germany and the neighborhood just north of the canal as "Over the Rhein" (über den Rhein).
Because of it's size, OTR is bisected by Liberty Street with the Brewing District and the Northern Liberties to the north of Liberty Street while to the south, you'll find the Gateway Quarter and Pendelton. 
Events in Over-the-Rhein: Bockfest, Cincy Fringe Festival, Cincinnati May Festival, Cincinnati Reds Opening Day Parade from Findlay Market to Fountain Square.
The Brewing District
With all those Germans living in Cincinnati, you can bet your bottom dollar that they would continue their tradition of brewing good brews. North of Liberty Street was once the beating heart of Cincinnati's brewing industry with the first brewery opening up in 1853. At its peak, Christian Moerlein Brewing Co. occupied three entire city blocks and was the city's largest brewery, but that came to an end during the Prohibition era in the 1920s, finally being brought to life again in 2010!
Today, you can even do a Brewery Heritage walking tour or the Ultimate Queen City Underground Tour to explore Cincinnati's brewing history above and below ground, including the pre-Prohibition breweries, lagering cellars, and tunnels unique to the Brewery District. You'll definitely be wanting to book yourself a lil' "Beercation" in Cincinnati and indulge yourself in the Craft Beer scene.
One of Over-the-Rhein's popular beer bars and brewery is the Rheingeist Brewery located in an old bottling plant dating back to 1895 just down the street from Findlay Market! Here and there, you'll find a few pieces of street art, many of which depict the beer trade, from gathering hops to the brewing process so searching for street art in Over-the-Rhein is one of the best free things to do in Cincinnati. You can even download a self-guided map to help you find the street murals!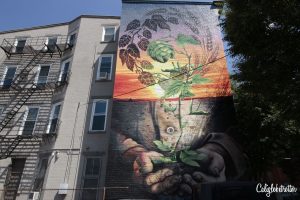 Findlay Market
One of the main things to see in Over-the-Rhein is Findlay Market, Cincinnati's oldest public market. A walk through Findlay Market and you'll discover a variety of European delicacies such as Belgian waffles, Polish pierogies, German-style bread, Baklava and more, including a little outdoor German-ish "biergarten"! If you love doing foodie tours, consider doing a Market Tour to stuff your face and truly get a taste of Cincinnati!
The neighborhood surrounding Findlay Market is one of the most beautiful areas of Cincinnati as it has been beautifully restored to vibrant pastels and on the day we happened to be there, a small street market was also set up. We had a blast exploring the market perusing the isles and taking a peak at the fresh produce market as well! We even took a seat to enjoy the atmosphere!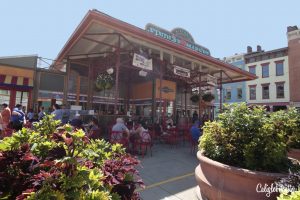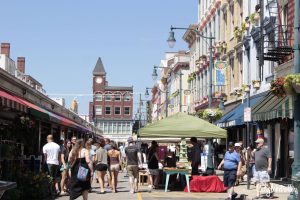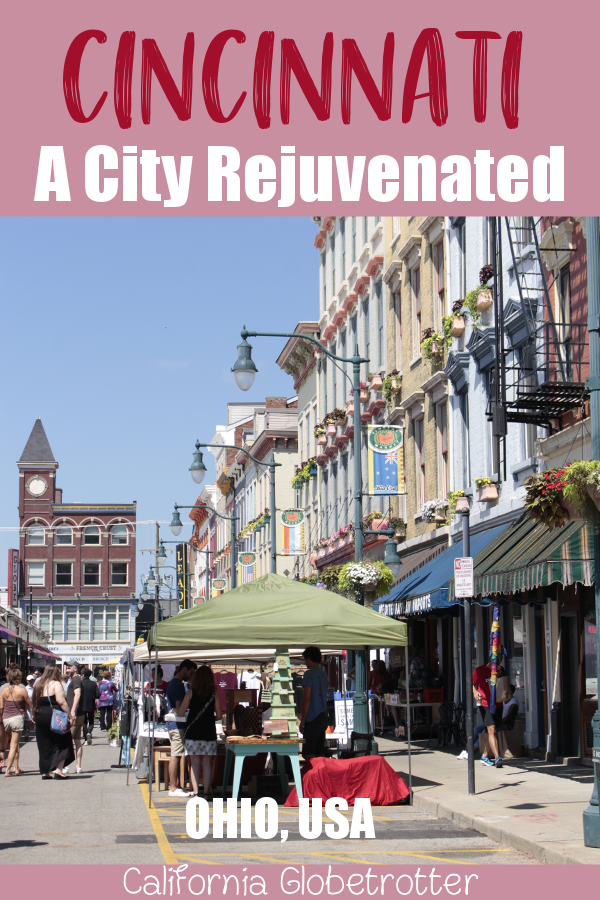 North of Liberty Street
This part of OTR has been relatively untouched by gentrification efforts and may actually feel more historic than other areas, although perhaps future investments are slowly creeping in to spice up this quarter! This was a part of town we just didn't have time to get to, but I know we'll be back!
The Washington Park Area
Enjoy Washington Park
Since gentrification, developers have renamed this part of OTR to "The Gateway Quarter" which has seen the most revitalization since 2010 and is now a primarily white, upper-class, exclusive quarter of town. Now, a plethora of new condominiums, apartments and commercial space has popped up, breathing life back into this part of Over-the-Rhein. 
Washington Park is a lively urban park which extends from Elm Street, 14th Street, Race Street, Republic Street, and other cross-sections between the Park and the entertainment districts to the east of it. Today, you can find a doggie-park for dog lovers, outdoor concerts at an old-fashioned bandstand and a fun little water installation where locals took to cooling off on one of the hottest days of the year. Now, there are daily events in the park to help you make the most of your visit!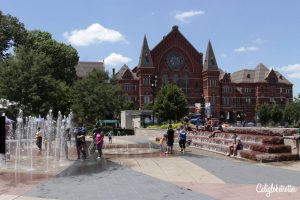 Visit the Cincinnati Opera House
Stretched out along the east side of Washington Park is the United States' second oldest opera house, the Cincinnati Opera House (aka Cincinnati Music Hall), a glorious piece of Venetian Gothic architecture with red brick that encompasses the Cincinnati Ballet, Cincinnati Symphony Orchestra, Cincinnati Opera, May Festival Chorus, and the Cincinnati Pops Orchestra. In 2014, it made the list of National Trust for Historic Preservation's annual list of America's 11 most endangered historic places, but by 2017, after a 16-month, $143-million renovation, it has been subsequently saved.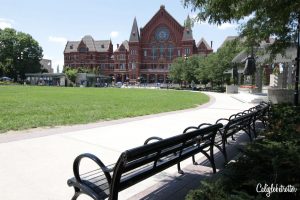 Taft's Ale House 
One of Cincinnati's best new bars,Taft's Ale House now occupies the former Saint Paul's German Evangelical Protestant Church which was built in 1850 which was finally abandoned in the 1980s. The church sustained intense wear and tear which grew increasingly difficult to maintain. In 2010, the City of Cincinnati made an agreement with 3CDC to repair the church and after extensive renovation, the church was transformed into one of the best places to eat in Cincinnati, beautifully incorporating aspects of the salvaged church with a brew-pub. 
Named after former US President William Howard Taft, a Cincinnati native, Taft's Ale House has all the essentials: Good beer, Good food, and Good vibes! Here Ye Beer Me! It's $5 for a flight—of five pours, so make your own beer sampler and pair it with Loaded Tater Tots with beer cheese for starters. My personal favorite? The Maverick Chocolate – clearly redefining "drinking chocolate"! Then stuff your face with any sandwich with their homemade, 21 day aged Tri-Tip steak! 
When you're done, take a little walking tour of the pub and learn more about this history of the former church!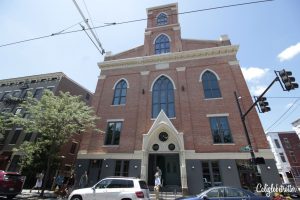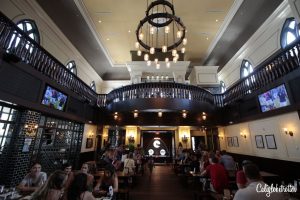 Stroll Down Vine Street
Heading west from Washington Park and you'll walk down W 12th St, W 13th St, or W 14th St and come to Vine Street. Once lined with derelict buildings, it's here you'll find a plethora of boutique shops, local chefs, European inspired restaurants, bakeries and bars. This is clearly, THE NEW HANG OUT zone, now aptly nicknamed "the miracle on Vine Street!" Diners now line the streets, waiting for the next table and crowding into bars. You won't find any chain restaurants here, just small local specialty shops.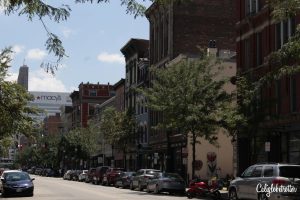 Our personal favorite? Taste of Belgium! An authentic Belgian eatery specializing in Belgian beers and waffles, two of the most sacred delicacies in Belgium! When you walk in, you can Eat Like a Belgian, Drink Like a Belgian, Live Like a Belgian all without stepping foot in Belgium and since we clearly wouldn't be making our annual road trip to Belgium this summer as we are Stateside, we had to get a taste of Belgium in the USA!
Next up, Brezel, a Bavarian-inspired Pretzel shop which has creatively infused Bavarian pretzels with American tastes. Here, you'll find Cinnamon Sugar Pretzels, Jalapeno Cheddar Asiago, Herb & Cracked Pepper and the traditional with salt.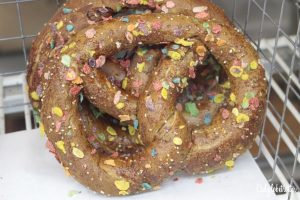 Hit the Doughnut Trail
In 2016, Butler County officially launched a donut trail which features 10 independent, family-owned donut shops spread throughout the county, one of the yummiest things you can do if you're not on a diet. Like, your welcome!
Yes, put on your fat pants and sniff out the yummiest, whackiest donuts shops you can find along the Cincinnati Doughnut Trail and start at Holtman's Donuts, also on Vine Street which opened in 1960! What caught our attention was that you could pre-order their 10″ donuts so we simply had to go in to see in, but came out with a Maple Bacon donut, a top seller and not fit for everyone's taste buds as it's certainly an acquired taste. Trust me though when I say, finding the best donuts in Cincinnati is one of the best things to do! Just don't get me started on the strange things Americans do and why we add bacon to everything…other than it's goooood!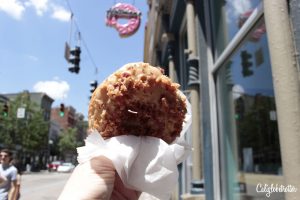 Pedal Wagon Beer Bike
Pedal and Party while you explore Cincinnati with Pedal Wagon! Operating 7 days a week, from 9am – 10pm you can have a bike load of fun! Grab your friends and book a tour! Each wagon holds up to 15 people and can make for a fun Bachelor/ette activity! Be sure to either book a private tour or a public tour with individual seats! You'll be the envy of the town! All pub crawlers or bike pedals must be 21+!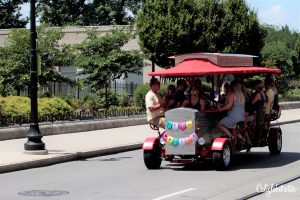 Downtown Cincinnati 
Central Business District
Carew Tower
Not far from Fountain Square is Cincinnati's highest elevated building in the city. Built in 1930, Carew Tower is now the second tallest building in the city with 49 stories. Designed in an Art Deco style overlooking the Ohio River waterfront, it is registered as a National Historic Landmark and is a member of Historic Hotels in America. Named after Joseph T. Carew, the proprietor of a department store chain that had once occupied the site since 1877. 
The Carew Tower houses the Hilton Cincinnati Netherland Plaza and is one of the finest examples of French Art Deco, modeled after the Empire State Building in New York City. Of interest here is the Hall of Mirrors banquet room inspired by the original at the Palace of Versailles outside of Paris. 
Head inside, find the elevators and go up to the 49th story observation deck for breathtaking panoramic views over the city, the Ohio River and views into Kentucky! 
Carew Tower Observation Deck Opening Times: Monday – Thursday 9:00am – 5:30pm, Friday 9:00am – 6:00pm, Saturday – Sunday 10:00am – 7:00pm
Admission Prices:
$6 ages 12 and up
$3 ages 6-11
Free for ages 5 and under
Cash only – small bills appreciated, pay at top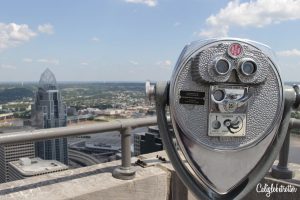 National Underground Railroad Freedom Center
Located near the banks of the Ohio River, the barrier that separated the slave states to the South and the free states to the North, the National Underground Railroad Freedom Center opened its doors in 2004 as a monument to freedom and dedicated to those affected by acts of slavery throughout the world, as well as being a museum and education center. It portrays the horrific struggles slaves endure, both past and present as a somber reminder to help fight against slavery. 
Explore Cincinnati's Bridges and Waterfront
It's evident when walking around Cincinnati's Waterfront that it's a city of bridges criss-crossing across the Ohio River connecting the Queen City to Northern Kentucky's Newport riverfront. All located within a short distance from one another, four of the bridges are pedestrian-friendly: John A. Roebling Suspension Bridge, Purple People Bridge, Taylor Southgate Bride and Clay Wade Bailey Bridge. If you feel like the John A. Roebling Suspension Bridge (1867) looks familiar, that would be because it was actually designed by the same architect who later built the Brooklyn Bridge in NYC!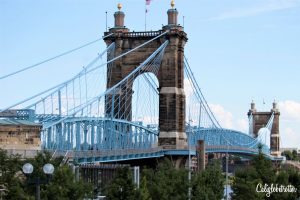 What once buzzed with 30 steamboats a day on the shores of the Ohio River in the 19th soon faded into despair by the 20th century because of pollution and disinvestment. But today, the Cincinnati Waterfront has been brought back to life and now stretches 45 acres between the Great American Ballpark and the Paul Brown Stadium, flanking both sides of the iconic Roeblinig Suspension Bridge. Now, there are many things to do along the Cincinnati Waterfront and you can find enjoyable places to sit along the banks of the river, restaurants and bars and nightlife as well as a carousel and water installations.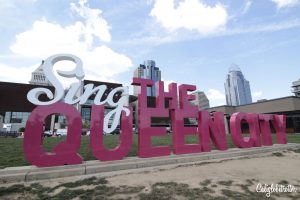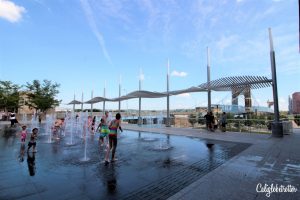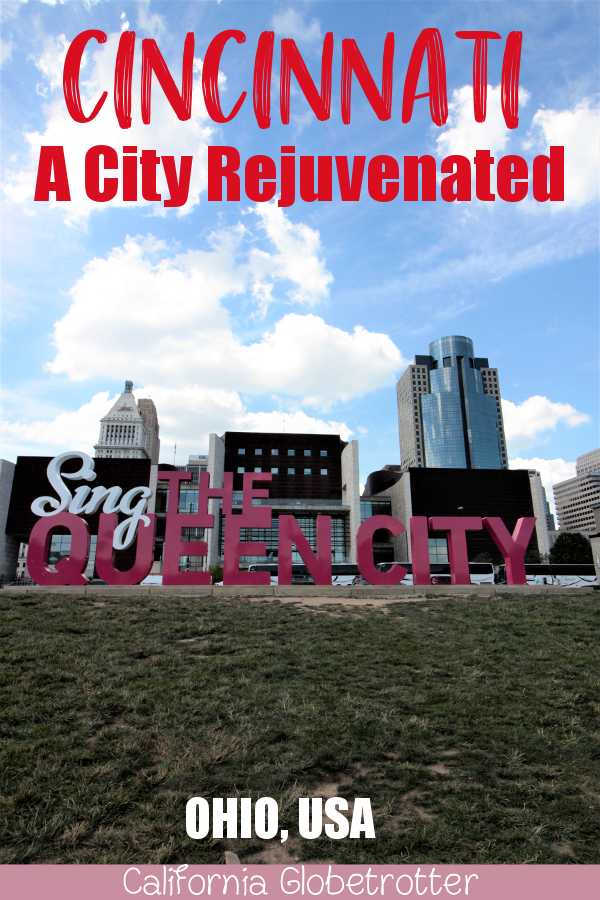 Catch a Cincinnati Reds Baseball Game
A visit to Cincinnati wouldn't be complete without catching a good ol' game of American Baseball! As previously mentioned, the Cincinnati Reds were the first professional baseball team in the US! Nothing like a box of Cracker Jacks and a bit of "Take me out to the ball game" to top off a summer visit to Cincinnati! When you're done, explore the Cincinnati Reds Hall of Fame!
Cincinnati Street Art Walking Tour
While in Cincinnati, you'll likely notice quite a few murals here and there and that's because Cincinnati's Mayor tasked an organization called ArtWorks about a decade ago to spice up all 52 of Cincinnati's neighborhoods by adding street art and more are definitely on the way! So taking a Cincinnati street art tour is a definite must while here!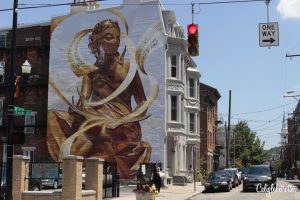 Visit the Historic Majestic Showboat
Built in 1923, the MAJESTIC is the last active showboat, not just on the Ohio River, but in the United States. It once traveled up and down the Ohio River docking at various port cities offering some floating show business. By 1965 is was considered too decrepit for travel and was docked in Jeffersonville, IN where shows continued until 1967 and has sat dormant since 2013, but today it's moored on the Cincinnati Riverfront and it's wooden hull replaced with a steel hull.
Set Sail on the Ohio River 
Find your sea legs by taking a river boat cruise in Cincinnati on the Ohio River with the historic Belle of Cincinnati steamboat. Hop aboard and discover more fascinating history about Cincinnati from the boat captain as you cruise along for 1 1/2 hours. Fun fact: Did you know that 1 out of every 4 steamboats were actually produced right here in Cincy?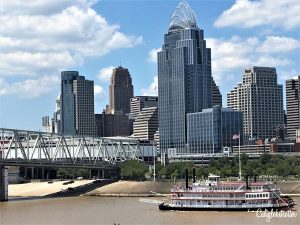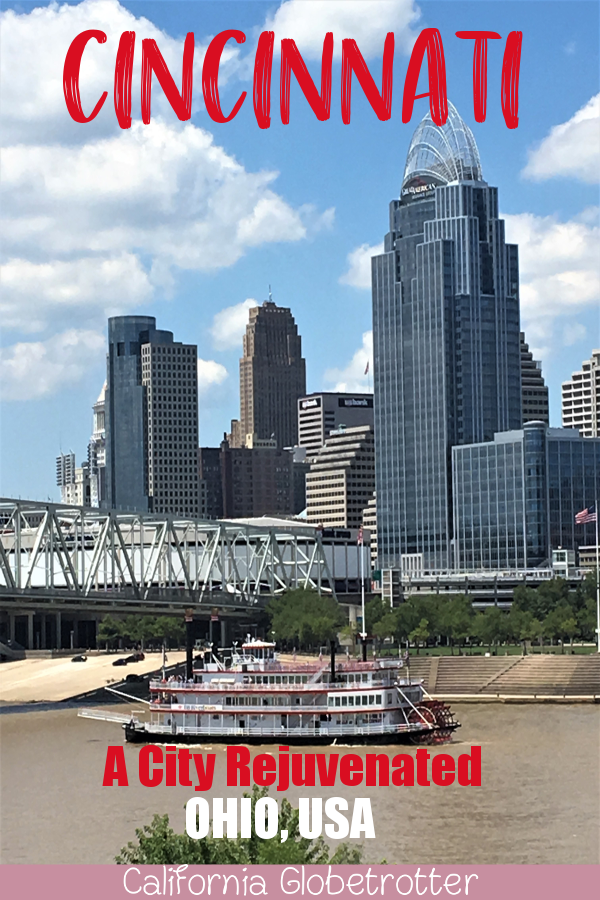 Across the Ohio River
Explore Newport, Kentucky
With just a short walk across any of the bridges and you'll be stepping foot into Kentucky. Like downtown Cincinnati, Newport has also been experiencing a cleansing and revitalization program which is still under works. There are still many new projects for Newport underway, but it will bring even more things to do in Greater Cincinnati and in Newport!
The Newport on the Levee is a waterfront on the south side of the Ohio River. Here you'll find a massive urban retail entertainment center, shops, cafes and restaurants. Right along the banks is the newly opened Newport Aquarium, a family-friendly attraction which my husband jokingly said, you could learn about fish and then have dinner right next door at the Fish Market, which is a premier fresh seafood restaurant.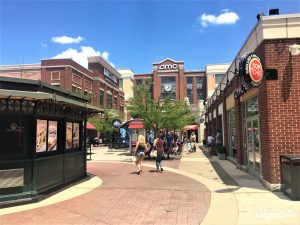 Get your "Gemütlichkeit" On at the Hofbräuhaus Newport
But there was truly only ONE reason why we decided to check out Newport, and that's because of the Newport Hofbräuhaus which opened in 1993 and is the MOST AUTHENTIC Hofbräuhaus in America modeled after the Munich Hofbräuhaus! Waitresses were fitted in American versions of Dirndls, a brass band provided us with some accordion tunes, while the beer and food had an American flair to it. We shared a delicious but overly salty Bavarian pretzel accompanied with 3 sauces: beer cheese, sweet mustard and obazda before digging into a Schnitzel sandwich with beer cheese and a French Dip on a Bavarian pretzel. All topped off without our beer! Some things you just gotta try! While these weren't exactly traditional German meals, there was a whole menu full of Bavarian cuisine! Imagine my giddiness when much to my delight I discovered the most authentic looking biergarten out back! Honestly, who'da known we would come all the way from Bavaria just to find this much of Bayern in Kentucky! Needless to say, we were quite stoked!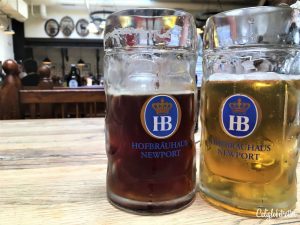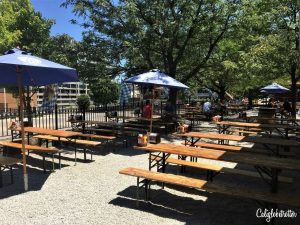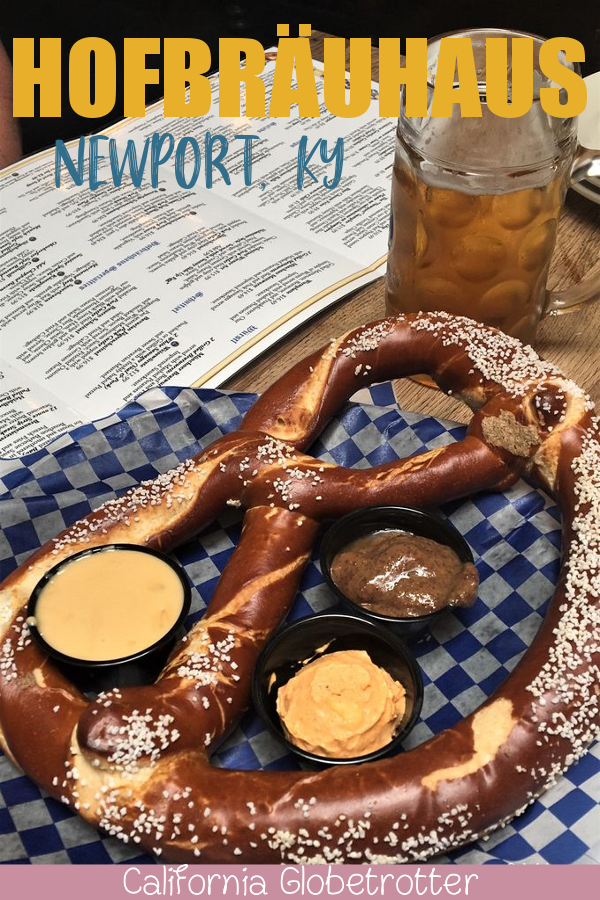 Further Afield
American Sign Museum
At first thought, neon lights might make you think back to your favorite watering hole, your favorite cafe or barber shop, so you might wonder why the heck should I visit a sign museum? Well the American Sign Museum is one of the best attractions in Cincinnati to visit and dedicated to over 100 years of American signs. It's also the largest neon light joint you can find in the good ol' US of A with a collection dating back to the early 1900s to the 1950s. It's like walking down a "Main Street Any-Town, USA" with pink fire hydrants, mock storefronts and vintage burgers like a blast from the past! But it's not all for show, you can learn a lot too about the history of signs in the USA.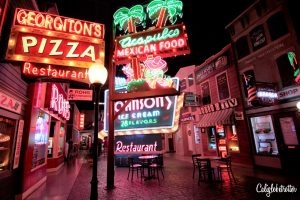 It's only of the quirkiest and most unique things to do in Cincinnati and when you roll up, you might wonder where the hell your Navi took you, but once inside, you'll be overwhelmed by the number of old neon lights shining brightly again, and best of all, Big Boy is there to great you! I honestly didn't think it would be as insanely awesome as it was and I simply went photo happy while my family simply said, "That's it?" Perhaps it's not for all, or perhaps it's really only for people who can appreciate quirky. Like hi, my name is Lori, and I'm addicted to weird things! Surprisingly though, we arrived about 20 minutes too early and yet people were already lining up to go inside!
Overall, it's pretty much one large room, decked out in all manor, shapes and sizes of a colorful array of blinking, buzzing, spinning signs showcasing a time long gone. Gone are the days of big flashy lights to attract people's attention. Except maybe me. And it's definitely a family-friendly activity in Cincinnati! …maybe that's saying something about me…
And if that wasn't strange enough, you can even get married here or host a party here! How friggin' AWESOME is that!? Like, why didn't we think about that!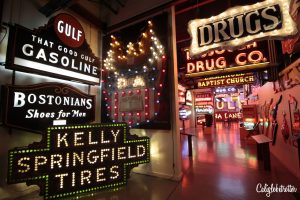 Museum Hours:
Wednesday – Saturday: 10:00am – 4:00pm, Sunday: 12:00pm – 4:00pm
Guided Tours:
(optional) Wed – Saturdays: 11:00am & 2:00pm, Sunday 2:00pm 
Admission Prices:
$15 Adults
$10 Seniors (65+), Students, Military
Three Children (12 and under) are Free with each paid admission
Eat Cincinnati Chili
While we were certainly already comatose from the waffle and donut, we didn't sniff out and devour any of Cincinnati's famous chili although we had wanted to. But what makes it so different from other chilies? Well typically it's served with less beans and has more of a tasty soupiness about it and piled sky high on to either spaghetti, hot dogs or French Fries and then topped off with cheese, onions or beans. Don't take it from me personally, but take it seriously when I say that throughout my research, Camp Washington Chili repeatedly came up as having the best chili in Cincinnati and has been serving up that award-wining chili since 1940!
Overall Experience in Cincinnati
WE LOVED IT! You might think we're crazy or wonder "Is Cincinnati safe to visit?" You've heard the news, you've seen the crime on the TV. Perhaps you know about the notorious reputation the city has, but they are working very hard to clean it up, spice it up and encourage people to visit. That's where the money's at! Cincinnati wants to invest in new housing and real estate, small local businesses and tourism. What they've already managed to do in a short amount of time is already eye pleasing and I can't wait to see what they will continue to do in a few years. We even joked that we could live here…HONESTLY, much to my mother's dismay! It has that American city vibe to it but with a ton of European heritage and it felt like for us we could have the best of both worlds – Germany and America!  
But overall, Cincinnati's overall crime rate has fallen since updating the city, though that's not to say there still isn't any. That will take a while, but I never once felt unsafe while visiting Cincinnati. Sure, there are likely still parts of town you don't want to go into, and I'm sure there are areas you definitely don't want to go to at night, but every city has that problem. Just do your due diligence and stick to the main tourist attractions and you'll be good to go!
If you're looking for some extra guides to prepare your trip, here are my travel guide bibles to help you navigate through Tennessee!
This post contains affiliate links. If you click on one and make a purchase, I might make a little extra spending money, at no extra cost to you. As always, all opinions are my own and these products/services have been found useful during our travels and come highly recommended to you from yours truly!
Eastern USA Travel Posts:
The COMPLETE Guide to the Kentucky Bourbon Trail
An INTENSIVE Guide to Louisville, Kentucky
Easy Wall Murals to Find in Nashville, Tennessee
Madison, Indiana: The Midwest's Prettiest Town
Huber's Orchard, Winery & Vineyard
Liked this post? PIN IT FOR LATER!!