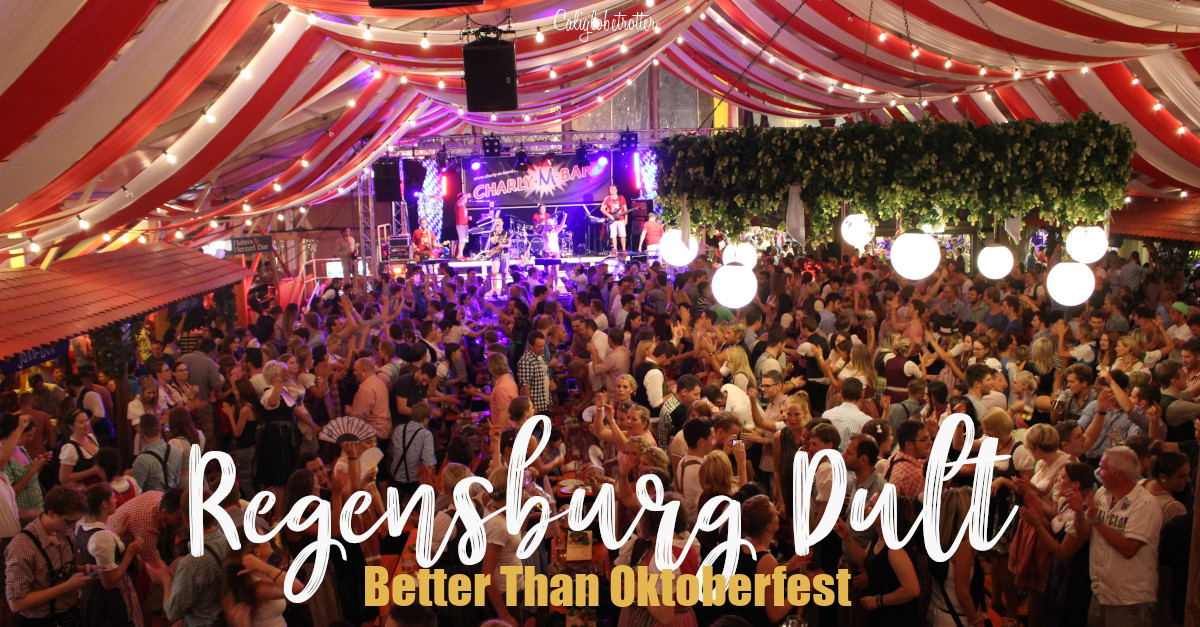 Disclaimer: This post contains affiliate links. If you click on one and make a purchase, I might make a little extra spending money, at no extra cost to you. As always, all opinions are my own and these products/services have been found useful during our travels and come highly recommended to you from yours truly!
Love beer and big German festivals, but don't want to deal with the crowds or looking for a more family-friendly beer festival the whole family can enjoy? On the lookout for an authentic Bavarian experience? Why not consider visiting the biannual event of Dult in the historic UNESCO World Heritage town of Regensburg?
What?? There is are other beer festivals other than Oktoberfest??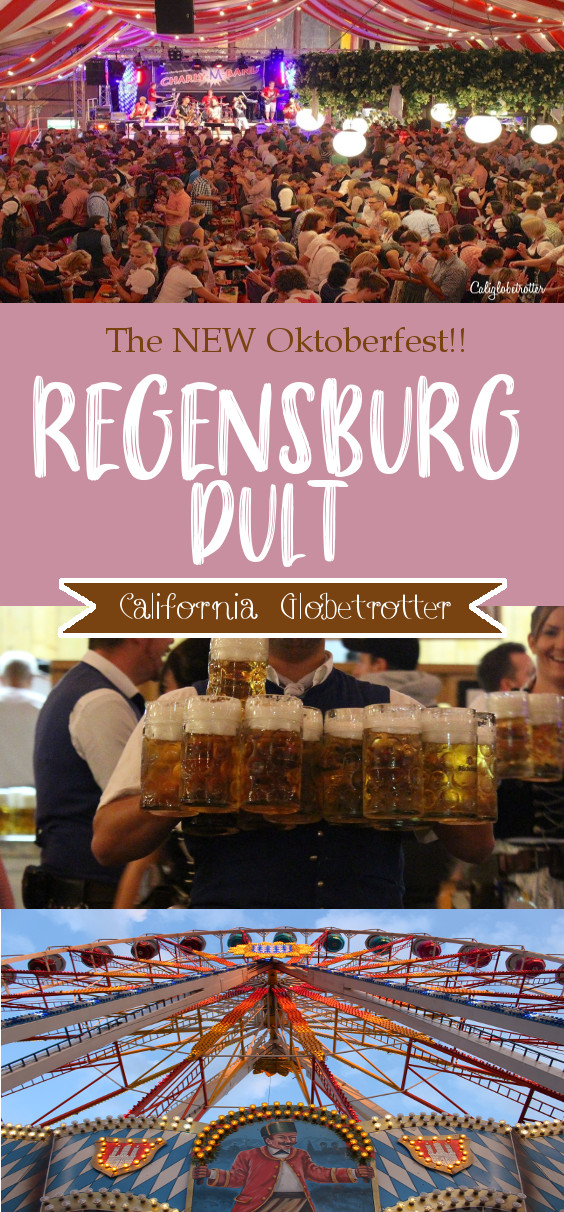 How to AVOID Looking Like a Tourist in Europe
Yes, in fact many towns and villages have some form of beer festival in Germany that takes place for 1-2 weeks each. Some towns may even have the festival more than once a year! Germany definitely has no shortage of beer festivals and you can find them between May and October. 
While Oktoberfest is on everyone's bucket list and has become overcrowded and overpriced, Dult offers the chance to enjoy this traditional and authentic Bavarian beer festival without the hassle of dealing with millions of people, all vying for a place at the table. Here, you'll have an easier chance of scoring yourself a table and singing "Hey Baby" while prosting your neighbor!
Twice a year in, Regensburg has two festivals – One is in the spring, Maidult, and the other is in the fall, Herbstdult, one of the best fall festivals in Germany! I definitely plan my social calendar around when Dult takes places just because nothing makes me feel more like a Bavarian than partaking in the beer festival and having a feeling of Gemütlichkeit all night for 2 long weeks!
When is the Regensburger Dult?:
Maidult 2022: May 13th – 29th

Herbstdult 2022: August 26th – September 11th
History of Regensburg's Dult
It has a longer tradition than Oktoberfest! Dult dates back all the way back to the 10th century! The townspeople of Regensburg started this tradition, whereas Oktoberfest started as a wedding celebration for the Bavarian Princess Therese and Prince Ludwig I. So technically, this festival was made by the people, for the people!
For two weeks the festival is held at the Dultplatz and the local breweries from around Regensburg set up their tents and people come flocking for a Maß (Mass) beer, which is always 1 liter.
A Maß beer is cheaper here than at Oktoberfest – 9.45

€

There are only two tents (Hahnzelt & Glöckl)
There is no waiting in long lines in hopes of getting inside the tent. There are way less people, making for a better experience the entire night!
Dult also has games, rides & shops!
What time should I go?
Both the Maidult and the Herbstdult start off with a parade always on the opening Friday which starts on Maximilianstrasse (directly in front of the Main station) and ends at the fair grounds. On the last Saturday there are always fireworks to end the Dult season with a bang!
The Regensburg Dult is open daily from 11 am to 10pm.
While it is too early in the morning to fall off the wagon, you can still go, play the games and ride the rides before they get too crowded, or even have lunch.
However, if you're looking to have a night of debauchery, then reserving a table online is a must! Once a table is reserved, you must be there by 5pm to keep and hold the table until the rest of your party arrives! If you wait until after 7pm to arrive, finding a table for a large group will be hard to find! Anything later than 8pm and you may have to work hard to find a table to join. Otherwise, don't be afraid to stand around and partake in the festivities, but be sure to stay out of the way of the beer waiters and waitresses! They will plow you down without a second's hesitation and you better be ready to jump out of the way!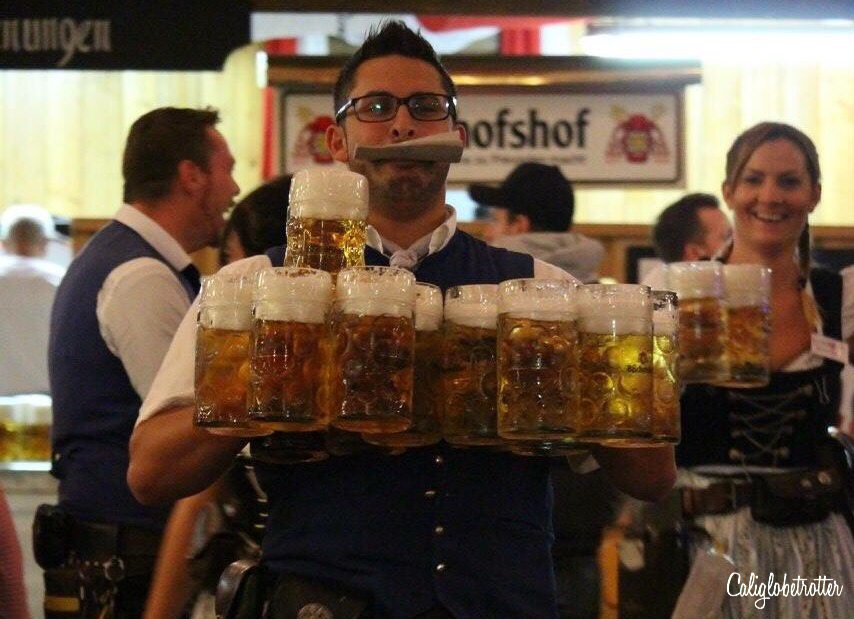 Reserve a table here:
What should I wear?
Historically, people didn't wear their Lederhosen and Dirndls to beer festivals, but in the last few years, it has become the MUST trend! What, I know right!? I can't believe it hasn't been a historical fashion either!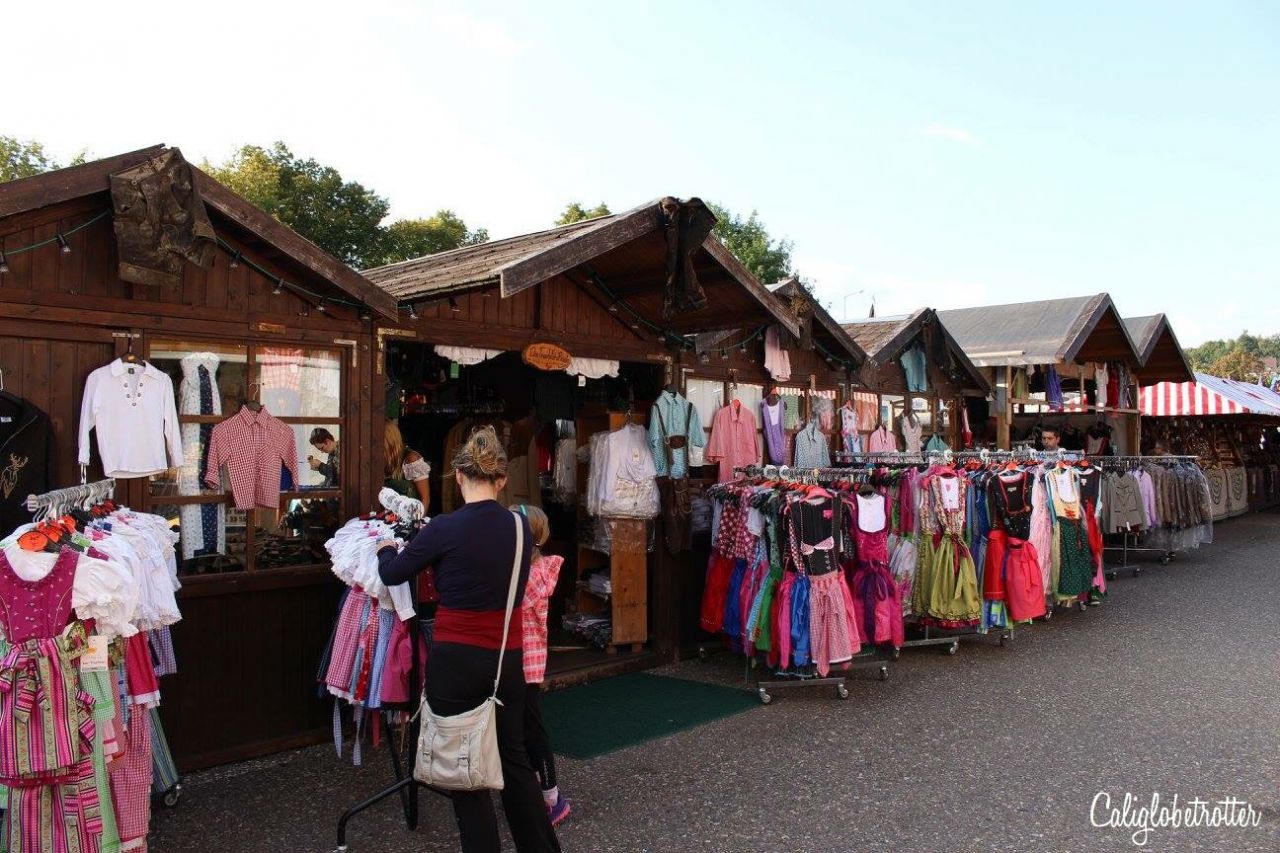 Men, women and children flock to Dult wearing their traditional Lederhosen or Dirndls. You will find many different variations of authentic Lederhosen and Dirndl depending on where you originate from. Short, medium or long dirndls all with different cuts but with the same eye pleasing effect and my guide will help you with buying lederhosen and dirndl. Most importantly, if you have and wear your Dirndl, make sure you tie your apron bow appropriately. There are different meanings for how women tie their bows.
Which tent should I go to?
Both tents hire live bands to play from 6pm until closing which get the crowds rowdy, singing traditional songs, swaying from side to side and prosting at every chance, increasing that jubilant feeling of Gemütlichkeit.
Don't be fooled by the fact that the Regensburger Dult has only two major tents, (HahnZelt & Glöckl), give or take a few smaller, more personal stalls. This beer festival might be small, but it is mighty. You will leave having experienced a more authentic and genuine Bavarian tradition, all the while saving a few buckaroos on each Maß you throw back!
Hahn Zelt

By far the most popular tent at Dult by the younger crowd, the music is entertaining, the food is delicious, rambunctious table dancing and there is even a May Pole to climb! If you reach the top and ring the bell, you get a free beer!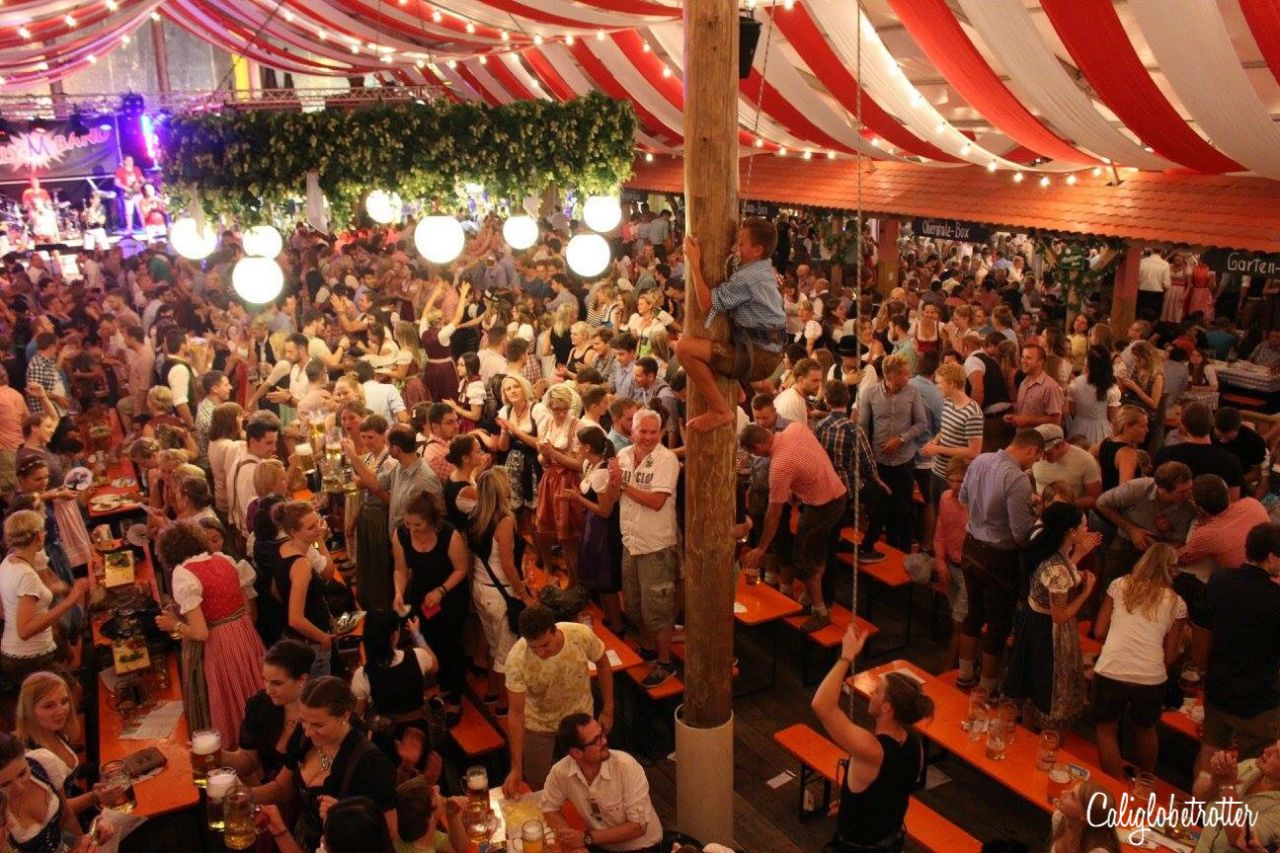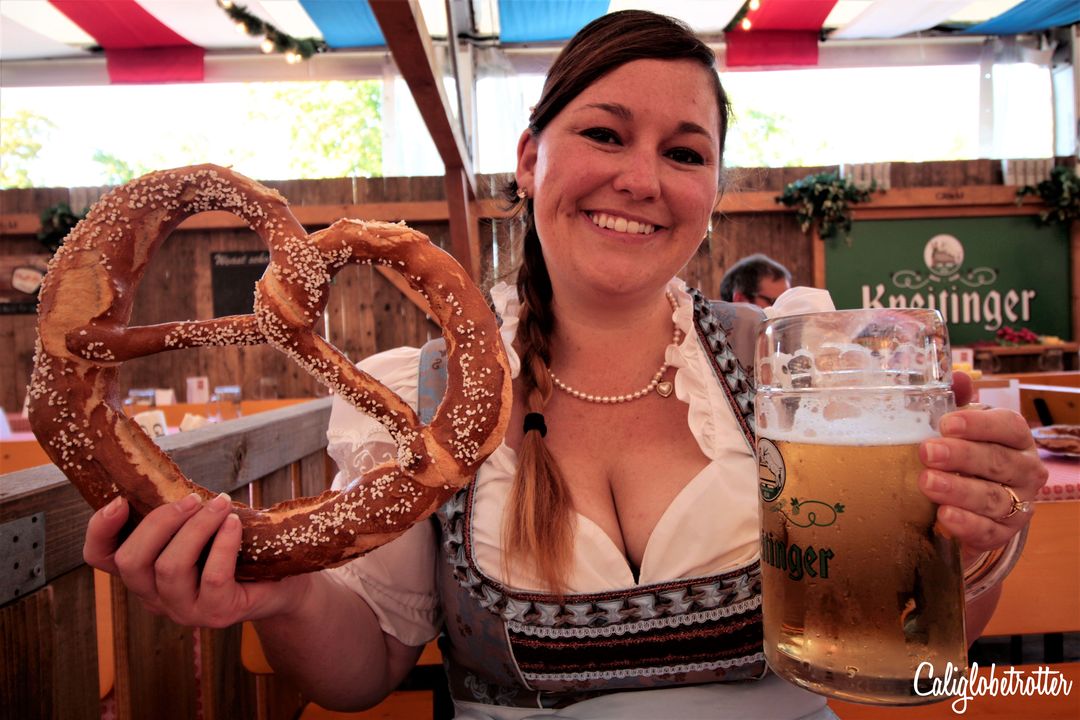 Glöckl Zelt

A slightly calmer tent than the Hahn Zelt, but still equally packed with loud singing, table dancing and good food! Technically, there isn't much of a difference between the two tents and both can be fun!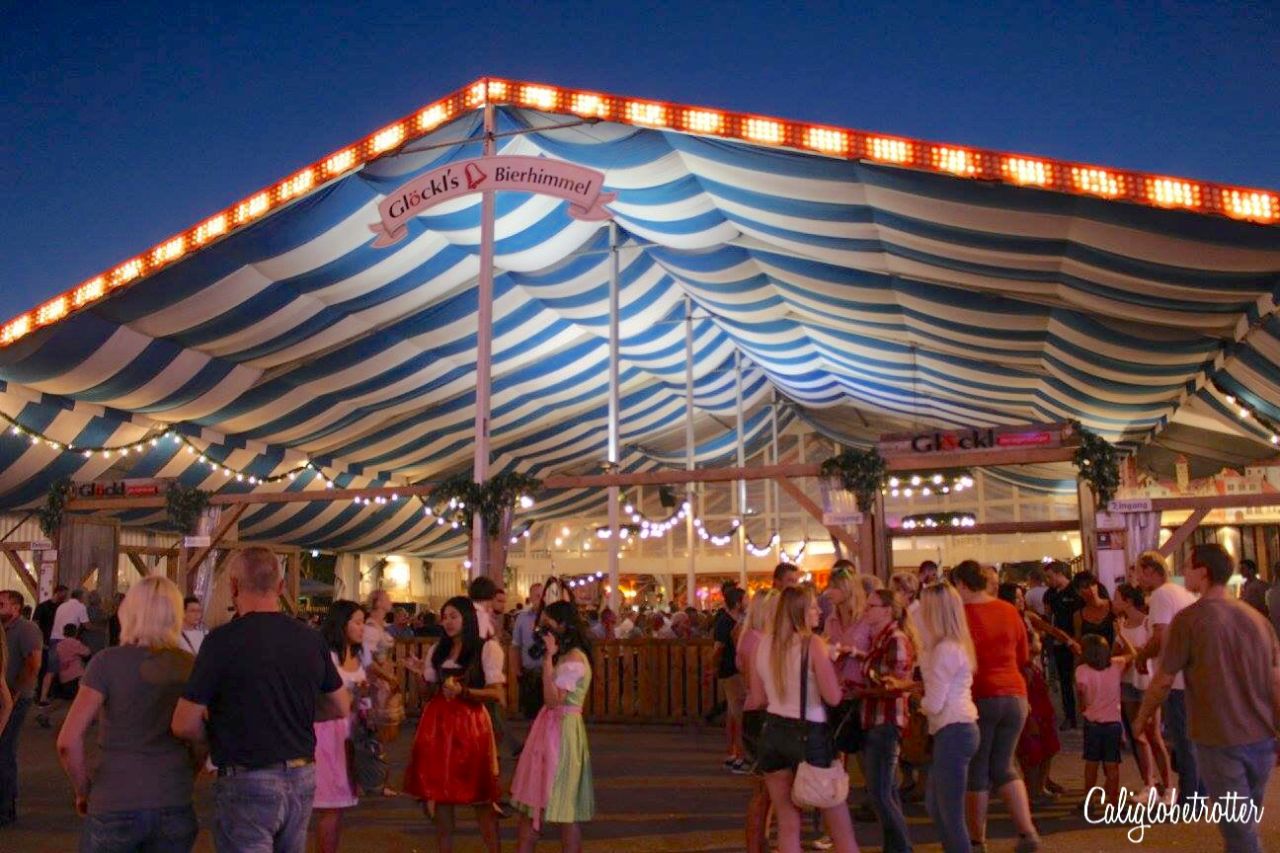 Family Friendly Activities at the Regensburg Dult: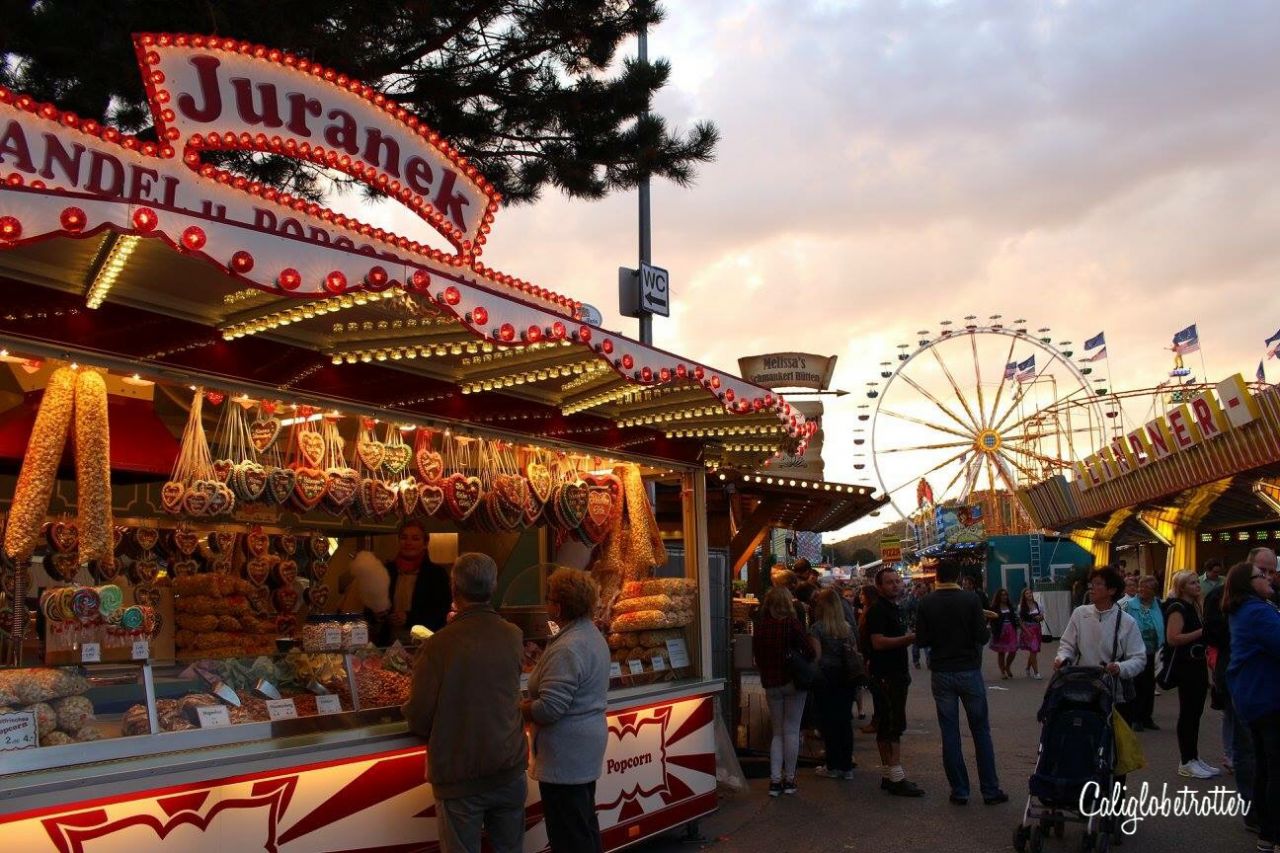 If you're not in the drinking mood, make sure to check out the rest of Dult! There are many food stands and candy stands as well as games and rides of kids of all ages! Dult can also be very family friendly without the alcohol. I'm talking about the adults too! It is definitely worth taking a ride of the Ferris wheel which offers great views over Regensburg and a fantastic photo op of the Regensburger Dom (Cathedral)! Plus, its just downright romantic when you get a carriage to you and your lover.
If you don't feel like checking out the rides and games, make sure to stroll through the shopping tents which sells anything from Lederhosen and Dirndls to kitchen accessories and other fun knickknacks such as scarfs and clothes, purses and other random tidbits!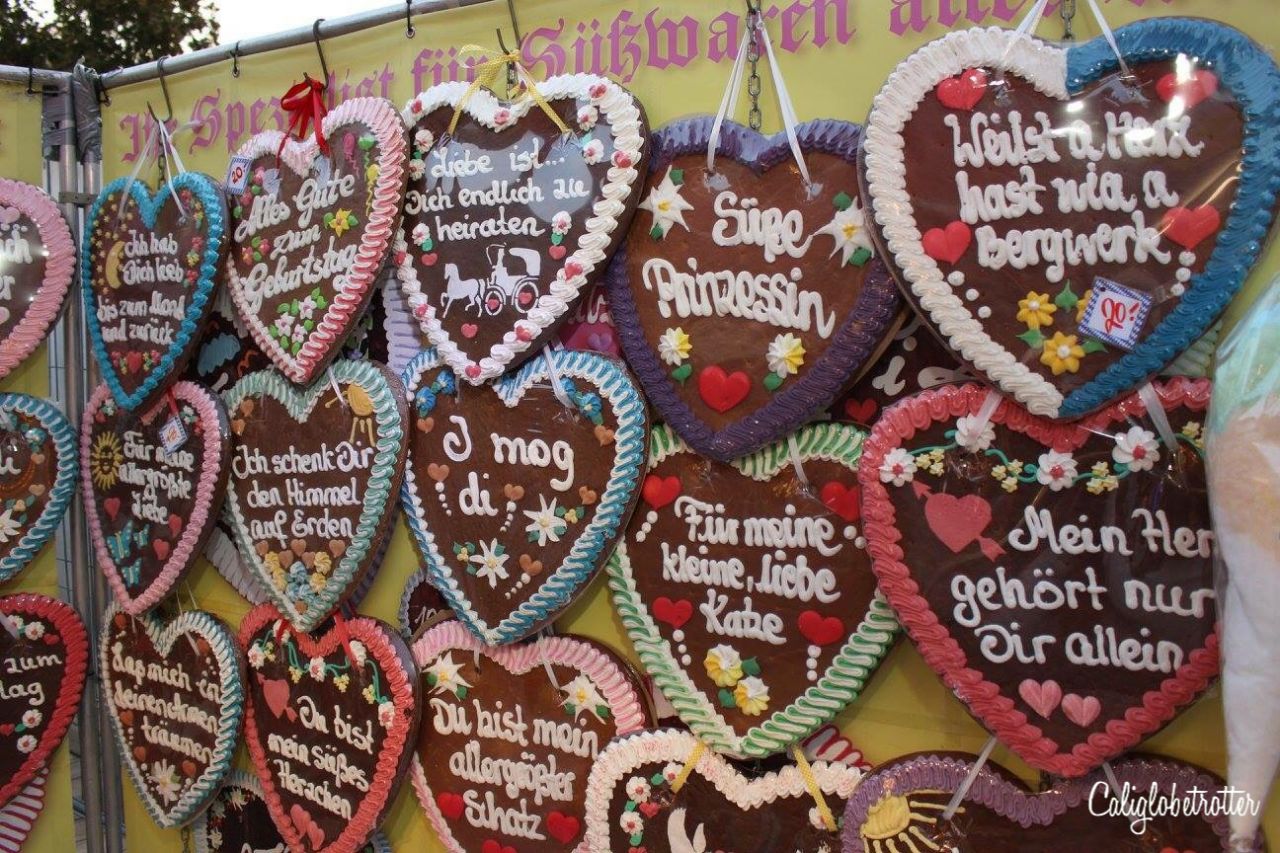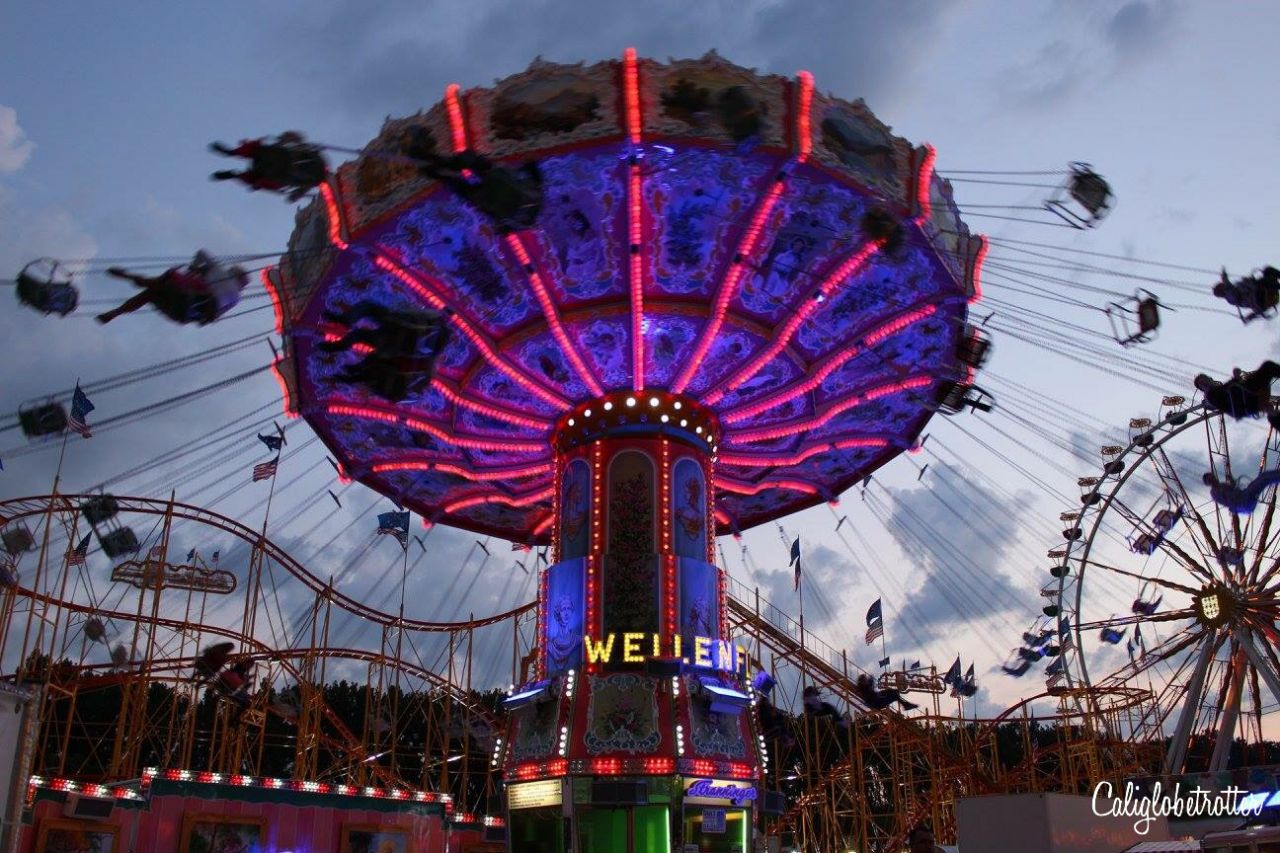 Learn the Lingo!
Prost!!
The German equivalent to "Cheers" which you will say at least 5,000 times in one evening while slamming glasses with your neighbor! Not to worry though, those glasses are practically unbreakable! Be sure to keep eye contact otherwise you'll bring them bad luck!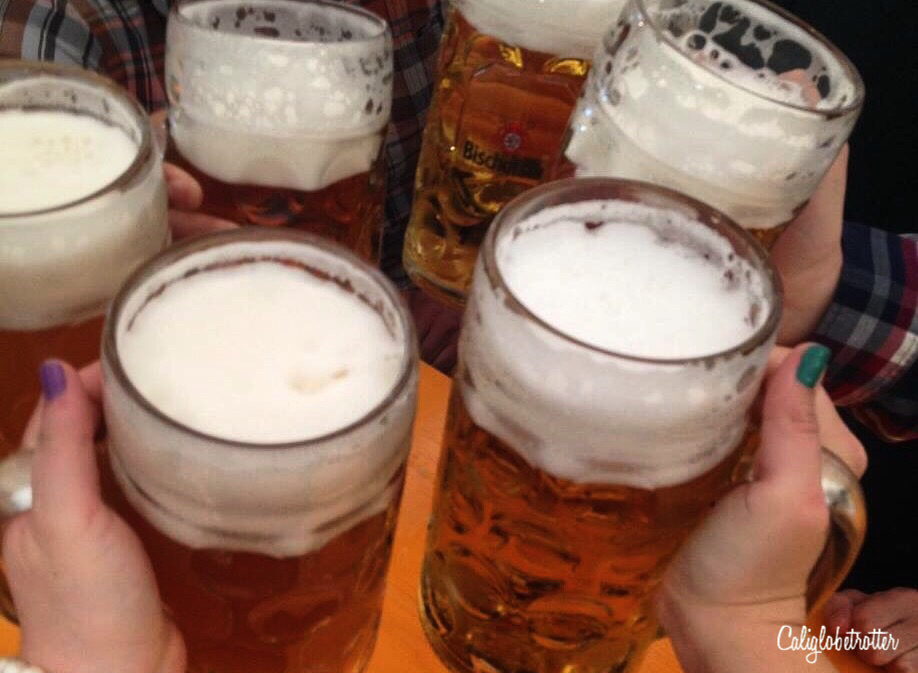 Ein Prosit der Gemütlichkeit!!
If you're not singing this song every 10 minutes at any Beer festival, you're doing it wrong! It is the most festive song, sung to bring good cheer and swaying side to side before prosting even more!
Where to Stay in Regensburg:
Having lived here for several years and having had quite a few friends and family come for a visit, I know all the best hotels for the best stay!
⭐⭐⭐⭐ – Eurostars Park Hotel Maximilian – By far the most impressive hotel in Regensburg with a soft yellow and white stucco facade, the hotel offers absolute comfort and class in the heart of the Old Town!
⭐⭐⭐⭐- Hotel Bischofshof am Dom – Located just feet from the Regensburg Cathedral, you'll be right in the heart of the city center. With large and luscious beds, you'll have a comfortable sleep! We loved it so much, we decided to have our City Hall Wedding lunch here!
⭐⭐⭐ – Star Inn Hotel Regensburg Zentrum, by Comfort –  an affordable and comfortable stay, near the Main Station and only a 5 minute walk from the city center!
⭐⭐ – Brook Lane Hostel – Don't let the stars turn you away from this comfortable hostel, down a small alley in the heart of the city center. I stayed here for 2 weeks as I settled into Regensburg!
If you're interested in visiting Germany and are looking for more information, I highly recommend using the DK Eyewitness Travel Guide! Without these guides, I would be lost! This is my travel Bible!
Disclaimer: This post contains affiliate links. If you click on one and make a purchase, I might make a little extra spending money, at no extra cost to you. As always, all opinions are my own and these products/services have been found useful during our travels and come highly recommended to you from yours truly!
For more on Regensburg:
A Local's Guide to the Historic Town of Regensburg 
A Boat Cruise Down the Danube to Weltenburg Abbey
Regensburg's Romantic Christmas Markets
Liked this post? PIN IT FOR LATER!!
Save
Save
Save
Save
Save
Save
Save
Save
Save
Save
Save
Save
Save
Save