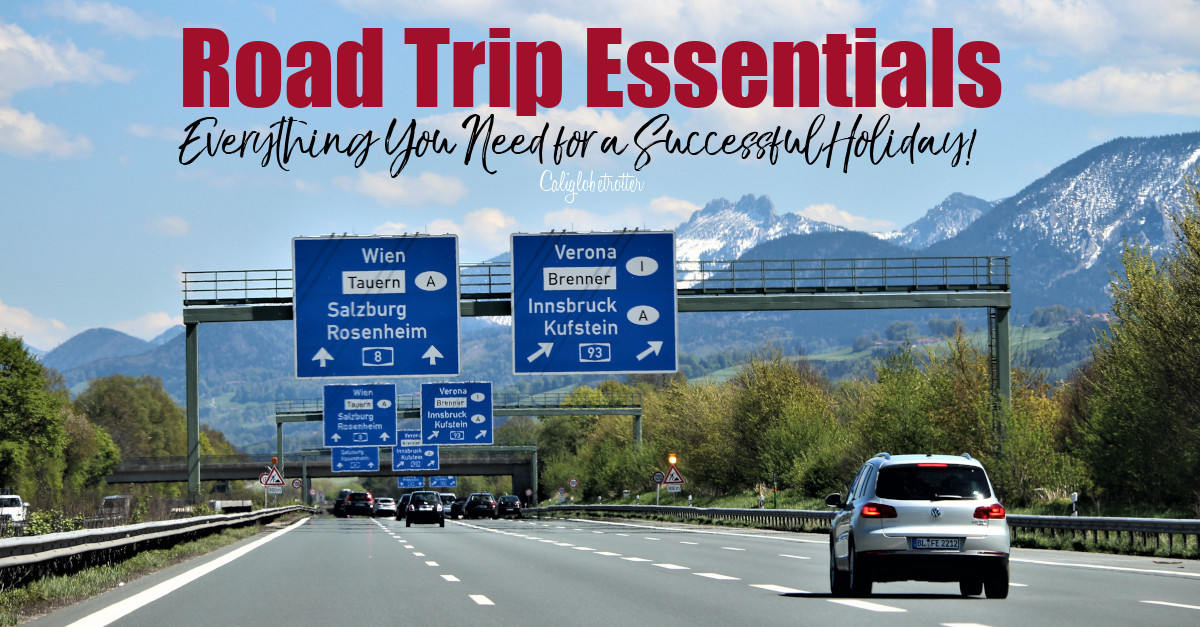 Disclaimer: This post contains affiliate links. If you click on one and make a purchase, I might make a little extra spending money, at no extra cost to you. As always, all opinions are my own and these products/services have been found useful during our travels and come highly recommended to you from yours truly!
So, you have a bff who love, Love, LOVES to go on road trips at any given chance? Whether you're looking for a bon voyage gift, useful travel gifts, stocking stuffers or even looking for ways to spice up your upcoming road trip, these are the best gifts for road-trippers and the most essential road trip gear! As someone is who literally ALWAYS ON THE ROAD, I've gathered up gifts divided up by the type of traveler, whether it be for first-time road trippers, the music-lover, the in case of emergency "better safe than sorry" friend and so much more! 
Love Road Trips? PIN IT FOR LATER!!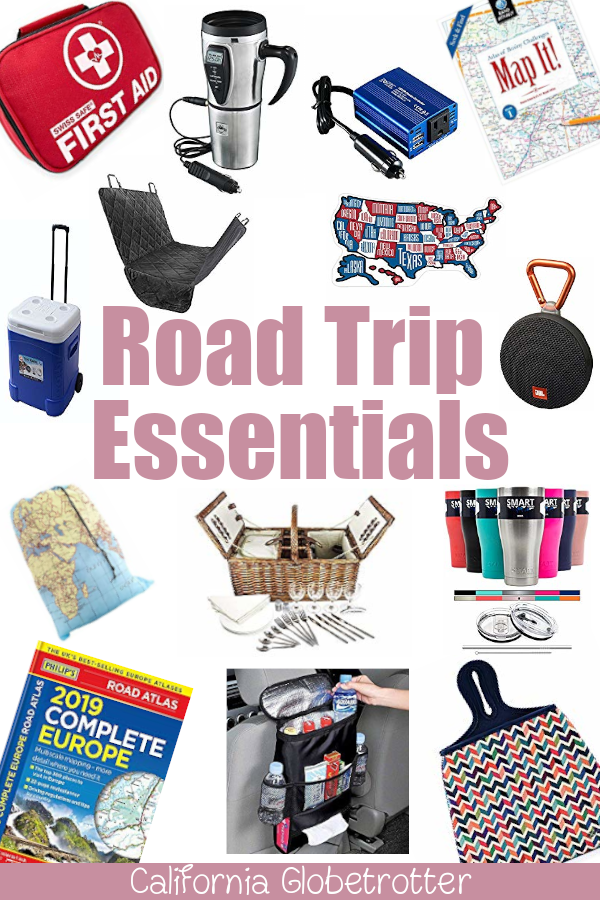 Road trips can be awesome, and you have the flexibility to create and alter your own travel itinerary. You can spice up any road trip with a few amazing pit stops that you would have otherwise missed if you had flown. Flying can be overrated, and driving gives you the luxury of bring what you want, and how much you want. You can pack a picnic basket of snacks and meals, helping to cut down on the cost of eating out, or saving yourself time without the need to stop for every meal. 
Hopefully this road trip packing list will help ensure that you and your family have a stress-free road trip, no matter where you go, or better yet, help be your road trip inspiration! You've probably asked yourself, "What should I bring on a road trip" or "What are the necessary road trip essentials?" As someone who has spent a life time doing road trips with my parents, my friends and my husband, I can assure you that I have found all of these items have come in handy on more than one occasion and therefore, they are travel-tested road trip essentials! Whether you're looking for road trip essentials for couples, for a family road trip or even a solo road trip, I've got you covered! Or if you're not down for spending hours on end in a car but want to get someone a gift, these'll do!
Related: 40 Day Trips from Frankfurt, 50 Day Trips from Munich, Day Trips from Louisville, KY, 2 Week Balkan Road Trip
For the First Timer Road Tripper
If you're looking to embark on your very first road trip across the US or road trip through Europe, then you will need a very good GPS Navi or handy maps for the times when the navi might fail you, like the time we drove through Bosnia-Herzegovina. And spending all those hours driving, you'll likely experience some swelling if you don't stop and walk around a bit, therefore to help with that, you should invest in compression socks which help blood flow. Of course, when you embark on your road trip, you'll need a weekend bag or luggage which will entice you to hit the road!
| | | |
| --- | --- | --- |
| Car GPS, 7 inch 8GB Navigation System for Cars, Spoken Turn- to-Turn Traffic Alert Vehicle GPS Navigator | 2019 Rand McNally Large Scale Road Atlas: USA | Philip's 2019 Complete Road Atlas Europe |
| Compression Socks for Men & Women Running, Travel, Nurses, Pregnant | Vera Bradley Iconic Compact Weekender Travel Bag, Signature Cotton, Water Bouquet | Lonely Planet USA's Best Trips (Travel Guide) |
For the Music-Lover Road Tripper
No road trip would be complete without some kick ass road trip music! Stock up on your favorite tunes before you hit the road, and make sure you have portable speakers should you decide to stop, have a picnic and enjoy some music out of the car. But in the car, make sure everyone can handle your music, if not, you'll definitely be needing the best quality headphones. Or maybe use them as ear plugs if you can't handle your co-road-trippers' singing. 
| | | |
| --- | --- | --- |
| App Store & iTunes Gift Cards | Spotify Gift Card 30 | Bose SoundLink Color Bluetooth Speaker |
| JBL Clip 2 Waterproof Portable Bluetooth Speaker | Classic Road Trip Songs: Best Driving Music for Your Car. Great Rock Anthems & Hits of the 70's 80's & 90's | Beats Solo3 Wireless On-Ear Headphones – Rose Gold |
For the "In Case of Emergency" Road Tripper
You can never be too prepared when embarking on a road trip, and as I like to say, "It's better to be safe, than sorry". A first aid kit is one of the most important things to have in your car at all times. And you certainly never know when you may need to camp out in your car should you get stuck somewhere, or worse, run out of gas. And you certainly never know when your car battery may die, or someone else's and need help re-starting your car. 
For the Messy Road Tripper
Let's admit it, within 5 minutes of setting out on a road trip, your car already looks like you've been living in it for days, and when you really do plan to spend a lot of time in your car, it's best to try to keep your car and yourself as clean as possible. Therefore, it's essential to invest in a rechargeable vacuum to pick up those crumbs, especially if you're road tripping with kids. Perhaps even a car trash bag which can simply fit over your gear shift will help keep your vehicle clean. And there's certainly nothing worse than trying to clean your car than cleaning your front window, so take away that stress with an easy window cleaner brush. After days in the car, you'll likely need a shower and need to do some laundry, so consider getting reusable travel bottles and put laundry detergent inside to have with you at all times. And you should always carry some wet wipes, toilet paper or even hand sanitizer with you for those times you either need to pop a squat or use a not-so-clean bathroom. 
| | | |
| --- | --- | --- |
| Window Cleaner Brush Kit Microfiber Cloth Car Window, with 2 Towels and Spray Bottle | Handheld Vacuum Cordless, Recharable Hand Vacuum Cleaner Rechargeable -Wet Dry Vacuum for Home Pet Hair Car Cleaning |  Auto Trash Bag Sleeve Pouch/Litter Bag/Car Trash Keeper/Garbage Holder/Stick Shift Car Garbage Bin |
| Scott Flushable Wipes, No Added Fragrance, 8 Soft Packs  | 16 Pack Plastic Airline TSA Approved Travel Accessories Bottles Set & Travel Bag | Tide To Go Instant Stain Remover Liquid Pen, 3 Count |
For the Hungry Road Tripper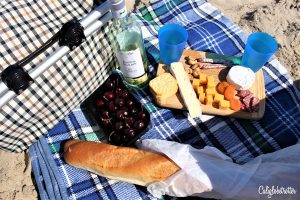 Half the fun of a road trip is the snacks! But there will be times you will likely not want to eat each and every meal in your car, but instead, you may stop along side the road if you find picnic tables at a rest stop where you can enjoy a picnic. No table? No fear! Plop down in the grass with a fold-up picnic blanket! Don't want to slow down for a picnic and don't want to stop at a fast food joint, then stock up on extra food, snacks and drinks and keep it all organized and cool the whole way! Or perhaps you're a travel foodie and looking for the best BBQ joints in the US or famous diners and are looking for road trip inspiration!
| | | |
| --- | --- | --- |
| Delux Double Lid Classic Wicker Picnic Basket – Large 4-Person Picnic Supply Set with Insulated Cooler Bag, Includes Silverware, Glasses and Accessories | SONGMICS Picnic Blanket Waterproof Beach Camping Outdoor Blanket Mat 77″ x 59″  | Igloo Ice Cube Roller Cooler (60-Quart, Ocean Blue) |
| High Road Car Organizer for Kids with Cooler and Snack Tray | An Eater's Guide to More Than 1,000 of the Best Local Hot Spots & Hidden Gems Across America  | Dr. BBQ's Big-Time Barbecue Road Trip! |
For the Techy Road Tripper
We live in a world where we simply can't live without our tech gadgets, not even for the sake of a road trip. So of course, you're going to need to stock up on a plug/converter which can be used to charge cell phones and other gadgets, but also be used for non-USB items, such as a hair straightener or computer. Or perhaps you can't live without a cup of coffee at a consistent warm temperature or without wifi. With the mobile wifi, you can have your own personal hotspot no matter where you go in the world! Plan on going to a few lakes and have some floaties, but need to blow them up? Have no fear, you can invest in an auto air pump, which has come in quite handy, even if you plan to do some biking! Or perhaps you don't want to put down your favorite new book at night and need a book light. 
| | | |
| --- | --- | --- |
| Foval 150W Power Inverter DC 12V to 110V AC Converter with 3.1A Dual USB Car Charger | Universal Magnetic Phone Car Mount – LEVIN 360°Rotation Magnetic Cell Phone Holder for Car GPS | Tech Tools Heated Smart Travel Mug with Temperature Control 16 Ounce, 12V Adapter – Stainless Steel |
| GlocalMe G4 4G LTE Mobile Hotspot, Worldwide High Speed WiFi Hotspot with 1GB Global Data & 8GB US Data, No SIM Card Roaming Charges International Pocket WiFi Hotspot MIFI Device – Black | Digital Tire Inflator for Car W/Pressure Gauge – Portable Air Compressor – Electric Auto Pump | |
For the Organized Road Tripper
If you're anything like me, you'll have your car completely organized to the max, not only ensuring that it's clean and orderly, but that there is a rightful place for everything, therefore, making it easy to find items and make sure there is enough space for everything. Or perhaps you romped through the mud and don't want to get your car filthy, therefore, investing in dirty shoes bags will help to keep everyone's shoes organized and minimizing the dirt. Or, if you start to have too much dirty laundry, you can start leaving bits in a dirty laundry travel bag without lugging it into each and every hotel. 
| | | |
| --- | --- | --- |
| Autoark Standard Car Seat Back Organizer,Multi-Pocket Travel Storage Bag(Heat-Preservation) | High Road iPad and Tablet Car Seat Organizer |  Gear Car Seat Organizer for Front or Backseat Featuring 8 Storage Compartments |
| Universal Car Air Vent Mount Storage Box, Dash Organizer  | YAMIU 10 Pcs Shoe Bags Dust-Proof Drawstring with Window Travel Shoe Storage Bags | Kikkerland Travel-Size Laundry Bag, World Map |
For the Game Player Road Tripper
Unless you simply never get bored with the scenery or your travel compatriots, you'll likely need some road trip games to help keep you entertained during especially long road trips. These are some fun road trip essentials everyone can play, while others are for personal use or which can be played while you're stopping for a break. Try some brain trivia games, or make it a learning game as you map out your surroundings! Whatever the reason, these are some of the best road trip games for travel that everyone can enjoy! And I'd even go so far as to say these are road trip essentials for tweens! This section will most definitely be the kids' road trip checklist to help you survive a road trip with kids!
For the Pet Owner Road Tripper
Can't leave home without man's best friend? Well then he/she needs to be equally prepared and comfortable for the long journey. I certainly have never left a dog behind and investing in some pup travel gear will help ensure they also have a great road trip! For collapsible dog bowls which can be used for food or water while on short trips to a weekend doggie bag, complete with everything he will need from food, toys and grooming supplies! Don't want to get that pesky dog hair all over your clear car? No one in the backseat except their Royal Majesties? Lay down a backseat doggie blanket to reduce the risk of pup hair and dirt all over your car. Have a lazy dog? Invest in an absurd wagon perfectly suitable not just for kids, but for dogs. Don't forget to pick up after your dog even on a road trip with these eco-friendly doggie poop bags. 
For Eco-friendly Road Trippers
That's the LAST STRAW, I tell ya! Are you an environmentally friendly traveler and conscious about plastic waste? Or just beginning to understand the importance of plastic reduction and the impact plastic has on the world? Why not begin with these simple eco-friendly items, such as stainless steel reusable straws and tumblers or thermos which also help to keep your drinks either hot or cold for hours on end! Save money by no longer buying one-time use plstic baggies and replace them with reusable plastic containers, which are great for organizing road trip snacks! Or, perhaps you are looking for an eco-friendly way to reduce odor not just in your car, but even at home!
| | | |
| --- | --- | --- |
| 12-Pack Stainless Steel Metal Straws with 2 Cleaning Brush – Reusable Drinking Straws For 30oz / 20oz Tumblers | Tumbler 30 oz Stainless Steel Travel Tumbler Cup | 34 Ounce Stainless Steel Vacuum Insulated Briefcase Bottle Hot & Cold Beverage |
| EasyLunchboxes 4-Compartment Snack Box Food Containers, Set of 4, Classic | LovesTown Banana Case,3 Pack Different Colors Banana Holder Outdoor Travel Cute Banana Protector Storage Box | Bamboo Activated Charcoal Odor Absorber, Bags are 100% Natural Eco-Friendly for Car, Home, Shoes, Refrigerators |
For the Ultimate Road Tripper
If you are the king and queen of road trips, then you gotta display your badge of honor proudly, either by telling the world just how much you love to travel or with US State stickers for your car, adding a state with each new addition to your checked off bucket list!
| | | |
| --- | --- | --- |
| RV State Stickers ~ USA Map Sticker RV ~ Individual Stickers of each State  | To Travel is to Live Camera Vinyl Sticker – Car Window Bumper Laptop – SELECT SIZE | Time to Travel Cute Airplane – 8″ Vinyl Sticker – For Car Laptop I-Pad – Waterproof Decal |
| Explore In Arrow Wanderlust Decal Vinyl Sticker | | The World Rectangle Sticker  |
Road Trip Movies to Inspire Your Own Road Trip
What could possibly inspire a road trip than some of the most classic road trip movies of all time? Ok, so some are classics, some you've probably never heard of and some are too new they haven't made the list. Nonetheless, embark on a best friends road trip, or drive through the French countryside with the love of your life or break down in Small Town USA and make new friends!
Hopefully now you won't have to wonder "What do I pack for a road trip? and now you can use this as a form of road trip packing check list before you set out on your journey across the state, country or continent. You definitely won't want to forget these important road trip necessities! I myself may even start using this as my own personal road trip packing guide! Nonetheless, I hope that these road trip hacks will help you and your family have a memorable road trip!
Other Travel Gifts for Wanderlusters:
England Inspired Home Decor for the London Obsessed Girl!
Rose Gold Valentine's Day Gifts for Miss Travelholic
German Gifts Everyone Will Love!
Fabulous Stocking Stuffers for Mrs. Traveler!
Epic Stocking Stuffers for Mr. Traveler!
The BEST Thanksgiving Care Package
13 Fabulous Birthday Gifts for the Lady Traveler
Stylish Carry-on Essentials for the Lady Traveler
Liked this post? PIN IT FOR LATER!!