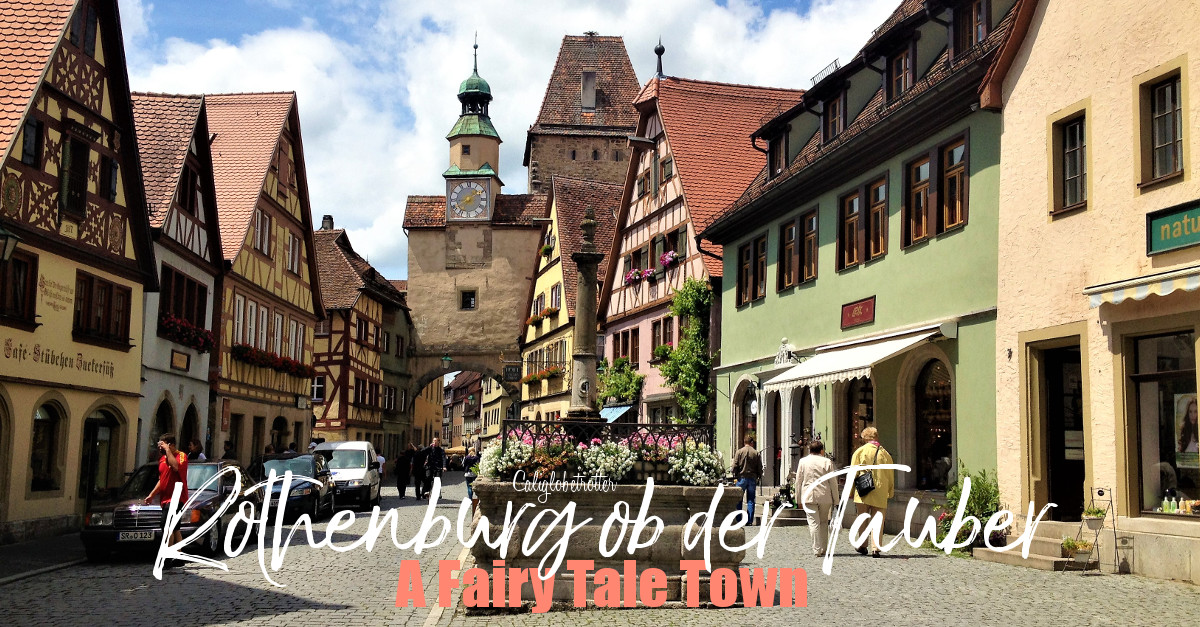 Disclaimer: This post contains affiliate links. If you click on one and make a purchase, I might make a little extra spending money, at no extra cost to you. As always, all opinions are my own and these products/services have been found useful during our travels and come highly recommended to you from yours truly!
Do you remember as a little girl flipping through the pages of your Disney fairy tale books, dreaming about being a princess and living in such an adorable town that couldn't possibly be real? Ya, me too. Well guess what?? Such a down does exist, right here in Bavaria, Germany! Colorful half-timbered houses, crooked lanes and mystical houses bring to life those Disney books worn from too much day dreaming. 
Want to See This Fairy Tale Town? PIN IT FOR LATER!!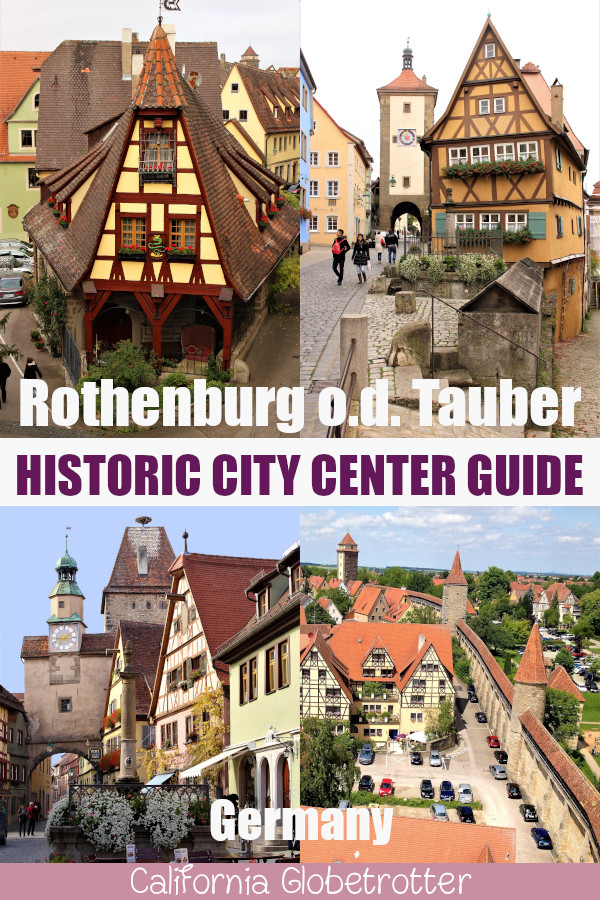 Like this post? Take it with you as GPS Guided App directly to your phone via GPSMyCity!
How to AVOID Looking Like a Tourist in Europe
The epitome of all German towns, Rothenburg ob der Tauber is a little Medieval town that is still surrounded by Medieval Walls that was built to protect the city in Southern Bavaria. The name translates to "Red fortress above the Tauber". The Tauber is the small river the flows just below the town. It is part of the Romantic Road in Bavaria which also leads you to Würzburg and down to Füssen. And it is every bit of romantic as it implies and is one of the most picturesque half-timbered towns in Germany! It simply doesn't get more STUPID PRETTY than this!
History of Rothenburg ob der Tauber
The origins of this beautiful Middle Ages town dates back all the way to the 12th Century. It had a lot of prestige and wealth but was destroyed during the 30 Years War as it was invaded and again during WWII. Both times, the town was rebuilt exactly as it had been. Afterwards, the Black Death came in 1634 and killed many more towns people, therefore preserving the size of the town as it stopped growing. Little has changed in this town from the times where towns needed to protect themselves from invasion which makes walking through this town more like walking through a story book. Except there were no knights in shining armor…
The Towers of Rothenburg ob der Tauber
As Rothenburg is surrounded by its medieval walls, there are also a few old city gates, each one more unique than the last. They are some of the main things to see in Rothenburg ob der Tauber and Galgentor (tower) was an old execution place. It is also known as the Würzburger Tor since it leads in the direction of Würzburg. It was pretty adorable after a packed lunch to come back into town and catch a glimpse of the horse drawn carriage trotting through town! Clickity Clack!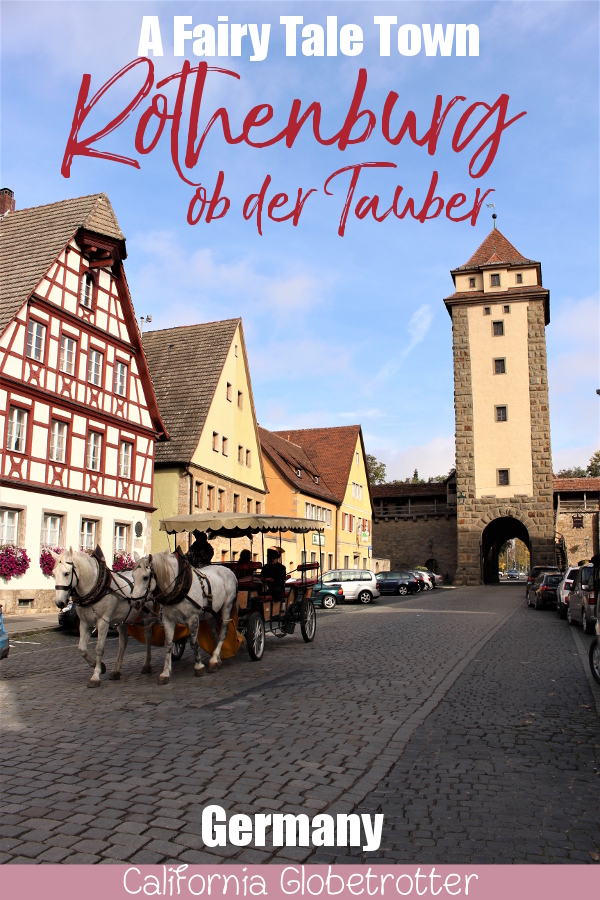 Put the Map Down and Discover Quaint Corners
The first thing we did was walk the perimeter of the town, working our way through every nook and cranny of the town, hoping not to miss an inch of this beautiful fairy tale town. Even down streets that might seem like nothing is there, you would be sorely mistaken! At the end of one street, we found this adorable little hotel nestled in the corner, draped in vines changing to the fall colors and some small grapes hanging on for dear life. The door on the side had the most adorable doorbell ever!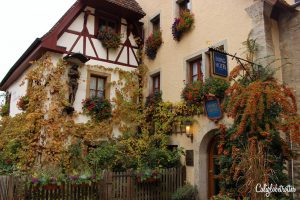 Wall the Medieval Wall Encircling the Town! 
The best way things to do in Rotheburg ob der Tauber is to walk the medieval walls, which still completely encircle the town. The walls are pretty high and offers some great views over the town. Completely free, there's no reason not to walk the walls!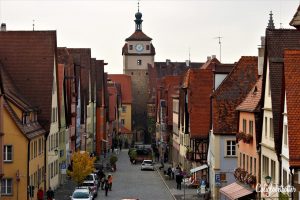 Rothenburg ob der Tauber is the most perfect idyllic German town. Even Hitler idolized it because he thought it symbolized German perfectionism. Unfortunately, for no other reason other than to bomb a location where many Nazis were, Rothenburg was 32% damaged during the Second World War as it was mostly spared as the U.S. Secretary of War knew about the historical significance of the town and negotiated that only artillery be used in taking Rothenburg in order to preserve its beauty. Thankfully, many donations from all over the world were raised in the effort to rebuild the town to its original glory. As you walk along the city walls, plaques are embedded into the walls as a thanks giving gift to those who donated to rebuild this beautiful town. Some even date to 2015! Who knows, maybe you can buy your own stone, have your name carved in it and have it set in the wall forever.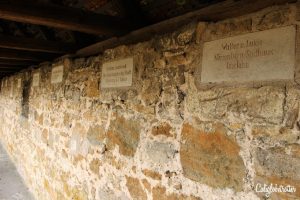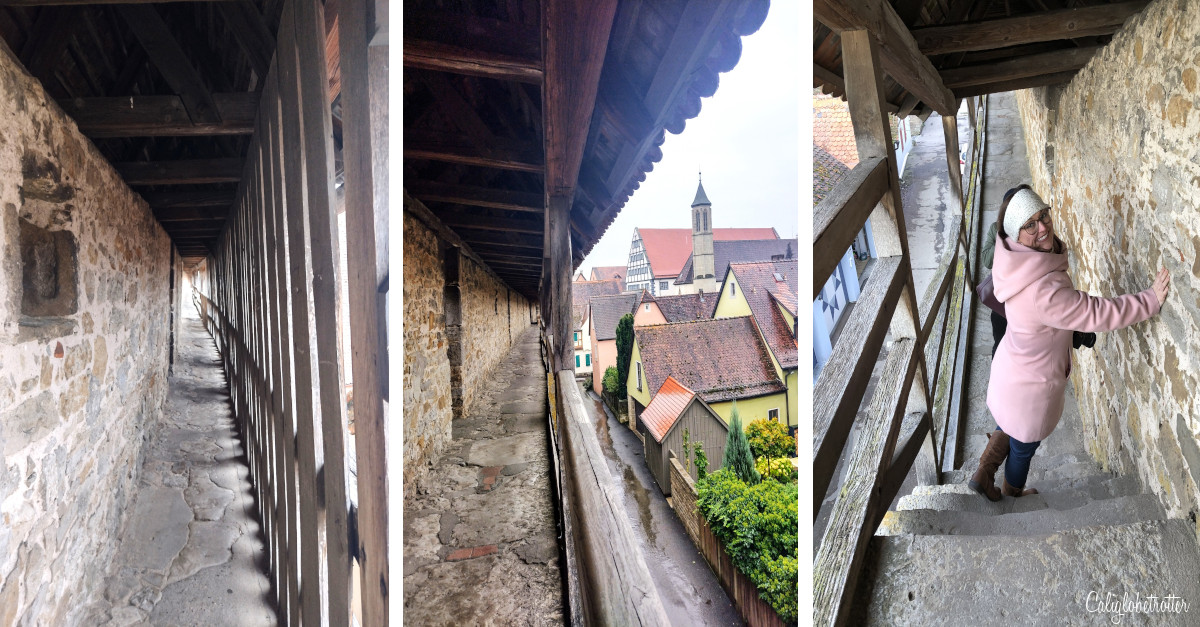 It probably takes about a good hour or more to walk the entire wall, with all the picture taking and tight space. With people passing in both directions, sometimes things get a little tight as the walk way isn't very wide, nor is it flat.
Unfortunately, the walls are not accessible for those with strollers and wheelchairs, although you do see parents try. You definitely need to make the time to walk the walls, and if you miss it, you have not truly experienced Rothenburg!

Gerlauchschmiede – The Most Mystical House Ever!
One of the most adorable little cottages in Rothenburg ob der Tauber is called the Gerlauchschmiede house. It is one of the most famous houses in Rothenburg, near Röderturm. A man named George Gerlauch who was the town blacksmith lived here, hence the name!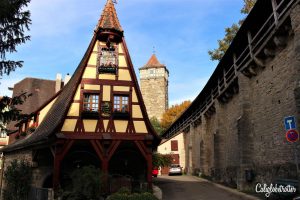 More and More Gates!
The Burgtor, is the tallest tower in the town and was built after an earthquake destroyed the former fortifications. The town then decided that they needed to be better protected and therefore this tower was built. Anyone who wanted to leave generally needed the approval of the Town Council.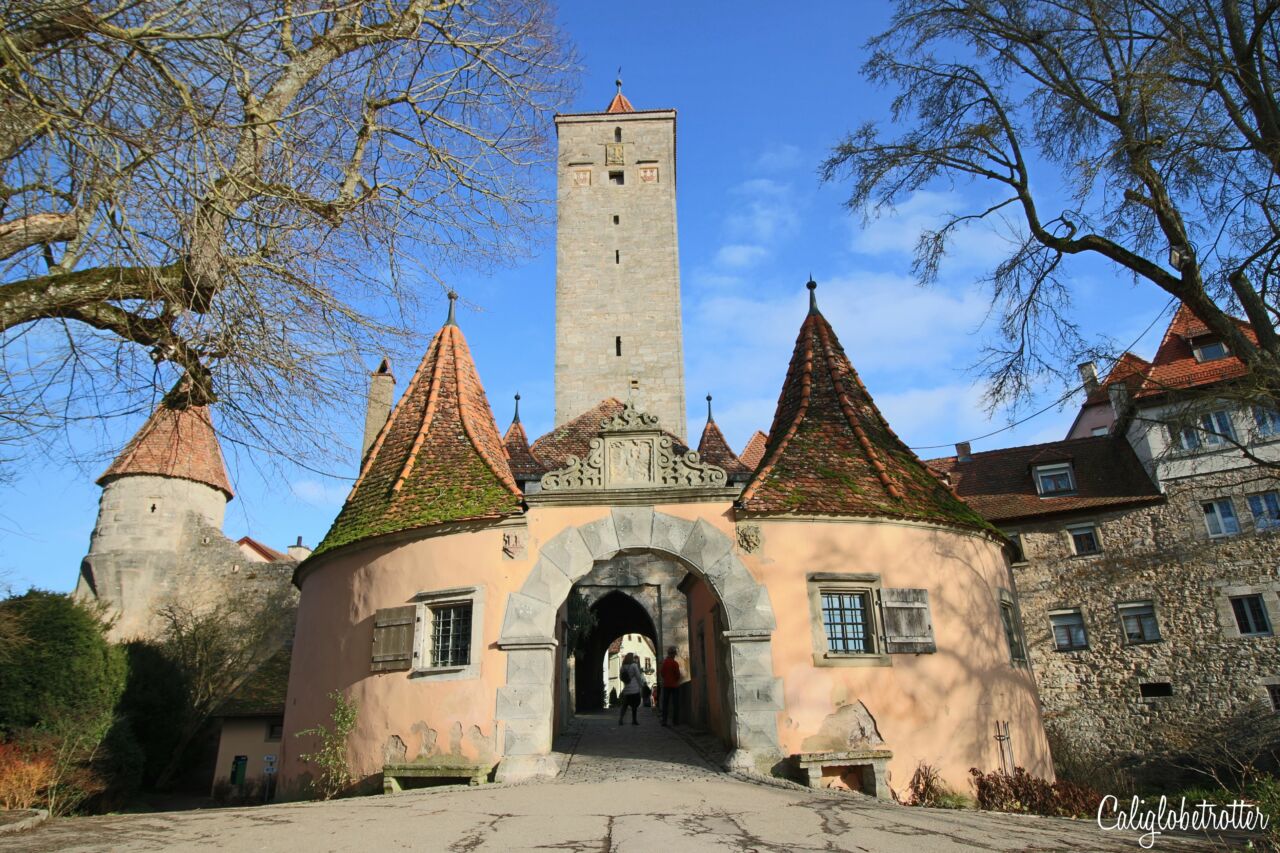 Climb the Röderturm for the best view in town!
Rödertor Gate is by far the most picturesque entrance into the town with two customs and watch huts and pointed roofs. Any attackers who had managed to reach the outer bailey could also be fended off from the side towers. The main tower is the oldest part of the complex dating back to the 13th century. This tower is possible to climb for amazing views over the town and the town walls. 
Climbing the tower however, you must pay a few euros (around 2 €). Of all the towers, this tower is the only one that you can climb! It is a great way to have a higher vantage point to really get an idea of how big the walls are!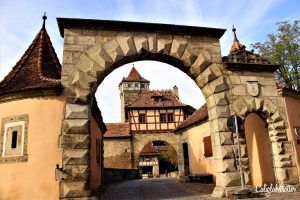 The Castle Gardens 
Just beyond it the castle gardens which to walk around. The castle gardens was the original site of the Hohenstaufen family castle during the Middle Ages. I highly suggest doing this as it offers a pretty amazing view over the entire town! We could even see where Rothenburg had set up it's festival grounds! Below you can also see the Tauber Bridge which is a double bridge with two rows of arches. The historic bridge was probably built around 1330 and was a trading route between Augsburg to Würzburg.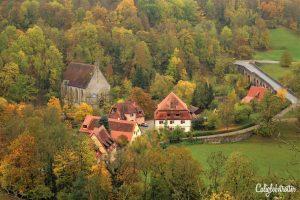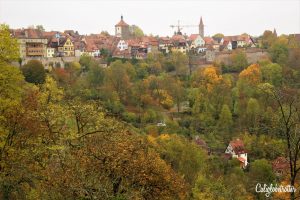 There is a Medieval torture museum that I have heard is interesting to visit. I however, did not visit this museum but I did play with this! But that didn't stop me from letting my inner child out to play for a few minutes! However, should you feel like visiting this Middle Ages Criminal Museum, you will find many blood-curling exhibits on display for torture and punishment.
The Most Iconic House in Rothenburg!
All of the buildings look the same with the old wood timbered look that is mostly associated with German architecture. One of the most popular picture tourist destinations is Plönlein with Kobolzeller Steige and Spitalgasse. It felt like we were walking through a fairy tale picture book or like the little Christmas village houses people set up on their tables.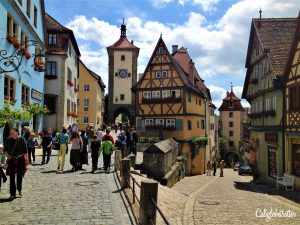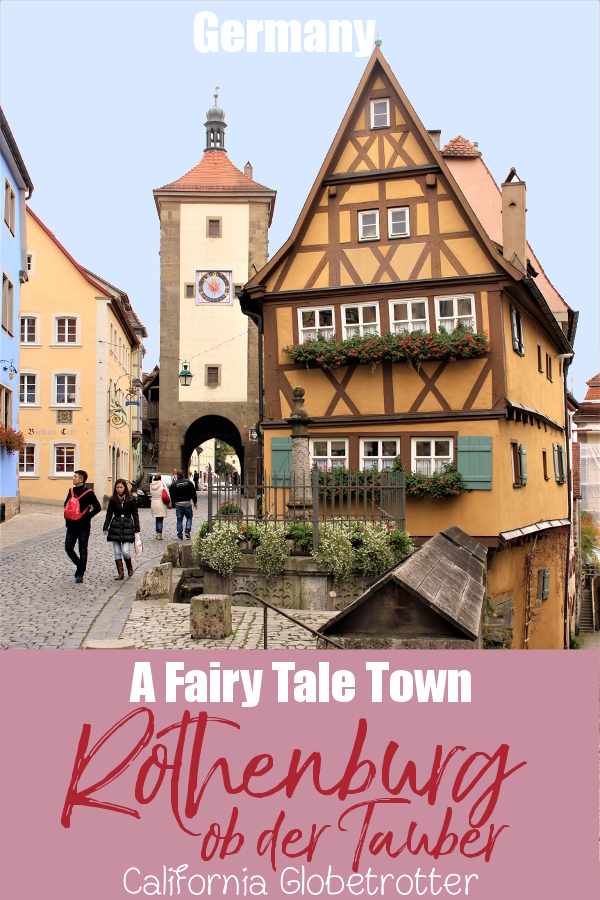 Rothenburg ob der Tauber is definitely a tourist town and one of the top places to visit in Germany and there will be crowds, especially later in the day, practically year round! It is one of the most picturesque towns in Germany that every one does no want to miss. I highly suggest getting started early in the morning before the crowds come out, otherwise you will have scenes like this as we did later in the afternoon.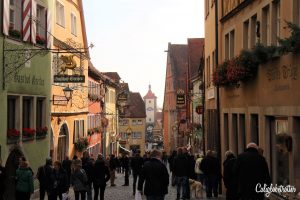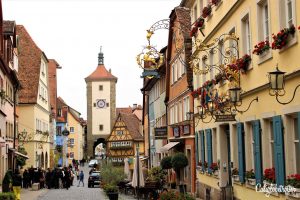 The City Hall & Main Square
Just up the hill, if the main market area, called the Markt Platz. Here can check out the Altes Rathaus (Old City Hall) which is pretty large compared to many that I have seen. Next to it, is a small which building where the clock will strike the hour for ya! It is a busy place here as there are cafes and restaurants which line the market, as well as chestnuts being roasted on an adorable little train like burner in the center of the market. It is here that during the Christmas Market season, the market is set up.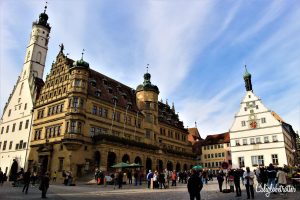 The wonderful thing about Rothenburg ob der Tauber is that it is like Christmas year road as there are many Christmas knickknack shops throughout the town, even the most famous Käthe Wohlfahrt. Even if you are not a lover of Christmas, it is absolutely necessary to take a peak inside the most famous Christmas store in Germany.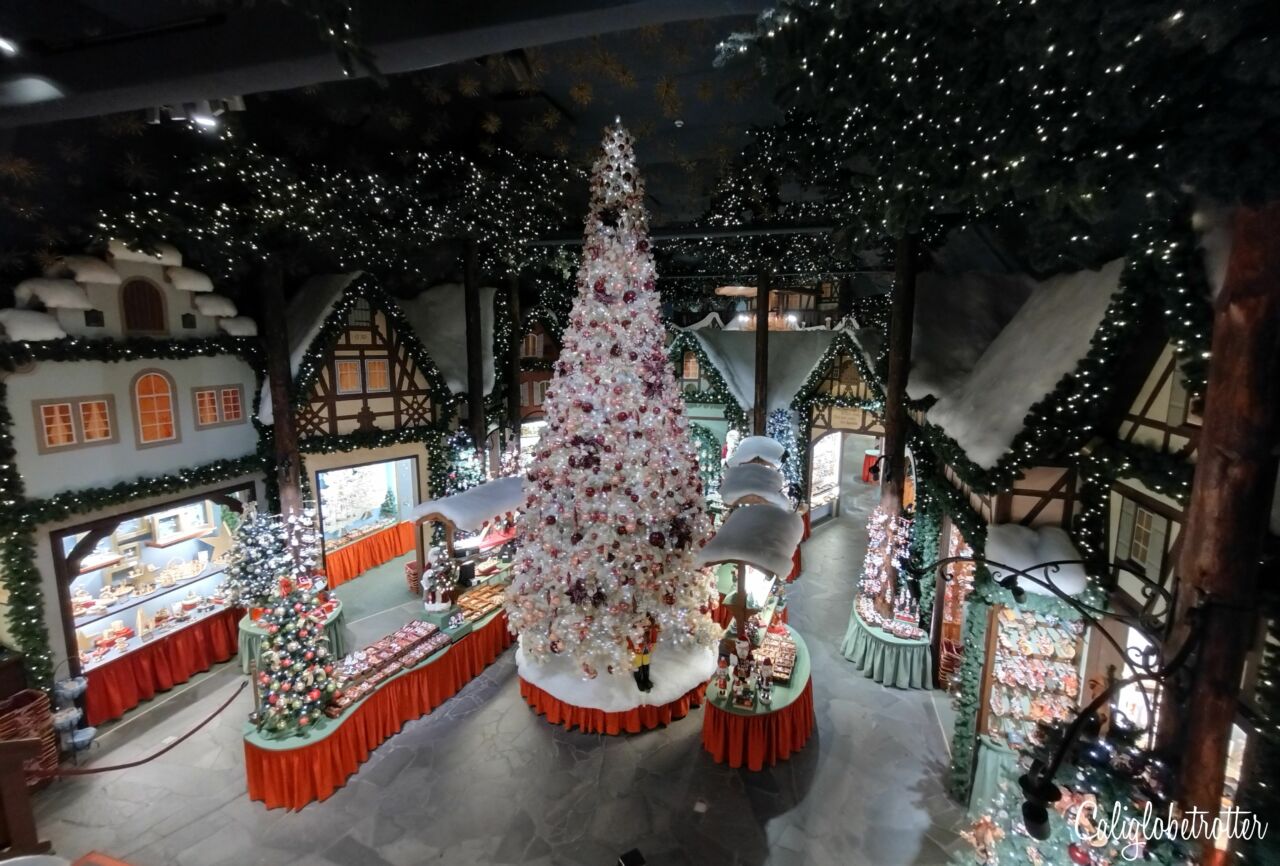 Now, everyone goes to Rothenburg ob der Tauber to see the most iconic houses in the town, and if you google or Pinterest for Rothenburg, you will see that Plönlein with Kobolzeller Steige and Spitalgasse and Gerlauchschmiede dominate the screen, but for me, I just love this part of town! It is absolutely picturesque, no matter what angle you look at it!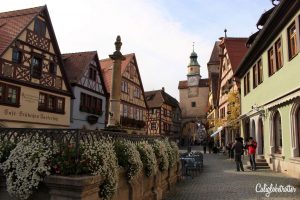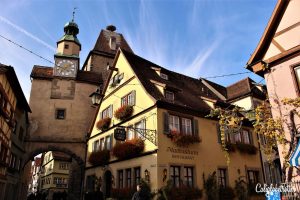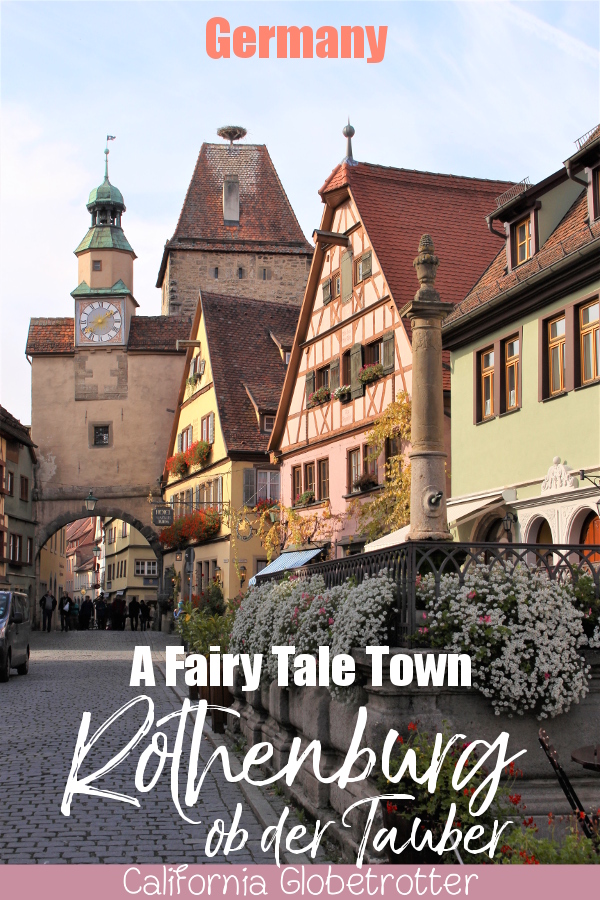 Rothenburg ob der Tauber is small enough to visit the entire town in just one day and walk around it twice.  However, I could have easily stayed a weekend here just to really take it in more. There were plenty of streets lined with adorable knickknack shops and cafes. If there is one thing Germany is really good about, it's pulling out the tiny chairs and tables and setting them up in front of the cafes so customers can enjoy the sun.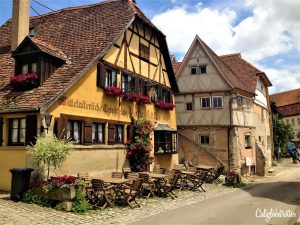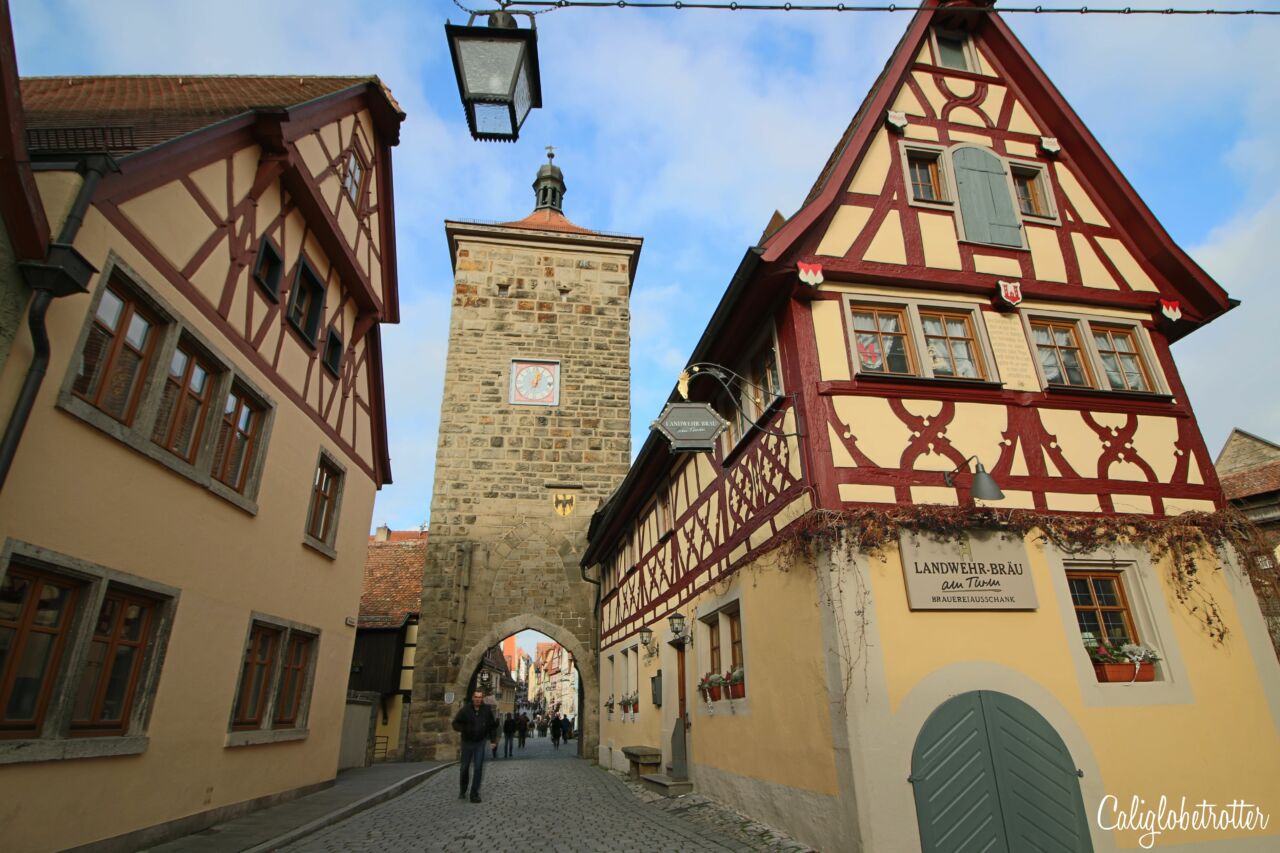 If you're interested in visiting Germany and are looking for more information, I highly recommend using the DK Eyewitness Travel Guide! Without these guides, I would be lost! This is my travel Bible!
Disclaimer: This post contains affiliate links. If you click on one and make a purchase, I might make a little extra spending money, at no extra cost to you. As always, all opinions are my own and these products/services have been found useful during our travels and come highly recommended to you from yours truly!
Other ADORABLE Towns in Germany!!
Idstein: The CUTEST Day Trip from Frankfurt
The Most PICTURESQUE Half-timbered Towns in Germany
 Top 10 Most Adorable Towns in Europe 
Why You Will Never Be The Same After Living in Germany!
Liked this post? PIN IT FOR LATER!!
Save
Save
Save
Save
Save
Save
Save
Save
Save
Save