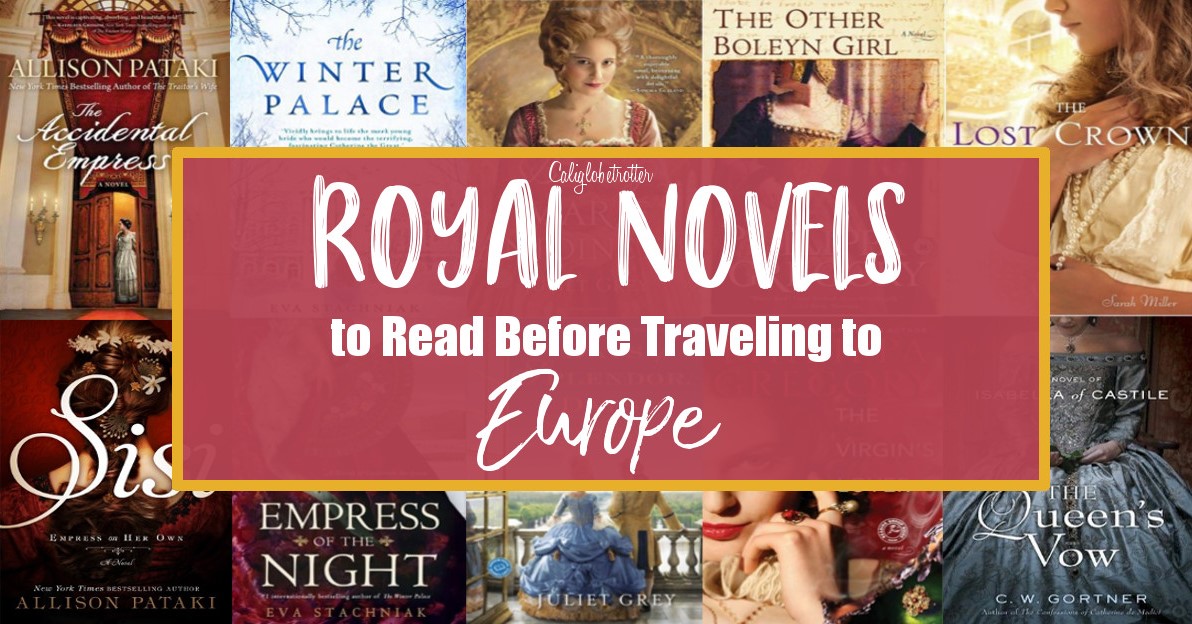 This post contains affiliate links. If you click on one and make a purchase, I might make a little extra spending money, at no extra cost to you. As always, all opinions are my own and these products/services have been found useful during our travels and come highly recommended to you from yours truly!
Europe is already an intriguing place to visit, as well as the most popular tourist destination in the world. But before you traverse this beautiful continent, why not learn about the royal past of Europe, of the kings and queens who shaped the continent as well as built some of the most stunning castles and palaces in Europe, all the while leading tumultuous lives behind closed doors filled with gossip, rivalries, heartbreak and more! Consider reading these royal regency novels of some of the most notable leaders of Europe prior to visiting places like Vienna, London, Budapest, St. Petersburg and more!
Love to Read Royal Historical Fiction? PIN IT FOR LATER!!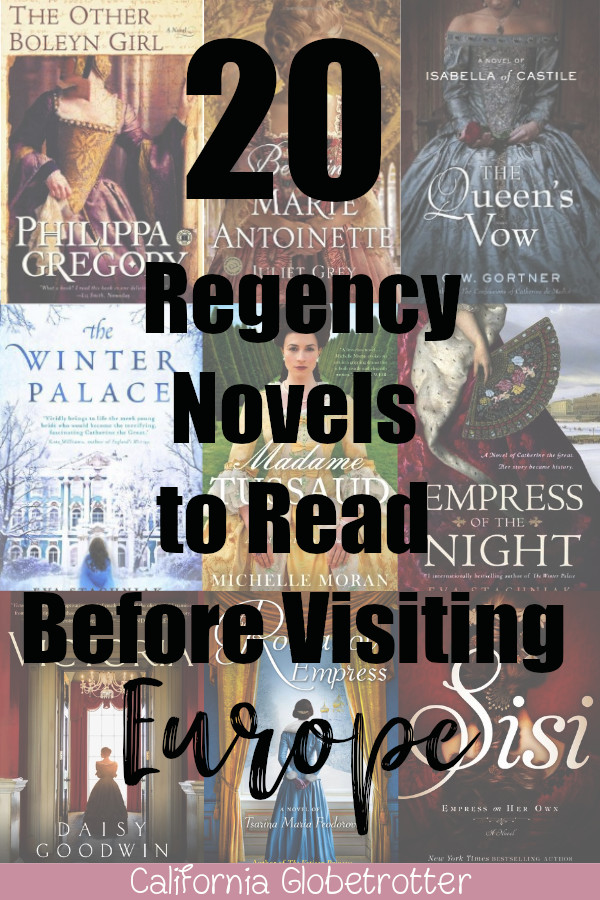 Who doesn't dream of glitzy ballroom, sky high coiffures, royal carriages and fairy tale castles at your disposal? You'd be crazy not to, right? We grow up watching Disney films that give us unrealistic expectations about finding Prince Charming, gallantly rescuing the damsel in distress, whisking her off to his mountain top palace to live happily ever after. But, is it really all that it seems? Who truly found their Prince Charming and lived happily ever after, and who endured the most difficult role? Who was named the most beautiful woman in all of Europe who could have anything she wanted, but not who she loved? Who lost her head and who forever changed the world?
I personally have been a fan over the last few years of reading Royal Fiction as I've come to learn more about European monarchs, especially those who have been misunderstood or thrown into a life they perhaps weren't ready for. Learning the history behind many of the Kings and Queens of Europe makes visiting cities around Europe that much more interesting, from Vienna to London and Paris to St. Petersburg. 
AUSTRIA / BAVARIA / HUNGARY
Elizabeth "Sisi", The Empress of Austria / "Mad" King Ludwig II of Bavaria
A two book series about the most beautiful woman in Europe, the most mesmerizing and beloved "Fairy Queen", The Accidental Empress: A Novel and Sisi: Empress on Her Own: A Novel by Allison Pataki, follow the captivating and tumultuous love story of "Sisi", the Austro-Hungarian Empress, the wife of Emperor Franz Joseph, the Princess Diana of her time. 
Book one, The Accidental Empress, begins in 1853, when the Habsburgs are the most powerful ruling family in Europe with an empire stretching from Austria to Russia and Germany to Italy. Emperor Franz Joseph is the most eligible bachelor in Europe and is ready to marry. Fifteen-year old Elizabeth "Sisi", Duchess of Bavaria travels to the Habsburg Court with her older sister Helene, who is betrothed to Franz Joseph. Inadvertently, she has fallen for and won the heart of the young emperor who reneges on his proposal to the shy and timid Helene and instead declares his intention to marry Sisi. Expectantly thrown onto Europe's most treacherous imperial court, Sisi must win the hearts of the court and her people, as well as keep the love of her emperor. 
Book two, Sisi: An Empress on her Own, pick up with the cutthroat intrigue of the imperial court in Vienna, temptations, rivals and imperial waltzes. The halls of the Hofburg Palace are abuzz with rumors and courtiers who don't understand the stress Sisi is under. Having grown restless over the year due to the strict protocols of court and a turbulent marriage, the free-spirited wanderer finds herself escaping court to her little slice of solace outside of Budapest, Hungary. But tragedy strikes, forcing Sisi to return to a court filled with gossip. But as she struggles to keep her family together, assert her right to the throne and win the love of her people to help save an empire prior to the tumult of the First World War, she escapes to cities around Europe, including returning to her home in Bavaria and visiting her cousin, King Ludwig II of Bavaria, renowned for his extravagant spending to build his beloved castles like Germany's most famous castle, Neuschwanstein Castle.
Continue the story of "Sisi" by following her journey to England in The Fortune Hunter: A Novel by Daisy Goodwin, for a season of hunting and riding, as she was considered to be the world's best female equestrian of her time. Accepting the offer from Earl Spencer to join a legendary hunt, Sisi is paired with England's most dashing and finest horseman, Capitain "Bay" Middleton. Their shared passion for riding leads to an dangerous infatuation that jeopardizes his engagement to Charlotte Baird and stokes rumors all the way back in imperial Vienna. 
Movies & TV Shows About Elizabeth "Sisi", Empress of Austria: Sissi, Sissi: The Young Empress, Sissi: The Fateful years of an Empress, Forever My Love
ENGLAND
King Henry VIII & his six wives + Elizabeth I
Quite possibly England's most notorious king, Henry Tudor, King Henry VIII is unhappy in his first marriage to Catherine of Aragon. Unable to produce an heir, his closest courtiers begin tempting the king with Mary Boleyn, an innocent girl of fourteen. After falling for and winning the heart of the king, she quickly realizes the ambitious plot of her family as the king's interest begins to wane while she sits in confinement, for her very own sister and now rival, Anne Boleyn. 
Anne maneuvers herself to become the next Queen of England by encouraging King Henry VIII to dispose of his first wife, Catherine of Aragon by breaking away from the Catholic Church. Excommunicated by the Pope, King Henry VIII establishes himself as the head of the Church of England, proclaiming his first marriage to be annulled so that he may marry Anne Boleyn. But The Other Boleyn Girl is only the beginning of a series of unhappy marriages all for the name of producing an heir to the throne, bouncing between King Henry's favorite palace, Hampton Court and Whitehall. 
Movies & TV Shows About King Henry VIII: The Other Boleyn Girl, Tudors
Continue the series through novels rich in love, sex, ambition and intrigue continuing on to the story of one of England's greatest queens, Elizabeth I, the daughter of Anne Boleyn and her struggle to reach the throne after her sister, Mary I, aka "Bloody Mary", who claims to be the only legitimate heir to the throne, the daughter of Catherine of Aragon. Not only does Elizabeth I bring prosperity and peace to England, but she also became one of the longest reigning monarchs in England, who struggled to assert her right to the throne against Mary, Queen of Scots, a serious threat to the Crown and imprisoned as a "guest" by George Talbot, Earl of Shrewsbury, and his indomitable wife, Bess of Hardwick. Elizabeth I would go to vow to become the Virgin Queen, a queen for the people of England, ruling without a husband. 
Movies & TV Shows About Elizabeth I: Elizabeth, Elizabeth: The Golden Age, Elizabeth I, The Virgin Queen, Shakespeare In Love, Mary, Queen of Scots (Coming 2018)
Queen Victoria
Sheltered, small in stature and female – qualities not fit to become Queen. Less than a month after her eighteenth birthday, Alexandrina Victoria became Queen of Great Britain and Ireland in 1837, heavily controlled by her mother, the Duchess of Kent and her household, including the notorious Sir John Conroy, rumored to be the Duchess' lover, in the hopes of advocating for a regency. From the moment her uncle William IV died, the young Victoria must prove herself to be worthy of the throne, as well as moving the royal household from her prison at Kensington Palace to Buckingham Palace in London. 
Victoria: A Novel, by Daisy Goodwin, follows the story of the young queen, who is no puppet, refusing to be controlled any longer and has her own ideas of the type of monarch she will be. Helping her to stand her ground, Lord Melbourne becomes Victoria's private secretary. Had he not also been the Prime Minister, perhaps her could become more, or perhaps she is destined to marry her cousin, Prince Albert of Saxe-Coburg and Gotha, a man she once found stiff and critical.
Victoria would reign longer than any predecessor before her, during a time known as the Victorian Era, a time off industrial, cultural, political, scientific, and military change which also saw a great expansion of the British Empire. She would later be nicknamed "the grandmother of Europe", after having had nine children. 
Movies and TV Shows about Queen Victoria: The Young Victoria, Victoria, Her Majesty, Mrs. Brown, Victoria & Abdul
FRANCE
Marie Antoinette & King Louis XVI
The daughter of Maria-Theresa, Empress of Austria, little Maria Antonia was raised alongside her 15 other brothers and sisters who would all go on to become reigning monarchs around Europe. Maria Antonia was destined to become the now infamous Marie Antoinette, the Queen of France upon marrying the Dauphin of France, later King Louis XVI, an awkward, teenage boy.
In the three book series about Marie Antoinette by Juliet Grey, the novels follow her journey from Vienna to change everything about herself for her future role as Queen of France at one of Europe's most splendid and tumultuous courts at the Palace of Versailles. By 1774, Marie Antoinette ascends the throne alongside her awkward husband, throwing her into a life of extravagance, elaborate silk gowns, and dizzying high coiffures, but a threat larger than her looms to threaten the very existence of the French monarchs as the American Revolution gets underway, threatening to spread to France by 1789.
Movies & TV Shows about Marie Antoinette: Marie Antoinette, Farewell My Queen
Paris, 1788, the French Revolution reaches the gates of the Palace of Versailles and Marie Antoinette finds her very extravagant life at risk. Her once loyal subjects, the people of France are now threatening the very existence of the French monarchy placing the heirs to the Bourbon dynasty in mortal peril. Her gift of modelling faces in wax brings her to Versailles where she begins to teach King Louis XVI's sister her passion for wax work. The Reign of Terror soon brings France into its darkest period yet, and a young girl named Marie is determined to continue her family's waxwork legacy afloat in this gripping novel by Michelle Moran entitled Madame Tussaud: A Novel of the French Revolution, despite the gruesome task of creating death masks from the severed heads of key figures from France. Whose mask will she make next and can she survive the Revolution that has spread to France?
GERMANY
"Mad" King Ludwig II of Bavaria
Perhaps you've seen or heard of "the Disney Castle", or properly named, Neuschwanstein Castle, but perhaps you never knew the story behind the king who brought to life a real life fairy tale during his twenty-two years as the King of Bavaria. A true hermit, King Ludwig II of Bavaria, the cousin of Elizabeth "Sisi", Empress of Austria, was rarely seen in public life in the capital in Munich and rarely attended government functions. Instead, his sole purpose was to create magnificent castles like Neuschwanstein Castle, Herrenchiemsee Palace and Linderhof Palace, as well as give the world incredible music composed by Richard Wagner, of which Ludwig II was a sponsor.
Engaged to Sisi's youngest sister, Sophie-Charlotte, Ludwig II's life begins to spiral and his frivolous spending catches up with him and government officials proclaim him "mad" and unfit to rule, ultimately leading to his untimely death at Lake Starnberg thus creating a conspiracy that still exists today. Did he truly commit suicide? Was his fantasy life really all that "happily ever after" we all seek? Find out in Susan Barnett Braun's novel Not So Happily Ever After: The Life of King Ludwig II. 
Movies & TV Shows About King Ludwig II of Bavaria: Ludwig II.(2012), Ludwig II (1972)
SPAIN
Isabella of Castile
In The Queen's Vow: A Novel of Isabella of Castile by C.W. Gortner, this gripping novel enlightens us into the story of one of Europe's most famous and controversial queens, Isabella, Queen of Castile, the warrior queen who fought tooth and nail  along side her husband Fernando to unite a fractured country, who championed the Catholic faith and lead us to the Inquisition and also changed the future not just of her monarchy and her nation, but the world by sending Christopher Columbus to discover a New World, America.
But before Isabella becomes Spain's most powerful queen, she endures a tumultuous childhood, along with her brother to live under the watchful eye of her half-brother King Enrique and his treacherous queen. Isabella soon finds herself the center of a plot to dethrone her half-brother. Finally, at the age of seventeen, she inherited the kingdom of Castile, the largest in Spain, but while she struggles to secure her crown, she also forges a path to marry her one true love, Fernando, prince of Aragon, uniting two realms under "one crown, one country, one faith" taking us to the stunning palaces of Segovia to Granada and the gardens of Seville. 
RUSSIA
Catherine the Great, Empress of Russia
In the dual book series about the Empress of Russia, The Winter Palace: A Novel of Catherine the Great and Empress of the Night by Eva Stachniak, the novels illuminate the life of Catherine the Great's rise to power through the eyes of the fictional character, Vavara, a servant close to the throne. Enter 18th century Russia and the dangerous court of Empress Elizabeth. 

Set by Count Bestuzhev, Chancellor and spymaster to spy on the young Sophie, the vulnerable princess from Prussia who would marry the Empress's heir, Varvara befriends the young princess and helps her to navigate the treacherous waters and shifting alliances. Sophie knows that she needs the loyal pair of eyes and ears of her confidante, and together, they will rise to the pinnacle of absolute power through a forced marriage, dangerous seductions and finally a spell-binding coup to assume the throne at The Winter Palace in St. Petersburg, Russia.   
Book two picks up with Catherine the Great reflecting on her unlikely ascension to the throne, the world's greatest empire which made her the most feared women in the world in her final hours. She reminisces her apprenticeship as Russia's Grand Duchess, the struggles to balance love and power, to retain her crown from potential usurpers lurking about and growing the Romanov empire. As the final hours approach, she maneuvers her final political piece to ensure her successor.
Movies & TV Shows About Catherine the Great of Russia: Catherine the Great, Catherine / Ekaterina
Daughters of Tsar Nicholas II
In the intriguing novel, The Lost Crown, Sarah Miller recounts the final days of Imperial Russia on the brink of World War I. Born into a life of tradition and privileged in the Romanov dynasty, the daughters of Tsar Nicholas II are on the brink of their own lives, ready to be used as political chess pieces in one of the world's most powerful empires. It's summer 1914, the Grand Duchesses are enjoying the last moments of sisterhood before they begin their own lives. Olga is headstrong while Tatiana is the tallest, Maria the most optimistic and Anastasia, the smallest. They flirt with the imperial officers, laugh and share their hopes and dreams with one another, but all of that soon changes as World War I breaks out across Europe. Political unrest reaches the gates of the Winter Palace in St. Petersburg, first dissent and disorder before outright revolution. Their innocent girlhood years are quickly lost as they are thrust into a life of uncertainty. What will happen to the Tsar of Russia and his family? Will they be able to survive the Bolshevik Revolution that threatens the very existence of the life they knew?
Narrated by the mother of Russia's last tsar, C.W. Gortner entertains us through through the the splendor and the downfall of the Romanovs in The Romanov Empress: A Novel of Tsarina Maria Feodorovna, the Danish princess who became one of Russia's most intriguing women.
Maria Feodorovna was just nineteen when she left Denmark to marry into one of the most splendid courts in Europe to marry the Romanov heir, ultimately ascending the throne to become the Empress Consort of Russia, but not all is as splendid as one might think. There are those who wish to usurp the tsar, who quickly crushes any and all who oppose him, but her husband's untimely death throws the deeply divided and crumbling monarchy into the inexperienced hands of their son, Nicholas.
Fighting to save her dynasty, she is determined to guide her son into a new era that will bring Russia into the modern era, yet she is faces opposition from Nicholas's strong-willed wife, Alexandra with a troublesome relationship with a mystic. Revolution knocks at the doors of the Russian monarchy,  and into the anarchic fall of an empire by the Bolsheviks. From the opulent palaces of St. Petersburg to the battlefields of World War I, will Maria be able to prevent the greatest heartache?
Movies & TV Series About the Romanovs: Anastasia 
Nothing brings history to life quite like reading the behind the scenes details of those who made history so interesting who were often misunderstood as they were ripped from their homes and used as chess pieces in the hopes of maintaining peace and forming new alliances. From the glitzy and glamorous lives the royals were born into, the fairy tale lives we all wish to have is perhaps not as glamorous as we thought, and ultimately, quite deadly. Who will survive? Who will change the world as we know it? Who's sleeping with who? And who will loose their heads? 
Any of these fascinating novels about real people who made history will not only make history that much more interesting, but make the castles and palaces of Europe that much more exciting to visit if you know who actually walked the halls and danced in grand ballrooms. 
Have you read an interesting royal historical fiction novel not listed? Share your thoughts as I would love to discover more fascinating novels!
Other Related Posts:
85 Movies to Inspire Travel to Europe
Top 15 Must-Visit Audrey Hepburn Locations
Liked this post? PIN IT FOR LATER!!