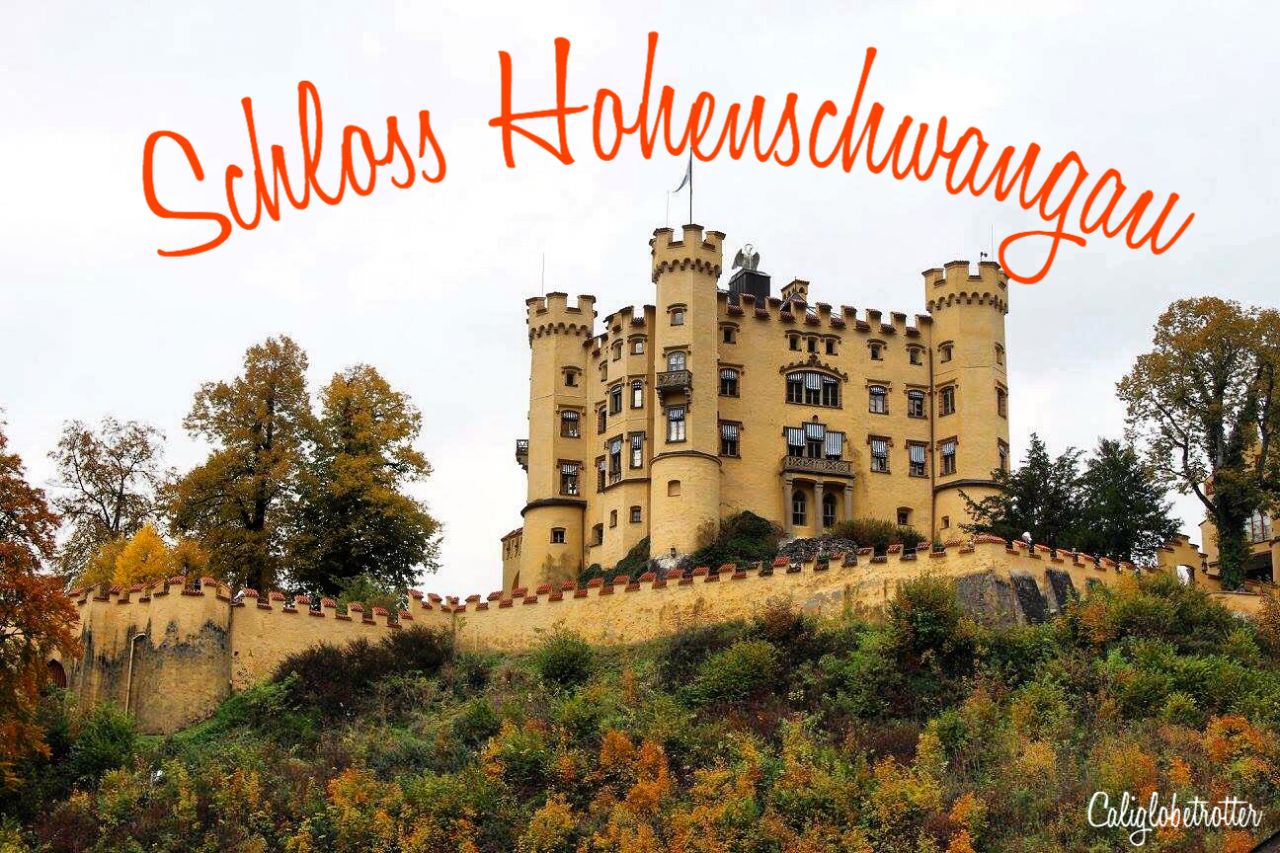 When you think of romantic castles, fairy tale love stories and majestic scenery in Germany, your first thought is instinctively the Neuschwanstein Castle. Walt Disney immortalized this dreamy castle in all opening scenes of his movies and can be found at every single Disney amusement park.
Today, tourists flock to visit this magical castle, perched on a rocky cliff in the Alpine mountains which overlooks the small village of Schwangau. Upon arrival, many are amazed to find that just across the village is another castle. Schloss Hohenschwangau is easily over shadowed by the glory of Schloss Neuschwanstein and few make the time to visit both castles.
So why should you bother visiting this castle which hardly rivals the castle that fairy tales are made of?
In case you're interested, PIN IT FOR LATER!!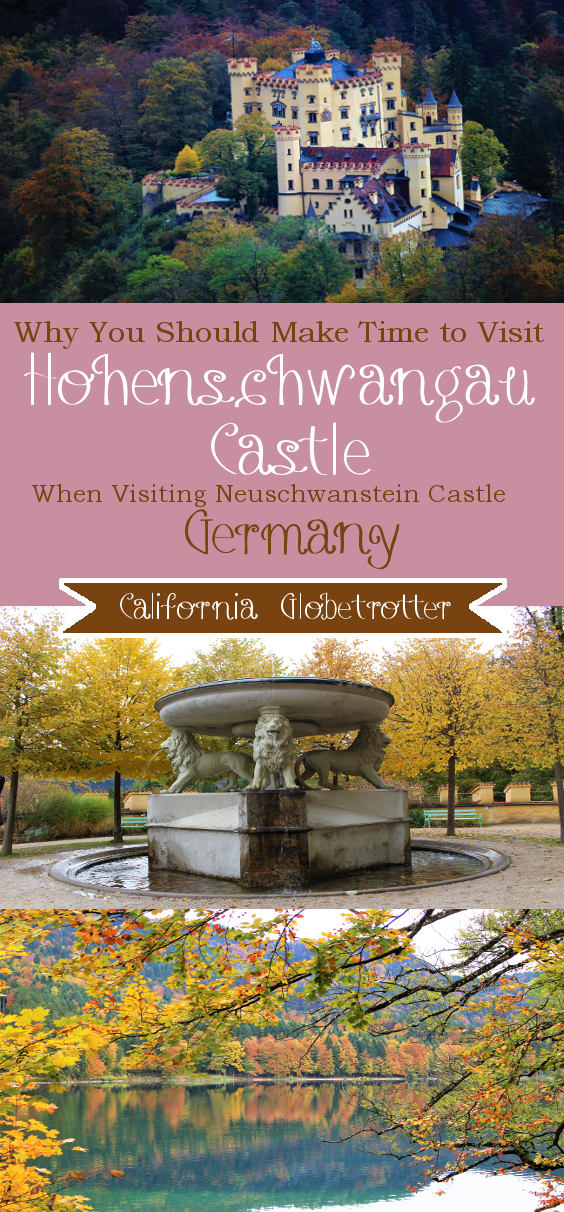 It's quick and easy to access
You can either walk up to the castle from two different paths, both of which take between 20-30 minutes walking or you can take a horse-drawn carriage ride up to the castle, when they are running. One path is wheel chair friendly, one is for those interested in walking up the stairs.
If you choose to take the longer route, (it took more like 15 up with pictures) head towards Alpsee where you will have a stunning view of the lake and enjoy the pleasantries of swans majestically gliding to and fro. From here head up the path.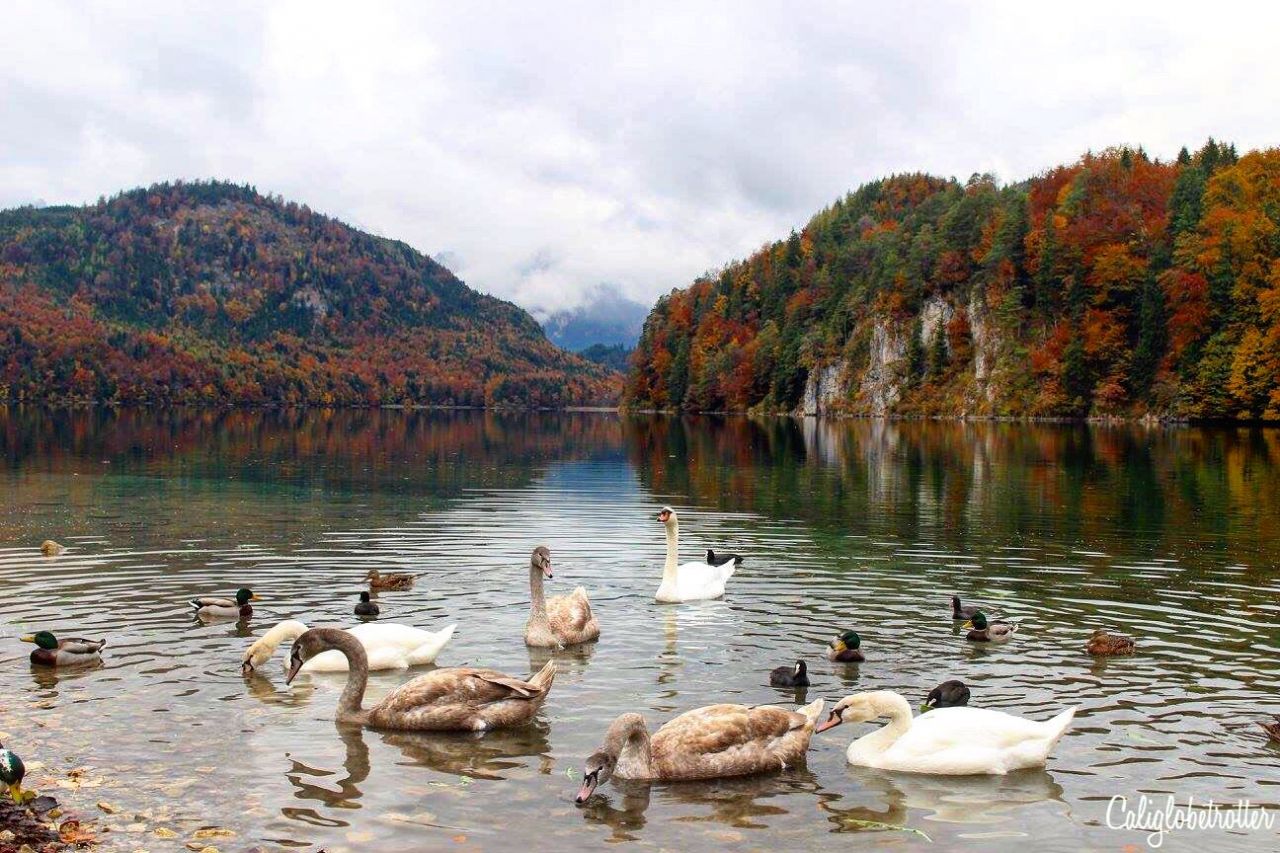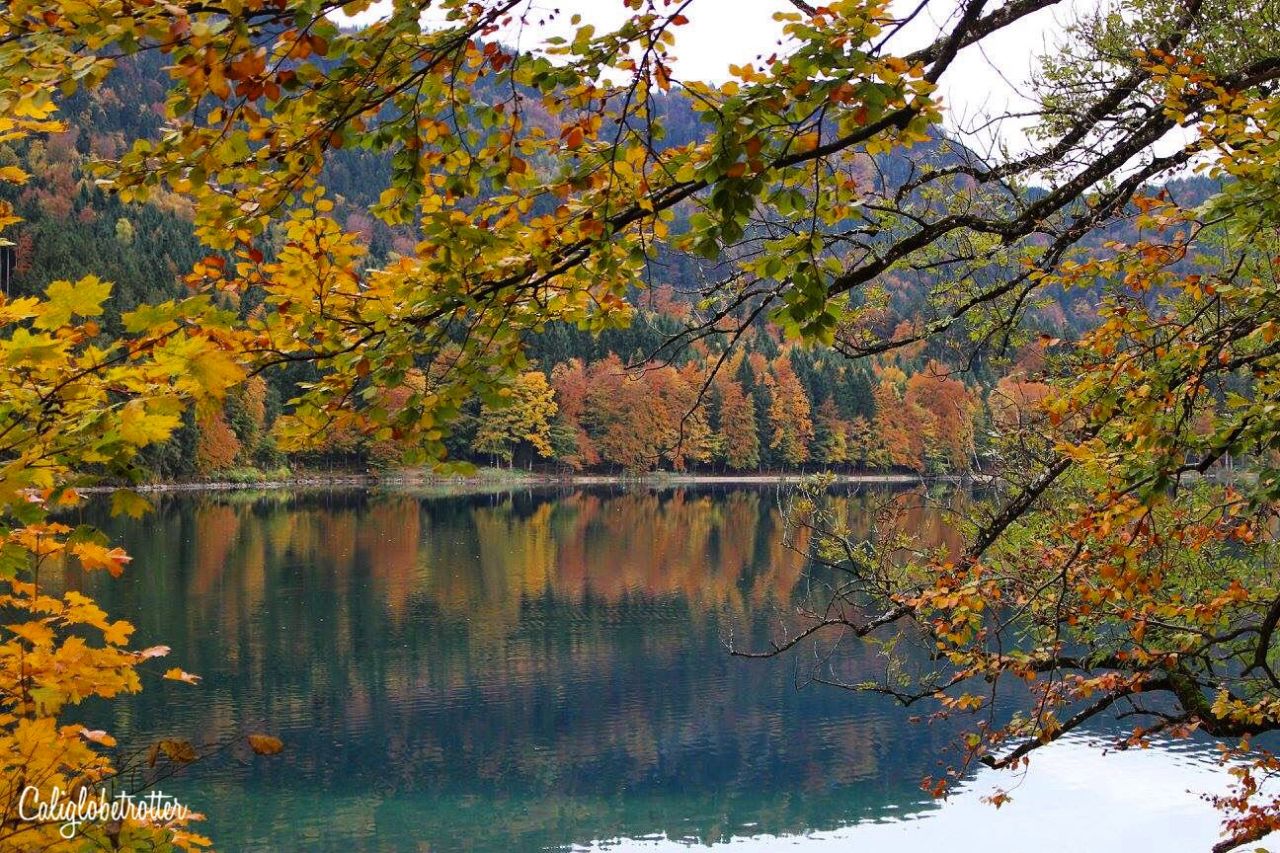 It's free to walk around the castle if you don't want to do a tour
If you're on a tight budget or tight on time, you don't need to buy a ticket to go up to the castle and have a look around. No place is off limits! Now, if you have more time, buy a combination pack which is good for both castles which is 23 €.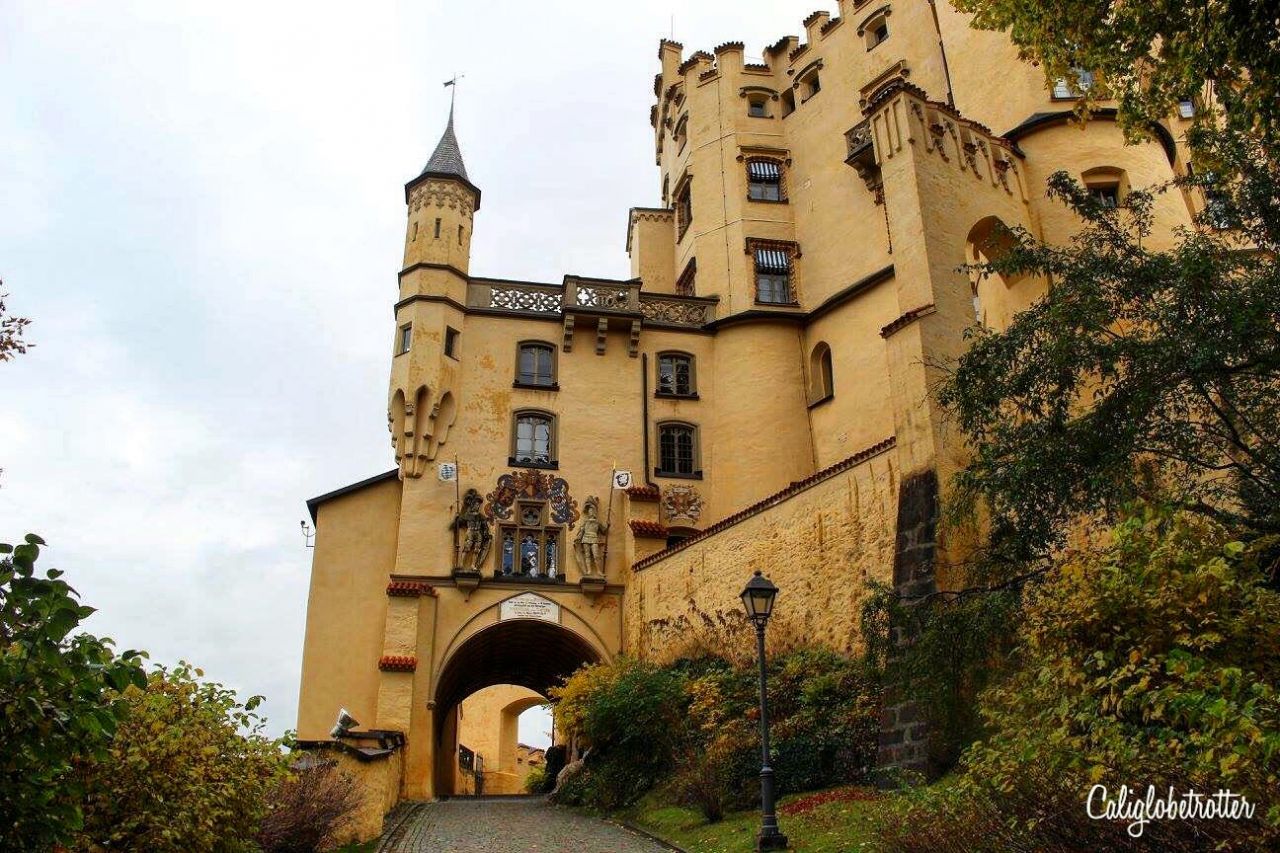 It's older than Schloss Neuschwanstein
The castle that is currently perched upon a small hill dates back all the way to the 12th Century and eventually fell almost to ruins by the 19th Century. It became the official summer residence of King Maximilian I Joseph of Bavaria, the father of Ludwig II who would later become King Ludwig II of Bavaria. His family spent a lot of time here, using the castle as a hunting lodge. Once he became king, he lived here with his mother while his masterpiece, Schloss Neuschwanstein was being constructed just across the way.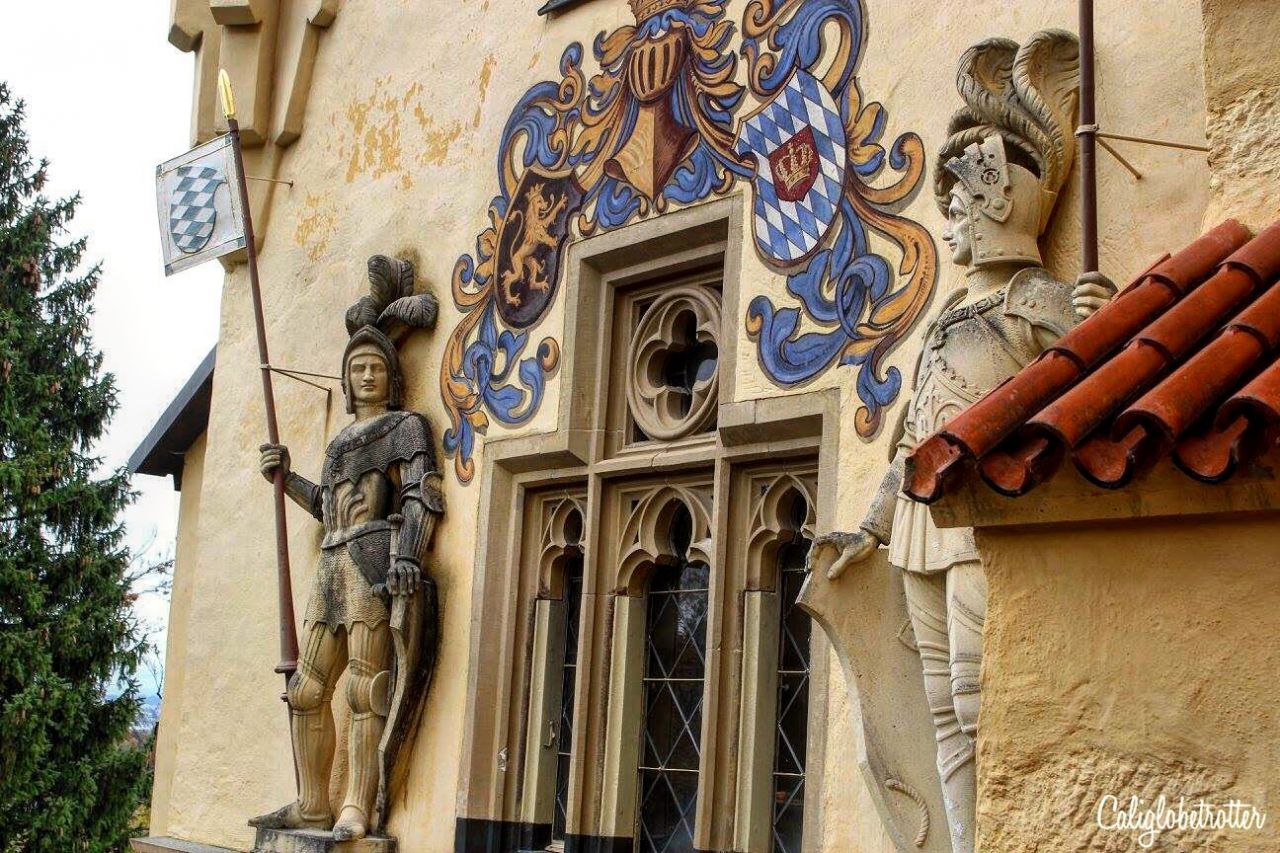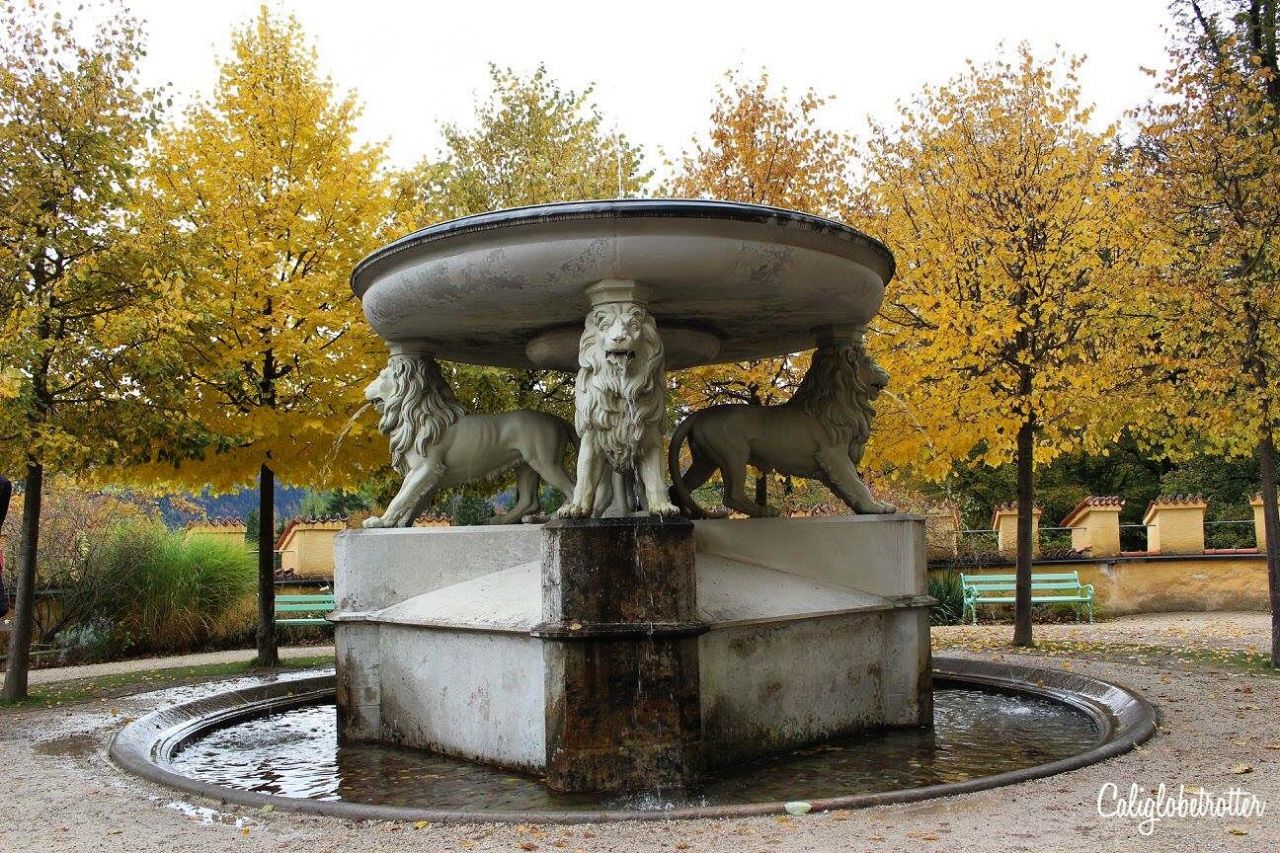 You need less than an hour to visit the castle while you're waiting for your tour to start at Schloss Neuschwanstein
If you are looking to kill some time, as you wait for your tour to begin you can manage a quick peek up at the castle. Make sure to leave enough time between both castles if you are looking to do both in one day, and include the time it will take you to get up & down from both castle.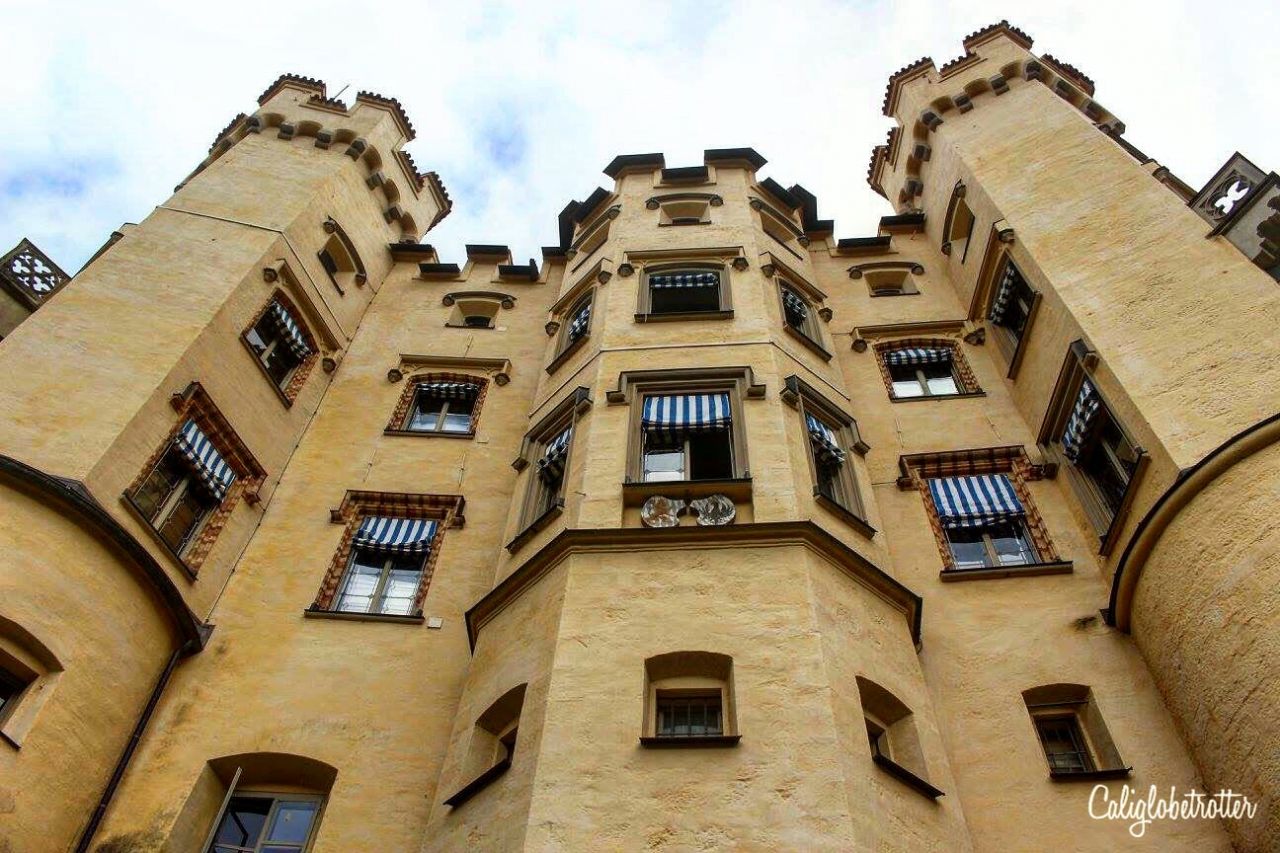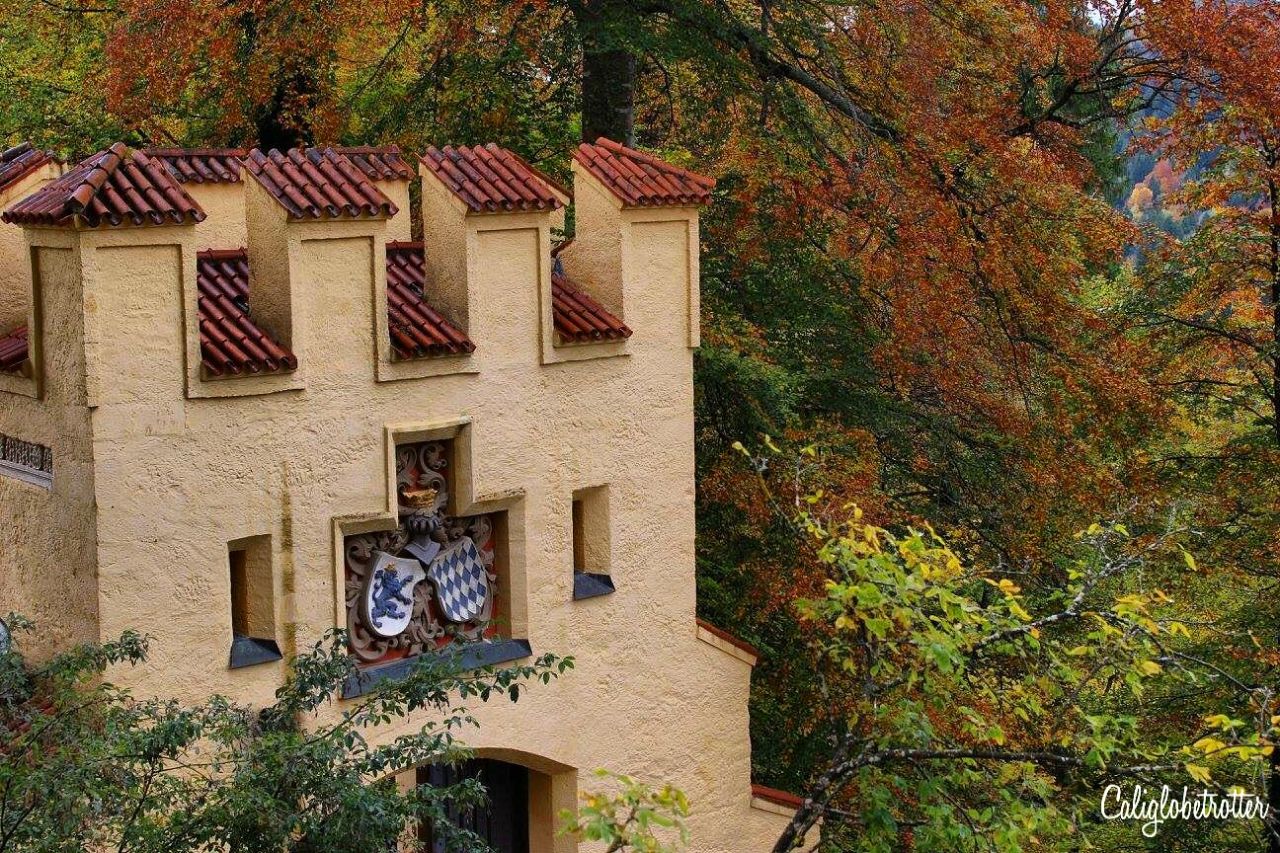 There are less tourists here
Which gives you the peace and quiet you need to soak in the surreal experience of being somewhere where dreams flourish!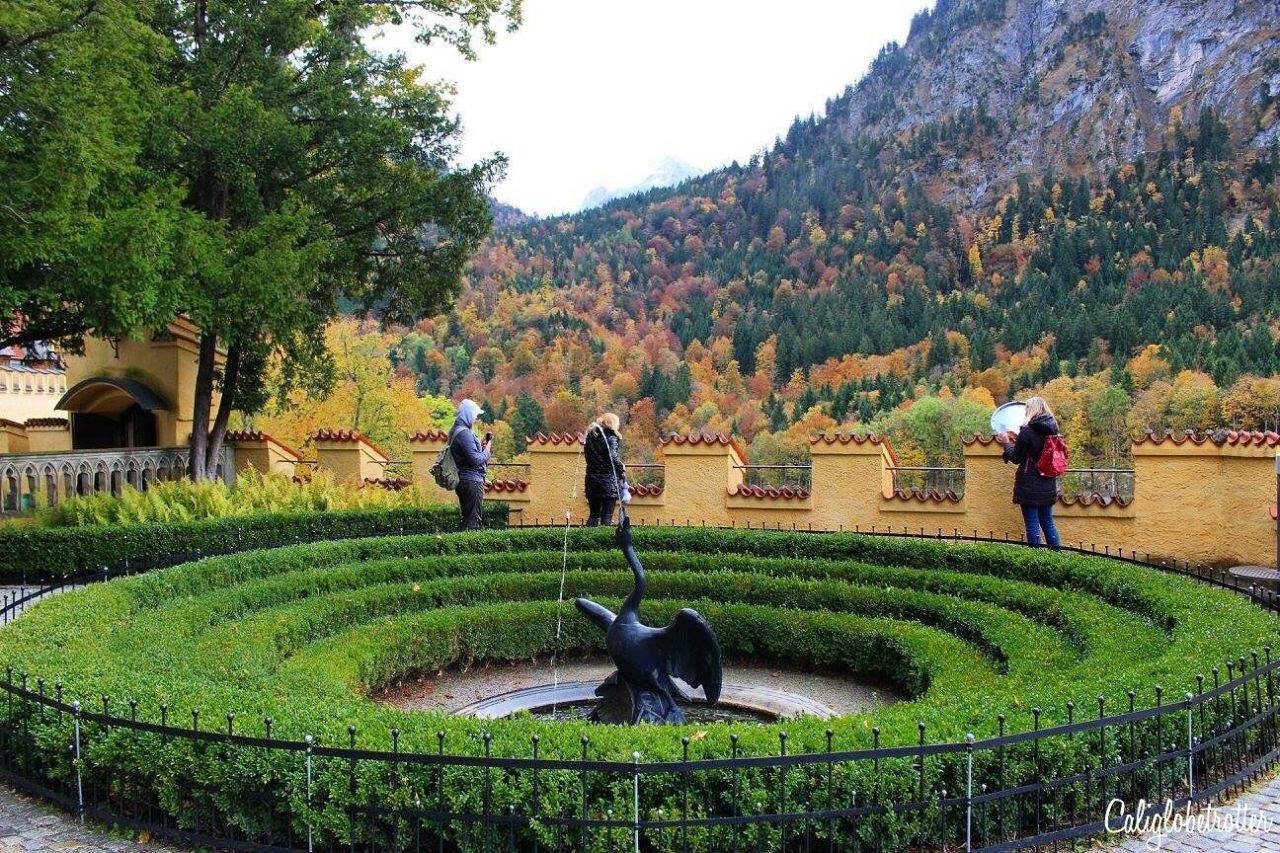 Most importantly, it offers …
a pretty amazing view of the Neuschwanstein Castle and a view over the village of Schwangau!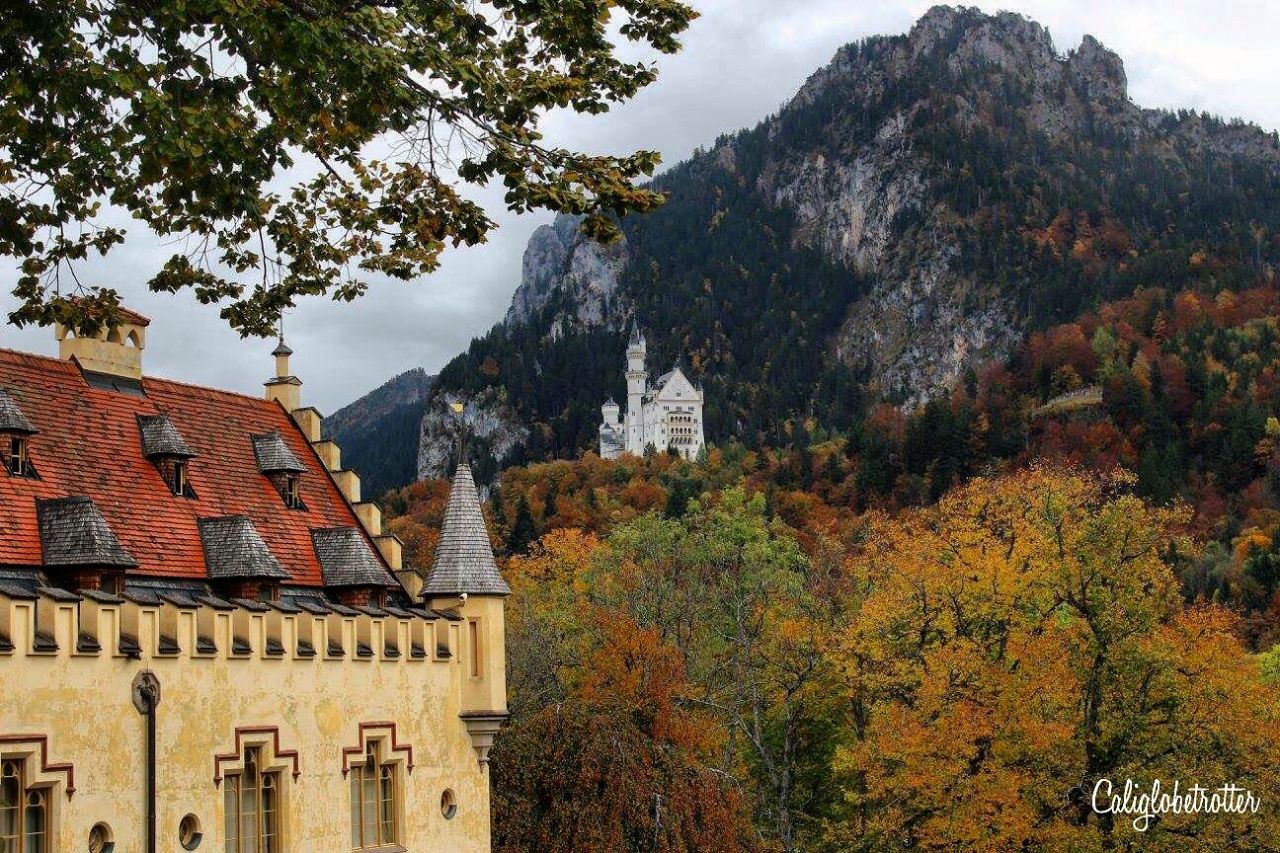 Unfortunately, you can not take pictures inside so you'll have to check out the website here for an inside look.
And once you do make it up to Schloss Neuschwanstein, head back behind the castle and visit the Marienbrücke. On your way up, there is a viewing section which offers the most amazing view over Alpsee, Schwangau, Schloss Hohenschwangau and Schwansee.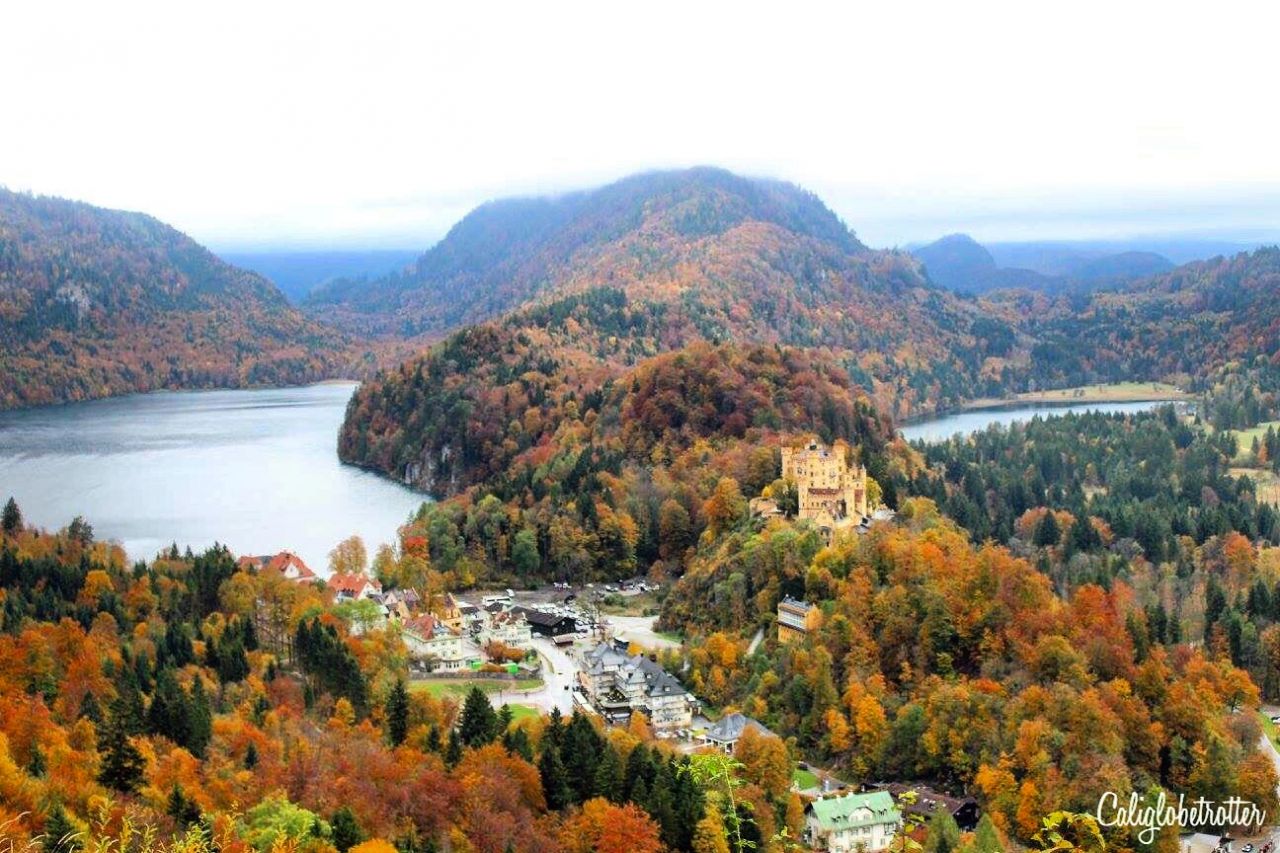 If you're looking for a comfortable and easy place to stay with that authentic Bavarian hospitality, consider staying at Hotel Alpenstube, right in the heart of Hohenschwangau, at the foot of the castle!
If you're interested in visiting Germany and are looking for more information, I highly recommend using the DK Eyewitness Travel Guide or the Lonely Plant Travel Guide! Without these guides, I would be lost! These are my travel Bibles!
Disclaimer: This post contains affiliate links. If you click on one and make a purchase, I might make a little extra spending money, at no extra cost to you. As always, all opinions are my own and these products/services have been found useful during our travels and come highly recommended to you from yours truly!
 Other castles by King Ludwig II:
 Liked this post? PIN IT FOR LATER!!
Save
Save
Save
Save
Save
Save
Save
Save
Save
Save
Save