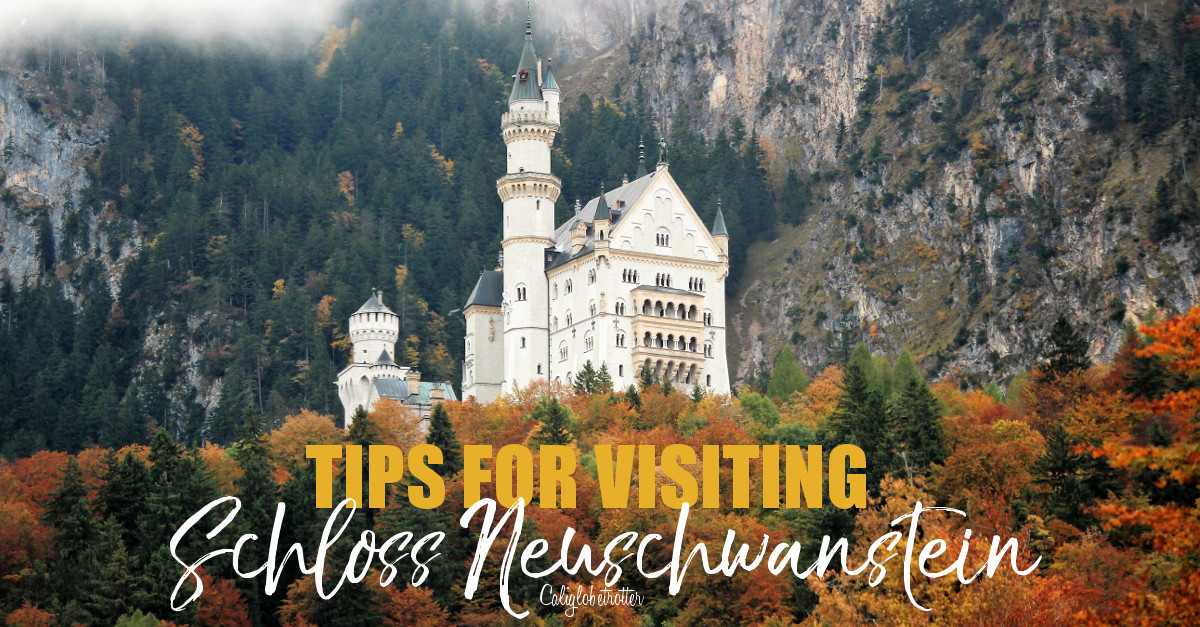 Disclaimer: This post contains affiliate links. If you click on one and make a purchase, I might make a little extra spending money, at no extra cost to you. As always, all opinions are my own and these products/services have been found useful during our travels and come highly recommended to you from yours truly!
Let me be honest: I'm a total fairy tale dreamer and if I could, I would live in pretty castles in far off places. I'd wear pretty yellow dresses and when I sing, the animals would come to me. I'd have a fairy godmother and a magic carpet. Unfortunately, this is just a dream and I'm just an ordinary girl. However, visiting Schloss Neuschwanstein offers me the chance to feel like a princess for a day!
Want to Feel Like a Disney Princess? PIN IT FOR LATER!!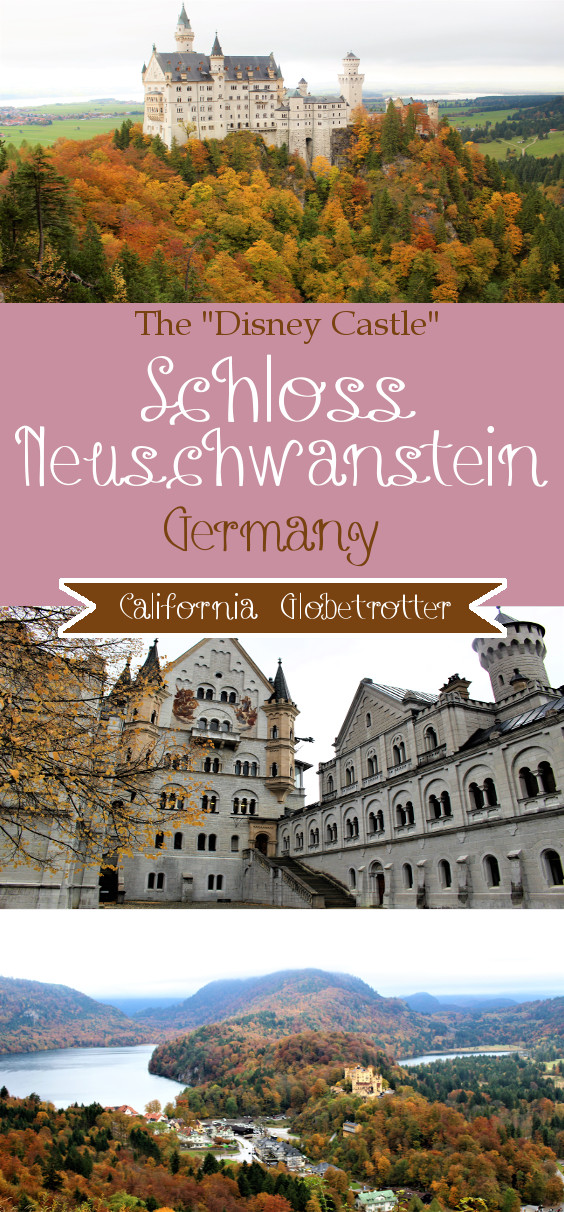 How to AVOID Looking Like a Tourist in Europe
It's likely you've seen images of this beautiful castle pinned all over Pinterest or maybe you've heard of it as many refer to it as the "Walt Disney Castle", though calling it that really causes people to cringe as Schloss Neuschwanstein has been around a lot longer than any Disney movie. Yes, Walt Disney visited and was quite inspired by the elegance of "Mad" King Ludwig II of Bavaria's most impressive castle, but it's sooo much more than any Disney film. However, it still does give hopeless romantics like myself unrealistic expectations of living happily ever after with Prince Charming in a far away castle. 
History of Neuschwanstein Castle
Schloss Neuschwanstein is one of the four decadent castles that crazy King Ludwig II of Bavaria built but never finished and is one of his most popular castles. It sits perched atop an Alpine mountain overlooking the Schwangau valley below. The castle was built as a retreat for King Ludwig II as well as in honor of Richard Wager, a German composer who Ludwig sponsored and had quite an obsession with his stories!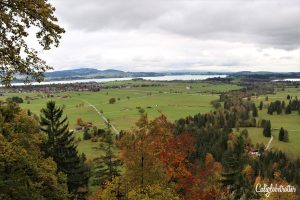 The castle that stands there today replaced the ruins of a medieval castle to make way for the new castle that King Ludwig II had planned to replicate and was planned to be his personal retreat since it was not big enough to house the royal court. As the king paid for the building of this castle out of his own pockets and not from the Bavarian treasury, he needed to borrow lots of money, ultimately leading to bankruptcy. It was built in 1869 and finished around 1892.
Today, it is one of the most popular castles in Germany that tourists want to visit when they come to Bavaria. It is one of the most classic day trips from Munich and every friend or family member who has come or wants to come visit me always wants to see this dreamlike castle. So, over the years I have been several times so this post will include pictures from three separate trips! How could I possibly blame them? It is after all one of the top places to visit in Germany!
Things to Know Before You Visit Neuschwanstein Castle!
I've been during early fall, late fall and spring. So far, I have to see that the best time to go is during the late fall when all the trees are in autumn bloom. All I need now, is to go during the winter!
In the summer however, be forewarned that the castle can receive up to 6,000 visitors in just one day!! More than 1.3 million people visit this castle annually.
The weather is always difficult to navigate in Germany and even more difficult in higher elevations. I have experienced both extreme fog and clear blue sky days so sometimes its a hit and miss. But make sure to plan at least 2 days for your trip here because you're bound to have a nice day in there! That way you can do both Schloss Neuschwanstein and Schloss Hohenschwangau and still have time to check out the village.

BUY YOUR TICKETS ONLINE BEFORE YOU GO

! Otherwise, you will need to buy your tickets which are down in the village in a tourist office specifically for buying tickets to both castles which can take a long time! Tours fill up fast and English tours have been known to sell out.
Print out your reservation tickets and go to the Reserved Ticket Line, pay and get your tickets.
All tours have a set admission times, just like a movie theater. If you miss your time slot to enter the castle, you will not get in.
Get there early! Anytime before or around noon! Early bird tours = easy parking!
It will be quite exhausting to push a stroller up the big hill. Plus, strollers are NOT allowed inside and must be left in the courtyard of the castle.
Eat before going to the castle, or bring snacks. Definitely bring some water for your hike up the hill!
Tours only last 30 minutes!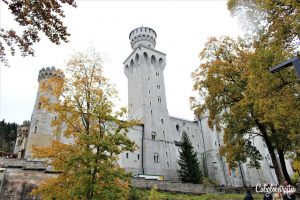 Combination Tickets
Combination Tickets: The following combination-tickets can be purchased at the Ticket Center in Hohenschwangau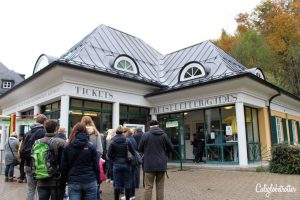 Swan-Ticket (Neuschwanstein castle & Hohenschwangau castle & Museum of the Bavarian Kings) 31,50€
Wittelsbach-Ticket (Hohenschwangau castle & Museum of the Bavarian Kings) 22€
Kings-Ticket (Neuschwanstein castle & Hohenschwangau castle) 25€
Prince-Ticket (Museum of the Bavarian Kings & Neuschwanstein castle) 22€
More ticket information here: Price List
Getting to the Castle
Follow the Königsschlösser signs when driving to the castle. The signs will guide you to the "King's Castle".

BY CAR:

(Taken from the official Neuschwanstein website): "Take the A7 motorway (direction Ulm-Kempten-Füssen) until the end. From Füssen first follow the road B17 to Schwangau, then the signs to Hohenschwangau or take the A7 motorway until the exit Kempten and then the road B12 to Marktoberdorf. Follow the road B16 to Roßhaupten – OAL I to Buching – and then take the road B17 to Schwangau and Hohenschwangau."
BY TRAIN: Catch a train to Füssen and from there take either the 73 or 78 bus, getting off at Hohenschwangau.
At the Neuschwanstein ticket office, and from here you can get to the castle by foot, shuttle bus or horse carriage.
The walk to the castle is a brisk walk up a large hill, about 45 minutes from the ticket office. Stopping to take pictures along the way can increase your arrival time to an hour.
If you want to take the horses, you will see them lined up and you pay the horse carriage driver directly for your fare.
Horse carriage rides cost 6€ to go uphill and 3€ to go downhill, whereas the shuttle buses cost 1,80 € for uphill,  1 € for downhill and  2,60€ round trip
Once at the castle, you have a viewing platform to see the front of the castle which is a great spot for some memories captured with a picture! Then, you will continue through the main gate and you can walk around the castle courtyard while you wait for your tour time. Once your tour time is ready, you number will show up on a screen and you will be allowed in.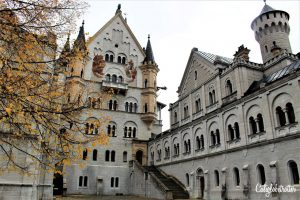 Unfortunately, once inside, it is forbidden to take any photos. But you can guarantee every room that was completed is spectacular! With rooms like the immaculate Throne Room, it's no wonder it took so long to finish just the 17 rooms! Can you imagine what the whole castle would have looked like completed!? Stunning! 
More Interesting History to Know!
After 17 years of construction, only 14 of the 360 rooms were completed because of the low funds and King Ludwig's untimely strange death. At the time of construction, he had also been building another castles, such as Schloss Herrenchiemsee which was a replica of the Palace of Versailles in honor of the Sun King who he deeply admired. He was also building Schloss Linderhof, which is his only castle he lived to see be completed. He was found in the lake below the castle, along with his doctor, drowned. There is much speculation about his untimely death and there is a Bavarian Secret Society who is determined to find the truth of his death, possibly committed to save the Bavarian government from bankruptcy. Immediately after his death, the castle was opened to the public 6 weeks later.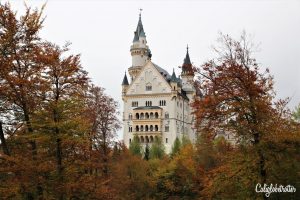 Thanks to its location, the castle survived both World Wars. During World War II, the castle was used as a holding place for many works of art. In 1945, the SS considered blowing up the castle and all of its artwork to prevent it from falling into the enemies hands (the allies US, Great Britain).
The palace was used as inspiration for the Sleeping Beauty castle for Disney and also appeared in one of my favorite movies, Chitty Chitty Bang Bang, although in the movie they say that they are in the fictional country of "Vulgaria".
After taking a tour of the castle, one of the best things to do at Schloss Neuschwanstein is hiking the little trail that leads to the Marienbrücke (bridge) behind the castle. This bridge offers the most spectacular view of the castle. It's an old steel and wood bridge with lots of people walking back and forth and you can really feel it sway. And whatever you do, don't look down otherwise you will see that the bridge is suspended over a cascading waterfall. Yes, I was nervous and had a hard time crossing the bridge, but I had to for these beautiful pictures! There is no doubt that the best time to visit Germany is in autumn!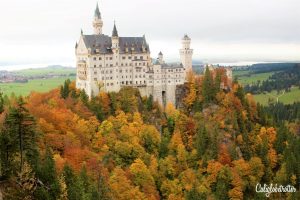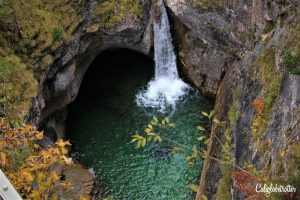 Walking behind the castle and further down offers pretty great views over Schloss Hohenschwangau and the beautiful Schwansee (Swan Lake). My second time, we saw a beautiful swan floating in the lake. Only fitting, considering the name! That is one thing I truly love about Germany, is the endless amount of swans floating around the lakes and rivers.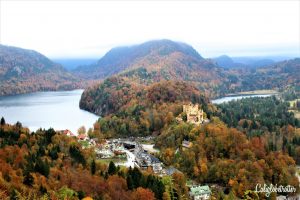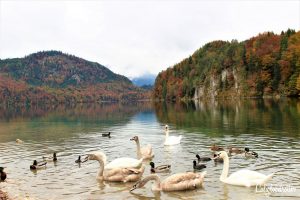 Make sure to take a look behind you though on your way down because you will have a great view of Schloss Neuschwanstein perched up on the hill surrounded by beautiful trees.
It doesn't matter what season you go, Schloss Neuschwanstein is always impressive. I've been in the fall, spring and early summer and every time it more beautiful. Now, if I could just make it there when it's covered in snow.
Where to Stay in Schwangau:
If you're looking for a comfortable and easy place to stay with that authentic Bavarian hospitality, consider staying at Hotel Alpenstube, right in the heart of Hohenschwangau, at the foot of the castle!
Hohenschwangau Castle
Back in the little village below the castle, you can walk around and enjoy the little town. Be sure to also check out the Hohenschwangau castle which sits just below Neuschwanstein and this is where King Ludwig II spent some of his childhood and where he lived while building Schloss Neuschwanstein. Though it isn't quite as romantic as it's more famous neighbor, a visit to Hohenschwangau Castle is a great way to take up any extra time you have either before or after your tour.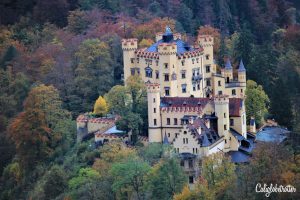 If you want to learn more about "Mad" King Ludwig II of Bavaria, then I highly suggest reading one of the Royal Novels to read before coming to Europe, Not So Happily Ever After: The Life of King Ludwig II!
Movies & TV Shows About King Ludwig II of Bavaria: Ludwig II.(2012), Ludwig II (1972)
If you're interested in visiting Germany and are looking for more information, I highly recommend using the DK Eyewitness Travel Guide! Without these guides, I would be lost! This is my travel Bible!
Disclaimer: This post contains affiliate links. If you click on one and make a purchase, I might make a little extra spending money, at no extra cost to you. As always, all opinions are my own and these products/services have been found useful during our travels and come highly recommended to you from yours truly!
Love German Castles? Here are more! 
The Romantic Castles of King Ludwig II of Bavaria
Liked this post? PIN IT FOR LATER!!
Save