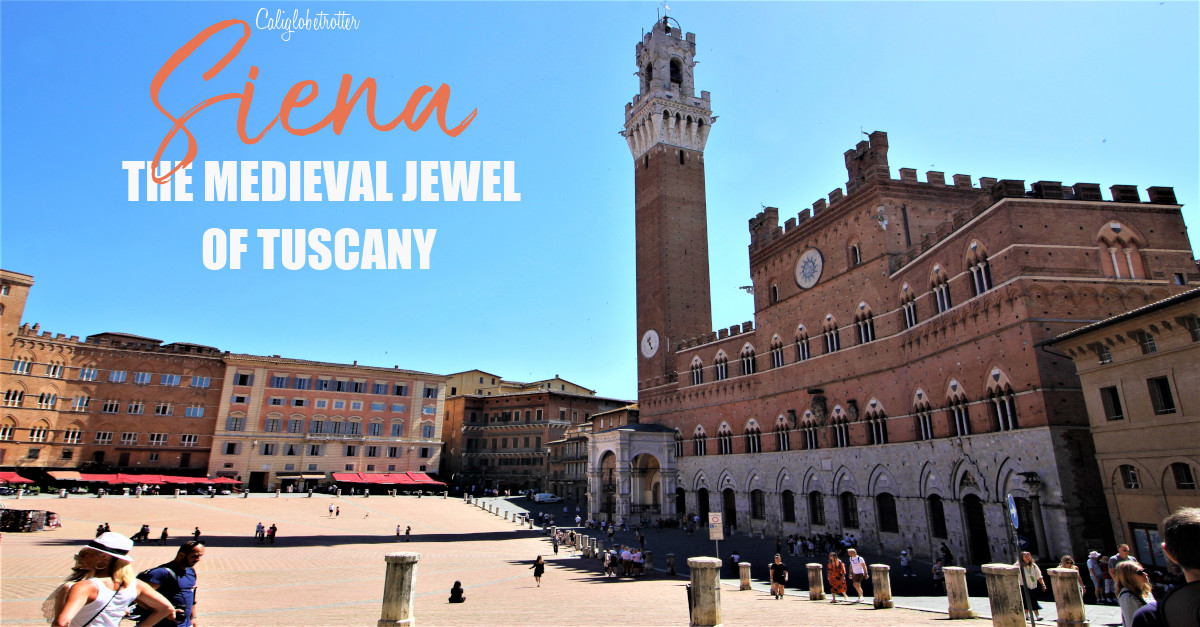 Disclaimer: This post contains affiliate links. If you click on one and make a purchase, I might make a little extra spending money, at no extra cost to you. As always, all opinions are my own and these products/services have been found useful during our travels and come highly recommended to you from yours truly!
Have you ever been influenced by a book you read to visit a place? Siena, Italy was such a town for me. A book set in the heart of a medieval Tuscan hilltop town, riff with rivalries between neighborhood families, taking their frustrations out in a horse race through the heart of a burnt siena city center which still takes place today. Sounded intriguing enough for me. I researched Siena and added it to my Italy bucket list and now this medieval jewel should be on your list of places to visit in Italy too.
Love Medieval Towns in Europe? PIN IT FOR LATER!!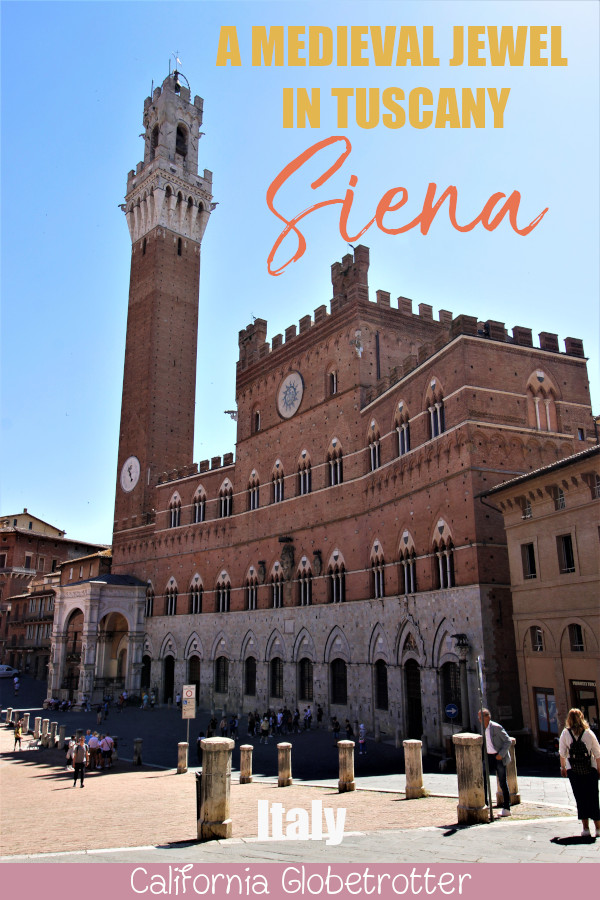 Planning Your First Trip to Italy
The Towerful Tuscan Town of San Gimignano
This article is now available as a mobile app. Go to GPSMyCity to download the app for GPS-assisted travel directions to the attractions featured in this article!
Some grudges are for life. Others overcome.
They say the Snail and the Tortoise are sworn enemies for life while the Eagle and the Panther don't get along very well, and more recently, new tensions flared up between the Unicorn and the Owl in 1950 over boundary disputes. Meanwhile, the Dragon and the Forest have no sworn enemies while the Giraffe and the Caterpillar have come to be friends.
Siena is one of the most beloved, iconic cities to visit in Tuscany. It's historic, it's medieval ambiance captivates you immediately. It's perched a top three hills, making it Tuscany's ultimate hill top town with a medieval soul. It will be one of the best cities in Italy you'll ever visit.
Influenced by a Book
The book which brought me to Siena was 'Juliet' by Anne Fortier. Before this, I had never heard of Siena.
The novel is a twist on the classic tale of Shakespeare's Romeo and Juliet, which takes place not in fair Verona, but rather Siena during the Medieval Ages at the height of Contrada rivalries, the Bubonic Plague and the Palio with a connection to modern day characters. It's a thrilling, page turning book with twists and turns, lots of snarky sarcasm, romance, murder and mystery all tied together into a great historical fiction novel based around the history of Siena and the Palio, the city's famous historic horse race which takes place in the city center. I love the story so much, I read it again once we officially booked our holiday to Siena.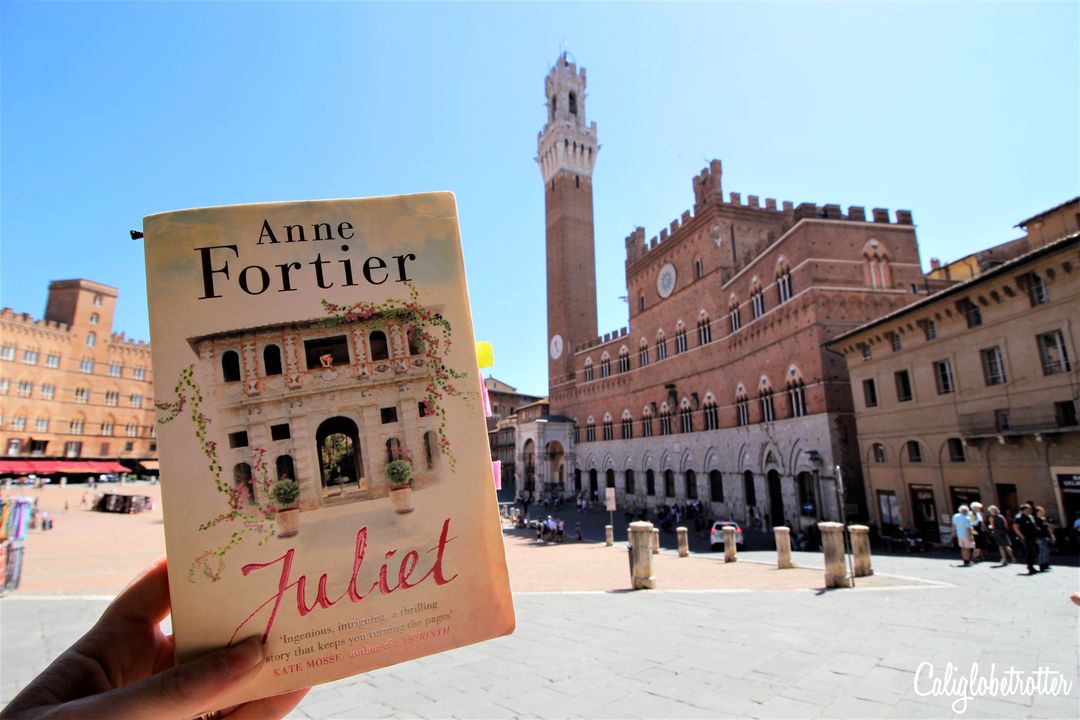 A Short History of Siena
Like many cities in Tuscany, Siena was founded by Etrucans tribes while under the reign of Rome's first emperor, Augustus. It would take until about the 1300s for Siena to become a prosperous city state with a progressive democratic state, through the likes of banking, which is why today it is home to the world's oldest bank, the Monte dei Paschi di Siena, which has been in continuous use since 1472. As a main site for medieval pilgrims, Siena also got rich by trading with these pilgrims.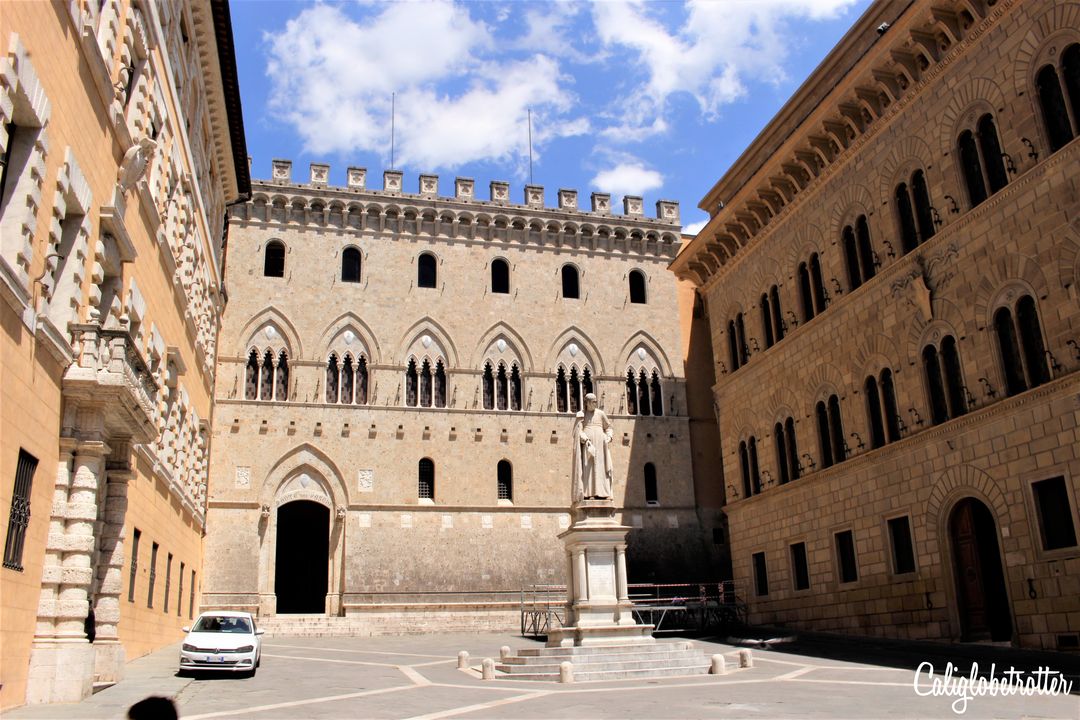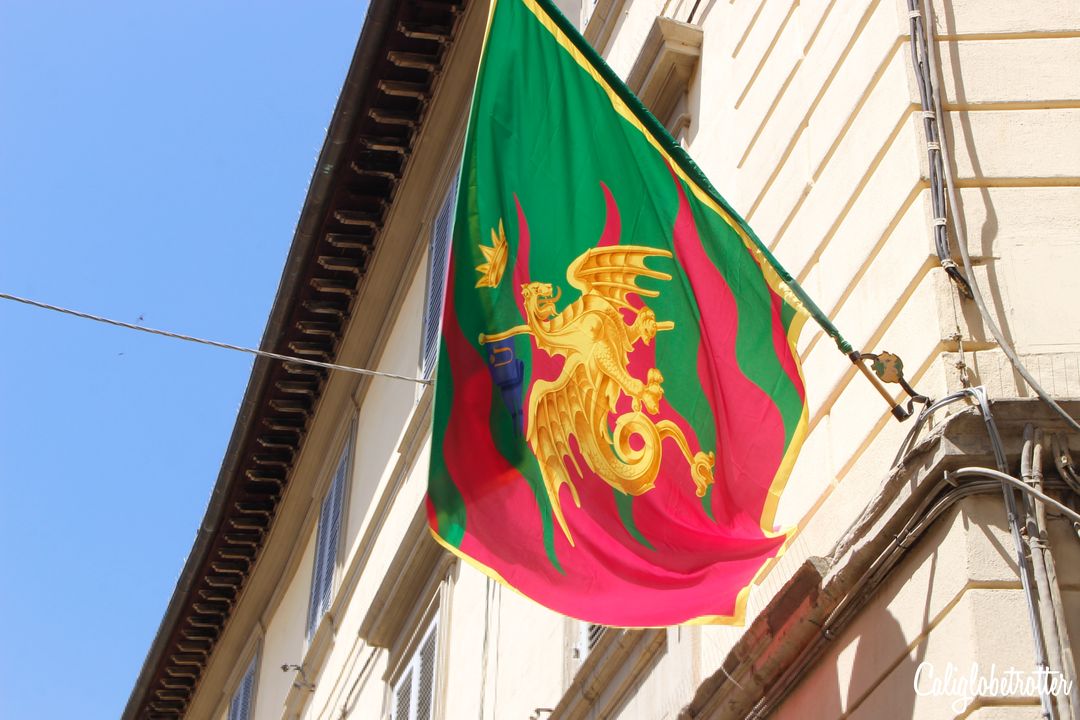 During the 13th and 14th centuries, Siena flourished in economics, politics and the arts, rivaling neighboring Florence thus often ending up in boundary disputes. Unfortunately, the Black Plague hit in 1348, thus stunting the growth of Siena which wiped out half the population, thus preserving the medieval town we see today, making it a UNESCO World Heritage Site and a tourist playground. Today, it's not difficult to see that Florence got the upper-hand of Siena after the devastating effects of the plague.
For anyone who has ever visited Rome or Bucharest, then the story of Romulus and Remus will sound pretty familiar and when in Siena, you'll come across a few statues dedicated to them. The she-wolf feeds the suckling baby twins before eventually growing up and founding the Eternal City. However, a new twist to the tale tells us that Remus also had two sons who would later flee after the death of their father, riding in on a black and white horse to later found Siena. Today, Siena's colors are still black and white.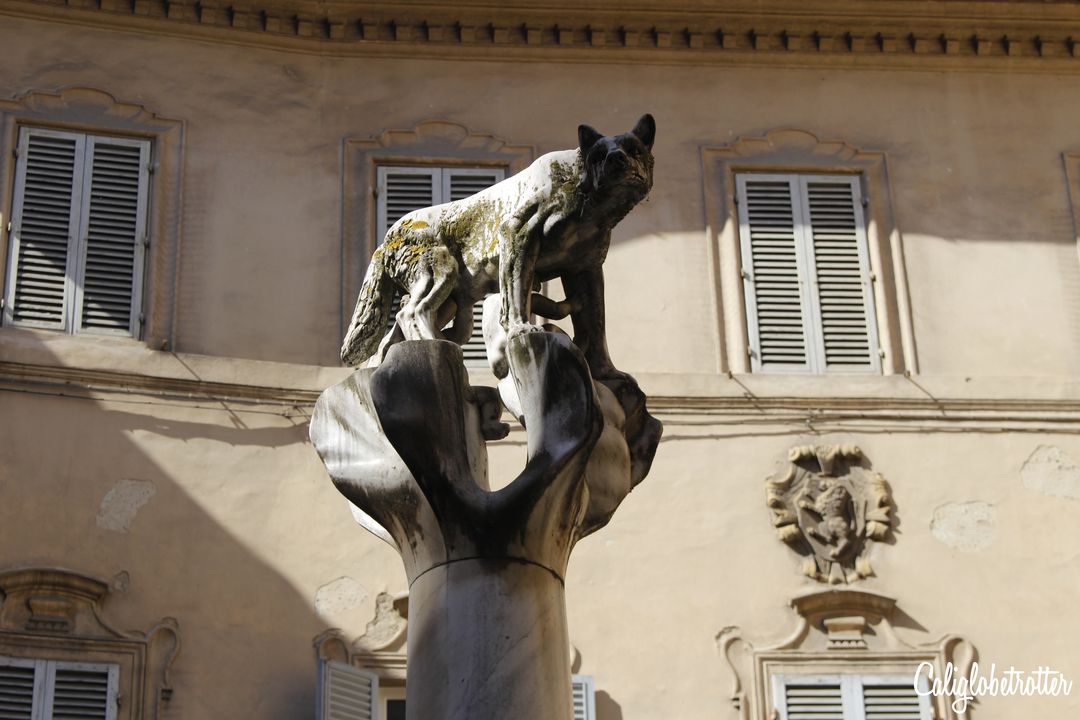 Understanding Siena's Contrada & the Palio
The tradition of Siena's Palio has lived on and is today one of the main reasons for visiting Siena. Siena's beautiful piazzo, Il Campo, is transformed into a horse track twice a year, on July 2 and August 16th for a 90 second horse race between the contradas (neighborhoods) of Siena.
3 Laps

No Rules

60,000 people watching intently with standing room only.

Of the 17 Contradas, only 10 are selected to race.

The winner is awarded the cencio, a banner of the Virgin Mary.

And it's not the first jockey that crosses the finish line, but the first horse!
Each family selects a member to race on horseback, wearing the colors of the contrada of which there are 17 contrada in Siena, each named after either an animal or symbol. They were originally set up in the Middle Ages to provide protection for Siena's independence from rival city states like Florence. Over time, the contrada lost its military significance and transformed more into localized patriotism. Today, every important event, from births, weddings, deaths, holidays to a victory in the Palio are all celebrated within ones own contrada. Each contrada has their own museum to visit, church, motto and flag.
More on Siena's Contrada Museums to visit here.
Each contrada can be found in the historical city center and their symbols are: Eagle, Caterpillar, Snail, Owl, Dragon, Giraffe, Porcupine, Unicorn, She-Wolf, Goose, Tortoise, Wave, Tower, Ram, Forest, Panther and Shell. Looking out for these symbols and knowing which flag belongs to which contrada will help you recognize which neighborhood you're currently walking through, which you'll see high up on the walls.
Each neighborhood was known for a particular product which was produced there, for example, the eagles were lawyers, the caterpillars produced silk and the porcupines produced weapons, while the dragon is related to the bankers and the Monte dei Paschi di Siena.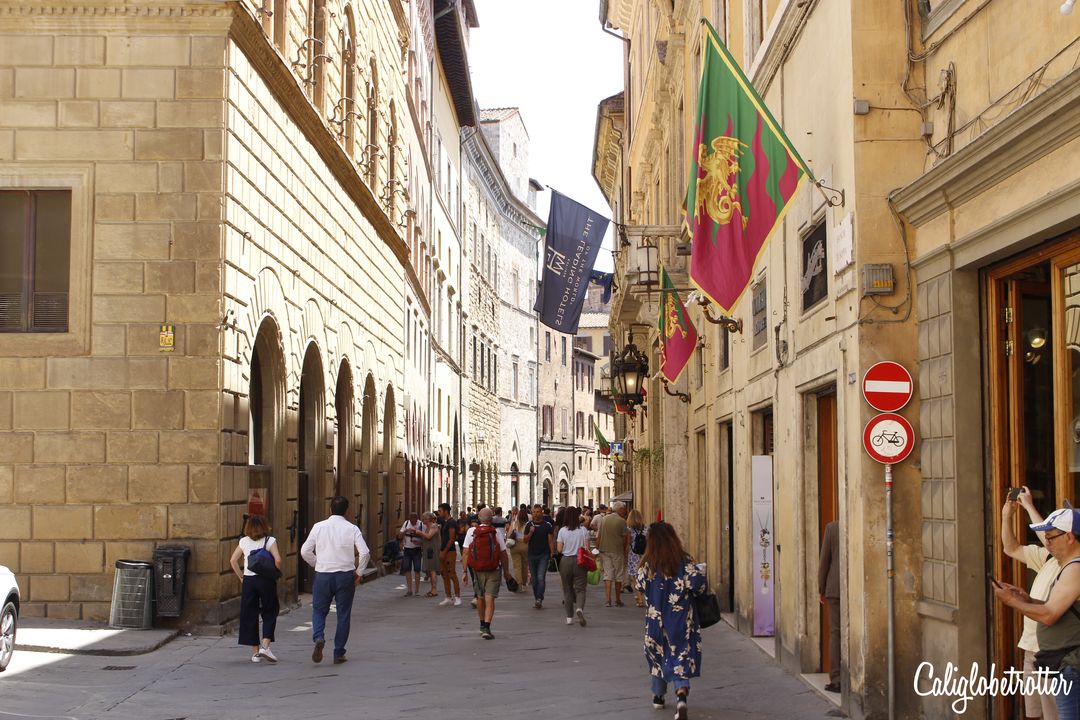 And because the Palio is such an important event which takes place in this town, you'll find ancient iron rings everywhere in the city along the walls of the buildings, specifically for tethering their horses to.
What to See & Do in Siena
Exploring the historic city center of Siena is easy enough to do in a day, which makes it an easy day trip from Florence if you plan on being in the area and is one of the best cities to visit in Tuscany. Like many of the hilltop towns in the area, not much has changed in 800 years and you're bound to fall in love with it. Just be sure to arrive nice and early around 8am when the temperature is mildly cool and tourists are all still sleeping and the streets are not packed.
Siena's Duomo Complex
This is Siena's main tourist attraction and to properly visit you'll need to book the Opa Si Pass in advance, which gives you access to the Siena Cathedral, the Bapistry, the Crypt, the Piccolomini Library, the Facciatone viewing terrace, and the Museo dell'Opera del Duomo which opens at 10am, prior to the cathedral.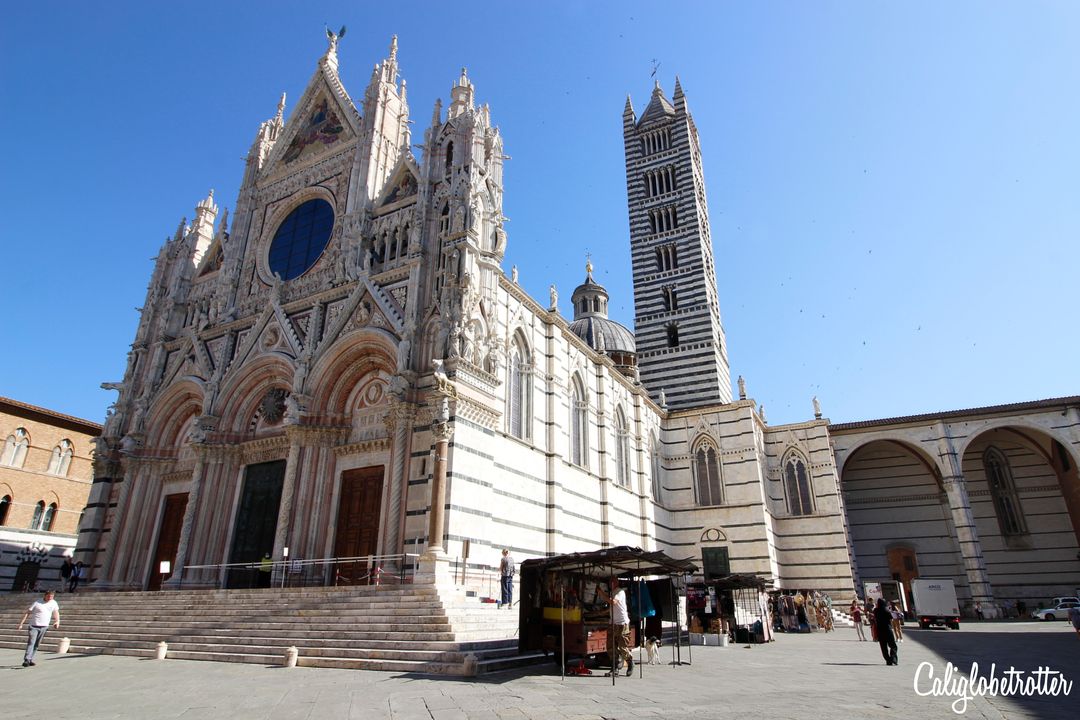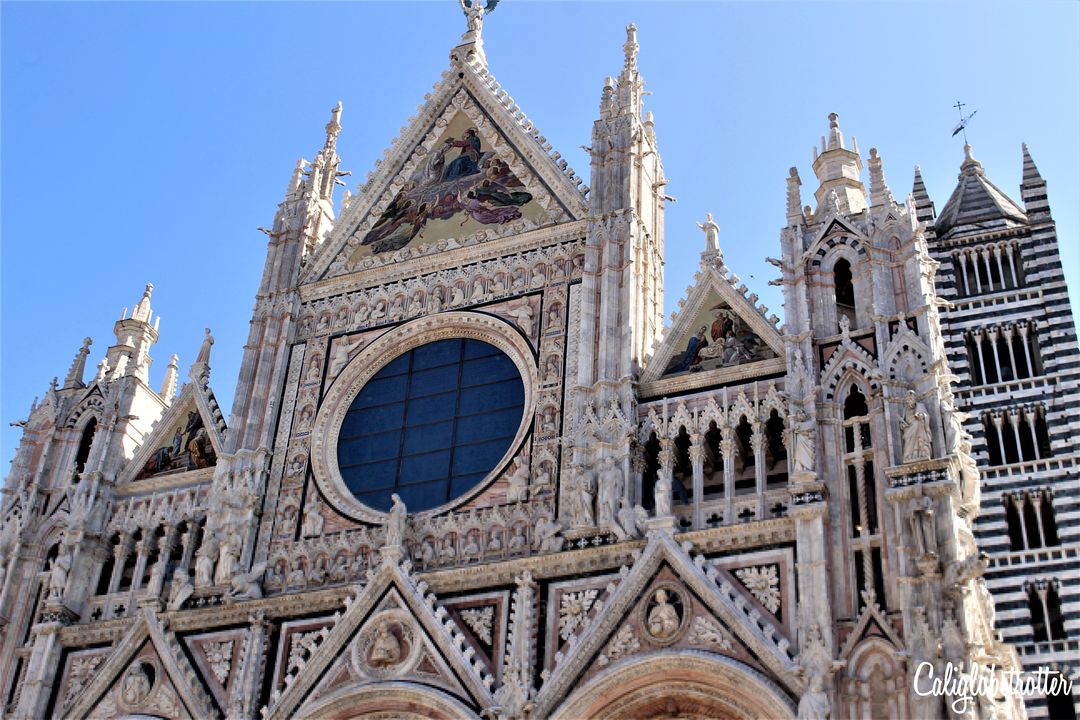 I've seen hundreds of cathedrals in my travels and the Siena Cathedral is by far one of the most impressive cathedrals ever, clearly displaying the city's wealth and power for all to see. This is one cathedral you definitely won't want to skip out on going inside.
Every inch of the cathedral is intricately decorated in marble, the floor is covered in delicate mosaics and there are sculptures and frescoes everywhere you turn, including 172 busts of former popes from St. Peter to the 12th century, with the same four faces, over and over.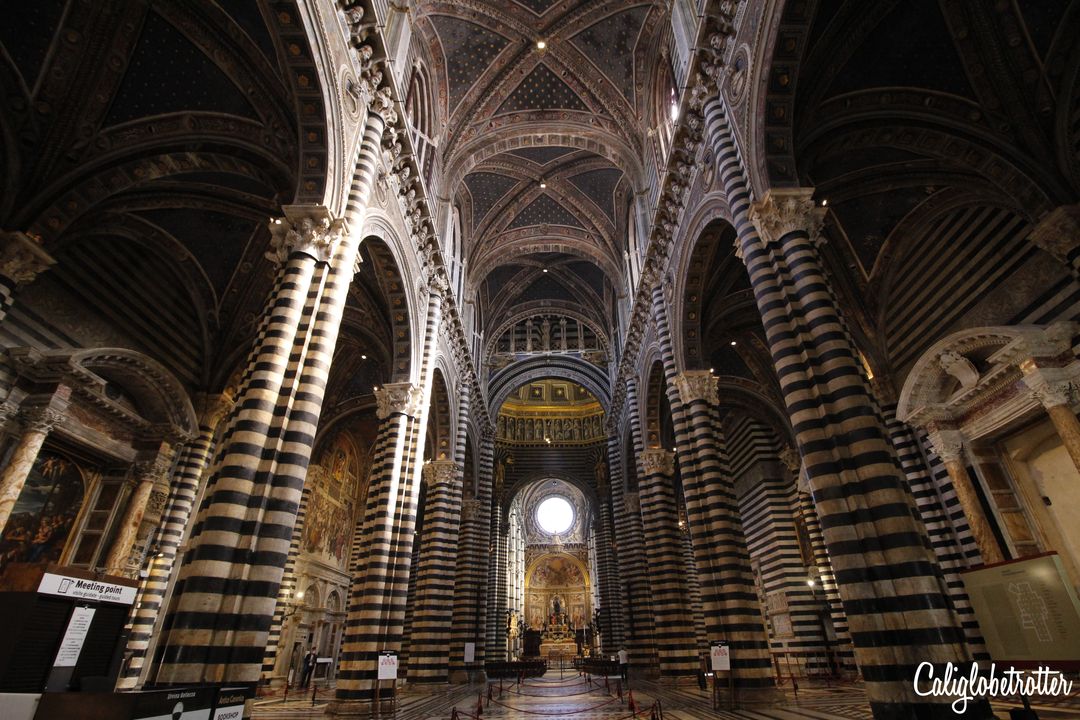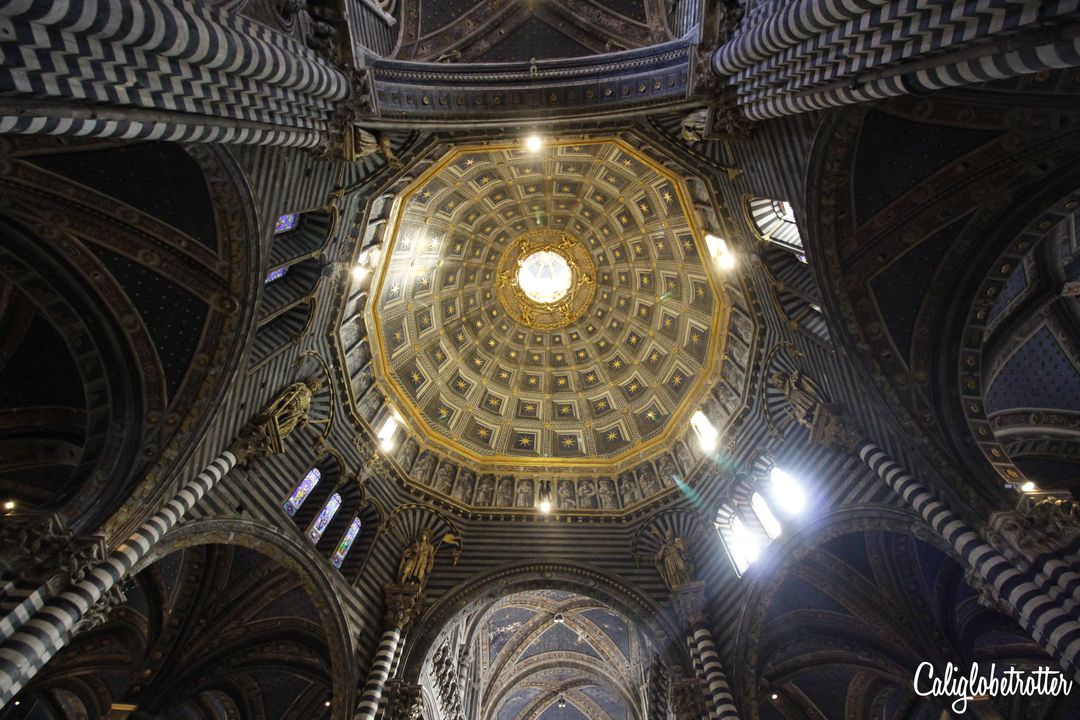 Colorful mosaic panels by 40 different artists depicts scenes of Siena's civic pride and cosmopolitan outlook. Portions of the mosaic panels are covered throughout the year, and only on special occasions are unveiled.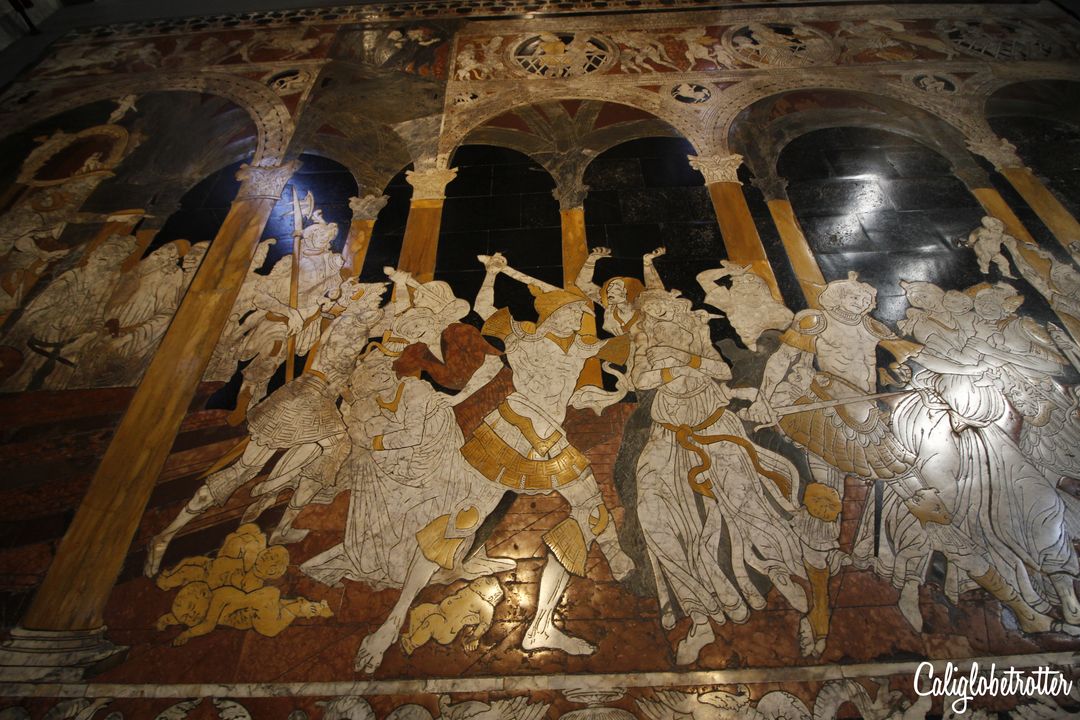 While strolling around the cathedral, you'll notice that some of the greatest artists of their time contributed master works to the cathedral, such as Michelangelo, Bernini, Donatello, Pinturicchio, Ghiberti and Pisano.
Even if you just buy the basic entrance ticket for the cathedral, you can also visit the Piccolomini Libary, a fresco-studded library with large, ancient texts on display. The frescoes were created by Pintuicchio, who also contributed to the Vatican Museum in Rome.
Most impressive, the church itself was paid for and built by the people of Siena, and not by a tyrannical pope. After all, Siena was a self-governing republic!
On the exterior, just opposite the church tower, is what looks like ruins of a building, possibly destroyed during WWII you might think, but you'd be sorely mistaken. The cathedral was supposed to be much larger than it is and construction began just prior to the outbreak of the Black Plague, but plans were abandoned during the chaos, left eternally unfinished.
The Piazzo del Campo, aka Il Campo
The piazzo where it all happens. The heart and soul of Siena.
Il Campo is one of the largest and greatest medieval squares in Europe and it's truly an impressive sight to behold, with the its oddly slopping formation, fanning out like an amphitheater and the Palazzo Pubblico (called the Palace of the People or City Hall) and the Tower of Mangia dominating the entire square. Take a moment to take a 360° look to absorb the brick paved square which has changed very little since the 1300s – Siena's Golden Age.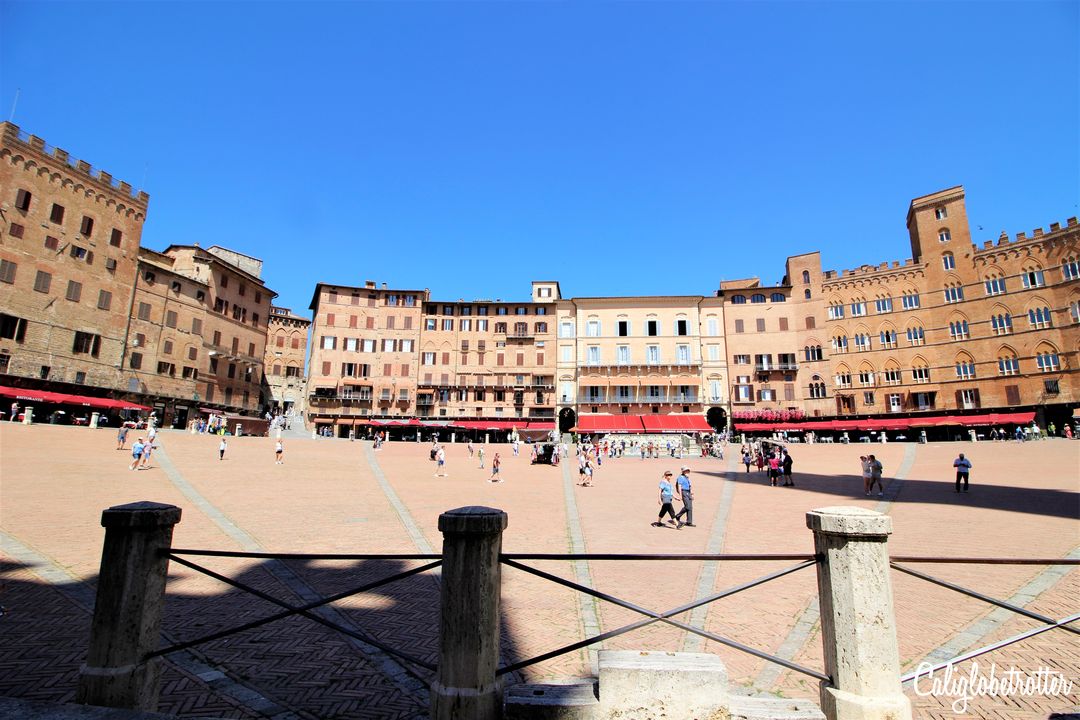 Encircling the entire square are buildings, cafes and restaurants in shades of "Burnt Siena", the same color as the soil here and everyone congregates here, while on hot days, people hide in the shade of the tower stretching out into the square. It is the historic junction of all of Siena's Contradas.
Towards the top of the square is a replica of the marble fountain Fonte Gaia (The Fountain of Joy) with carved figures. Designed in 1419 by Jacopo della Quercia, it is a major landmark in Siena, thus, the town preserved the original by moving it to a more protected area. The fountain was built by and for the people, to bring in water to the people, thus bringing joy.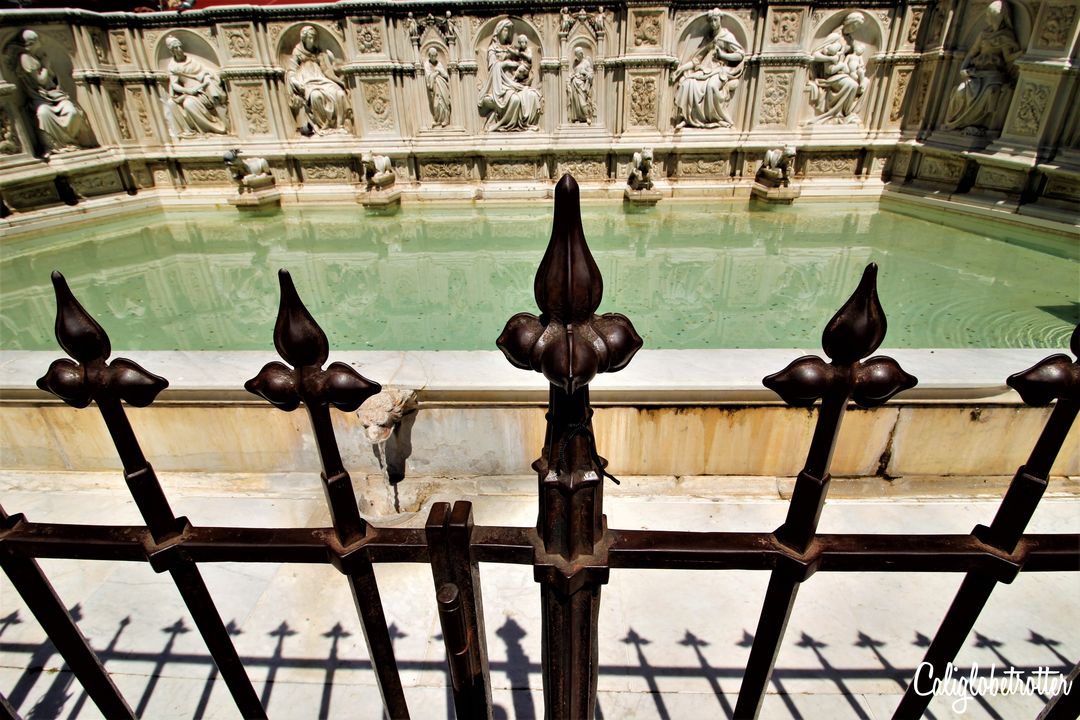 Palazzo Pubblico & the Tower of Mangia
The Palazzo Pubblico is the second most impressive sight to see in Siena. The palace, which is also the City Hall, was built between 1297 and 1308 by the governing body of Siena, known as the Council of Nine. Should you be interested, you can also take a tour of the city hall.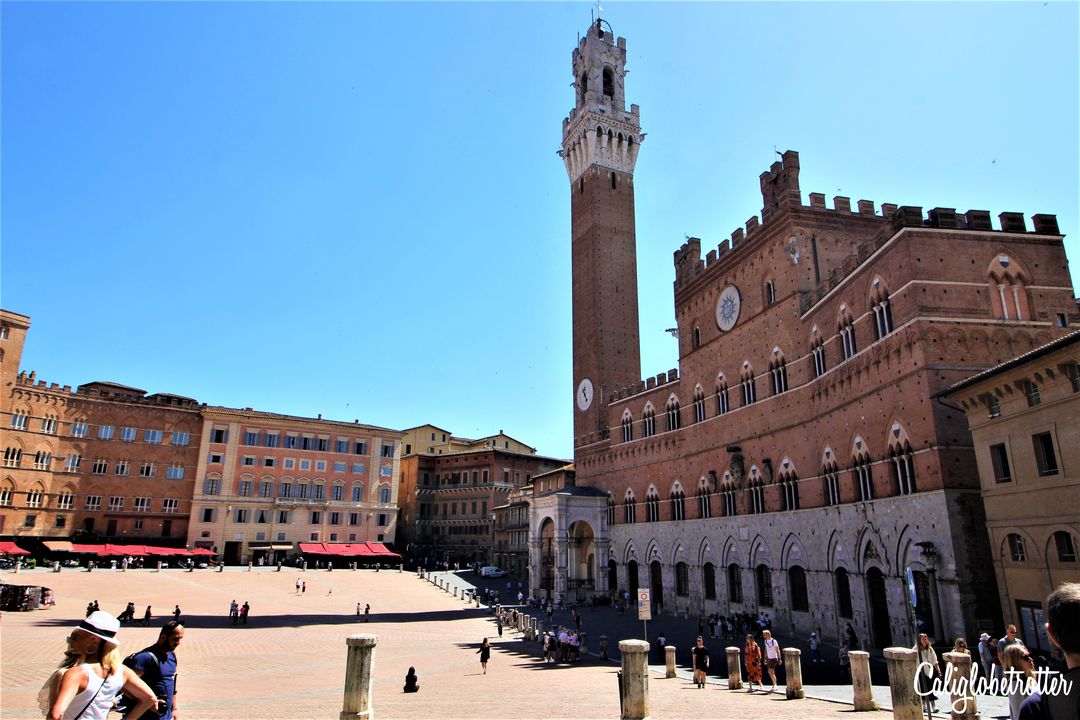 Connected with the City Hall is the Torre del Mangia (Tower of Mangia), and for some of the best views of Siena, then it's recommended to climb up the Tower of Mangia with a purchase of a ticket, on a first come, first serve basis. Tickets are sold to 50 people, every 30 minutes. Be sure to buy your tickets in advance because tickets sell out quickly during the high season! You may take only one camera with one lens. All other belongings must be put in a locker beforehand.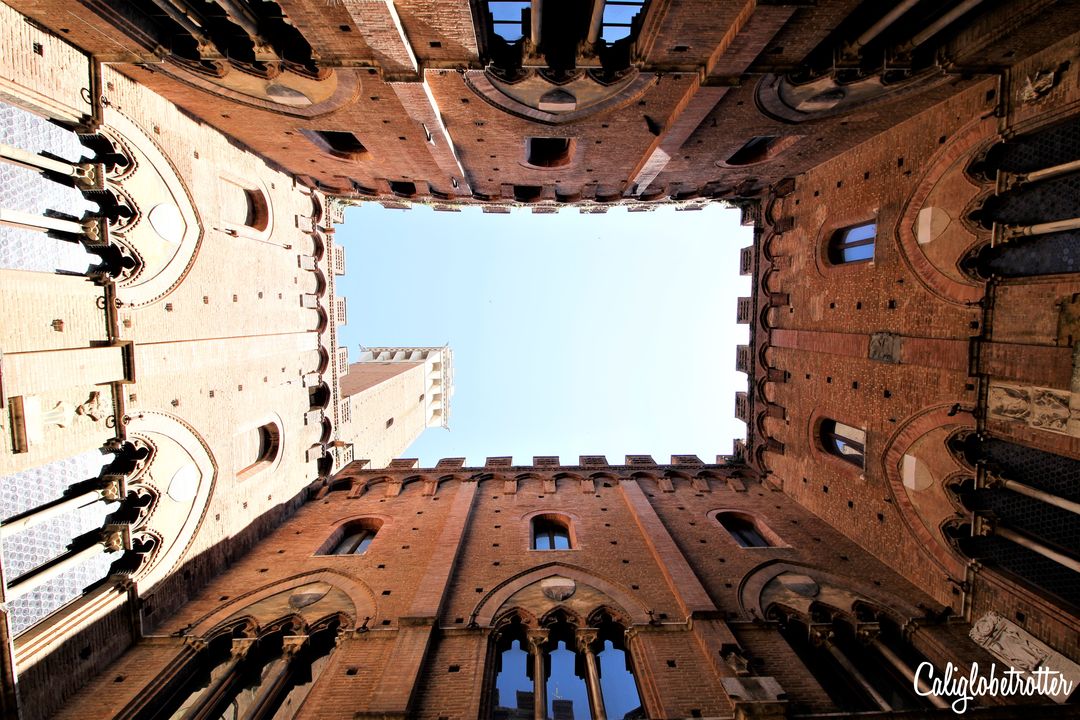 Now normally, I would include photos of these said amazing views because I never skip out on towers, but as I'm currently experiencing some knee issues, we opted out of climbing up the tower, especially as you can imagine, this medieval tower comes without an elevator lift. 330 feet high, 400 steps up.
Siena's Tower of Mangia was once the tallest tower in Italy when it was built in 1138-48, until Florence built their Tower of Arnolfo in Palazzo Vecchio. Building tall towers was a sign of wealth and can also be found here in Regensburg, Germany. The tower gets its name 'Mangia' from the tower's first bell ringer who had interesting eating habits, hence the word, which in Italian means 'to eat'.
At the base of the tower is a chapel dedicated to the Virgin Mary for sparring the city of Siena from the grips of the Black Plague, despite loosing a third of its population.
Fun fact: The Tower of Mangia in Siena has a twin tower in Provenincetown, Massachusetts.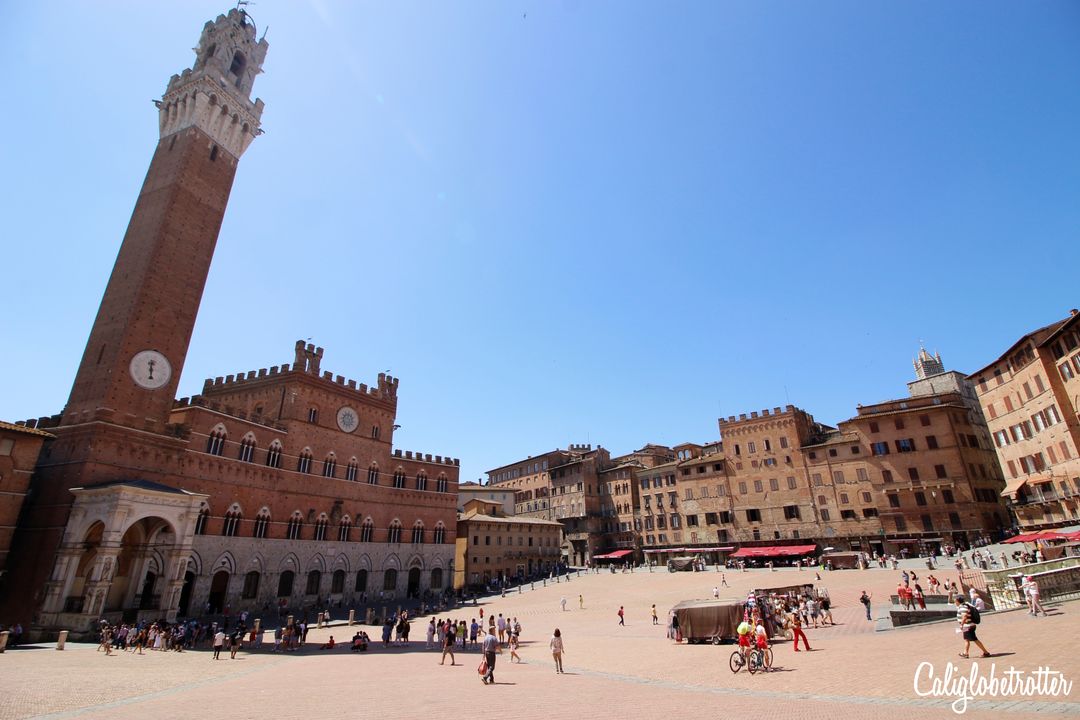 Basilico di San Domenico
If you have time, or parked near Siena's fortress and just happen to be up in that direction, you cold also pop into the Basilica of San Dominico, or at last have a gander from afar.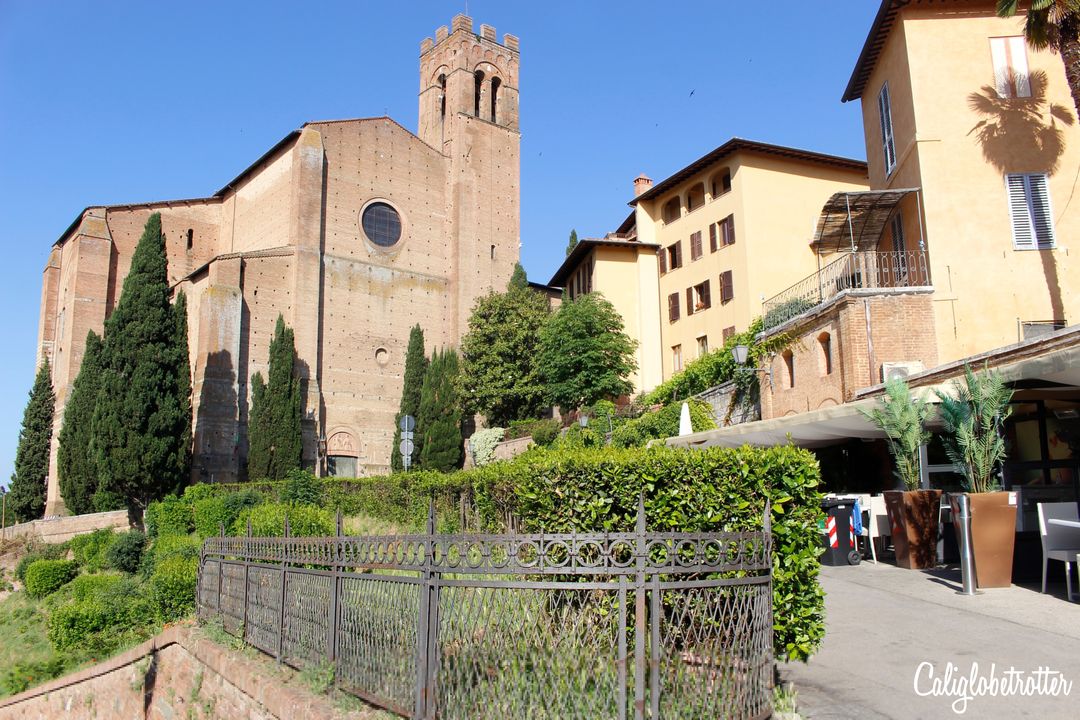 Stroll through Siena's Medieval alleys & Streets
One of the best free things to do in Siena is simply to meander through the town, soaking up the medieval architecture and imagining how little this town has likely changed in 800 years. Sometimes, you can even smell the history wafting up from cold, dark cellars. There's truly nothing like a medieval town to step back in time and forget, even if for just a moment that we live in a busy, crazy, constantly changing world and yet, here it's like time forgot to take Siena with it.
You'll notice as I mentioned before that while walking around this historic town, that there will be symbols everywhere reminding you which Contrada you're currently walking through, whether in the form of flags, coats of arms or animal insignia above buildings.
There are so many shops, cafes, restaurants, gelaterias, pasticcerias (pastry shops), wine shops, butcheries and so much more to discover! Take your time, rush through nothing. Try everything. Ask questions. Learn.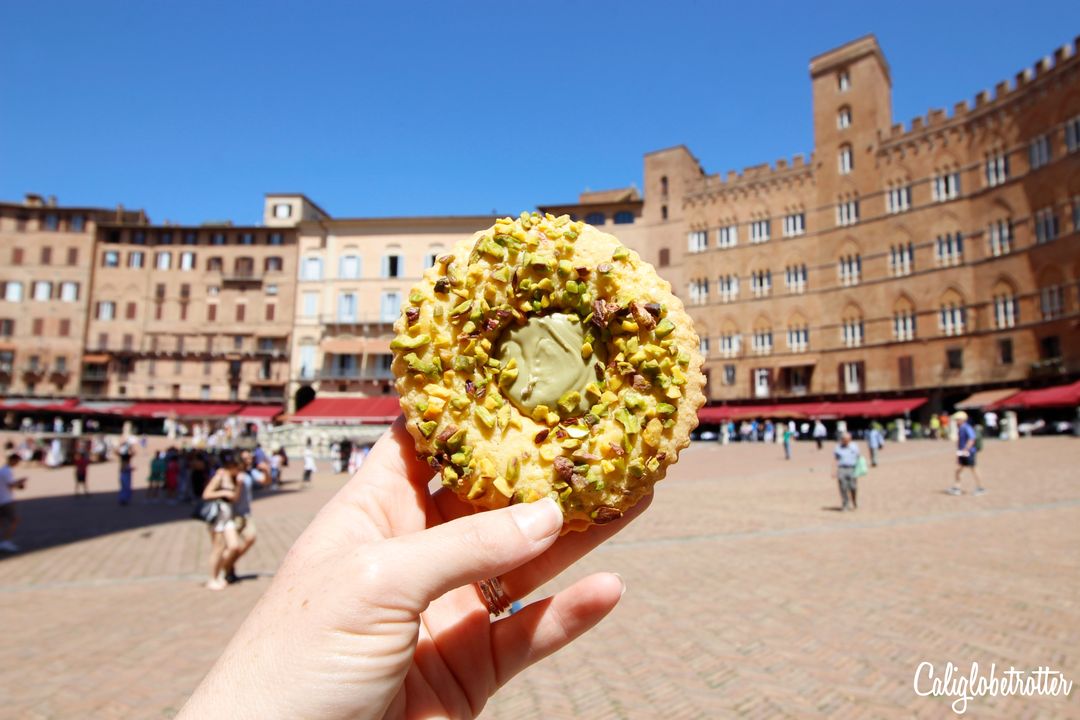 Stop in every store, look at the local goods made in Italy ("fatto in Italia"), try and taste new things, from local salamis and cheeses from the butcher shops to learning about the differences in Truffle.
If you even have extra time, then I highly recommend to book a tour with Siena Tartufi to go hunting for truffles, or you can simply stop by, not far from the Palazzo Pubblico at Il Campo and sample some of the different truffle delicacies and how to use it. Alessandro was kind enough to offer us free samples of a variety of truffle products, answer my questions how to use or cook with it, how and why he hunts truffles using dogs whereas pigs have always been more common to use.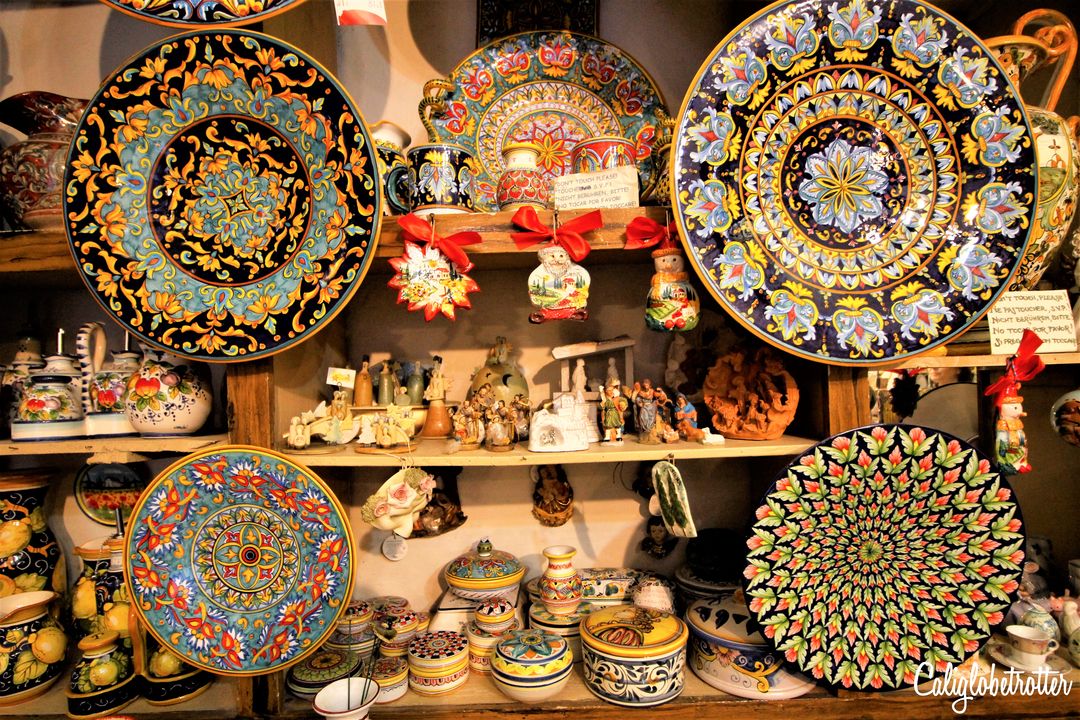 Where to Eat in Siena
If you arrive early in the morning before anything opens, then head straight to the Siena Duomo. At the backside of the cathedral, you'll find a pleasant little piazza with a lovely cafe called Il Battistero Siena Bistrot, where we enjoyed a delicious Pistachio Cream Croissant and a Chocolate Croissant with our espressos.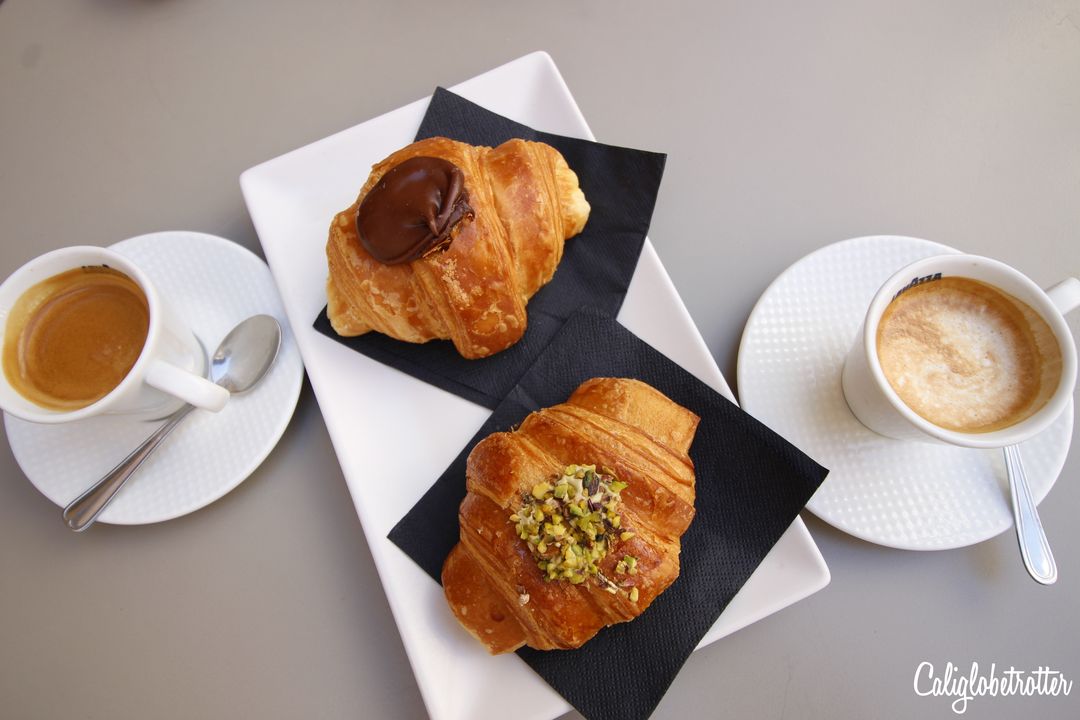 For lunch, we ate on a staircase. Literally. The restaurant, Bar San Paulo, located on the staircase alley just next to Loggia della Mercanzia serves up delicious panini sandwiches. Mine was a delicious salami with truffle creme panini sandwich. Quite possibly the best panini I've ever had and proof that Italy is more than just pasta.
Specialties from Siena and Tuscany include wild boar, porchetta and of course, Chianti wine from the surrounding Tuscany countryside.
Related: A Chianti Wine Route Guide
Be sure to stop at Nannini, a popular cafe and pastry shop offering up traditional Sienese sweets such an "cantucci", a biscotti with almonds which were invented right here in Siena! Be sure to also try a slice of "panforte", a dense fruitcake with nuts which tastes like Christmas and is one of the most popular Christmas treats.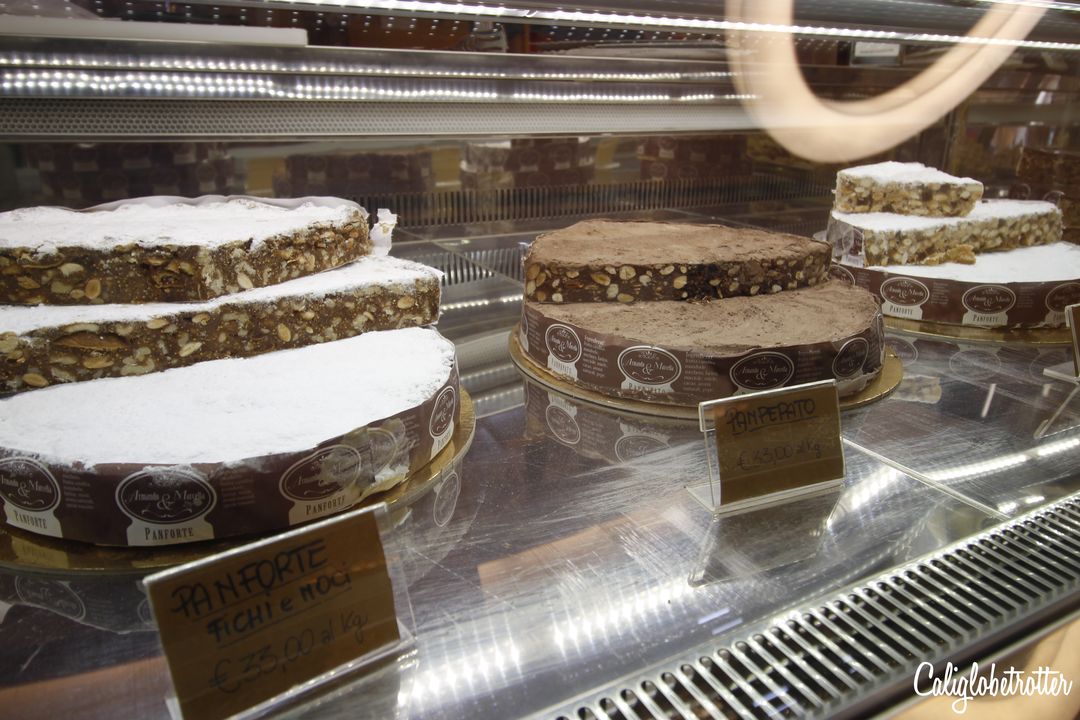 Prior to deciding to take our new dog to Italy with us, we had considered doing a Siena food & wine tour, however, since we took him, we opted out of doing this, as well as a walking tour of Siena and instead we simply perused the town ourselves.
How to Get to Siena
By Car:
Siena is an hour drive from Florence and just 45 minutes from San Gimignano. Obviously, getting to Siena by car will be the fastest and most convenient way to get
Where to park in Siena:
Best to arrive by 8am if possible, otherwise finding parking is tough! You'll park just slightly outside of the historic city center since driving in the center is forbidden. We got lucky and found free parking at a parking lot in Siena near Siena's Fortress from the 16th century (Address: Viale Vittorio Veneto, 43, 53100 Siena SI, Italy) however, we had also found a nice parking garage (Viale Curatone, 16, 53100 Siena, Italy).
For more information on parking in Siena, click here.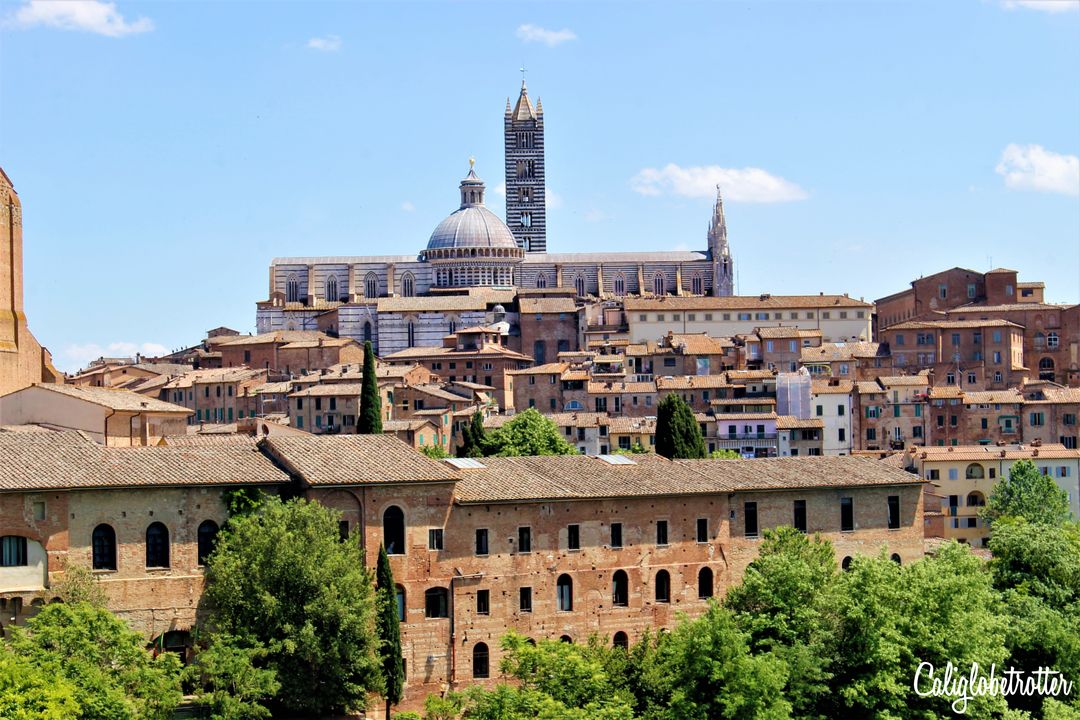 By Bus:
It is also possible to get to Siena by bus, especially if you're coming from Florence. From Florence, the bus station leaves from Firenze Autostazione, which is near Florence's Santa Maria Novella Train Station and drops you off a little over an hour at Il Corso, Siena's main pedestrianized street.
For more on bus schedules and timetables, click here.
By Train:
There are also 16 trains departing from Florence's Santa Maria Novella Station per day, so it's also possible to get to Siena from Florence by train, usually between 1hr10 to 1hr30 min one way.
For more information on trains to Siena from Florence, click here.
Once you arrive in Siena, it will be at the bottom of a hill, but there are shuttle buses which will take you up to the city center, or you can choose to either hike up or take the escalators. 
How to Get Around Siena
The historic city center of Siena is a complete pedestrian area and is easy to walk most of the city, however, there are a few steep hills to trek up/down occasionally, so take it slow should you have any difficulties. Siena was the first European town to ban automobile traffic from the city center in 1966!
Up at the Siena Duomo you'll find the tourist office in the Santa Maria della Scala just caddy-corner from the cathedral. It's open from 10:00 to 6:30 pm and from there you can pick up a city map to help navigate your way around town while listening to the Rick Steve's Audio Europe App, for which he has a really great episode dedicated to Siena.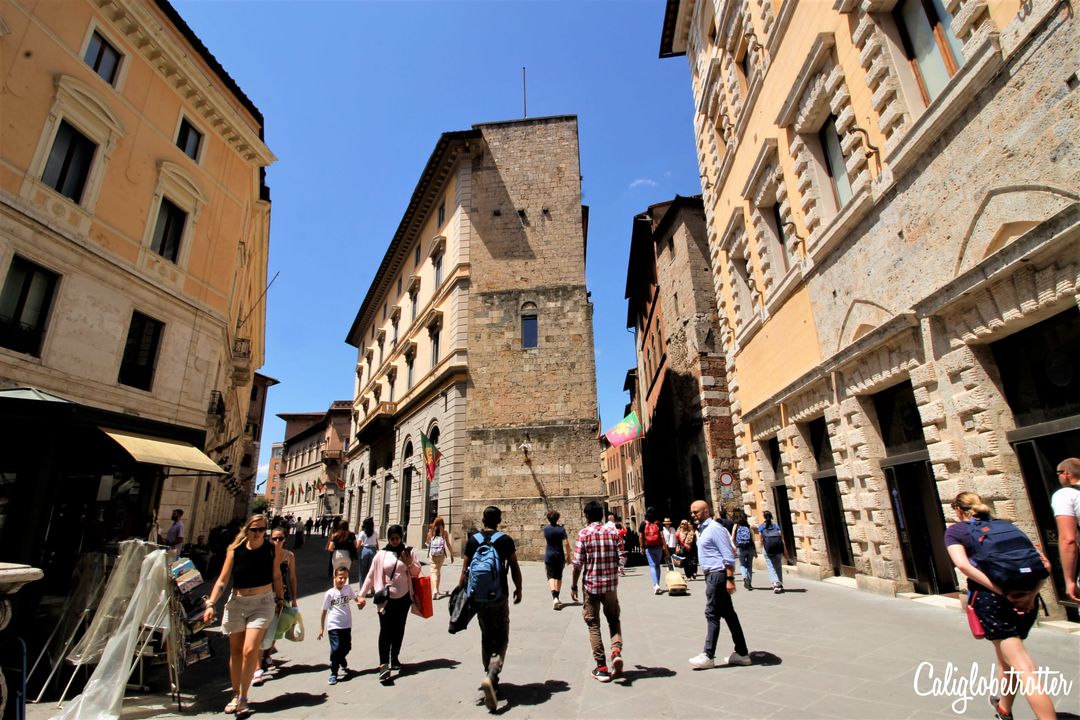 When in the Best Time to Visit Siena
For a general rule of thumb, the best time to visit Italy are the shoulder seasons, meaning April/May or October/November when the weather is cooler, and the crowds have dispersed. The same can be said for Siena.
However, if you want to visit Siena in summer, then in June-September, the weather will be very HOT and the crowds at their peak, not to mention that hotels will be the most expensive.
On the flip side, visiting Siena in summer may be your only choice, considering that the Palio, which takes place on July 2nd and August 16th, which is celebrated up to four days prior to the horse race, then this is a good time to go if you want to watch this historic race. Just keep in mind, some 60,000 people will be joining you in Siena.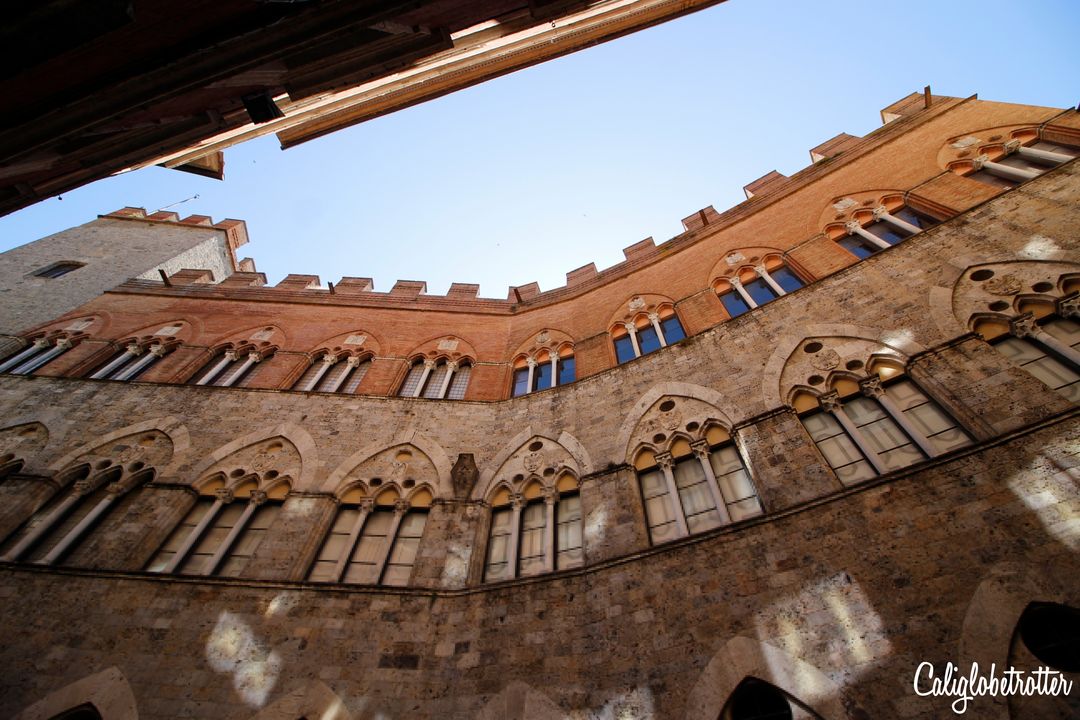 Popular Siena Tours
There are many great tours for Siena, so it can be hard to decide which ones you want to do. I've already mentioned before a walking tour of Siena which is a must if you want to learn about this history of Siena and the different contradas, as well a Siena food & wine tour.
One of the best tours of Tuscany you can do on your own, with a car, is to village hop, along the Chiantiganastrada also known as the Chianti Wine Trail Route, exploring more hill top towns which are part of the Chianti wine making region.
For more on tours of Siena, the Tuscan countryside and other popular towns in Tuscany, click here.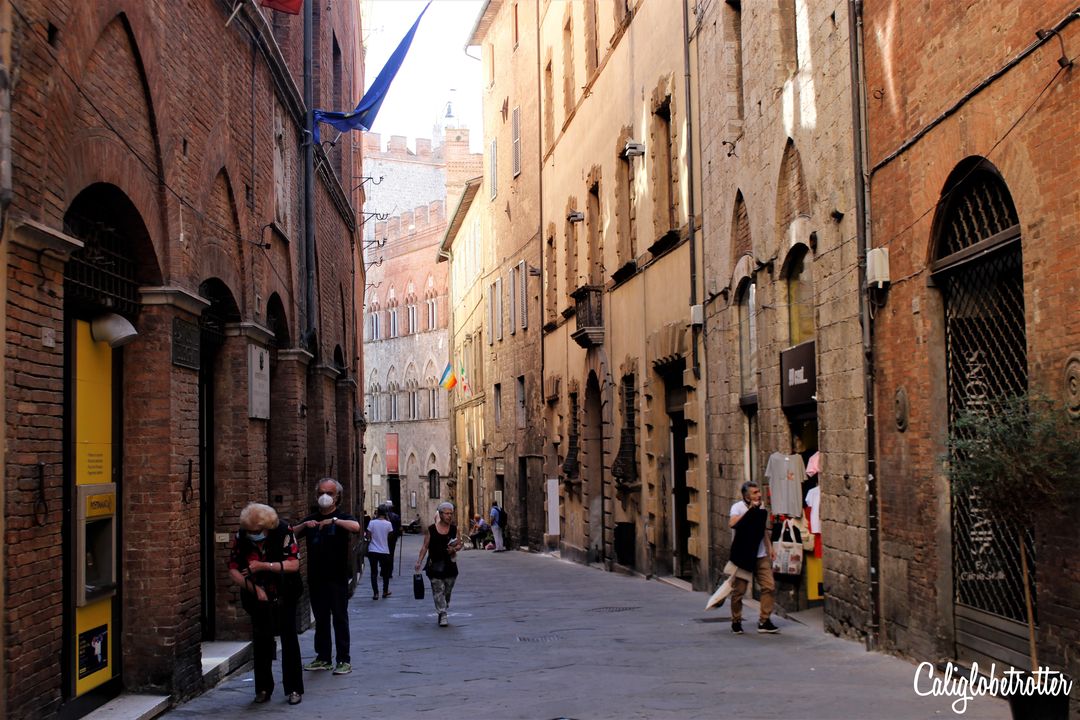 Where to Stay in Siena
My first booked hotel was at Hotel Minerva ⭐⭐⭐in the heart of Siena. I had planned to make Siena our home base for the week as this was why we were coming to Tuscany in the first place. I found this beautiful hotel with stunning views overlooking the historic city center of Siena. However, I was forced to cancel this hotel because of holiday date issues with my employer, and unfortunately, the dates I needed were no longer available.
However, we did stay just a 45 minute drive away as I opted to settle for the week along the Chianti Wine Trail Route, thus giving us the perfect location for many day trips in Tuscany.
We opted instead to stay at Casalta di Pesa⭐⭐⭐⭐, an agricultural hotel (agriturismo), which means that our hotel was actually an old family farm house, surrounded by nothing but rolling hills lined with vineyards. We had an entire apartment, with a kitchenette, a terrace, two bedrooms and two baths completely to ourselves. The hotel also came with a swimming pool to cool off on hot evenings. Couldn't have asked for a better location!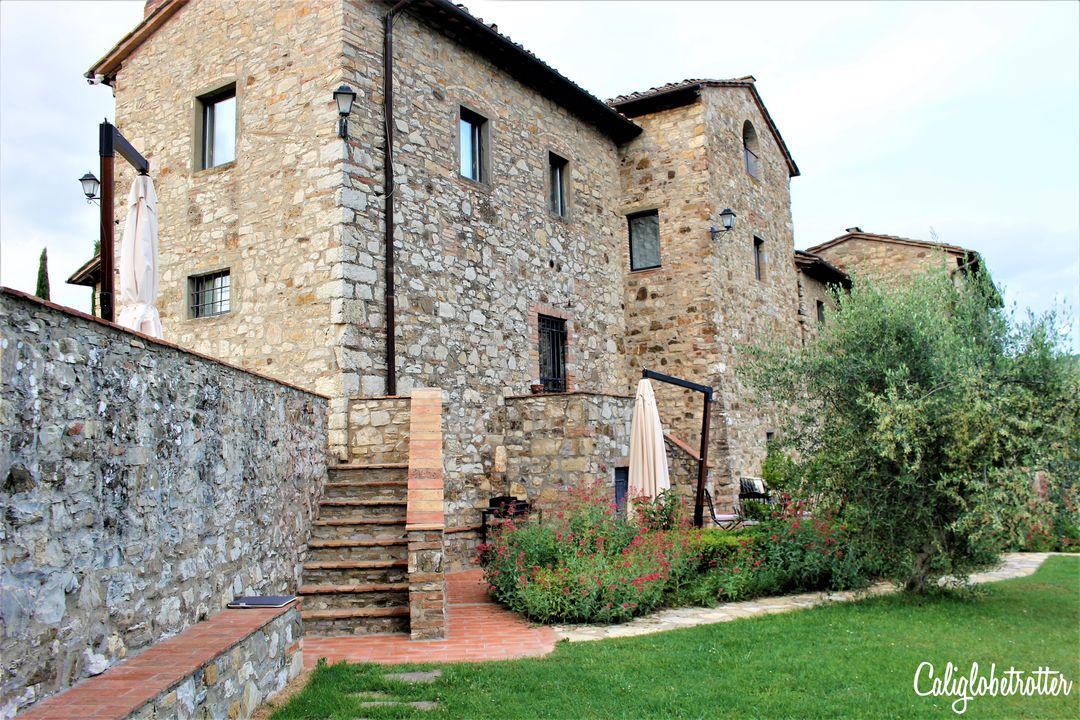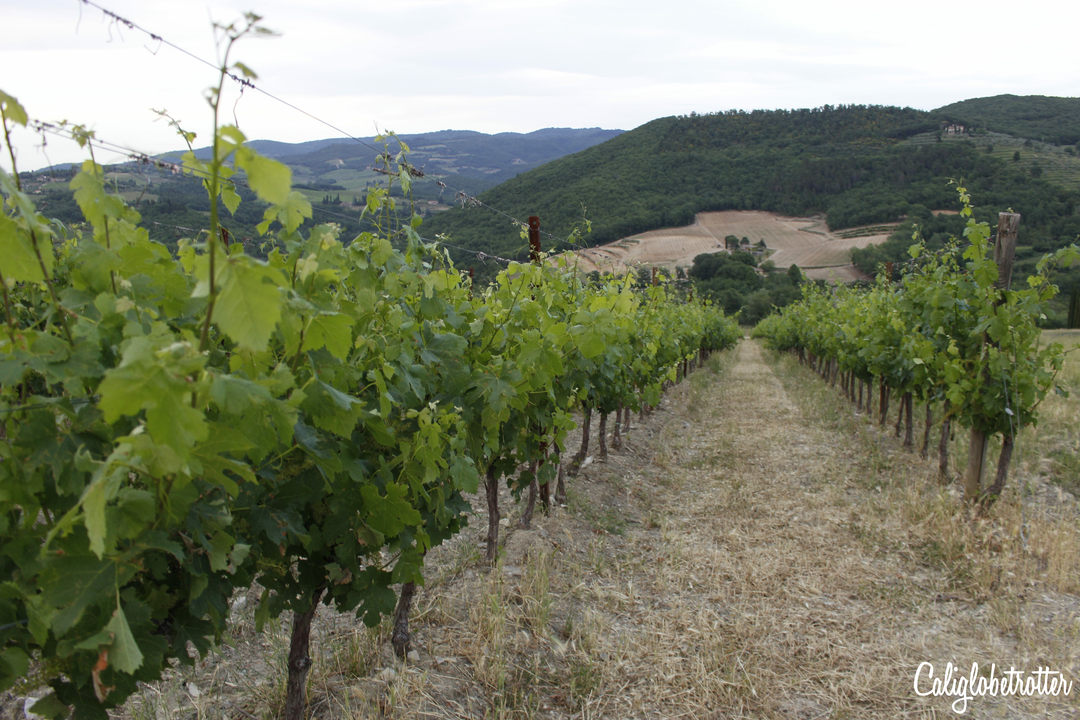 Overall Opinion of Siena
Overall, we were in Siena for a good portion of the day and saw all of Siena's main attractions. We could easily have stayed the entire day, and really should have and would have had it not been for our pupster. It was his first big trip so we didn't want to overwhelm him too much.
I'm so thankful that both myself and my husband are early risers because as they say, the early bird catches the worm. We got to Siena early enough in the morning, it wasn't quite so difficult to find parking, we walked through a good portion of Siena from the parking lot to the cathedral while it was still cool enough and we were one of the first people through the doors of the Siena Cathedral.
And because we got there so early, by the time we left, temperatures and crowds were just reaching their peak which means we avoided both.
However, if I could do it again, Siena is definitely one of those towns I would have preferred to slow down in and really take the entire day to explore, do a proper city tour, explore all the museums, including visiting a few different contrada museums. And had my knee been in better shape, I would have gladly trekked up the narrow staircases of the Tower of Mangia in Siena.
Liked this post? PIN IT FOR LATER!!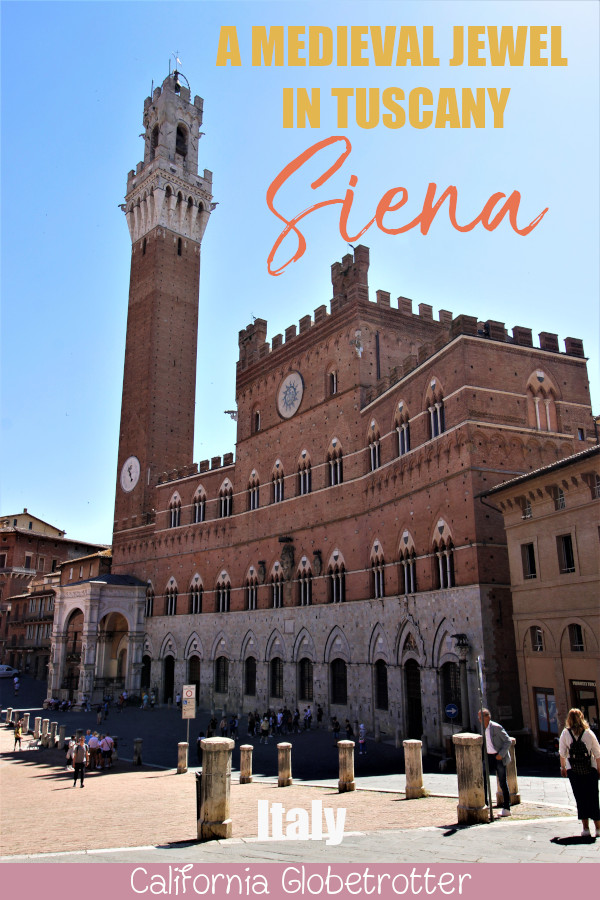 Other Related Posts:
The Towerful Tuscan Town of San Gimignano
Coming Soon:
Volterra
Florence
Pisa
Looking for more practical information on Italy? Grab a copy the following travel guides which we found incredibly useful on our trip and has something for everyone from outdoor activities to historical sites!
Disclaimer: This post contains affiliate links. If you click on one and make a purchase, I might make a little extra spending money, at no extra cost to you. As always, all opinions are my own and these products/services have been found useful during our travels and come highly recommended to you from yours truly!