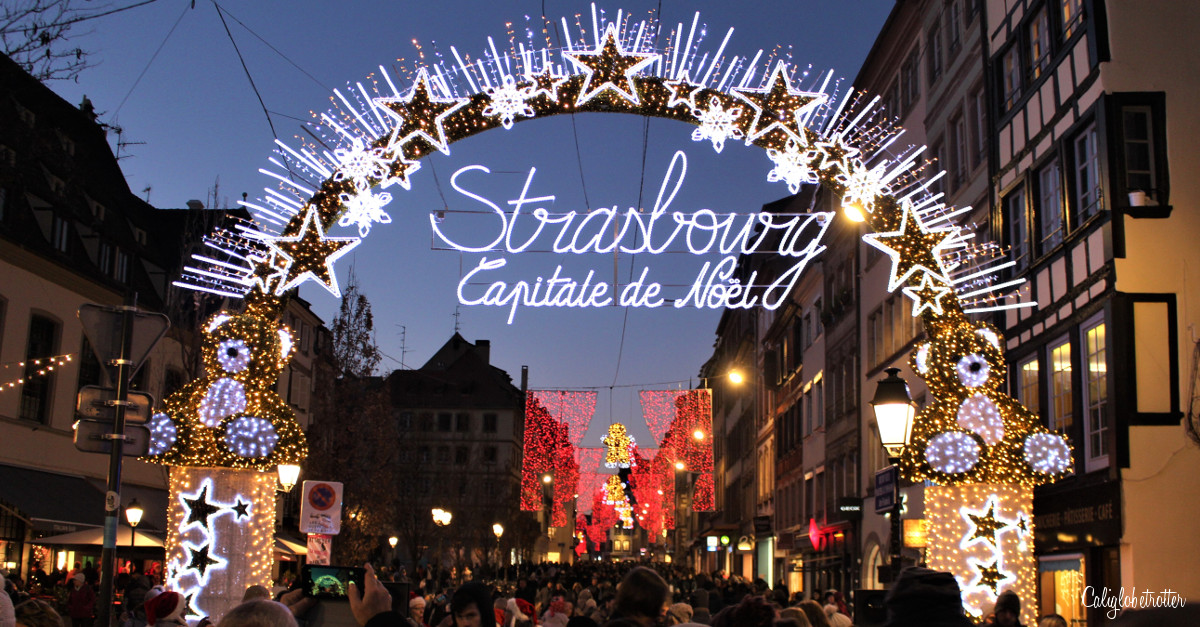 Disclaimer: This post contains affiliate links. If you click on one and make a purchase, I might make a little extra spending money, at no extra cost to you. As always, all opinions are my own and these products/services have been found useful during our travels and come highly recommended to you from yours truly!
If ever there was one place in the world that embodied the spirit of Christmas, it would most definitely be Strasbourg, France. Historically known as the town which held the very first Christmas Market in 1570, making it the oldest market in Europe and is named the "Capital of Christmas!"
Since 1570, Strasbourg's "Christkindelsmärik" (market of the Infant Jesus) has grown exponentially and today caters to some 2 million visitors every year, with hotels being booked a year in advance and selling out quickly.
In case you're interested, PIN IT FOR LATER!!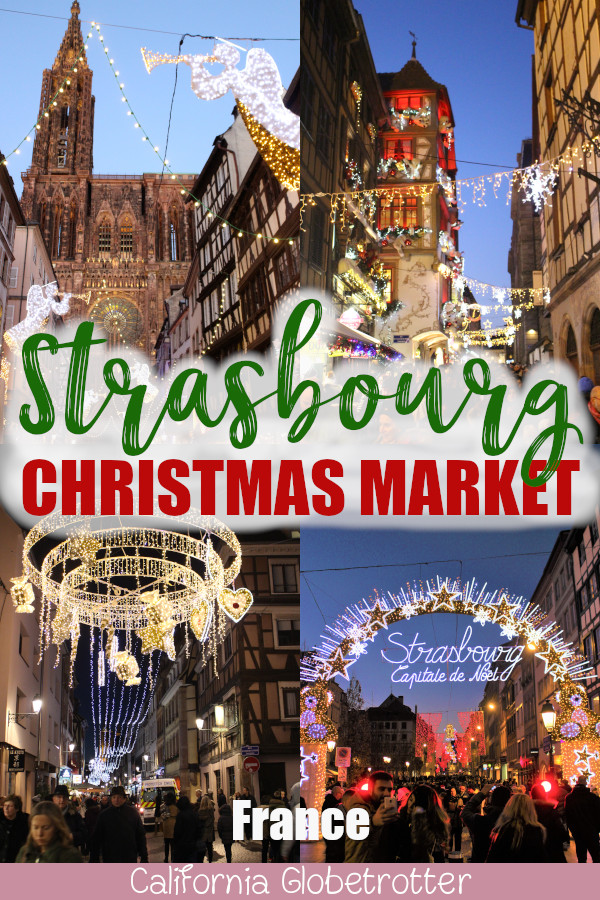 How to AVOID Looking Like a Tourist in Europe
35 Photos to Inspire Christmas in Europe
3 Day Alsace Wine Route Itinerary
The whole city is lit up with festive Christmas lights and half-timbered houses are extravagantly decorated, creating that extra holly jolly Christmas spirit. The smell of sweet mulled wine (here called Vin Chaud) wafts through the air, the mouth-watering smell of warm crepes entice you to be naughty and off in the distance someone is playing Christmas music on an accordion. It's without a doubt the most magical part time of year to be in France!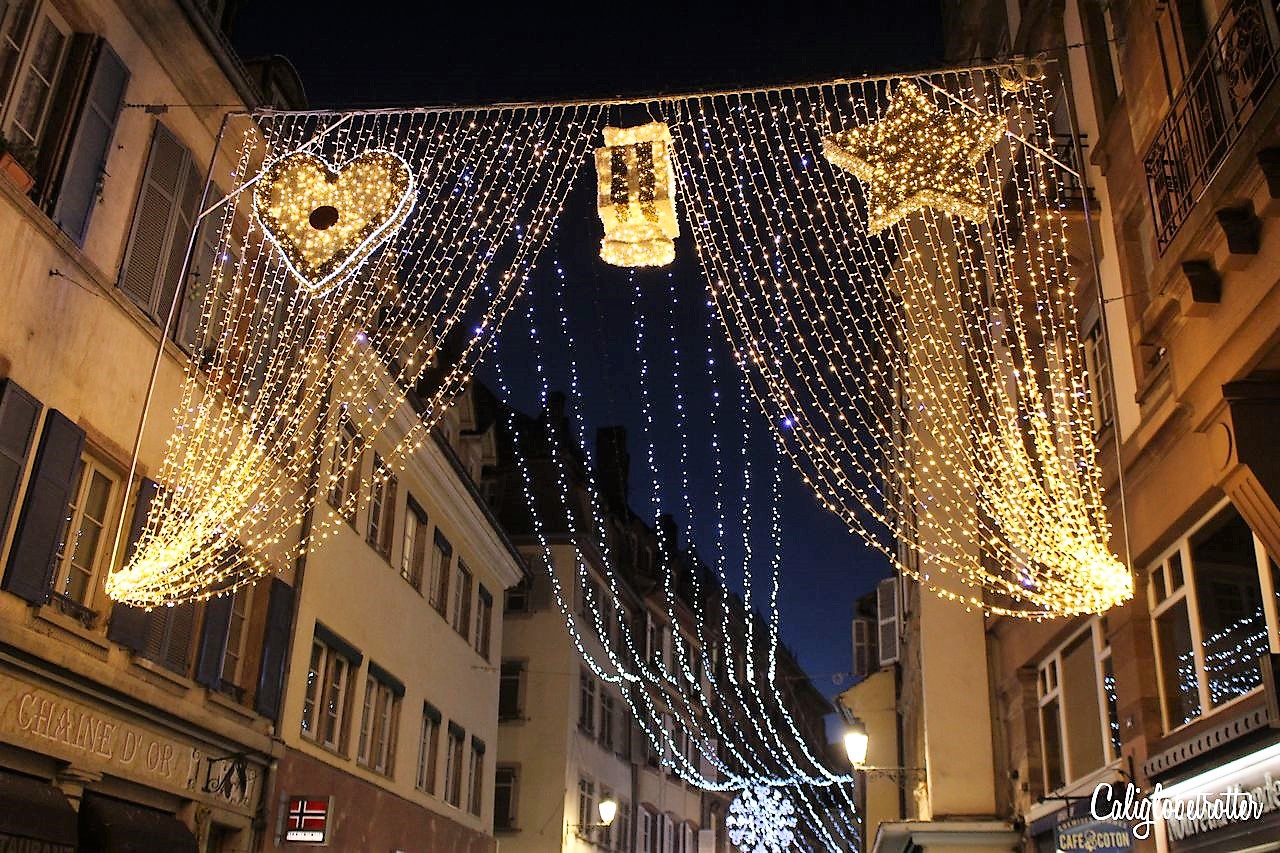 The main market takes place around the beautiful Cathedral of Notre Dame, as well as throughout the town in 11 different locations, making it one of the largest in Europe. With over 300 stalls to peruse for Christmas goodies such as decorations, yummy treats, Christmas beer and unique wine decorations, there is something for everyone to enjoy, so if you're looking for the perfect Christmas Market city break, Strasbourg is it! Though I can't compare the Christmas Market at Strasbourg with another French market, I'd have too say this is the BEST Christmas Market in France!
Strasbourg's Christmas Market rivals any German Christmas Market ten fold. Here you will be hard pressed to find any Bratwurst stands as they have all been turned into Flambee and Crepe stands. Plus, it helps that Strasbourg is one of the most picturesque half-timbered towns in Europe!
Before you can enjoy the good stuff, you should be forewarned that security is high at the moment in Strasbourg, and France is taking extra precautions to ensure the safety of all Christmas Market goers. This extends to no driving within the historic center, parking is available beyond the boundaries, bags will be checked at the gates and you will see heavily armed military and police personnel. It is nothing to be intimidated about, and if anything, made me feel even more safe knowing that their presence in the area was well-known.
Having previously visited back in 2007, before I became the traveler and photographer I am today, my pictures just didn't do it justice and I was itching to re-visit this market because it is definitely top notch! It was everything and more than I remembered!
So, I'll share with you which markets to visit in this Strasbourg Christmas Market guide, what you can expect to find and eat as well as a bit of history about each market to help you navigate the expansive Christmas markets.
Place de la Cathedral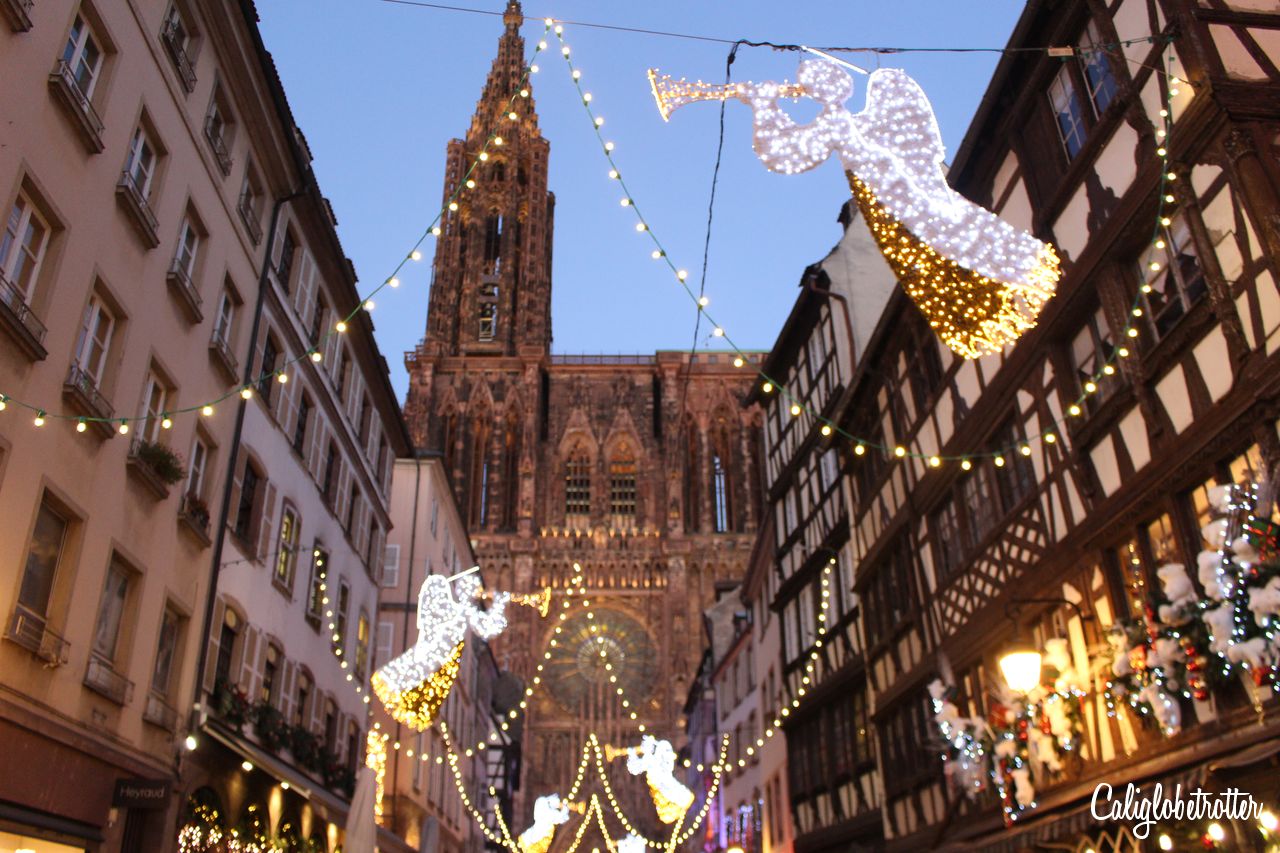 Strasbourg's most famous Christmas markets can be found surrounding the majestic Cathedral of Notre Dame. As it is the historic part of the Christmas market, there are over 100 chalets (stalls) here offering everything from mulled wine to Alsatian pastries. Here, the cathedral towers high into the sky, occasionally ringing it's bells. If you have time and are looking for unique things to do in Strasbourg, take a look inside the cathedral, but I warn you, during the holidays there are some pretty extreme lines to get in! If you do get in, I suggest climbing the tower of the cathedral for a view over the town.
Here we even discovered that Strasbourg even had some Russian influence and found hand crafted wooden Santas and we had the best Nutella Crepe ever! There was no skimping out on the Nutella! During the Christmas Market season, eating the local Christmas Market food is always highly recommended rather than sitting down to eat at a restaurant!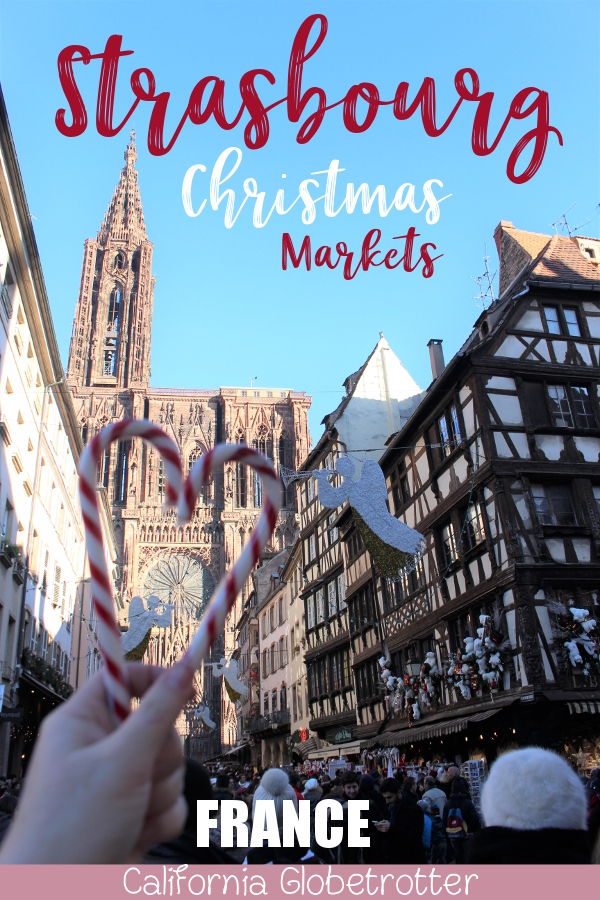 Place du Chataeu (Palais des Rohan)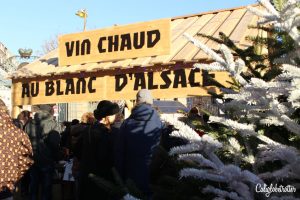 Just opposite from the cathedral is the Rohan Palace, where a small Christmas carousel awaits little children who have been good all year, while on the other side of the palace, along the river, you will find a second portion of the market. Here I discovered the most exciting thing in the entire market: Macarons!! I guess a French Christmas Market is not French without Macarons! And not much further was an adorable hut to get Vin Chaud with a few chairs and benches to sit and enjoy the beautiful sunshine we were having!
Place du Marché aux Poissons
Next to the Palais des Rohan, you can taste the delicious food and wine from local bakers, winegrowers of the Couronne d'Or, Alsace foie gras producers, the Tribu des Gourmets d'Alsace and local beer brewer.
Place Kléber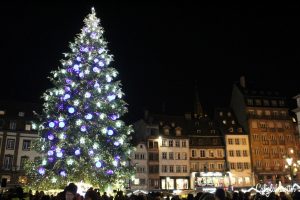 Known as "The Sharing Village", this market keeps alive an old tradition of Strasbourg;s citizens leaving gifts under the enormous Christmas tree for the poor. Here you will find a Christmas market of charities such as UNICEF and other outreach programs. The tree has been known to reach a height of 107 ft (32.5 m) but has been averaging around 98 ft (30 m) since 2010. This will most likely be the first market you encounter as you make your way into the Strasbourg city center. 
Place Benjamin-Zix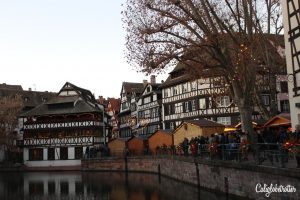 Known as "The Three Kings" market, this market can be found in the historic Petite France neighborhood of Strasbourg. Once known as the filthiest part of town during the Napoleonic Wars, but today is one of the most picturesque corners of town with a plethora of half-timbered houses, so naturally the Petite Franec Christmas Market is where it's happening! Here we enjoyed a delicious sugar donut in the shape of a pretzel. This part of Strasbourg is considered to be one of the most beautiful  canal cities in Europe!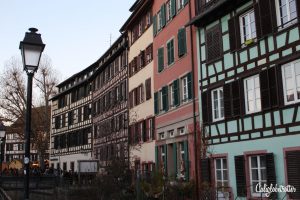 If you're wondering where to stay in Strasborug, our hotel was not far from here and was incredibly adorable with beautiful woodwork and half-timbered framing throughout the hotel. Being a HUGE half-timbered fanatic, I highly recommend staying at the Best Western Europe Strasbourg by Happyculture ⭐⭐⭐ for a comfortable and aesthetically pleasing stay!
Place des Meuniers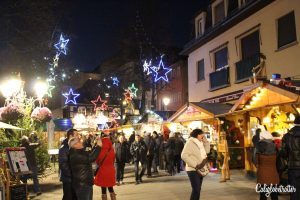 A small unique market is located here, offering only a taste of small growers and producers of Alsatian goods. It was here I discovered my favorite purchase of the day: a Raspberry Liqueur Egg Nog, among other flavors.
Place du Temple-Neuf
Located in front of a small Lutheran church, the Carré d'Or offers more Christmas goodies including our first glimpse of the popular Christmas beer. A funky Christmas market, it was fun to walk around and peruse some of the strange items like the unique wine Christmas gifts, variety of teas and more! The wine holder above reminds me on the Tin Man version of Lumière from Beauty and the Beast, wouldn't you agree?
Place Gutenburg
Here, in front of the Johannes Gutenburg statue, you will find a Christmas village dedicated by Strasbourg to the country that has been asked to host a Christmas market from their country. This year, Portugal was invited to display goodies, so you could say that this is considered the "International" Christmas Market in Strasbourg!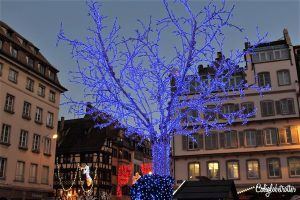 Other markets include:
Place d'Austerlitz: The Alsatian Christmas delicacies market offers excellent local products.
Place Saint Thomas: known as "Children's World", it is definitely well worth a visit for families.

Place Grimmeissen – The OFF Market will be open from 1 to 24 December from 12.00 to 20.00, and until 21.00 on Fridays and Saturdays. On 24 December, the OFF Market will close at 18.00.
As the crowds are massive, it is best to arrive as early as possible to try to enjoy the market before it becomes unbearably crowded. We arrived around noon, which was already full, so that we could enjoy the market in the daylight. Around 445-5pm, the sun started setting, which offered the most magical part of the day as the Christmas lights switched on and the "Blue Hour" was set in motion. If Strasbourg wasn't already completely and utterly magical during the day, the evening made it absolutely, marvelously enchanting! 
Related: Tips for Taking Blue Hour Photos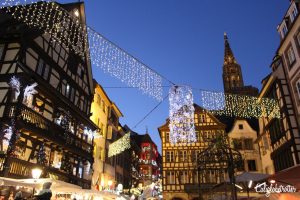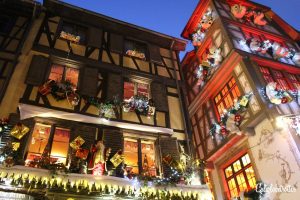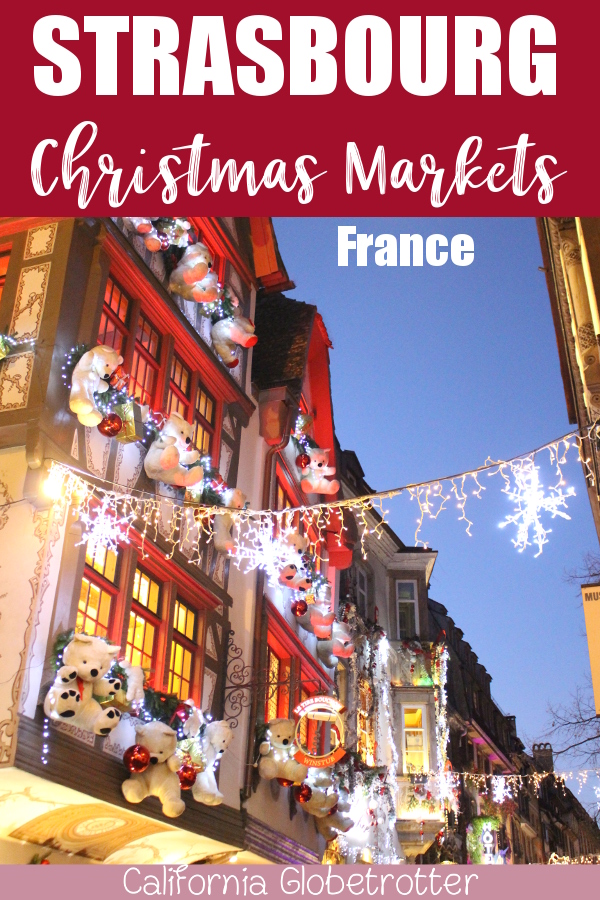 We easily meandered from one market to the next as there were banners hanging between buildings in the alleys, as well as street signs pointing us in the direction of the markets. Here I provide you with a Strasbourg Christmas Market map which you'll helpfully find throughout the city center.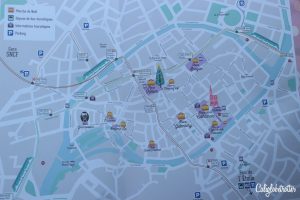 Tips for Visiting Strasbourg's Christmas Market
When are the Strasbourg Christmas Markets are open?:
24 November from 2-9pm (Opening Day) to December 30th, closed on December 25th
24 December 11-6pm
Fridays and Saturdays, the markets stay open until 9pm
Getting to Strasbourg:
Park & Ride: Get a group ticket that covers parking charges and a return trip by bus and/or tram for both driver and passengers (maximum 7 people), open 24/7
The City Tram will not stop at the station Broglie from 25 November to 24 December
The City Tram will not stop at the station Homme de Fer during the opening hours of the Christmas markets
If you're interested in visiting France and are looking for more information, I highly recommend using the DK Eyewitness Travel Guide or the Lonely Plant Travel Guide! Without these guides, I would be lost! These are my travel Bibles!
Disclaimer: This post contains affiliate links. If you click on one and make a purchase, I might make a little extra spending money, at no extra cost to you. As always, all opinions are my own and these products/services have been found useful during our travels and come highly recommended to you from yours truly!
Popular Places to Visit in France:
Beautiful Things to See & Do in Colmar
3 Days on the Alsace Wine Route
The Top 10 Most Adorable Towns in Europe!
Liked this post? PIN IT FOR LATER!!
Save
Save
Save
Save
Save
Save
Save