Every year has its ups and its downs, the highlights and the negatives from which we grow and learn or we can't wait to do again. When traveling, these positives and negatives can make or break a vacation. With each trip you book,  you learn something new for the next holiday. No matter how we look at it though, they are memories we will look back on and cherish and we will either say "I can't wait to do that again!" or "I wish I had known better!"
Here are the best and the worst memories and everything in between from our travels in 2015.
Best Vacation: Road trip through Croatia
Croatia was just the absolute best of the best vacations. Everything was just beautiful, the people were lovely, the history is interesting. We stopped at Plitvice Lakes National Park, Zadar, Krka National Park, Split and finally Dubrovnik.
Worst Vacation: Aachen, Germany
To be honest, we didn't really plan much for this trip as it was combined with going to the Netherlands to see a friend. But we had thought that maybe it could be interesting to move to Aachen. How very wrong we were. We were highly disappointed in Aachen and found it to be very dirty, old and sketchy, although the old city center was very nice. We stayed in Aachen for 3-4 nights as the plan was to check out the town and see if we would like living there. It took us 30 minutes to decide we did not. So we made day trips to Monschau, Leuven and even left a day early to drive down to Strasbourg, France because anything was better than staying there.
Coldest Day Trip: Zugspitze – Germany's Tallest Mountain Peak for Valentine's Day
To make Valentine's Day less stressful, we got up and decided to do something incredibly spontaneous instead of worrying about what gift to buy each other or what fancy restaurant we would eat at. We hopped on the train and headed to Germany's tallest mountain peak and had a wonderful, cold, romantic afternoon together on top of Germany. Nothing could have been better!
Hottest Day Trip: Ulm / Burg Hohenzollern
I remember that summer officially kicked off the day before we went on this day trip which was the 4th of July. The next morning we got up super early and decided to hit the road, stopping in Ulm for lunch, checking out the Wiblingen Monastery Library before finally heading to Burg Hohenzollern. We decided to go without taking into consideration just how HOT it would be and we ended up skittering around looking for shade just to keep out of the sun.
Best Meal: Lolo: Filleted Poultry in a Riesling Wine Sauce with spätzle in Strasbourg, France at Au Dauphin Hans: Blue Plate Fish Platter in Split, Croatia at Diocletian's Wine Palace
Worst Meal: Tramonto Restaurant in Split – Worst service, Worst waiter & Worst food

Best Experience: Visiting the Heidelberg Christmas Market again
After studying abroad in Heidelberg from 2007-2008, it will always have a special place in my heart. It was the first time I had ever experienced a Christmas market and it was magical. And I had almost forgotten just how beautiful it was 8 years later. So, we decided to meet a friend for the day here and I filled up again on memories long gone.
Worst Experience: Breaking out in a heat rash in Dubrovnik

Best Concert: Chris Young in Munich

Most Spontaneous Moment: Hallstatt, Austria
We had planned to drive down to Königssee to use our tickets for the Jennerbahn Cable Car, but it was an incredibly foggy day so we decided to just continue driving to Hallstatt, as I had seen pictures of the town just as stunning on a foggy day as on any other normal day. It turned out to be the best decision ever on a beautiful autumn day. The bonus to this day was that the town wasn't packed to the brim with tourists as I imagine it could have been on a better day.
Longest Drive: From Regensburg to Derby, England
We had this trip planned forever and wanted to fly, but for some reason, we decided we would drive since the day before our trip, we had just bought our new car. What better way to test it out than a long ass road trip across Continental Europe, over the English Channel by boat and driving on the left side of the road in England!? One way, the trip took about 15-20 hours to see one of my best friends!
Most Amazing Sunset: Ljubljana, Slovenia
On our first evening along our road trip to Croatia, we stopped for an evening in Ljubljana. After checking out the town we went back to our hotel to freshen up for dinner and when I opened the window for some fresh air, saw the most amazing sunset ever, with a heart formation in the clouds. I dropped everything I was doing, plunged for my camera and started shooting!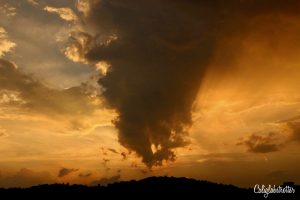 Coolest Souvenir: Mosaic Lamp from Mostar, Bosnia-Herzegovina
This lamp will mean more to me than just any little lamp. This lamp will constantly remind me to stay spontaneous and never let fear keep you from doing something. We had read online there it could still be dangerous for tourists to go to Bosnia-Herzegovina because of undiscovered landmines, especially after the 2013 floods. We researched all night, got up in the morning and made the last minute decision just to go. We didn't want to pass up an opportunity to go to a beautiful little town like Mostar when we were so close. Turns out, there was nothing to worry about.
Biggest Mistake: Accidentally booking the wrong hotel (see below)

Worst Hotel: Private Accommodation Raspudic in Split, Croatia
I don't know how I managed it, but I did. I booked the wrong hotel in a one star, crummy hotel which felt more like it could have been an Air B&B because it was just a scummy room in some guy's apartment which he turned into a "hotel". The owner smelled incredibly gross. I had to grin and bear it because we were in the heart of Split just two minutes away from Diocletian's Palace during peak tourist season. We were to stay there for two nights, and there was no way we would find another hotel at such a last minute that could have been affordable. I even had to walk around our room with my shower sandals on.
Best Hotel: City Hotel in Ljubljana, Slovenia
Just an amazing hotel. Very comfortable and friendly staff. Just a 3 minute walk from the main square.
Best Picture: Regensburg Christmas Market 
This has become my number one favorite picture from this year. Hans captured a beautiful, magical moment drinking a cup of warm Glühwein with one of the most beautiful Christmas stands behind me.
Most Disappointing Place: Krka National Park & Plitvice National Park

While both parks are ABSOLUTELY stunning and worth a visit, the sheer amount of tourists pushing and shoving, the ridiculously long lines in extreme heat made both of these day trips a bit unpleasant. This was mass tourism at its maximum capacity. But, we had to make do in order to enjoy these beautiful parks! Just a bit of a heads up though: Don't go to Croatia in July/August unless you want extreme heat and crowds.
Funniest Moment: Sitting in a Dutch Clog in Amsterdam
Lately, I haven't been one to do childish things that cause uncontrollable laughter and I realized I needed to work on that when I spontaneously forced Hans to joined me for a photo op sitting in a massive Dutch Clog in Amsterdam. Totally embarrassing as hordes of tourists were standing by waiting to do the same thing, but it was worth all the giggles in the world!
Most Embarrassing Moment: When the wind blew up my dress up in Amsterdam

Most Adorable Town: Monschau, Germany
Technically, I find Hallstatt, Austria to be the most adorable, but Monschau also tops the list! It is one of the most picturesque towns in Germany, giving Rothenburg ob der Tauber quite the competition for "the most beautiful town in Germany". Every corner was absolutely stunning and it felt more like walking through a fairy tale book than real life.
Best Day Trip: Cesky Krumlov, Czech Republic
After Monschau, Germany and Hallstatt, Austria, I would have to say that Cesky Krumlov was an amazing day trip. We took Hans' niece and nephew with us for once, and it was such a great day. This little Medieval town has been so perfectly preserved after being almost completely forgotten about, therefore saving it's unique appearance.
Worst Day Trip: Liege, Belgium
On one of our days we were staying in Aachen, we decided to wanted to drive to Liege, Belgium as it was only about an hour away from us. We did not research whatsoever as we were already in the car and we desperately wanted some Belgian Waffles. But upon arriving, the town looked like an old industrial city and kind of sketchy. We found parking in the city center, but even that was sketchy and smelled of urine. When we got out to walk around, we saw the most of the shops were already closed, trash bags everywhere and worst of all, no tourists. I'm sure people were wondering WTF we were doing there with our camera bag. We tried to find the touristy places and waffles and somewhere decent to eat for dinner. None of which we managed, and within half an hour, we were back in the car and on the road home, peddle to the metal. That was the first time in Europe, we have ever felt like we were in the wrong place and needed to leave asap.
Most Beautiful Building: Stadhuis Leuven, Belgium
We drove into Leuven mostly just to check out the city hall building and of course, to find the waffles we were so unjustly denied in Liege. The city hall in Leuven is absolutely stunning and 300 intricately carved statues on the entire outside façade of the building.
Best Dessert: Belgian Waffles from Leuven!
We totally ditched Aachen to straight up book it to Leuven in the hopes of finding Belgian Waffles. You would think being in Belgium and all, they would be everywhere, but we were surprised to find that they are not. Or at least, you really have to search for them and they seem most popular in tourist destinations. Leuven is a bit off the radar, and as we were giving up hope of finding some and heading back to the car, we found ONE waffle stand!
Bring on 2016! We're ready for anything!!
What was your best day trip from 2015?
Save
Save
Save
Save
Save
Save
Save