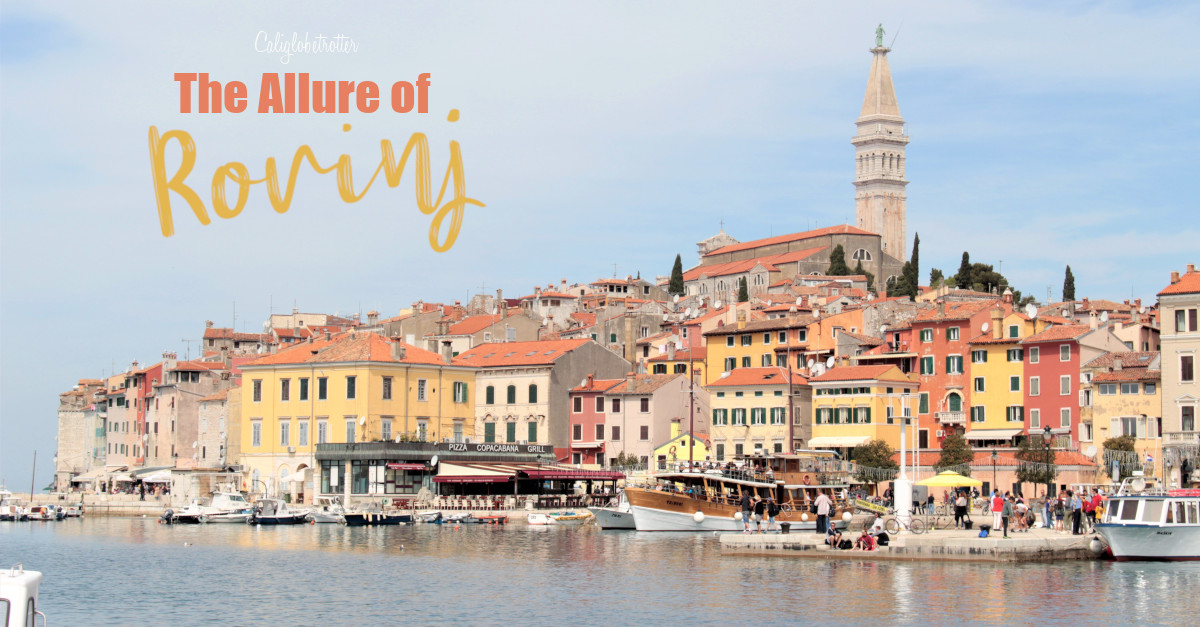 Disclaimer: This post contains affiliate links. If you click on one and make a purchase, I might make a little extra spending money, at no extra cost to you. As always, all opinions are my own and these products/services have been found useful during our travels and come highly recommended to you from yours truly!
An array of ochre, yellow and orange houses rise up from the sea, jutting out on to a thin strip of peninsula, sharply contracting against a blue sky. This is how I shall always remember Rovinj, Croatia, one of the loveliest towns along the Istria which stretches from the Gulf of Trieste to the Kvarner Gulf.
Cobblestone alleys lead in every which direction, with low hanging archways perfectly framing picture perfect alleys very much still lived in by locals. Clothing lines hang hither and thither and occasionally, a glimpse of bright turquoise blue water peaks out, and I realize, yes, this is EXACTLY why I wanted to come here!
Love Small Towns in Europe? PIN IT FOR LATER!!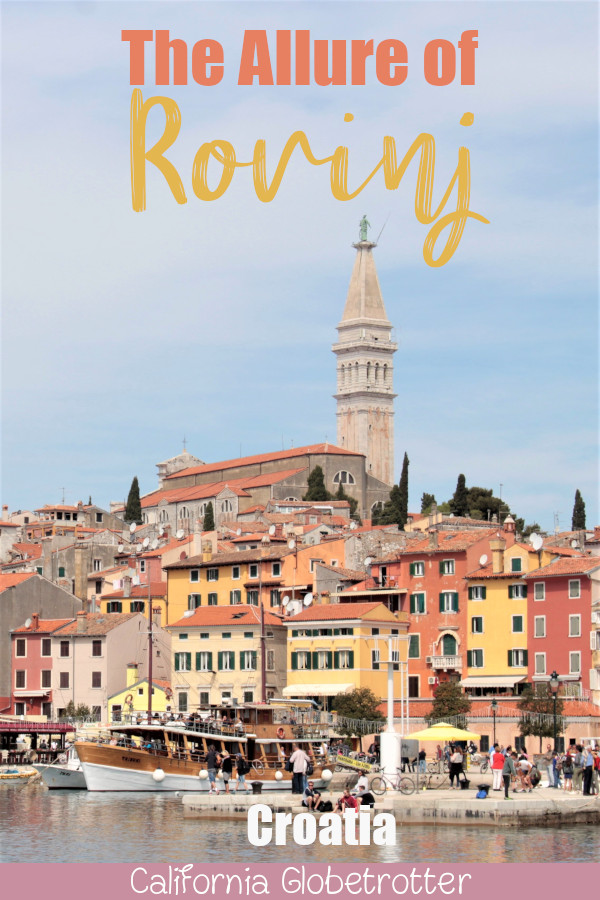 Gorgeous Seaside Towns Along the Adriatic Sea
This article is now available as a mobile app. Go to GPSMyCity to download the app for GPS-assisted travel directions to the attractions featured in this article!
The old town of Rovinj is beautifully located on a hilly peninsula, wrapped around by the Adriatic Sea with the iconic tower of St. Euphemia Church marking its highest point, just like Piran, Slovenia. Therefore, the question I often hear is Piran or Rovinj? To be honest, I couldn't really give you an answer. Both towns are equally stunning and have two different vibes, so I would have to say: BOTH! We decided to base ourselves for the weekend in Piran and from there do a day trip to Trieste, Italy as well as a day trip to Rovinj, Croatia, which after visiting definitely needs to be on anyone's Croatia itinerary!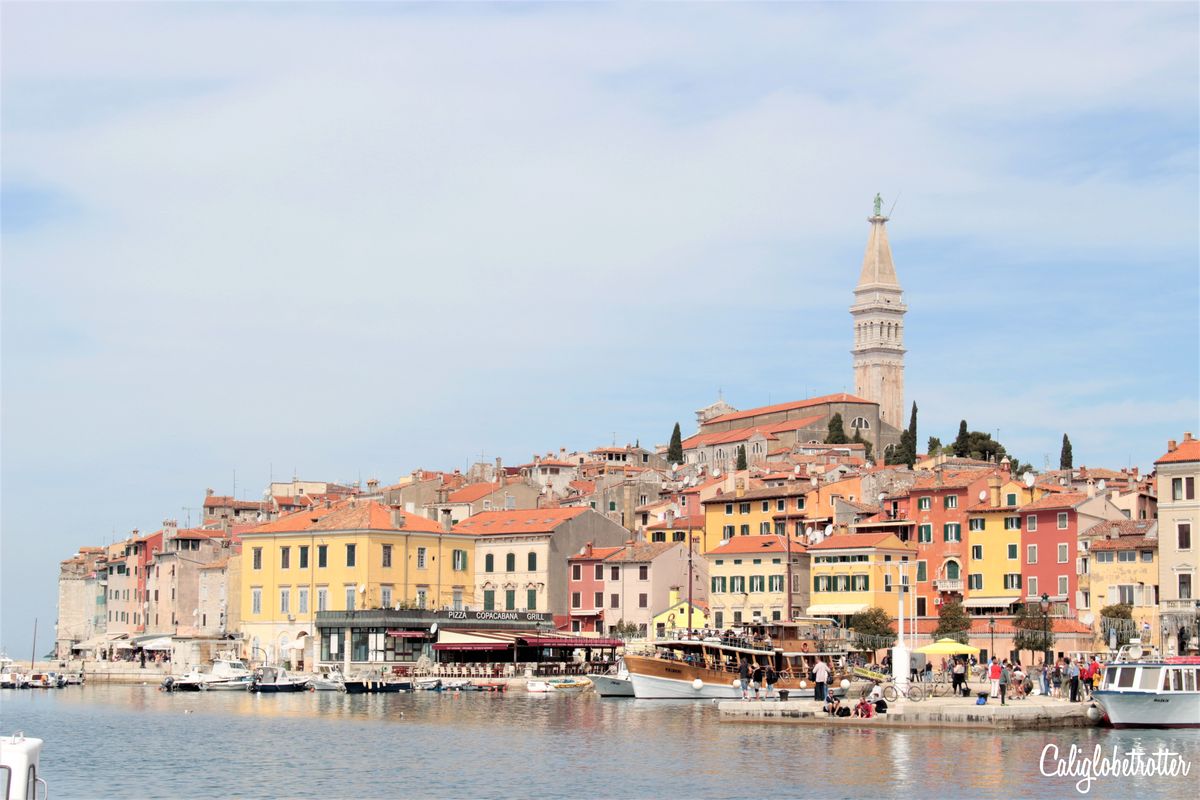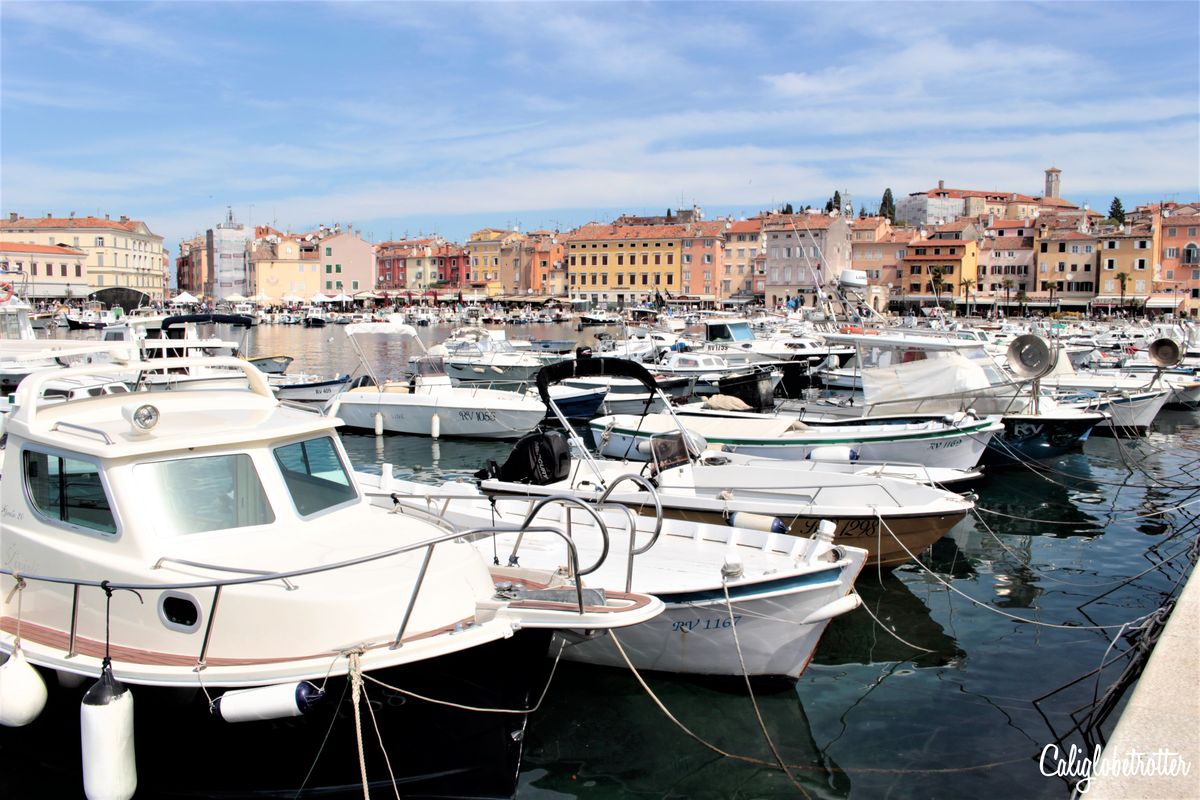 Larger than I realized, bars, cafes and shops fill up every corner of this pretty little town and immediately, it's apparent that Rovinj is busting with dolce vita. Everyone is out enjoying the sun either by boat, walking around or enjoying one of the many local establishments and are welcomed to town with the romantic sound of someone playing the accordion.
While I'm sure there are many things to do in Rovinj, we didn't come here to check off our Rovinj check list. No, we didn't even head to the tourist office, we didn't grab a map and I didn't pre-research the top things to see in Rovinj before arriving. We just went with the flow. No expectations.
All that we knew and expected was that it was going to be pretttttty, and good golly, it was! From the moment I stepped out of the car, it was click click click. And we just wandered wherever our feet took us. In some cases we couldn't decide if we wanted to go left or right, but eventually, it all came back around.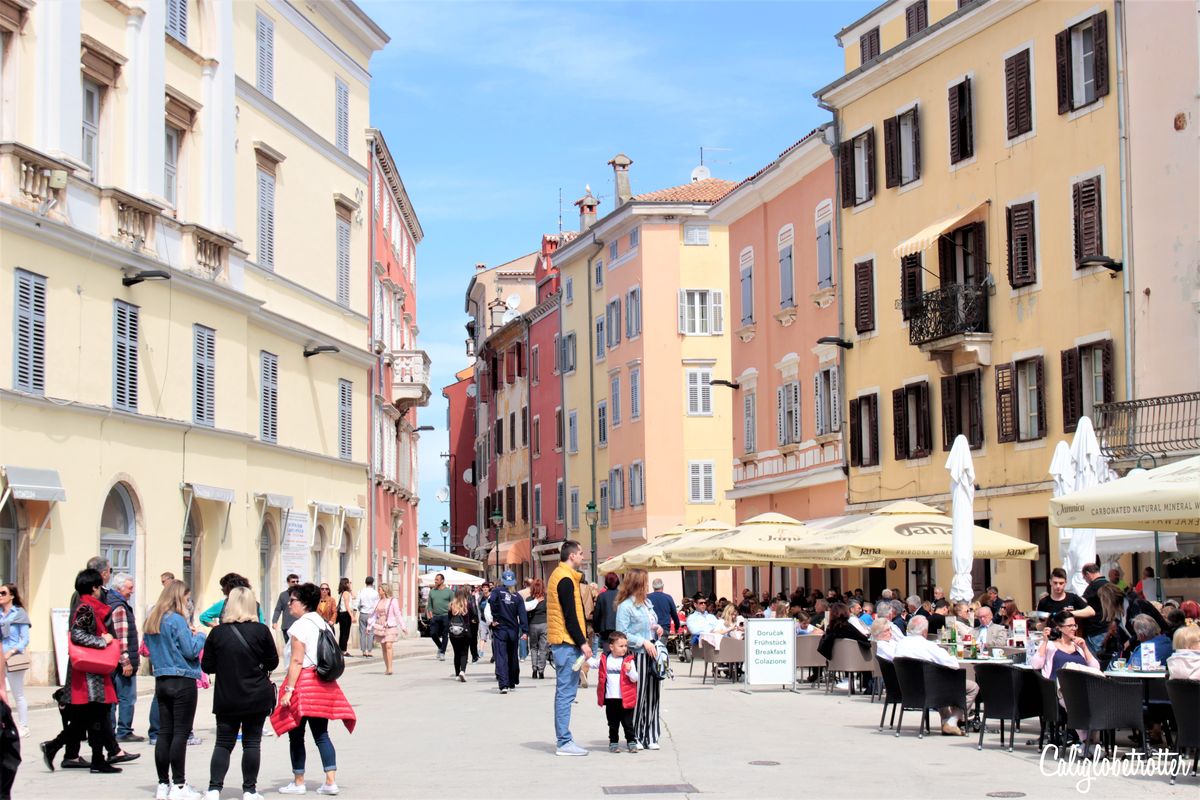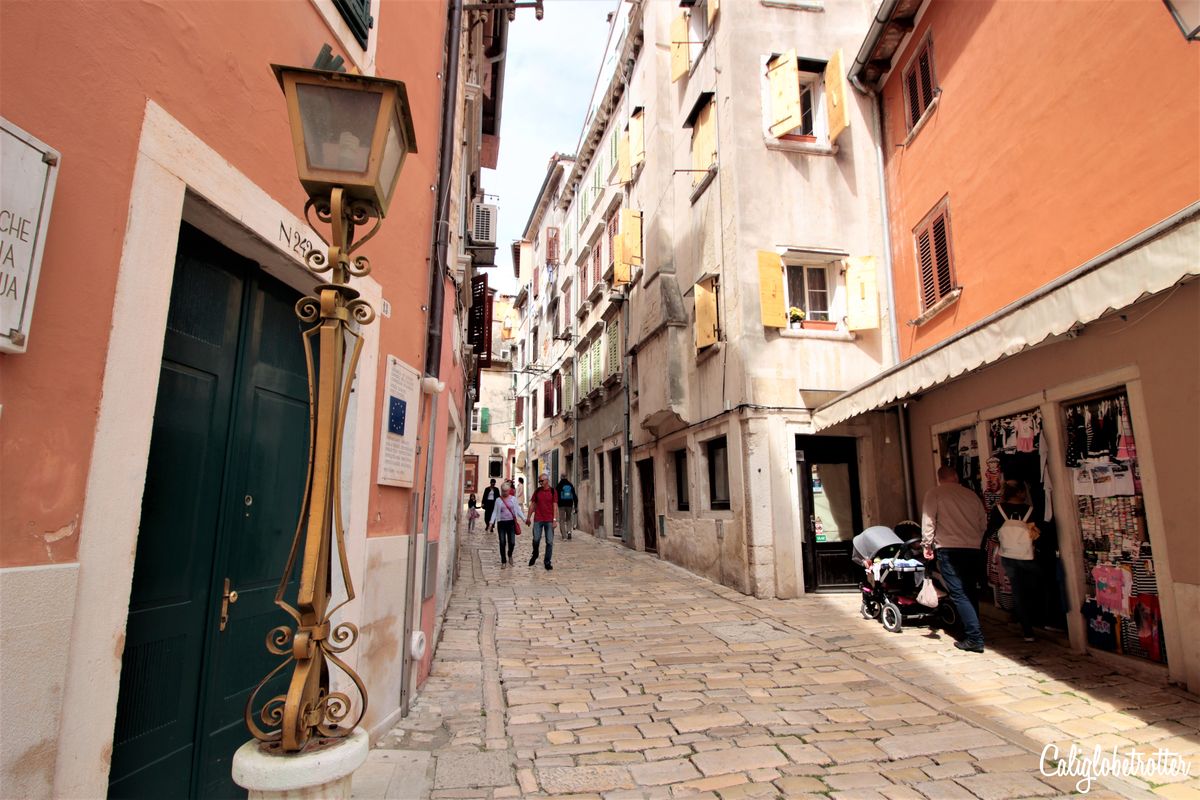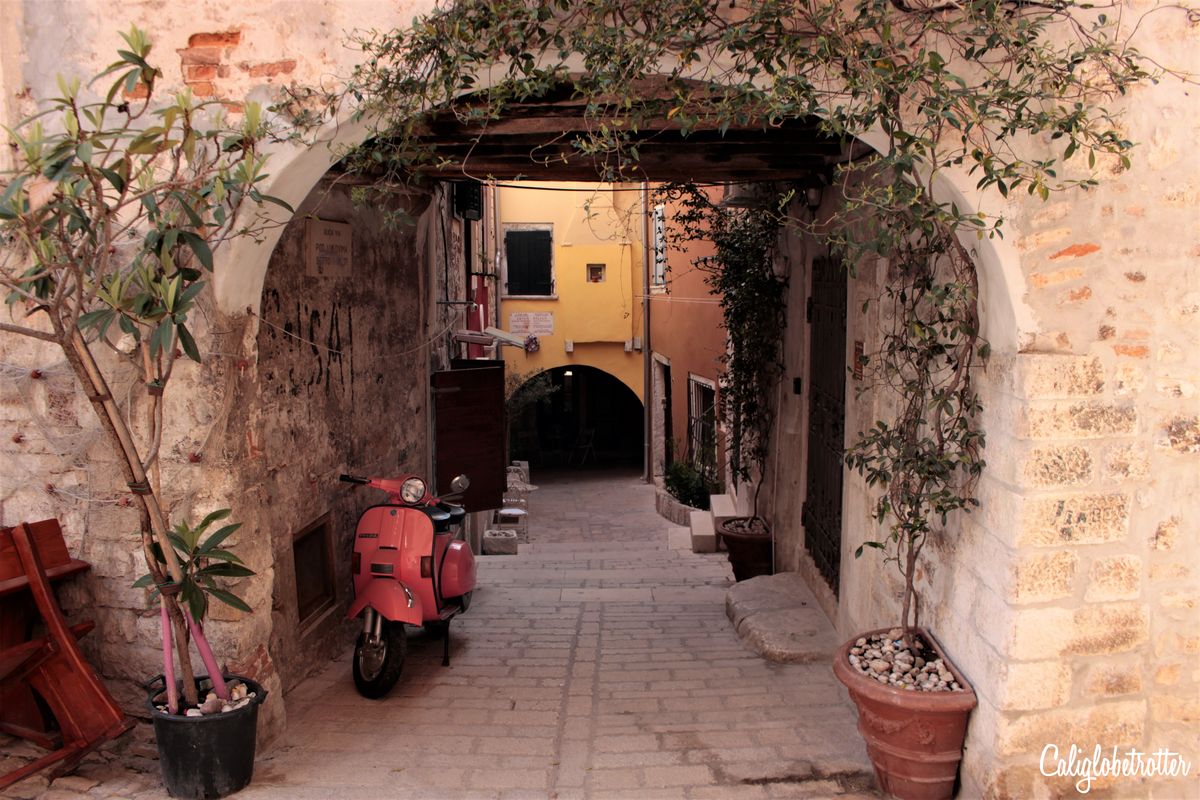 At one point we found the local swimming area, or sunbathing area called the Beach Pavilion. Carved into the stone base of the peninsula were steps leading down to a rocky platform. Locals and tourists alike were sunbathing, while a few decided to try their luck by jumping into still unseasonably cold water. We took a good 30-45 minutes just laying on the edge of the rocks, soaking up some much needed sun on our pasty white skin before moving on.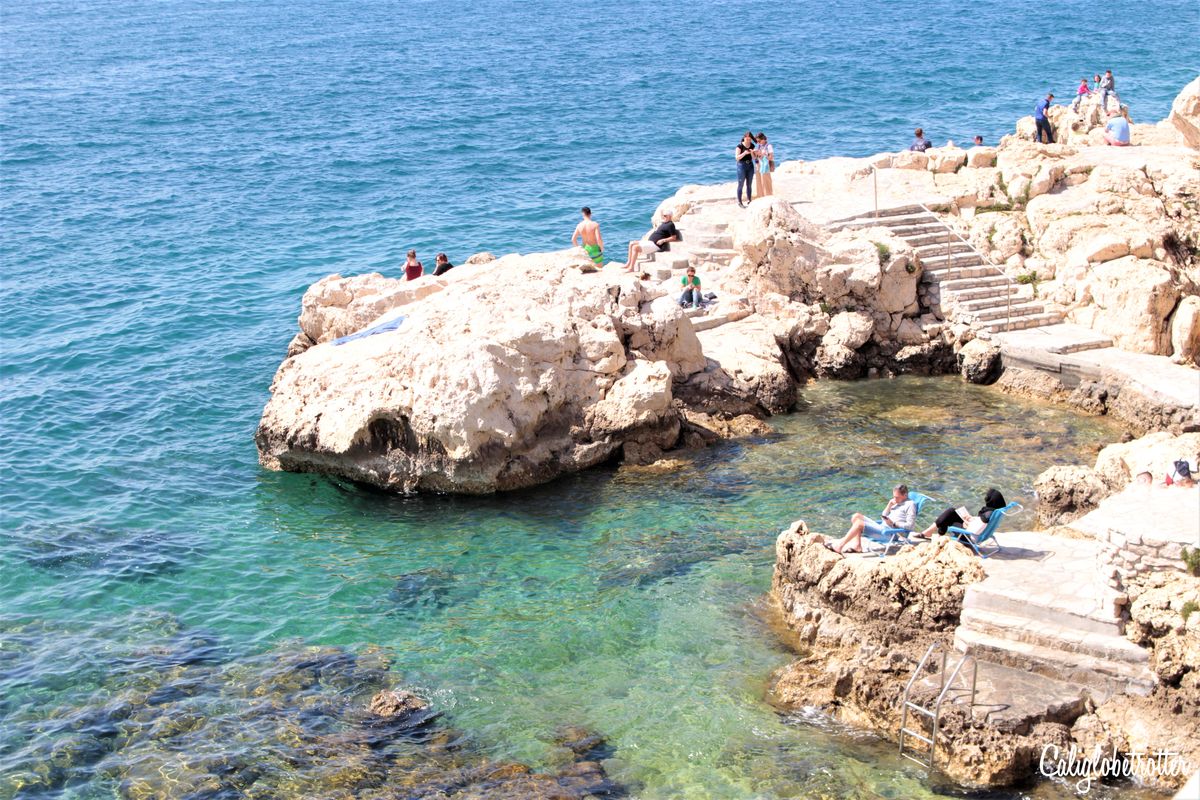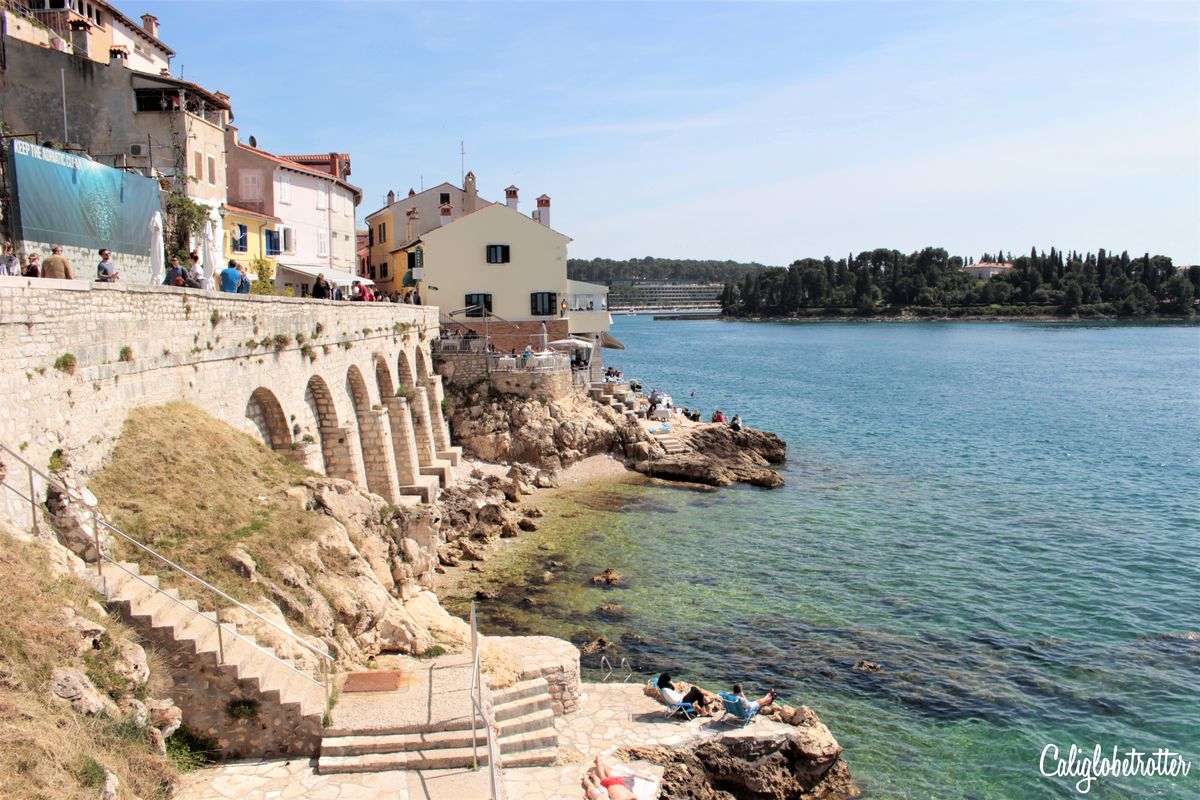 We found ourselves at the heart of the town, at St. Euphemia Church, where we decided we would climb the church tower for a few euros. 15 steps in and I chickened out. I normally, would never pass up a chance to climb a tower for stunning, out of this world, breathtaking views over a pretty town like Rovinj, but as the tower staircase has never been renovated and the wooden beams looked a little worse for wear, my fear of falling through the wooden steps over came me and I turned around to wait as my husband continued the journey upward. As he got those magical views, I enjoyed people watching down at the base of the church on this lovely Easter Sunday, waving at my rather oblivious husband.
Insert legend here: While a church is like any other church, many often come with a legend or two. The patron saint of Rovinj, is St. Eufemija, of Fuma. She was a devoted Christian from Chalcedon, in Asia Minor. When she was 15, she was captured and thrown to the lions for refusing to renounce her faith. As a martyr, her remains were preserved in a sarcophagus in Constantinople until 800. As the legend would have it, her sarcophagus floated all the way to Rovinj where a small boy and his two cows heaved it up the hill.

Related: 15 Things to Do When You Travel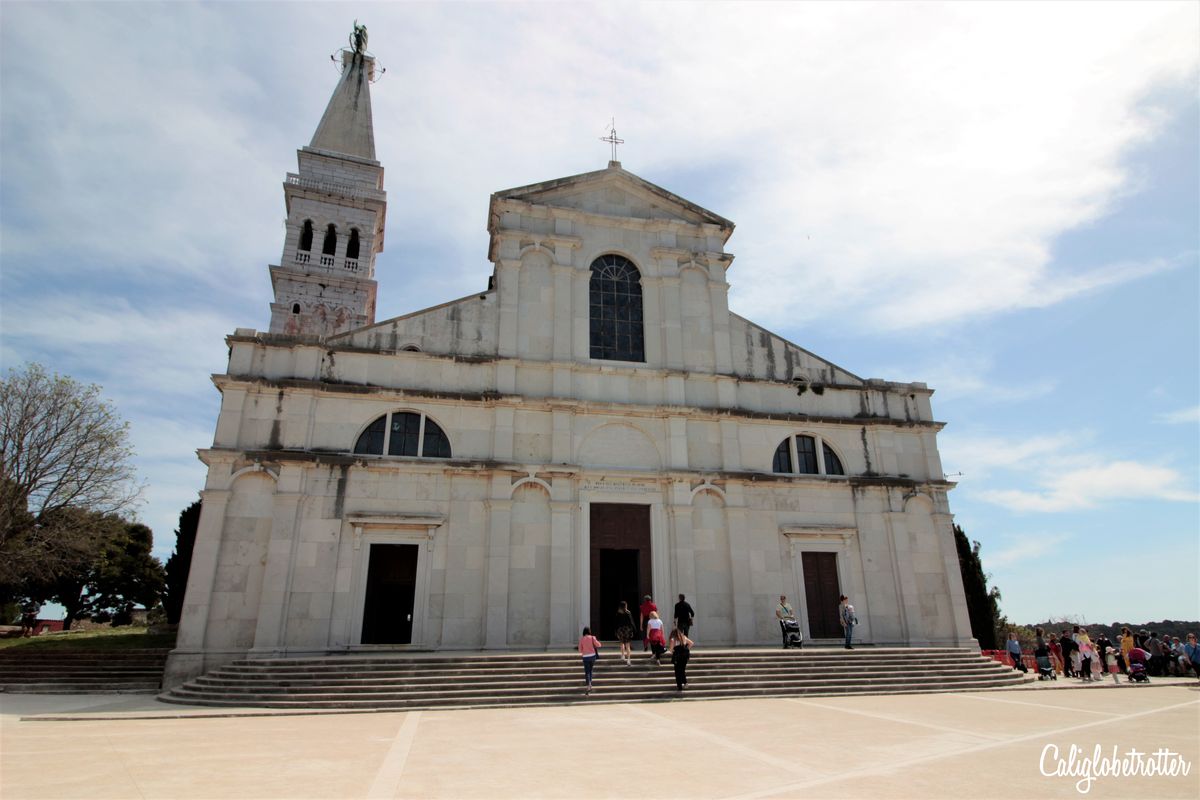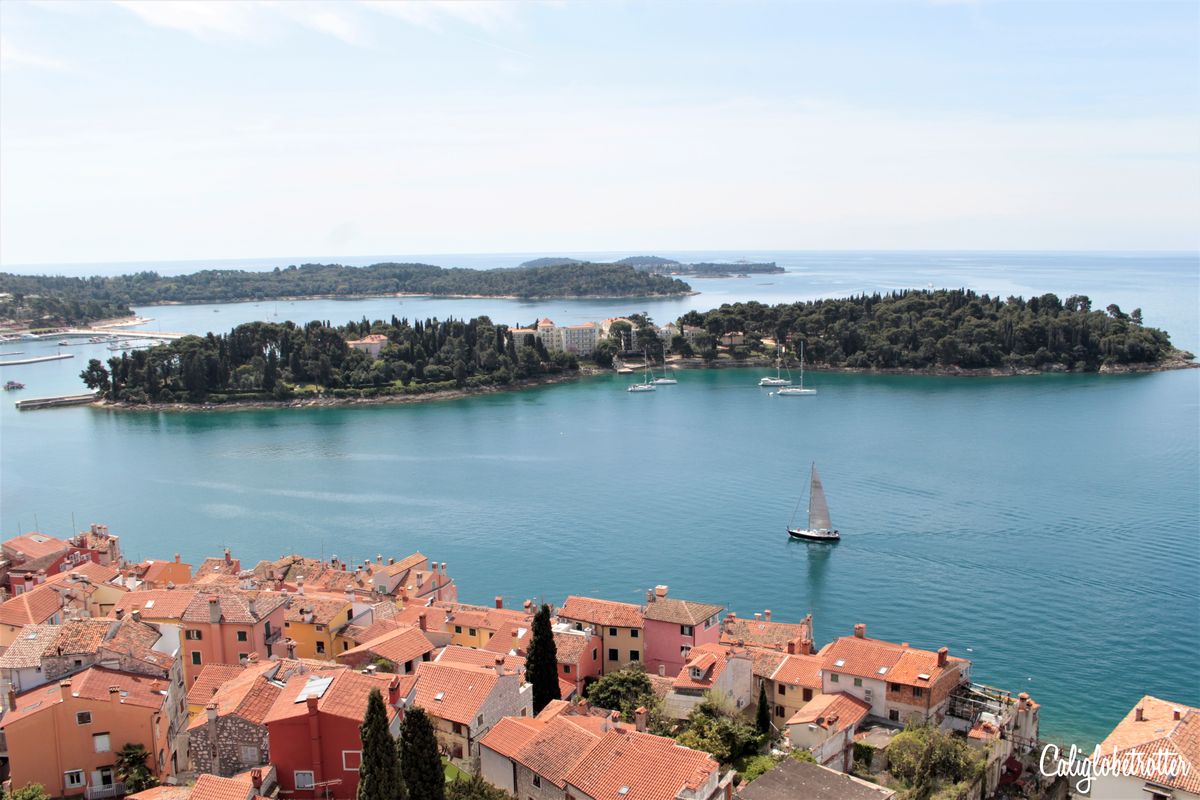 While our bellies grew more and more hungry, we made our way down Grisia, the most picturesque street in Rovinj, lined with shops here and there selling tourist souvenirs, jewelry and paintings, and of course lavender which grows like crazy in Croatia and can be found in almost nay Croatian town.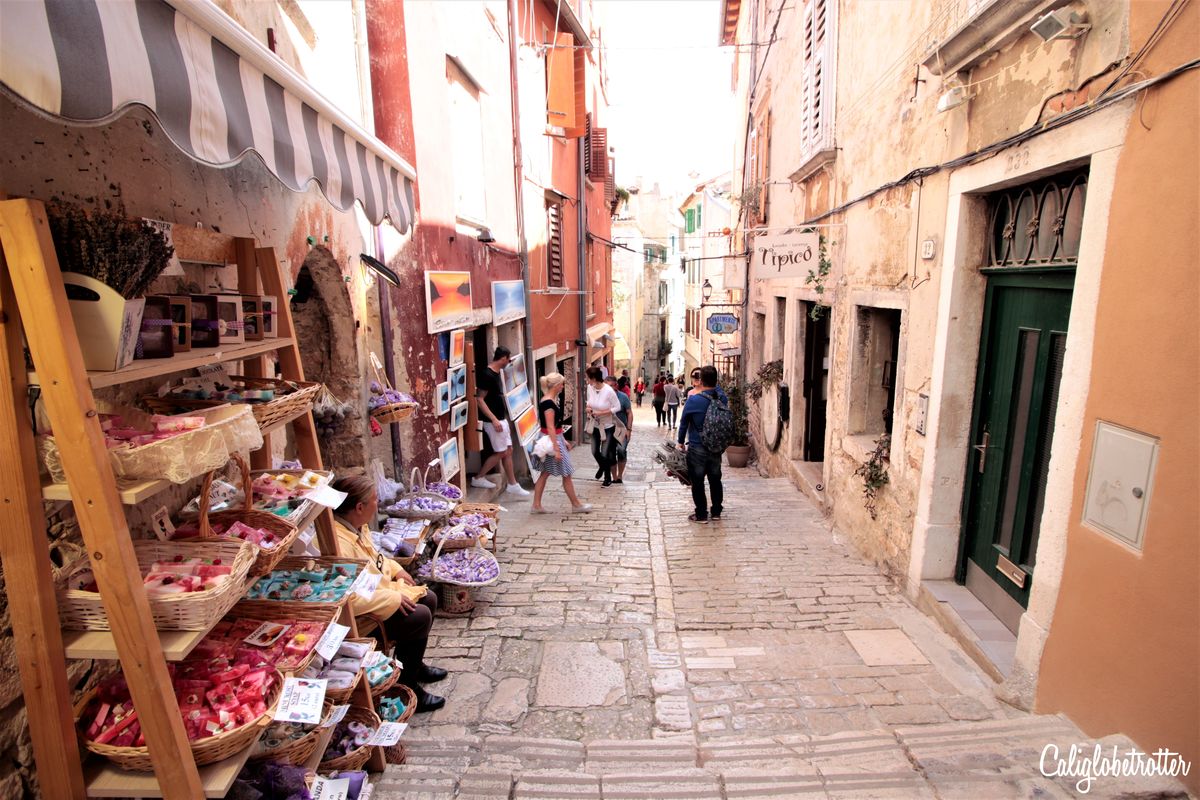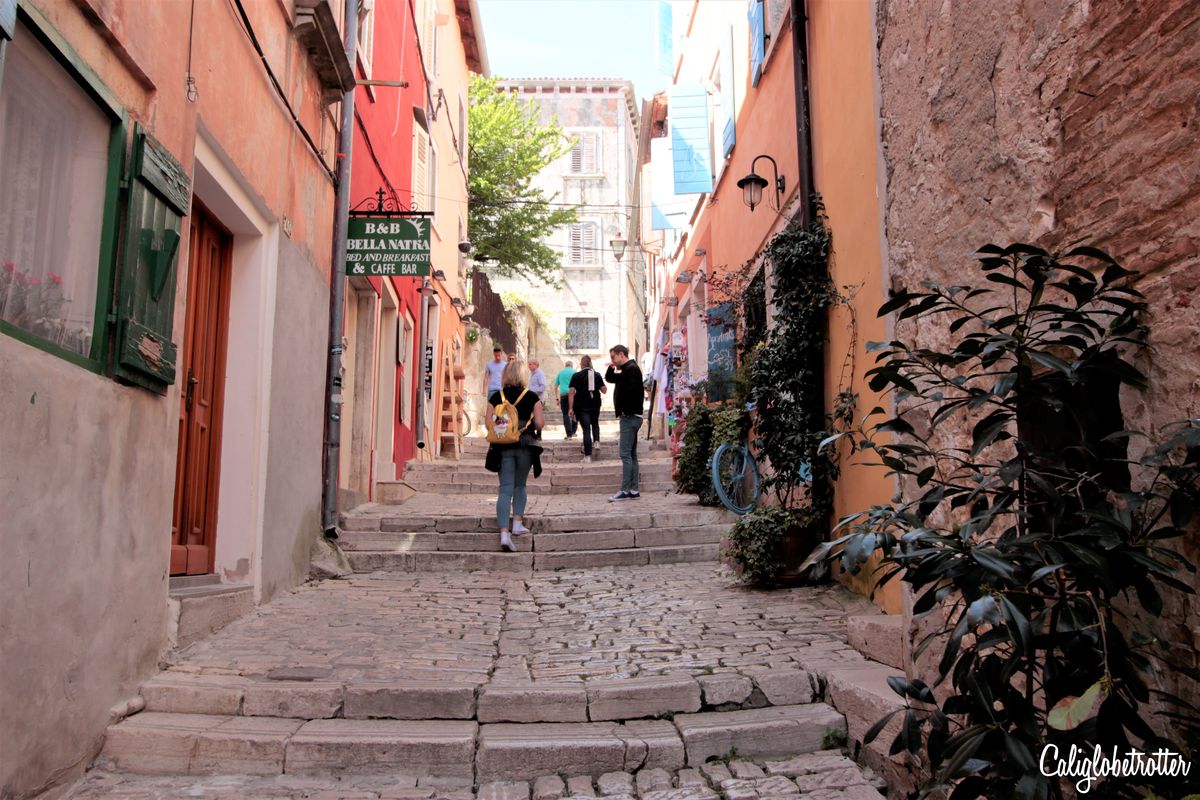 We made our way down to the water front where we looked for a place to eat for lunch, but to be honest, we were incredibly turned off by the restaurants over advertising what they had to eat, or employees harassing us as we walked by. So we searched until we found a restaurant that did neither of those, and you know what? We scored, BIG TIME! As one of the best places to eat in Rovinj, we got really lucky that we happened to have stumbled upon it! The food at Veli Jože, (Ulica Svetoga Krizha – Via Santa Croce 1, Rovinj) not far from the large pier, was so great and the atmosphere so pleasant and quirky, it reminded us of our time in Split, Croatia.
And what makes our visit that much better, is gelato on gelato. There was certainly no question of gelato or not to gelato, despite being on Weight Watchers. I'd say we walked off the points anyways!
What I enjoyed the most about Rovinj was the fact that no matter which direction you went, there was always another alternative way to get somewhere. While at time it did feel like we were walking in an oval shape through the town, we always saw something new from a different perspective.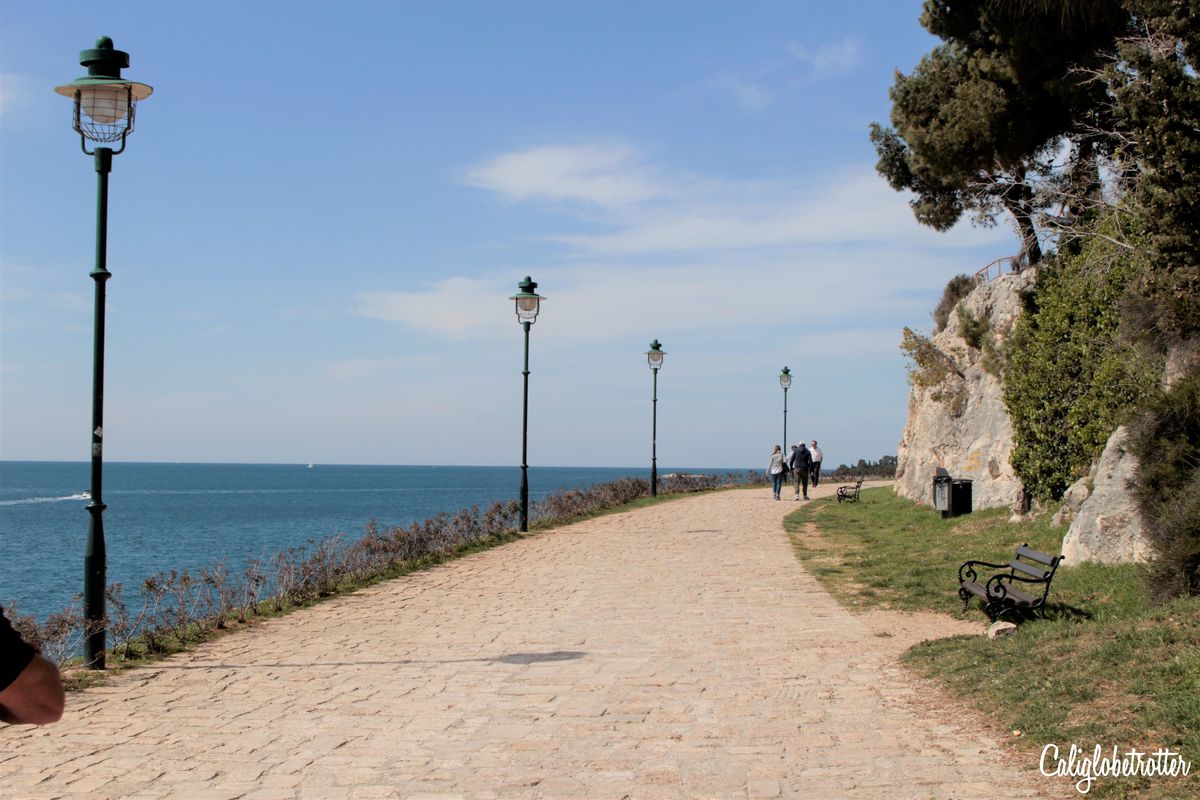 My favorite moment came when suddenly, walking down an alley, we began to find large windowed alleys with breathtaking views out to the sea with such glorious turquoise water contrasting against the ochre color. At one point, we found ourselves completely alone from the rest of the tourists who had flocked to Rovinj, and just before us, was a simple boat, which must have on purposely have been put there simply so that I could photograph it. Honestly. It was so pretty, it was stupid!
Redirect here for more Stupid Pretty Towns in Europe NOW!
As if that wasn't enough, sitting at the bottom of some steps, with one of those windows to the sea, was a lady's shop which had set up an Instagram-friendly garden chair and table… with a tip jar. Much to my dismay, everyone else in Rovinj seemed to have the same idea and wanted a photo. While I wanted the photo, I also wanted to shop around her store, though rather over priced in my opinion. So I walked away with a simple photo I wish was my own backyard.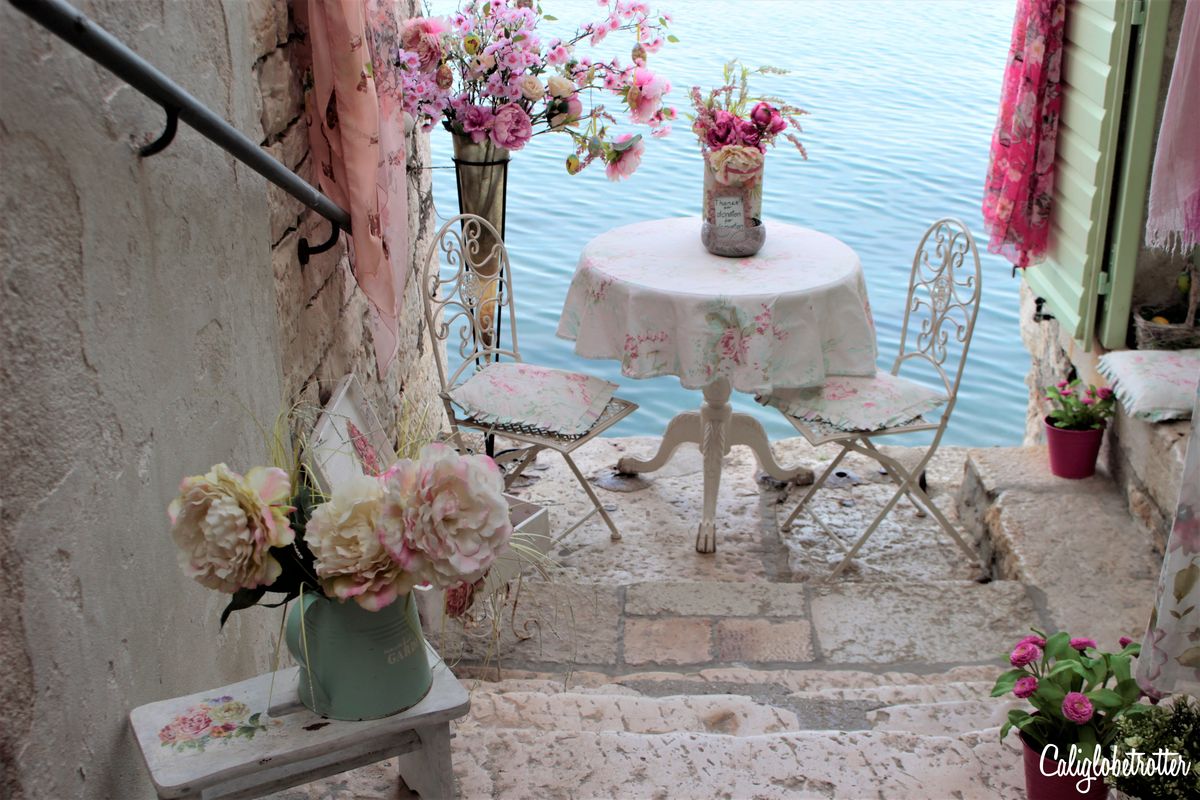 We walked around for hours, exploring every crevice of Rovinj, prolonging our visit in hopes of catching a sunset in Rovinj, but to our dismay, by 5pm, we had walked nearly everywhere at least twice, so, had an early dinner and then headed back to Piran where we would watch the sunset there.
Though we could have prolonged our visit by doing a sunset cruise in Rovinj, it hadn't crossed our minds at the time, which now, in hindsight, I wish we had, though it could have been a little nippy in the end of April. Overall, it was such a wonderful visit and such glorious weather over the Easter weekend!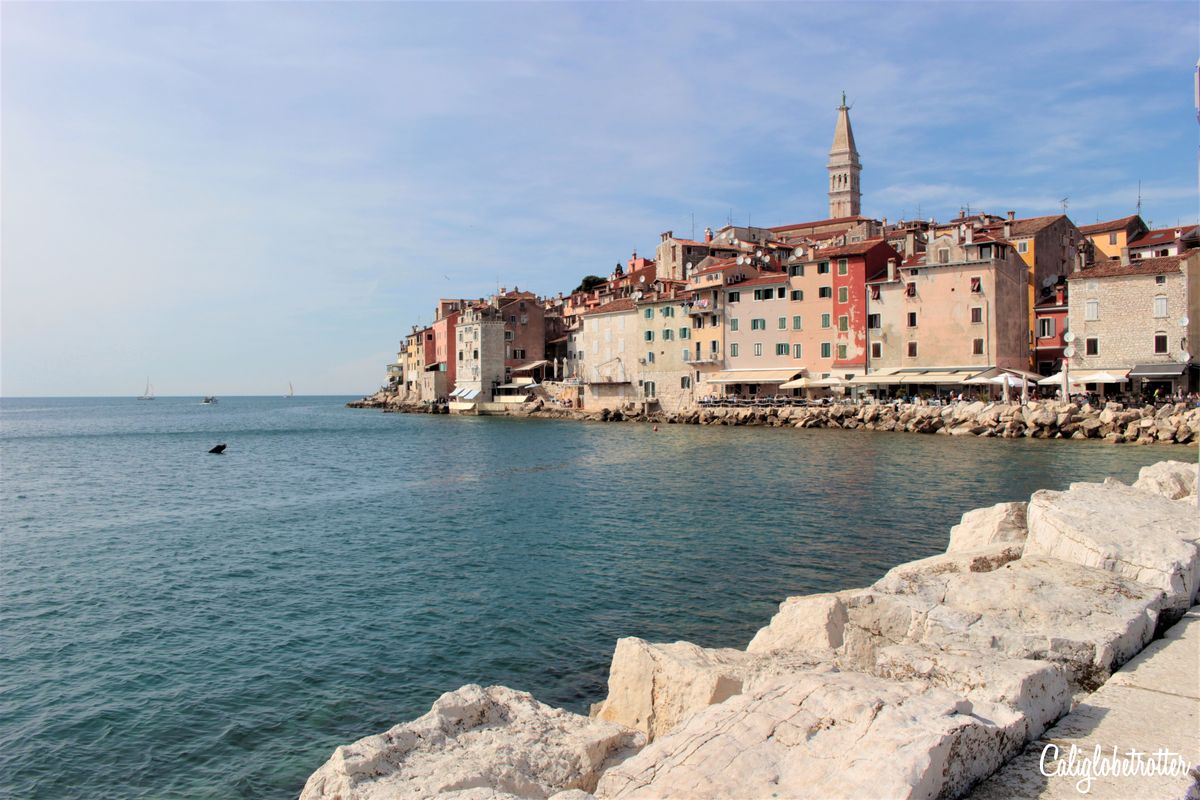 Parking in Rovinj
Parking is, very, very limited as it is also a pedestrian zone. Only locals may drive on the peninsula, though preferably with their mopeds as the alleys are so small. However, we got really lucky when we scored a parking spot down near the shoreline, most likely as close and you can get. We paid for parking at a little shop nearby instead of using the rather complicated machine which had no English instructions. I can only tell you to look for the Obala Vladimira Nazora (Obala Vladimira Nazora 3, 52210, Rovinj, Croatia), and try to grab a spot there, otherwise, simply search for "Parking in Rovinj" and save the address of a few locations.
If you're looking to visit Croatia this summer, I highly suggest buying any of the following travel guides which I have personally used to help you navigate through this beautiful country! These are my travel bibles!
Disclaimer: This post contains affiliate links. If you click on one and make a purchase, I might make a little extra spending money, at no extra cost to you. As always, all opinions are my own and these products/services have been found useful during our travels and come highly recommended to you from yours truly!
Other Croatia Travel Posts:
A 10 day Guide Through Croatia
The Pearl of the Adriatic: Dubrovink
Diocletian's Palace: Split, Croatia
The Glory of Krka National Park
The Heart of Croatia: Plitvice Lakes National Park
Liked this post? PIN IT FOR LATER!!