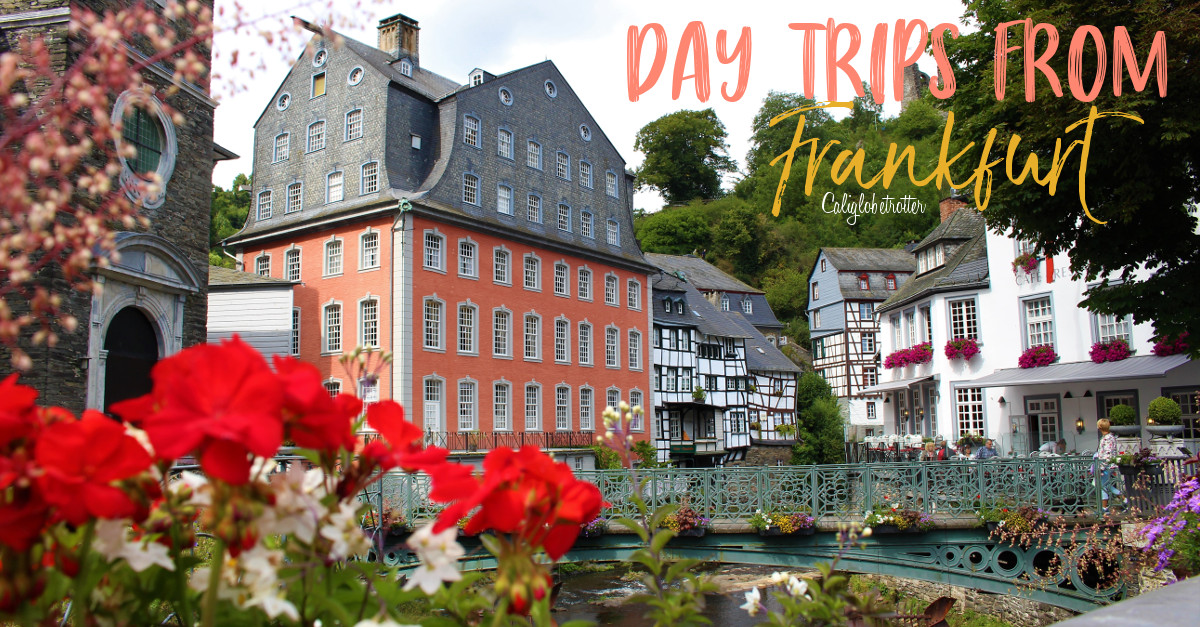 Disclaimer: This post contains affiliate links. If you click on one and make a purchase, I might make a little extra spending money, at no extra cost to you. As always, all opinions are my own and these products/services have been found useful during our travels and come highly recommended to you from yours truly!
Call me Mrs. Highway Vagabond! Day trips are what I live for and there is never a dull weekend while living abroad! You gotta take advantage of every day as if it was your last and there is so much to see, yet sooo little time! I want to go where nobody knows and where no body goes!
There's something about long drives where the wheels go round and round and I don't care which way we go, northbound, southbound as long as we're moving to the next big city or the next cutest darn town you ever did see! So, without further ado, allow me to whet your appetite for hitting the road to 40 (and growing) day trips from Frankfurt all within a 3 hour drive!
Looking for day trips near Frankfurt? PIN IT FOR LATER!!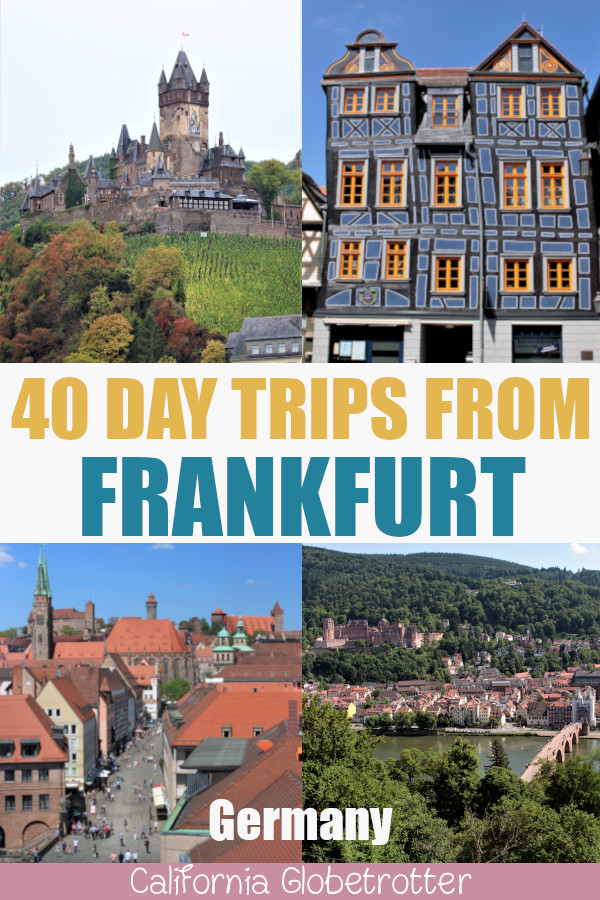 How to AVOID Looking Like a Tourist in Europe
3 hours! You might call me Lady Cray-Cray but you heard me. 3 hours ain't nothin' for this homegrown US of A native where driving 3 hours lands you in the same state, possibly even the same city! 3 hours driving in Germany and you're in a handful of different states and even dipping over the border to another country. 3 hours one way means getting up at the crack o'dawn and gettin' your butt movin', hittin' the road before everyone else gets outta bed. Suuuuure, you say 3 hours is so far away, why not stay the night and make it a weekend trip? Well, yes, and some of these we have turned into weekend trips from Frankfurt, but when you're short on time and can't afford to splurge for a hotel every weekend, you gotta make do what whatcha've been givin'! These are some of the best places to visit in Germany, giving you a mix between small town Germany and big city hustle and bustle and everything in between, exploring a good chunk of Southern Germany as well as Northwestern Germany! 
Even if you prefer to travel by train in Germany, many of these towns and cities are easily reachable by train! It may just take longer or be a little more difficult to get to, especially the smaller the town! 
Wiesbaden – 36 min
Just a hop, skip and a jump from Frankfurt is Wiesbaden, a lovely little metropolitan city in combination with Frankfurt, Darmstadt and Mainz in what is known as the Frankfurt Rhein Main Region. Nicknamed the "Nice of the North", Wiesbaden is one of the oldest spa towns in Germany  with numerous bathhouses and hot springs which date back over 2,000 years. The city became immensely wealthy and has been one of the top ten richest cities in the country since the Nassau rulers. Like, hook me up right??? Luckily, most of the city survived WWII with barely a scratch, preserving its magnificent buildings and attractive historic Old Town! Whew!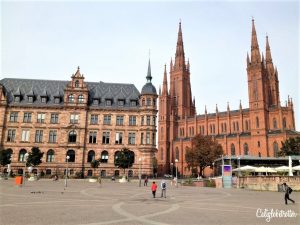 Mainz – 44 min
Just a short drive or hop on the metro and you're in the neighboring city of Mainz, home of the invention of the Johannes Gutenberg printing press which revolutionized the world in the 1400s, giving mankind the opportunity for mass printing of books, pamphlets, spreading knowledge and literacy across all social classes for which we should be so thankful as today we can all text away on our phones. Today, you can catch a glimpse of the printing press and the original Gutenberg Bible which is on display at the Gutenberg Museum. While a whopping 80% of the city was destroyed in WWII, the town was rebuilt and its cathedral, dating back over 1,000 years still stands tall. Mainz is a great place to chillax if you're looking for a quick layover destination near Frankfurt!
Idstein – 44 min
If you're looking for the CUTEST DARN TOWN that ever did exist, then look no further than Idstein! Located along the Deutsches Fackwerkstraße (German Timber-frame Road), this dainty little town is chock full of charm with its rainbow colored half-timbered houses, winding cobbled-stoned streets and leaning buildings. Yes, a LEANING building. Move over Leaning Tower of Pisa! Not only is the town totally adorbs, but the history is straight up whack! Like, I thought I was cray-cray! In 1676, 35 women and 8 men were burned at the stake for witchcraft giving the small town a bit of notoriety, 20 years BEFORE the Salem witch trials. Though the town has a tower named the "Witches Tower" it actually has nothing to do with the trials but, you can ask the tourist office for a rather LARRRGE key and climb to the top and have your fairy tale moment to let down your hair!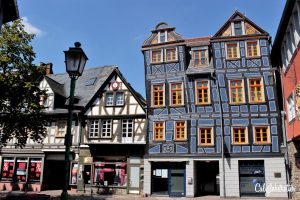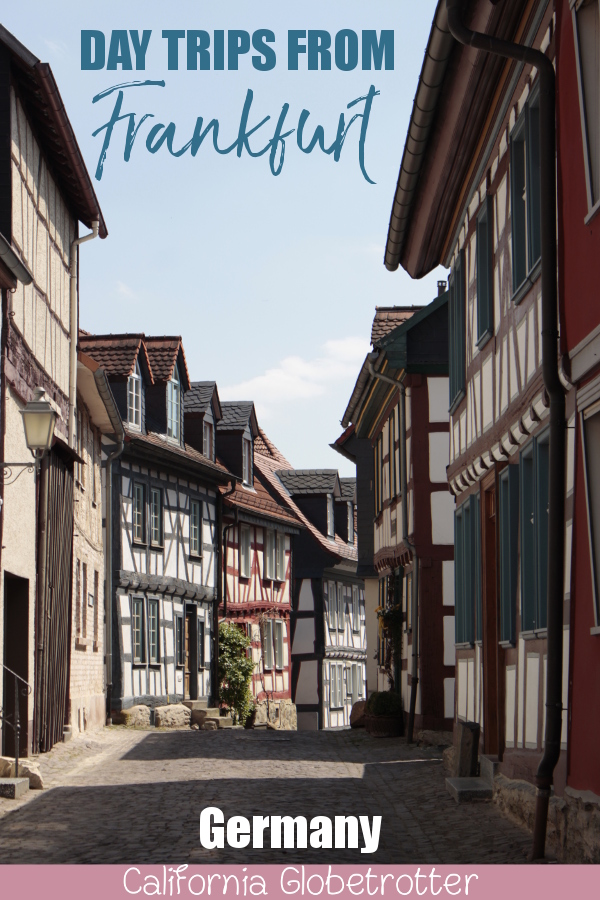 Heppenheim – 49 min
Want yet another town spewling with charm? Head to Heppenheim, a lovely little half-timbered town on the edge of the Odenwald located along the Bergstrasse, an ancient trading route. But you probably won't come here for the history so much as the gosh darn, totally, absolutely, picture perfect, pretty in pink city hall. Dominating the tinsy tiny main square, the city hall isn't all there is to see in Heppenheim! No here, even the lamps that light up the town tell a story…literally, of local folklore stories.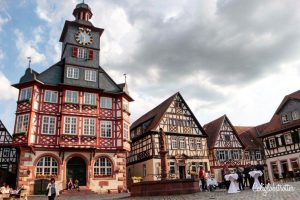 Rüdesheim am Rhein – 53 min
Ok, ok, perhaps I'm sounding repetitious when I say that Rüdesheim am Rhein is yet another picturesque half-timbered town, but Germany just has so dang many of them sweet towns! Fields of vineyards cover the rolling hills along the Rhein River producing some of Germany's most famous wines, Rieslings and Pinor Nior, a tradition dating back over 2,000 years to the Romans. Now THAT'S a lot of wine! Popular with motorbikers and river cruisers, Rüdesheim am Rhein is one of those quickie towns you stop in as there ain't much there, but it's just so stinkin' cute you may just never wanna leave! Plus, they have a sweeter than sweet Christmas Market!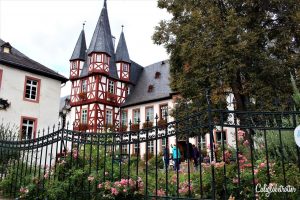 Worms – 58 min
While you're not likely to have ever heard of the town Worms (pronounced Vorms) and is not actually named for or after worms, it's still an interesting day trip from Frankfurt if you're looking to get your geek on. While the town has played a historical role in Germany's history and the Diet of Worms was held here – no, people of Worms were not on a diet. It's here that Martin Luther was questioned by the assembly in 1521 in response to his '95 Thesis', 'On the Papacy at Rome' and more which resulted in him being excommunicated (kicked out for good) from the church giving rise to the tension between Protestantism and Catholicism. But, if you're not here for the history then at least admire the Worms Cathedral, the Nibelungen Bridge and Europe's oldest Jewish cemetery.
Miltenberg – 59 min
Nicknamed the "Pearl of the Main", the sweet, sweet town of Miltenberg, nestled up along the Main River is yet again one of the cutest little half-timbered towns in Germany you ever did set your eye upon! With over 150 historic timber-framed houses, including one aptly named Hotel zum Riesen (Hotel to the Giant) which has a special status as being one of Germany's oldest continuously used hotel dating back to 1411! So, If you're an Elvis fan, consider stopping by as he was once a guest here. 
Heidelberg – 1 hr 2 min
Oh Heidelberg, how thou are but purrrrdy! Quite possibly one of the most beloved university towns in Germany as well as being both the most romantic and one of the most iconic towns in the country. Goethe even once proclaimed it had "something ideal" about it and the Old Bridge's beauty is perhaps unequaled by any other! That's some serious positive feedback and of course, the Romantics of the era were particularly enamored with this idyllic little city, from its meandering Hauptstrasse lined with shops, cozy cafes and bustling restaurants to one of the loveliest castle ruins in Germany, Schloss Heidelberg. I may be not have an "official" title, but I would say I am a bonafide small town critic, and Heidelberg is the cream of the crop!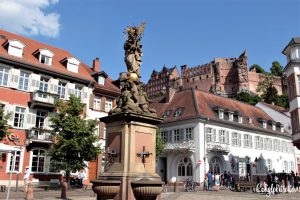 Schloss Johannisberg – 1 hr 4 min
Just a short distance away from Frankfurt is one of the most historic wineries to visit in the world! Schloss Johannisberg is the world's first Riesling winery, since 1720 but has a history dating back to 1100! This beautiful pale yellow castle sits perched atop Johannisberg mountain overlooking the Rhein River. With a wine tour you can have access to the historic wine cellar which dates back to 900 A.D., catch a glimpse of the oldest bottle of wine stored here dating back to 1748 and then sample some of the world's best Riesling!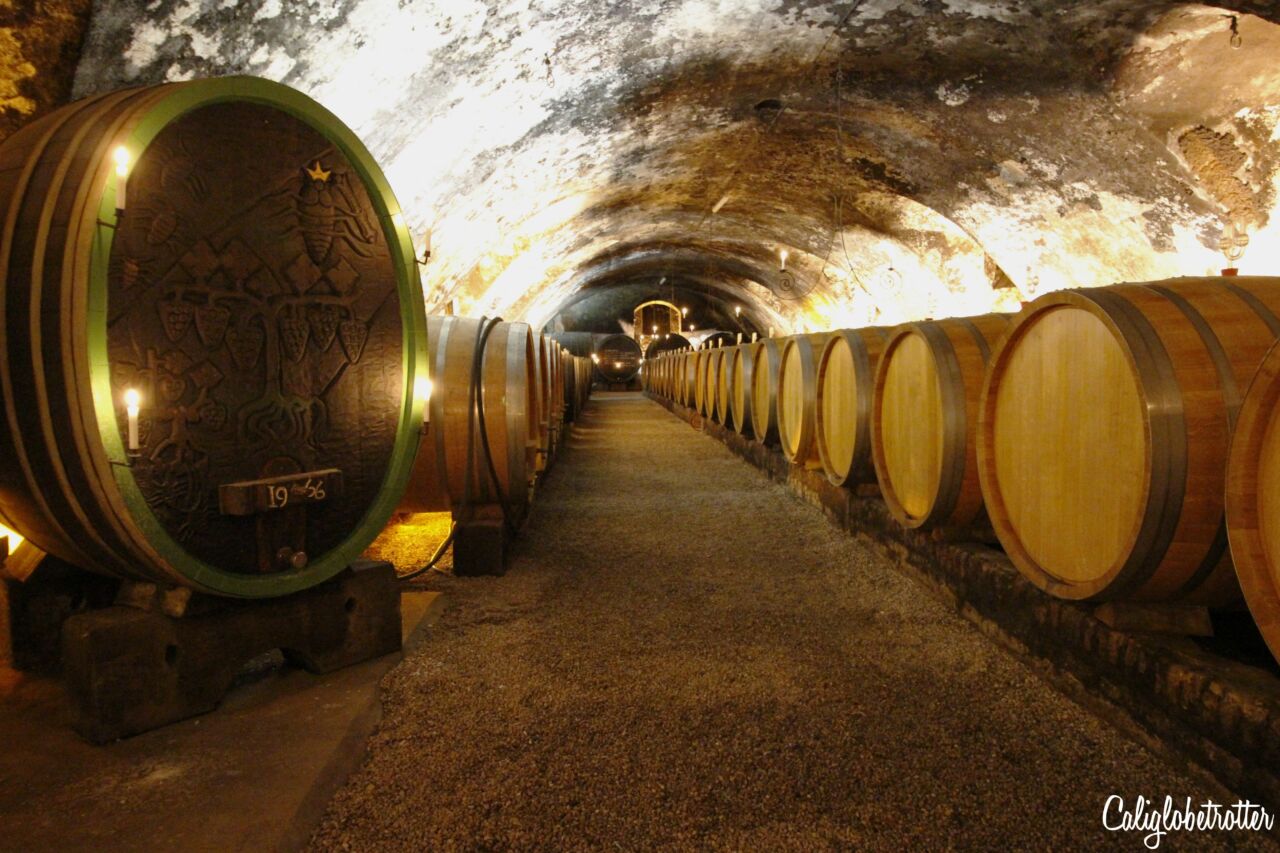 Bockenheim – 1 hr 8 min
The last stop along the German Wine Route, yes, we've got one of them too, Bockenheim is a great place to start your drinking road trip (responsibly!). Stretching 85 km through the heart of the Palatinate, it begins at the border to France in the town of Schweigen-Rechtenbach, known as the "German Wine Gate" winding through lush rolling vineyard hills in one of the most picturesque regions of Germany dating back to 1935. The wine however, has been here since the Romans! One of the main attractions along the German Wine Route is the the Dürkheim Barrel (Dürkheimer Weinfass) which holds 1.7 million litres and has enough space for 650 people, it's the largest barrel in the world turned tavern! Drink up, buttercup!
Marburg – 1 hr 8 min
As if one needed yet another gosh darn cutie patootie town, Marburg is up there as one of the prettiest half-timbered towns in Germany! The town itself though is another popular university town, steeped in superstition. Lustspiegelsturm or Kaiser-Wilhelm-Turm is one of the top sights to see in Marburg yet local students believe that visiting prior to an exam will result in a massive F on their exams, but if you haven't got an exam, consider going up for fantastic views over the city. Afterwards, stroll the city center or go on up to the Marburger Schloss!
Michelstadt – 1 hr 9 min
As one of the oldest settled towns in the hills of the Odenwald, Michelstadt is home to one of Germany's stunning Medieval city halls dating back to 1464 and was once featured on a German postage stamp! Come here to stroll the cobbled-stone lanes lined with yet more half-timbered beauties or come here to oogle the town hall, either way you'll love this peaceful little town or find yourself in a quaint beer garden!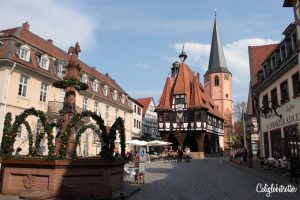 Bacharach – 1 hr 10 min
Like many cute little towns that dot the romantic Rhein River, Bacharach is brimming with charm in every little corner with a pretty little castle turned hostel, Burg Stahleck, perched atop it's rolling vineyard hills. It's one of the most beautiful towns along the UNESCO World Heritage Rhein River and just totally spewling with Disney-esque appeal, but don't leave without indulging in one, two or even three scoops of Riesling ice cream! When you come here, you can turn off your phones and slow down, and simply meander along the old town fortifications or simply have a glass or two or three of wine.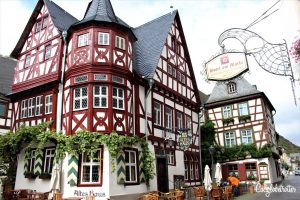 Die Loreley, Sankt Goarshausen – 1 hr 19 min
Ok, ok, so not exactly your typical destination for a day trip, but if you're visiting the Rhein region, consider a stop at Sankt Goarshausen where nearby you'll find my namesake, the Loreley – a beautiful siren sat combing her luscious blonde hair while singing a sweet melody, distracting the sailors below and enchanting them until they've completely forgotten about the most dangerous point along the Rhein River, crashing their ships and meeting their maker. Wish I had that goooorgeous to have that effect on men!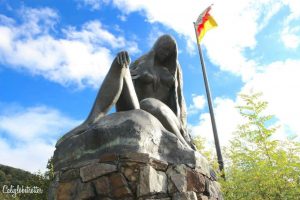 Koblenz – 1 hr 20 min
With over 2,000 years of history, Koblenz is one of Germany's oldest cities in Germany and one of the most iconic destinations in the Rhein Mosel region. One of the most popular sights to see is the "German Corner", a landmark built in 1897 for the first German Emperor William I of Germany. It's absolutely, positively gargantuan and standing in its presence will make you feel small. Another fun, outta this world thing to do in Koblenz is to take a ride on the cable car over the Rhein River on the Koblenze Cable Car!
Würzburg – 1 hr 21 min
You would be mistaken if you thought Bavaria was only full of beer-loving people but you would be wrong when entering wine country in the Franconian region of Bavaria. Würzburg is just simply one of the loveliest cities in Bavaria in a valley practically encircled by lush vineyards stretching as far as the eye can see! Come here in the summer and you'll be bound to stumble into a wine festival as there is always one going on at any given time. No need to fret that you might miss out on a chance to sip, swish and spit taste your wine. While most of the town was destroyed in just a few minutes during the Second World War, it's been beautifully restored to its former glory. Some of the main sights to see include the Marienburg Fortress perched upon the hill offering breathtaking panoramic views over the city, as well as the Würzburg Residence, home to the world's largest ceiling fresco, giving you QUITE the crick in your neck!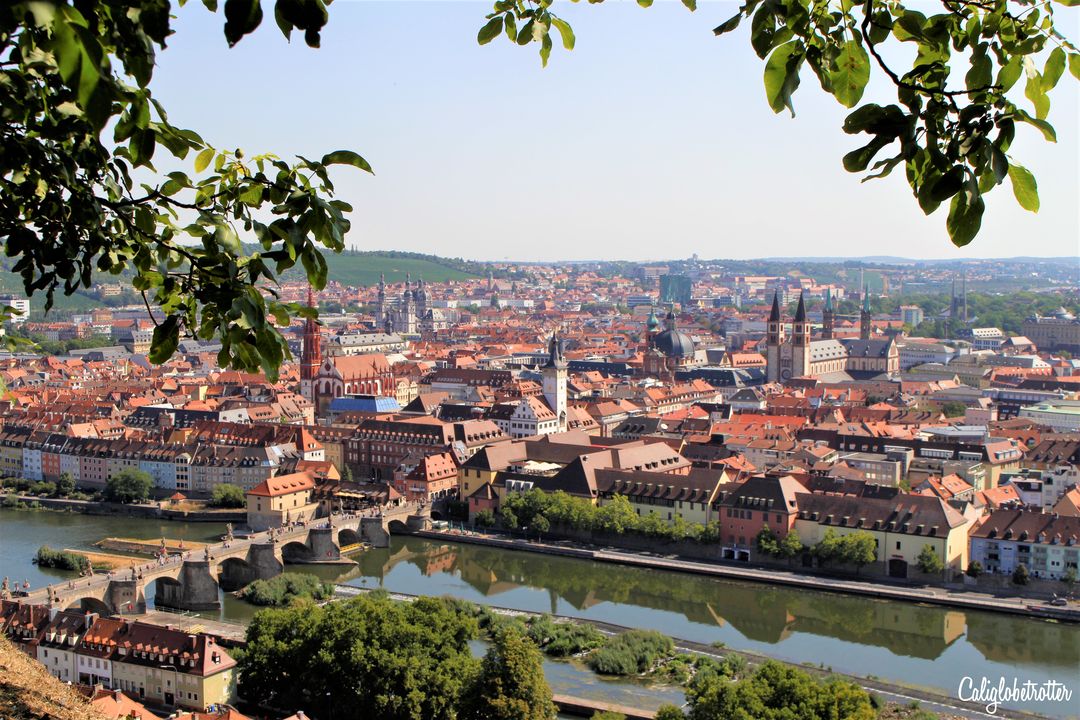 Burg Eltz – 1 hr 42 min
Ah, finally a castle! Germany wouldn't be Germany without a good hundred castles, am I right? Back in the day, Burg Eltz was a relatively unheard of castle, yet today you see it splattered all over Instagram with girls facing the castle wearing a flowing dress and a hat. Nestled in the hills above the Mosel River the castle sits between Koblenz and Trier and is still owned by a community of joint heirs dating back 33 generations! That's an 800 + year old family heirloom! All I have is a set of china plates! Today, its one of three castles that remain on the left bank of the Rhein River that was never destroyed! 
Bonn – 1 hr 53 min
Oh Bonn, how thou are pretty in pink and best known for your Cherry Tree Lane (What, are we in Mary Poppins?) which blossoms in the Spring and shows up on everyone's Instafeed! As Germany's largest metropolitan area and a second unofficial capital of Germany as it was once the capital of West Germany, there are many cool things to do in Bonn such a visiting Beethoven's house where he was born and grew up to admiring a lovely piece of architecture, the Bonn Minster as well as a lovely little pastel pink City Hall or checking off another bucket list item at Schloss Drachenfells! Ding, ding ding!
Cochem – 1 hr 55 min
Nestled along the banks of the Mosel River, picture perfectly surrounded by rows and rows of vineyards lies the small German town of Cochem. While you're unlikely to have heard of this dainty little town, perhaps you've seen photos on your IG feed of a Romanesque beauty, no, no, not a woman, A CASTLE, the Reichsburg Castle, with turreted towers and gallant Knights in shining armor – ok, so you have to have a Knights feast to see a knight, but hey, where else does that fairy tale come true? Don't believe in knights in shining armor? Unrequinted love perhaps? No worries, fall in love with the town's specialty, Mustard!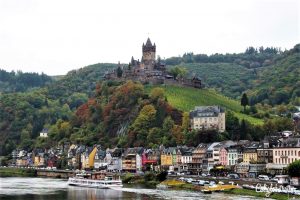 Rothenburg ob der Tauber – 2 hr 3 min
If ever there was one German town that was the epitome of all German towns, it would without a doubt be Rothenburg ob der Tauber. Beloved by all from near and far, it's a place that resonates with everyone for it's utter, unbelievable, totally real fairy tale charm! Located along the German Romantic Road that stretches from Würzburg to Füssen, Rothenburg ob der Tauber is every little girl's dream come true! Perfectly encircled by its Medieval walls and brimming to the max with cuter than cute half-timbered houses, it just doesn't get better than this!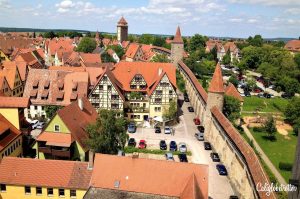 Cologne – 2 hr 4 min
Pronounced liked men's cologne, but doesn't smell like fresh aftershave, Cologne (Köln) is one of Germany's most open-minded cities. When you're here, anything goes! It's like the Wild Wild West of Germany and what draws people here is one of two things – either you come for pure and utter debauchery during the Cologne Crazy Days, Germany's wildest Carnival festival or you come for the impressive and totally gargantuan Cologne Cathedral – Northern Europe's largest cathedral! But whatever you do, don't leave without trying a local beer, Kölsch.
Kassel – 2 hr 5 min
Once upon a time, a long, long time ago, there once lived two brothers, known as the Grimm Brothers, who penned classic tales still beloved by children 200 years later such as Cinderella, Hansel and Gretel, Rapunzel, Rumpelstilzchen and many many more. Located along the German Fairytale Route (yes, there is such a route), a dedicated tour over 600km to the life, works and towns that inspired the stories with Kassel as one of the main stops along the route! Be sure to check out the relatively new museum Grimmwelt Kassel dedicated to the brothers! But Kassel is so much more than just romantic fairy tales that fills up little girls' heads with nonesense and there are many things to do such as Bergpark Wilhelmshöhe and Schloss Wilhelmshöhe!
Stuttgart – 2 hr 10 min
Not exactly Germany's prettiest city, but a cool one nonetheless, Stuttgart offers more than the eye can see! Much of the city was destroyed during WWII and has been rebuilt into one of the most industrialized, business cities in Germany! If you're a book nerd, you're gonna wanna check out the Stadtbibliothek, the City Library which is a completely modern Rubix Cube-like building with an all white interior making for an Instaworthy post! And being an auto industry city, you can check out two famous German car makers, Mercedes and Porsche. Not interested in cars and auto parts? Head on up to Schloss Solitude, a stunning Rococo aristocratic palace overlooking the city of Stuttgart! Here at Christmas? Don't miss one of Germany's largest Christmas Markets!
Wartburg Castle – 2 hr 10 min
If you're looking for a historical day trip from Frankfurt, consider a visit to the mix-match picture perfect Wartburg Castle in Thuringia. The first castle in Germany to become a UNESCO World Heritage Site for the importance of the castle and the history that contributed to the Germany we all know and love today. Martin Luther was a notorious headache for the Pope, the head of the Catholic Church which resulted in him being excommunicated from the church. He went into hiding here at Wartburg Castle where he translated the New Testament from Greek to German, and the castle was also home to poetry slams before they were called poetry slams!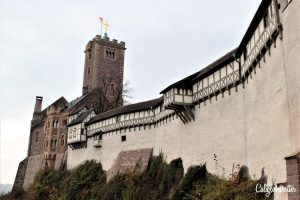 Trier – 2 hr 15 min
As Germany's oldest city, there is a lot of history in Trier to get your nerd on, starting first and foremost with the Porta Nigra, the world's best preserved Roman gate! Clearly, a city of superlatives! A quick glance around the Main Square and you'll be greeted to a variety of impressive architectural beauts! But you'll want to get out of the city center after you've embraced the history and stretch your legs by walking the Moselle Hiking Trail for views over the winding Moselle River!
Bamberg – 2 hr 19 min 
Another of Bavaria's most beautiful cities, Bamberg has been spared from the boom-boom-boom of war, not just once but twice, preserving over 1,000 years of history! The Altes Rathaus (City Hall) is straight outta this world and just totally über adrobs! While you might wanna come here for the beautiful half-timbered houses or the "Little Venice" of Bavaria, don't leave without throwing back a few of Bamberg's famous Rauchbier (smoked beer)! Chug chug chug!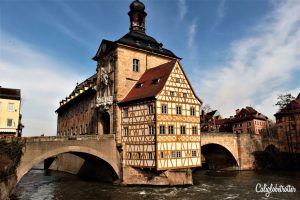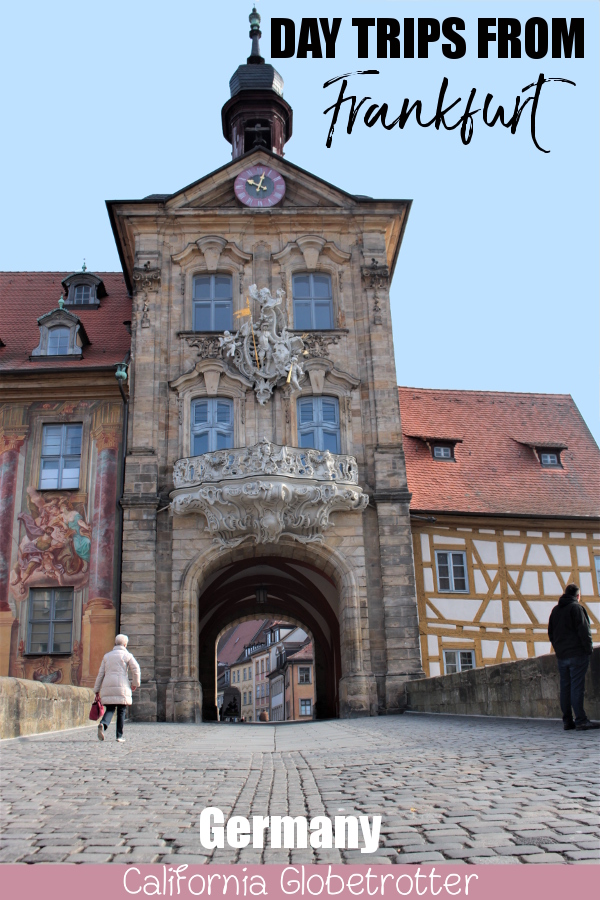 Strasbourg, France – 2 hr 21 min
If you're looking to dip your toes into France and eat a little Tarte flambée or stuff your face with as many Macarons as feasibly possible without letting your inner fattie out, then head across the border to Strasbourg, one of the EU's capitals. Located in the Alsace region, this region has been ping ponged back and forth between Germany and France for centuries, but unfortunately for Germany, it is wholly French! Come to admire the Strasbourg Cathedral or climb to the top for unparalleled panoramic views over the city or get lost in the beauty of "Petite France" – what was once the scummiest of places during the Napoleonic era is today Instagrammable! Who'da seen that coming?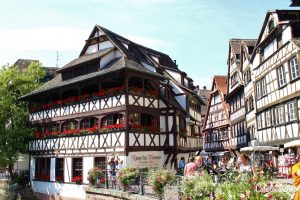 Ludwigsburg – 2 hr 22 min
Just a sprint from Stuttgart, Ludwigsburg is a popular little day trip for multiple reasons. Either you come to enjoy Germany's largest Pumpkin Festival at the Ludwigsburg Palace and watch some peeps row, row, row their Pumpkin canoes in a fountain or you can have a family-friendly outing and explore the Märchengarten (Fairy tale Garden) and actually ask "Rapunzel, Rapunzel, let down your hair" or be tempted by the evil witch from Hansel & Gretel! If you visit Ludwigsburg in the winter, you can stroll through one of Germany's loveliest Baroque Christmas Markets with angles watching over you. Literally!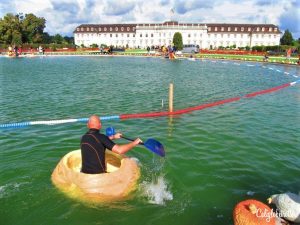 Esslingen – 2 hr 24 min
Definitely one of the best day trips from Stuttgart that you could possibly take, driving the extra time from Frankfurt to Esslingen an Neckar will be worth every minute! I pinky promise! With over 200 beautifully preserved half-timbered houses, having never been destroyed by war, Esslingen is a picture perfect Medieval town surrounded by beautiful vineyards. But what draws curious tourists here is the stark red Renaissance City Hall just oozing with charm! But be sure to come back for more at Christmas to visit Germany's best Medieval Christmas Market!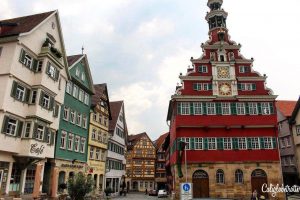 Dinkelsbühl 2 hr 26 min
If you loved Rothenburg ob der Tauber, then you'll love Dinkelsbühl (and Nördlingen) as it too is still completely encircled by Medieval Walls! While the former sustained heavy damage during the war, the latter two came out without a scratch! Upon arrival, you'll notice a sign that declares the town the most beautiful town in Germany, though I have to agree it is beautiful, nothing can complete with Rothenburg ob der Tauber. But come here nonetheless and stroll the winding cobbled stone lanes, and walk along the walls or climb high into the sky by heading to the top of St. George's Minster!
Nuremberg – 2 hr 27 min
When it comes to amazing cities to visit in Germany, Nuremberg ranks as one of the top 10 – a city center hustlin' and bustlin' with shopaholics like myself and avid sightseers wanting to visit the main sights such as the beautiful Kaiserburg or the Frauenkirche. While many are likely to visit the Nuremberg Christmas Market, one of the most famous in Germany there are many other reasons to extend your visit. Perhaps you're an über WWII history buff also like myself and want to explore the Third Reich's most beloved town and how it was used both to recruit new members and how the city was used to bring justice to those who were done wrong! Or you could simply visit Nuremberg in the summer for it's summer long "Summer in the City" and dip your toes in the sand with a beer in your hand!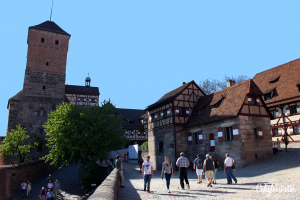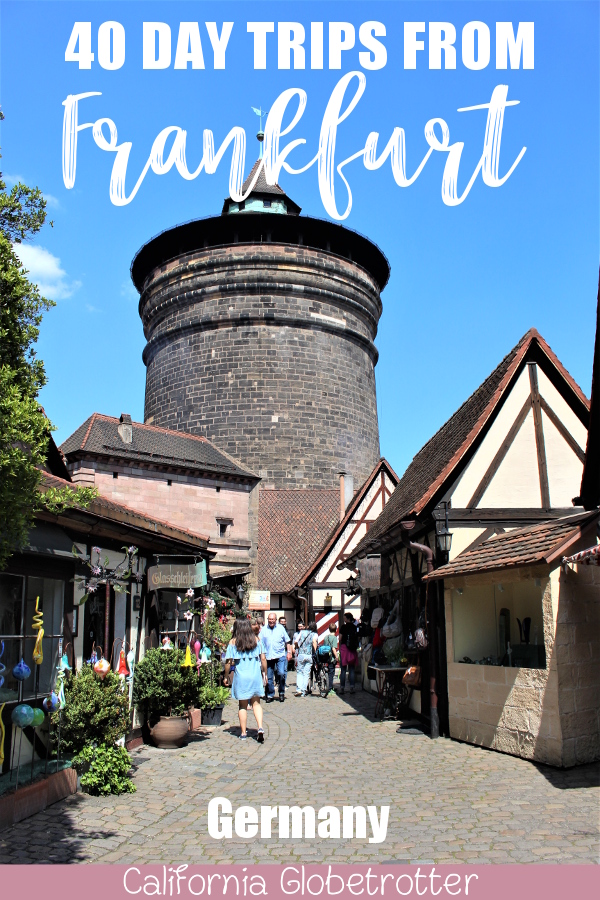 Tübingen – 2 hr 28 min
Another of Germany's famed university towns, Tübingen is one of the oldest university towns in the country! While it is slightly off the beaten track and easily overlooked by the rivaling university town of Heidelberg, a visit to this hilly town is worth a peek! However, the timber-frame buildings bring charm to this small town and gallantly skipping your way along the Neckarinsel offers some amazing views of the town center, but no visit would be complete without huffing and puffing your way up to Hohentübingen Castle sat atop a hill overlooking the Altstadt! 
Erfurt – 2 hr 39 min
Located in Thuringa, one of those states that is similarly considered a "fly over state" by tourists but rather popular with Germans, Erfurt is yet another pretty, pretty, pretty half-timbered town and the capital of Thuringa. As one of the best intact medieval towns you'll find in Germany, you can expect to find some beautiful half-timbered houses such as the iconic Krämerbrücke (Merchants' bridge) or even visit the monastery where the infamous Martin Luther lived as a student before he was later excommunicated from the Catholic church after causing some serious uproar!
Aachen – 2 hr 42 min
Hugging the border to Belgium and the Netherlands, Aachen is the furthest western city in Germany, so if you're looking to step foot in three countries at once, you can visit the Three Country Border (Dreiländereck) nearby! The city of Aachen, however, dates back to Charlemagne who had the Pfalzkapelle built here and is by far one of the most interesting churches to visit in Germany with intricate mosaic tiled patterns! The city would be home to all future kings of Germany for the next 500 years. The Aachen City Hall is also one of the loveliest in Germany!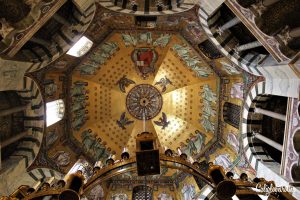 Burg Hohenzollern – 2 hr 47 min
If you're looking for an amazing castle day trip from Frankfurt, then consider visiting Burg Hohenzollern, but time your visit better than my two experiences. If you go in winter, be forewarned it could have blizzard like conditions and if you go in the summer, you might have record heat. I guess I picked the worst case scenario on both visits. But you might wonder why it's called a 'Burg' when it looks like a castle, but the interesting difference between the two is that a burg is built for protection against invaders while a castle or palace is built for comfort and beauty. Perched high upon the Schwäbisch Alb, a visit to Burg Hohenzollern and you'll be greeted to some stunning views over the surrounding German countryside!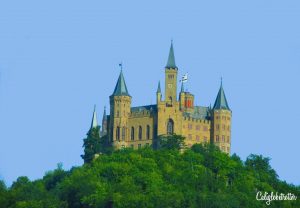 Ulm – 2 hr 52 min
On the border between Bavaria and Baden-Württemburg, Ulm is an interesting day trip from Frankfurt as the city is home to the world's tallest steeple standing at a whopping 529 feet with 768 steps to the top! The Ulm Münster is a great example of true European Gothic architecture and took over 200 years to build. But if you're looking for something funky to do in Ulm, be sure to check out Hotel Schiefes Haus which is a half-timbered house slanting partially across the Blau River. But if you're a library lover and want to feel like Belle, then head just a few minutes outside of Ulm to the Wiblingen Monastery Library and be bedazzled by one of the most beautiful libraries in Europe!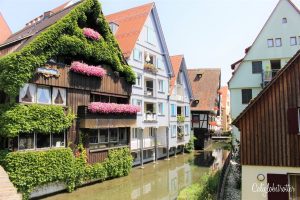 Kirchheim unter Teck –  2 hr 54 min
Not exactly one of your typical excursions from Frankfurt, Kirchheim unter Teck is one of those adorable little half-timbered towns along the German Timber-frame Road I do love so much and is recommended for people who have a similar obsession or at least are looking for a cool motorcycle ride destination. While you won't exactly find so much to do here, you can admire one of the most beautiful half-timbered city halls in Germany which has a unique tradition. Every Saturday, a four-person brass band plays a magical tune in all four directions, a tradition that dates back to at least 1524! I guess some things never go out of style!
Nördlingen – 2 hr 57 min
The third of three Bavarian towns still encircled by it's Medieval Walls, Nördlingen is one of the most unique towns to visit in Germany simply for multiple reasons. One, it's a perfectly circular town with Medieval walls you can walk along for amazing views over the city, but two, it was unknowingly built within a crater, calling the Ries Crater or the Nördlingen Crater which smashed into the earth 14 million years ago! Naturally of course, the towns people had no idea when they first built the town, but it was later discovered by 2 American scientists!
Bayreuth – 2 hr 57 min
Forever associated with Richard Wager, the famous 19th century composer much beloved by "Mad" King Ludwig II of Bavaria, Bayreuth is a lovely town to visit if you're interested in classical music or at the very least, Baroque architecture. Thanks to the eldest daughter of Friedrich Wilhelm I of Prussia and the sister of Frederick the Great, Bayreuth was transformed into a classy Baroque city with one of the most beautiful opera houses in Germany. Not far from Bayreuth is the Hermitage, used from 1715 onwards for court to play at ascetism, or more specifically, for the nobility to pretend that they were anything but royal, following in the example of the French King Louis XIV.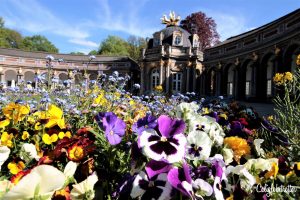 Triberg, Black Forest – 2 hr 59 min
Likely the furthest you'll be willing to go on a road trip from Frankfurt in a day, the Black Forest is considered to be one of the best places to visit in Germany and what every non-German associates as being stereo-typically German. World renowned for being home to beautiful wooden Black Forest cuckoo clocks as well as the most iconic cake you'll ever stuff your face with in Germany, the Black Forest Cherry Cake (Schwarzwälder Kirchtorte). And as if the Black Forest couldn't possibly have any more superlatives, it's here you can also find Germany's highest waterfall, the Triberg Waterfall as well as the world's largest cuckoo clocks!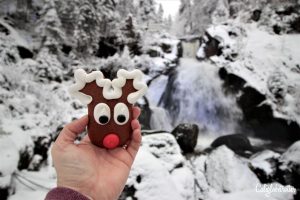 Monschau – 3 hr 10
Saving the best for last! Ok, ok, so Monschau is just a smidge over the 3 hour limit, but if you're going to consider visiting Aachen, then drive just the extra few minutes to one of Germany's most beautiful half-timbered towns, easily rivaling Rothenburg ob der Tauber!! Tucked away deep in the hills of the North Eifel, Monschau has remained vastly unchanged over the last 300 years and the town is littered in candy colored half-timbered houses that is just STUPID PRETTY while the most iconic portion of the town is the water wheel!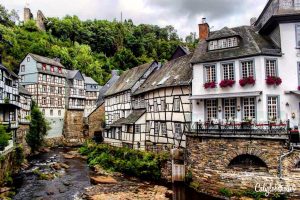 Of course, many of these top destinations in Germany require living here for a longer period of time if you want to visit them all, but at least if you're planning a trip to Germany you can find some travel inspiration! There are so many other wonderful places to visit than just the over-touristy destinations like Schloss Neuschwanstein, Munich or even Berlin, not that they're not worth visiting because they absolutely are! But getting out to some of the lesser-known places in Germany will give you a better sense of Germany!
If you're interested in visiting Germany and are looking for more information, I highly recommend using the DK Eyewitness Travel Guide! Without these guides, I would be lost! This is my travel Bible!
Disclaimer: This post contains affiliate links. If you click on one and make a purchase, I might make a little extra spending money, at no extra cost to you. As always, all opinions are my own and these products/services have been found useful during our travels and come highly recommended to you from yours truly!
Germany Travel Inspiration: 
The ULTIMATE List of Day Trips from Munich
3 Bavarian Towns Surrounded by Medieval Walls
Your COMPLETE Guide to Using the DeutscheBahn in Germany
Liked this post? PIN IT FOR LATER!!