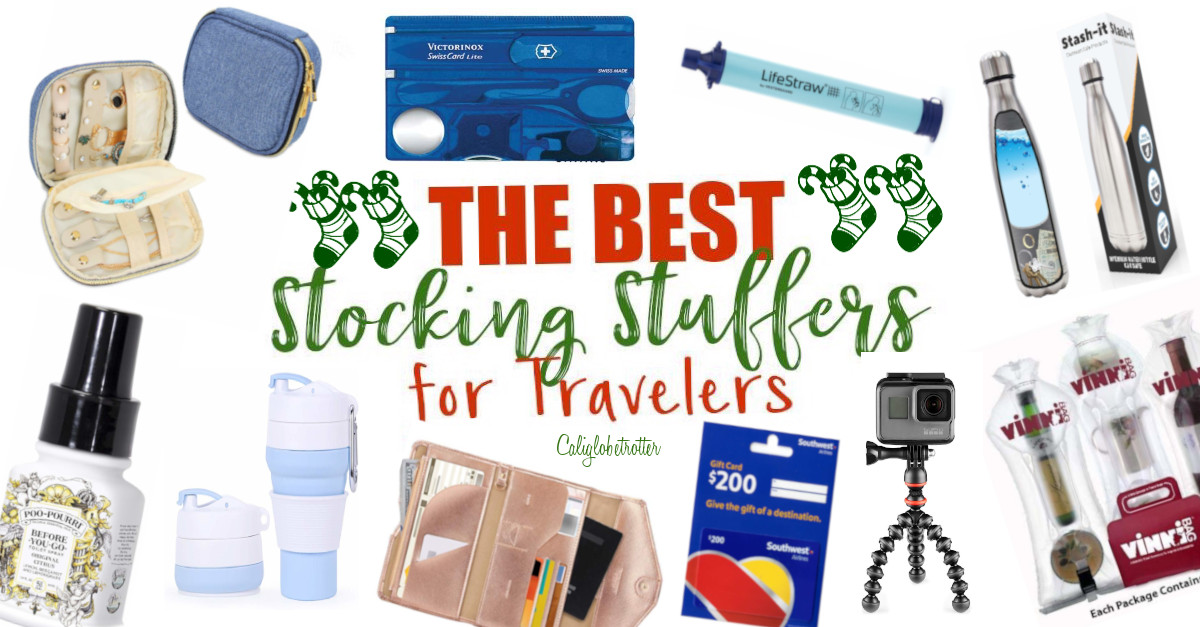 The holidays are fast approaching and Black Friday is just around the corner! When you're a budget traveler or always on the go, perhaps you don't have the time, space or money to buy big and fancy Christmas gifts for friends who love to travel. That's where stocking stuffer gifts for travelers comes in! They're small, and affordable maknig it rewarding when you can find the perfect little gifts for the people who mean the most in your life!
Looking for Travel Stocking Stuffers? PIN IT FOR LATER!!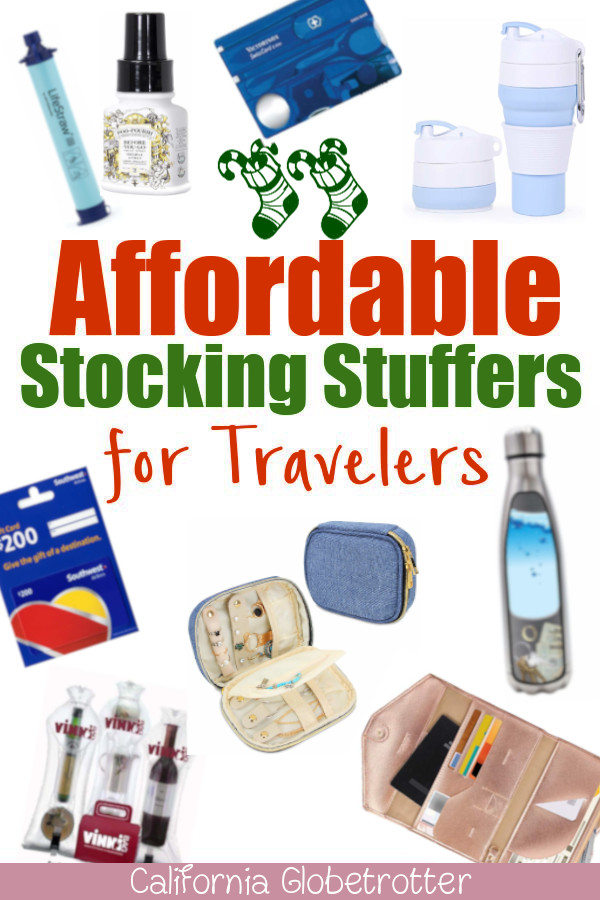 As someone who often travels home for the holidays, I typically don't have time when I get there to go Christmas shopping. That's why I prefer to find small, transportable gifts for my travel obsessed friends and family which are easy on my luggage.
I love finding unique, useful and interesting gifts for people that they will actually use, and while I've written before about
Stocking Stuffers for Her
and
Stocking Stuffers for Him
, these stocking stuffers will be
true
travel essentials for everyone in your life!
15 Useful Stocking Stuffers for Travelers
#1 Swiss Army Card
Victorinox Swisscard Lite Pocket Tool, Sapphire

I've written before about a credit card size pocket knife which was given to my husband. It came in incredibly handy, but the next generation is this fantastic, lightweight, compact, credit card-sized tool, which also includes an LED light, a knife, a pen, tweezers AND scissors. Quite possibly the most useful tool you can have while traveling, just remember to pack it in your checked luggage and leave it at home when you know you can't enter a building with a weapon.

$29.95
#2 Waterproof Phone Pouch
4 Pack Universal Waterproof Phone Case

The perfect travel gift for travelers who can't leave their phone behind who want to capture every moment of their water rafting adventure or a day on the beach. It even holds and protects Credit Cards, IDs, Cash, and Keys, perfect for those who won't want to carry much else!

$12.99
#3 Portable Charger Ankor PowerCore
#4 Passport Wallet Travel Holder
Zoppen Passport Holder Travel Wallet

I've shared this wallet before and I'll share it again! This travel passport wallet comes in a variety of colors and is perfect for those who want to condense how much they carry in their bags. Perfect for credit cards, passports, money, cellphones, as well as airline tickets. Plus, there's room for your hotel key and a week's worth of cash! Choose from pastels and metallic neutrals for the ladies, and non-metallic, bold colors for men! Keep everything in one place so that you don't loose it! I NEVER leave home without my rose gold travel wallet!

$14.99
#5 Collapsible Water Bottle/Mug
Collapsible Silicone Coffee Cup

I can't tell you how long it took me to find a reusable silicone cup perfect for my cup of tea to go. Not just that, but this leak proof travel cup is also perfect for outdoor hiking and outdoor sports and is easy to pack up once finished with it. Best of all, I can take this into any Starbucks and save money by using my own cup, therefore, it's one of the best eco-friendly travel gifts you can give anyone! Grab the blue for the boys and pink for the girls, or just go neutral with a white!

$7.99
#6 Packable Blow Dryer Brush
Hair Straightener Brush, One Step Hair Dryer Brush

Gone are the days of trying to pack your fold-able beast of a blow dryer and your hair straightener into your suitcase! Now, with this all in one blow dryer brush and straightener which works faster and more effectively, you can save room in your suitcase! Best of all, it's great for everyone, including husbands who have to blow dry and comb their hair!

$29.99
#7 Lifestraw Personal Water Filter
LifeStraw Personal Water Filter for Hiking, Camping, Travel, and Emergency Preparedness

One of the few gifts on the list I have yet to personally use, but would like to invest in. There have been several times where I have questioned the safety of the water coming out from the tap, especially while roadtripping through the Balkans. Wanting to reduce the amount of plastic in my life, meaning cutting out plastic water bottles, this would be a great investment. LifeStraw has a built-in water filter which helps to eliminate 99.99% of waterborne bacteria, allowing travelers to fill up their water bottles from rivers, stream and questionable water fountains making it the perfect Christmas gift for adventure travelers or outdoor enthusiasts.

$17.47
#8 OrganiCup Menstral Cup
OrganiCup Menstrual Cup

Just for the ladies, the OrganiCup offers an eco-friendly solution to menstruation, allowing the female traveler to leave behind a plethora of environmentally unfriendly tampons, light days and pads. This travel friendly and every day menstrual cup has been LIFE CHANGING! This hygienically and environmentally-friendly menstrual cup has won the Winner of Allergy awards in 2019, promises no leaks and worries and has a no-risk of dryness or infection by the soft medical-grade silicone. Help change another woman's life by gifting the OrganiCup, making it easier to handle periods while traveling.

$27.95
#9 Waterproof Nylon Travel Shoe Bags
Travel Shoe Bags for Men & Women

Honestly one of the best travel gifts I have ever received and use on every trip! Nothing like trying to pack dirty shoes in your suitcase without getting your clean clothes or suitcase dirty, or letting them swing from your backpack. Perfect for every day use after a work out, or even while traveling. With these reuseable Nylon bags, you can now pack with ease knowing your dirty shoes will no longer smudge your clean clothes!

$11.88
#10 Southwest Gift Card
Southwest Airlines Gift Card $100

What could be better than gifting the gift of travel? After all, some travelers don't need fancy travel gifts to see the world. Many just need the time and funds, and considering that we can't gift time, next best thing is money to put towards another adventure! Travel isn't cheap and if you're still learning how to travel hack, then airline gift cards are a no-brainer! No fees, no expiration EVER to 85+ destinations!


$100.00
#11 Travel Size Poo-Pourri
Poo-Pourri Before-You-Go Toilet Spray

A funny but useful travel gift for anyone afraid to make a stink in public! This travel sized Poo-Pourri spritz bottle can be taken anywhere and everywhere without the fear of stinking the place up! Simply spritz the poo-pourri into the toilet bowl before you go, making the experience less foul and walk out like you've just pooed Fruit Loops!

$8.45
#12 Portable Travel Jewelry Case
When you only need a small travel bag for jewelry to take just the minimum amount when you're traveling, look no further than this small, zip-up jewelry holder. Coming in a variety of colors, this travel case will mostly be for the ladies and the occasional men who wear more than just a watch. This is the perfect size for any carry-on, easing your mind that your jewelry is safe and sound at your side! Pack your rings, necklaces, bracelets and earrings!

$14.49
#13 Stainless Steel Tumbler with Secret Money Stash
Stainless Steel Tumbler with Hiding Spot for Money

When traveling, I always stash some money in a secret spot in a variety of objects. You just never know when you might need it, but hope that day never comes. From Hair Brush Diversion Safe to Secret Money Key Rings, there are multiple ways to ensure the safety of your finances, especially while traveling! With this Stainless Steel Tumbler, you can use it as a decoy while traveling or even at home, using the bottom as a secret safe, while still using the tumbler for your beverages.

$22.95
#14 Travel Sized Memory Card Holder
Large Capacity 63 Slots Storage Case Holder for SD Memory Cards

The ultimate gift for travel photographers, this compact memory card case is perfect for travelers who take too many photos and are on the go for long periods of time, away from their memory storage boxes. This compact memory card holder with a hard and durable shell can hold up to 63 Memory cards, allowing the traveler to have a memory card for every country they visit!

$14.99
#15 GorillaPod Starter Kit
Joby GorillaPod Starter Kit

Forget the selfie-stick! A great gift idea for travelers who rely on their smartphones or compact cameras for taking photos. This small, compact tripod with a ball and socket design enables the traveler to stand it on any surface or wrap it around a branch or railing to take a photo. With the GoPro mount, it also provides you with a stable support for camera action!

$29.95
#16 Inflatable Wine Travel Bag
VinniBag Inflatable Travel Bag


The perfect gift for wine lovers who love to travel! And not just wine lovers, but lovers of any beverage, olive oils and more! What a great way to ensure that when you find that perfect bottle of wine while traveling, it doesn't break in your suitcase! These inflatable, reuseable bags insulates your precious cargo, ensuring that they arrive home in one piece and not all over your clothes.

$29.99
#17 Crumpled City Map
Crumpled City Map-London

Another gift I haven't personally used myself but know would come in handy for anyone who travels hard. Know someone who is always crumpling their city maps and cramming them into their pockets beyond use? Help them find their way through a plethora of cities around the world with this crumpled map, purposely designed to withstand the harshest of travelers! 100% waterproof, simply pull the drawstring to remove the map and help find your way!

$11.00-$16.00
#18 Airplane Footrest
Airplane Footrest for Long Flight

One of the best airplane travel accessories you could gift any traveler who is constantly jetting off to somewhere new! This airplane foot hammock is lightweight, comfortable and portable making it perfect for any long haul flight! Best of all, it's also perfect for buses and trains, helping to relieve any discomfort or lower back pain! Simply wrap it over the table tray and adjust the straps to your requirements and relax in comfort!

$19.49
#19 Handheld Luggage Scale
Digital Hanging Luggage Scale

Sure, when you leave home, your suitcase is likely be slightly below the required weight limit. But after days or weeks of traveling, you begin to collect souvenirs along the way and before you know it, you've no idea if your luggage will be over the limit. Never wonder again with this portable, handheld suitcase scale. Simply attach it to the handle of your suitcase and lift before you find out at the airport that you've over packed your suitcase!

$10.99
#20 Decoy Wedding Ring
Rose Gold Over Sterling Silver Engagement Wedding Band Ring

One of the things that makes me the most nervous when I travel is my wedding ring. It's glitzy and costs me more than I want to admit, so when I leave home, I wear a wedding ring decoy that looks similar to my ring. Should we ever be robbed while traveling, they won't get much for my ring, but at least I won't feel naked traveling without my wedding ring. I feel safe and comforted to know that my ring is safely locked up in our safe. Just make sure it's not intended to be a real engagement ring gift! Though it's a cute idea!


$23.99
Disclaimer: This post contains affiliate links. If you click on one and make a purchase, I might make a little extra spending money, at no extra cost to you. As always, all opinions are my own and these products/services have been found useful during our travels and come highly recommended to you from yours truly!
What was the best stocking stuffer gift you ever received!? Let me know in the comments!