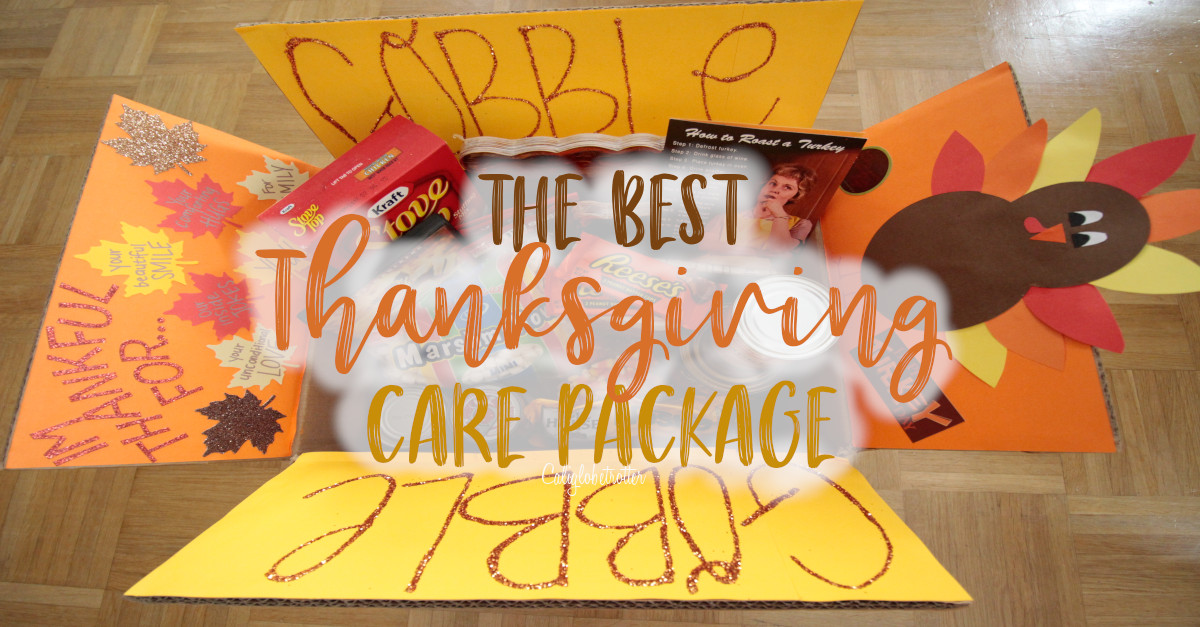 Disclaimer: This post contains affiliate links. If you click on one and make a purchase, I might make a little extra spending money, at no extra cost to you. As always, all opinions are my own and these products/services have been found useful during our travels and come highly recommended to you from yours truly!
The smell of a turkey in the oven, stuffing on the stove and a pumpkin pie sitting on the counter all blend into that one mouth-watering aroma all Americans look forward to every year. That is, if you have the goods. 
Thanksgiving is that beautiful time of year where we all come together to rejoice in another bountiful year, good health, best friends and a loving family. But sometimes, we're not always home for the holidays and being gone during this time of year can make for some of the lowest points in the life of an expat.
Have an Expat Abroad? PIN IT FOR LATER!!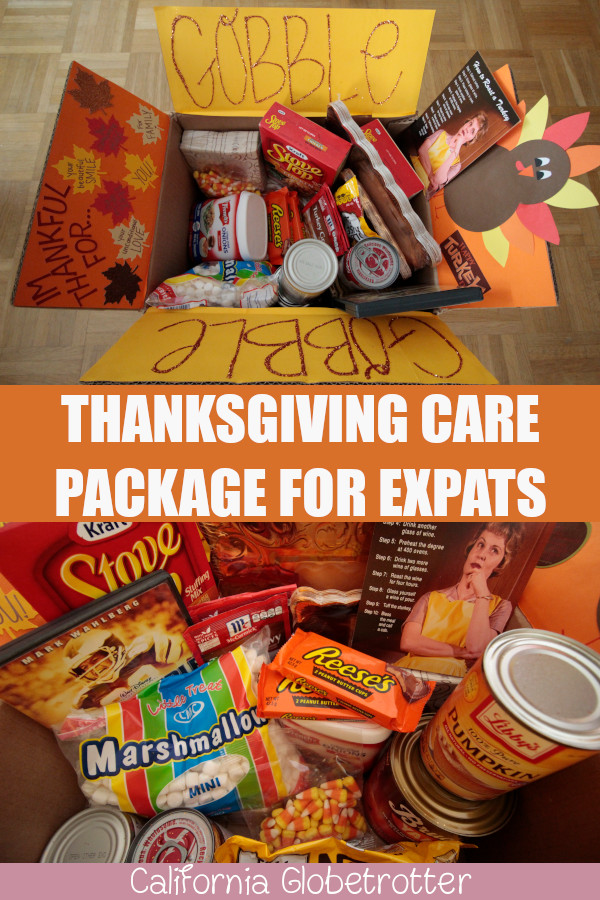 What better way to ease the loneliness and homesickness than by sending your expat a Thanksgiving care package? Just because they're gone, doesn't mean they still can't have their own "Friendsgiving". The only hard part about living abroad during this time of year, your expat may not be able to find all the necessities to make a delicious American Thanksgiving dinner.
Ok, so there are some things you obviously can't send in the mail. It would be a little strange to mail a frozen turkey. However, if you have a wonderful mama like I have, she will send some of the basic non-perishables necessities for a Thanksgiving in Germany. Other things, like Egg Nog, I have to try to buy online. And this year, with a family member coming for Thanksgiving, I wanted to have some of the basics for as much of a traditional Thanksgiving dinner as I can make while abroad.
After scrolling on Pinterest, I had discovered this adorable care package which then inspired me to recreate the box to help inspire others to send their expats abroad a Thanksgiving care package!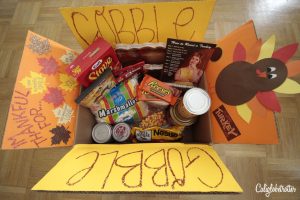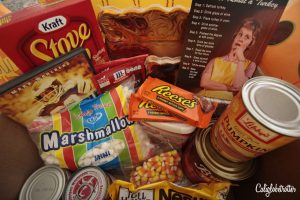 1. Stove Top's Turkey Stuffing
No Thanksgiving is complete without a box or two or three of stuffing. The soft fluffy seasoned stuffing tops off any plate loaded with slices of turkey and mashed potatoes. The smell alone brings back childhood memories of stealing a few bites before the turkey was ready.
2 & 3. French's Original French Fried Onions & Campbell's Condensed Soup, Cream of Mushroom Soup
A classic side dish for any Thanksgiving dinner is without a doubt Green Bean Casserole loaded with crunchy French Fried Onions and cream soup! A favorite at any family gathering during the holidays, it would be a shame to miss out on this yummy in my tummy casserole!
4. Libby's 100% Pumpkin Puree
While I'm sure anyone could make their own Pumpkin Puree if they have the time and energy, it would be much simpler to just buy a can of everyone's favorite pumpkin puree so that your expat can make anything and everything pumpkin. From pumpkin pie to pumpkin pasta, there's not telling what they will make with this!
5. McCormick Turkey Gravy Mix
You just can't have a Thanksgiving dinner without a big ol' pot of gravy mix to drench all over your meal! Gotta moisten up that turkey breast some how!
6. Ocean Spray Jellied Cranberry Sauce
I know without a doubt, there are family members who would not survive a Thanksgiving dinner without their can of Jellied Cranberries!
7. Borden Classic Egg Nog
Egg Nog is not always a typical Thanksgiving drink, but in my family, we have it in the house as soon as it hits the shelf. This quite personally makes me the most homesick when I can't enjoy a glass of classic Egg Nog around the holidays!
8 & 9. Bruce's Cannied Yams & Jet-Puffed Miniature Marshmellows
Nothing better than a side dish of hot candied yams topped with marshmellows to top off your Thanksgiving side dishes!
10. Jack Links Beef Jerky
Not a typical Thanksgiving side dish, but nonetheless, über American and great for snacking on at the end of a day of stuffing yourself silly while watching some good ol' classic American football films!
11. Reese's Peanut Butter Cups
Again, not a traditional Thanksgiving dessert, but classic American candy that can't be found everywhere which everyone loves! I, myself go through severe withdrawals when I can't have a Reese's!
12. Brach's Classic Candy Corn
Starting at Halloween until end of Thanksgiving, this is a good ol' fashioned candy everyone loves to eat and to use as Thanksgiving decorations in their cute candy jars. You just can't skip this one!
13. Nestle Toll House Chocolate Chips
Can't have good American style chocolate chip cookies without chocolate chips! I'm not sure about other places in he world, but German chocolate chips are small and don't melt well. It's just not the same!
14. Thanksgiving Paper Plates, Napkins & Cups
Obviously, a Thanksgiving wouldn't be a Thanksgiving with cheap & cute Thanksgiving decor. Throwaway-able Thanksgiving paper plates, cups and napkins! Because no one wants to dishes once that Turkey food coma sets in!
15. Football Films: Invisible, Remember the Titans, The Blind Side
No care package in the world would be complete at Thanksgiving without some of the best classic football films! Thanksgiving just wouldn't be Thanksgiving without the sound of a football game on the TV, everyone hootin' and hollerin' for their favorite team! Unfortunately, not all of us are willing to stay up until 2 or 4am to wait for the Thanksgiving football game, if we're even lucky enough to get it on the TV!
Other Related Posts:
13 Fabulous Birthday Gifts for the Lady Traveler
Stylish Carry-Ons Essentials for the Lady Traveler
10 Gifts Every Female Traveler Should Have
10 Affordable Hipster Gifts for Mr. Traveler
Like this post? PIN IT FOR LATER!!