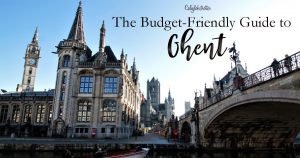 This is NOT a sponsored post, we just loved using the Ghent City Card and highly recommend it, but there are affiliate links in this post! If you make a purchase using one of these links it means I may earn a small commission at no extra cost to you.
Surprisingly, as the largest cultural center in Western Flanders, Ghent has been easily overlooked by its more popular neighbor, Bruges for its charming canals and beautiful architecture. Originally coated in layers of grime from years of being an industrial center, the town underwent a restoration program in the 1980s which has resulted in the city emerging as one of the best kept secrets in Europe! Not only is it a true gem, but one of the most exciting places to visit in Belgium!
Want to Explore More of Belgium? PIN IT FOR LATER!!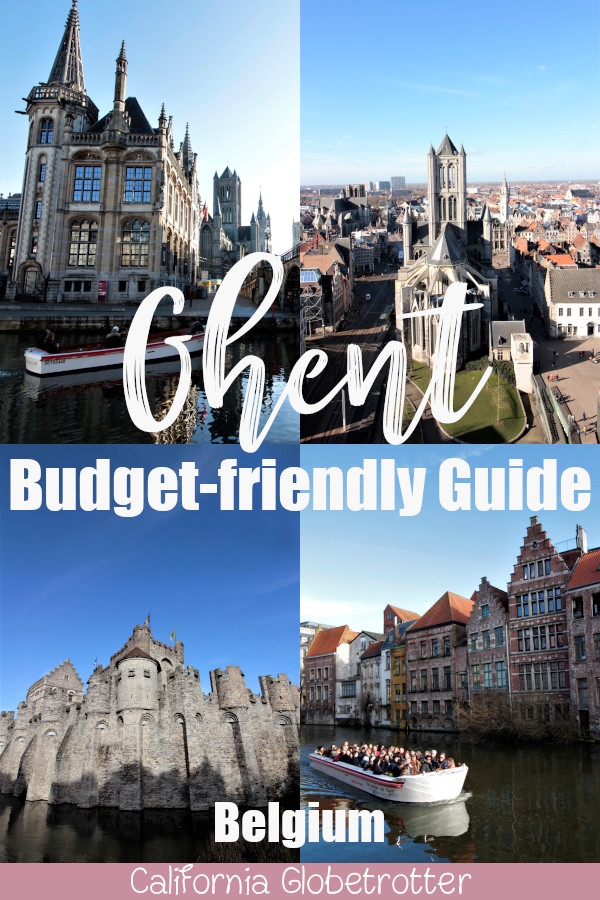 This article is now available as a mobile app. Go to GPSMyCity to download the app for GPS-assisted travel directions to the attractions featured in this article!
Be sure to grab my full Belgium Travel Itinerary for 3, 5 or 7 Days!
And I have to admit, I, too, fell head over heels in love with Bruges before I even heard of Ghent, but I quickly fell in love with the picturesque canals and bridges and was kicking myself stupid for waiting so long to visit! Ghent is STUPID PRETTY and a city of historic treasures beautifully blended together with innovative and modern museums and galleries, leading the way for a better future and even has one of the most exciting culinary scenes in Europe.
There are many reasons to visit Ghent, especially with its imposing medieval castle, cobbled lanes leading to picturesque alleys and waterfronts along some of Europe's most beautiful canals and numerous churches, Ghent is a photographer's paradise. With a wide variety of delicious not good for my diet cuisine and the overall lack of crowds of tourists, the city feels like the bigger sibling to Bruges with a more authentic feel to it and totally deserves to be on your European itinerary! Best of all, these are Ghent things you can do in a day without a free walking tour!
Some Quick History of Ghent
The city was first founded as a small settlement just at the confluence of the Rivers Scheldt and Leie in 640 when St. Amandus decided to establish an abbey here. The city quickly became one of the most important and richest cities in Europe between 1000 – 1550 and was even at one time, larger than London, yet smaller than Paris. With over 50,000 people during the High Middle Ages and a highly developed mercantile zone, wool had to be imported from Scotland and England, however that relationship would significantly deteriorate during the Hundred Year's War. Ghent would seek favor with the King of France and since then Dutch has been the official language. 
The textile industry wouldn't bounce back until the 18th and 19th centuries when Lieven Bauwens managed to smuggle the intricate industrial and factory machine plans out of England and bring them to Europe, which introduced the first mechanical weaving machine to the continent. This would lead Ghent to becoming the continent's first major industrial center and eventually the first trade unions. 
During the Second World War, the city was occupied by Nazi Germany, but luckily managed to survive the war with little destruction. However, the city was covered in industrial grime and by the 1980s the city undertook a massive restoration project to clean up the city and today is a vibrant alternative to Bruges!
Tips to Better Enjoy Ghent
For our weekend visit to Ghent, we opted for the first time to actually buy a city card. I never believed in these city cards until I finally sat down, researched every place we wanted to visit in Ghent, did the math both with and without the card and realized that "Hey, this is a good investment!" It also included using public transportation all day, every day! While the historic part of Ghent is pretty compact, it was still nice to hop on and jut across town or to reach other sights we would have otherwise not visited. In total, we would have paid 86 € for the both of us (excluding museums) for the sights and tram without the card, but with the Ghent Card, we paid 60 € saving us 26 €! I would say in my best Smash Mouth voice, "I'm a believer!!"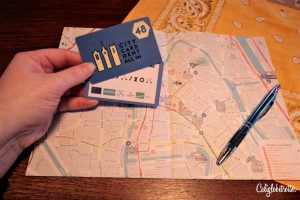 Experience Ghent with The Ghent City Card:
The Ghent All In City Card saves you around 15.00 € during the low season (November – March) and 20 € during the high season (April – October) and gives you access to:
All the top attractions, monuments and museums 
Guided boat tour
Public Transportation
Bike rentals (1 day)
Hop On Hop Off water tramway (1 day)
Where can you buy the CityCard Gent? 
The Ghent Tourist Office (Sint-Veerleplein 5)
All participating museums and attractions
Ghent's hotels
All sales points of public transport company De Lijn
Price:
48 hours: 30 € per person
72 Hours: 35 € per person
Also be sure to grab the complimentary city map and paired city guide book loaded with facts and history about each location in town!
What to See & Do in Ghent
Gravensteen Castle (Het Gravensteen)
First and foremost, let's talk about the main attraction in Ghent, the Gravensteen Castle. I mean, after all, who doesn't love a good medieval castle right smack in the middle of a historic city? With its strategic location on the Leie River, the Castle of the Counts enlightens you to the violent history the city endured.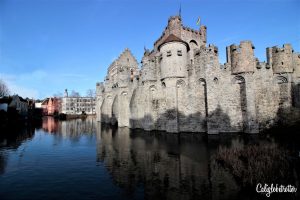 The castle is a meticulously restored 12th century castle that comes with a moat, turrets, 24 towers and once inside a very un-Disney-esque exhibition of medieval torture devices. (And I thought waxing was barbaric!) If your stomach hasn't turned over, head up to the rooftop for a lovely view over the city which is bound to put you right again! Get there early to avoid the tourists! We were actually the first and left just as they were coming in, so we had the whole place to ourselves!
Opening hours:
Summer (1st April – 31st October): daily from 10am – 6pm
Winter (1st November – 31st March): daily from 9am – 5pm 
Price:
Without the Ghent City Card: 6 – 10 €
With the Ghent City Card: FREE
The Great Butcher's Hall (Groot Vleeshuis)
Built in the 15th century, the Great Butcher's Hall was once a thriving indoor meat market where all meat sales could be centralized thus ensuring the quality and freshness of the meat. Meat hung from large wooden beams, but today only a few hams hang from the rafters to cure traditionally, as well as being a reminder of the history of the market. One side of the market houses a restaurant which serves delicious local cuisine while the opposite side is a delicatessen.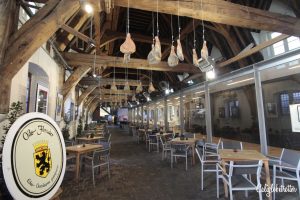 Opening Hours:
Every day except Monday 10 am – 6 pm
Price: FREE!
The Best Waffles in Ghent
Ok, ok, so I have no comparison, but we liked this one so much, we went back twice! The lady was really chatty and gave us super fresh waffles! You can find her on the corner of a row of houses near the Grasbrug bridge at the end of the Graslei embankment! 
The Graslei and Korenlei Harbor
Along the Leie Waterfront, two of the loveliest embankments in the city face one another across the Tusschen Brugghen, the Graslei and the Korenlei, which was once Ghent's medieval harbor. Along the Graslei embankment, you'll find typical red brick guildhouses dating from the 16th century while the opposite side boasts more historic houses from a later period, though equally charming. This stretch of embankment has been and still is one of the main focal points of the city and the nearby St. Michael's Bridge offers some of most beautiful views. I honestly couldn't stop taking pictures every five feet!
Price: FREE!
The Graslei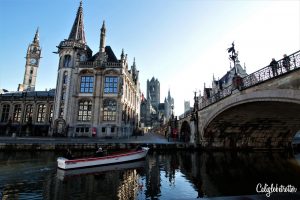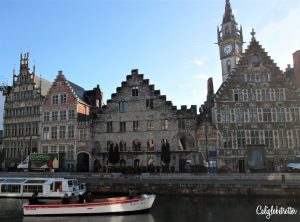 The Kornelei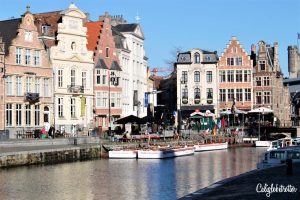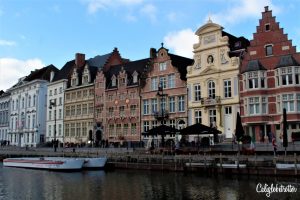 The Old Post Office
Located along the Graslei embankment, you'll find the former Post Office of Ghent looking regent, however, you would be surprised to know it was only constructed at the beginning of the 20th century and blends beautifully with the rest of the medieval buildings in the city. While the Post Office might be decommissioned, it has since been transformed into the 1898 De Post Luxury Hotel as well as several shops inside, but of interest are the decorative statues on the facade, the Disney-esque turrets as well as its high clock tower!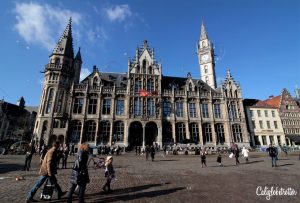 St. Michael's Bridge (Sint-Michielbrugor)
If you've seen a picture of Ghent, then it was probably taken from the most picturesque bridge in the city, St. Michael's Bridge. It is one of the most iconic locations in the town looking towards the city center. Named after the nearby St. Michael's Church, the view from the bridge offers an impressive vantage point of the Graslei and Korenlei embankments and the recently renovated Old Fish Market. It's from here that you can also catch a glimpse of ALL the Medieval Towers of Ghent – St. Nicholas' Church, the Belfry of Ghent and St. Bavo's Cathedral, all beautifully lined up one after the other. Get here early in the morning if you want photos without foot traffic or bus traffic, or come back at blue hour of photos of Ghent! No matter from which angle, it's always a classic, picture perfect shot!
Price: FREE!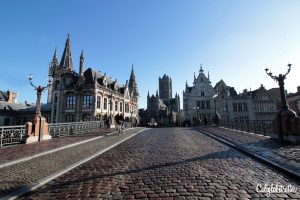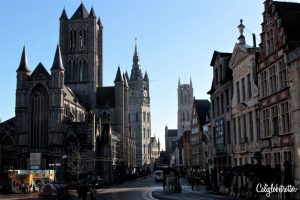 St. Nicholas' Church (Sint-Niklaaskerk)
The first of the three Medieval towers in the city is that of St. Nicholas's Church, the oldest and most remarkable church in Ghent. Built in the 13th century in typical blue-grey stone from Tournai in the distinctive Scheldt Gothic style, the church stands out among the rest with slender turrets at each of the four corners, next to the bustling Korenmarkt. The central tower once housed the town bells until the Belfry of Ghent was completed in 1380.  The front portion of the church has been temporarily turned into a book market while entering from the side, you can visit the inner remaining portion of the church.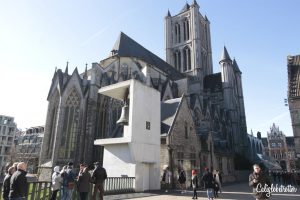 At the back of the church, you can find the Roeland Bell, the alarm bells that have hung in the Ghent Belfry since the 14th century. They were given a new permanent home next to the church and the City Pavilion and you can hear a soft ding dong charm emanate from the bell. 
Opening Times: 
Daily from 10 am – 5 pm except Mondays which is open from 2pm – 5pm. 
Price: FREE!
The Ghent Belfort 
The Belfry of Ghent is renowned for being the tallest belfry in Belgium, standing at 91 m (299 ft) high and is inscribed on UNESCO's World Heritage List, as well as several other belfries from both Belgium and France. It's main intention was not only just to serve as a bell tower, but also as a watch tower. The Belfry has dominated the Ghent skyline since the 14th century and is topped with a golden dragon which has taken to being the city mascot, as well as boasting an impressive 54-bell carillon which chimes every 15 minutes. Those who love a good vantage point should take the lift up to the top for impressive views over the city, a view of St. Nicholas' Church as well as St. Bavo's Cathedral! Stop at different levels along the way up to learn about the history of the bell tower. Once at the top, hold on tight because it can be quite windy!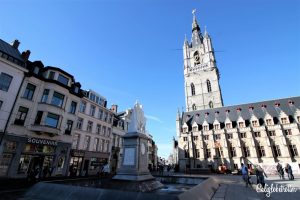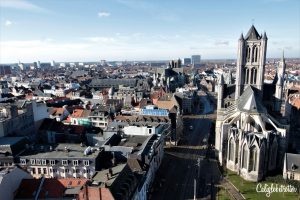 Opening Times:
Daily from 10 am – 6 pm
Price:
Without the Ghent City Card: Basic 2.70 – 8 €
With the Ghent City Card: FREE!
St Bavo's Cathedral (Sint-Baafskathedral)
Named after Ghent's very own 7th century saint, St. Bavo's Cathedral was built over several stages, ranging in a variety of Gothic styles from the 13th to 14th centuries. After continuous work and renovations, including modern ones, the cathedral is one of the most impressive.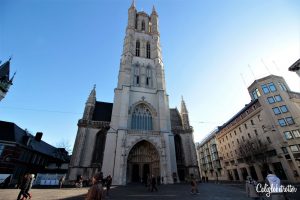 The cathedral also prides itself on being the home of the Adoration of the Mystic Lamb (1432) by Hubert and Jan van Eyck. The Ghent Alterpiece is considered to be the first major piece of artwork from the Renaissance but has been cursed with bad luck, as it has fallen into Napoleon's hands and was later requisitioned by Nazi Germany. The 'Just Judges' panel was stolen in 1934 and to this day has not yet been found, and therefore, the lower left panel has been replaced by a reproduction until its return. Every day, from 12-1pm, the side panels are closed so that you may also see the outer panels. While inside the chapel, absolute silence is demanded of visitors nor are photos allowed. It was, however, rather annoying that the tiny room was jam packed with visitors. If you'd like to see the panel in its full glory without the crowds, come early!
Opening Times:
Daily from 8:30 am – 5 pm except Sundays which is open from 10 am – 5 pm
Price:
Entry to the Cathedral is FREE.
To view the Adoration of the Mystic Lamb between 10:30 and 4pm:
Without the Ghent City Card: 1.50 – 4 €
With the Ghent City Card: FREE
Duivelsteen 
Just beyond the St. Bavo's Cathedral, you'll find the more foreboding looking castle, Geeraard de Duivelsteen, or better translated as the "Devil Castle". The 13th century Gothic structure was named after Geerard Vilain who earned the nicknamed "Geerard the Devil" due to his dark hair and complexion. However, despite its gloomy appearance, it has since actually served as many purposes, from being a knights' residence, an arsenal and prison, a monastery, a school, an insane asylum and recently a national archive.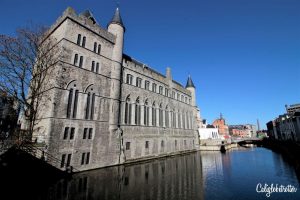 The City Pavilion (Stadshal)
A recent addition to the Ghent city center, the City Pavilion was constructed in 2012 as part of a massive city revitalization program which transformed the Peoljemarkt into an architectural masterpiece between several of the major landmarks. Concerts, dance performances and markets can be held here and at night, the pavilion lights up and shines though small slits in the ceiling. The city clearly experimented with modern art, but the residents quickly took a liking to it, despite having earned the nickname 'the sheep pen'. Not surprisingly though, the pavilion has already been awarded with several architectural awards in Belgium and the EU. But, you should decide for yourself what you think of it!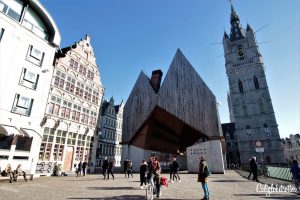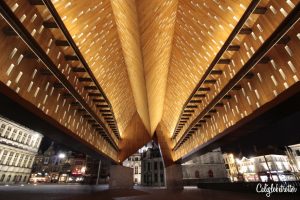 The City Hall (Stadhuis)
What might appear to be two different buildings is actually the Ghent Town Hall which combines two different architectural styles. The older half dates back to the 16th century and flamboyantly displays an elaborate Gothic facade while the newer portion is a simple Renaissance facade. The city hall is still used as a main administrative center and, therefore, it is still quite common to see a wedding or two taking place. Visitors are also allowed inside to marvel at the Arsenal Hall, Wedding Chapel, the Pacification Hall and much more via a guided tour during the week everyday from 2 – 4pm. However, because we got there too late, we missed the chance to go in.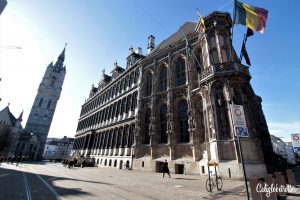 Graffiti Alley (Werregarenstraatje)
As soon as I knew we were going to Belgium, the first thing I did was look for street art in Ghent. It's so rare to find in Germany and I get so excited. So when I discovered that this alley turned dynamic sketchbook in Ghent, I had to see it. In this rule-free zone, local artists have the chance to express themselves here without destroying historic sites. Often the wall will be painted white so that artists can have free range, other times it looks like a chaotic alley with tags, cartoons or impressive pieces. It's a constantly changing and ever evolving piece of work! I did however find this cute little bloke! It's definitely one of the more unique sights to see in Ghent!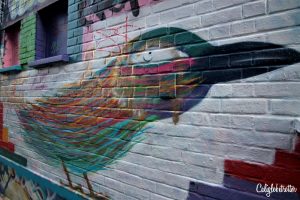 The Vrijdagmarkt
Today, this busy market square which translates to "Friday Market" is a hustling meeting point in the city center, however, historically, the square was once used to receive rulers, have elaborate feasts and for settling disagreements. Besides that, the square is lined with traditional Flemish houses and many cafes to stop and enjoy a coffee while people watching. 
It's also here that you can find the Tavern Dulle Griet, a traditional cafe which serves over 500 international beers of which 250 are Belgian! They are considered to be one of the most celebrated "beer academies" in Belgium with beer memorabilia covering every wall in a medieval fashion with cartwheels and beer barrels. If you're looking for a traditional drink, exchange your shoe for a Max beer served in a boot-shaped glass or make a reservation for a Trappist Beer Tasting for 13,50 € per person which includes perfectly paired cheese and salami. A table was reserved for us and the waiter gave us some info about the beers we were trying.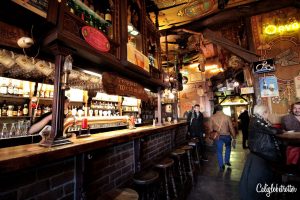 Trappist beers are always blonde and are made by monks. There are only 11 monasteries that brew Trappist beers, six in Belgium, two in the Netherlands, and one in Austria, Italy and the US. Sadly, none for Germany. Each and every single beer in Belgium must come with its very own, unique drinking glass and all money made from drinking Trappist beers is donated to a good cause! So drink up, buttercup!
We began with the Orval which is a special beer as it's the only beer produced by the brewery. Guess once they perfected it, there was no need to make more. Up next was the Chimay red, which is the oldest. It's a coppery red dark ale with a sweet fruity flavor. Lastly, we moved on to the Westmalle Dubble, a dark, heavy beer which can be either sweet or bitter. 
Price: 13,50 € per person (NOT included in the card!)
Het Huis van Alijn
On the opposite side of the river not far from the Vrijdagmarkt are a row of humble whitewashes cottages surrounding a grassy courtyard which is actually one of Belgium's best folk museums showcasing every day life from the 19th century. Built in 1363, the picturesque houses were originally built as a children's hospital by the Rijm family, however, not as a simple act of kindness, but rather for penance for the murder of two members of the a rival family, the Alijns.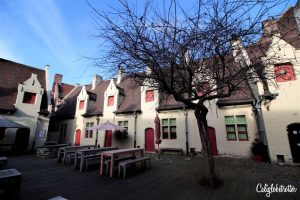 Price:
Without the Ghent City Card: 2 – 6 €
With the Ghent City Card: FREE
Streets of Patershol
Once considered to be a dodgy neighborhood, Patershol is now an idyllic cobble-stoned street littered with traditional picturesque old houses and is a great place to soak up Ghent's medieval atmosphere as it has apparently not changed much until it was cleaned up in the 90s. Today, it's one of the chillest places to hang out, loaded with hidden restaurants and bars, although when we went, it was quite quiet, so perhaps during the warmer months it's more lively.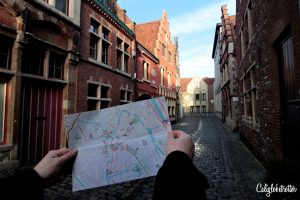 Ghent by Night
For lovers and photographers, strolling through the city at blue hour and late into the night is quite possibly 1. The most romantic thing to do in Ghent and 2. utterly, totally and magically stunning! The city really lights up against the evening sky.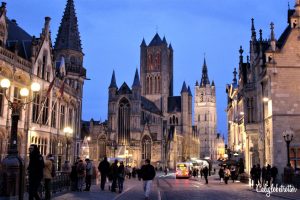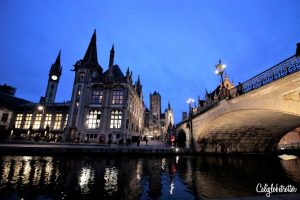 Ghent Museums
Ghent has a myriad of museums with both fixed and temporary exhibitions ranging from fine arts, to photography and history. You can find a complete list of Ghent's museums here.
Price:
With the Ghent City Card: Prices vary from 1 – 8 €
Where to Stuff Your Face in Ghent
If there was one thing you absolutely had to try that is a local Ghent delicacy, I would say it would be the cuberdon, which translates into English as "Ghent noses". Satisfyingly, they taste much better than they sound. The traditional one is simply fruit jellies made with raspberries in the shape of a cone or pyramid. However, in recent years, they have come in a variety of flavors. While the outside is hard, the inside is gelatinous and because of their tendency to crystallize after a few weeks, they are not exported out of Belgium. Therefore, you have to stuff your face with as many as possible while in Ghent! You'll find them around town in cute little bike stands!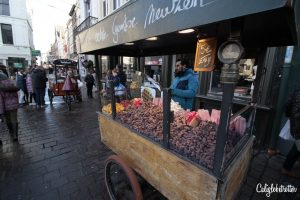 Chez Leontine
If you're wondering where to eat in Ghent, Chez Leontin, decorated in antique style decor and stacks of books and old photographs, provides mouth-watering traditional Belgian cuisine! We were recommended to go here, and even though the price felt a little steep, it was worth every penny! I had the best Vol au Vent to date from here while my husband enjoyed his yearly pot of mussels and frites!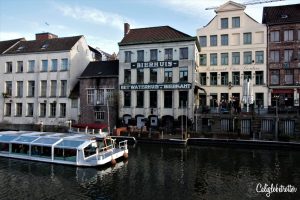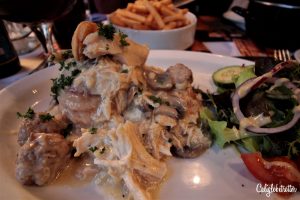 Het Waterhuis aan de Bierkant
Afterwards, meander the five steps to Het Waterhuis to enjoy a traditional beer cafe along the Leie waterfront. We sat here and each enjoyed a few Belgian beers, including the tavern's own brewed beer, Gandavum as well as a locally produced beer from Ghent called Gulden Draak, named after the golden dragon atop the Ghent Belfry! We easily could have sat here all evening drinking a variety of over 200 beers if it were not for the fear of 1. looking like alcoholics and 2. breaking the bank!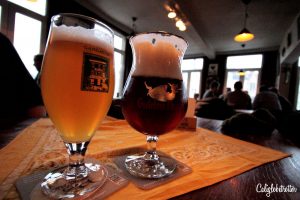 Frituur Het Puntzakje
Trips to Belgium are the one time we really let our inner fatties foodie out to play because everything is just so dang good! Just feet from the Het Gravensteen is a traditional Belgian friterie (frituur) where we also had to have our yearly dose of deep friend Belgian food! Normally, we always stuck with a traditional burger and frites, but this time, we felt we were ready to take on anything and tried a variety of deep fried foods! Still not entirely sure what we ordered, but I would definitely recommend them: A chicken burger with onions, Vleeskroket (breaded minced poultry), Bami Blokken (no idea) and a Samourai (sausage with spicy sauce) and two frites!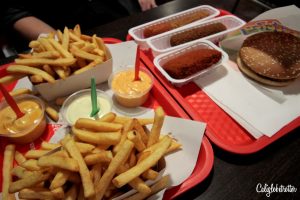 Where to Catch a Good Snooze in Ghent
Hotel Astoria Gent ⭐⭐⭐ – As one of the few family-owned and operated hotels in Ghent, you can bet that your stay in one of the 27 stylishly decorated modern rooms just a bit outside of the Ghent City Center will be comfy cozy! Here, you can enjoy a fresh, homemade breakfast every morning before you head out into town for sightseeing! Our room was adorable with a unique closet build over the bed while our bathroom was quite spacious.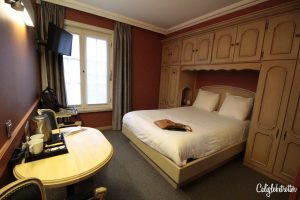 Overall Experience
I honestly CAN'T believe it took us so long to finally make it to Ghent! I loved the mix match uncoordinated theme of the architecture in Ghent, the plethora of canals and turreted buildings! It was honestly like walking through a city fairy tale! People always head straight to Bruges, and I'm not gonna lie, I did too. But, if I had to choose Bruges vs Ghent, it would be a hard choice! Bruges is known for wayyy more romantic canals, hundreds of swans and stunning architecture, but that beauty comes at a price as being too touristy. Although, you can never go wrong with a visit to Bruges. But Ghent offered a more down to earth city feel with a ton of cute beer cafes to pop into and stunning grey stone architecture! Overall, Ghent is definitely worth visiting!!
If you're interested in visiting Europe and are looking for more information, I highly recommend using the DK Eyewitness Travel Guide or Lonely Planet! Without these guides, I would be lost! This is my travel Bible! As well as two books on Belgian beer I highly recommend for understanding Trappist beers and all of Belgium's beers!
Disclaimer: This post contains affiliate links. If you click on one and make a purchase, I might make a little extra spending money, at no extra cost to you. As always, all opinions are my own and these products/services have been found useful during our travels and come highly recommended to you from yours truly!
Day Trips from Ghent:
What to See & Do with a Weekend in Bruges
A Self-guided City Guide to Eating, Drinking and Sightseeing Your Way Through Brussels
The Blissful Belgian Coast: Blankenberge Beach
3 Days of Debauchery at the Aalst Carnaval
Liked this post? PIN IT FOR LATER!!