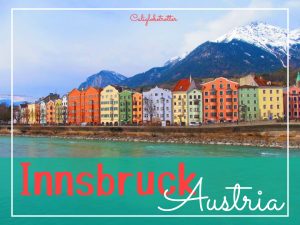 For the day, we drove down to Innsbruck, Austria. The river Inn flows through the city center therefore "Innsbruck" literally translates to "The bridge over the Inn". Innsbruck is the capital of the Tyrol and is Austria's most important tourist region. What makes Innsbruck special is that it is nestled into the Tyrolean Alps and during the winter, it is one of the many popular ski towns people flock to. Last weekend we went to Zugspitze and discovered that we have a new found love affair with the Alps and are evening planning to go hiking in the summer.  The Alps are so enormous that they span across 7 countries.
Want to Visit This Charming Alpine Town? PIN IT FOR LATER!!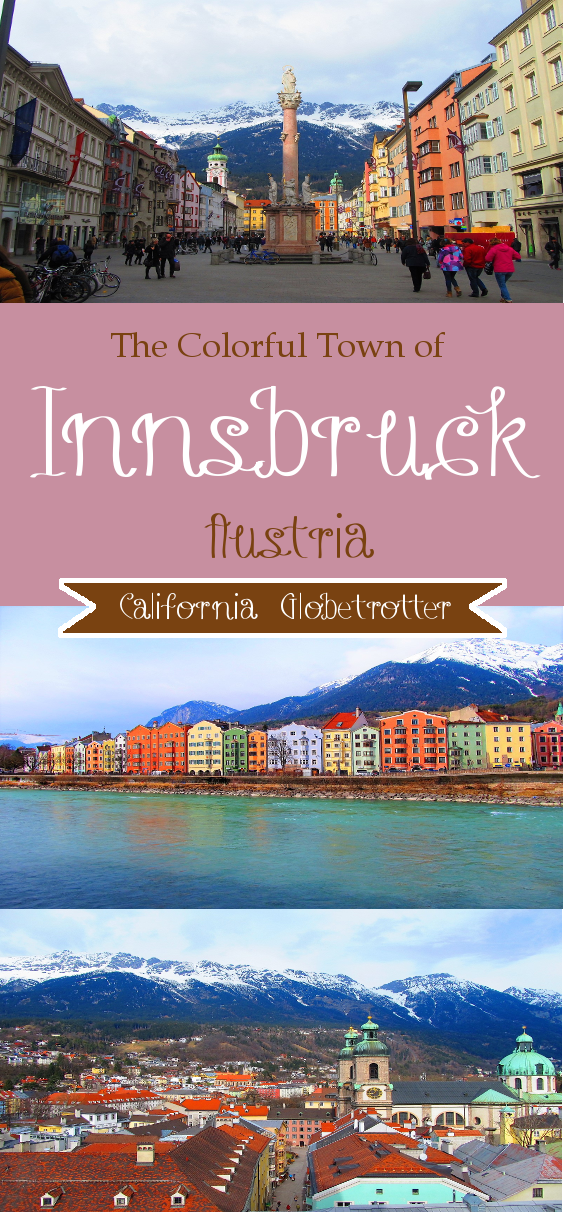 How to AVOID Looking Like a Tourist in Europe
We decided to go because I've been dying to remember what I couldn't. 15 years ago, my family and I did a family history tour of Austria, Germany and Switzerland. I remember most of the vacation, but nothing from Innsbruck. And surprisingly, even while we were there today, none of it looked familiar to me. Granted the fact that 15 years ago, I was a tween who was grumpy that I was being dragged all around Europe. Wish I could go back and smack that tween in the face for not appreciating that vacation more.
While many people come to the Tyrolean region to hit up the Innsbruck ski resorts to have a skiing holiday, but we simply came for the sights. But those stunning white peaked mountain tops certainly made me want to grab a pair of skis. 
Like this post? Take it with you as GPS Guided App directly to your phone via GPSMyCity!
Hofburg Palace
We first hit up the Hofburg Palace but didn't bother going in. This is so unlike me. It just didn't look exciting enough to spend the money to go in, but now that I am home and researched a bit about the palace (which I normally do before going and I'm pissed I didn't this time) I wish I had gone in. I'm a big fan of Marie Antoinette and there is supposedly a painting of her, considering that she was the 15th of 16 children born to Maria Theresa of Austria. Next time!
Cathedral of St. Jakob
Then we meandered over to the Cathedral of St. Jakob only to be amazed by the beauty of the paintings that dominated the inside of the cathedral. I guess never judge a book by its cover, right! As soon as we came out of the cathedral, the clock struck noon and the bells started chiming LOUDLY.
The Colorful Streets of Innsbruck
So then we wandered through the many different alleys in Innsbruck looking into the different shops and enjoying the pleasant aromas of something fabulous in the air. We really couldn't place the smell and figure out what it was, possibly spices. In the same area at the end of Hofgasse is the Goldene Dachl. This is a window that was added to the building in the 1500s by Maximilian I with 2,657 gilded copper roof tiles. All the buildings in this area were just so beautiful, covered in wall paintings depicting images of history and religion.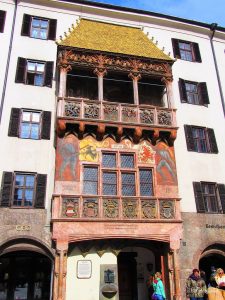 Since Innsbruck is an easy day trip from Munich and Verona, there were a lot of German and Italian speakers everywhere.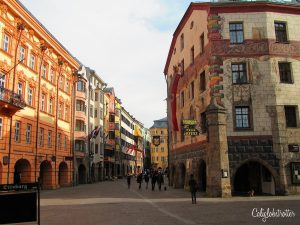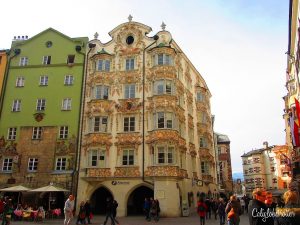 Stadtturm (City Tower)
As we were walking around Herzog-Friedrich-Strasse, which is the main area all the tourists will be walking down, my boyfriend pointed out that there were people up in the Stadtturm (city tower). Naturally, I wanted to climb it. I highly suggest doing this, but you do have to pay for it! I'm a naughty traveler and still use my old college ID in order to get a discount! Otherwise, for adults you will 3,50euro. But I promise you, it will be worth it! The tower offers a 360* panoramic view of Innsbruck and the surrounding mountains.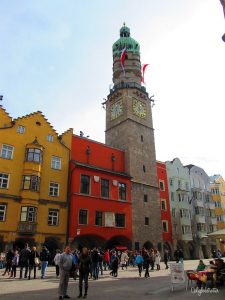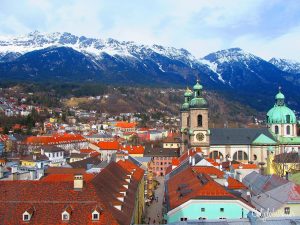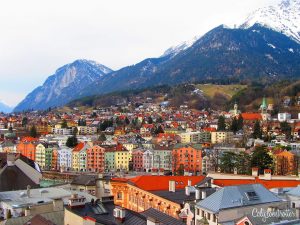 When we came down from the tower a group of Austrians were dressed in old fashioned style traditional skiing clothing, holding skis and posing for the tourists. Naturally, I jumped right up in there and snapped a picture! They looked fabulous, especially the lady with the fur scarf!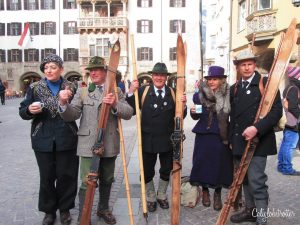 As we were walking around Hofgasse, we decided to stop and have lunch at a delicious smelling restaurant right on the corner of Hofgasse called Gasthaus Goldene Dachl. I HIGHLY suggest eating here. The food was delicious. I tried a Cordon Bleu style turkey schnitzel stuff with bacon and a yummy cheese with a side of cranberries to dip. It was amazing!!
The Inn River & the Most Iconic Image of Innsbruck
Then we made our way to the Inn River and the Innbrücke to get the picture I wanted the most: The colorful houses along the river with the mountains in the backdrop with the crystal blue water. Stupid me, I forgot my selfie stick in the car and instead had to suffer with crap picture takers.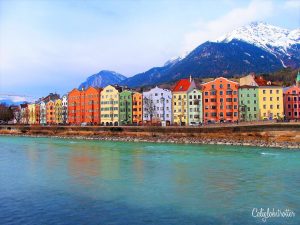 St. Anne Column
Finally, we started heading back down Herzog-Friedrich-Strasse in the direction of the Triumphal Arch and the St. Anne Column which was backed by the white caped mountains peaks off in the distance.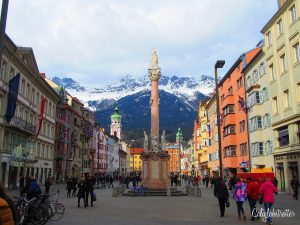 Overall, Innsbruck was a nice place to spend a day, but it is definitely cold in the winter especially with those mountain winds trying to knock you over. In some areas, I thought it looked just like Salzburg, especially by the river. Which isn't so surprising since they are not far away from each other. Both are great for sightseeing, so you honestly cant go wrong with either. Although, Innsbruck does have a cable car called the Hungerburg funicular which you could take up to get amazing views of the town. We didn't see this until we were driving out of the city, so we will have to do this next time!
Day Trips from Innsbruck!
 Autumn in Hallstatt – Austria's MOST Beautiful Town!
New Year's Eve Fireworks in Salzburg
A Romantic Weekend Guide to Vienna
A 7 Day Road Trip Through Austria
Europe's Most BREATHTAKING Libraries!
 Liked this post? PIN IT FOR LATER!
Save
Save
Save
Save
Save
Save
Save