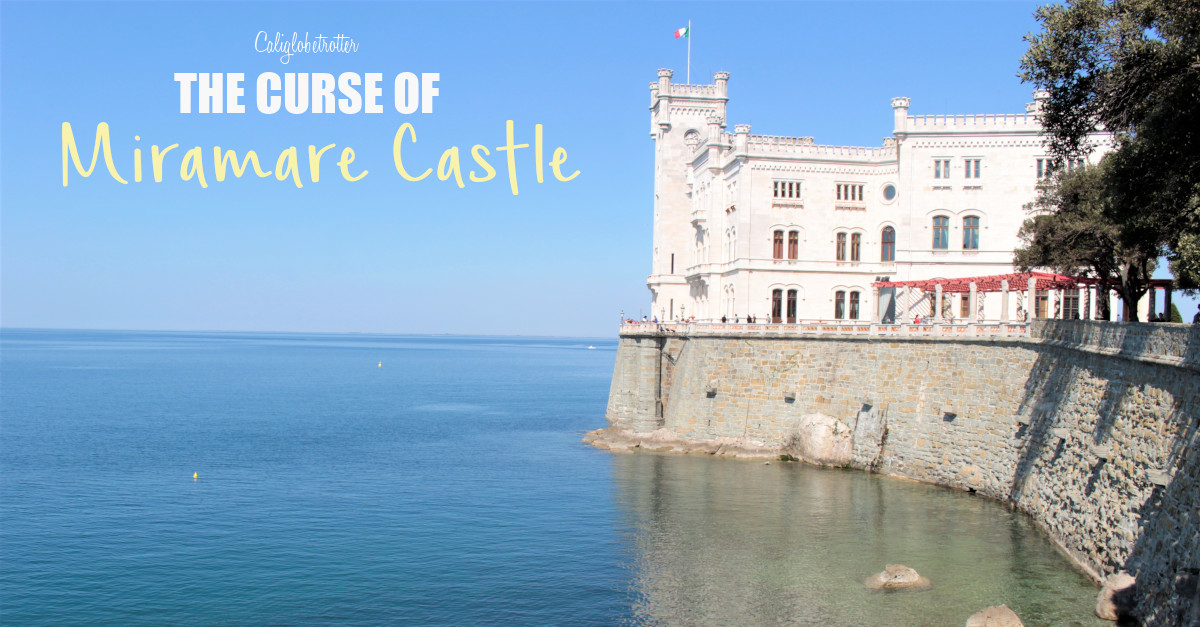 Disclaimer: This post contains affiliate links. If you click on one and make a purchase, I might make a little extra spending money, at no extra cost to you. As always, all opinions are my own and these products/services have been found useful during our travels and come highly recommended to you from yours truly!
If ever there was the most idyllic castle that would suit my every need, then it would without a doubt be Miramare Castle, just 10 minutes from Trieste. A quaint, white stone castle perched on a cliff just feet above the Adriatic Sea, facing out to an endless blue sea and surrounded by lush gardens with terracotta potted plants. I could have imagined a lovely, peaceful life here… until I discovered the curse of anyone who sleeps at Castello di Miramare…
Love Italian Castles? PIN IT FOR LATER!!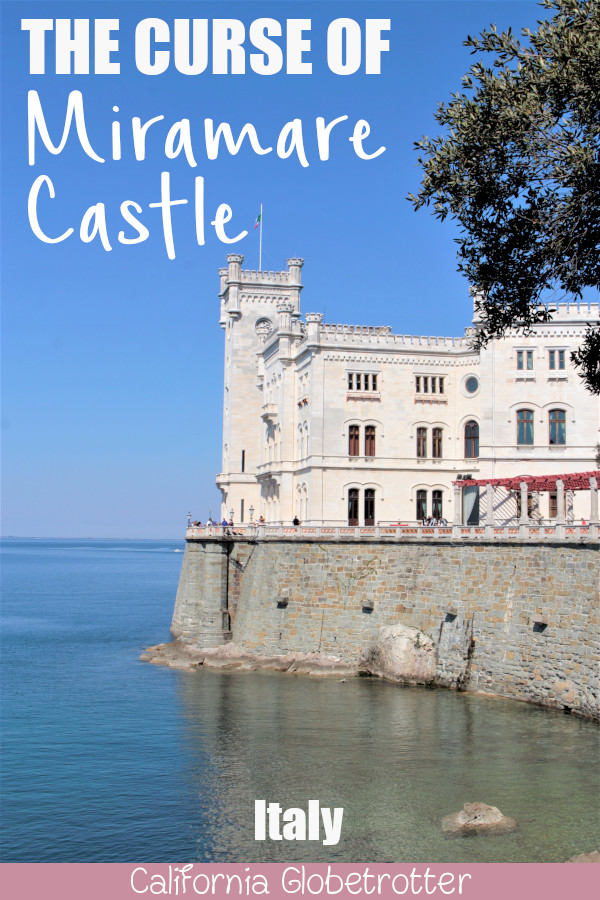 How to AVOID Looking Like a Tourist in Europe
Your ESSENTIAL Guide to Europe
Gorgeous Seaside Towns Along the Adriatic Sea
This article is now available as a mobile app. Go to GPSMyCity to download the app for GPS-assisted travel directions to the attractions featured in this article!
Before I get too much into detail about the castle, I would just like to point out that we did a mini-Istria tour, booking ourselves into a lovely little hotel in Piran, Slovenia for the Easter weekend, and from there we did a day trip to Trieste which included a visit to Miramare Castle, as well as a day trip to Rovinj, Croatia. It was the perfect weekend getaway where we were able to enjoy three different countries on three different days!
Like the Empress Elisabeth "Sisi" of Austria, Archduke Ferdinand Maximilian of Hapsburg commissioned Castello di Miramare in 1856 for his beautiful new wife, Charlotte of Belgium to be as far away from the Hapsburg Court as feasibly possible. Intending it to be fit for a queen, this idyllic slice of heaven would become their little love nest, nestled along the coastline and surrounded by 22 acres of gardens and forest with rare and exotic trees.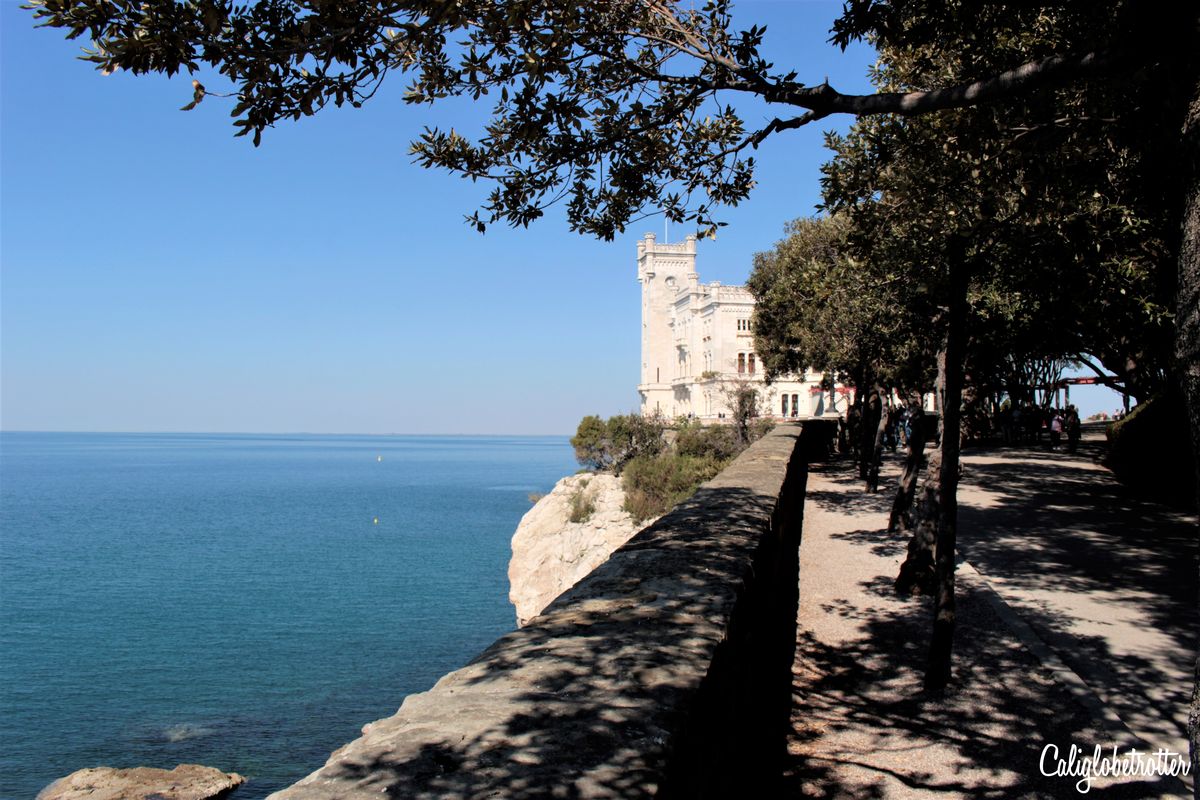 Like a hawk, Maximilian supervised the construction of his masterpiece and took up residency on the first floor before the castle was even completed. The castle itself would not be completed though until 1864, after Maximilian and Charlotte moved to Mexico, where Mexican monarchists had been advocating his ascension to the throne since 1859. Napoleon III was looking to turn Mexico into a new satellite state with a nominal emperor as a figure head. Holding no real power in Italy and wanting a more challenging role, Napoleon III chose the Archduke Maximilian, who finally consented and the two love birds headed for Mexico to assume their new titles as Emperor Maximilian I and Empress Carlota of Mexico in Mexico City.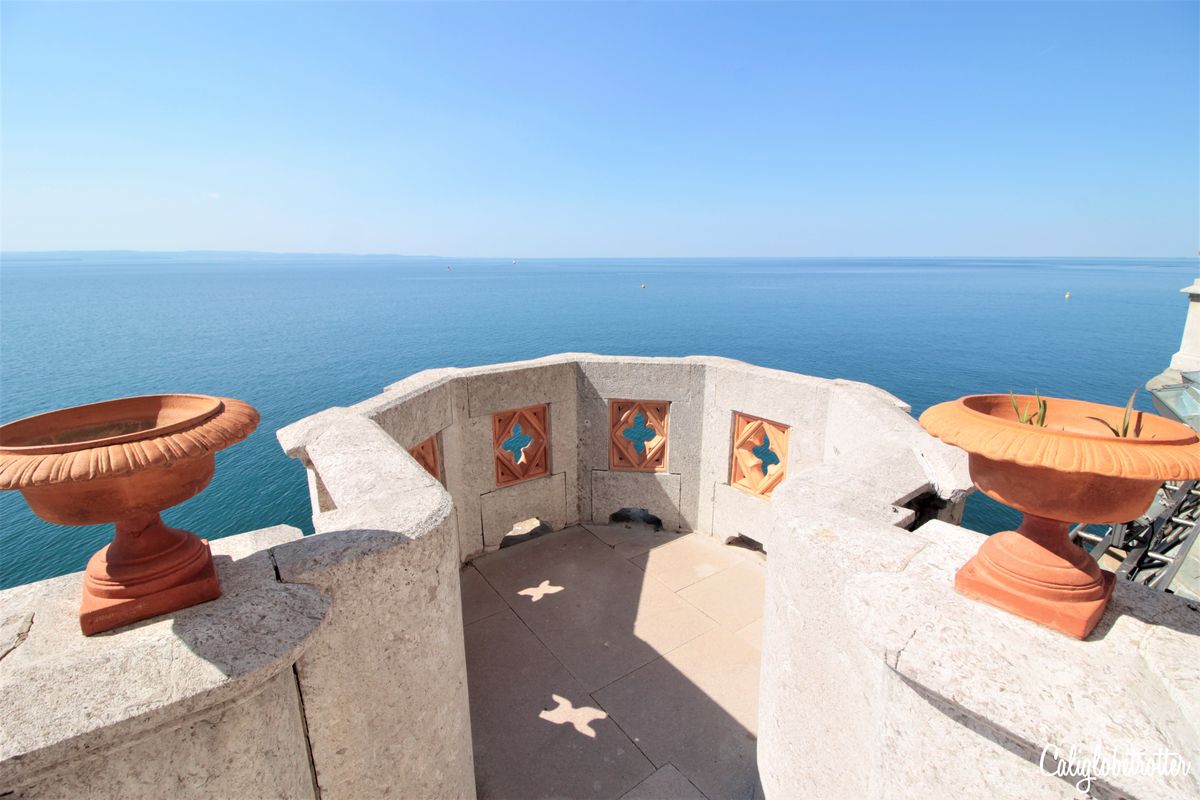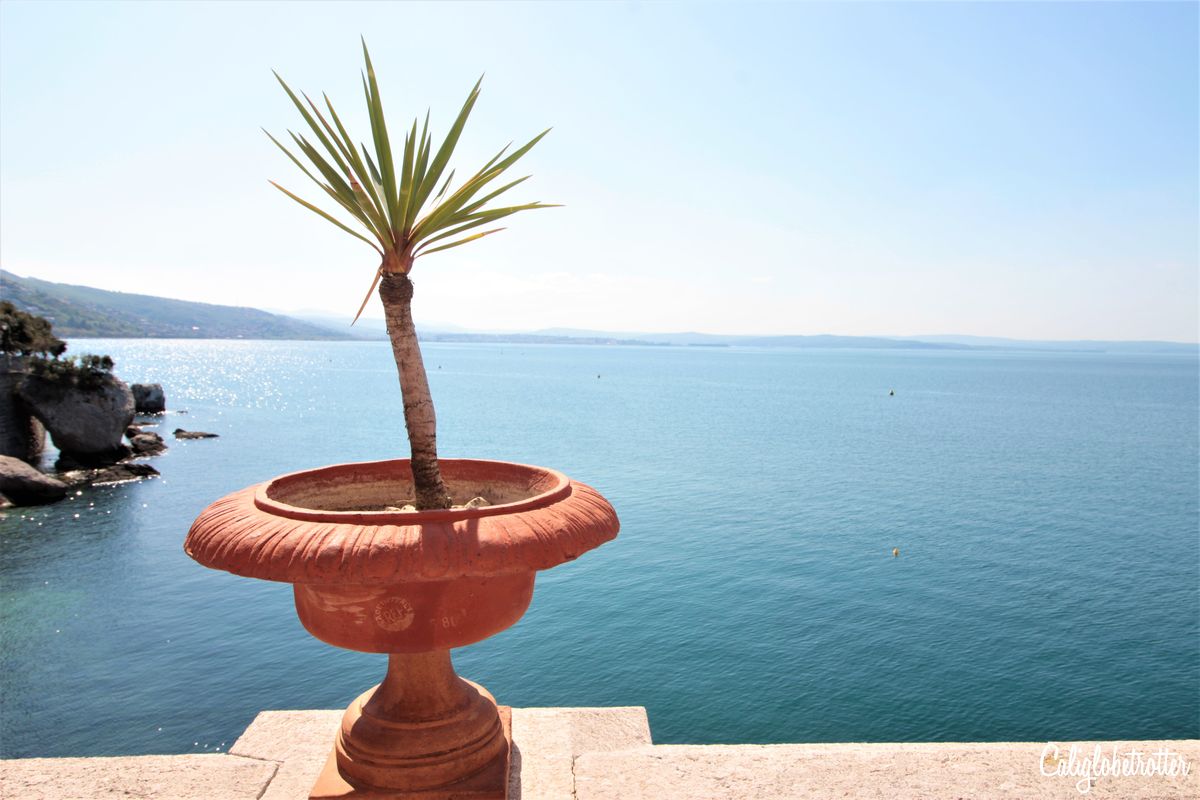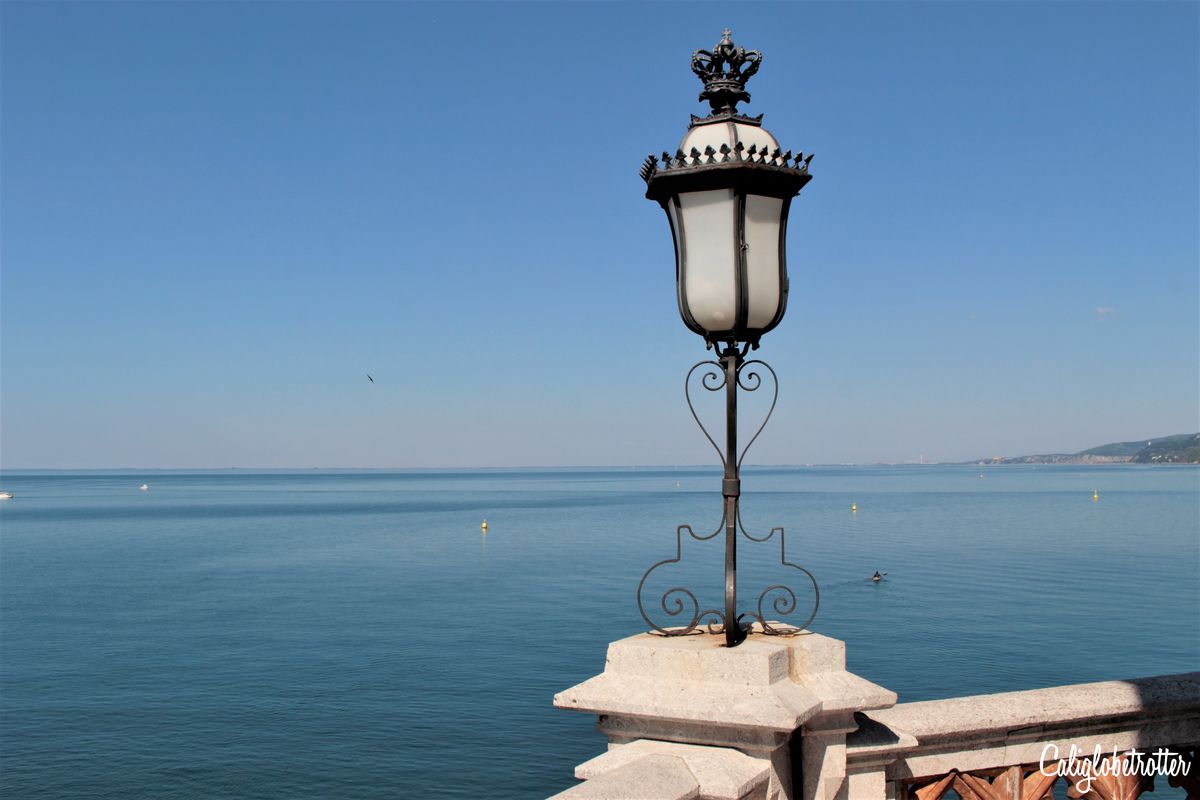 However, within a few months of their coronation, Napoleon III already began withdrawing French troops from Mexico and his support of Emperor Maximilian. This would become the beginning of the end for Maximilian and his wife. Refusing to abdicate and return to his beloved castle, Maximilian was taken prisoner at Querétaro in May of 1867 by Juarez's Republican troops.
Hoping to find assistance in her husbands release, Carlota returned to Europe and pleaded for help in Paris, Vienna and Rome. Much to her dismay, she would fail to secure help and would suffer from paranoia and have an emotional collapse. She would never return to Mexico and live the rest of her live in seclusion, deeply in love with her husband, who would later be executed in 1867 at the young age of 34.
Born of this tragic event, legend has it that Charlotte, mad with grief, still wanders in the park calling his name and that he who shall spend the night at the castle will be doomed to die a violent death prematurely in a foreign land. And while I do believe I shall die while doing what I love most, traveling, I do not intend to die young, so we didn't book ourselves a night anywhere near the castle!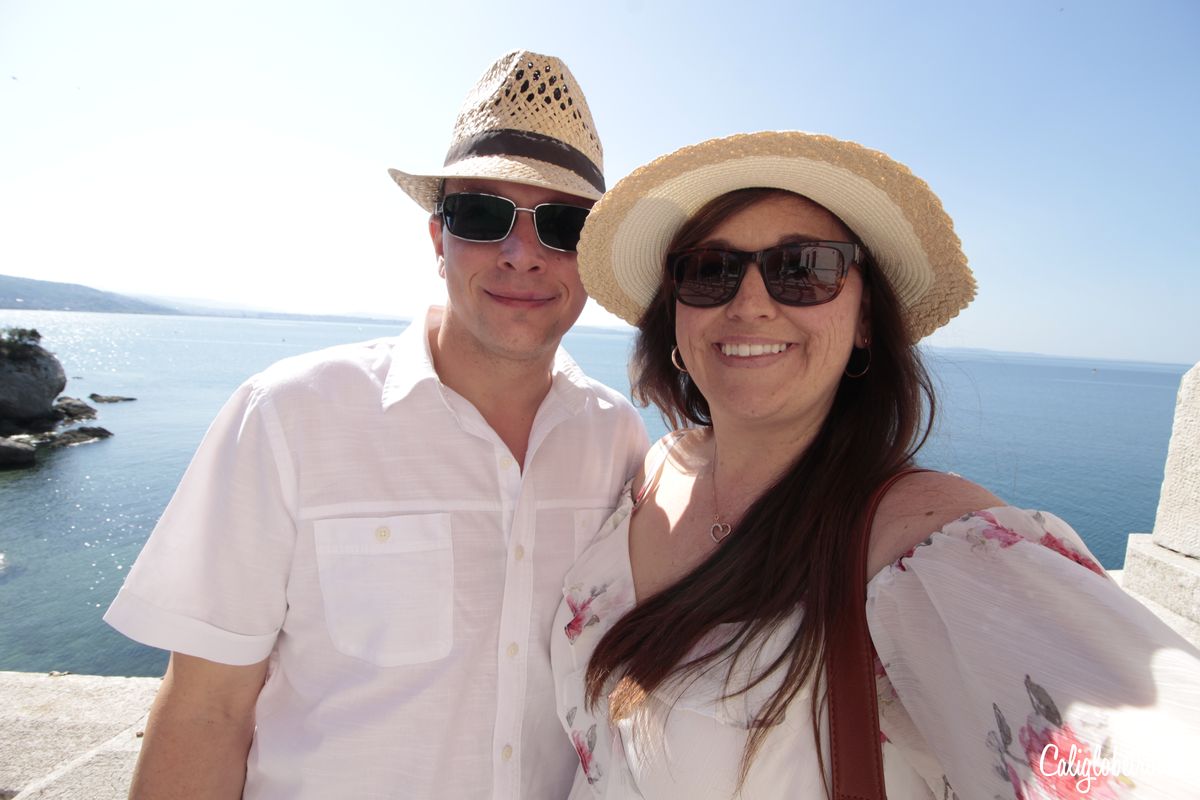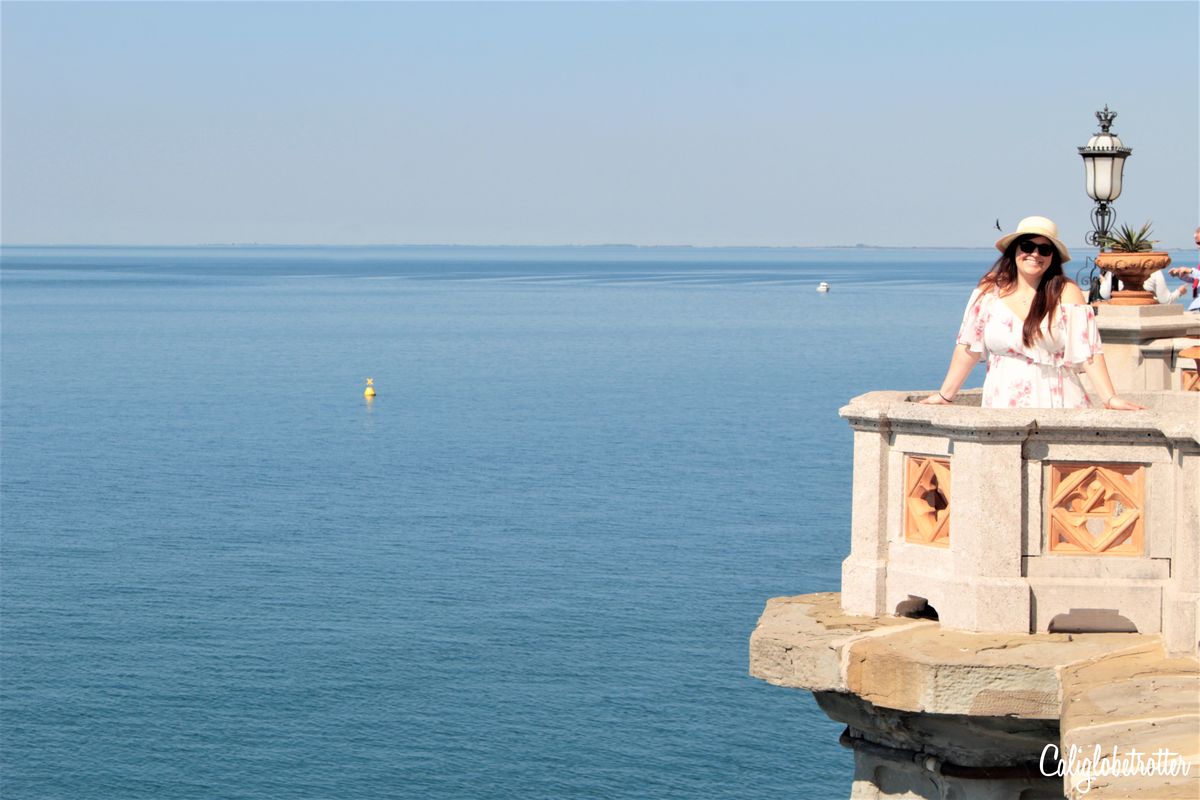 InTRIESTingly, though, later in 1882 the new young Emperor Franz Joseph and Elisabeth of Austria stayed here for a visit, with Sisi staying on multiple occasions. Her son and heir to the Austrian Empire, Rudolf would also stay at this castle. He would later commit suicide, and a new heir to throne would be named. Archduke Franz Ferdinand and his wife and sons would then come to live at Miramare Castle from March 9 to April 11, 1914 before being assassinated in Sarajevo, Bosnia-Herzegovina just two months later, sparking WWI….yet another premature death in a foreign land….
However, despite the curse, it is entirely safe to visit and highly recommended to do a day trip to Miramare Castle. Rich tapestries, imperial coat of arms and the original sumptuous furnishings that belonged to the young couple decorate the interior of the castle, as well as offering breathtaking views over the Gulf of Trieste.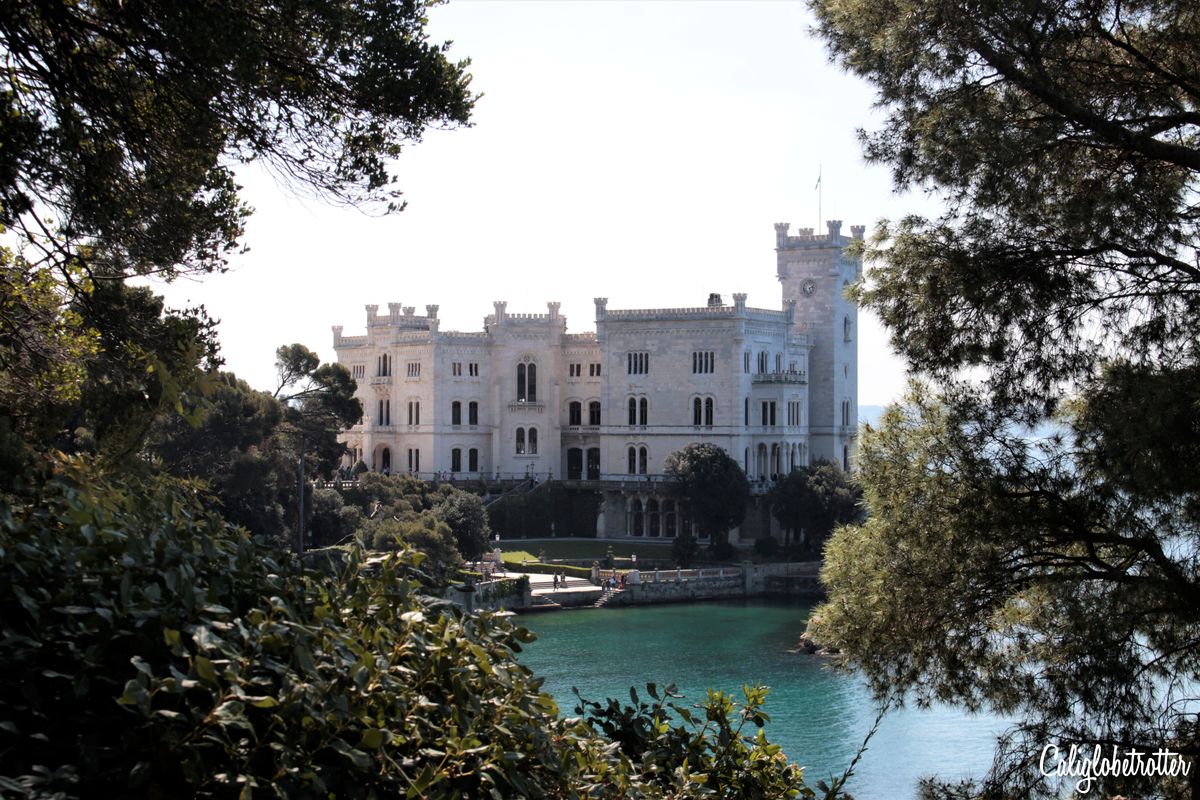 A walk around the lush gardens is also highly suggested as it offers several panoramic views of the castle and out into the wide open sea. Fountains are scattered around the park, as well as a collection of cannons donated by Leopoldo I of Belgium, the first King of Belgium and Charlotte's father.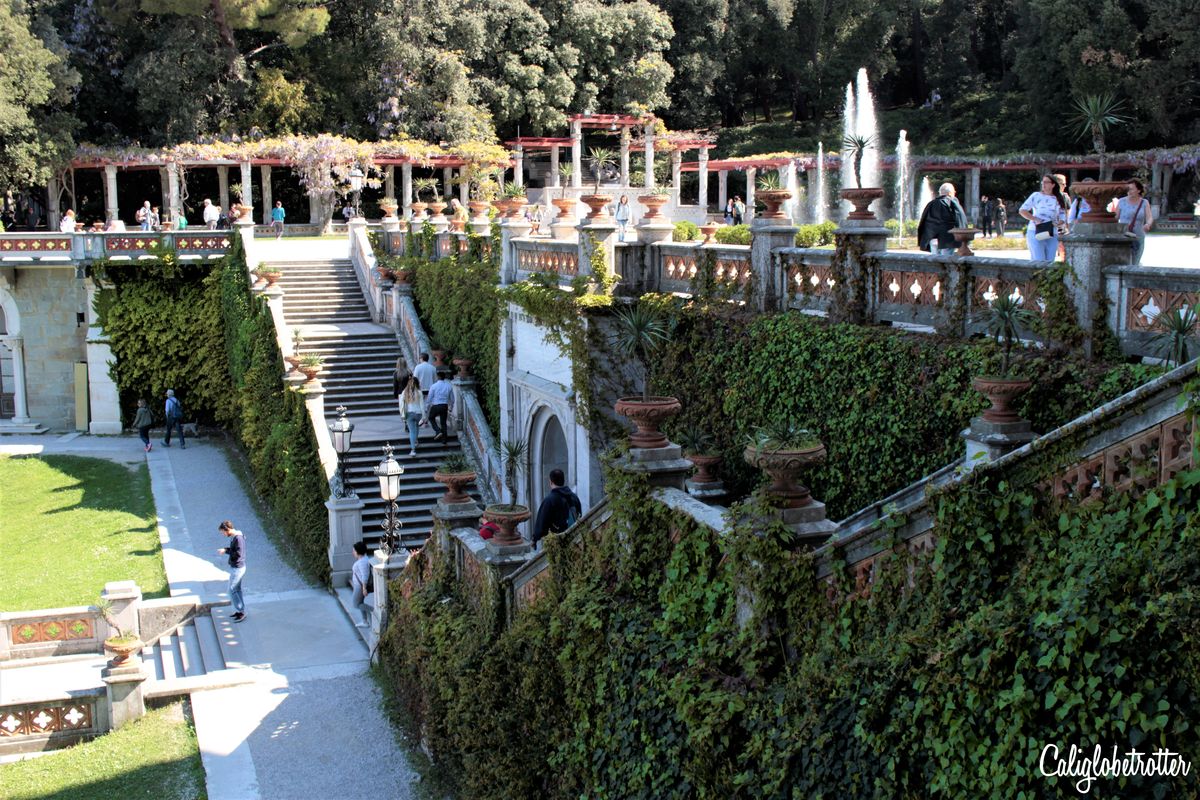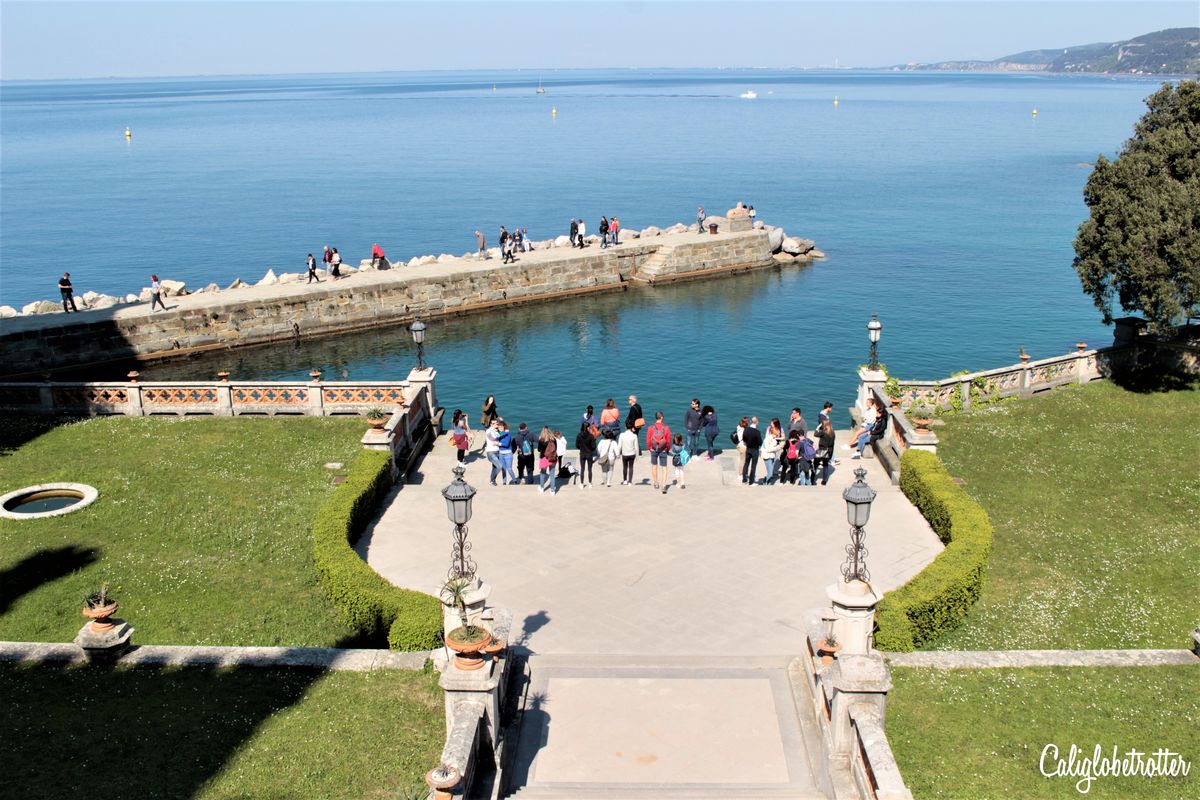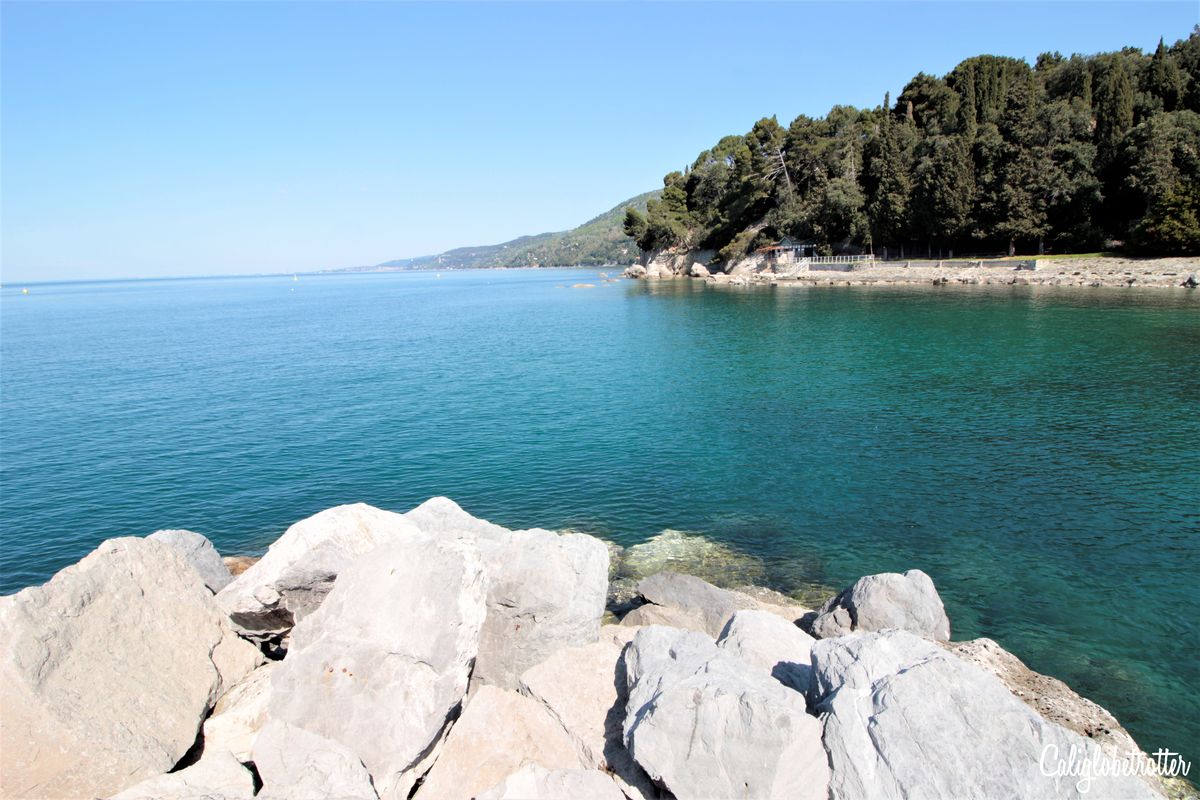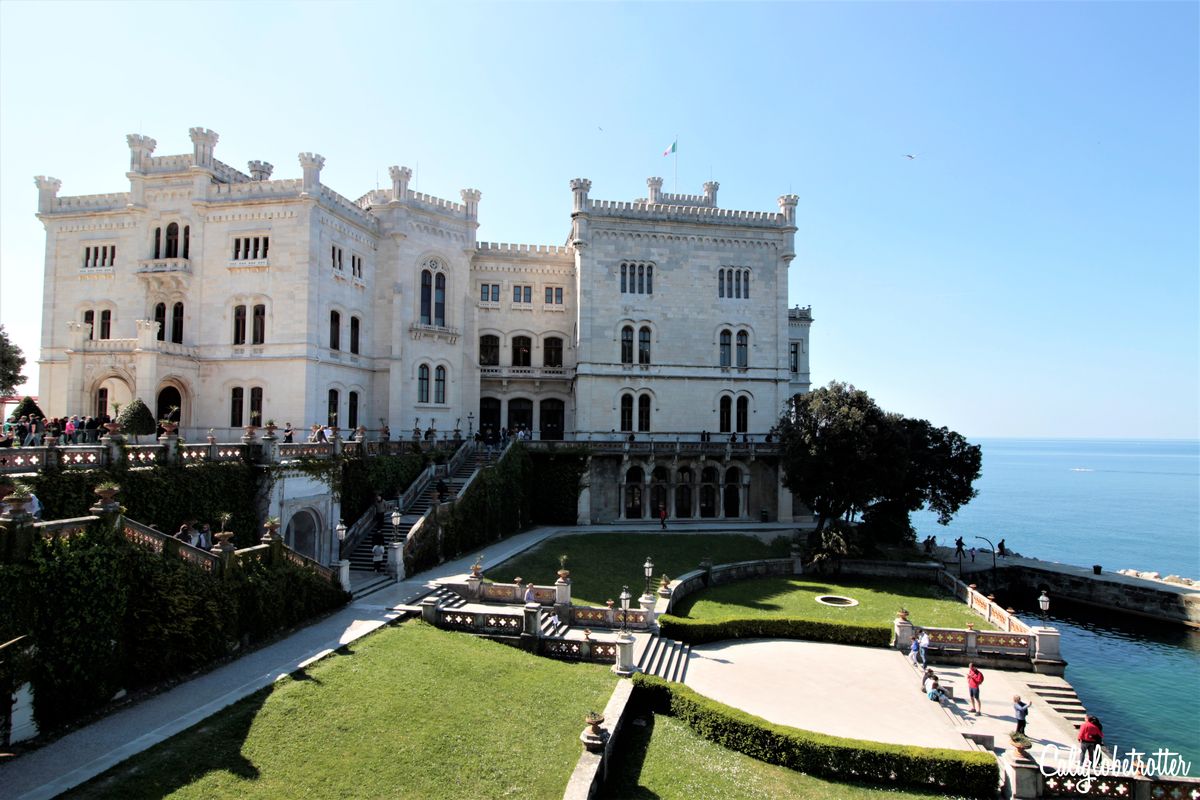 Today, the castle is one of the top destinations to visit in Italy, so you can imagine that on a glorious blue sky day, you can bet that visiting the castle will be quite crowded as locals love to come by and admire Castello di Miramare. More people are likely to gaze upon the exterior of the castle and walk around the gardens than enter, but there is still likely to be a line out the door to get in.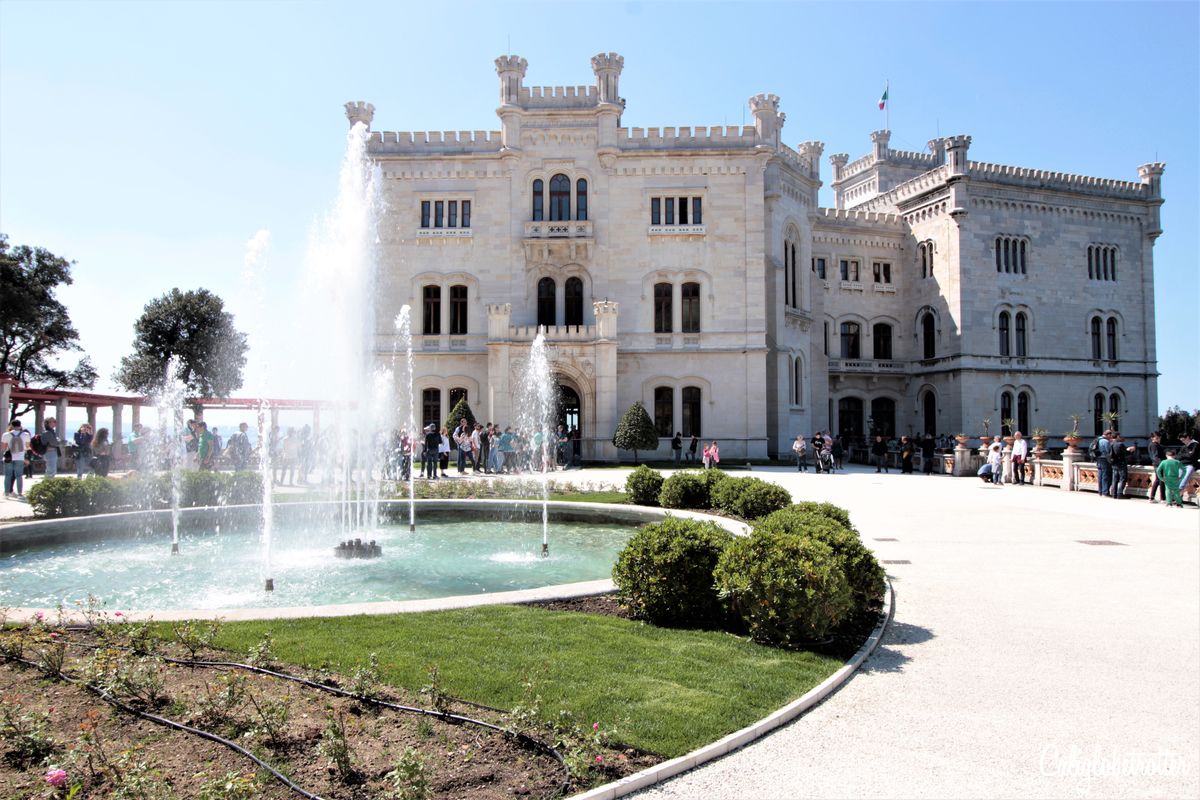 Tips for Visiting Miramare Castle
Arrive as early as possible. The castle is open from 9:00am – 7:00pm.
Admission to the park is free, but tickets to the castle cost €8.00.
Parking is limited at the castle – Multipiano Beirut (), but feel free to park along the coastline that stretches from Trieste to Miramare Castle and have a pleasant walk if you have extra time.
You can take the train from Trieste Centrale, or you can go by bus No. 6 (summer only) or with Bus No. 36 (year round) to Miramare – Grignano.
During the summer months, it is possible to reach the castle by boat.
Looking for more practical information on Italy? Grab a copy the following travel guides which we found incredibly useful on our trip and has something for everyone from outdoor activities to historical sites!
Disclaimer: This post contains affiliate links. If you click on one and make a purchase, I might make a little extra spending money, at no extra cost to you. As always, all opinions are my own and these products/services have been found useful during our travels and come highly recommended to you from yours truly!
Related Italy Guides:
Planning Your First Trip to Italy
Combine Your Trip with:
Piran: Slovenia's Prettiest Town
Want to Visit Italy? PIN IT FOR LATER!!