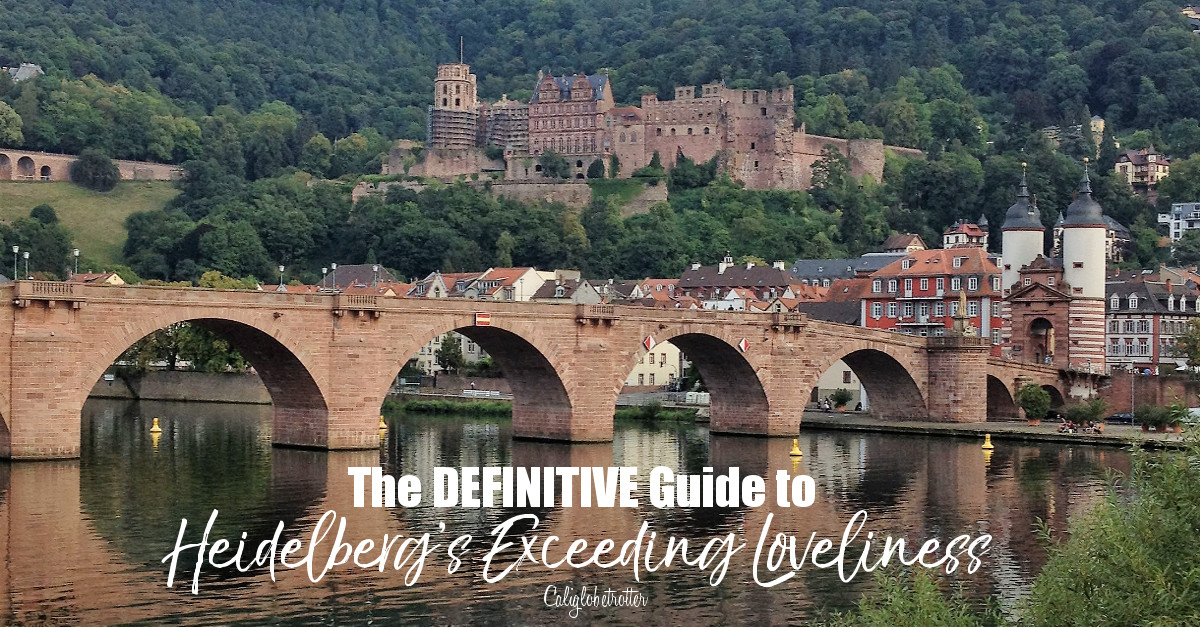 Disclaimer: This post contains affiliate links. If you click on one and make a purchase, I might make a little extra spending money, at no extra cost to you. As always, all opinions are my own and these products/services have been found useful during our travels and come highly recommended to you from yours truly!
Oh Heidelberg, how thou have but stolen my heart! Ok, ok, perhaps I've been talking about Shakespeare too much with students, but tis' true! Ich hab' mein Herz in Heidelberg verloren in 2007 and I never got it back! As one of Germany's most romantic towns, located along the Neckar River nestled in a wooded gorge with the stunning ruins of the Heidelberg Castle perched above the town, Heidelberg is one town I keep going back to over and over again. It never ceases to loose its appeal, and yet I can always find some new things to do in Heidelberg! 
Want to Fall in love with Heidelberg, too? PIN IT FOR LATER!!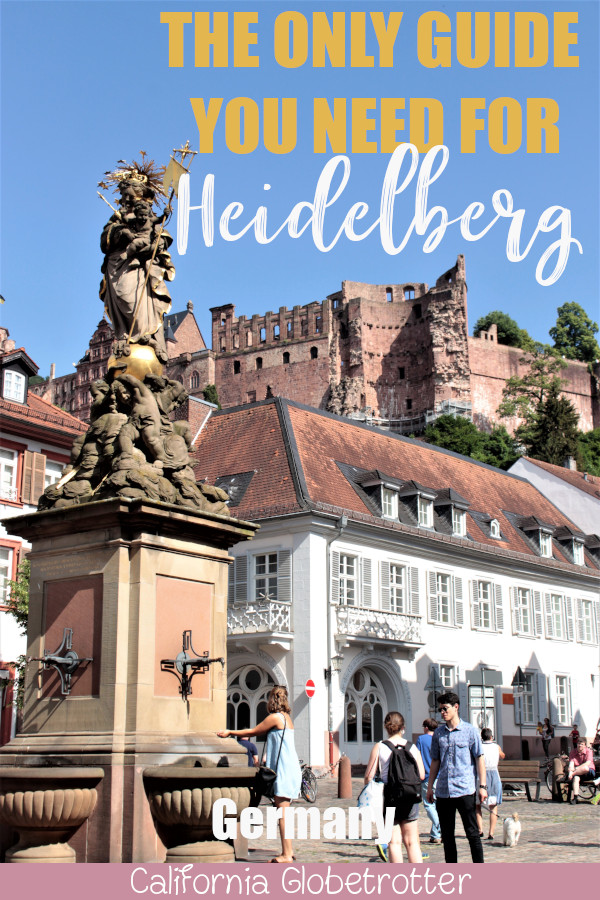 This article is now available as a mobile app. Go to GPSMyCity to download the app for GPS-assisted travel directions to the attractions featured in this article!
How to AVOID Looking Like a Tourist in Europe
Considering that Heidelberg is completely and utterly STUPID PRETTY, it's no wonder that Heidelberg stole my heart in 2007 when I spent a year as an exchange student living right in the very heart of Heidelberg along Hauptstraße (Main Street) with the Heidelberg Castle right in my very own backyard. I attended the Heidelberg University studying Deutsch als Fremndsprache (German as a Foreign Language) and I had the time of my life at one of Germany's oldest university towns. I met some amazing people and cemented my love of Germany then and knew one day I would be back.
Many hopeless romantics have passed through Heidelberg, casting their wishes on the Heidelberg Bridge Monkey for a future return to one of Europe's most beautiful cities. Nineteenth century Romantics like Goethe, Turner and Disraeli wrote about Heidelberg's exceeding loveliness which shot the town to fame, drawing in over 3 million tourists annually and is typically part of Grand European Tours and on of the BEST day trips from Frankfurt. There's no one I haven't met who hasn't already been! But in case YOU haven't been, here's your Heidelberg itinerary!
History of Heidelberg
Located in southern Germany in the third largest state, the history of Heidelberg dates back to the 5th century BC when a fortress was built as a refuge and place of worship by the Celtics on the Heiligenberg, or "Mountain of Saints". Those ruins can still be seen today! The Romans stayed here 260 AD until they were defeated by Germanic Tribes. Fast forward to 1386, the Heidelberg University was founded and later played a vital role during the Reformation under Martin Luther in the 15th and 16th centuries. 
Towards the end of the 15th century, Charles I Louis wanted to strengthen his dynasty by marrying his daughter Elizabeth Charlotte, Princess of Palatine to Philip I, Duke of Orleans, the brother of Louis XVI, King of France who later laid claim to Liselotte's inheritance. The Germans of course objected as a matter of religious difference between the local Protestants and the French Catholics. By 1689, French troops laid siege to the town and castle, practically destroying it. After continuous attacks on the castle, the castle began renovation in 1742 but when a lightning bolt struck the castle in 1764, renovations ceased and the castle was left in ruins. 
Prior to the Second World War, Heidelberg was a Nazi stronghold and by 1939 many of the university professors had been pushed out for radical or political reasons. Despite being a Nazi stronghold, Heidelberg only suffered minimal damage throughout the war, including the destruction of three arches of the Old Bridge, therefore, the town is one of a few German towns which survived WWII with little to no damage. It is believed that the US Army wanted to use the city as a garrison as it was neither an industrial city like the neighboring cities of Mannheim and Ludwigshafen nor a transport hub. 
Today, Heidelberg is one of the liveliest university towns in Germany with an exceedingly international population. In fact, Heidelberg had the largest American population outside of North America until the military based closed! The town is so international that English is often spoken here more often than German, signs at restaurants and shops are in German, English and Chinese as the town is one of the top cities to visit in Southern Germany!
Main Sights to See in Heidelberg
If you plan to hit up all the tourist sights in Heidelberg, then I highly suggest investing in the HeidelbergCARD which gives you discount access to over 60 attractions, including a Castle ticket with the funicular, free use of public transportation in Heidelberg and a city map for either 1, 2 or 4 days or a 2 day family card. 
Pick up your HeidelbergCARD at any of the following locations:
Tourist Information at the Main Station
Tourist Information at the Neckarmünzplatz
Tourist Information in the Town Hall (Market Square)
Käthe Wohlfahrt (Universitätsplatz)
Kurpfälzisches Museum (Palatinate Museum, Hauptstraße 97)
Youth hostel Heidelberg (Tiergartenstr. 5)
and in a number of Heidelberg hotels
Heidelberg Castle / Schloss Heidelberg
Schlosshof / Castle Courtyard
As one of the main attractions in Heidelberg, the Heidelberg Castle is a great place to start any sightseeing. The castle has had a long history of bad luck which has led to its current appearance. In 1527 a lightning bolt destroyed the upper portion of the castle before being destroyed by French troops in the 17th century, only to once again be struck by lightning in 1764 which made it impossible to continue with its reconstruction. Today however, the castle ruins are one of the most important Renaissance structures north of the Alps and is one of the most popular things to see in Heidelberg and offers some of the most amazing views over the city of Heidelberg!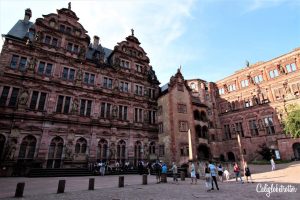 Getting to the Heidelberg Castle: Easily reachable either from a short but steep hike up the Burgweg or via the Heidelberg Bergbahn funicular from Kornmarkt. The Bergbahn is a two-way funicular with the lower portion of the Bergbahn which opened in 1890 and takes you to the Castle / Schloss (Molenkur) while the upper portion takes you to Königstuhl, the town's highest point at more than 550 meters after switching to the older funicular car.
Price:
Adults 7 € / Reduced 4 € round trip from Kornmarkt/ Molkenkur / Castle + entry to castle
Adults 12 € / Reduced 10 € round trip from Kornmarkt / Molkenkur / Castle / Königstuhl / Kornmarkt
Parking in Heidelberg: If you plan to drive to Heidelberg, there is a parking garage at P12 Kornmarkt / Schloss. 
German Pharmacy Museum / Deutsches Apotheken Museum
Located in the basement of the remains of the Renaissance Ottheinrichsbau which has four-tiers of allegorical sculptures there is the German Apothecary Museum which is a unique and quirky collection of 18th and 19th century pharmacy stores from around the area to give you a glimpse into the world of medicine at that time.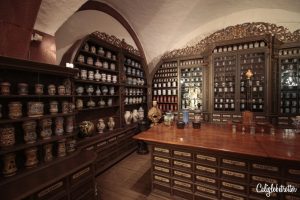 World's Largest Wine Cask / Grosser Fass 
Once up at the castle, it is free to walk around the outer skirts of the castle, but you can also pay to walk around the inside of the castle which houses the Great Heidelberg Tun. This is the world's largest wine barrel down in the cellars of the castle and is one of the coolest things to see in Heidelberg. There you can check it out and also try some of the castle wine. The barrel was built in 1751 and stands 7 meters high, 8.5 meters wide, holds 220,000 liters (58,124 gallons) of wine, and even has a dance floor built on top of it. Now that's what I call a party! In front of the cask is a statue of Heidelberg's legendary town boozer Clemens Perkeo, who was the ruler's court jester, nicknamed Perkeo because of his response to offers of wine – "Perche no?" which translates to "Why not?" So, perche no check it out?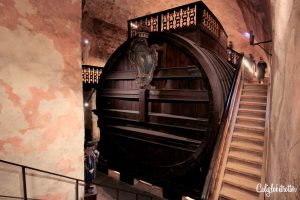 Kornmarkt / Karlsplatz
Heidelberg has many little cozy squares scattered along Hauptstrasse but perhaps the loveliest of them all is Kornmarkt. Dominating the square is a statue of the Madonna backed by a glimpse of the Heidelberg Castle in the background. As the name implies, the square was once used for trading agricultural goods. To the left is the Palais Prinz Carl (Palace Prince Carl) which the likes of Kaiser Wilhelm I, Otto von Bismark, Empress Elisabeth "Sissi" of Austria, Goethe, Mark Twain have all stayed here. Today, the palace is one of the most popular wedding venues in Heidelberg and the stunningly beautiful Mirrored Hall survived WWII and is still in its original state.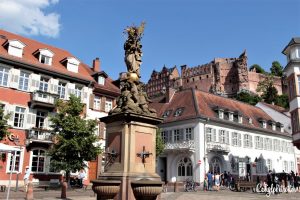 If you're short on time in Heidelberg and don't have enough time to go up to the castle or cross the river, for the most unobstructed view of the castle, head to Karlsplatz. There isn't much to do here other than look at a water fountain (temporarily used as a parking lot). 
Marktplatz & Heiliggeistkirche
Historically, Marktplatz was used as a place of public execution in front of the town hall but long gone are the days where people cheered on the abdominal ways to punish someone for their crimes as a means of entertainment. Today, the Main Square is lined with cafes and restaurants filled with locals and tourists sipping on their coffees and enjoying the view of the impressive Church of the Holy Spirit, the most famous church of all in Heidelberg uniquely surrounded by tourist vendor shops around its base. On Saturday mornings, you can enjoy a small but quaint Farmer's Market.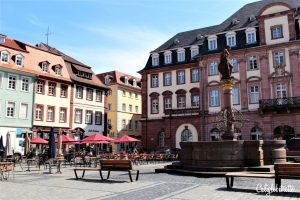 Climbing the Church of the Holy Spirit
If you're looking to get your leg work out while in Heidelberg, consider climbing the church tower for amazing views of the entire town. Located practically in the middle of the Old Town you have a 360° view of the town which includes a panoramic view of the Stone Bridge and Neckar River, the Heidelberg Castle, Haus zum Ritter and Hauptstraße. 
Price: Adults 2 € / Students 1 €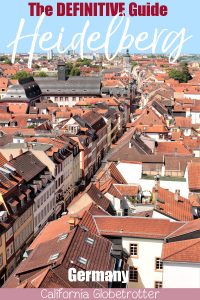 Hauptstraße / Main Street
Stretching over 1 mile (1,6 km) from Bismarktplatz to Karlstor, Heidelberg's Hauptstraße is arguably the most famous street in Germany as well as the longest pedestrian zone in Europe. Lined with Baroque and Renaissance facades, you can find a plethora of department stores, boutique shops, cafes, restaurants, street vendors, artists selling their paintings and window shoppers.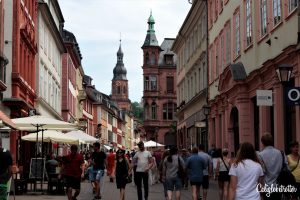 ⭐⭐⭐⭐ Hotel zum Ritter St. Georg – one of the most important sights to see located along Heidelberg's Main Street is the beautiful hotel across from the Heiliggeistkirche was built in 1592 by a rich cloth merchant was turned in a luxury hotel and restaurant. If you're looking for the ultimate place to stay in Heidelberg then look no further than this knight in shining armor themed hotel with a Medieval-esque touch. As of Christmas 2017, we got to stay here after years of only walking by and I have to say, it's truly my personal favorite!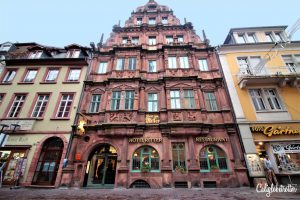 Jesuitenkirche – Hidden just off a side alley from Hauptstraße is this beautiful pink stone church which was built in 1712 for the Jesuits. I love it for the simple pink stones that make it a unique church!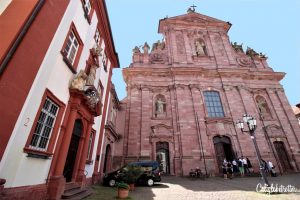 Old Bridge / Alte Brücke 
Just behind the Church of the Holy Spirit, heading North towards the river is the town's best-known landmark! Stretching across the Neckar River is the Alte Brücke with the majestic twin towered Brückentor (Bridge Gate) topped by two Baroque helmets. Goethe is known to have referred to the bridge as "such beauty as is perhaps not to be equaled by any other in the world!" With dark pink Neckar sandstone, it is a bridge unlike any other and as having seen many bridges in Europe, Heidelberg's is unparalleled! 
Directly next to the bridge is the Heidelberg Bridge Monkey which has sat next to the towers since 1979 though there as been a money here since at least the 15th century. According to legend, the monkey is said to bring good luck. By rubbing the mirror, good fortune will come your way, while rubbing his fingers will ensure a return to Heidelberg and if you're really crazy, by rubbing the little bronze mice nearby, you will be blessed with screaming children! For the record, I never touch that one! Nonetheless, the statue was built to remind those who crossed it from either side to look back over their shoulders so as not to forget where they came from.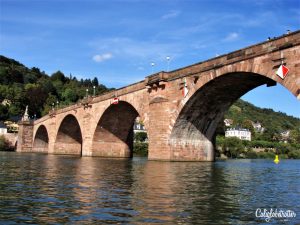 Heidelberg University 
Scattered throughout the city in a variety of buildings, you won't find a "college campus" in Heidelberg. However, of all the buildings related to the Heidelberg University, the Alte Universität (Old University) is by far the schmaniest! Dominating the Universitätsplatz (Uniplatz), Germany's oldest university which was founded in 1386 houses the Student Prison and the Old Assembly Hall. 
Price: 3.00 € / 2.50 € reduced (Combined Ticket for University Museum, Alte Aula and Student's Prison)
Open: April – Oct: Daily 10:00am – 6:00pm; Nov. – March: Mon. – Sat. 10:00am – 4:00pm
Address: Augustinergasse 2
Student Prison / Studentkarzer
Yes, a Student Prison. Between 1823 and 1914, anything from chasing pigs to drunkenness and pranks could land you in the university jail for up to two weeks while breaking the law could land you four weeks in confinement. Though that sounds terrible, the offender could take his punishment at his own convenience and was often bailed out for exams and of course to attend class, many purposefully found themselves in detention which was considered to be socially trendy back then. Many students left their marks with graffiti, immortalizing themselves on the walls or painting poems on every available space possible. 
Assembly Hall / Alte Aula
Once inside the Old University and up one flight of stairs is the Great Hall which gained its regal appearance in 1886 to celebrate the university's 500th anniversary. Designed in neo-Renaissance style, the Great Hall is still used to hold ceremonial events such as annual celebrations, inaugural and farewell lectures and graduation ceremonies. Sadly, as an exchange student at the Heidelberg University we were not part of this tradition.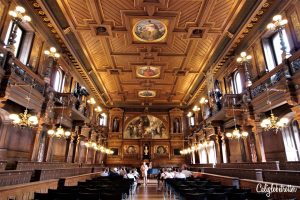 Heidelberg Library / Heidelberg Bibliothek
Taking into consideration that the Heidelberg University is one of the world's oldest universities as it was the third to be founded by the Holy Roman Empire, it comes as no surprise that the library is also the oldest public library in Germany, founded in 1421. It can trace its beginnings back 1388 to a chest of documents by the first Rector Marsilius von Inghen. The documents were stored in the Heiliggeistkirche which at one time was once the University Cathedral. The facade of the library is impressively beautiful with tall spires. Today, the library houses 3 million books and sadly during the Second World War, despite attempting to hide many books, 40,000 were lost.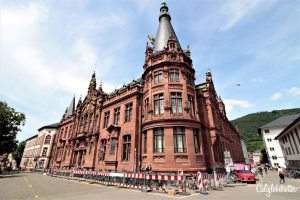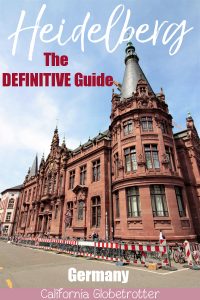 Hiking in Heidelberg
Philosopher's Walk / Philosophenweg
If you're looking for the ULTIMATE classic panoramic view of the town of Heidelberg, the bridge and castle, head across the Neckar by crossing the Old Bridge. You have two options, either walking along Neuenheimer Landstraße which is wheelchair-friendly or more suitable for those with strollers (buggies) or along the river front path.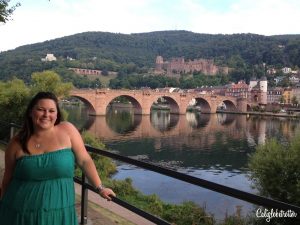 OR
hiking Philosophenweg – a north-bank hillside which was historically a simple path through some vineyard, but it would later be renamed during the Romantic Period in honor of the university's debate students, professors and philosophers who enjoyed it's path for the solitude through the natural beauty which offered panoramic views of Heidelberg. For those physically fit, the hike up is about a good 10 minute walk but for those who aren't avid hikers, it's more like a steep 20-30 minutes up an uneven stone pathway with occasional steps. Along the hike up, there are occasional panoramic view points to take a break but I encourage you to keep going until you reach Philosopher's Walk.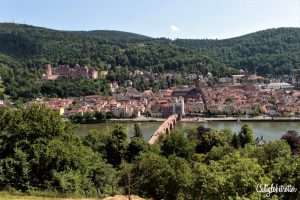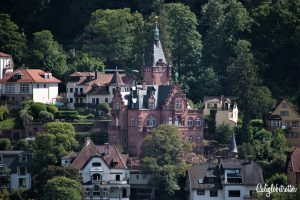 Where to find the path: Cross the Old Bridge, cross the street and just to the left of the light is the street Neuenheimer Landstraße and there is a small entrance to Schlangenweg. You'll follow this path all the way up. It is recommended to wear GOOD SHOES and bring water! Nonetheless, allow for at least 1 hour round trip! 
Thingstätte amphitheatre on the Heiligenberg 
Once up at Philosophenweg, you can continue following the path if you're an avid hiker or historian and have more time in Heidelberg, then continue to the top of Heiligenberg, where you'll find the Thingstätte amphitheater – a Nazi-era amphitheater built during the short lived Thingspiel Movement in pre-war German for outdoor performances but by the time it opened, the movement was already dying out. The theater was built in an egg shape which can hold 8,000 seated or 15,000 standing people. Today, the amphitheater is mostly used on April 30th for the annual Walpurgis Night (Walpurgisnacht) where more than 14,000 people party through the night with fire-dancers and jugglers. 
Further up, you can find the remains of the ruined 11th century Monastery of St. Michael, the smaller Monastery of St. Stephan, the so-called Pagan's hole and the remains of the Celtic fort from the 4th century BC!
Things to do along the Neckar River in Heidelberg
Rent a Paddle Boat
If you're looking for unique things to do in Heidelberg, then considering paddle boating in Heidelberg. From Bismarktplatz (the main bus / S-Bahn hub), head towards the river and cross the Theodor-Heuss-Brücke. Spread out along the northern bank of the Neckar River is the Neckarwiese, a lush green park for the townsfolk to BBQ and sunbathe. To the right of the bridge, you will find a small floating building offering paddle boats to rent.
Boat Rental Service / Bootsverleih am Neckarufer
Address: Uferstraße, 69120 Heidelberg, Germany
Open: Monday – Friday 2 pm – 1 hour before sunset, Saturday, Sunday & holidays 1 pm – 1 hour before sunset; Closed during bad weather
Prices: Rentals cost 10 € for 30 minutes for 3 people and 12 € for 4 people plus 2 € extra for every 10 minutes. However, it takes only 30 minutes to paddle to / from the Old Bridge. 
Take a River Cruise
If you have more time to spend exploring the surrounding area, then taking a day trip boat excursion cruise on the Neckar is a great way to spend the day! River Cruises from both the Neckar and Rhine Rivers from Heidelberg, Mannheim and Worms are possible. 
In front of the Heidelberg Convention Center the "Weisse Flotte" is a Rhine-Neckar passenger ship company which offers picturesque excursions along the Neckar Valley often nicknamed the "Castle Cruise" as along the Neckar there are so many castles! The main cruise is from Heidelberg to Neckarsteinach and back.
Daily at 11am, 2pm as well as on weekends at 10am and noon, and during peak season hourly from 10 am – 4 pm.
Boat cruise season is generally from Easter (or early April) to mid-October with the peak season from early June to mid-September.
Where to Eat in Heidelberg
Alte Münz Schnitzelhaus – with a mind-blowing list of over 100 variations of schnitzel, portions are large and are accompanied with a side salad, Käsespätzle (think Mac & Cheese) or fries. I never skip a reason to eat here! Seating inside is limited and reservations are needed, but during the summer outdoor seating is provided, but also limited, but it's worth the wait! Located down by the Neckar River next to the Heidelberg Tourist Information Center and Tourist Bus Stop.
Address: Neckarmünzgasse 10, 69117 Heidelberg 06221 434643
Phone Number: 06221 434643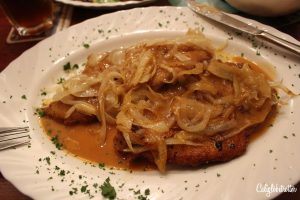 Brauhaus Vetter – An institution in Heidelberg, Vetter's Brewery is located in the heart of the old town between the Heiliggeistkirche and the Alte Brücke where you can enjoy white sausages & German pretzels with beer. 
Address: Steingasse 9, 69117 Heidelberg, Germany
Café Extra Blatt – is a great place for a brunch buffet with reasonable prices or other American-influenced dishes. From pizzas to burger or wraps, anything goes here!
Address: Hauptstraße 53, 69117 Heidelberg, Germany
Cafe Knösel – Kaffee und Kuchen is a vital part of the German culture and here you can find many traditional style German cakes. Another must, is trying Heidelberg's famous Studentenkuß chocolate! The cafe is located caddy-corner from the Heiliggeistkirche while the shop is just a few feet away. 
Fridolin Knösel was a master confectioner who dedicated his life to making delicious chocolates. The young women who attended Heidelberg's finishing school loved his chocolates so much and came to his café. These were proper times and men and women were not to flirt with each other openly. This caught the eye of Fridolin Knösel who decided to make a delicious chocolate that the students could each other to express their affections in an innocent gesture. These delicious candies are still made with the original recipe from 1863! They make the perfect gift for someone or to express your love for someone when you visit Heidelberg!
Address: Haspelgasse 20, 69117 Heidelberg, Germany
Yufka's – the best döner kebab in the city which got me through many days of not having a full kitchen! Next to the Heiliggeistkirche!
Schnitzelbank– If you can't get enough schnitzel in Heidelberg, then head to Schnitzelbank where you can devour a garlic schnitzel and some of the best Käsespätzle!
Address: Bauamtsgasse 7, 69117 Heidelberg , Neckar, Germany
Kulturbrauerei – a historic brewery and restaurant in the Altstadt, not far from Schnitzelhaus which serves traditional German cuisine and gooooood beer which also serves as a hotel!
Address: Leyergasse 6, 69117 Heidelberg, Germany
Visit Klosterhof Abbey & Brewery – to visit the monastic brewery transportation is necessary – either by bus (hop on the 34 bus from Bismarktplatz) or driving, a visit to the nearby abbey to sample their local 'Klosterhof' brew or their season Imperial Stout is a great experience. The restaurant serves traditional German cuisine and has a lovely biergarten. 
Address: Stiftweg 4, 69118 Heidelberg, Germany
Where to Stay in Heidelberg
All of the following hotels come highly recommended by yours truly from personal experience and multiple visits to the town with family and friends over the last 10+ years! But with how busy Heidelberg can get during the Christmas Market season or during the summer, finding accommodation in Heidelberg can be rough, so book far enough in advance or consider staying in Mannheim or Ludwigshafen just 20 minutes away!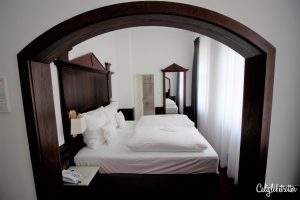 ⭐⭐⭐⭐ – Heidelberg Marriott Hotel – A bit out of town, but easily reachable via S-bahn, this is a wonderfully comfortable hotel with big, fluffy pillows and beds! Prices range from 269 € – 299 € for two people.
⭐⭐⭐⭐ – Boutique Hotel Heidelberg Suites – Small Luxury Hotels of the World – Located just opposite the Neckar River, this luxury hotel is one of my favorites as it offers panoramic views of the Heidelberg town, castle and bridge while breakfast is served on their docked boat nearby! Prices range from 190 € – 500 € for two people.
⭐⭐⭐ – Kulturbrauerei Heidelberg – A beautifully lush hotel with big rooms and comfy beds in the heart of the city center, near the Neckar River, not far from Schnitzelhaus! Prices range from 130 € – 160 € for two people.
⭐⭐⭐ – Hotel am Schloss – Located just at the foot of the hotel near the BergBahn station, the Hotel am Schloss provides parking and is conveniently located in the city to allow access within minutes! Rooms are simply furnished and comfy! Have no fear whatsoever of the BergBahn disturbing you! Prices range from 126 € – 175 € for two people.
⭐⭐⭐ – Hotel Sudpfanne – originally a hostel, today this hotel has been renovated and now has modern furniture and is pet-friendly towards the end of Hauptstrase minutes from the Heidelberg castle. I've stayed here multiple times as it's a budget-friendly hotel in Heidelberg for singles and couples! Prices range from 84 € – 130 € for two people!
Best Time to Visit Heidelberg
Heidelberg is one of those timeless cities to visit in Germany. If you're wondering when the best season to visit Heidelberg is, you honestly can never go wrong and every season is magical in it's own way! Heidelberg is located in one of the warmest regions in Germany and enjoys relatively mild weather. Obviously like most of Europe, peak tourist season in Heidelberg is in the summer and therefore, prices are also higher.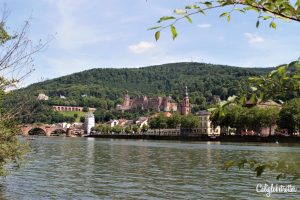 Spring (March – May): Though Spring can often be rainy in Germany, but can be quiet pleasant and full of spring blooms with average temperatures around 11°C / 51°F. Considered to be the low tourist season, you're likely to enjoy the city more.
Summer (June – August): The summer temperatures can be quite unpredictable with sunny blue skies and sudden spurts of thunder/rain showers with highs ranging from 20-30° C / 68-86° F with July and August being both the hottest and wettest months of the year. This is the peak season for tourists in Heidelberg and the town can get quite crowded. 
Winter (December – February): The temperatures in winter can be about 3-5°C / 37-41°F on an average. This is basically off-season in Heidelberg but can be jam packed during the Christmas Market season. In Winter, Heidelberg is fog-prone thanks to the Neckar River.
Autumn (September – November): The weather in autumn is similar to that of spring season and average temperatures range from 8-14°C / 46-57°F. Quite personally, this is my favorite time of year to visit as like spring, you enjoy less tourists and the fall foliage is in full bloom then.
Events in Heidelberg
Before visiting, you should definitely check out the Heidelberg Event Calendar and see if there is something that piques your interest. There is something for everyone and there are always things to do in Heidelberg. Whether it be a music festival, a literature festival, a marathon, a Sunday shopping day or a reenactment of the attack on the city of Heidelberg, you can never go bored!
Every year, Heidelberg's Altstadt turns into a Christmas Market winter wonderland with stalls scattered throughout the town and in various squares. The Heidelberg Christmas Market can be found on the Marktplatz with it's gloriously picturesque Christmas Pyramid (Weihnachtspyramide) stall which sells traditional mulled wine (Glühwein). The smell of roasted almonds, cinnamon and sweet Macademia nuts wafts through the air and children can be heard laughing from the ice-skating rink at Karlsplatz. The Christmas Market takes place every year from the end of November to December 22/23rd.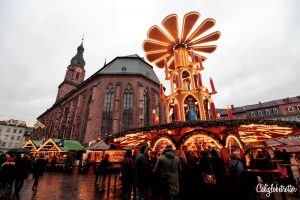 Heidelberg Castle Illuminations
Next Heidelberger Schlossbeleuchtungen: June 2 , July 14 and September 1, 2018 at 10.15 pm

Every summer, in June, July and September, the castle is illuminated in red firelight, reenacting the burning of the castle under the French Sun King Louis XVI which resulted in the world famous castle ruins. I guess good things come out of bad situations. The second part of the show includes fireworks from the Old Bridge which began in 1613 to welcome the Elector Friendrich V's newly-bethrothed wife Elizabeth Stuart. Technically, this was the beginning of the Illuminations Festival in Heidelberg.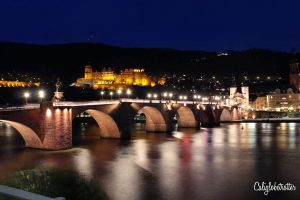 For the best view, head down to the banks of the Neckar River opposite the town and sit along the grassy wiese (lawn) or hike up to Philosophenweg to enjoy the illuminations starting at 10 pm. Get there early to grab a good spot! Or book a boat cruise to watch the fireworks while floating on the Neckar! 
If you can't catch the fireworks in Heidelberg, have no fear. It's part of a summer festival known as "Neckar in Flames" (Neckar in Flammen) which is similar to the "Rhein in Flammen" are held on the Rhine River at Bonn, St Goar, Koblenz, Rüdesheim and Oberwesel.
Heidelberg's greatest city festival takes place on the last Saturday/Sunday of September. You can find anything from the Craft Market / Flea Market and an open ceremony with Perkeo, Heidelberg's town mascot, gallivanting down the main street. By nightfall, it's a full blown out-door concert with food and beer stalls everywhere!
In the month of July, the castle is transformed into an open-air theater with a variety of performances with the castle used as a backdrop. Can anything be more magical than enjoying a performance of Heidi surrounded by the world's most famous castle ruins? I think not! 
Getting to Heidelberg
Public transportation in Germany is incredibly easy to use and if you're looking to travel through Germany then your main options are either via train, car or bus. Using the DeutscheBahn is easy and convenient especially when parking can be rough in many cities.
By Train: Germany is so wonderfully connected via trains that getting to Heidelberg by train is pretty easy, as it's about an hour from Frankfurt (Main), 20 minutes from Mannheim, 45 min – 1 hr from Stuttgart and three hours from Munich HBF. Upon arrival to the Heidelberg Hauptbahnhof (HBF) (Main station), it is a 20 minute walk to the historic city center.
By Bus/S-Bahn: Or you can take the S-Bahn #5 or #21 to Bismarktplatz or Bus #32 to Uniplatz for a more direct option into the town center. With the HeidelbergCARD public transportation is included in the price or you can pay 2.40 € single use / 6.20 € for 24 hours. 
By Car: While driving in Germany is relatively easy, driving in Heidelberg / Mannheim / Ludwigshafen can be quite a challenge with complicated streets. Therefore, I wouldn't recommend driving unless you at least have a navigation system in the car. The Old Town of Heidelberg is small and finding parking garages in Heidelberg can sometimes max out therefore arrive as early as possible! I prefer parking at Kornmarkt / Schloss P12 or Karlsplatz / Rathaus P13 as it takes you right to the heart of the town, but don't be put off if you have to park at Am Bismarkplatz P0. Most machines take cash only!
If you're interested in visiting Germany and are looking for more information, I highly recommend using the DK Eyewitness Travel Guide! Without these guides, I would be lost! This is my travel Bible!
Disclaimer: This post contains affiliate links. If you click on one and make a purchase, I might make a little extra spending money, at no extra cost to you. As always, all opinions are my own and these products/services have been found useful during our travels and come highly recommended to you from yours truly!
Day Trips from Heidelberg:
Schloss Lichtenstein: Schloss Neuschwanstein's "Little Brother"
The Medieval Wine Town of Esslingen am Neckar
A Spring Market Day at Kirchheim unter Teck
Liked this post? PIN IT FOR LATER!!