Disclaimer: This post contains affiliate links. If you click on one and make a purchase, I might make a little extra spending money, at no extra cost to you. As always, all opinions are my own and these products/services have been found useful during our travels and come highly recommended to you from yours truly!
When you dream of visiting Germany, perhaps you you imagine romantic fairy tale castles perched high up in the mountains or perhaps you imagine towns with endless half-timbered houses that are hundreds of years old, walking down alley after alley of picturesque cobbled-stoned roads and a charm that transports you to another time.
For me, I dream of both. I dream of a world where small towns and villages transport me to a time and place before technology, when life was slower and more relaxed and people were more concerned with the simple things in life.
In case you're interested, PIN IT FOR LATER!!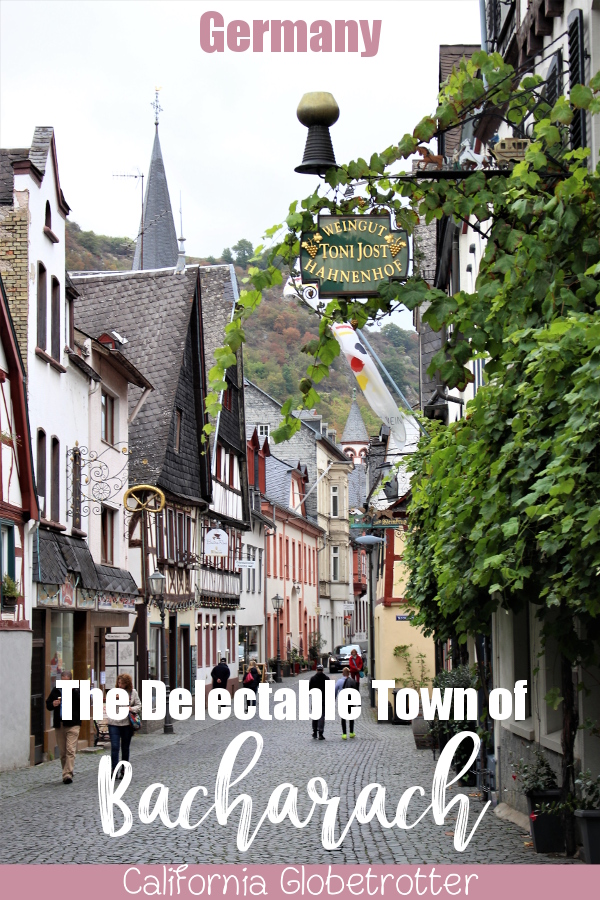 This article is now available as a mobile app. Go to GPSMyCity to download the app for GPS-assisted travel directions to the attractions featured in this article!
How to AVOID Looking Like a Tourist in Europe
Your ESSENTIAL Guide to Europe
Like many half-timbered towns that lie along the romantic Rhine river, Bacharach is brimming with colorful houses, allies of cobbled-stones and adorable little corners to have a romantic moment in and endless vineyards on the hills surrounding the small town and is therefore one of the top towns to visit along the Rhein River!
Bacharach lies along the 67-km UNESCO World Heritage segment of the Rhine River that stretches from the towns of Bingen and Rüdesheim north to the city of Koblenz where the Rhine and Mosel Rivers merge, making for one of the best day trips from Frankfurt! It's just spewling with that Disney-esque charm we all look for when traveling through Germany and makes my list of stupid pretty towns in Europe!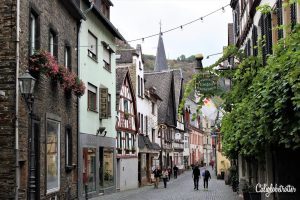 From its early days, Bacharach was an important stop along the Rhine for trading wood and wine, as well as collecting customs duties, all of which made the town one of the wealthiest in the region, which can clearly be seen in its exuberantly beautiful buildings. But clearly, the town managed to keep it's original size and appeal and was never modernized in terms of big buildings.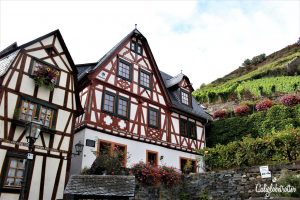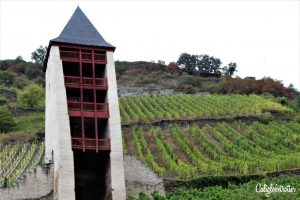 There aren't many things to do in Bacharach, so you won't need a full day here, although you could easily slow travel your way through the town by stopping to smell the roses, or in our case, eat some Rose Scented ice cream and of course a Riesling ice cream!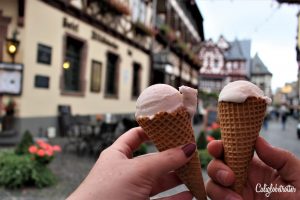 Like most historically, picture perfect towns in Germany, you won't find any of those big name chain restaurants like McDonald's, Burger King or Subway. Here you'll find traditional mom-and-pop restaurants and taverns cooking home cooked meals offering a more authentic experience.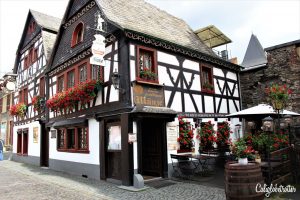 So, if you're wondering where to eat in Bacharach, we stopped to eat at one of the quaintest, smallest restaurants ever called Restaurant Rusticana next to the Post Office, which offered a cozy feeling. The owners were incredibly nice and you could tell they enjoyed having guests come to their restaurant.
There are many amazing, perfectly preserved half-timbered houses throughout the town, offering a plethora of picture perfect snaps and my photographer senses were on high alert. Click, click, click!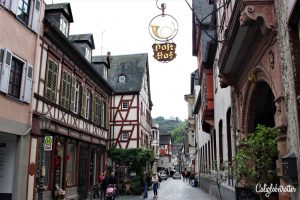 Probably the most famous sight to see in Bacharach is the Alte Haus (Old House) located on the market square which dates back to 1568 with its stunning red painted wood frames.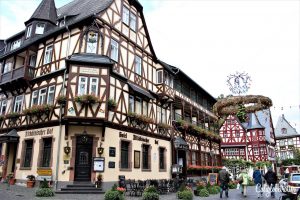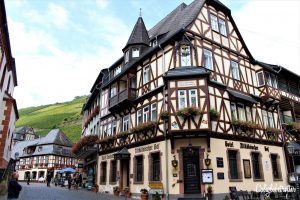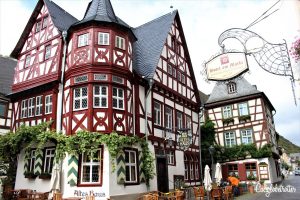 You'll find that each and every building, from the Rathaus (City Hall) to the Post Office has its own special character, adding to the beauty of the town.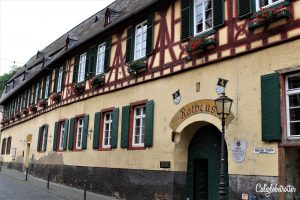 As you're walking around you'll see the beautiful white and pink St. Peter's Church, as well as the ruins of the Gothic Werner Chapel, one of Bacharach's main attractions.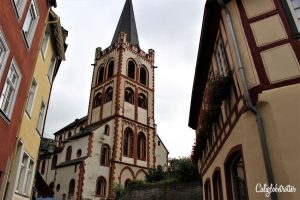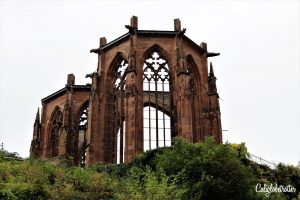 Just beyond St. Peter's Church is the most picturesque corner of the entire town, called Im Malerwinkel. It seems that this corner is actually a hotel and boarding house. A small stream flows through this part of the town and there are fairy tale like little bridges leading over the stream.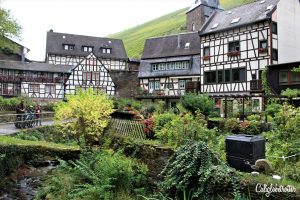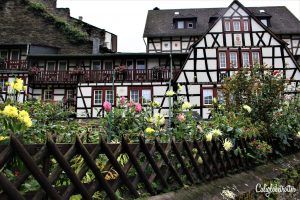 Perhced high above the town is Burg Stahleck, a castle which has over looked the town since the 12th century, but during the Thirty Year's War the castle was destroyed by French troops only to be left sitting in ruins until the Rhineland Association restored it between 1925-27, transforming this castle into a modern day Youth Hostel.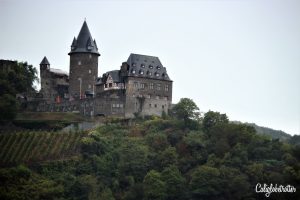 We even enjoyed playing between two half-timbered houses through a walkway barely big enough for one person. It was fun backing up and schooching over to let people pass by. I couldn't resist a photo op!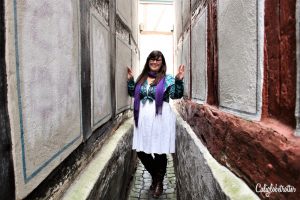 To reach the castle you can either hike up 10-15 minutes or drive up, but to visit the castle only the inner courtyard and the front of the castle is open to the public. While it was beginning to rain on us, we skipped out. Plus, having already stayed there during an exchange program when I was a tween was enough.
If you're interested in staying longer and exploring more of the town, here are some ideas you should check out:
Walk the town fortifications
Southern end of the town was transformed into a Capuchin monastery
Enjoy a leisurely visit to a winery
Hike the vineyard paths leading to Burg Stahleck
The district of Steeg 1 (1 km away from Bacharach)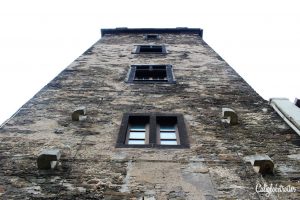 Overall, we found Bacharach to be less touristy than Rüdesheim, and way more beautiful with a plethora of half-timbered houses. While I'm sure Bacharach can also get busy during peak season, it was kind of nice that the weather wasn't so perfect as that usually keeps the tourists away.
As we would be visiting both Rüdesheim am Rhine and Bacharach, we opted to stay in the middle of both at the cute little B&B Altes Rathaus ⭐⭐⭐ in Aßmannshausen. The hotel is actually an old city hall building directly located along the Rhine River!
If you're interested in visiting Germany and are looking for more information, I highly recommend using the DK Eyewitness Travel Guide! Without these guides, I would be lost! This is my travel Bible!
Disclaimer: This post contains affiliate links. If you click on one and make a purchase, I might make a little extra spending money, at no extra cost to you. As always, all opinions are my own and these products/services have been found useful during our travels and come highly recommended to you from yours truly!
Other posts related to the Rhine Valley:
The Darling Storybook Town of Rüdesheim
Schloss Johannisberg – The World's First Riesling Winery
Further Ahead & Worth The Visit:
Cochem & the Reichsburg Castle

5 Quick Things to do in Frankfurt
Liked this post? PIN IT FOR LATER!!
Save
Save
Save
Save
Save