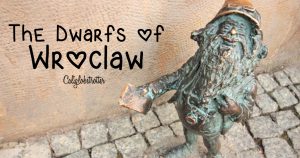 Disclaimer: This post contains affiliate links. If you click on one and make a purchase, I might make a little extra spending money, at no extra cost to you. As always, all opinions are my own and these products/services have been found useful during our travels and come highly recommended to you from yours truly!
While the colorful city of Wroclaw has plenty of beautiful buildings, the most memorable and iconic attractions are not a cathedral or monument, but more a plethora of lovable gnomes. Being a lover of all things unique and adorable, when I first discovered that the city of Wroclaw has had a serious invasion of dwarfs, I knew I had to visit! What started out as a silent yet witty protest by an anti-communist group, has now turned into a kitschy tourist attraction for the city. And I'm not gonna lie, I was one of them who fell in love with the dwarfs! After all, how could I not? 
Love Dwarfs? PIN IT FOR LATER!!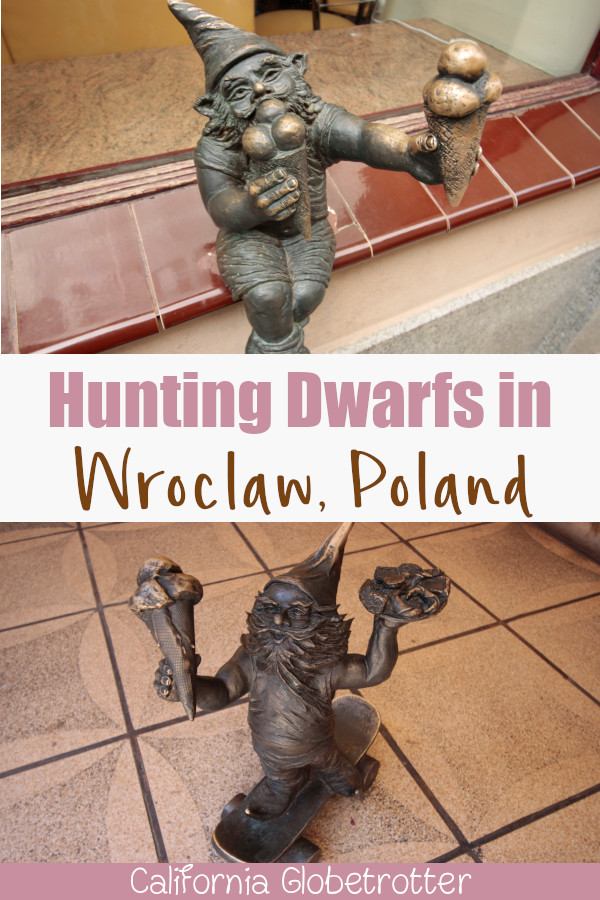 How to AVOID Looking Like a Tourist in Europe
What might seem like a gimmick to attract tourists to Wroclaw has actually been around since the 1980s! These cheeky munchkins are simply ubiquitous, some easily found, others well hidden. The small bronze gnomes known as "Krasnal" in Polish,  were the absurd calling card for the Orange Alternative, an anti-communist group. Searching for a peaceful way to oppose the authoritarian communist regime, they found it by painting dwarfs in ridiculous actions, much to the dismay of local authorities. The goal was to ridicule the police and the establishment, forcing them to paint over the anti-government graffiti. 
My favorite bit our tour guide from the free walking tour which made the entire group giggle was when the Orange Alternative found more creative ways to protest against the regime. At a time when grocery stores were practically empty and every thing was scarce, they distributed sheets of toilet paper forcing the police to go around and confiscate them, ultimately making complete fools of themselves.
In 2001, local authorities honored the Orange Alternative by placing a figure on Świdnicka Street, after which, the dwarf craze exploded. The next five dwarfs were designed by a graduate art student, Tomasz Moczek and since then have multiplied with more being added every year!
If you want to see more of these cheeky munchkins, there are several Instagram accounts: krasnale_wroclove and krasnale.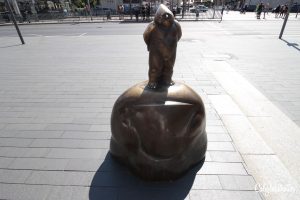 Today, there are about 300 bronze statues, both legal and illegal many of which are easy to simply stumble upon while others require an observant eye. Technically, there are only 165 legal dwarfs as there is an official process the city requires people or businesses to go through before acquiring their dwarf. But not everyone is so patient because they're just so dang adorable and it's great for advertisement! So what do you do when you find out there are 300 of these cheeky dwarfs? You go find as many as you can, right?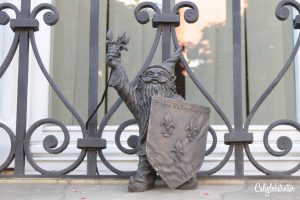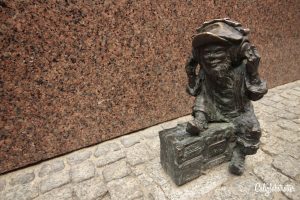 Typically, each of the little fellas are a foot tall, depicting a variety of activities, from eating an ice cream in front of an ice cream shop to mocking tourists or riding motorcycles. You can find them in corners, on window seals, on lamp posts or by the entry step of a shop. Be sure to keep your eyes peeled, both high and low and try to imagine where you might hide if you were a dwarf! Finding Krasnal is definitely an unusual thing to do in Wroclaw, or in any city really, but definitely one of a kind!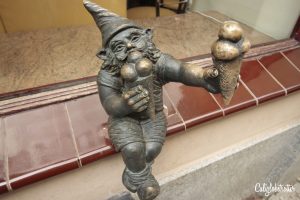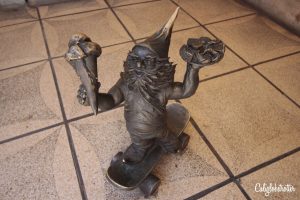 Some dwarfs, though not political or for financial gain, are actually there to bring awareness to a certain organization or service. For example, a tourist dwarf sits outside of the tourist office while three handicapped dwarfs sit near the City Hall as part of the Wroclaw Without Barriers campaign to help identify 'Disability friendly places' within the city. 
You can find them on your own with gnome maps from the local tourism office or take a guided dwarf walking tour. If you're looking for things to do with kids in Wroclaw, hunting for dwarfs is a fun way to explore Wroclaw for the whole family, easily keeping kids entertained. Wroclaw really is the epitome of being a family-friendly city in Europe! The added bonus of going on a dwarf hunt encourages tourists to explore more corners of Wroclaw that might otherwise be missed. A funny one is the dwarf behind bars which can be found in the old city prison!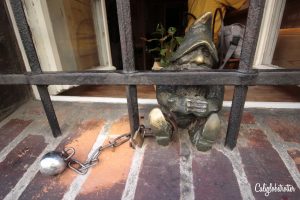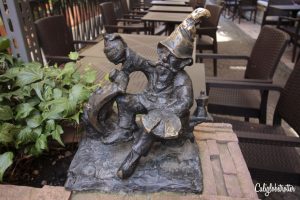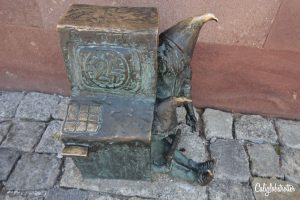 The question is, can you find them all?
Not having the time for a second free walking tour just to find some of the dwarfs, we opted to casually find them ourselves while walking around. It's quite easy and we found around 50 or so! However, should you take a generic free walking tour, your tour guide will at least give you some background information about the dwarfs of Wroclaw. 
The town even loves their dwarfs so much that there is even a Dwarf Festival held yearly in September! For three full days, you can participate in wood carving, learning to draw dwarf graffiti or even watch a parade. Sadly, we were just three weeks shy of enjoying this! Just another reason to go back and find more! 
I especially loved the cheeky gnomes mocking the behavior of tourists who like taking photos of everything, or every.single.gnome! Sometimes I don't mind falling into the same habits as a million other people!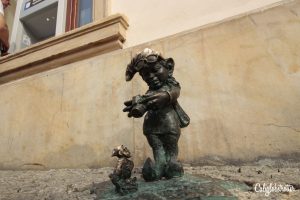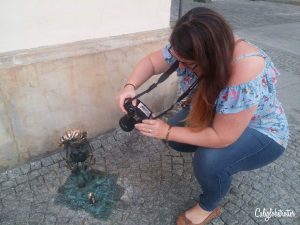 Sometimes, a gnome is dedicated to someone of or from the city, for example there is even on for Sigmund Freud near the University of Wroclaw.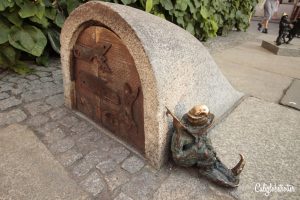 Overall, it was a LOT of fun to search for dwarfs in Wroclaw! It was definitely a unique experience and spiced things up during our sightseeing! If I were a business, I could see the appeal in having one to easily bring foot traffic to my door! Hunting for Krasnal is definitely one of the top things to do in Wroclaw and can easily pass the time if you get obsessed with trying to find all 300+! They're just so dang lovable that even Gdańsk is getting a few of their own! 
Where to Stay in Wroclaw
⭐⭐⭐⭐ Qubus Hotel Wrocław – Just off from the Main Market Square and just opposite the Cathedral of St. Mary Magdalene, our hotel offered easy access into the city, provided comfortable rooms and an amazing continental breakfast and the option to make your own waffles!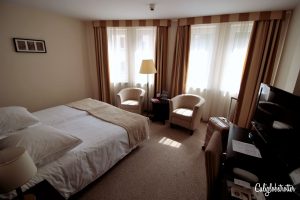 If you're interested in visiting Europe and are looking for more information, I highly recommend using the DK Eyewitness Travel Guide: Europe! Without these guides, I would be lost! This is my travel Bible as well as some of my favorite cook books and the Ultimate Foodie Book!!
Disclaimer: This post contains affiliate links. If you click on one and make a purchase, I might make a little extra spending money, at no extra cost to you. As always, all opinions are my own and these products/services have been found useful during our travels and come highly recommended to you from yours truly!
Day Trips from Wroclaw:
Experience the Charm of Wroclaw
A Foodie's Guide to Eating in Poland
Where to Find Street Art in Gdańsk
Liked this post? PIN IT FOR LATER!!